Pretty much any fashion magazine or blog that you read these days is going to tell you that a huge trend right now is the 70s look—flare jeans, platform shoes and yes, big hair.  For the black woman, that means going back to the days of the magnificent Afro.
Natural hair is something that has been encouraged and celebrated for quite some time among many stylists. But if you've been hesitant to cut out your chemicals, perhaps these pictures will be just the inspiration that you need to let your natural hair shine—in a really big way!
1. Huge Afro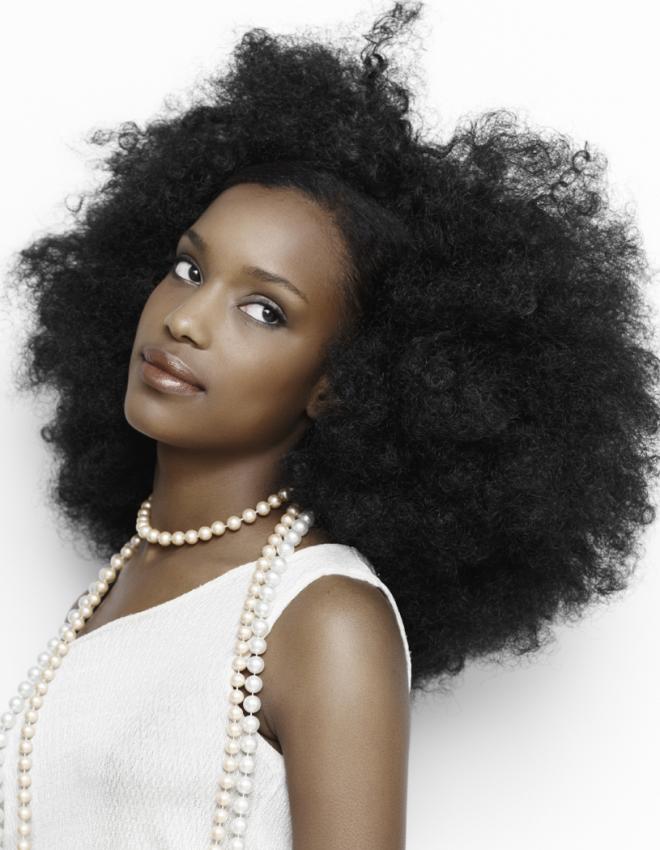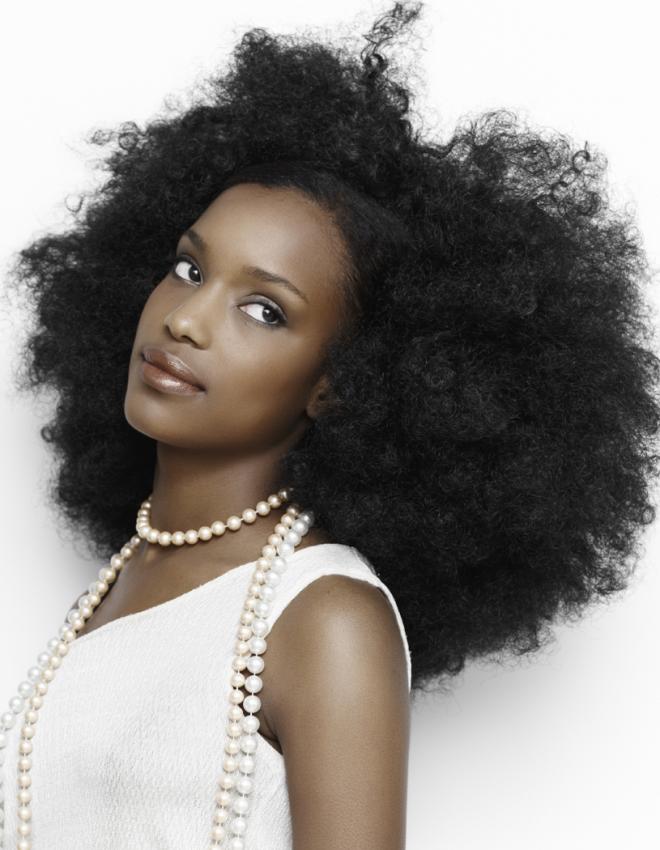 Isn't her hair magnificent? So, how long would it take you to get your hair to look like this? Well, on average, hair grows 1/2 inch each month which is roughly 6″ per year. But you know what they say: good things come to those who wait, right?
2. Half side-up red Afro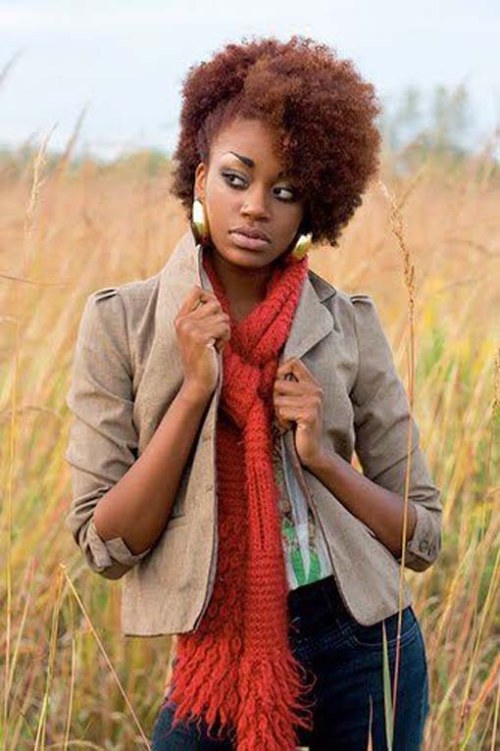 This is a shorter Afro but one that is just as stunning. On the days when you don't want to wear it all out, you can always pull out some bobby pins or a barrette and pin up on side.
3. Big blowout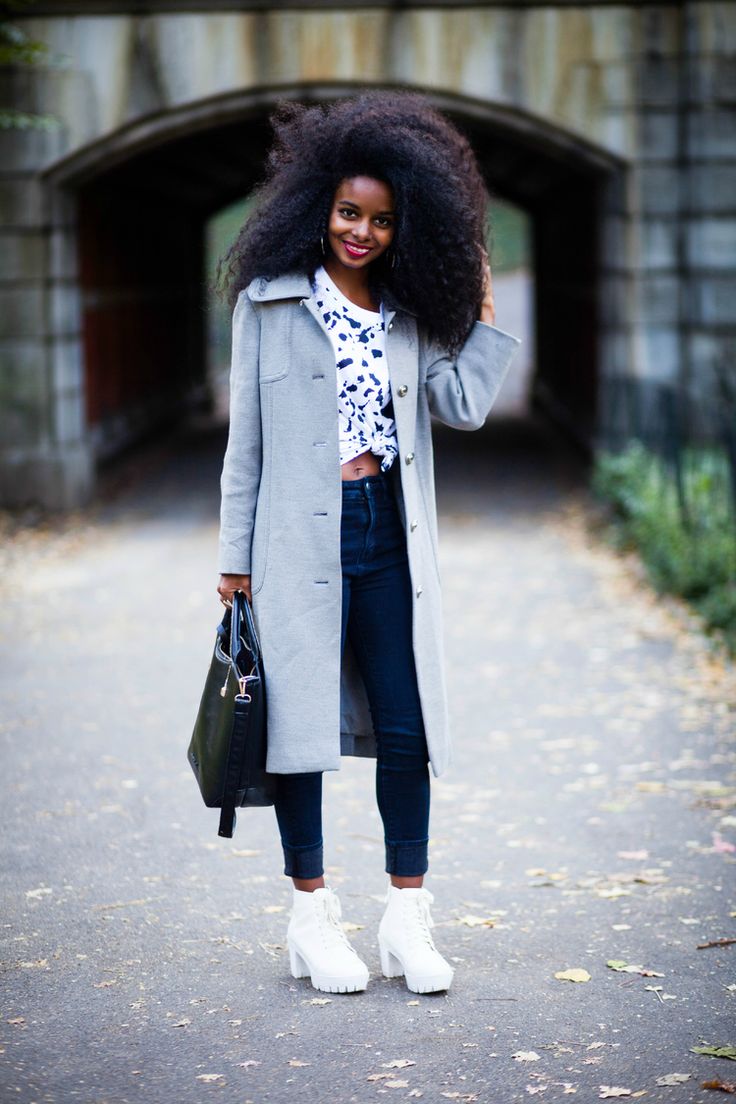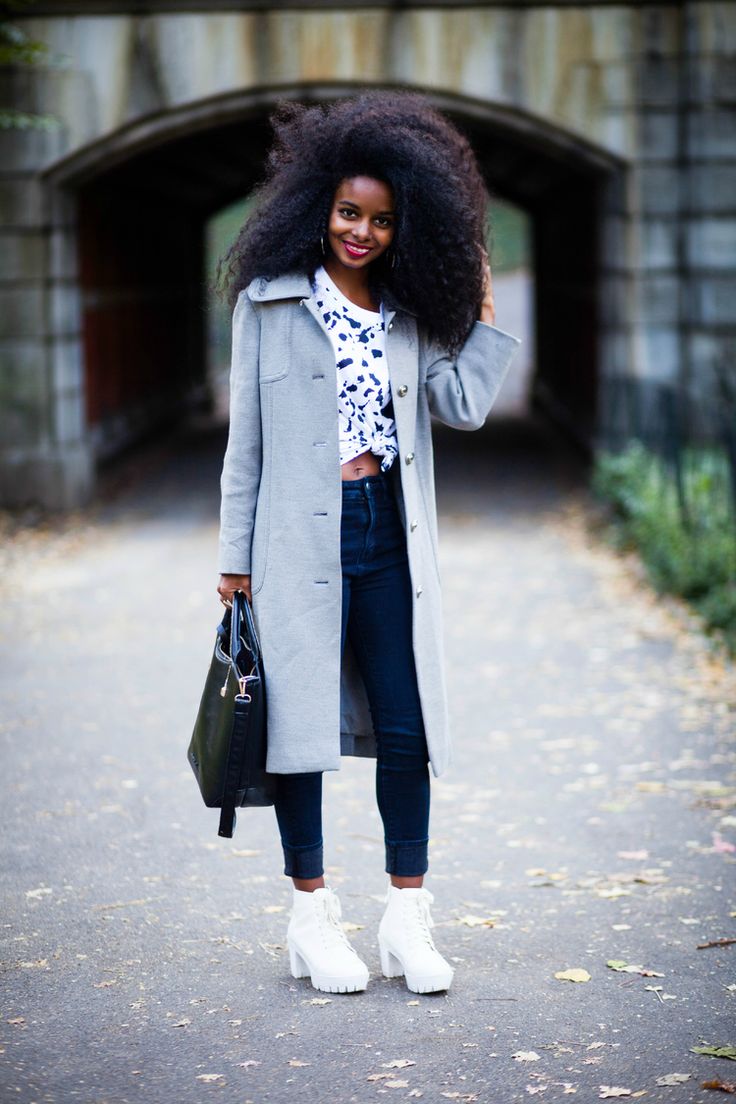 One of the most beautiful things about black women is their hair comes in so many different textures. So, there's a chance that this is how her hair naturally is. Our guess is that it's a blowout, though. Basically that's how natural hair looks as the result of running a blow dryer (on a low setting) through it.
4. Deep violet Afro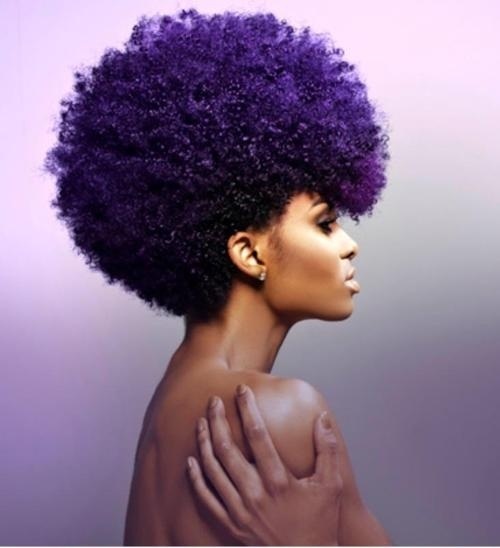 If you already have an Afro and you're ready to mix the look up a bit, one way to do it is by dyeing it. One popular color right now is deep violet.
5. Twist out Afro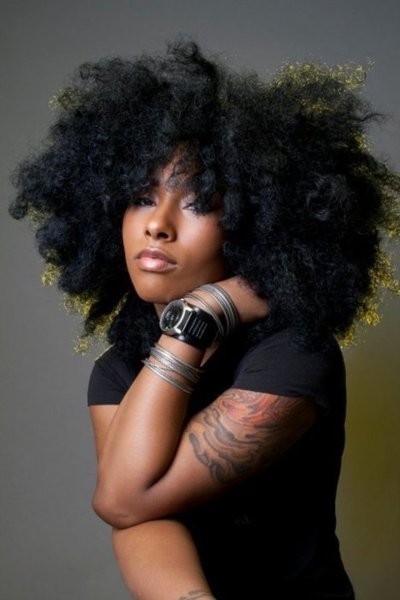 To get this kind of look, after washing your hair, put in bit of product and then section off your hair and put each one into big twists. Then once your hair is completely dry, pull the twists apart and tease.
6. Light brown blowout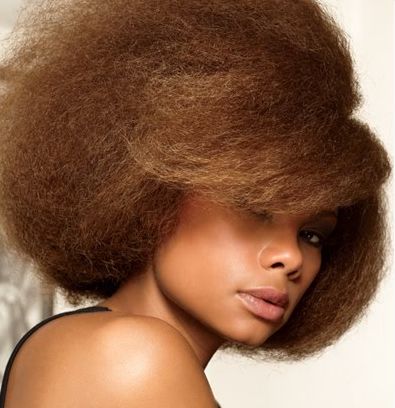 This is another way to wear a blowout. The color takes this to another level entirely.
7. Tiny Mohawk Afro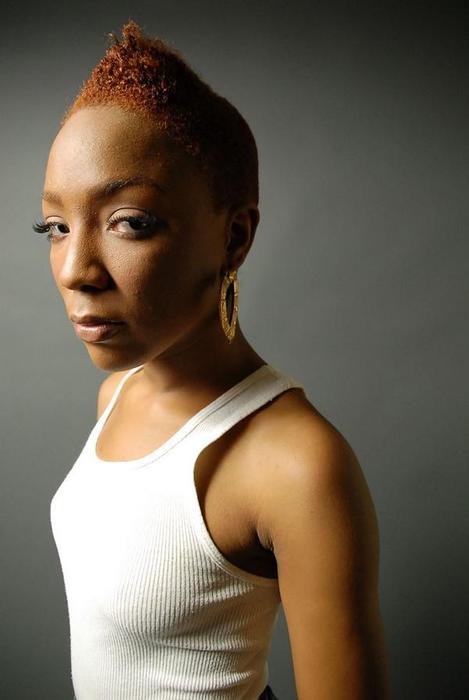 This is really cute and super funky at the same time. If you'd prefer to wear your hair in a fade, you can add just a bit of dimension by growing out a bit of hair up top.
8. Blue Mohawk blowout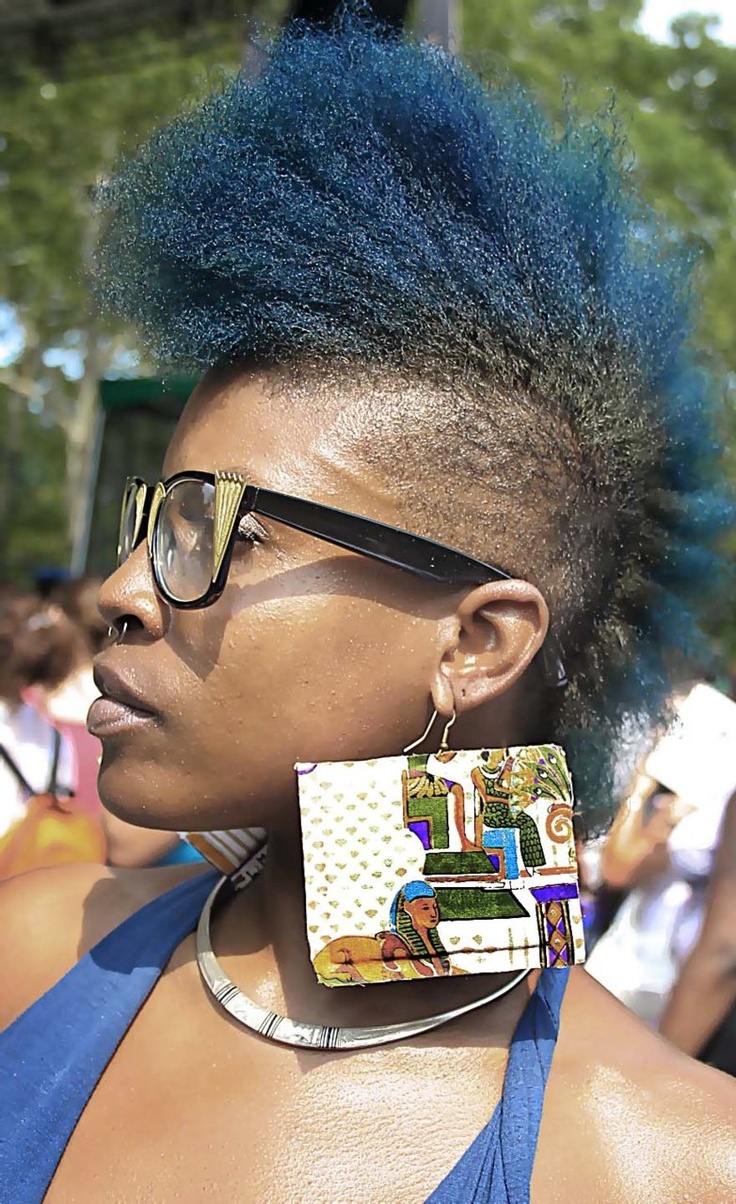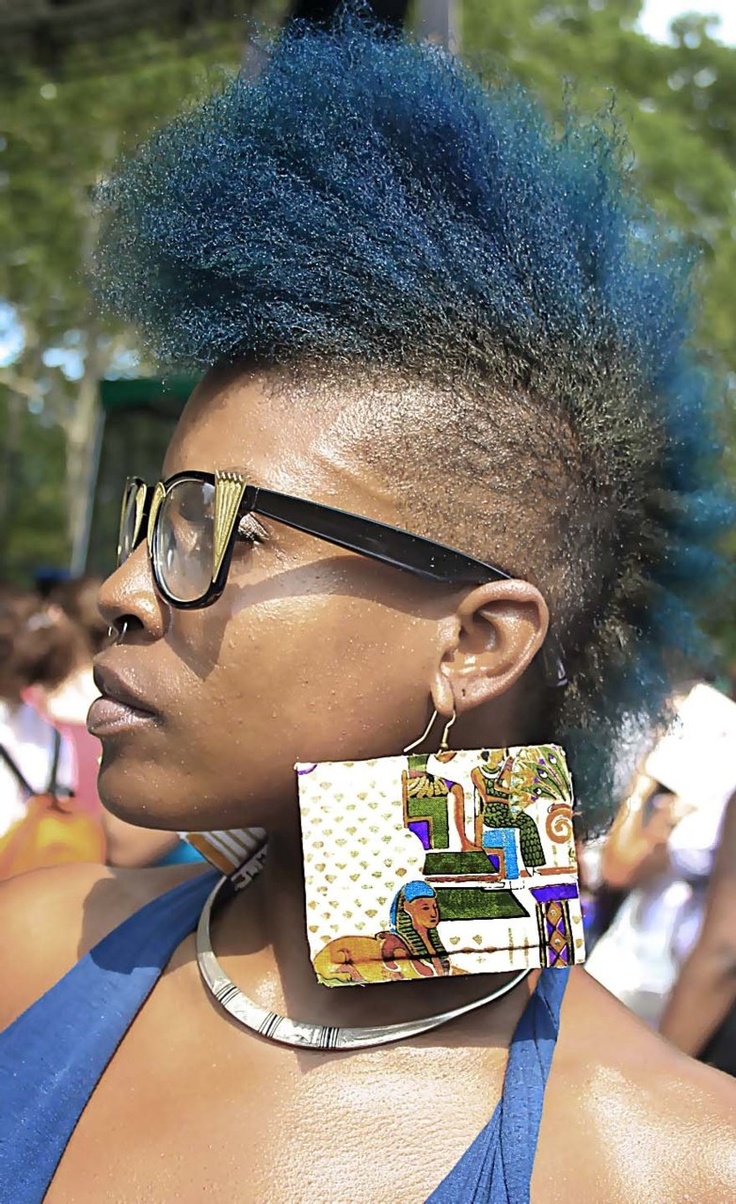 Does a hairstyle get any wilder than this? Not really. But the right woman with the right swag can make it happen. Is that you?
9. Afro puffs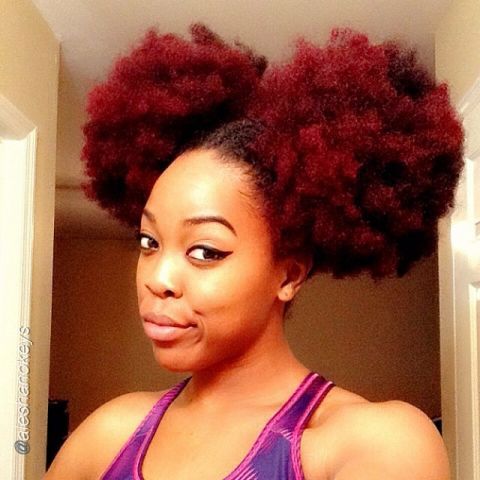 If you ever watched reruns of Good Times, this is just how Thelma wore her hair. And the men would swoon. The omrbe hair is popular these years, if you want to dye ombre hair, try these ombre hair color ideas here.
10. Cornrow Mohawk Afro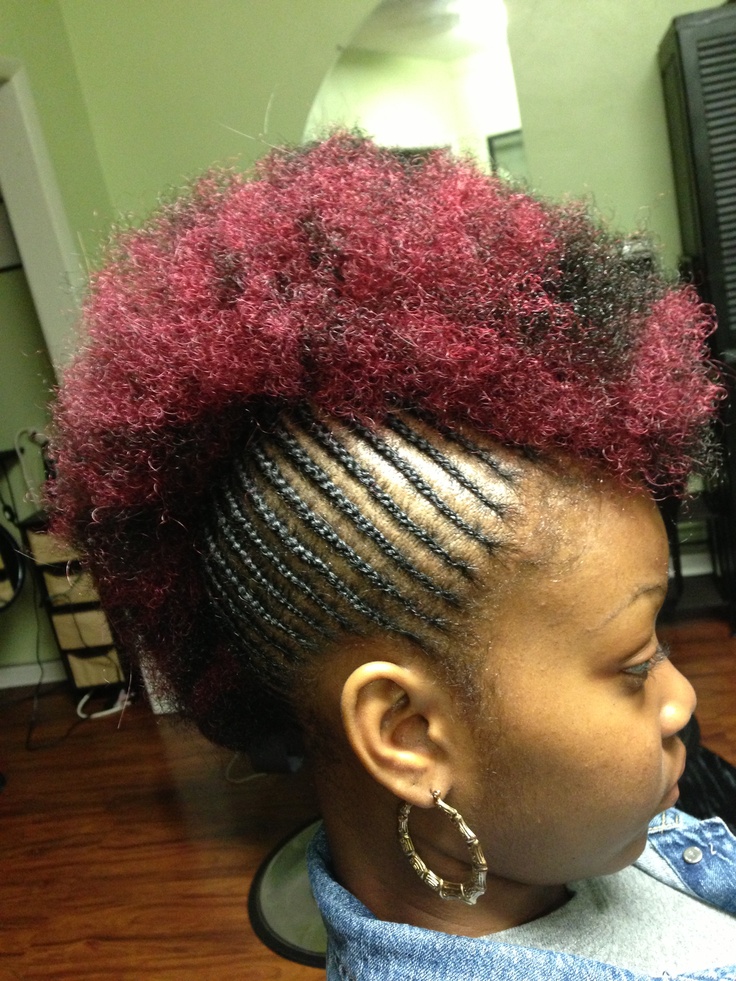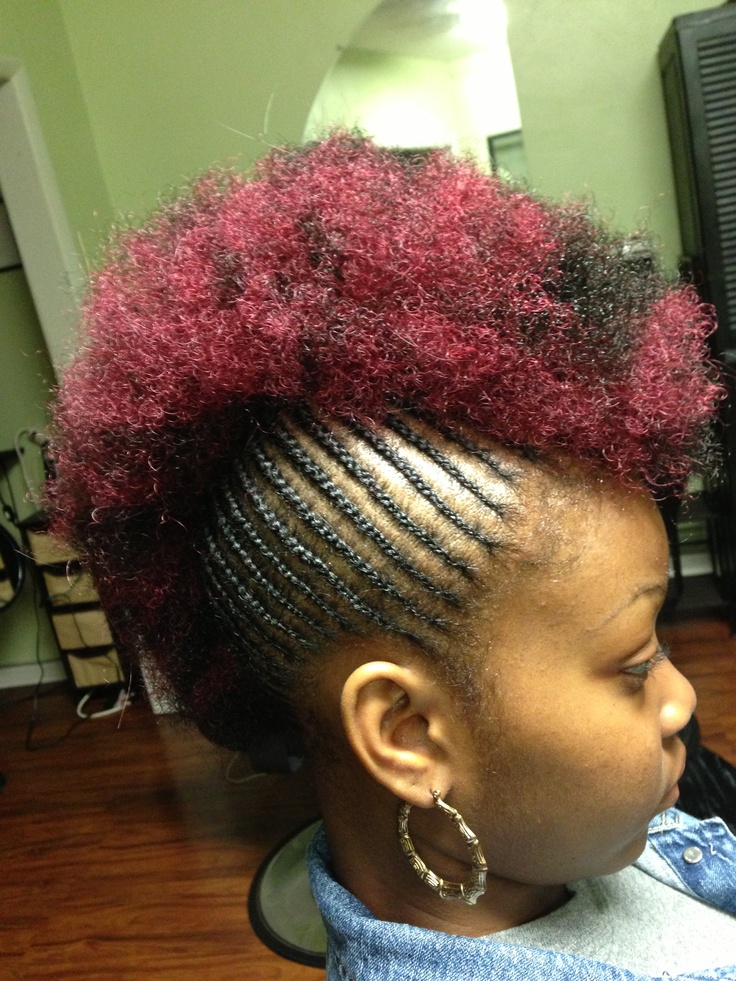 Do you have natural hair and a part of you has always wondered what it would be like to have a Mohawk? One way to find out without cutting it is to have the sides of your hair cornrowed.
11. Blonde Afro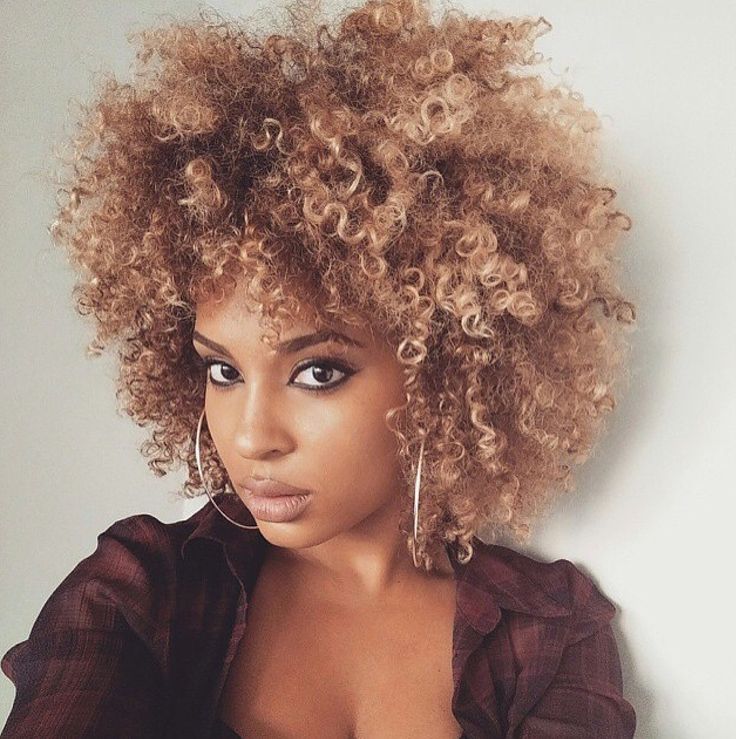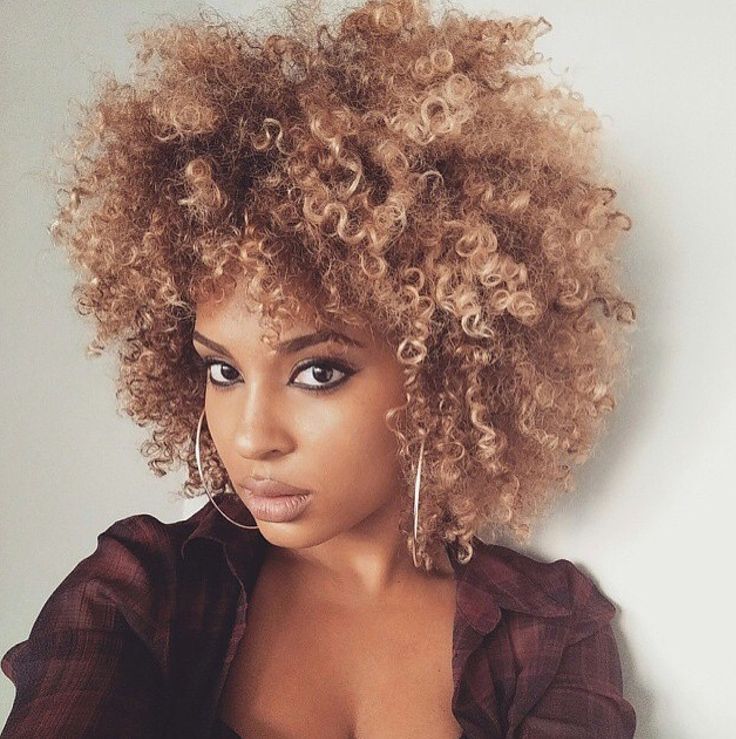 One way to add a bit more style to your 'fro is to color it. Blonde is nice on a lot of complexions.
12. Afro with braid crown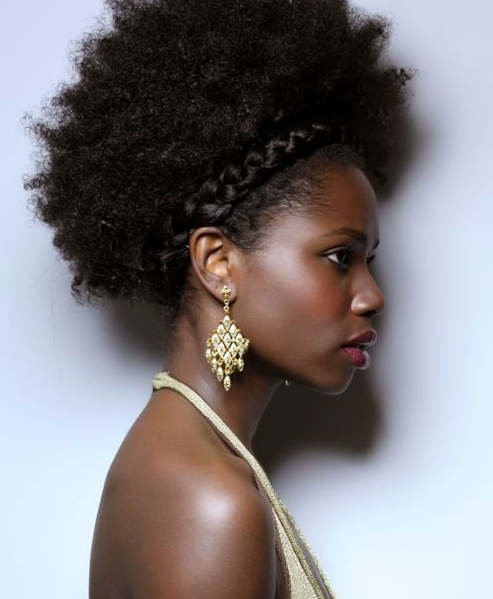 This is such a regal way to wear an Afro. Plus, in the summer, it can be considered a protective style.
13. Small Afro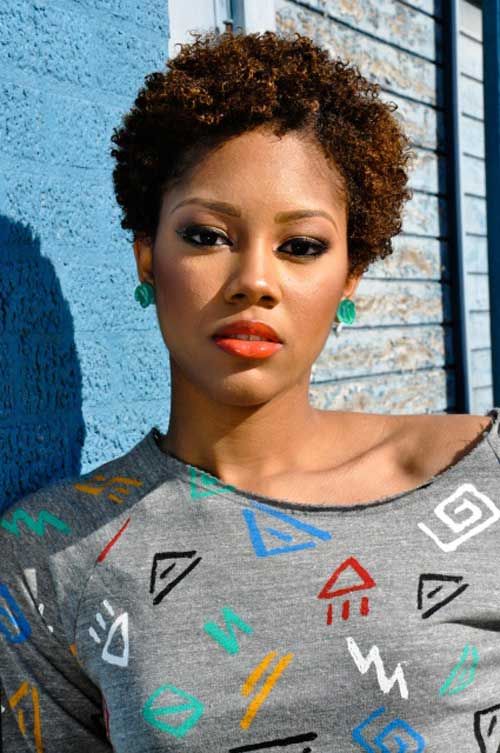 If you're in the process of transitioning from relaxed hair to natural hair, here's one look that may work with the help of regular trims and a bit of product. Find more short haircuts here.
14. High ponytail Afro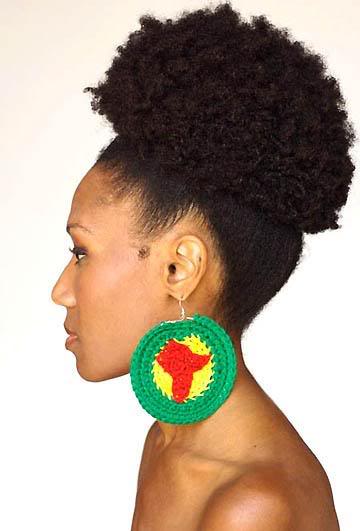 On those hot and humid days when you'd prefer to wear your hair up, all you have to do is pull it all back into a high ponytail.
15. Two-tone blowout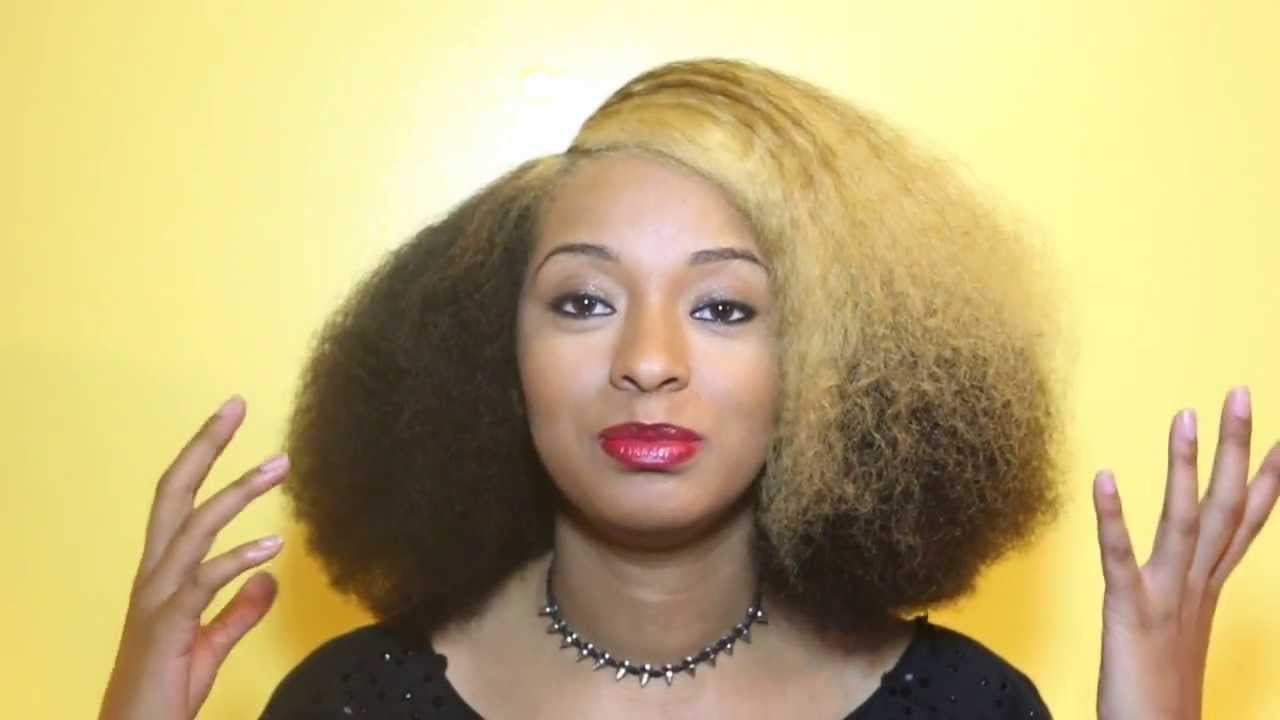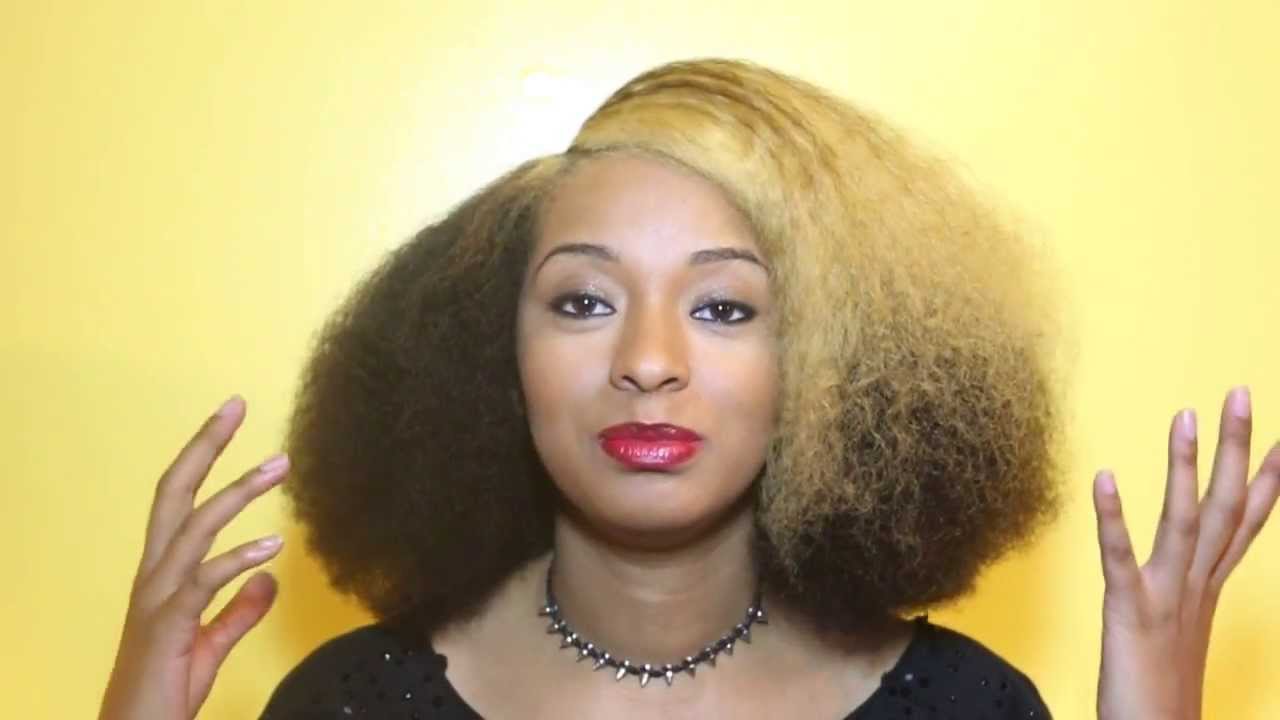 Here's another blowout. What makes it different is the two-tone. (Hint: You can do this with any color you'd like.)
16. Braid out Afro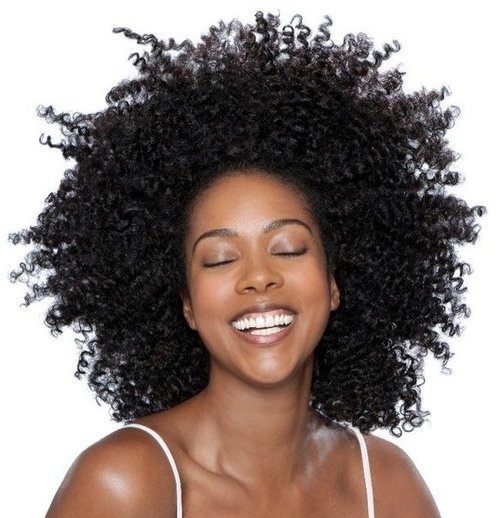 Remember the twist out that you saw earlier? This is a braid out. Same concept—just with braids rather than twists.
17. Mid-part Afro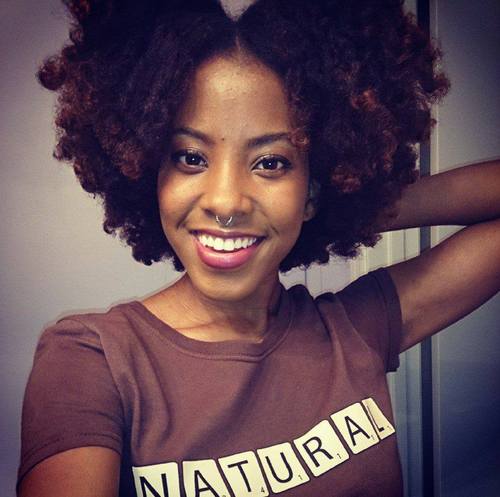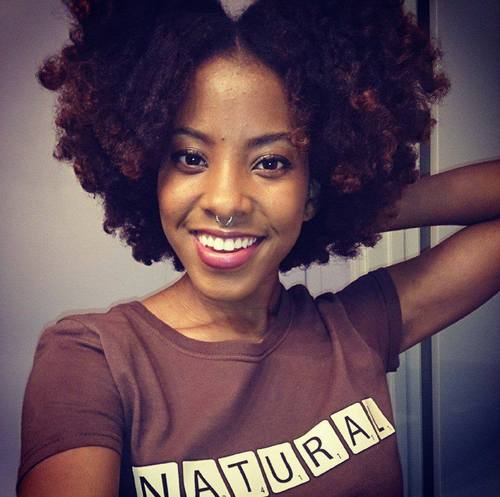 Sometimes a simple thing can totally change a look. Like a part in the middle of your head, for instance.
18. Wash 'n go Afro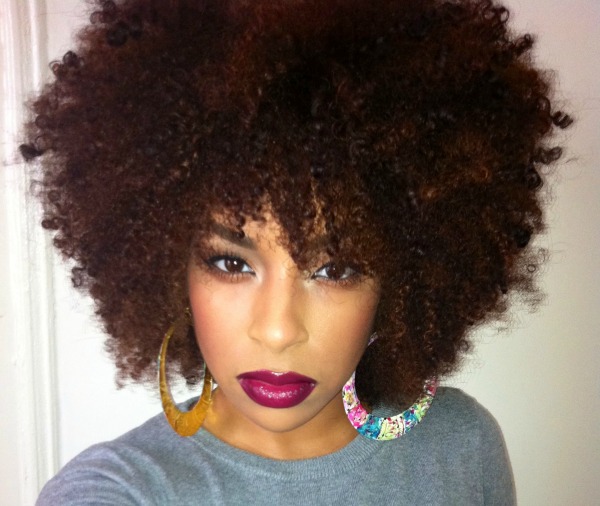 A lot of black woman have curl patterns that are known as coils. Some are tighter than others. If yours is a bit loose, you can achieve a look similar to this one by simply washing your hair, putting in some product and then letting it air dry.
19. Blue Afro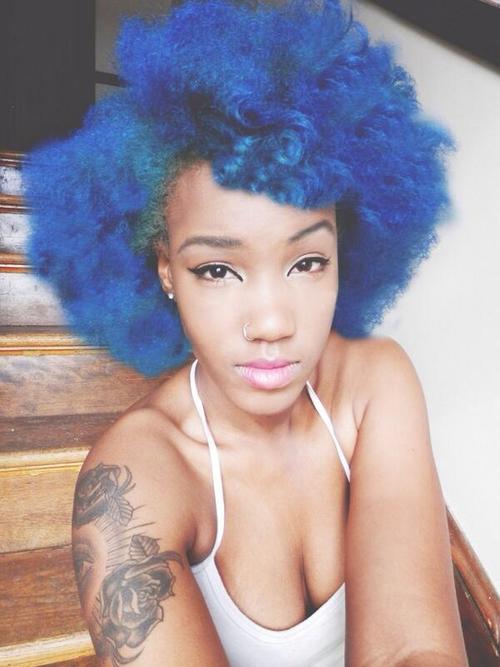 It's not for everyone. But for those who like to rock out and be totally original, blue hair will achieve that goal.
20. Afro with headband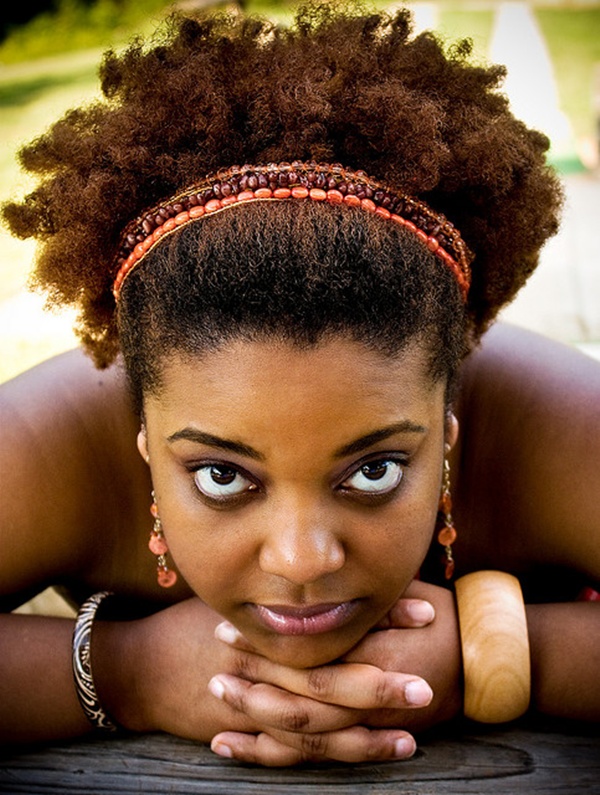 Afros go well with hair accessories. A headband is one of the ones that looks so pretty.
21. Finger twist Afro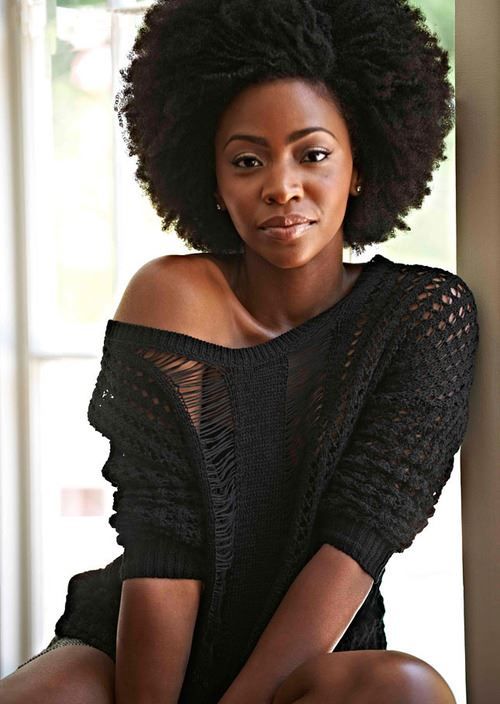 This is basically a modernized version of an authentic-looking Afro. How she was able to get some extra texture to it is that she took her fingers and twisted some of her locs. It's so beautiful.
22. Dark red Afro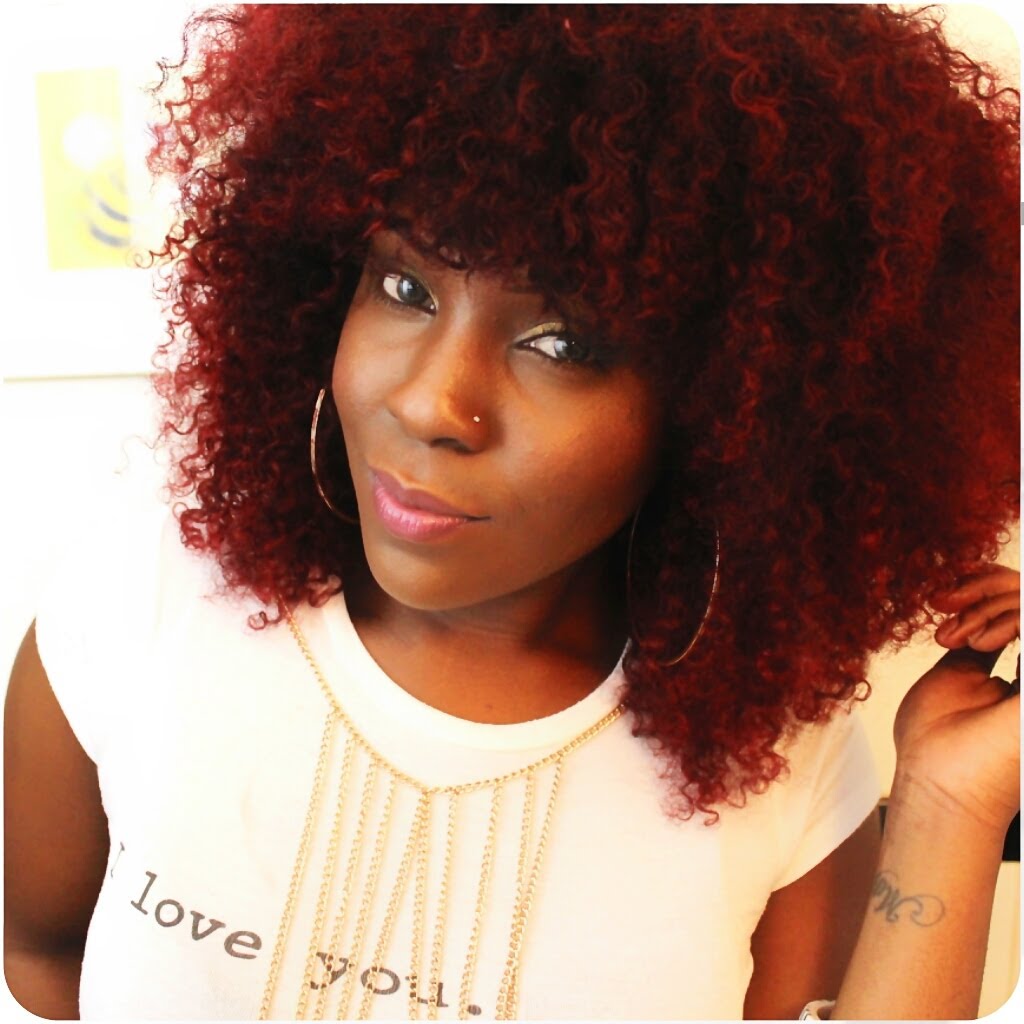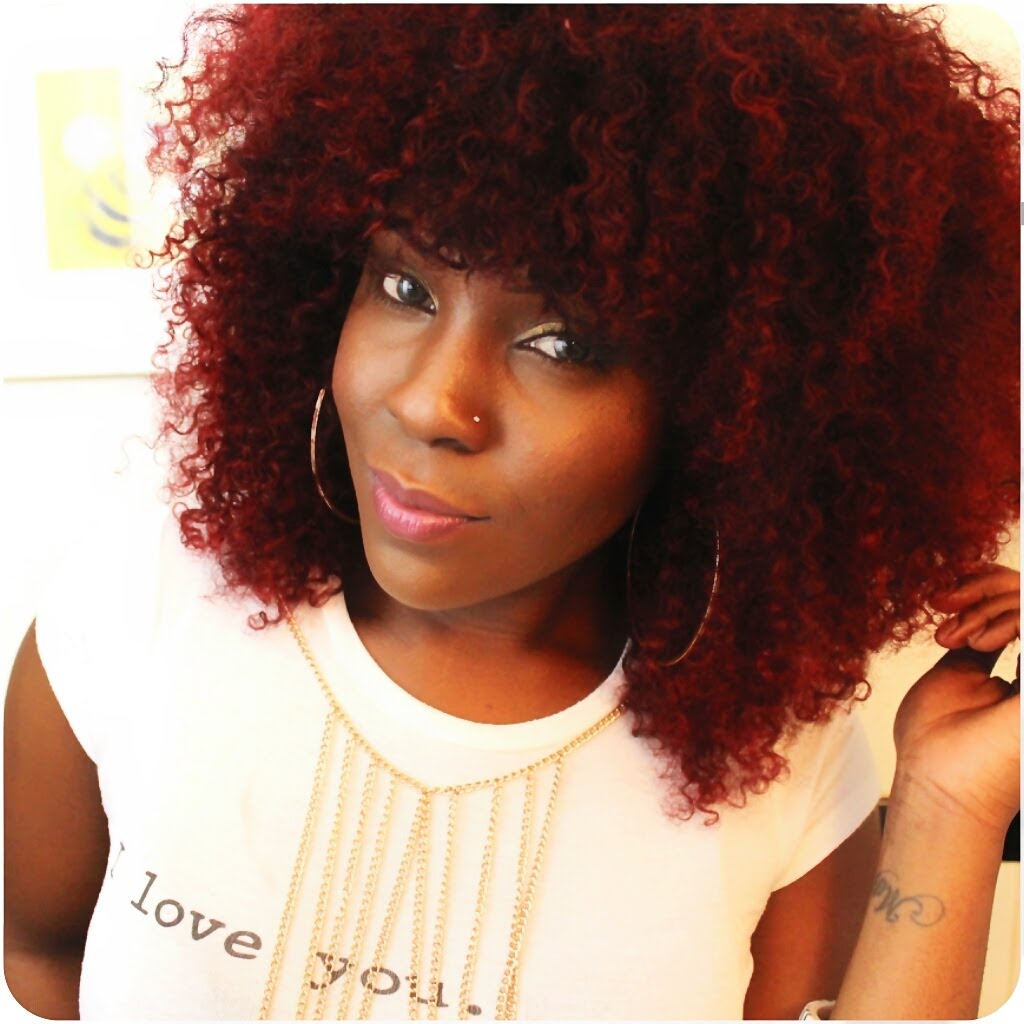 If you don't want to take the blue route but you would like to add some color, you can always go with a shade of red.
23. Tiny Afro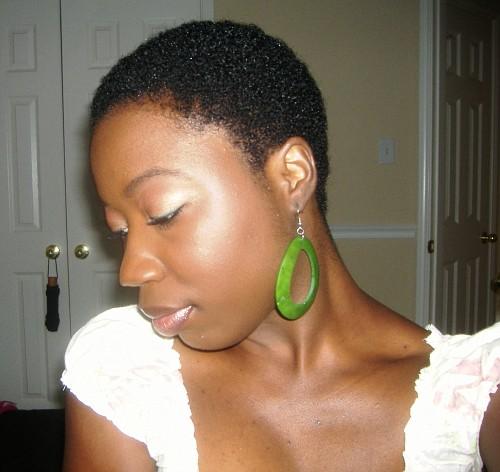 Here's a way to wear an Afro without having to do a lot of maintenance. Just go with one that is super short. If you don't love to cut your hair too short, try these short hairstyles here.
24. Tapered Afro
The reason why this particular 'fro looks so curly is because she has a looser texture to her hair. And the reason why it has a different kind of shape is because it's tapered on the back and sides.
25. Afro with flowers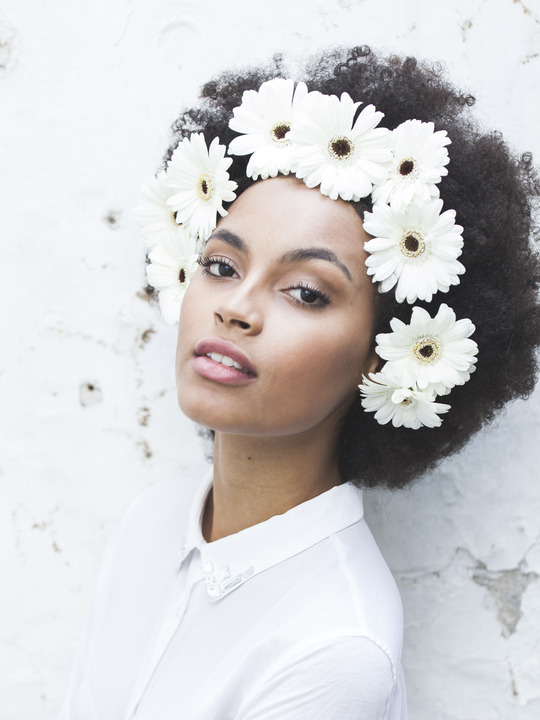 If you happen to like the Boho look, here's one way that you can do it with an Afro. Just put some flowers in your hair or wear a floral weather. It's a really pretty bridal look if you're planning to have an outdoor wedding.