If you have less than 10 graphic T-shirt's, we'll be shocked! Not only are they super-comfortable, but the styles and messages on them are a perfect way to display your individuality. That's what makes having them so much fun! Plus, you can usually find them at a store (including a thrift store) or online for a pretty affordable cost. That's what makes it easy to have so many of them!
As an added bonus, you can wear one graphic tee dozens of ways. Don't believe us? Just look at some of these ideas. And don't be surprised if they inspire you to run out and buy some more T-shirts soon. (At least a couple!)
Distressed jeans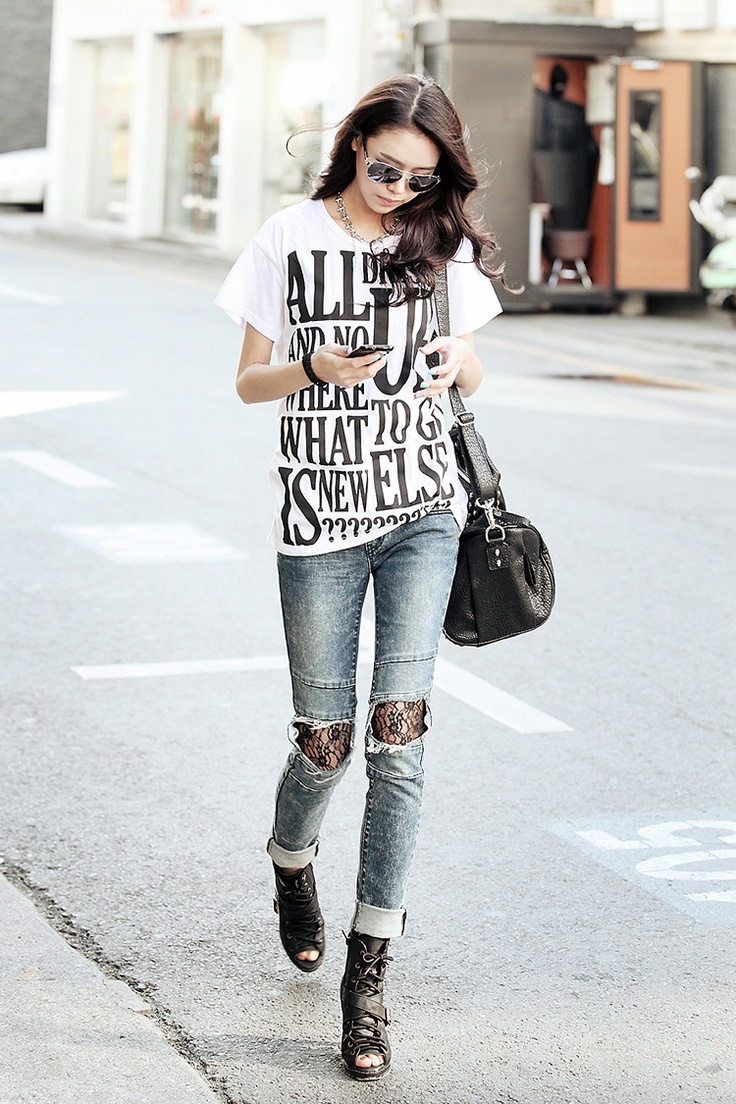 Perhaps the most classic way to wear a graphic T-shirt is by pairing it with some distressed jeans. You can add a bit of distinction to the look by putting some fishnet or lace hose underneath (so that they will show through the holes in your jeans).
Put on something floral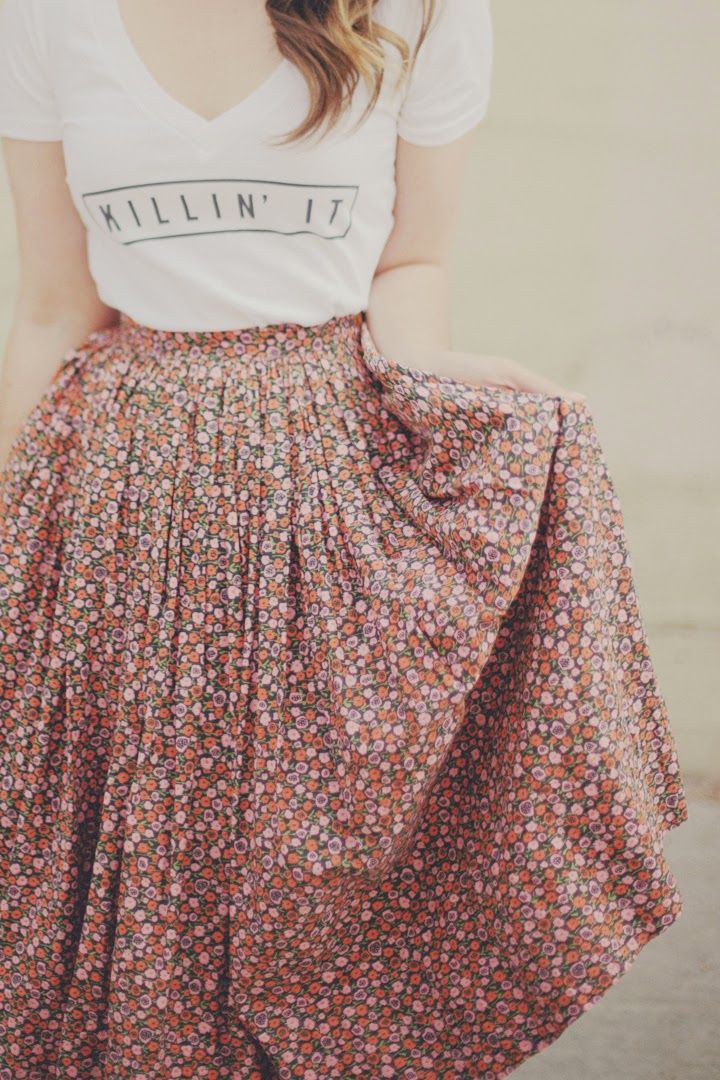 If you (or your mom or your grandma) has an old floral skirt but you haven't worn it in a while for fear that it will look too dated, throw on a graphic tee. It will take years off of the skirt. Literally.
A tee with an army jacket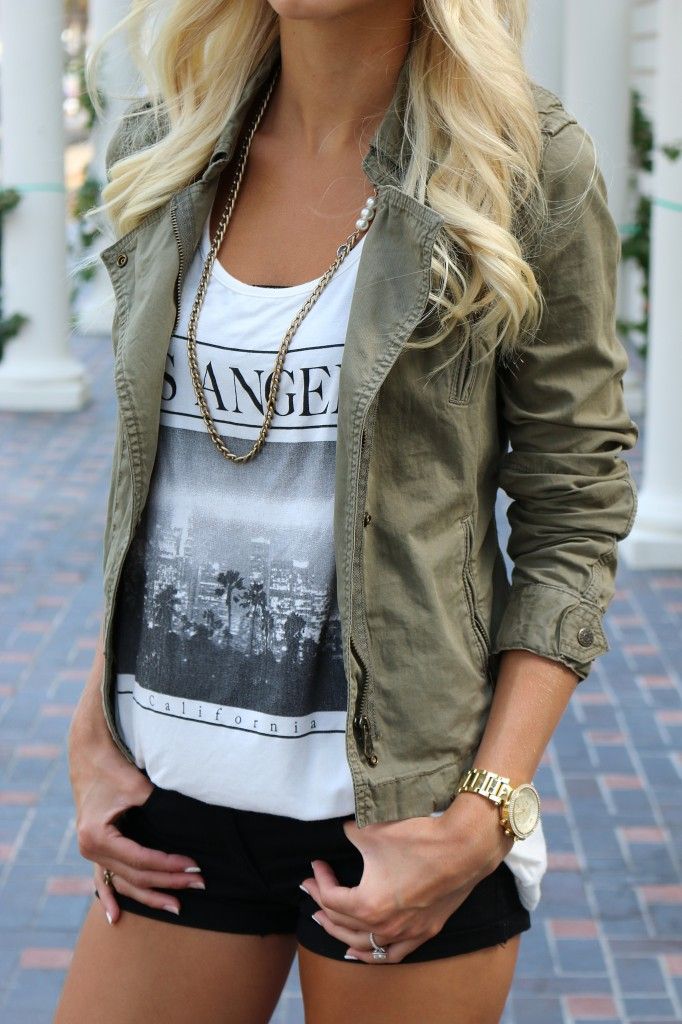 Two things that go really well together: a graphic tee and an army jacket. Especially if you put on some shorts too.
Maxi magic
Maxi skirts have endless possibilities. One of them is that they tend to go so well with a graphic T-shirt.
Some lace shorts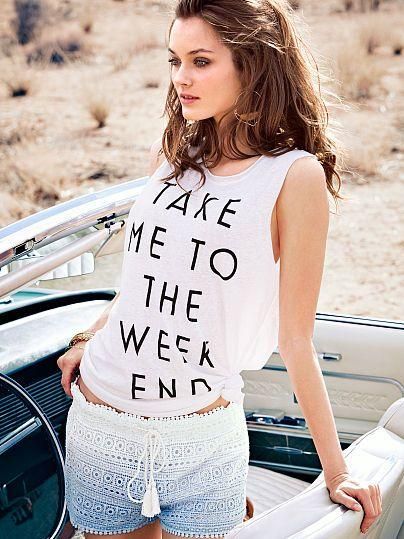 If you need to get some new shorts in time for summer, make sure a pair of them are lace ones. They're super cute.
A tee and sequin skirt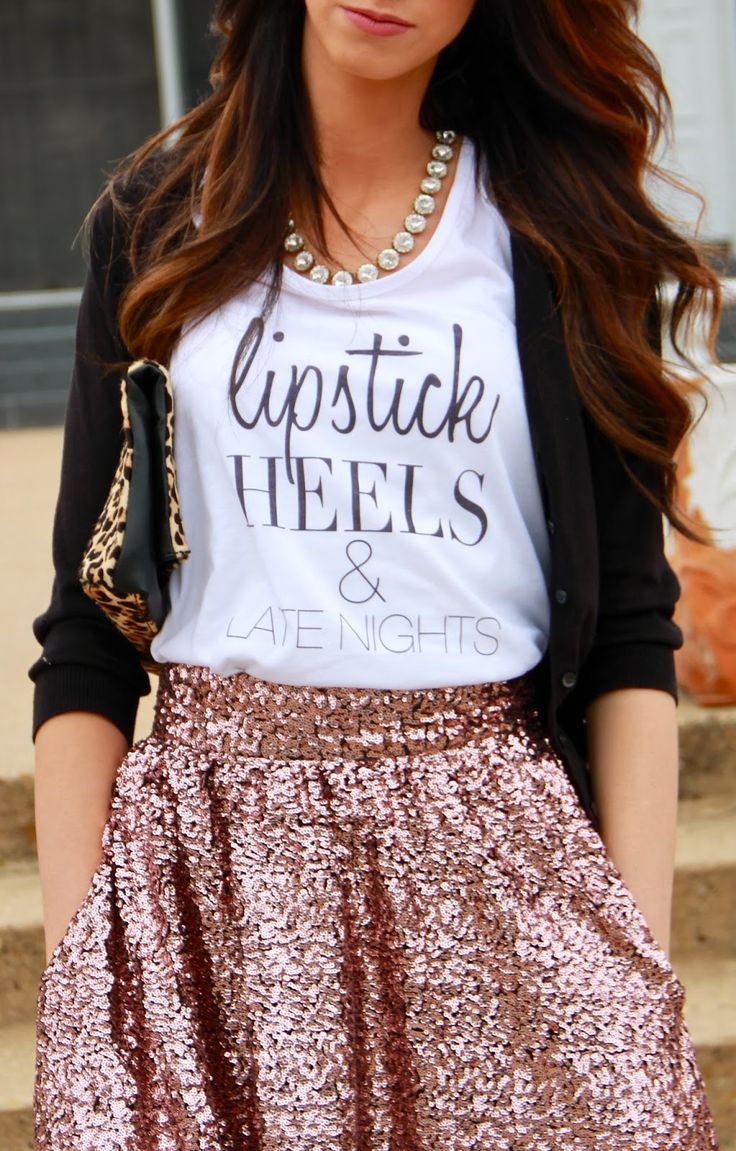 Do you have a dressy occasion coming up but you don't want to go too over the top? How about a sequin skirt and graphic tee? It's so precious, especially if the shirt is worn underneath a cardigan like this one.
The perfect summer outfit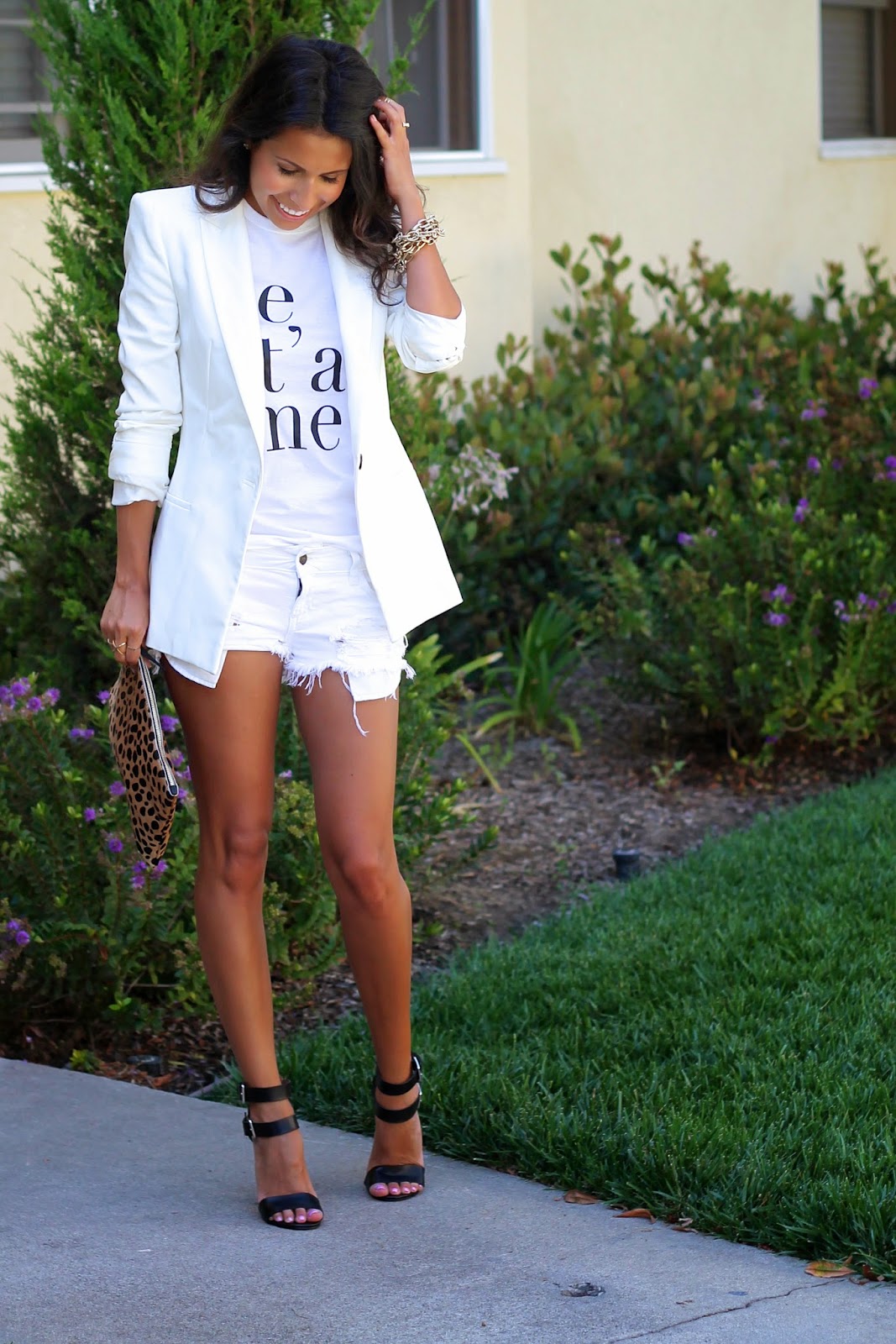 Nothing says "summer" quite like white. White shorts, white jacket and a white graphic tee. It's so hot!
Over a dress

Now here's something you may have never thought to do with a graphic T-shirt. How about pulling it over one of your sleeveless dresses? It's just so…adorable.
Shake it up
Did you just get a party invitation in the mail? A fringe skirt with your shirt is one of the best ways to shake things up!
Tee and tulle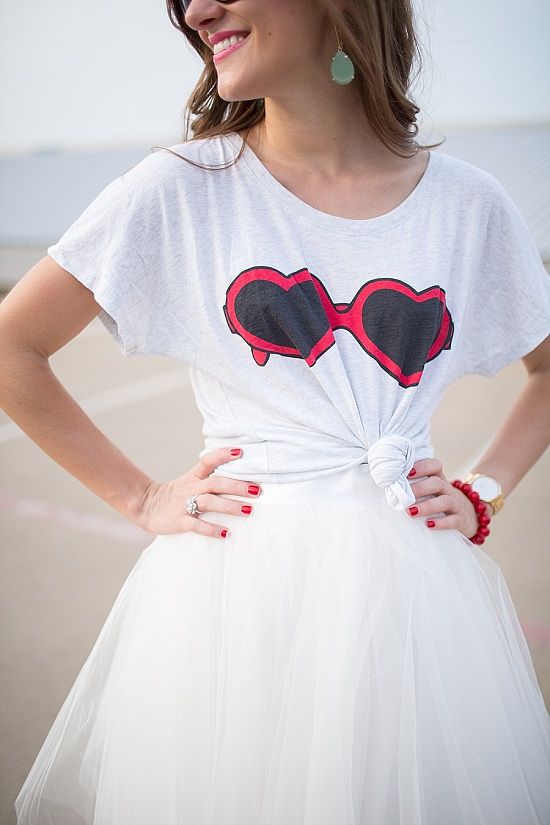 A popular look among models and celebrities alike is to combine and graphic tee with tulle. Voila!
With a cardigan and tights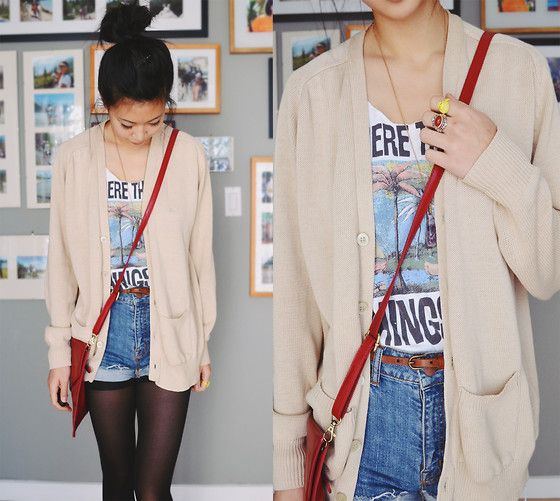 When it's not quite fall yet but you do feel a nip in the air, pull out one of your cardigans to cover up your arms and some opaque tights to cover up your legs. Graphic shirts are always fun to layer with.
Great with a pencil skirt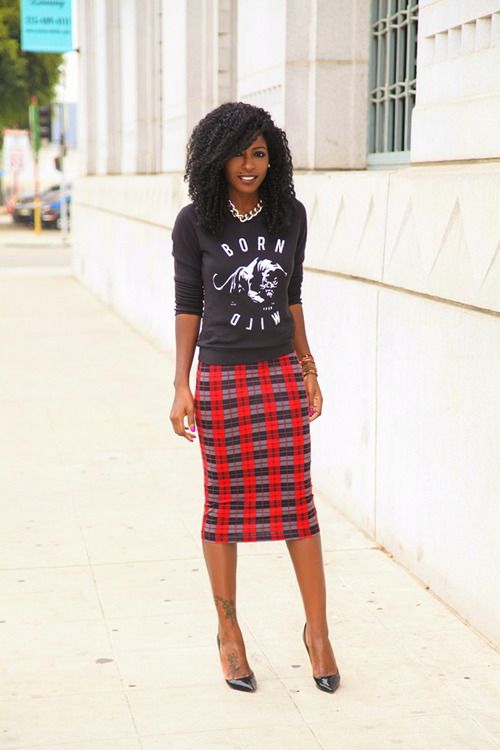 If you work in corporate America, one way to pull off wearing a graphic tee to the office is by pairing it with a pencil skirt. (Oh, and some heels.)
A tee with a blazer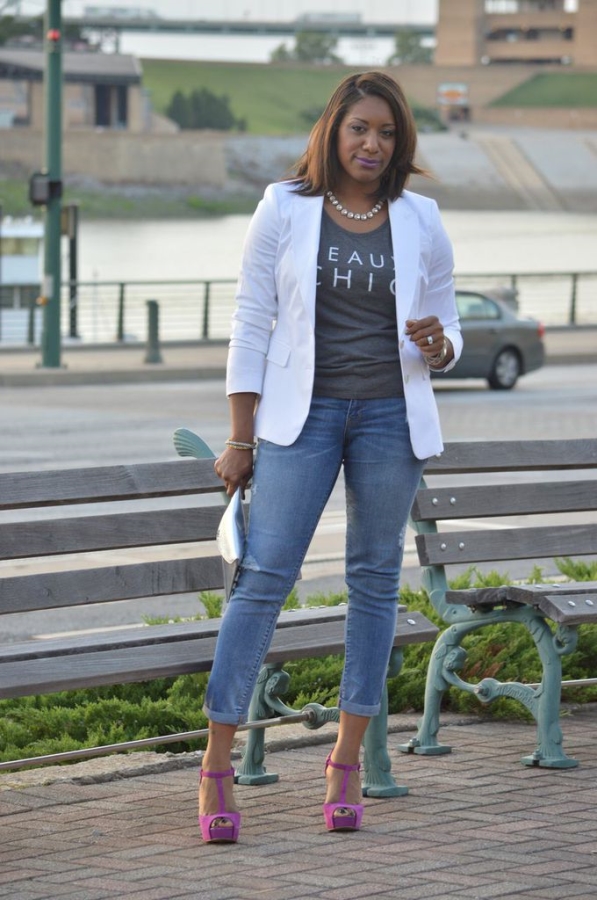 Another classic look for graphic T-shirts is to put a blazer over the top of it. It's casual in a classy kind of way.
Add lots of jewelry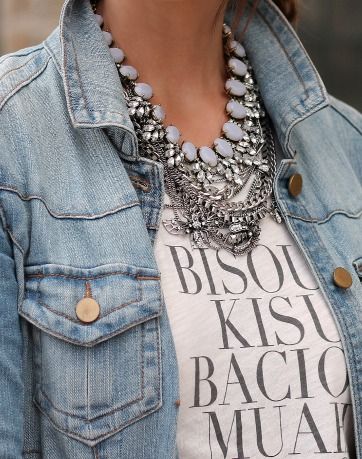 Something else that you can do to dress up your T without compromising any comfortableness is to put on some jewelry. Our recommendation? Go bold with a statement necklace like this one.
A well-tailored suit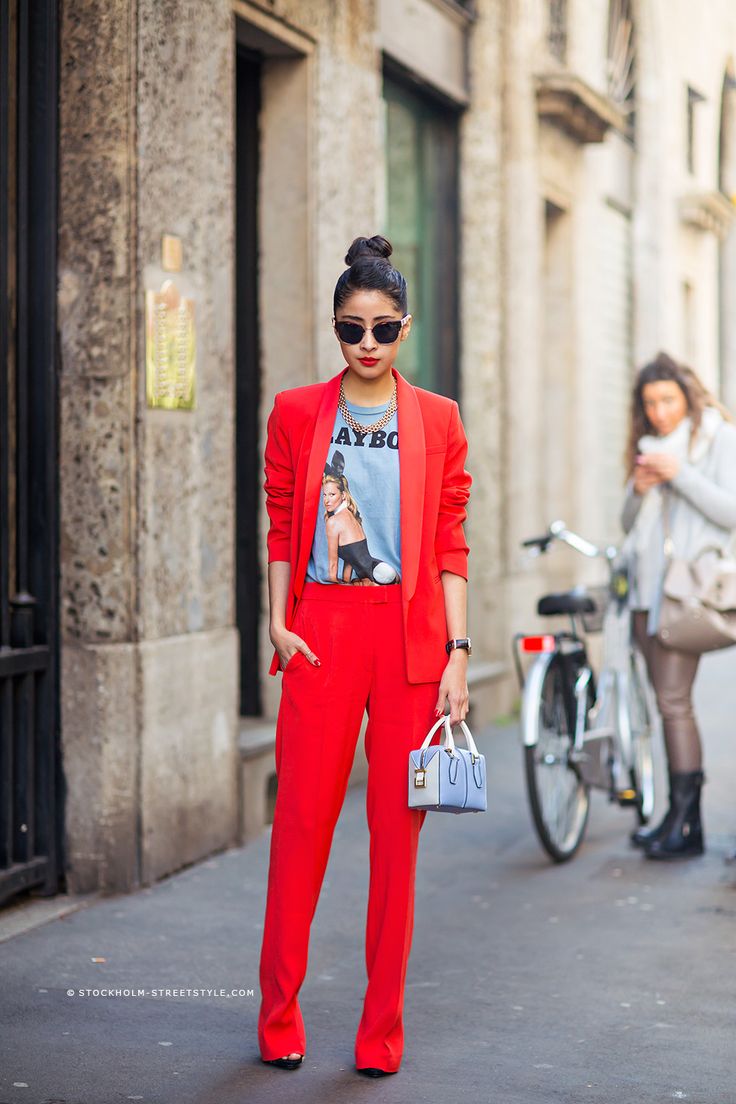 This is a great look, for sure. Not just because it's a tailored suit and graphic shirt but because of the color of the suit. Yeah, if it's time for you to get a new one, don't assume that it always has to be a neutral shade.
A cute lil' mini skirt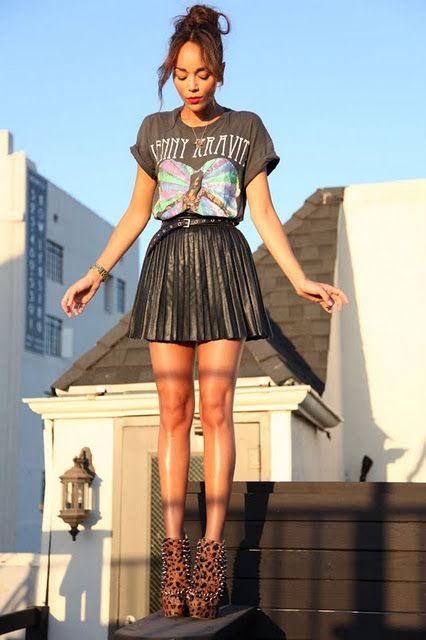 This pleated mini skirt along with the leopard print platforms are so rocker chic. In a charming and youthful kind of way.
A jean jacket and some fun flats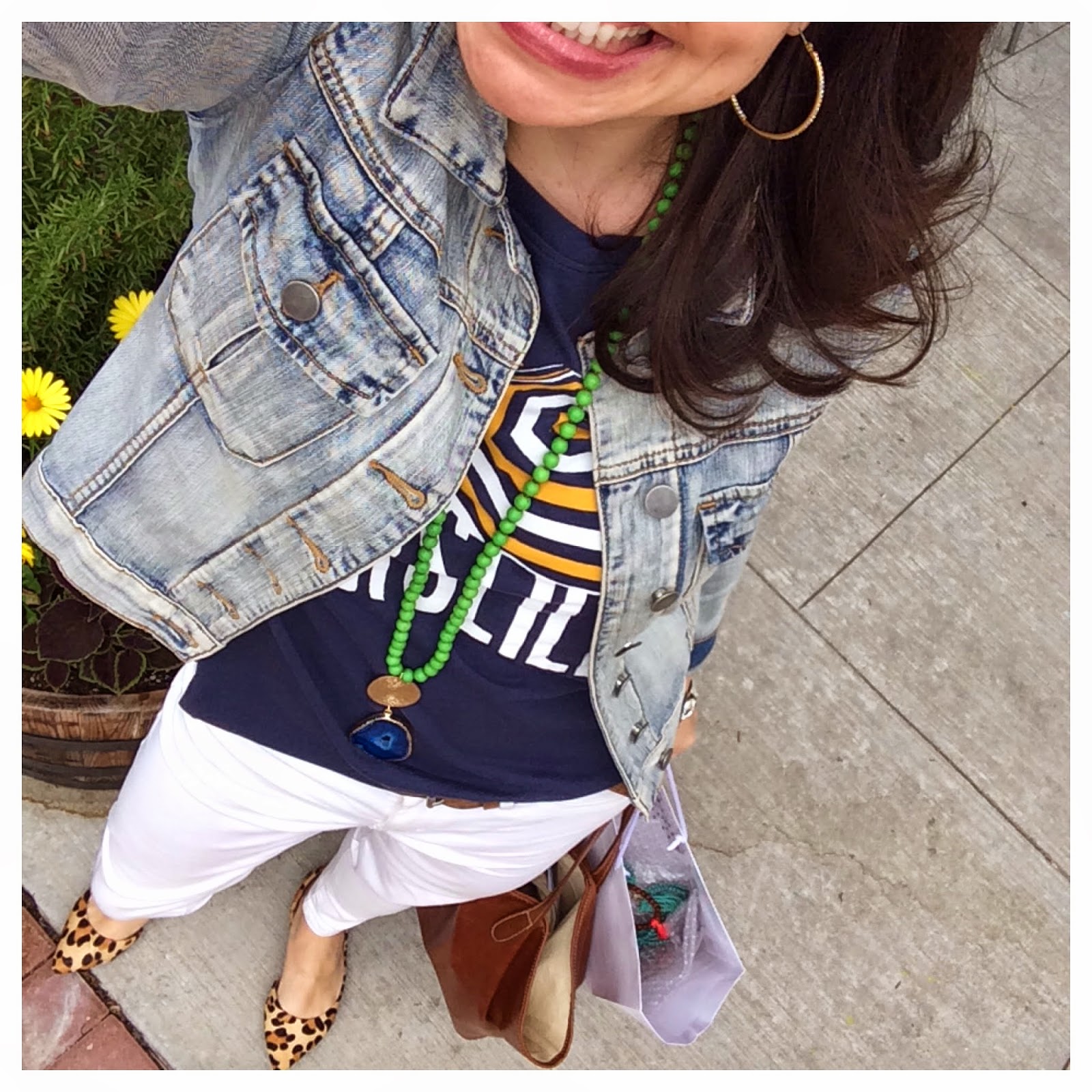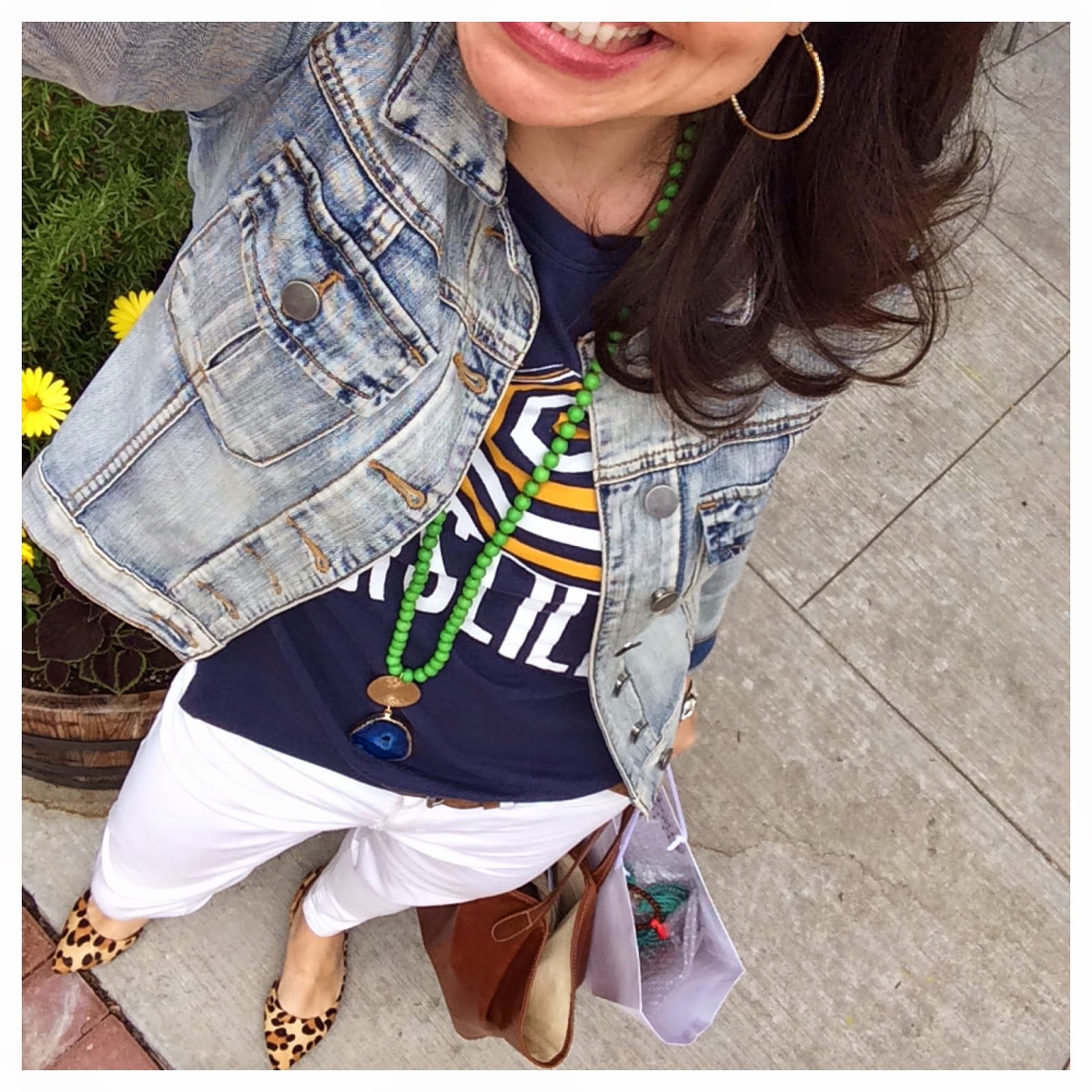 If you don't already own a jean jacket, why the heck not? It can be worn so many ways!
The higher the heel, the better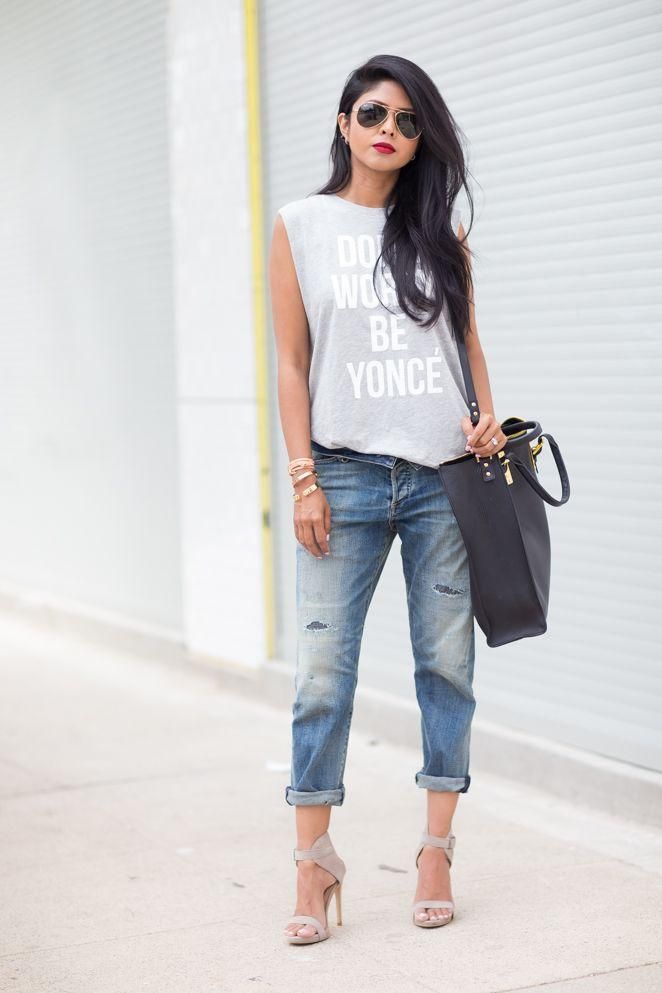 If you want to appear really sexy without looking like you're trying too hard, it's easy. Pull out a sleeveless graphic T-shirt, a pair of boyfriend jeans and the highest heels that you can find. You'll be amazed how many second glances you'll get.
Fun with flare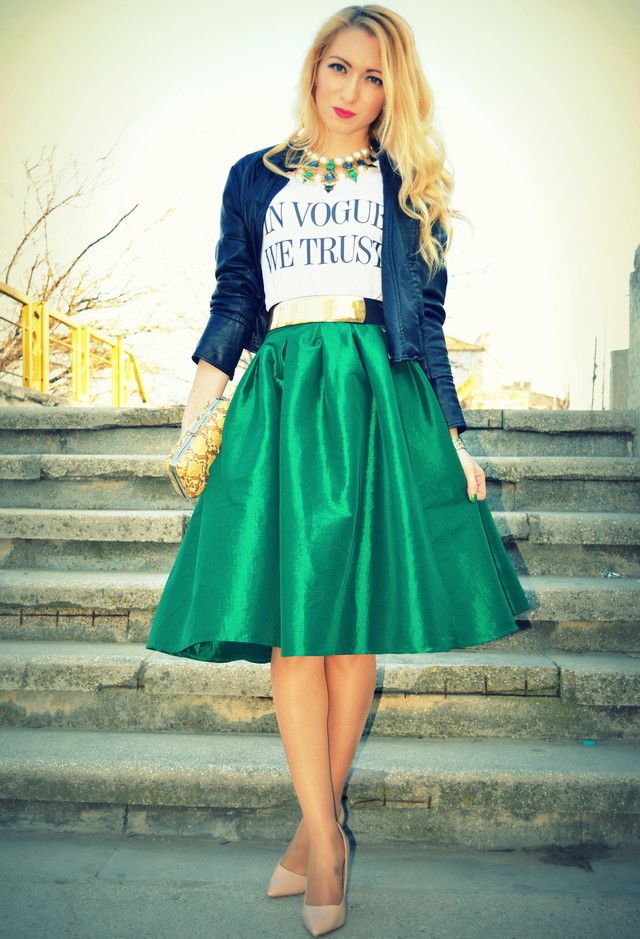 Whoever decided to put on a flare skirt with a graphic shirt deserves a round of applause. Just look at how darling the combo is.
Printed leggings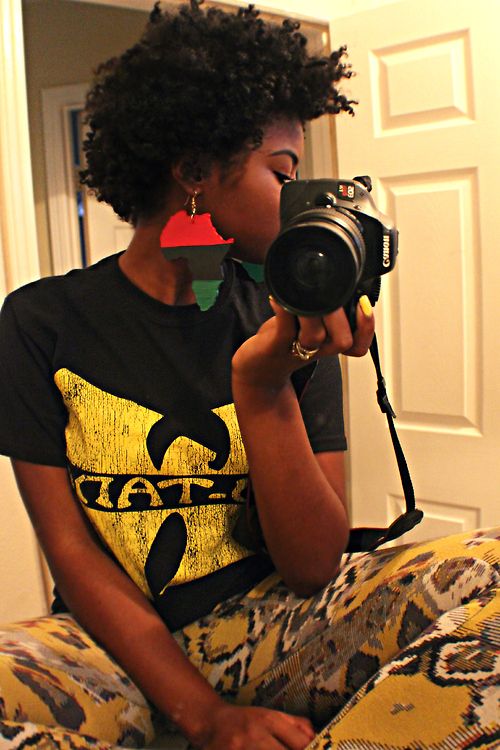 Whether you plan on laying back for the weekend or catching a movie with friends, you don't have to put too much thought into what you're going to wear. Rock your favorite graphic tee with a pair of printed leggings. (You'll really look fashion-forward if you put on some wedge sneakers too.)
Get a leather skirt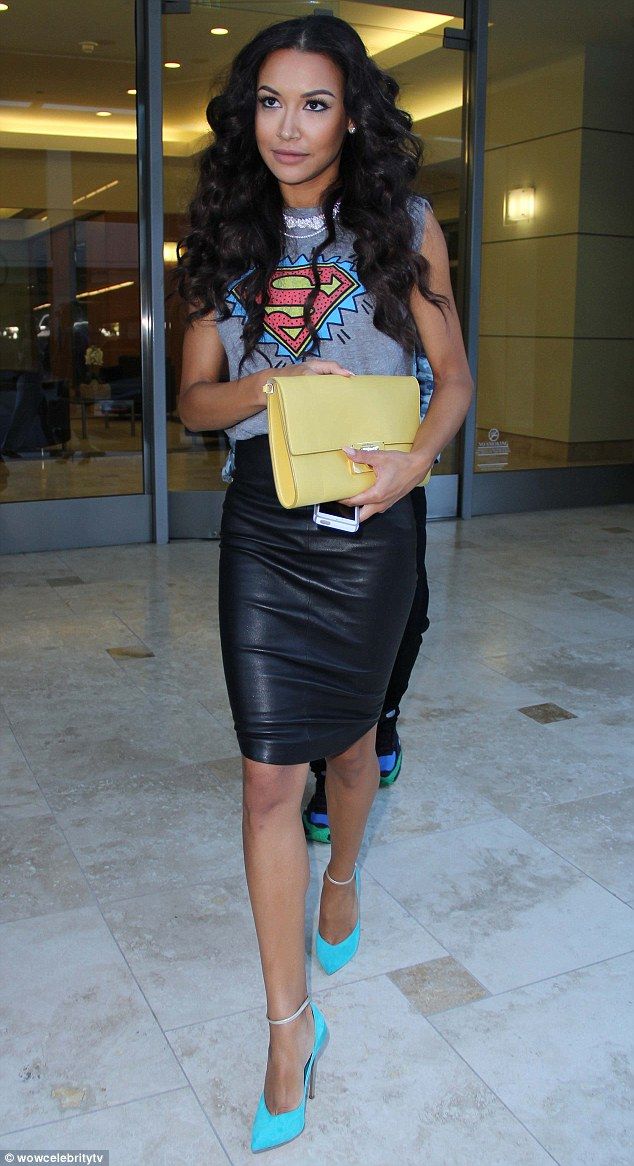 If you're on a bit of a budget and you're trying to figure out a clothing staple for fall, buy a leather skirt. This picture speaks volumes as to why it's one of the best things that you could possible do.
Wear a blouse underneath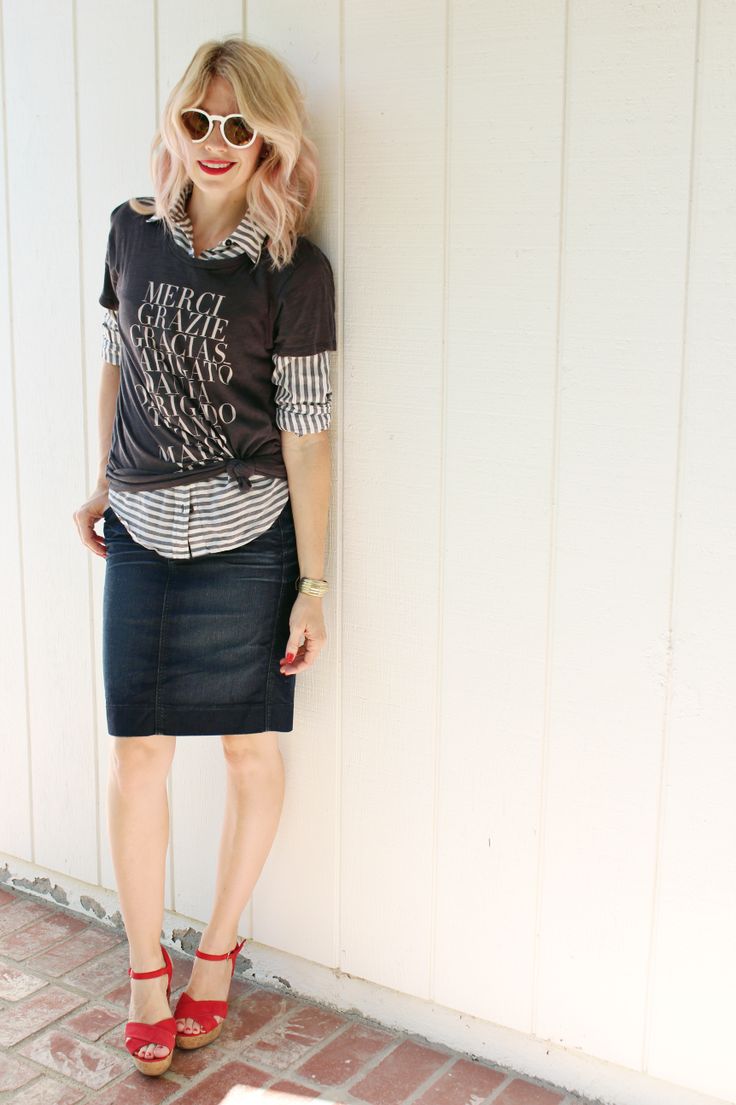 Another way to layer your graphic tees is to put it on over a long-sleeve blouse. With a jean shirt and wedged heels, it's…ultimate.
Black Tie It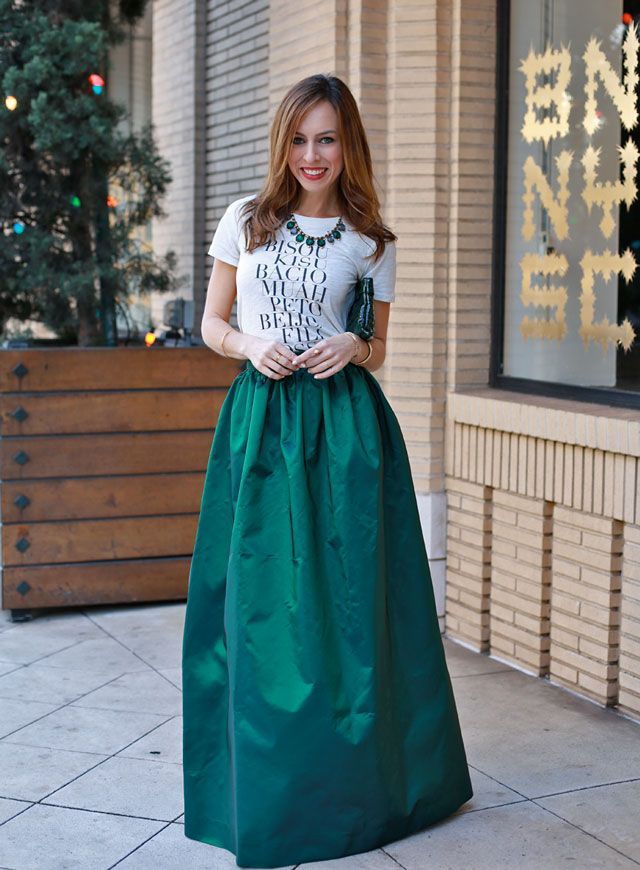 Wanna make a statement at your next Black Tie event? Wear a graphic tee and satin shirt. Just make sure that it's fitted and that you double-check the message that is on it. (You want to stand out, but still be appropriate for the occasion.)
With nothing at all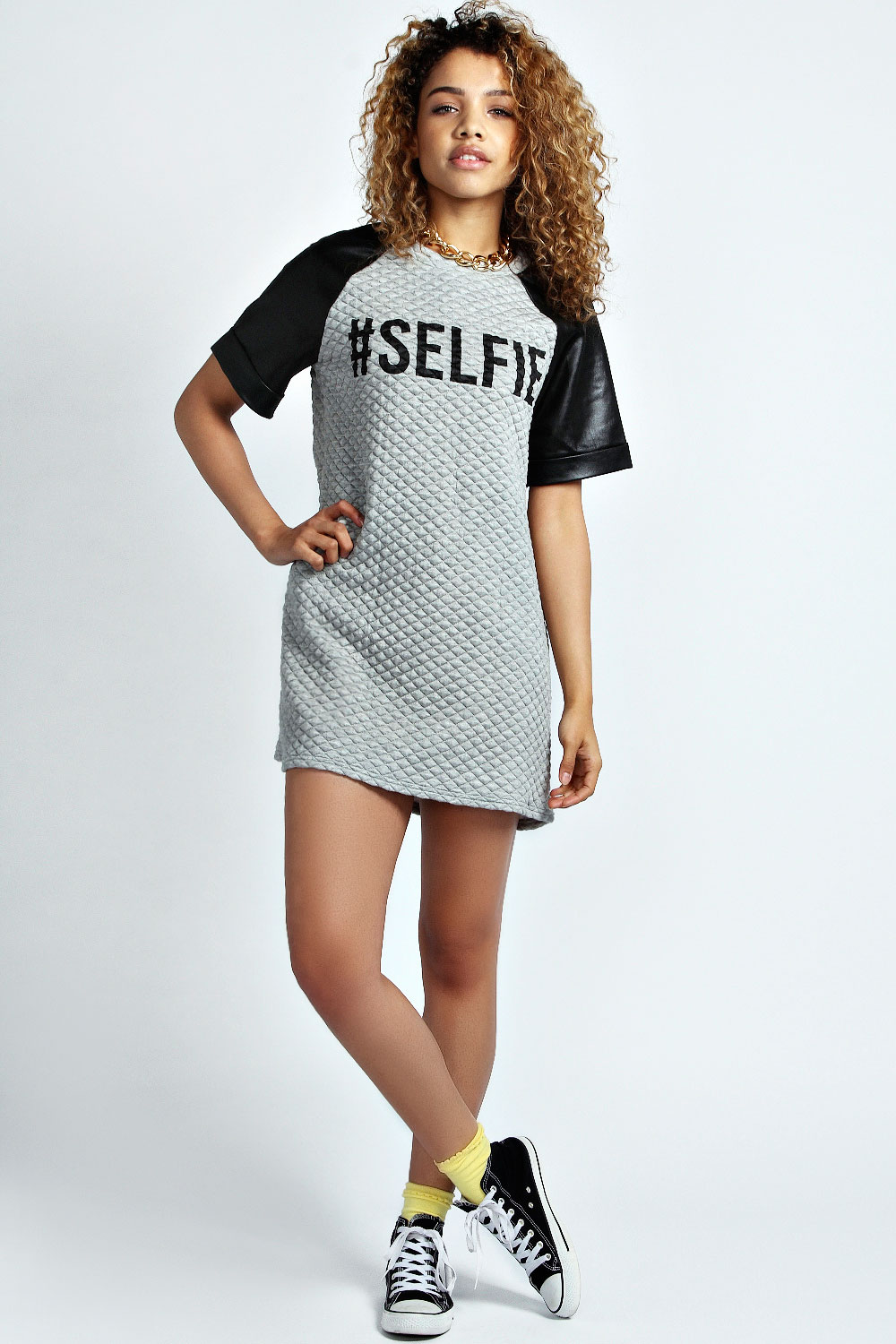 A lot of stores (off and online) sell T-shirt dresses. It's the best way to rock some of your canvas shoes.