Culottes are the trousers/shorts hybrid which have taken the fashion scene by storm, much-loved by fashion enthusiasts and novices alike. These super flattering and trendy cropped trousers are the very definition of smart-casual, offering you the perfect outfit choice time and time again. You can wear them with a whole host of different things, creating an endless amount of looks. They transcend seasons and work for almost any occasion – so let's inspire you to get a pair in your wardrobe! Here's 10 ways to wear culottes that will never do you wrong.
Bright Culottes and High Neck Sweaters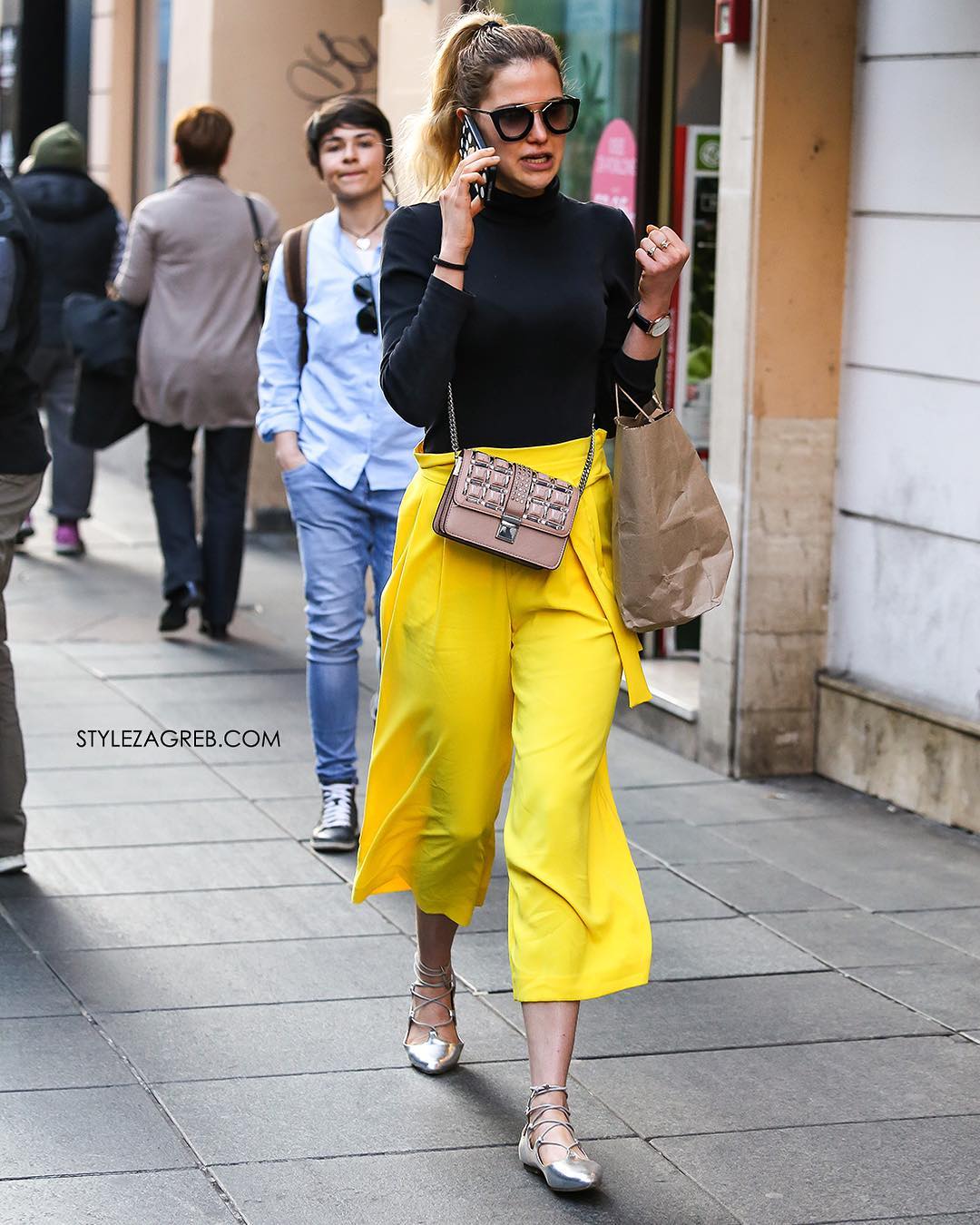 Culottes need not be in a neutral colour to add a splash of personality to your outfit – in fact, we recommend you embrace colour as much as possible like this lovely lady! Choose some brightly coloured culottes (we adore this yellow) and team with a black high neck sweater which is tucked in. Add some metallic silver shoes if you like, wear your hair up and finish with sunglasses.
Black Culottes and Casual Shirts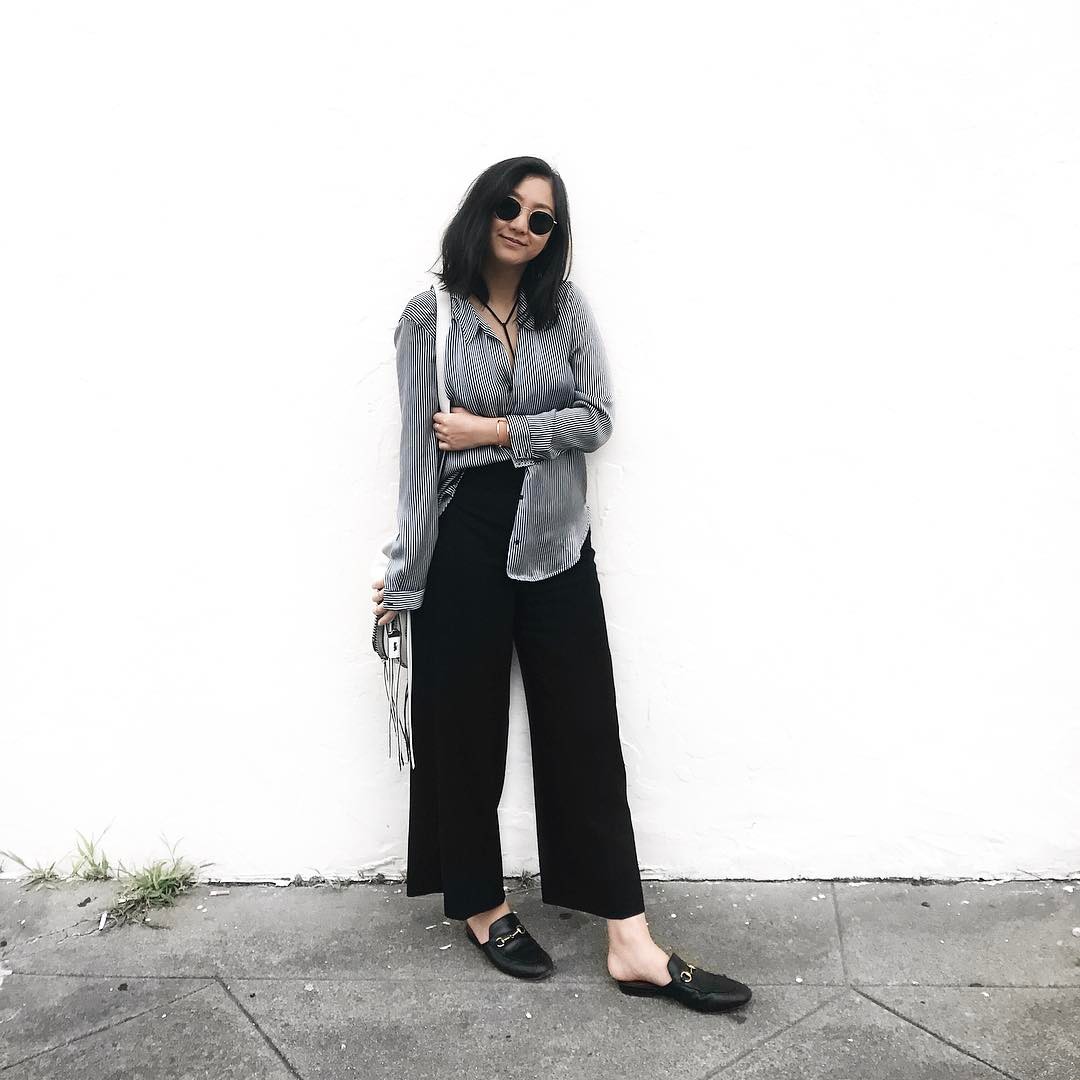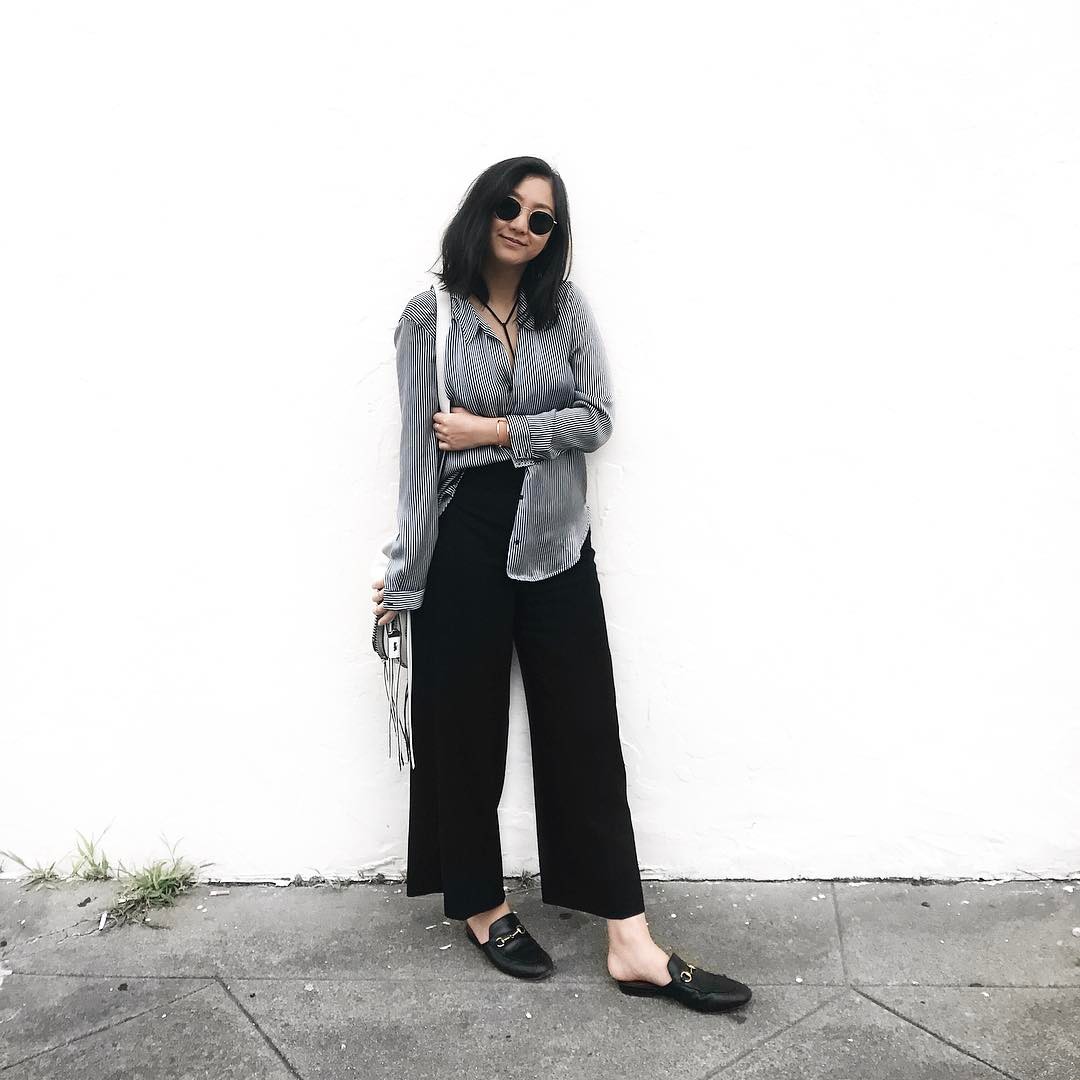 Dressed down culottes and super cool culottes, as we're sure you'll agree. Choose a pair of classic black culottes which fit you like a glove. Add your favourite casual shirt into the mix. We particularly like this black and white stripy shirt. Add a black pair of slip ons, wear your hair down and of course finish with your sunglasses!
Glittery Culottes and Black Sweater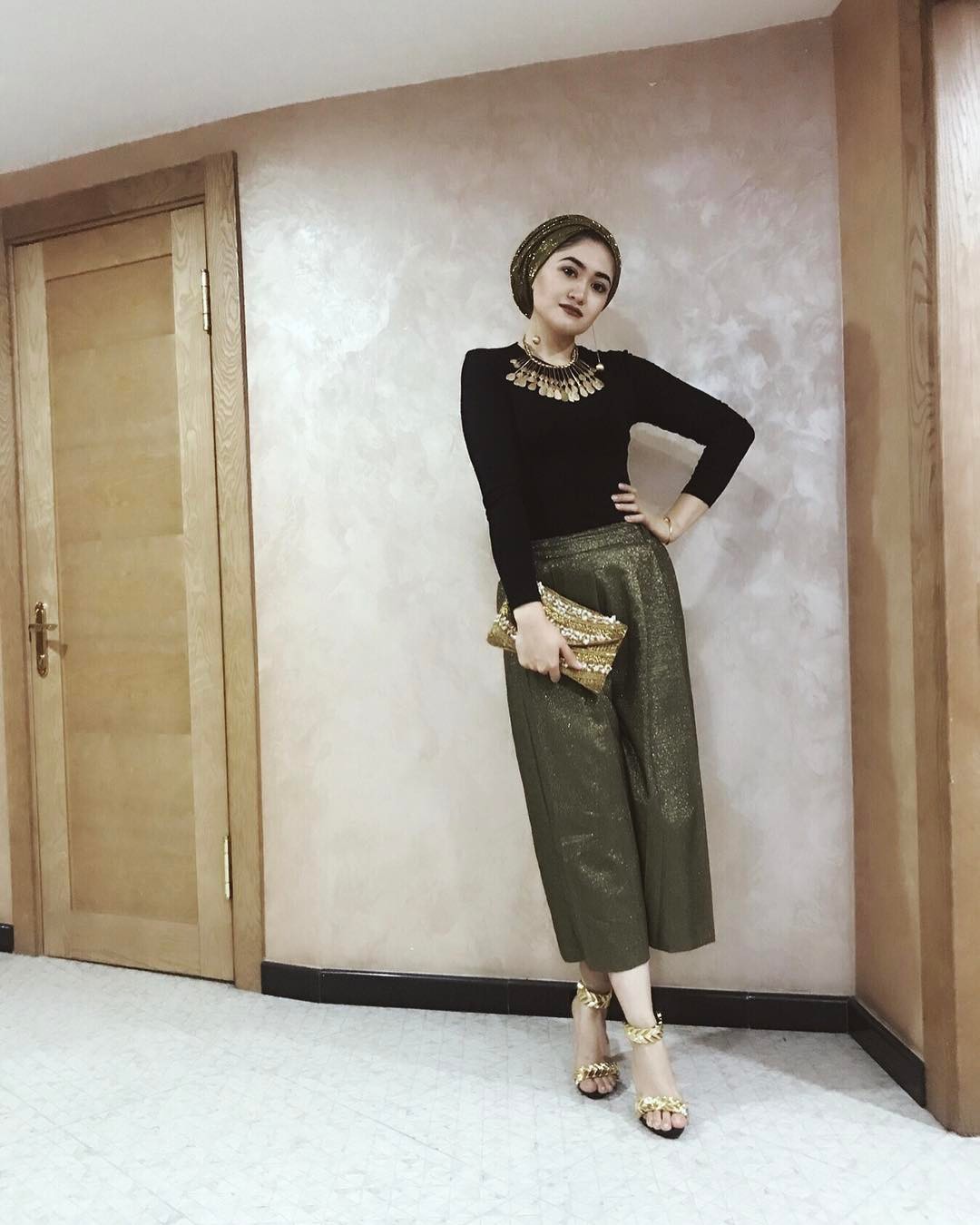 Glitter is everything for a night out look – so why not invest in some glittery culottes? This amazing pair has a gold glittery sheen all over and we just cannot get enough of them. Finish the style with a black high neck sweater, a statement gold necklace and plenty of gold accessories. You absolutely have to wear heels to finish this look in style.
Tie Waist Culottes and Long Cardigan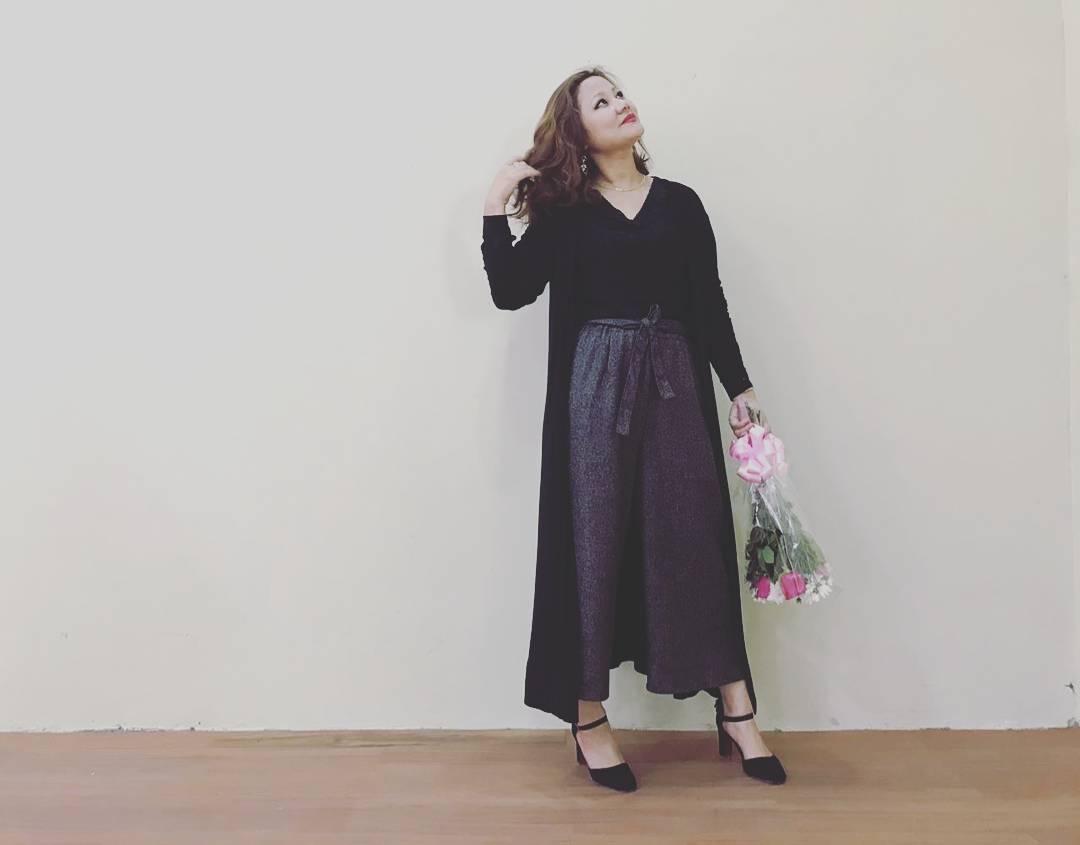 Tie waist culottes are incredibly fashionable and will offer you a gorgeous silhouette for your body shape. Choose some loose fitting tie waist culottes and add a plain black t-shirt into the mix. Finish with a longline and long sleeved cardigan for an effortlessly chic style. You can wear this look with flat shoes or small heels for a fabulous outfit idea.
Satin Culottes and Camisole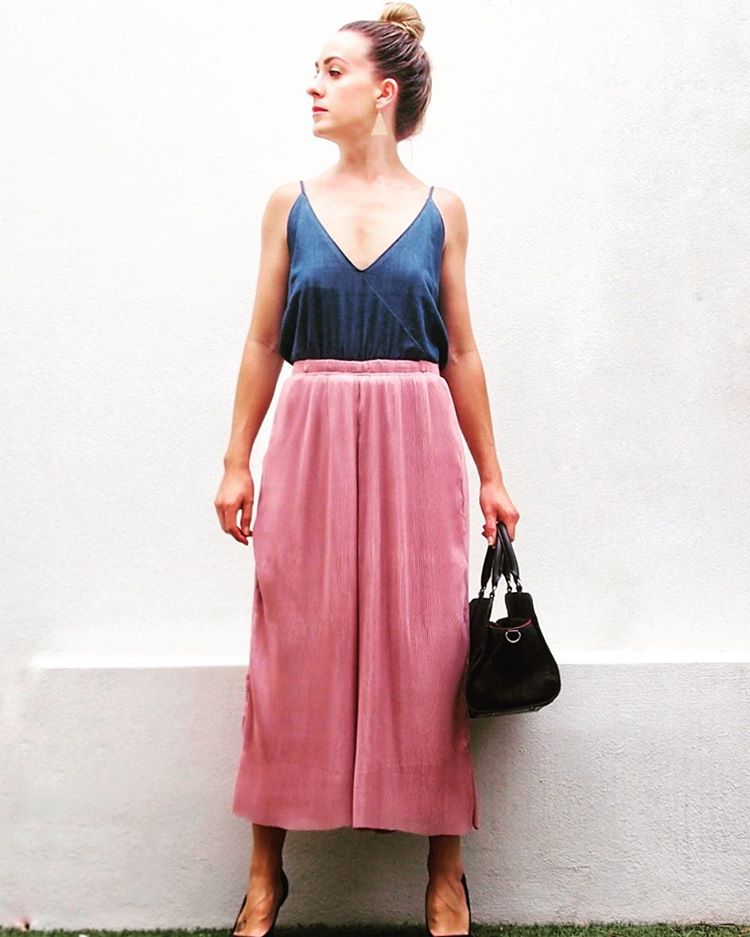 Satin culottes are incredibly silky and chic – particularly for a holiday or for a night out! We love these bright pink satin culottes and think they would make a seriously welcome addition to any wardrobe. Team with a complimentary v-neck camisole top and your favourite pair of high heels for a night out look that is just to die for.
Pink Culottes and Leather Jacket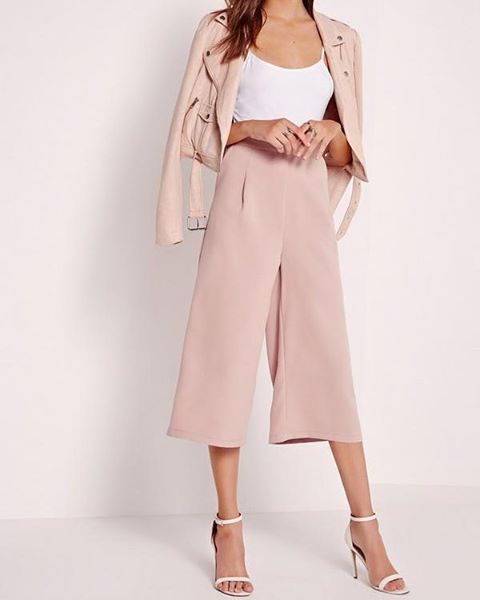 Pink is a colour which lends itself to the culottes style effortlessly – particularly when teamed with an amazing biker jacket as is pictured above! Choose some pink structured culottes that will fit your shape perfectly. Add a white vest top and tuck in to enhance your shape. Finish with a pink biker jacket to drape over your shoulder and a pair of white or nude heels.
Leather Look Culottes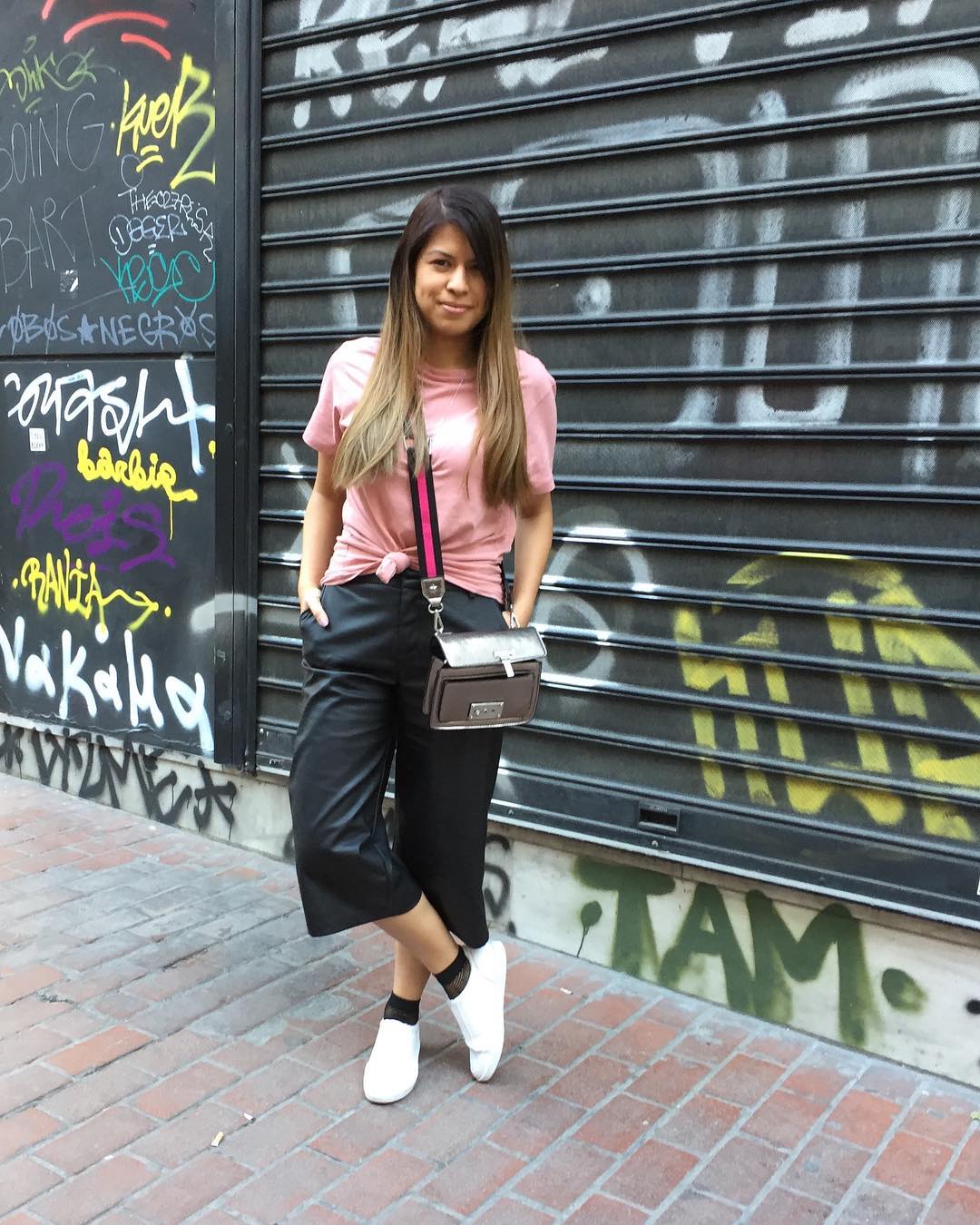 Leather look material adds a cool and contemporary style to your culottes, which make these a totally different take on the classic culotte style, and one which you need in your wardrobe. Choose some leather look culottes and wear with a soft and classic t shirt shape. Finish with your favourite trainers for an edgy day style which is to die for.
White Culottes and Jumper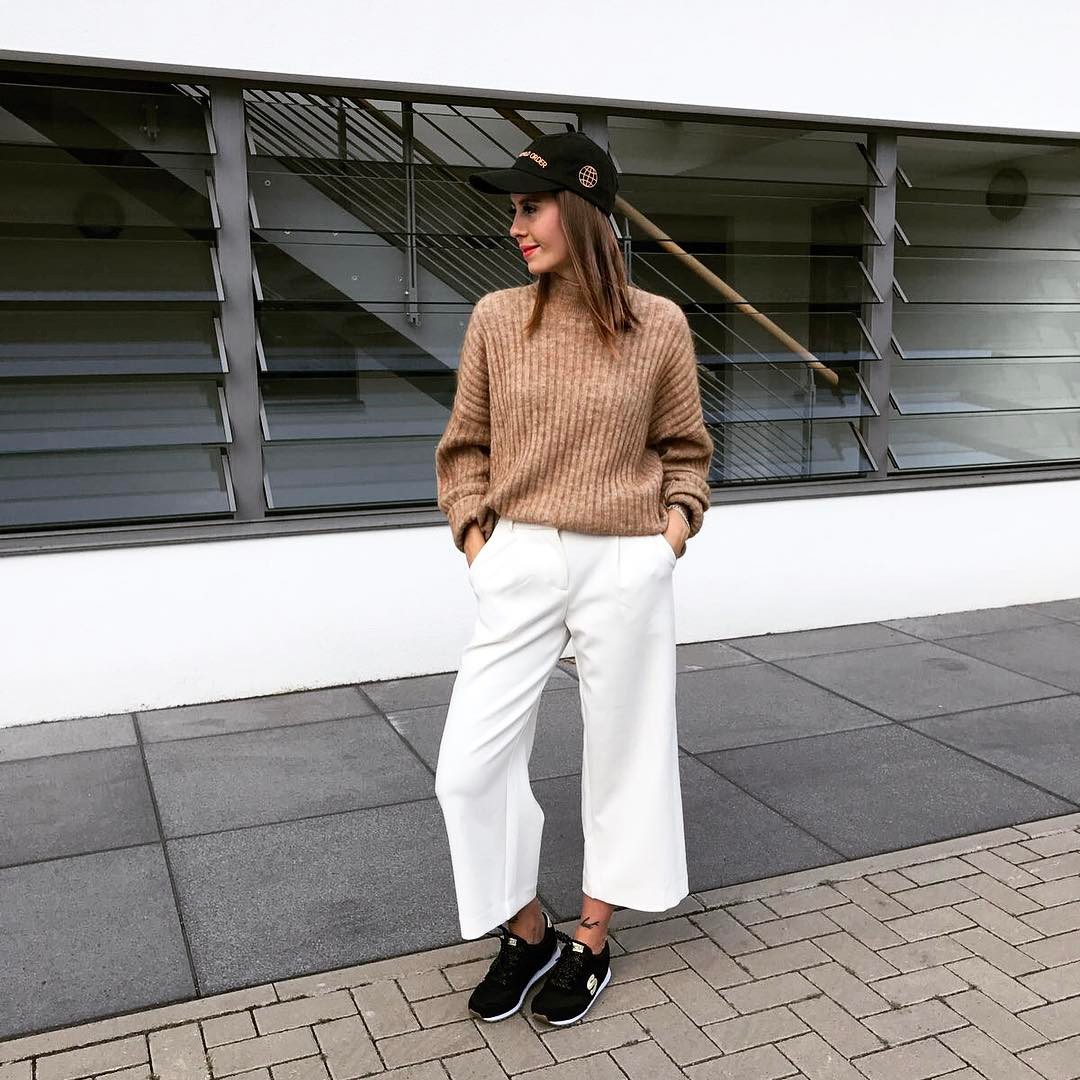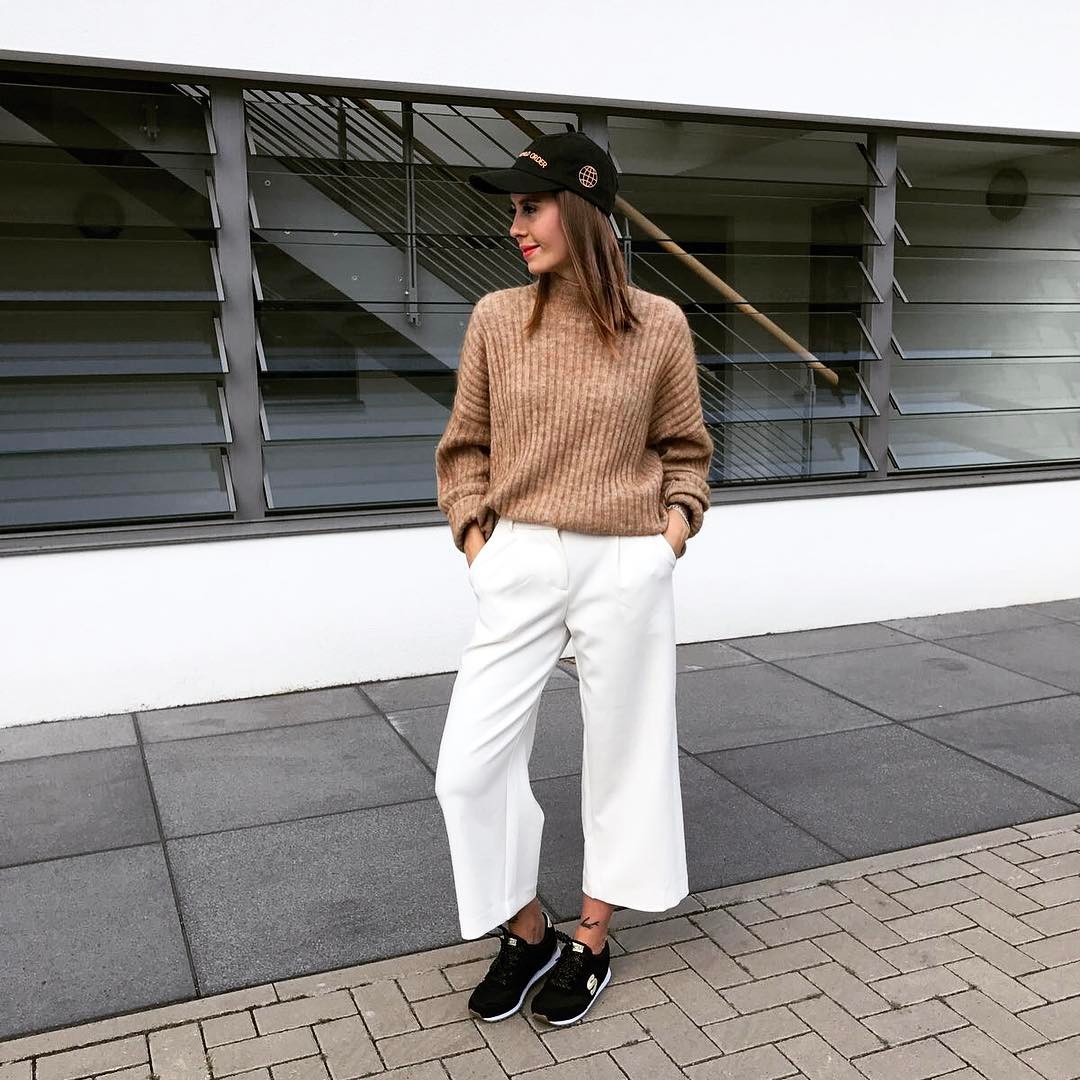 White culottes are a must – especially for summer. They're smart enough for you to wear to work, light enough to relax at home in and can be dressed up or down for a casual or smart look. Team your wight culottes with a chunky knit sweater in a lovely colour. Add your favourite pair of trainers and you've got the perfect day time look.
Culottes and Denim Shirt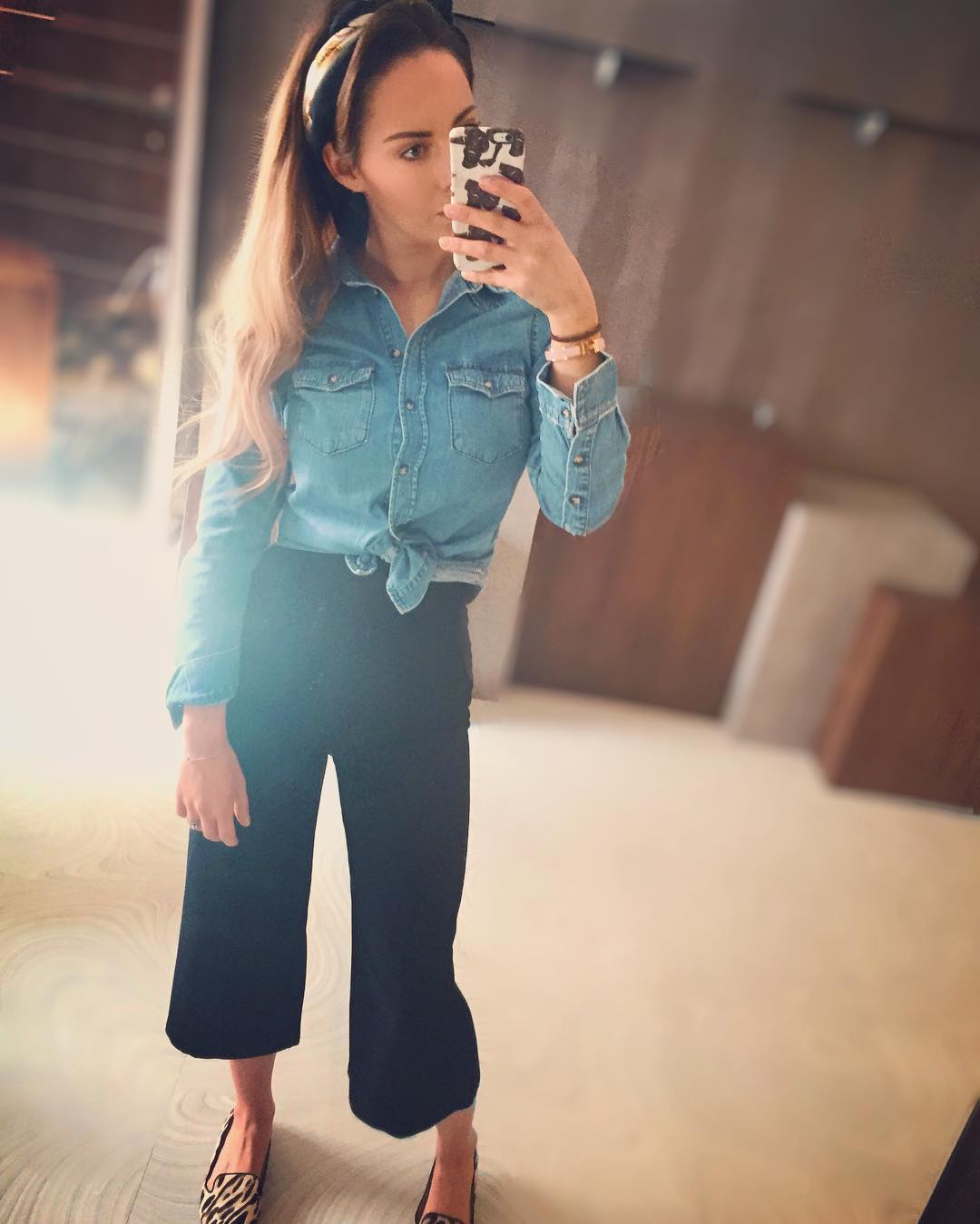 Denim shirts are incredibly trendy anyway, but especially when you pair them with a pair of black culottes – don't you agree? Grab your black culottes and choose your favourite denim shirt. Tie the denim shirt at the waist. Wear your hair down but add a cute hair band with a bow for effortless vintage style. Finish with flat shoes for a great run around day look.
Black Culottes and Vest Top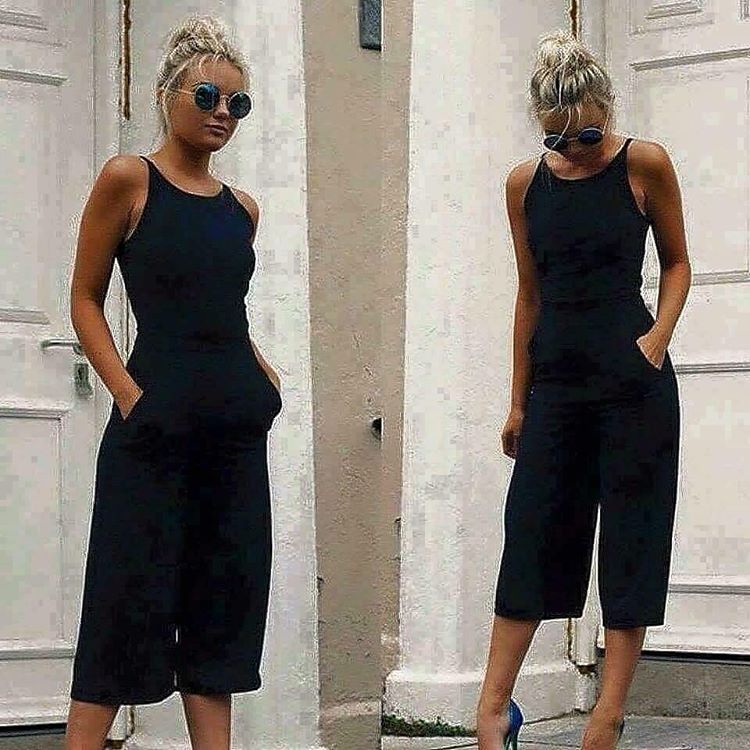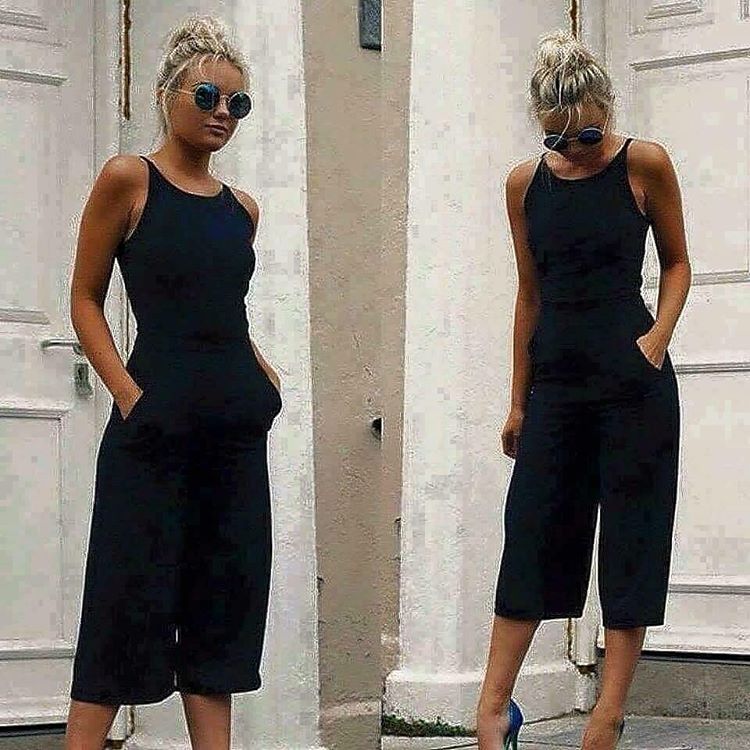 Black on black is a combination we'll never tire of – especially when culottes are in the mix! Choose your favourite pair of black culottes and add a black, tight vest top into the look. Tuck your vest into the culottes for a seamless shape. Add high heels in a bright colour and wear your hair up in a bun. Finish the look with sunglasses and you're good to go.
Which of these culottes styles has stolen your heart? We think there are so many different colours, styles and materials, each offering a totally unique look and feel yet all embodying the classic culotte shape which we love so much. How would you style your culottes?