Sooooo…here's a trend that you probably didn't see coming: CROCHET! Something that is so wonderful about it is you can look really feminine and still stay extra cool while you have it on. And that's probably why it's selected to be a leading fashion look for this spring and summer.
If crochet, in your mind, has always been reserved for scarves and mittens, hopefully the following styles will convince you can give the look a try…in other ways.
1. Tank, slacks and crochet cover-up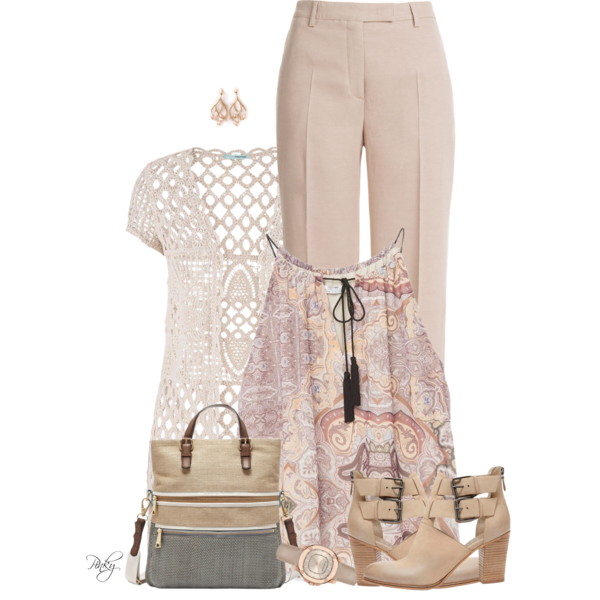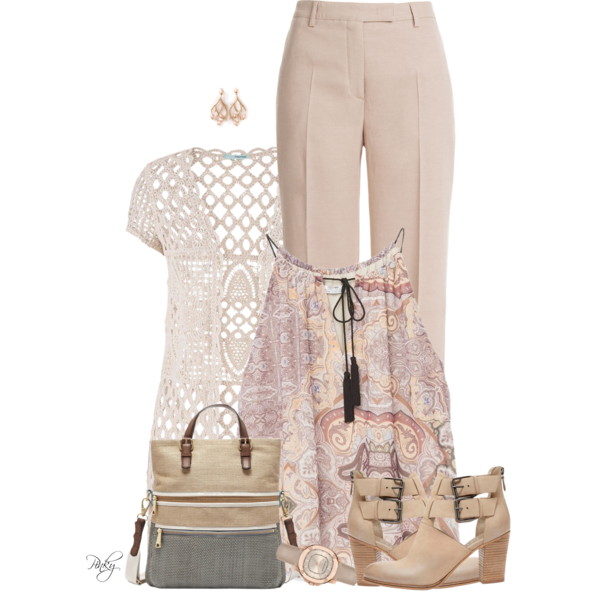 OK, so clearly crochet cover-ups aren't about keeping you warm. They're actually more about adding some visual detailing to your outfits. But aside from that, one of the huge benefits that comes with having a cover-up that's made this way is that you can wear it with so many different things. With a tank and a pair of slacks, for starters.
2. Jean shirt and crochet shorts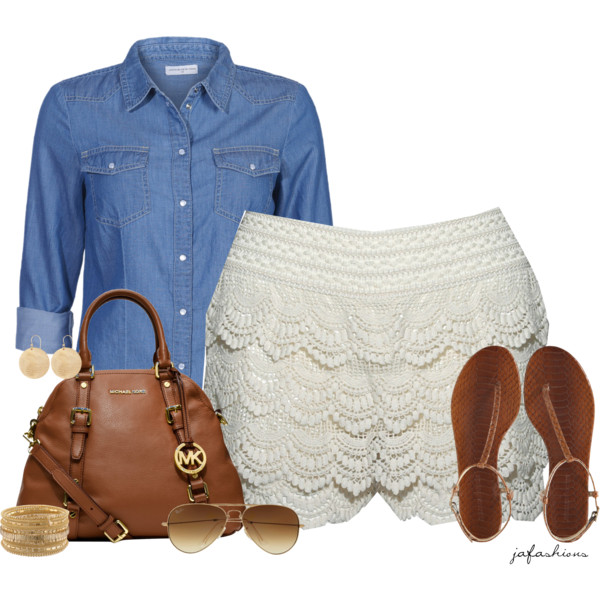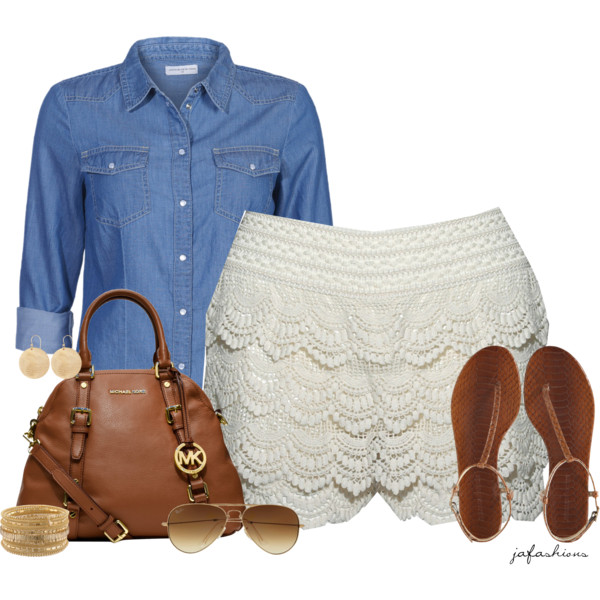 Charming and delicate. That's EXACTLY what this outfit is. The charm comes from the jean shirt (it's best to go with one that isn't distressed in this case). And the delicate? Your legs will look so good in a pair of crochet shorts like these! And yes, our first selection, as far as accessories go, would probably also be cognac-colored leather.
3. Crochet sweater and jean skirt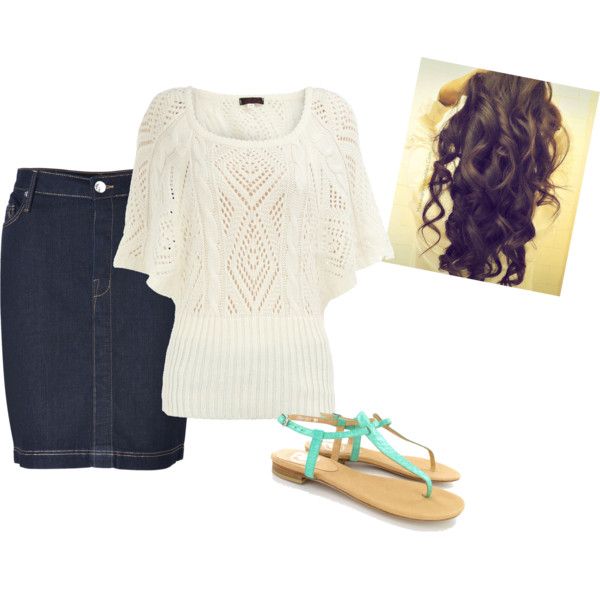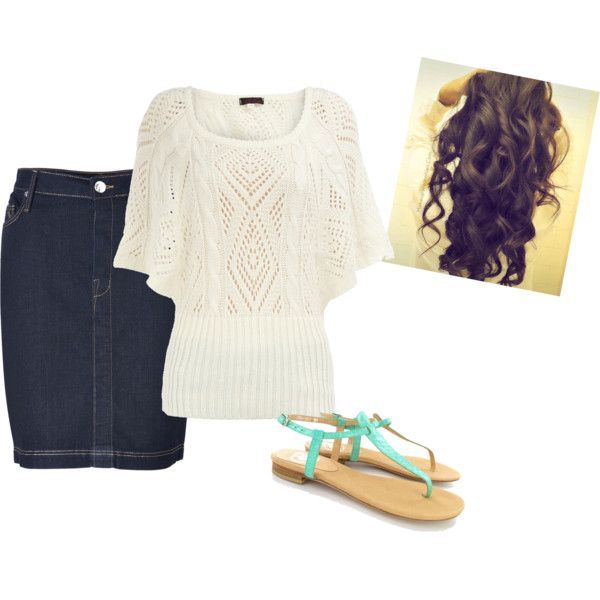 If you're in school and you have an early morning class in the spring that makes determining the days temperature to be a bit on the unpredictable side, a crochet sweater with short bell sleeves and a jean shirt should be able to get you through it. Complete the look with some flats or sandals.
4. Flowing tank with crochet back and jeans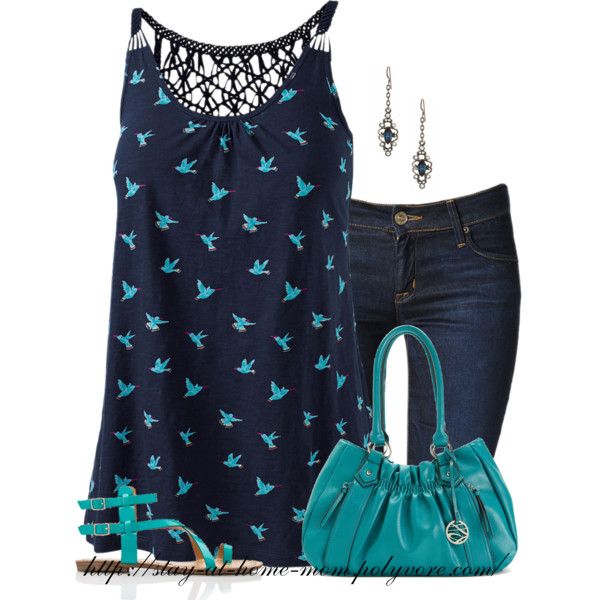 This right here is definitely more of a summertime look. It's a printed tank which is nothing new. But what makes it stand out is the fact that the backing is crocheted. Some jeans, jean capris or jean shorts would be really cute. So would some gladiator-like sandals.
5. Crochet asymmetrical top and flare jeans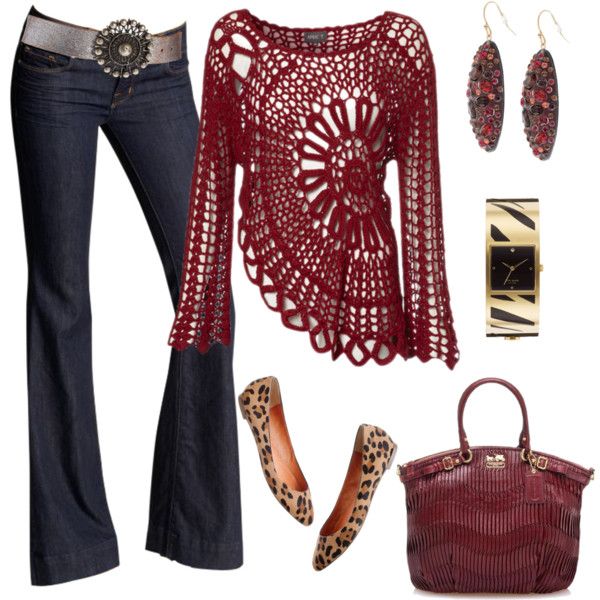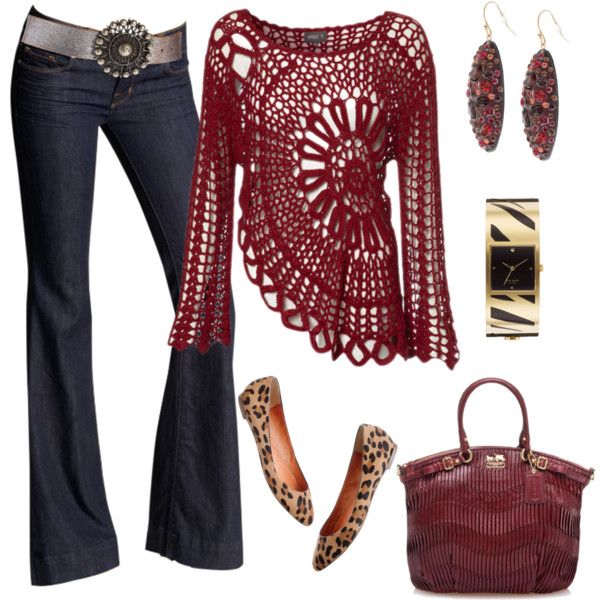 Depending on how daring you are and comfortable you tend to be with your body, this crochet asymmetrical top can be worn one of two ways: you can put a tank top on underneath or even a really pretty bra (make sure it's not see-through). Actually, now that we think about it, the tank works for the spring and the bra? It's perfect for summer. Flare jeans are in and so that's a good addition to it.
6. Crochet kimono and sleeveless tie-dye dress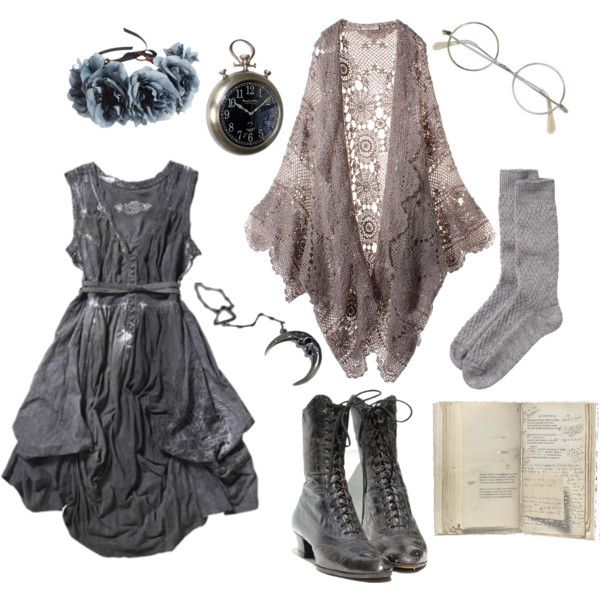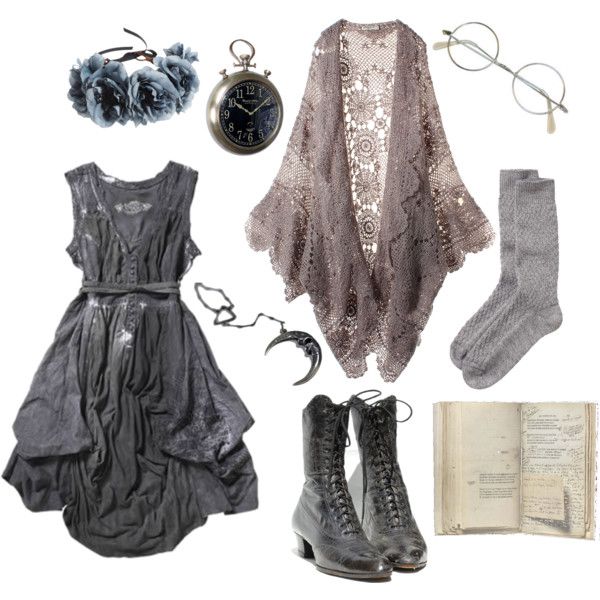 Being that this outfit comes with so many different layers, our two cents is that you reserve it for spring. A crochet kimono, though? Put it on over a dress like this in the springtime and then over your bikini in the summer. (Is it just us or is there something very…modernized Laura Ingalls about all of this?)
7. Crochet vest, white tank and jeans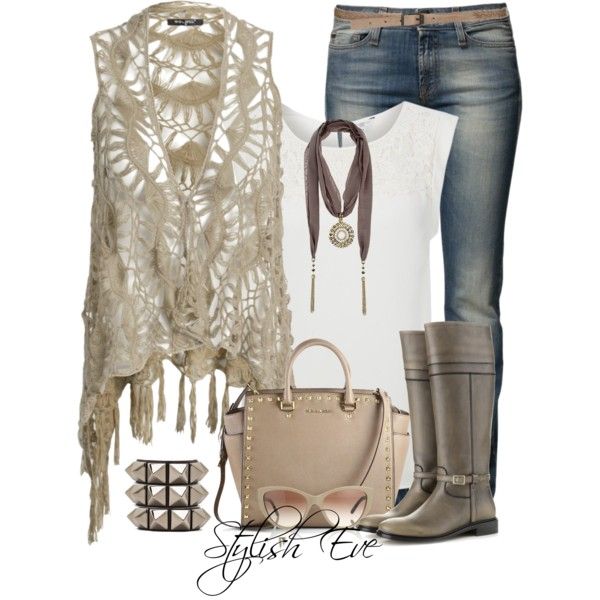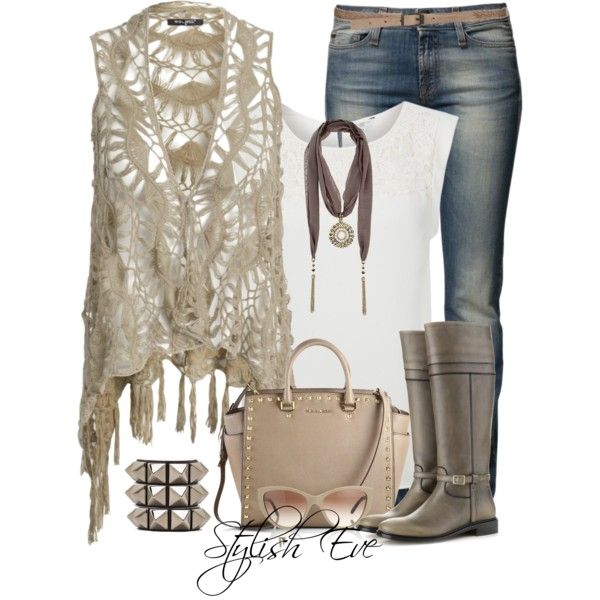 Only in March should an outfit like this one be worn with boots. But this is a good example of how a crochet vest such as this one can basically be worn year-round. In the spring and summer, try on a pair of wedge or flat sandals. And as far as accessories go, it's well worth the investment this season to get a taupe or nude tote. Both shades are currently all the rage.
8. Crochet halter top and capris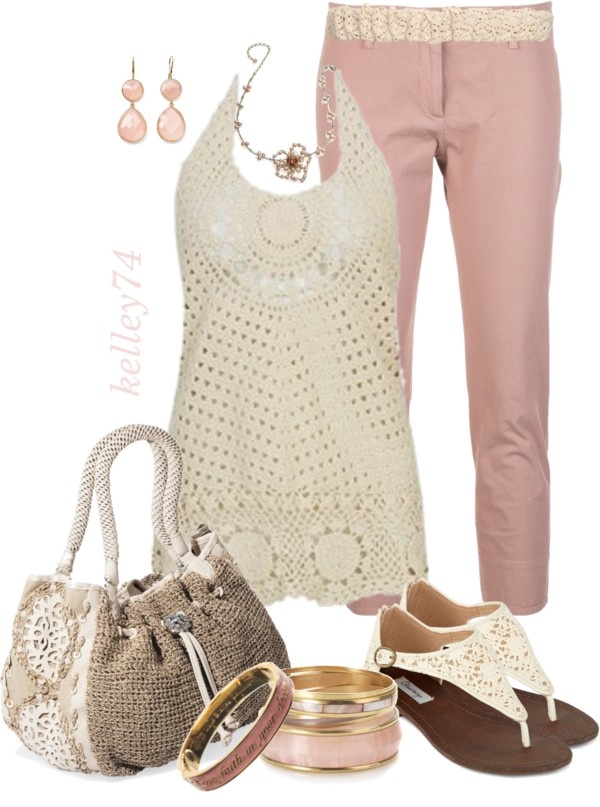 We dig this! On so many levels we do. Sometimes halter tops look either too cheap or they're too revealing. Interestingly enough, that is not the case with this particular crochet halter number. Something else that caught our attention is how it's matched up with, no denim capris, but a soft pink color and a light brown bag; one that happens to also have some crochet detailing on it.
9. Ruffled blouse, capris and crochet bag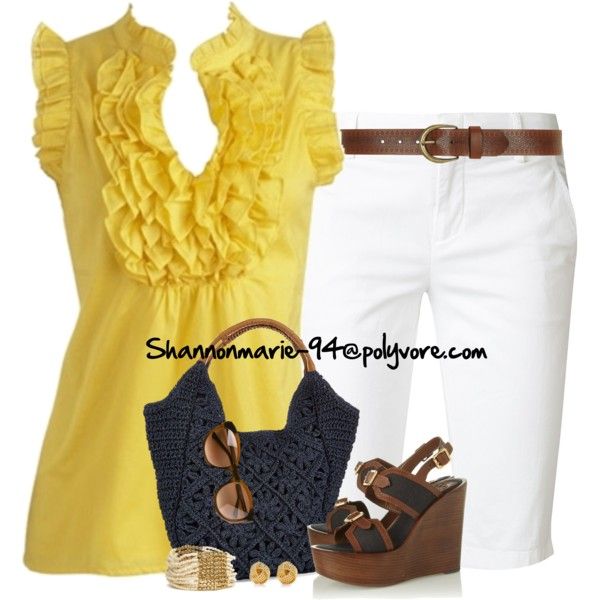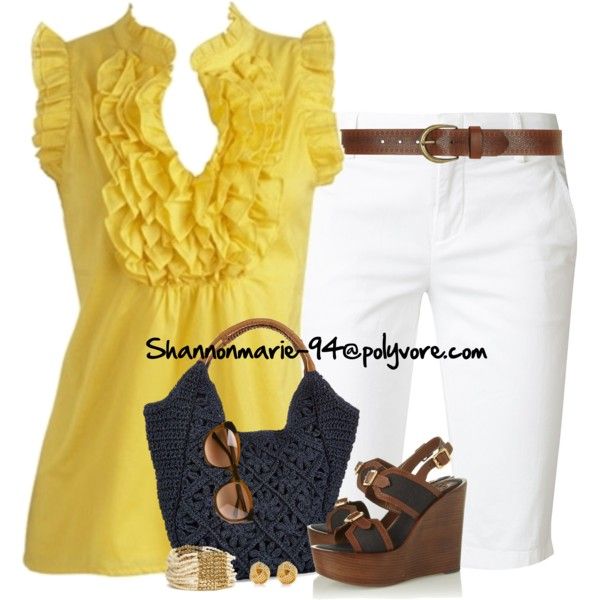 If after skimming through some of these, you're still not convinced that the whole "crochet look" is your speed, take "baby steps" into the style by starting off with an accessory like a crochet purse. You should be able to find quite a few of these at a local thrift store.
10. Crochet dress, denim jacket and cowboy boots
If you can get your hands on a crochet dress and you have a pretty impressive collection of boots, get it. If you were to wear heels with a dress like this, it would probably be too dressy on a casual day. But boots tend to complement a outfit like this really well. Feather (and fringe) earrings are still featured on fashion blogs so it can't hurt to put on a pair of those too.
11. Floral tank, crochet sleeveless cover-up and distressed blue jeans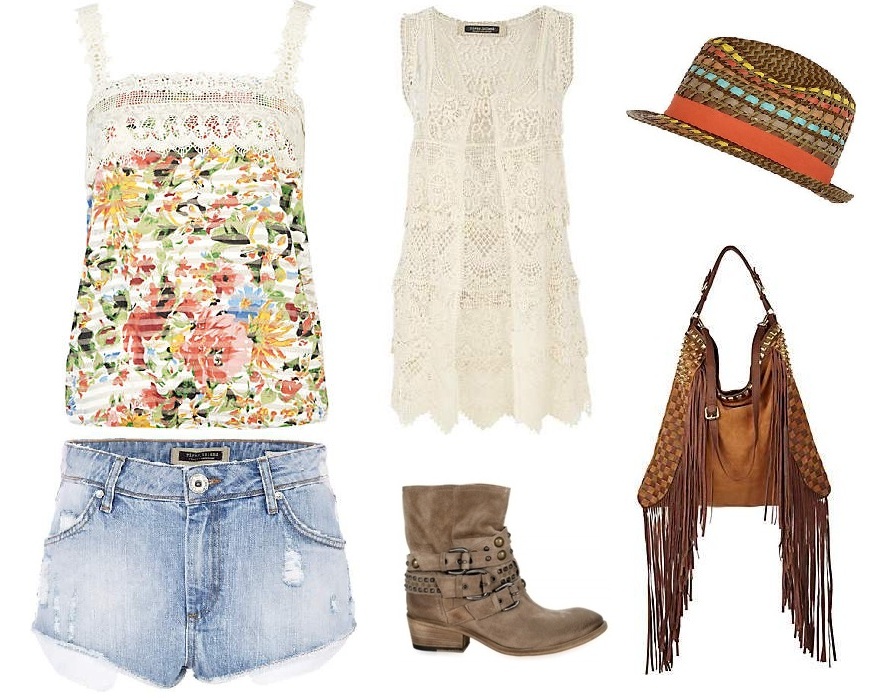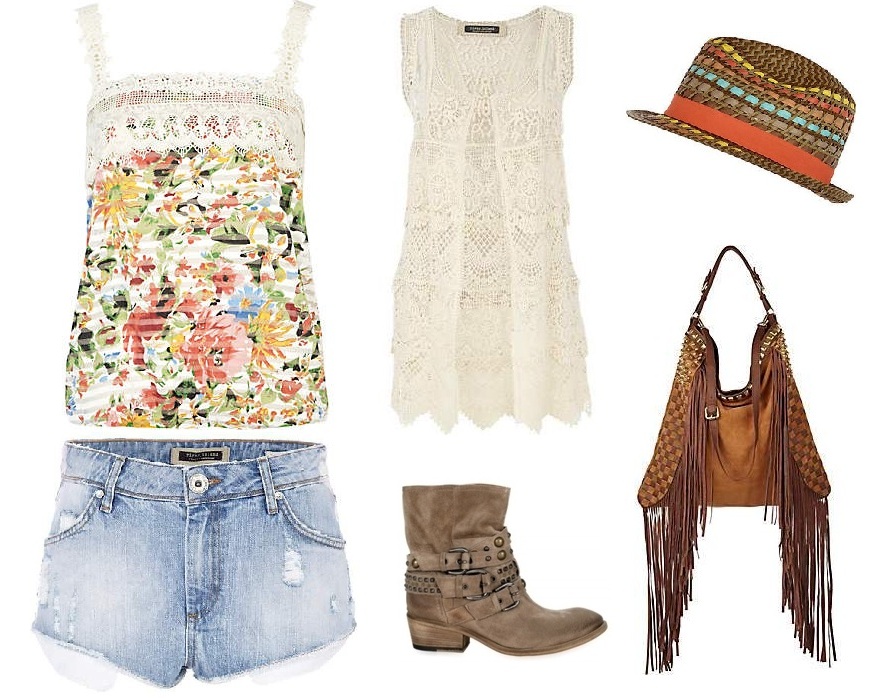 During the spring and summer seasons, we usually "frown" at boots other than cowboy boots. The only kind that end up being an exception are ankle boots like these. They can sometimes be annoying with jeans but not so with mini skirts or jean shorts. And putting on a crochet (or lace) cover-up over a crochet (or lace) trimmed floral tank, you'll be prepared for whatever the weather brings you.
12. Crochet top, blazer and pencil skirt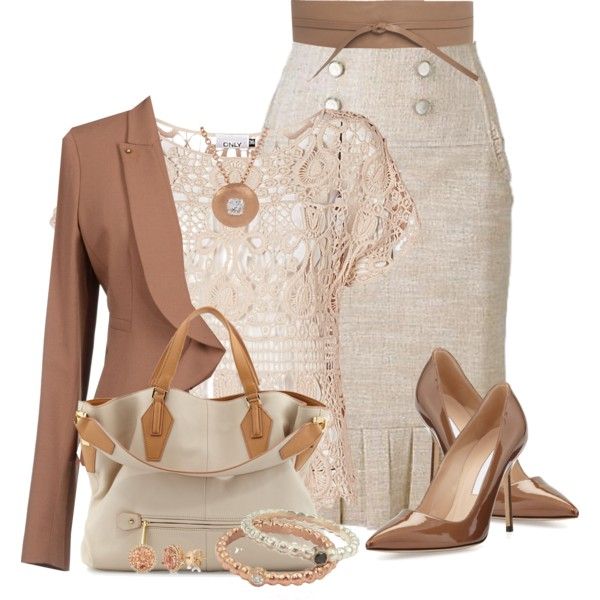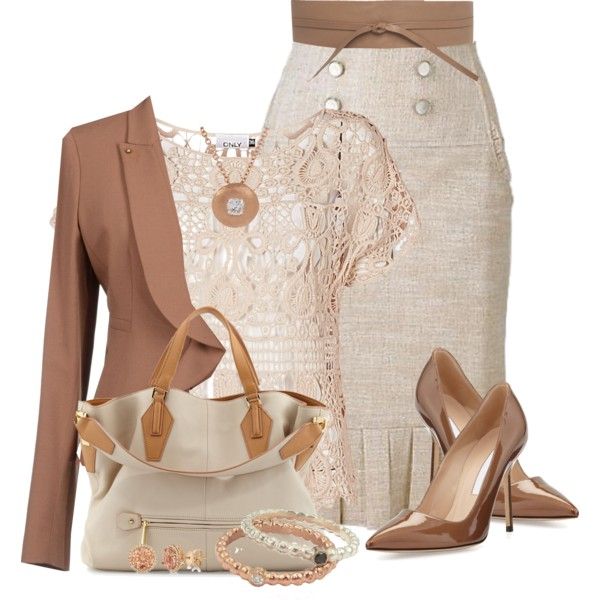 Do you work in a corporate environment? That's OK. Crochet works there as well. Look for a top that has crochet in it and then wear a blazer over it, along with a pencil skirt. All neutrals like this is just one example of how to be both professional and chic.
13. Crochet razor back tank, distressed jeans and gold sandals
We think any woman who wants to be casual but still striking on a date would be able to pull both off with this kind of look, mostly because of all of the detailing. The crochet razor back tank is one example. The holes and ragged hemline on the jeans is another. So is the multi-colors in the beaded bangle and the gold trim on the feather earrings. He'll have so much to look at that he'll rarely, if ever, look away.
14. Crochet button-down, white tank and jeans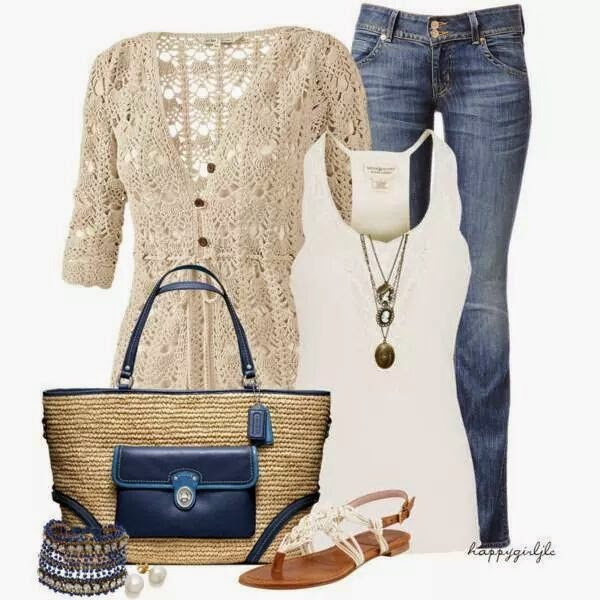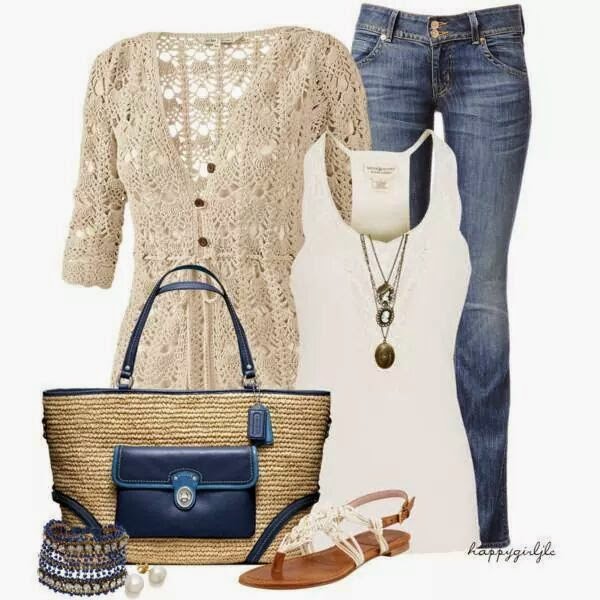 If you do have a tank that has an exposed back, but you're going somewhere where you either don't want it to show or it's going to be a bit cooler inside, a crochet button-down may be the perfect fashion solution. As far as accessories in this case, what we really liked about this is the fact that crochet was literally paired p with a straw bag. #cute #different
15. Crochet pencil skirt and peplum top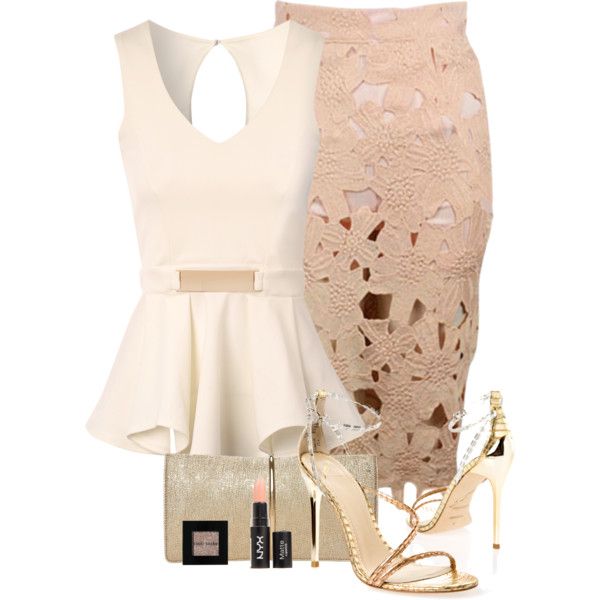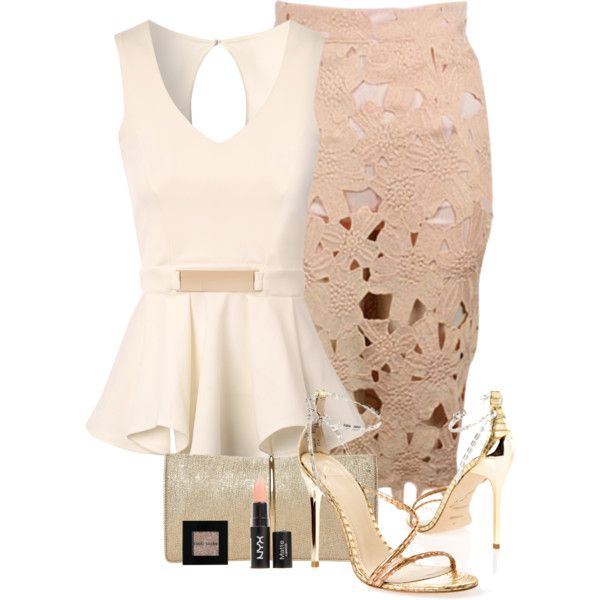 You're going to be all kinds of sensual and sexy in a crochet pencil skirt! Frankly, any color will do, but we're rooting for a soft warm color like this because it's so feminine yet also a tad sultry as well. And peplum tops are awesome because they're known to be pretty forgiving when it comes to slight bulges in the waistline area.
16. Crochet cover-up, white tank and blue jean shorts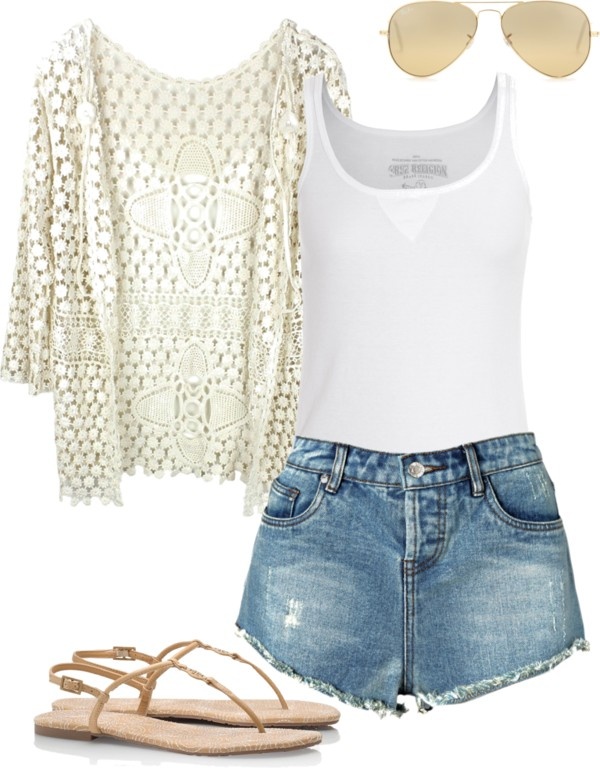 A day for doing nothing but lounging calls for an outfit that consists of a white tank, some old blue jean cut-off shorts and a crochet cover-up. And if someone does happen to call and invite you out, don't change. Just put on some dangling earrings and a nice big gemstone ring. #allset
17. Crochet tank, cover-up and jean jeggings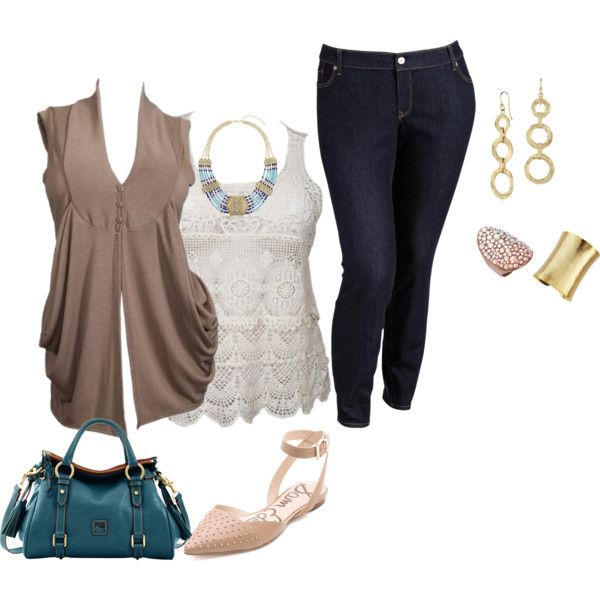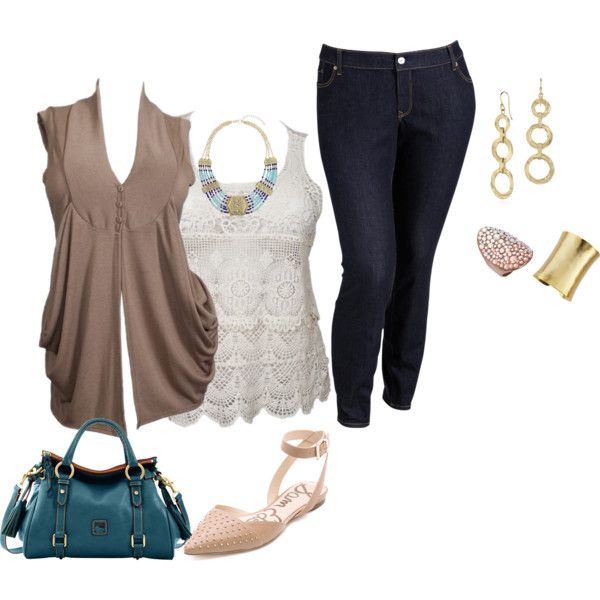 Do you have some jeggings or leggings that you want to wear? You can dress them up some with the help of a crochet tank and a cotton cover-up. Please take a hint from this look if you decide to go all-neutral. A colorful bag helps to brighten things up in a really fashion savvy way.
18. Off-white crochet pullover, white tank and jeans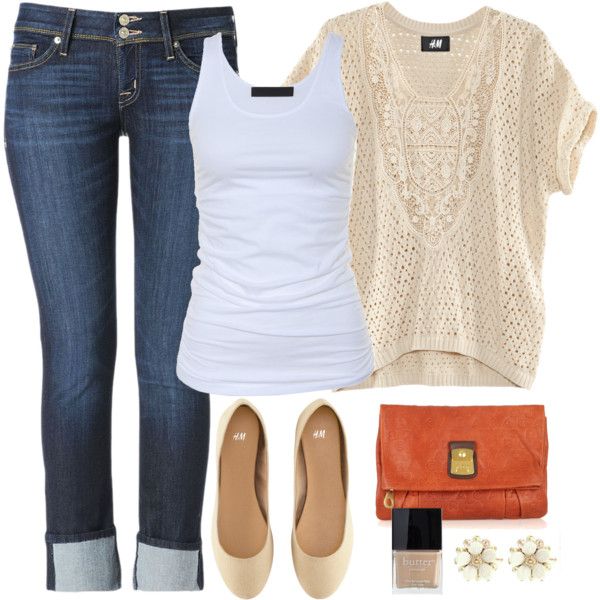 Have you ever wondered how you can wear two shades of white and it not look too crazy? Here's an example. The off-white crochet pullover matches the shoes. Meanwhile, there's a white tank that goes on underneath it in order to break up the monotony a bit. Oh, and don't think that you have to wear off-white shoes. Even a bright teal or orange would work just fine.
19. Crochet trimmed blouse and distressed jeans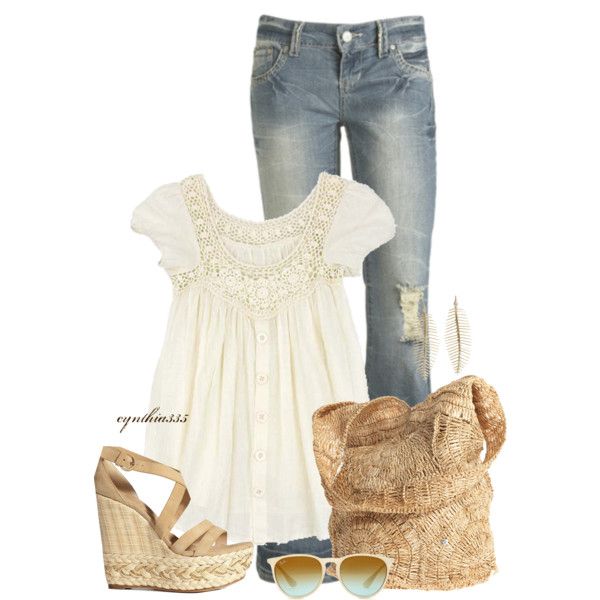 Going on a date…with your parents? They will compliment you the entire time with an outfit like this one because it will make you look so precious, in the best way possible. There's not much to it as you can see. The main thing to focus on is finding accessories that truly complement your personal style and personality. If your jeans are flare or boot cut, do remember to put on some heels or wedges.
20. Crochet and lace dress and cowboy boots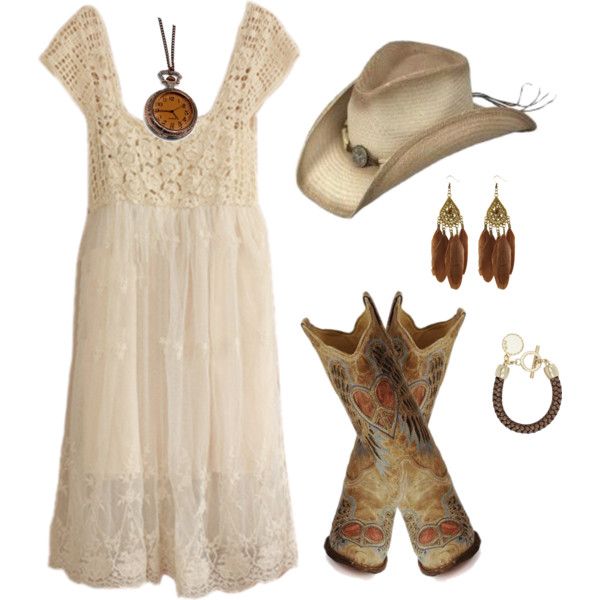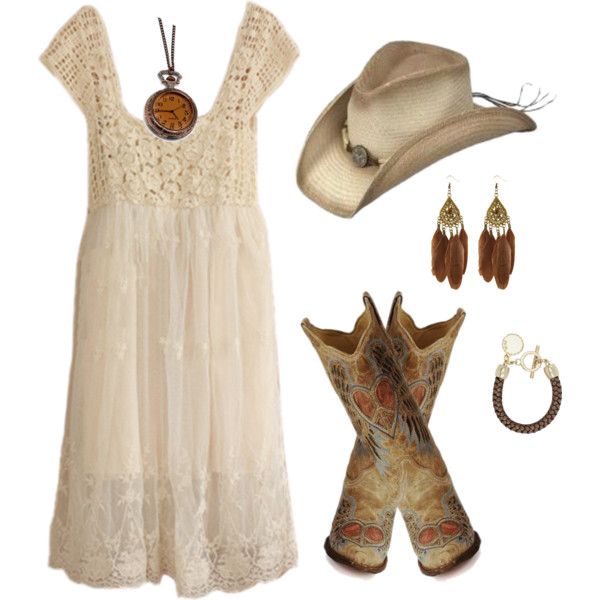 The Boho look is somewhat fading out but it's not completely gone. Here's one way to keep it going for awhile. Add a pair of cowboy boots to a simple crochet and lace dress, with or without your cowboy hat. As a heads up, you might need to go searching online for a store that sells vintage clothing (or you could go to a thrift store) in order to find one that looks a lot like this.
21. Crochet bustier, floral mini skirt and crochet flats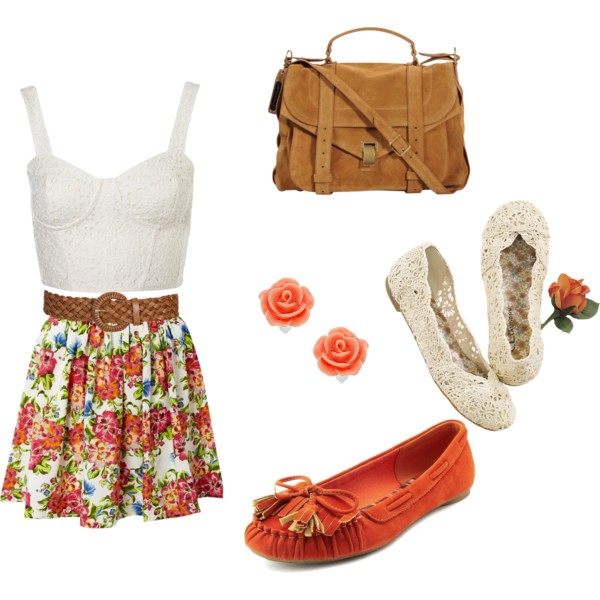 When it's burning up outside and all you can really think about is how little you can get away with wearing and still be appropriate at the same time, here's a truly fashionable solution. This crochet bustier basically looks like an eyelet pattern which is truly perfect for spring (or summer) and since floral prints are HUGE during that time of year, you'll be a touch of perfection with a floral mini skirt. And really, who wouldn't want to own some crochet flats?
22. Crochet top, jeans and leather boots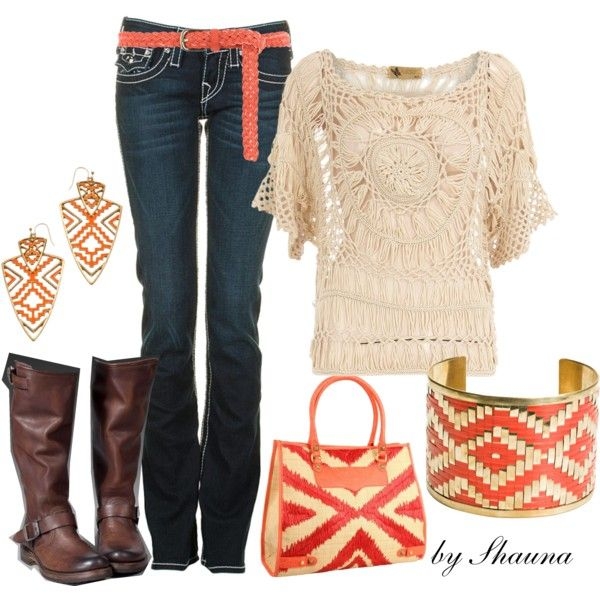 Here's another crochet top that's aesthetically appealing. We chose to feature this one because it's a different kind of crochet pattern than some of the other looks you've already seen. With the help of some dark denim jeans and some colorful accessories, this is something that you can easily pull off on a casual day at work.
23. Crochet trimmed top and jeans shorts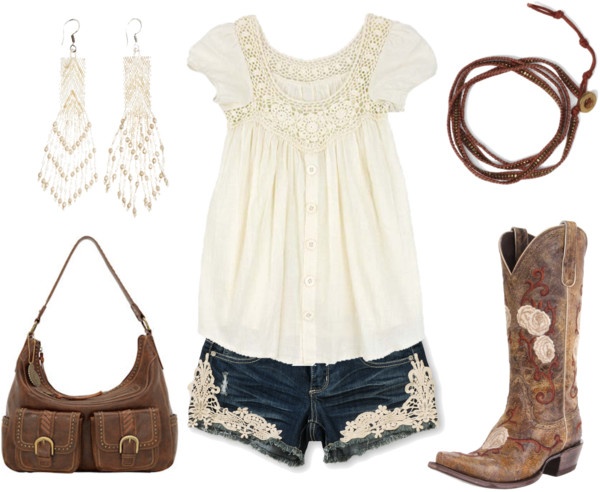 Do you have a pair of cowboy boots that you honestly can't imagine life without—no matter what season it is? In the warmer months, you can still make 'em work with the help of some jean shorts with crochet trim and a top that has some crocheting around the neckline as well.
24. Graphic tank, crochet sweater and colored skinny jeans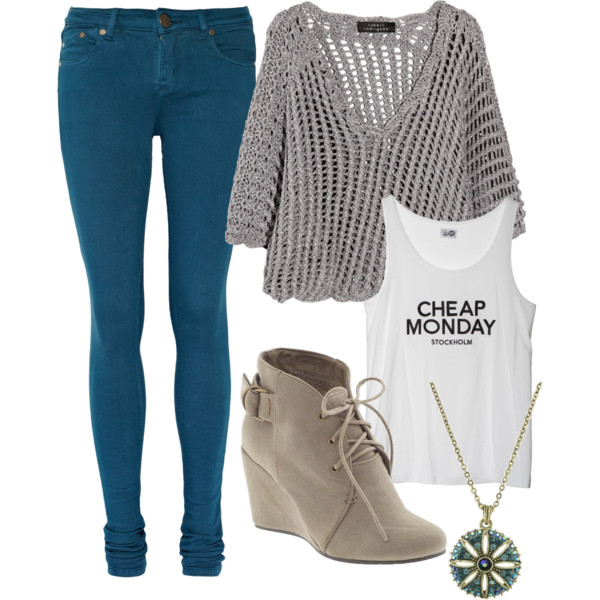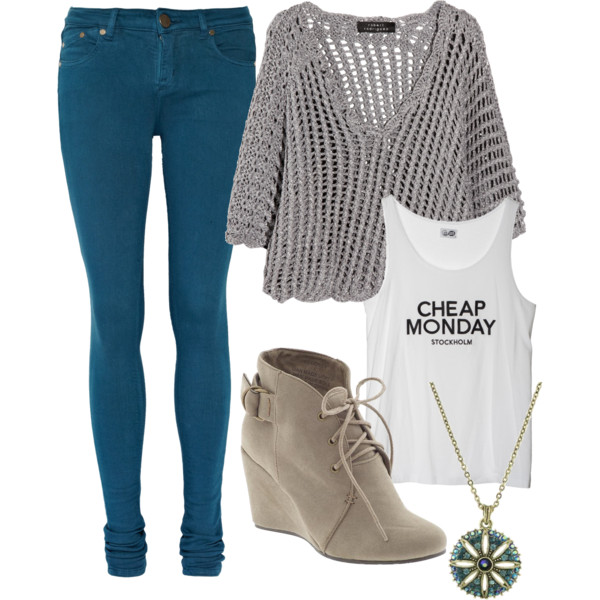 If you want to put something on over one of your graphic tanks, but you're not really feelin' a jean jacket or blazer, a crochet sweater with short sleeves may be exactly what you need. This white (top), blue (skinny jeans) and taupe (shoes) combo is a cool example of how not to match and still look casually on point.