Sure, there's a lot of hype that surrounds Christmas, and with good reason. That's when Santa comes, presents are found under the tree and your mom (or grandma) cooks your absolute favorite homemade dishes.
At the same time, there's something really special about New Year's Eve too. It's a time to say good-bye to the past and make new resolutions to get the year ahead started off right.
If you plan on celebrating New Year's Eve in style, whether it's with your significant other, girlfriends or co-workers, here are some elegant outfits that will send the message to the world that you are more than ready for what next year brings!
1. Navy wrap dress, silver striped shawl and silver accessories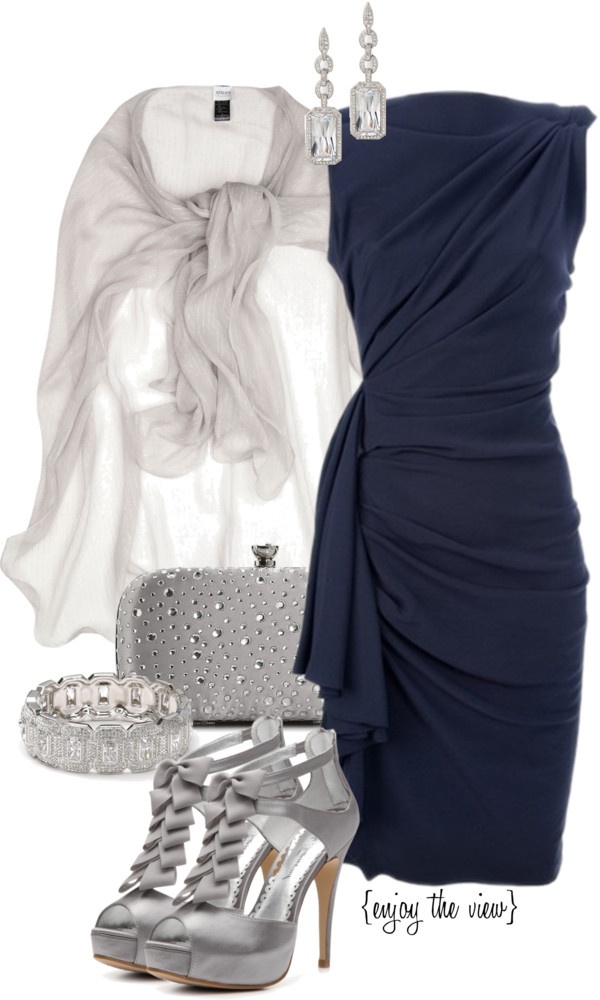 Yeah buddy. Let's start with something that is sexy and refined, both at the same time. Navy is a pretty conservative color but it comes across as being pretty…ravishing is the word that comes to mind when it's accented with silver. If you have real or custom diamond jewelry, hey, don't be afraid to pull it out. And as far as shielding you from the winter chill, all you need is a coat for outside and a shawl for inside.
2. Gold beaded top with gold pleated flare skirt and velvet clutch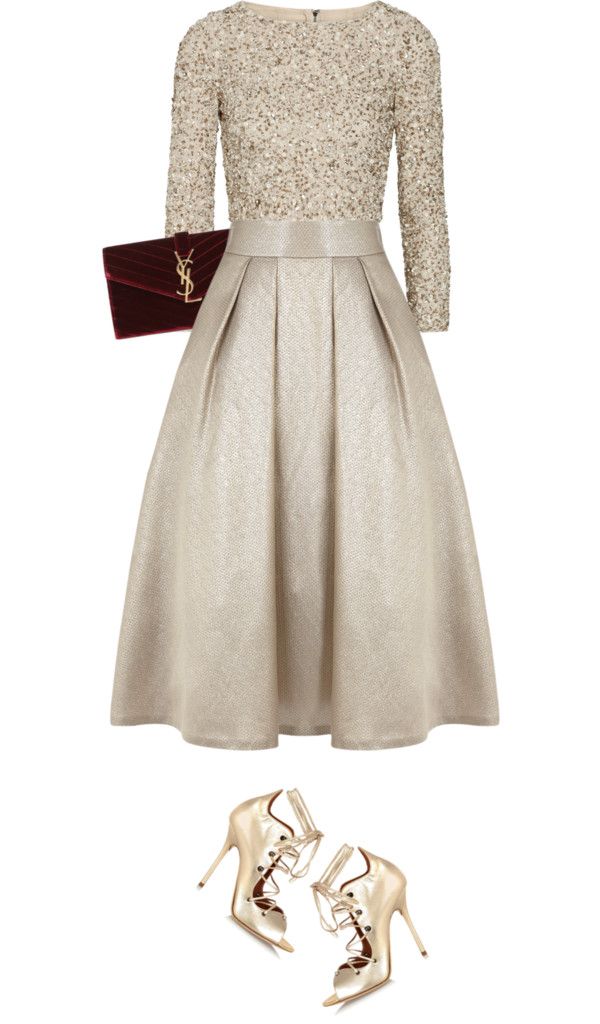 Are you going to something like the opera? This is a dress that everyone around you will be fond of. Yes, it's a bit conservative but you can add some "umph" to it with a pair of gold metallic shoes. Oh yeah, and a velvet clutch.
3. Crimson sleeveless wrap dress, fur collar coat and gold accessories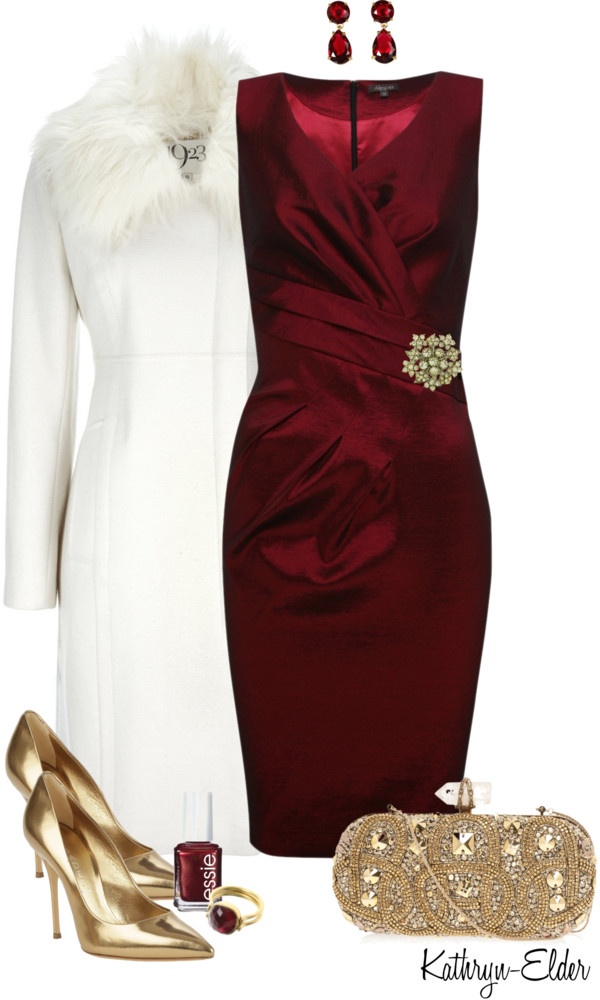 No matter how much money you might actually have in the bank, you're gonna look like a million dollars in a crimson-colored wrap dress. That's because crimson is not only a color that represents love. It also signifies power. Gold accessories (the brooch on the dress is a nice touch) and a white fur collar coat ties it all in—wonderfully so.
4. Black beaded top, black flare skirt and black leather jacket with fur trim/via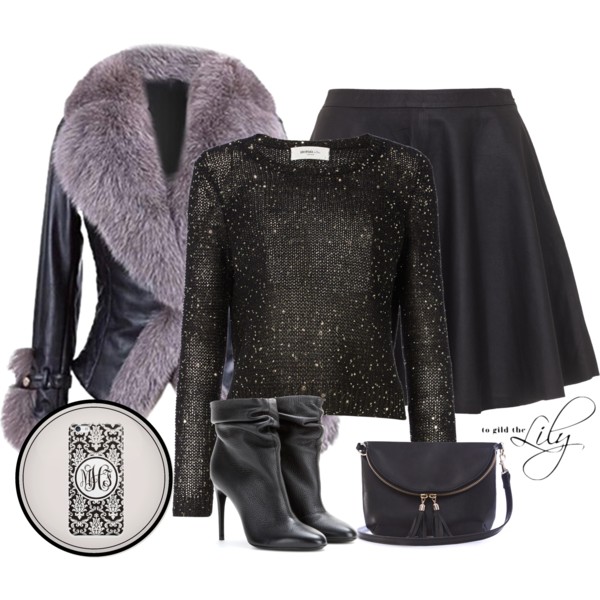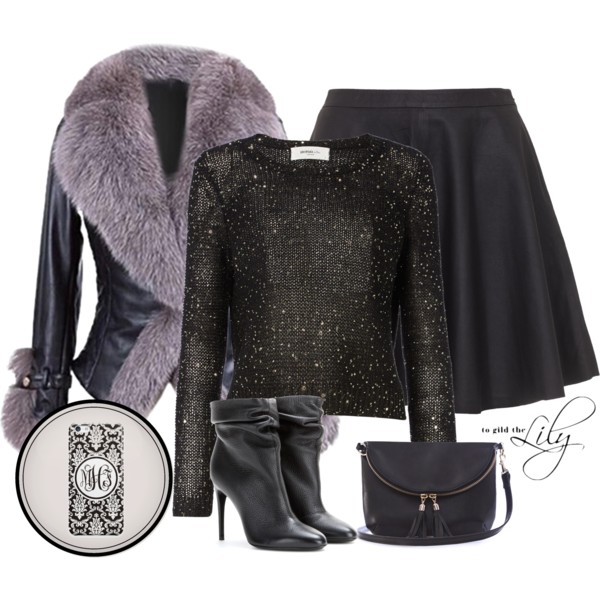 If you're just planning on going to dinner and it's not a super formal restaurant, here's a way to look "a couple of notches up" without being uber casual. Look for the kind of top that glitters. Then put on a flare skirt and some ankle boots; just make sure that they have Stiletto heels. A coat like this one (the color of the fur is what makes it) and that's all you'll need.
5. Long royal blue dress with gold accessories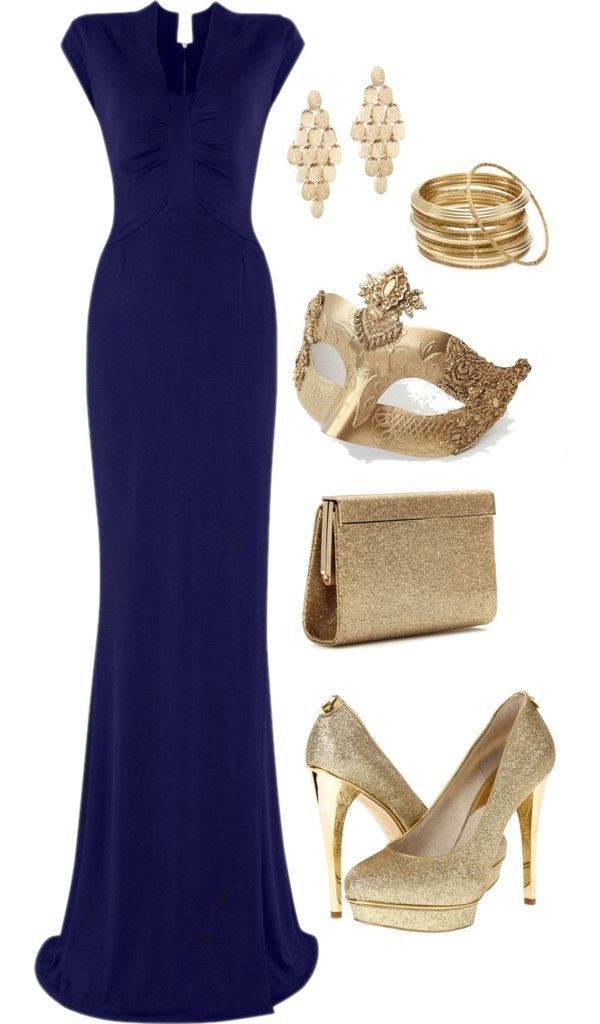 On the other hand, if you are planning on celebrating New Year's Eve in the pique of style, look for a longer gown that comes in a striking color like royal blue. It's the kind of color that works well with gold, silver or even copper if you want to "go against the grain" a tad.
6. White suit and silver beaded tank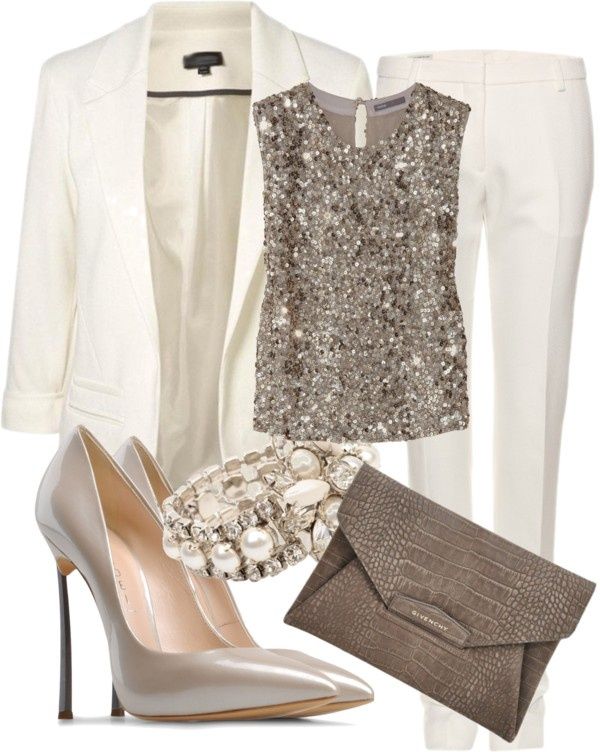 Whoever said that white was out during the winter LIED! Winter white is one of the best colors going for the wintertime! And with a silver beaded tank?!? Could there be anything better? We seriously doubt it.
7. Sheer silver beaded tank and black skinny jeans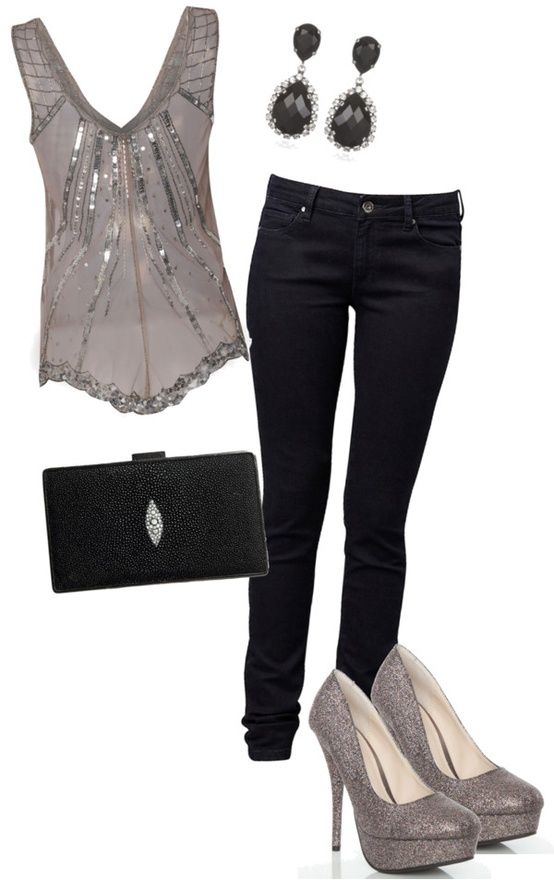 This is a comfy and casual look that has a hint of sparkle added to it. What's great about this kind out outfit is you can find a silver beaded tank at a store that has merchandise for $15 as much as one that has clothing for $200. This means that you can "look the part" without spending a ton of money in the process.
8. Little black one-shoulder silk dress, black beaded peep-toe pumps and silver accessories
Has your man already told you that he has something that he wants to talk to you about while on your date and everything in you says that this could be the night that he pops the question? He will not be able to get the words out quickly enough if you put on a silk number like this! Something that catches our attention most is how when it comes to the accessories, everything sparkles, even though they're all different colors (check the clutch and the shoes).
9. Black dress with flare skirt, flower belt and strap Stilettos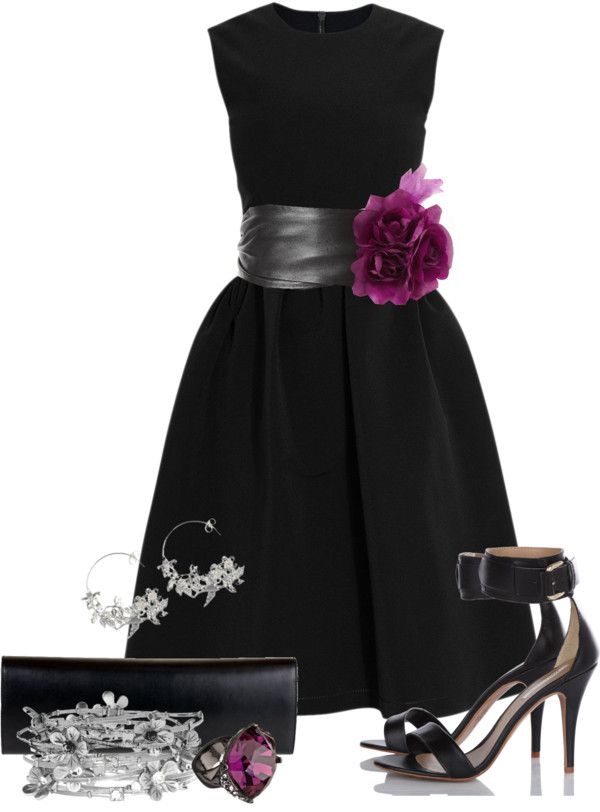 Are you strapped for cash but you do happen to have a black dress that's hanging up in the closet? If you go to a local arts and crafts store, you can find a fake flower like the one shown here. Add a safety pin to it and either attach it to one of your belts or the side of your dress to…"dress it up". Then add a piece of jewelry in the same color of the flower to bring the shade out.
10. Beaded spaghetti strap tank, cream blazer and dark blue jeans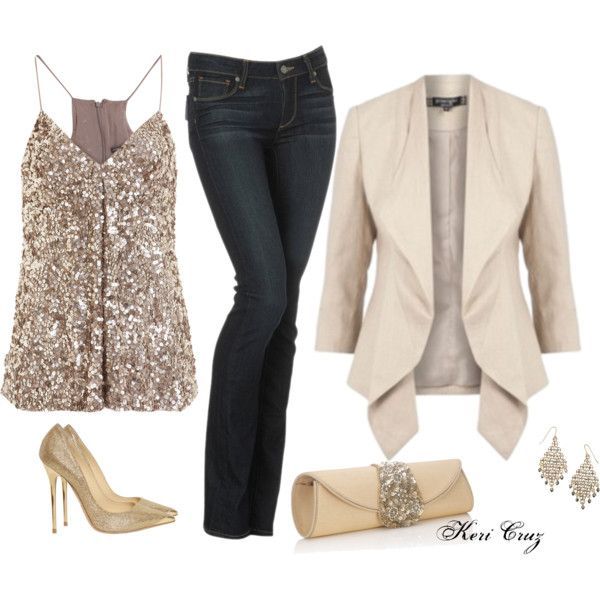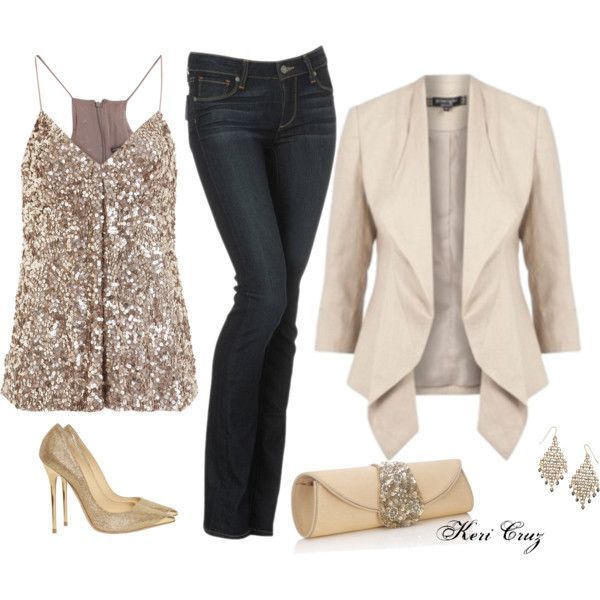 11. Little black dress with flare mini skirt and black and gold accessories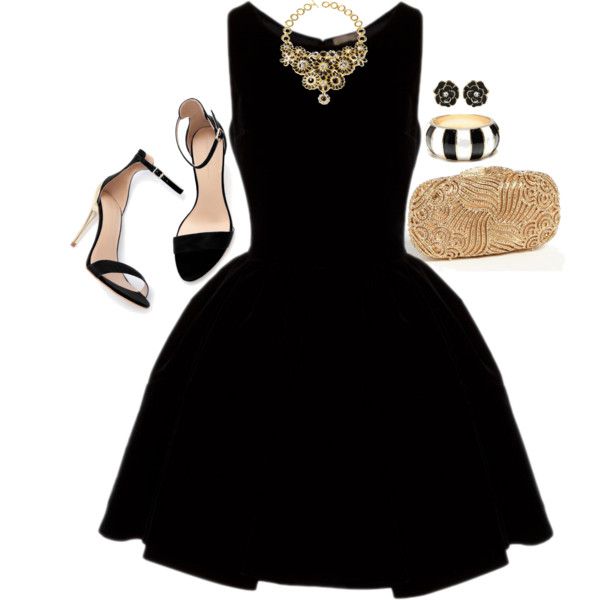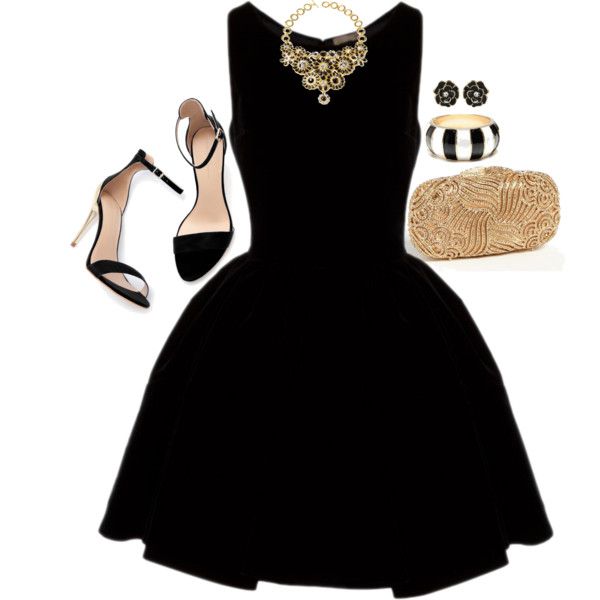 Here's how to make your little black dress work this New Year's Eve. Add some gold and black accessories to it. What's really nice here is that you don't see just one type of style or pattern. There's a black-and-white bangle, a gold statement necklace and also a gold clutch, along with some black floral studs.
12. Black dress with bell sleeves, kimono cover-up and clutch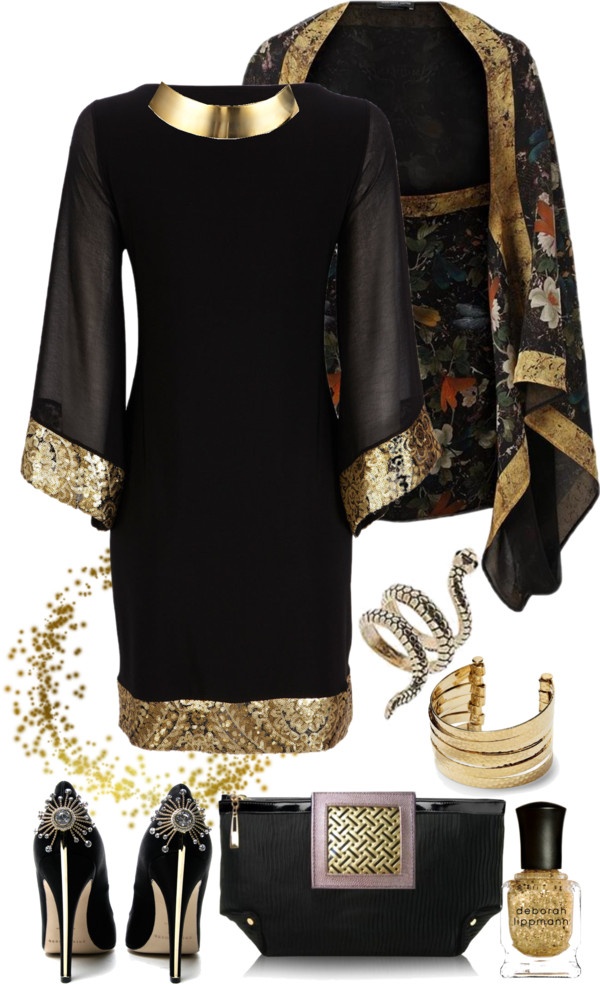 You probably saw quite a few kimonos over the past couple of seasons. That's because Boho chic was all over the plae and kimonos are a part of the signature look. If you happen to own a kimono, just because we're going into a new year and just because it's cold outside, that doesn't mean you have to put your kimono into hibernation. Use it as a sheer and decorative cover up for a black dress like this one.
13. Red strapless gown and off-white fur throw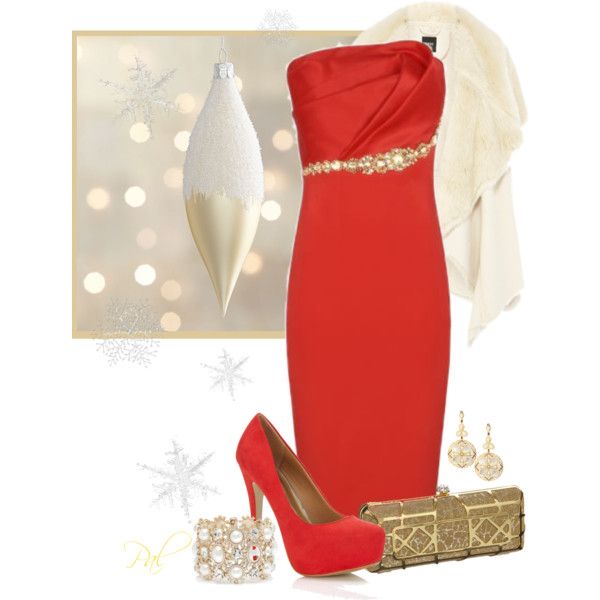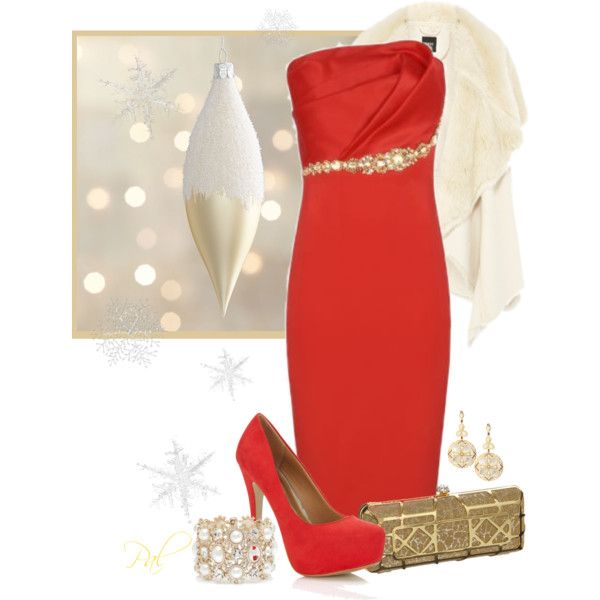 It doesn't get much more formal than this. A red gown that gracefully touches the floor. An off-white fur throw and some gold accessories. You'll be bringing in the New Year in total style dressed up like this.
14. Black tuxedo jacket, white tank and gold sequin mini skirt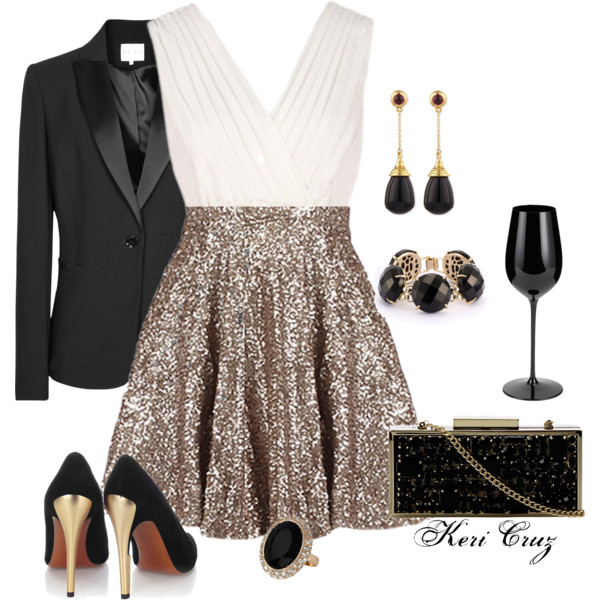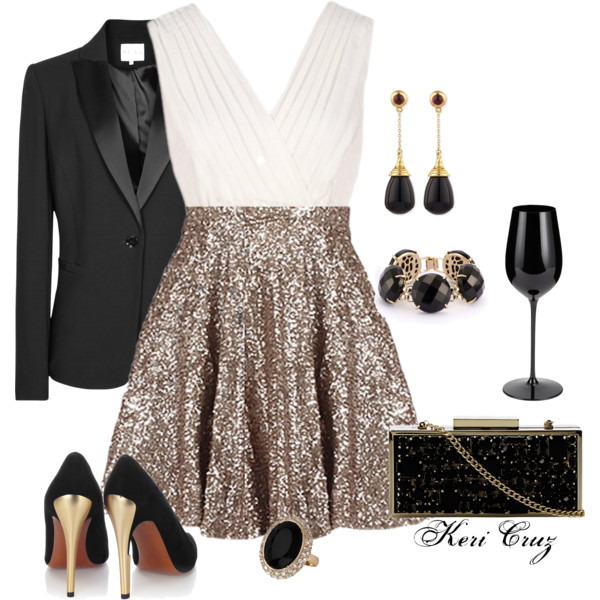 The top is fun. The gold flare mini skirt is festive. And the tuxedo jacket is magnificent. Absolutely magnificent! And don't even get us started in those shoes. Ones that look beautiful enough to pour champagne into and toast directly from!
15. Black blouse with bell sleeves and gold and black mini skirt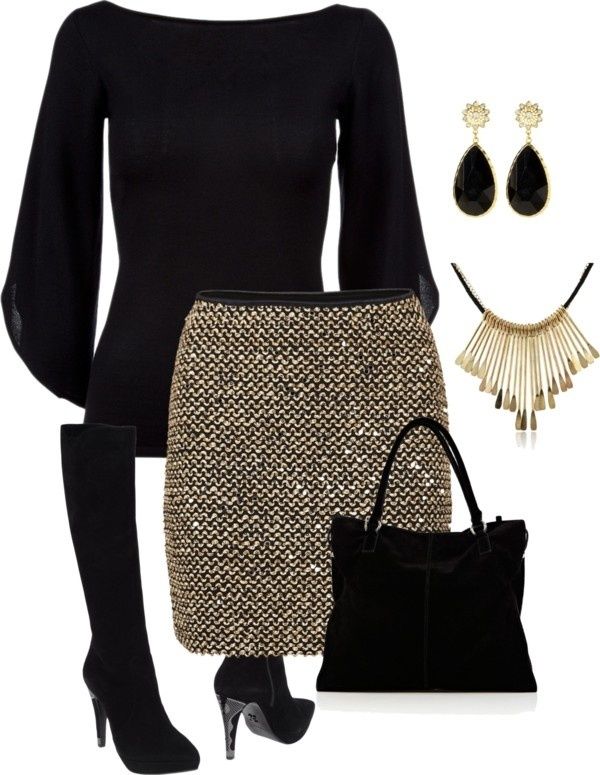 Did you know that bell sleeves are in? Sure, it's very "70s", but from this picture, can you not see how it can work even now? Especially with a skirt that has some metallic detailing and some long boots!
16. Sequin sleeveless top, leather pants and blazer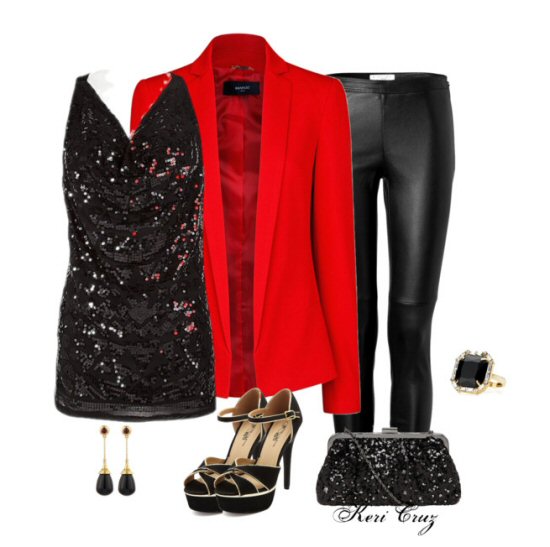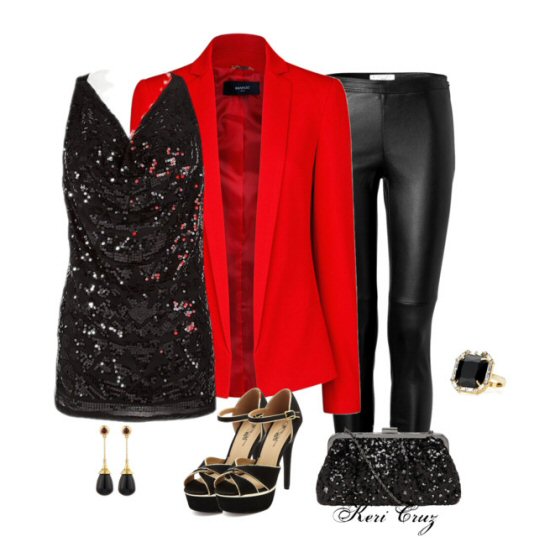 If you want to invest in one "big purchase" when it comes to your wardrobe this year, our choice is a pair of leather pants. There are so many things that you can do with ones that look similar to these!
17. One-shoulder sequin top, flare mini skirt and beaded clutch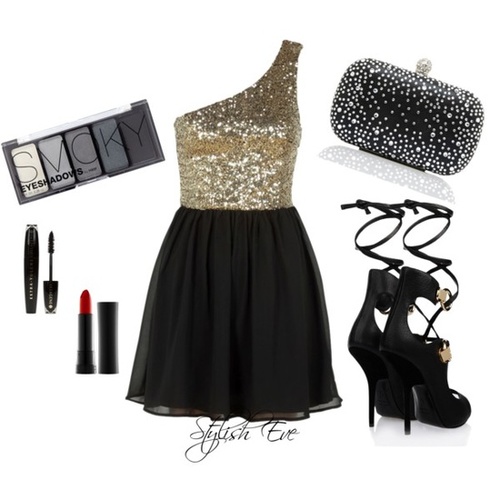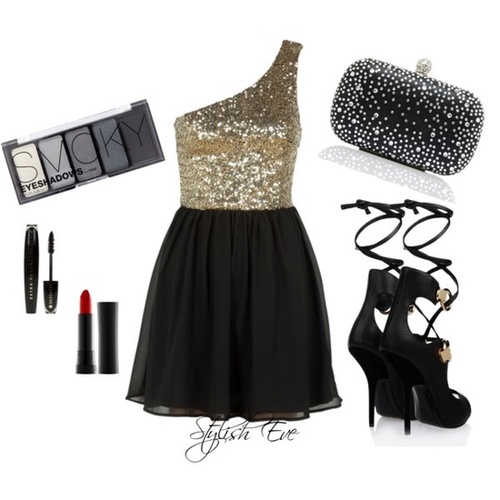 A one-shoulder sequin top is going to have you looking unforgettable whether it's with a pair of dark blue jeans or a mini flare skirt like this one. When it comes to outfits, like this, you're gonna look too hot to be worried about the cold! Just make sure to take a really warm coat along with you.
18. Black beaded top, Marsala skinny jeans and dark blue sleeveless faux fur jacket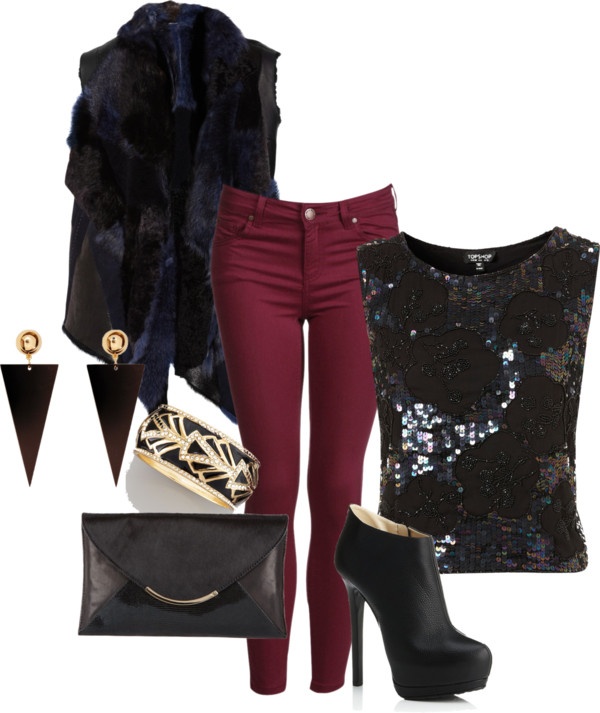 It's casual but in a crazy-sexy-cool kind of way. This is an example of how to build an outfit out of the things that you probably already have hanging up in your closet. Marsala skinny jeans work with any outfit, anytime of the year. If you don't already own a sequin tank, see if your mom, sister or friend does. Then all you have to do is find a faux fur jacket like one. (Hint: You might be able to find something similar at a local thrift store. No joke.)
19. Fitted strapless black and gold dress with gold clutch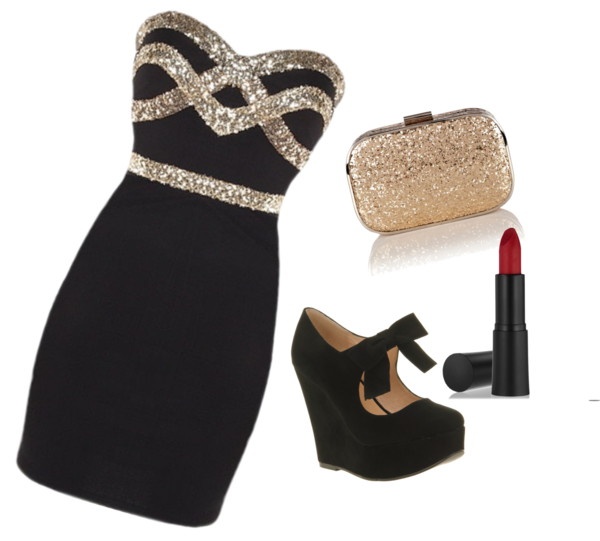 Have you been working out this winter, dropped a few pants and now you're ready to show your new figure off? A dress like this fitted and short strapless number will certainly do the trick! You could add a clutch that's made out of basically any type of material. But we like the glitter. New Year's Eve is the best time for that kind of SHINE, right?
20. Military coat, sleeveless top and tulle flare skirt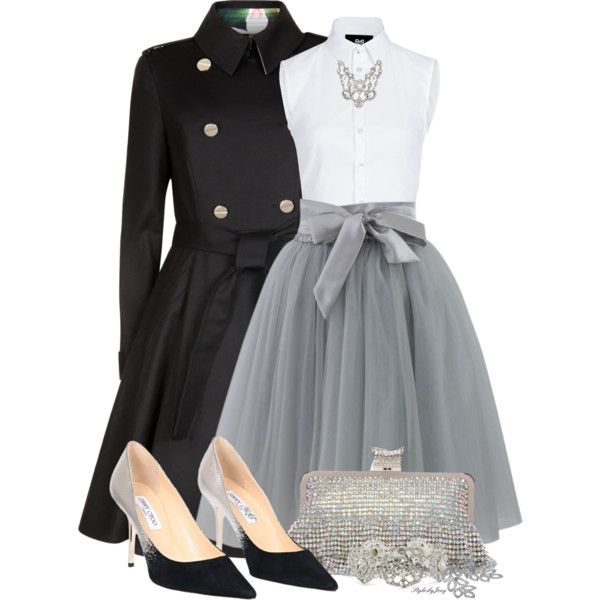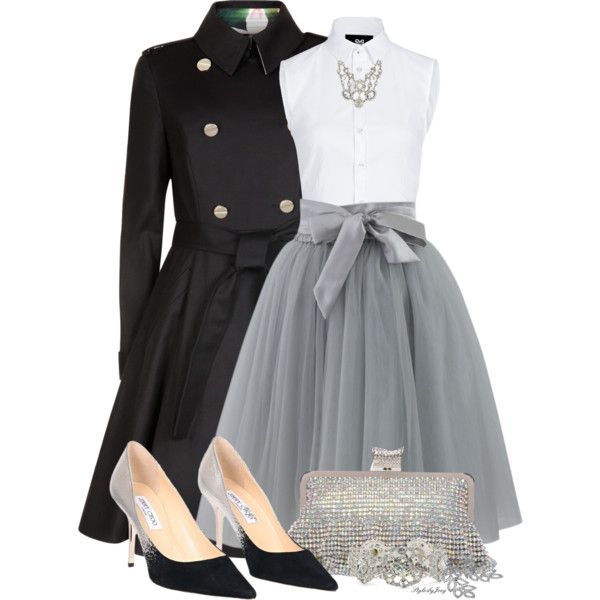 Are you more of a Ralph Lauren or Ann Taylor gal when it comes to style? This might be a look that you'd want to try this New Year's Eve. The key here is to ad a bit of pizzaz when it comes to your shoes. When going conservative like this, you can never be "too wild" when it comes to your shoes!
21. Gold beaded dress and off-white blazer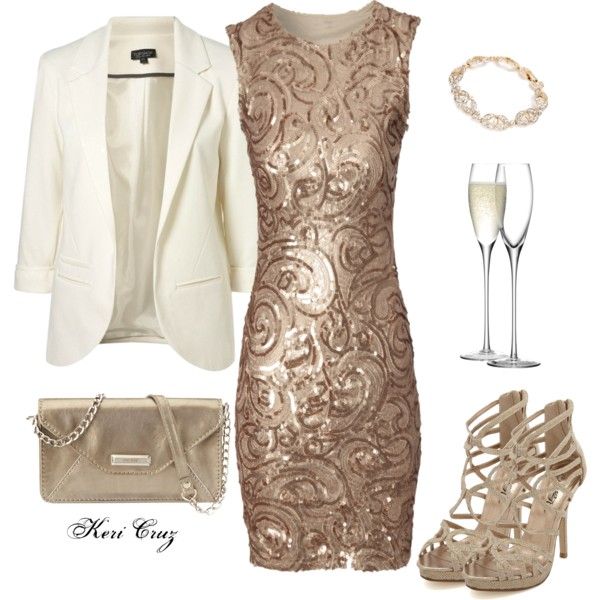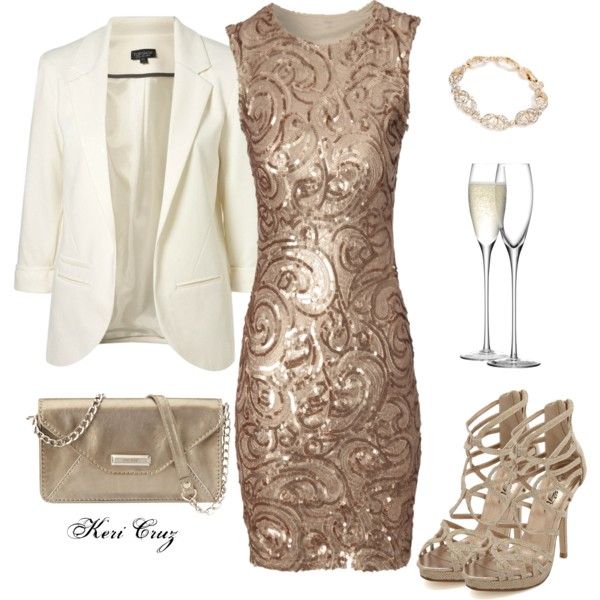 How festive is this? And here's the thing: Gold symbolizes wisdom and wealth. We're pretty sure that you're banking on getting a lot of both in the year ahead, right? By the way, putting on an off-white blazer will help you to look glamorous without being too…gaudy.
22. Red silk suit with red silk strap heels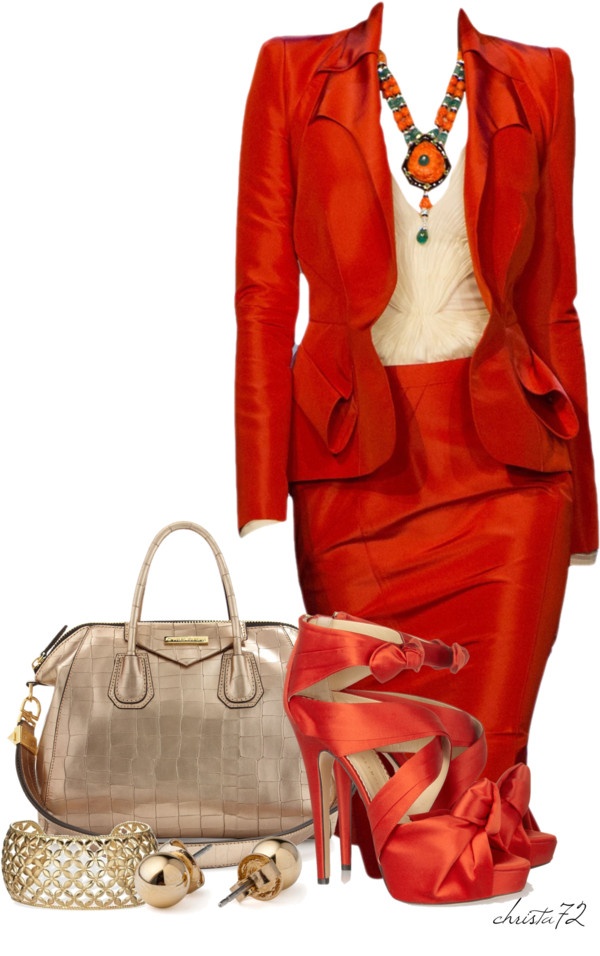 If the New Year's Eve event that you plan on attended is work-related, this is eye-catching and still fitting for the environment that you'll be in. Do you know someone else you could wear this and look amazing? A New Year's Eve wedding.
23. Rose gold sequin one-shoulder dress with pearls and clutch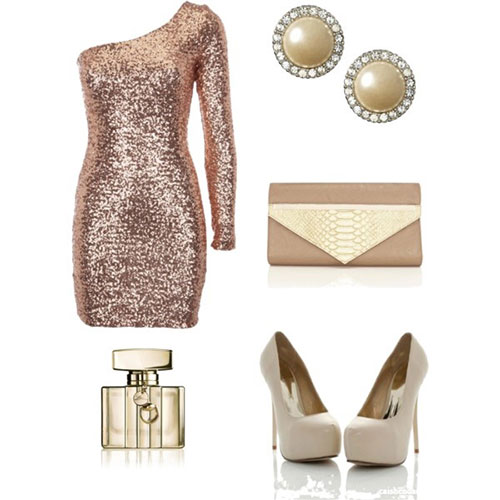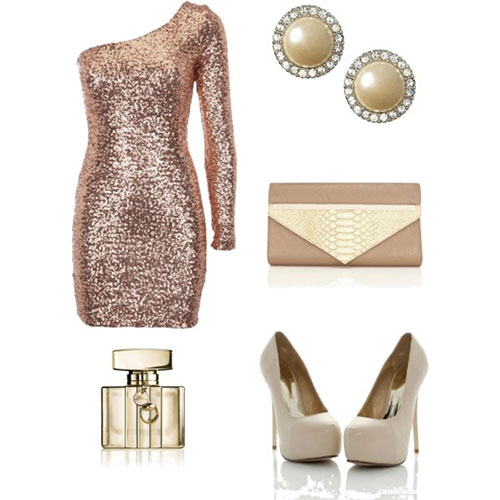 Plan on dancing the night away? This dress will let you do just that. As a bonus, it's the kind that works well for pictures. Rose gold was big all last year and one-shoulder dresses are still trending. In the best way possible. You can find more elegnat outfits on stylesweekly!