Joy. Enthusiasm. Creativity. Knowing that orange represents things like these, doesn't it automatically make you want to run out to a store and find all of the orange that you can possibly get your hands on? Especially being that it's such a wonderful shade for summer!
Whether orange just happens to be one of your favorite colors or you don't own a single article of the hue in your entire closet, here are some of our favorite ways to make orange work when it comes to fashion.
1. Orange maxi dress with brown accessories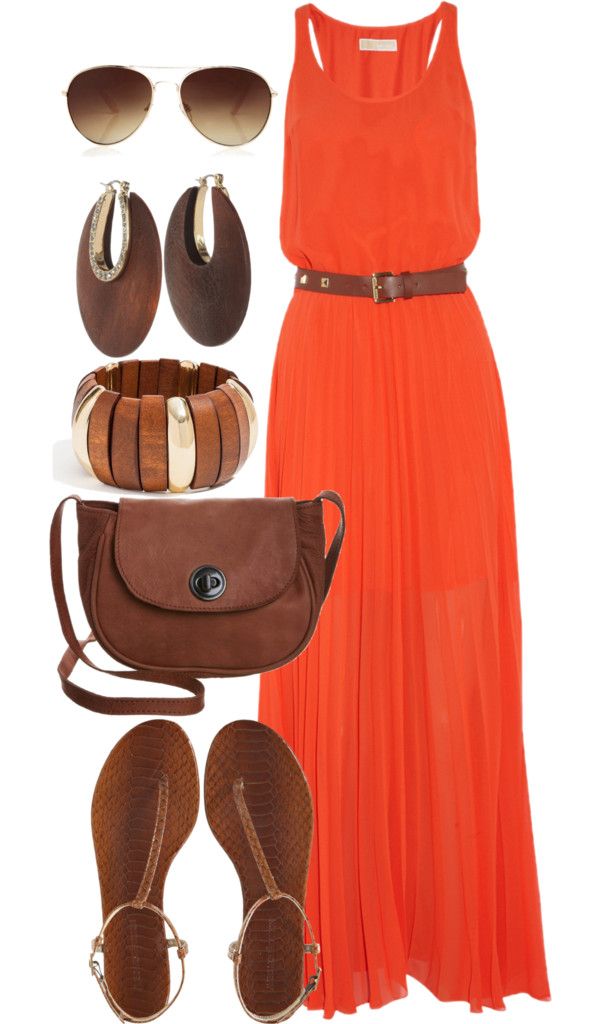 We don't care who you are or how old (or young), you may be. In our opinion, every woman on the planet should own at least one maxi dress! It's feminine, it's comfortable and it looks pretty amazing on pretty much every single body type. In the summertime, just make sure that it's sleeveless so that you'll feel cooler in the heat.
2. Orange mini skirt, white tank and orange flats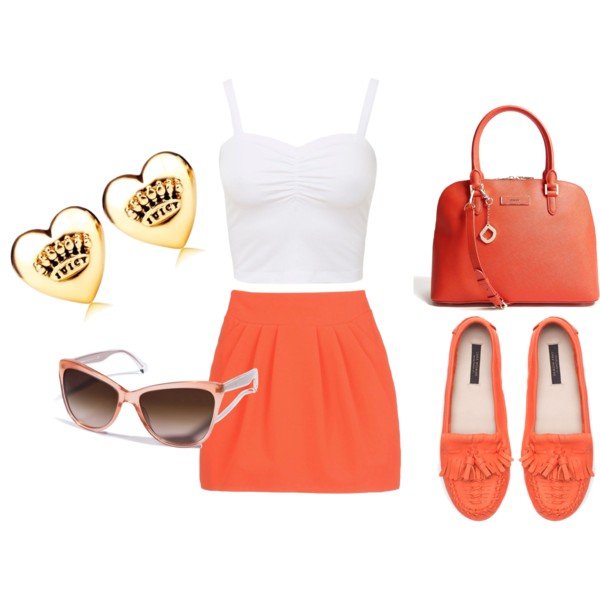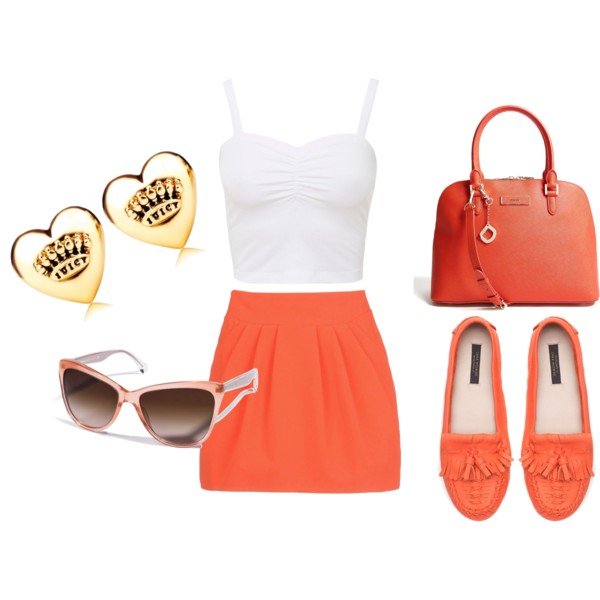 Do you have a couple of fitted tanks (or maybe bustiers) around the house and you're wondering what you wear with them other than your jeans or khaki shorts? Go to the store and look for an orange mini skirt. Whether you're naturally a darker skin tone or you're out to get a nice tan this summer, orange will look so good on your legs.
3. Orange and hot pink ribbed dress and nude heels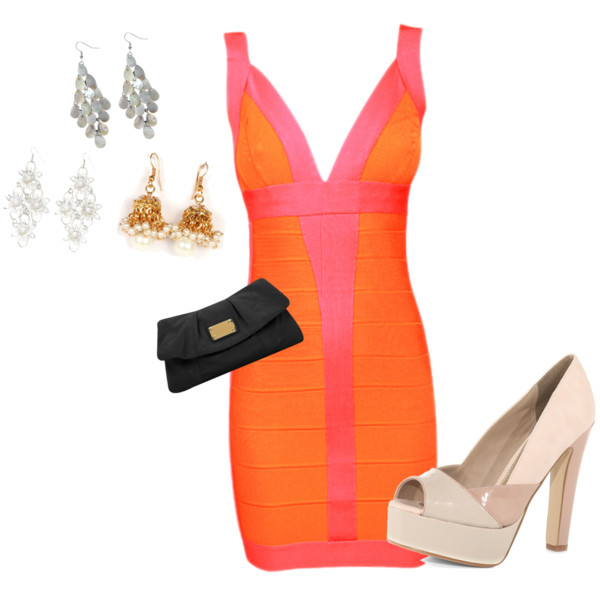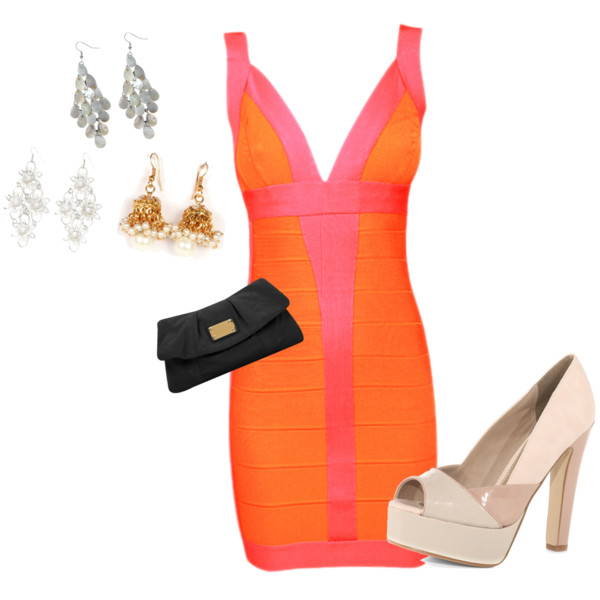 Orange and hot pink are pretty bold colors on their own. Even more so in a dress. Even more than that if the dress is ribbed. But if you've been trying to figure out what you can wear that will truly WOW your man, how can you not believe that this will not do the trick. Oh, and good call on the neutral shoe. One that matched would probably be…yeah, a bit much.
4. Orange fitted T-shirt and khaki shorts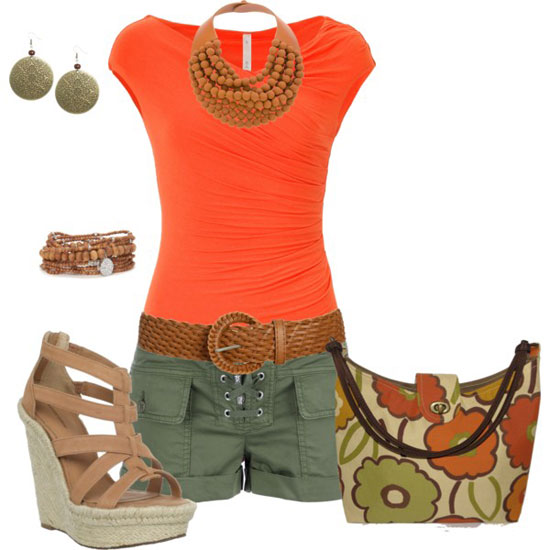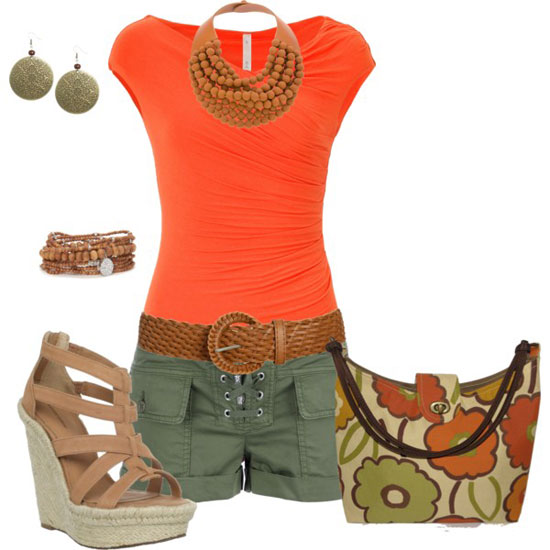 Here's a casual look that is still quite fashionable. If you have a lot of T-shirts but most of them are neutral colors, commit to getting some brighter ones too. Yep, like orange. As you're probably beginning to see, orange is a hue that goes well with so many other shades. With khaki being on the top of the list.
5. White blazer, matching skinny jeans and an orange tank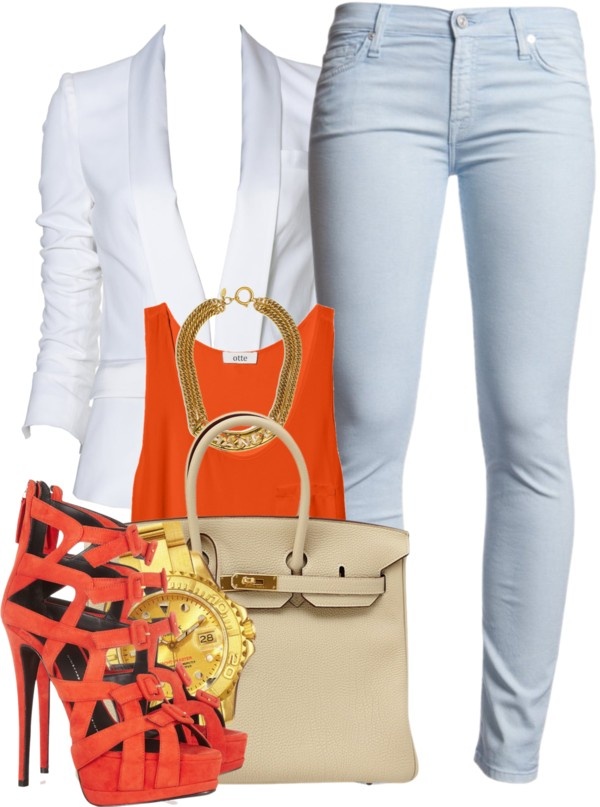 Do you remember at least hearing about the television show Miami Vice? This is what we think about when we look at an outfit like this one. It's sooooo the best things about 80s fashion; especially when it comes to mixing white with bright colors like orange. Also, a good call on the nude purse. Nude is in right now.
6. Orange maxi dress and jean jacket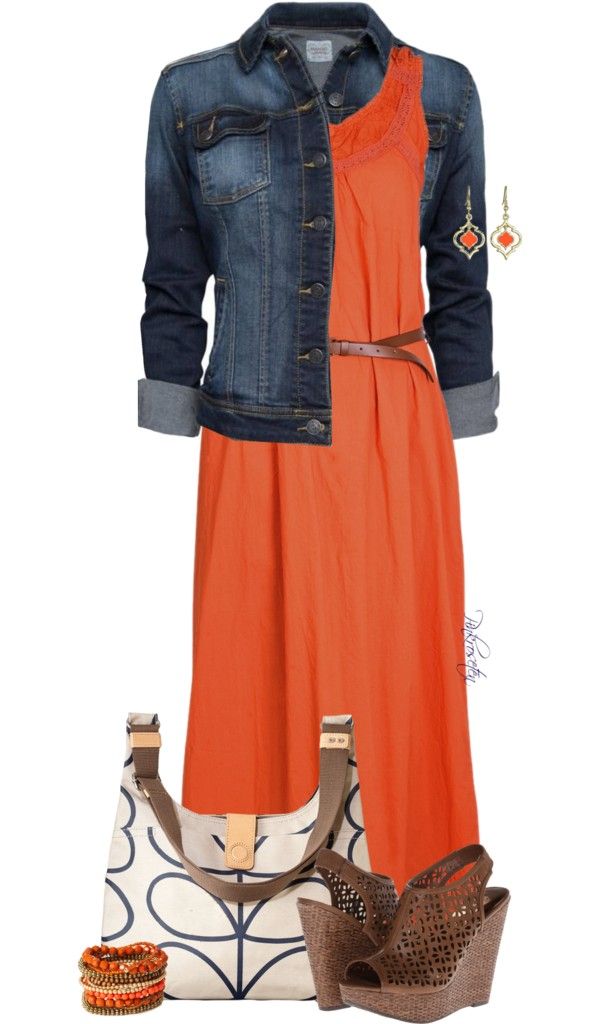 Here's an example of how to wear an orange maxi skirt if you have plans to show it off at work or you're going to be going somewhere that may have the air conditioner on high. A denim jacket continues to be one of the smartest accessories to purchase because it literally goes with…well, everything.
7. Light orange peasant top and white shorts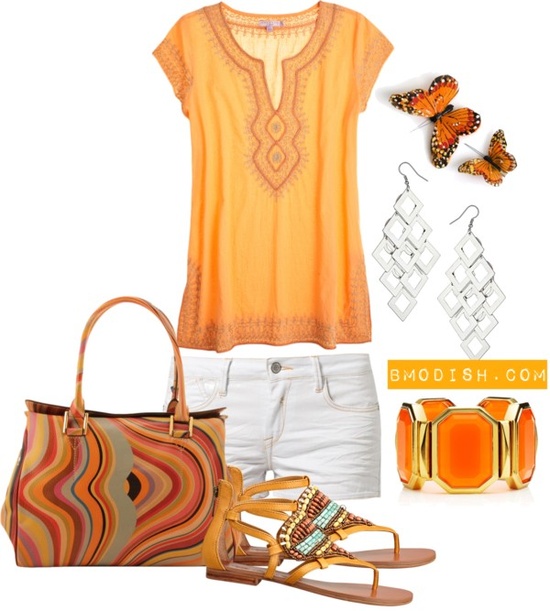 This looks like a vacation outfit, doesn't it? From the sheerness of the light orange peasant top to the beading on the sandals and the pattern on the purse…it's all a visually entertaining outfit to look at, even though it's pretty casual. You can wear a tank, a midi tank or even a bra under the shirt. It all depends on what your style is. And how bold you naturally are.
8. Orange printed halter maxi dress and denim jacket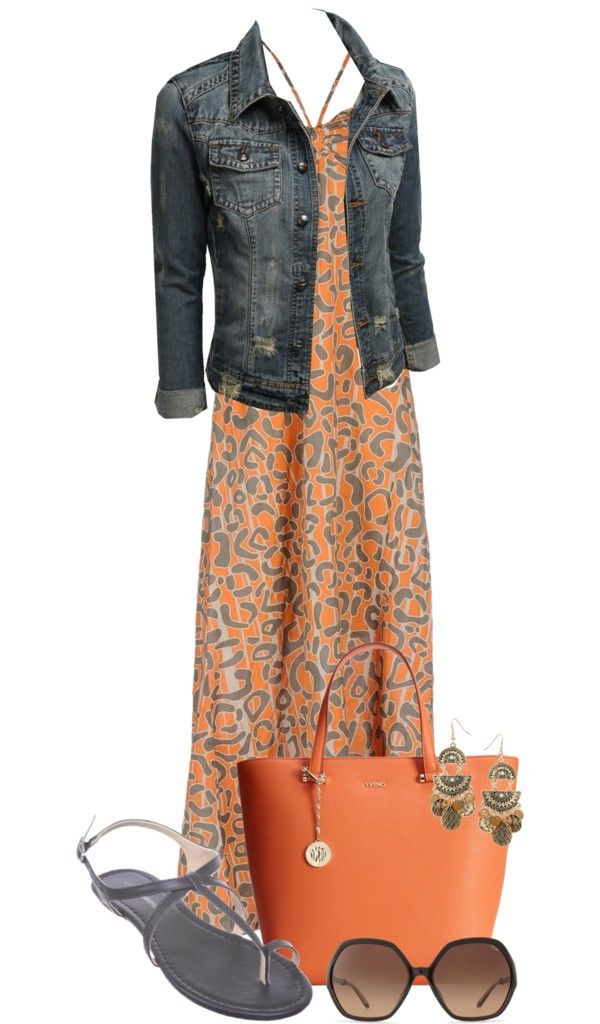 Here's a halter maxi dress. If you have one and you're so in love with it that you want to wear it to work, either put on a denim jacket that's similar to what you see in this picture, or go with a light cardigan. After work, though…totally shed the cover-up off to show those beautiful arms of yours!
9. Orange scoop-neck blouse and jean shorts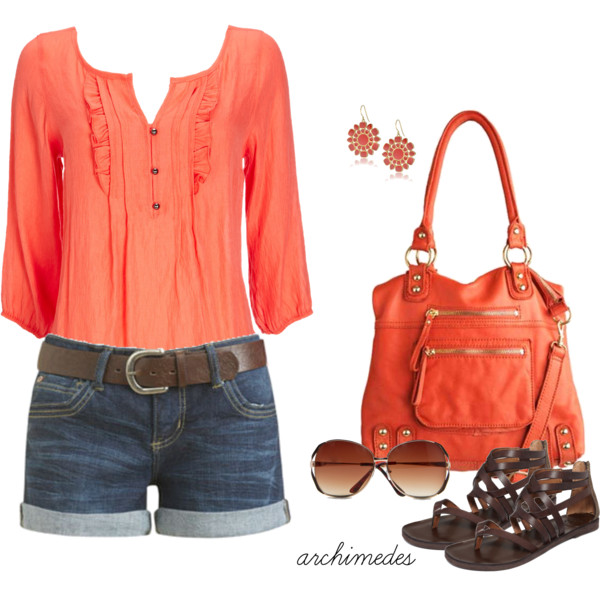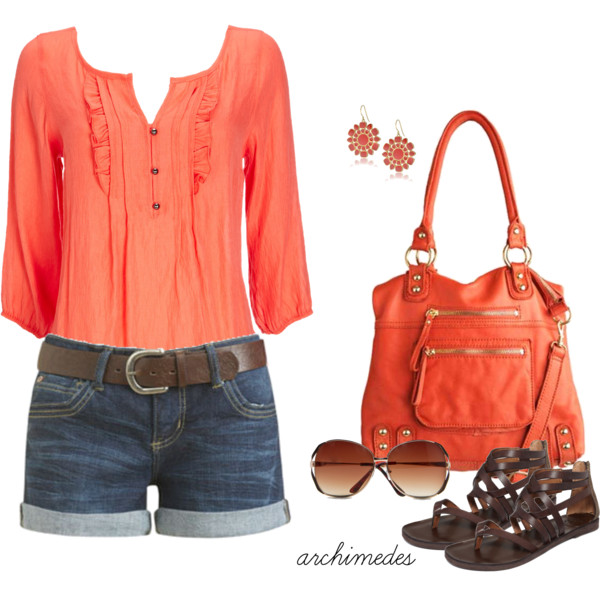 The top is pretty much a variation of a peasant top. With a long skirt, it would probably appear too…"old-fashioned" is the main thing that comes to our minds. However, with the help of your favorite pair of jean shorts, you can "modernize it" some. And if you have some new sandals or even some gladiator ones that are left over from last summer, you can use 'em to finish the look.
10. Orange strapless ruffled dress and black strap heels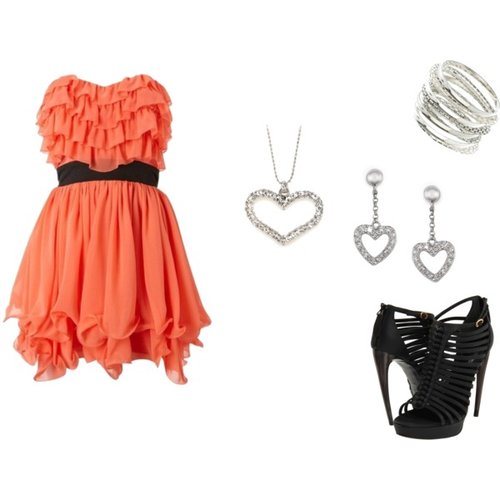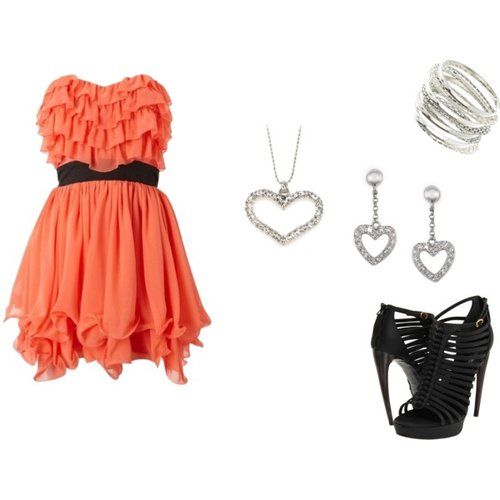 Ruffles, ruffles…all over the place ruffles. It's fitting because ruffles are currently all the rage and in a strapless dress like this, you're able to see how the layers can make it look almost "fluffy". Black is a "cool" way to accessorize it although it does tend to look a little "Halloween in the summertime". We won't be offended in the least if you go with a metallic hue instead.
11. Cream T-shirt, jean shorts and orange accessories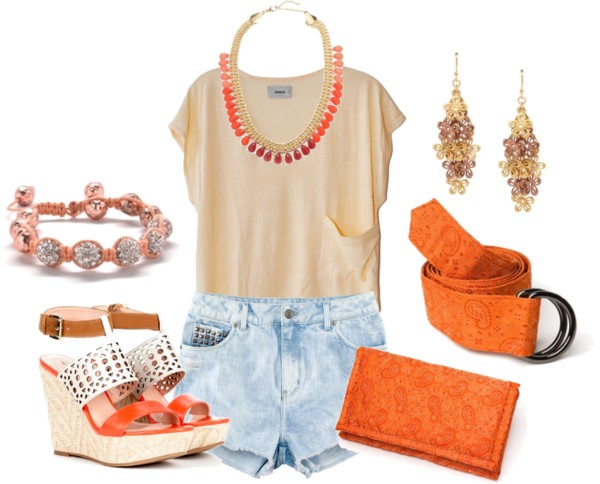 If all you saw in this picture was the T-shirt and the shorts, it would be pretty bland and boring. But here's an example of what orange can do for you when it's not in the clothing but in all of the accessories that are used to bring out the absolute best in the outfit.
12. Orange-and-white sleeveless top and navy shorts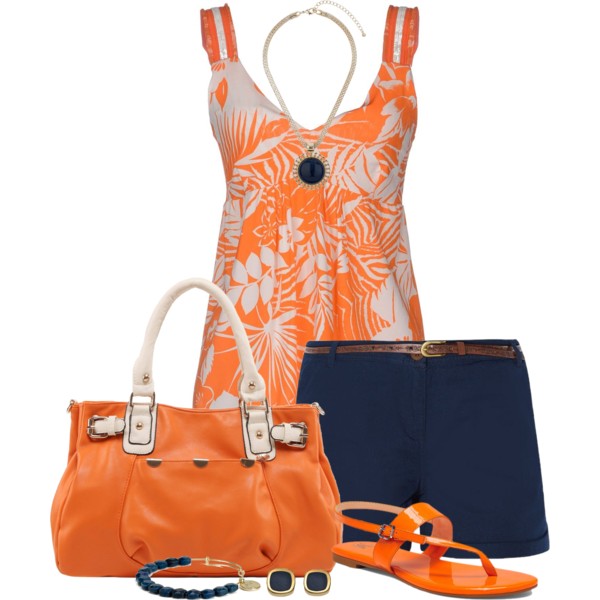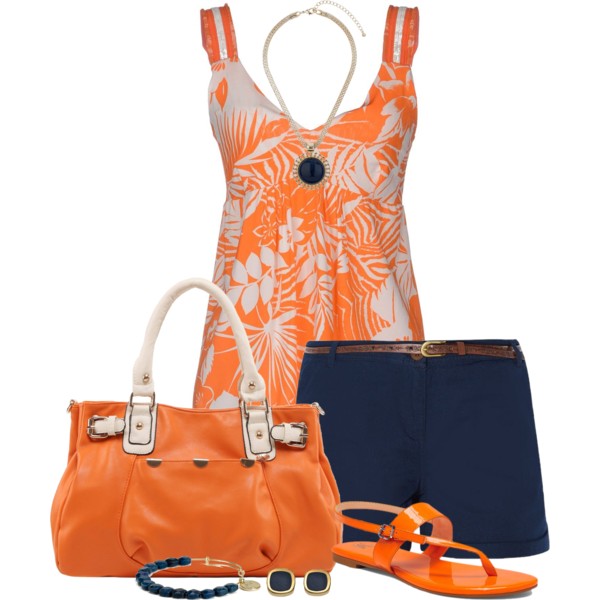 Here's something that looks pretty "beachy". That's because of the orange and white pattern of the top. A khaki pair of shorts would've looked good with this. We like the navy too, though. It's a welcomed addition to this summertime look.
13. Orange T-shirt and jean capris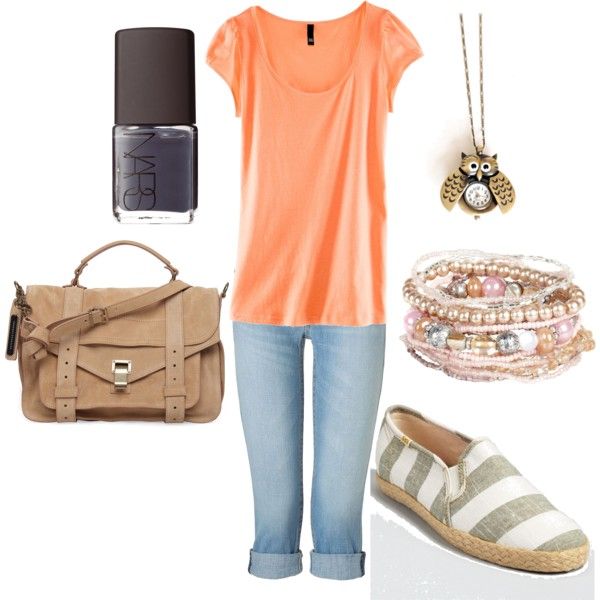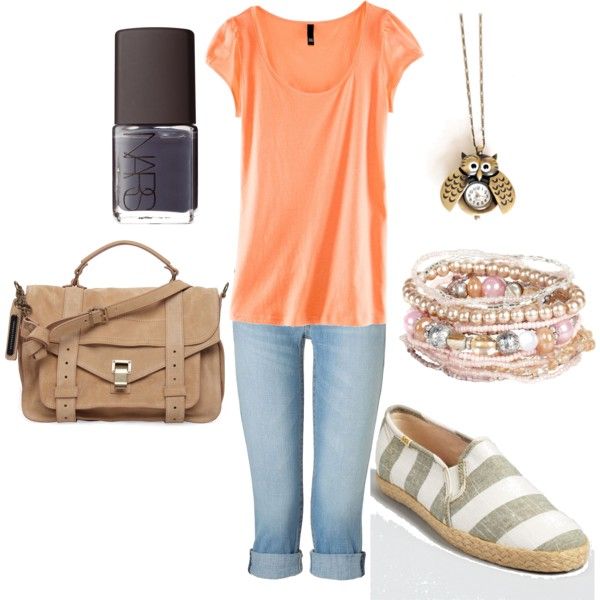 Here's another look for your old T-shirts. As you can see, you don't have to toss them out. Put on some jean capris and your favorite flats along with some of your favorite pieces of jewelry. Oh, and do try and take the cue from this picture by not matching everything from head-to-toe but having fun mixing different colors to see how well they blend.
14. Nude peplum strapless dress and orange blazer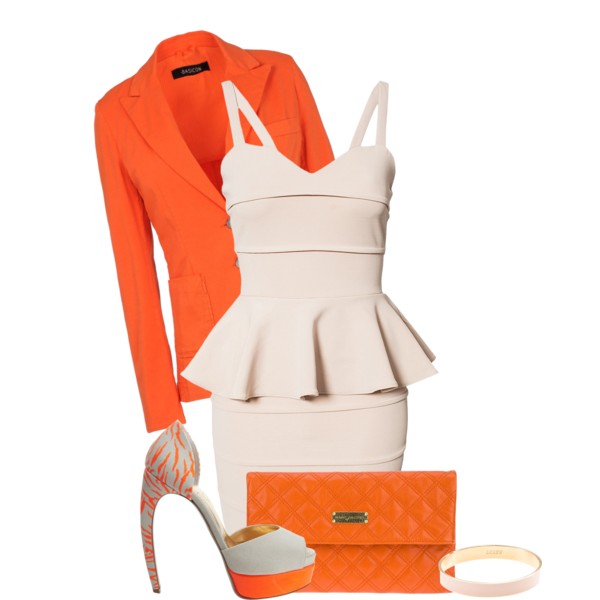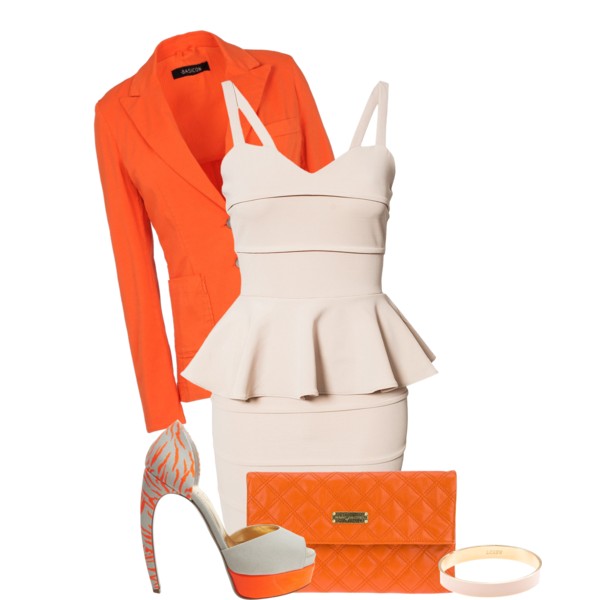 Do you have a business meeting and a date all in the same night? No worries. There's no need to change twice if you decide to go with something similar to this. It's basically three trends in one because orange and nude are must-have summertime colors and the peplum part of the dress is in fashion too. It's appropriate for both occasions. Hands down.
15. Orange striped tank and white shorts and orange sneakers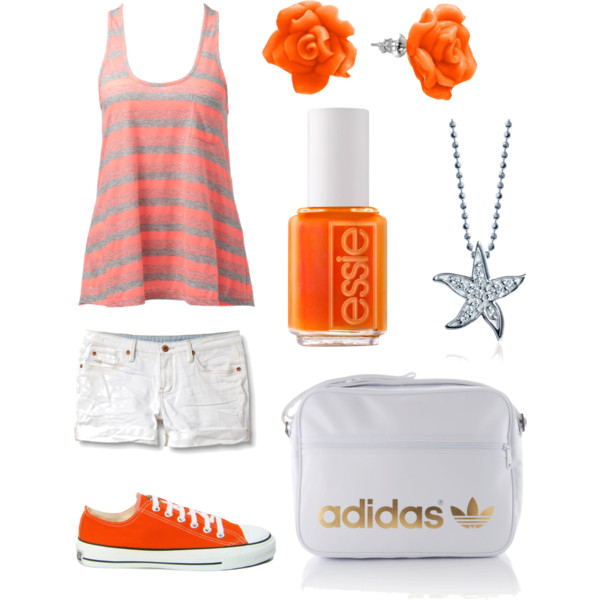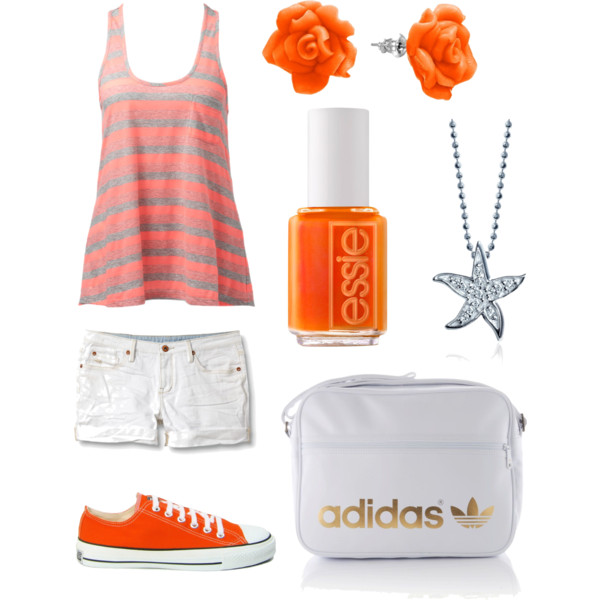 Adorable. Plain and simple. Orange doesn't have to be the primary color as you can see in the striped tank and if you are able to buy some orange sneakers, you'll always have people asking you were you got 'em.
16. Orange one-shoulder blouse, jean shorts and brown leather strap heels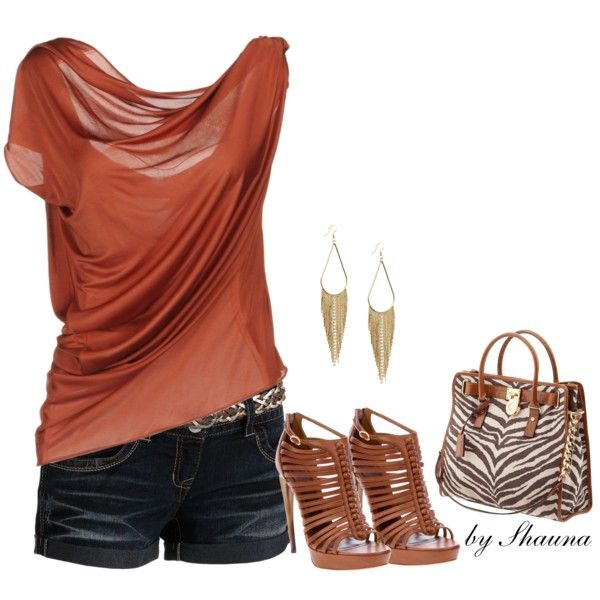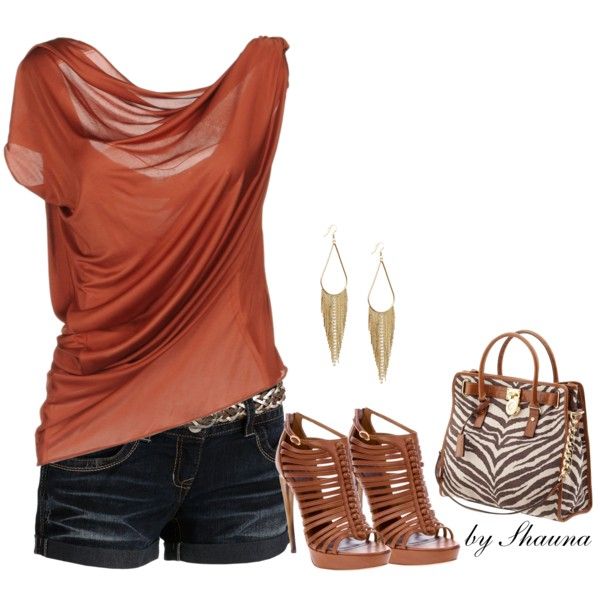 The reason why we're happy to show you something like this outfit is because it's an outstanding way to provide an example of how you can combine a dressy piece of clothing with a more formal one. Just take one of your semi-formal tops and add to it a pair of your jean shorts. It's the idea date outfit.
17. Orange and white striped strapless maxi dress and fun accessories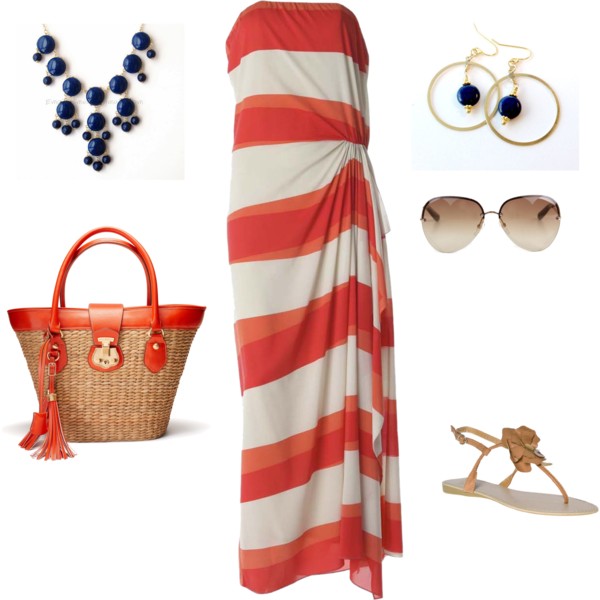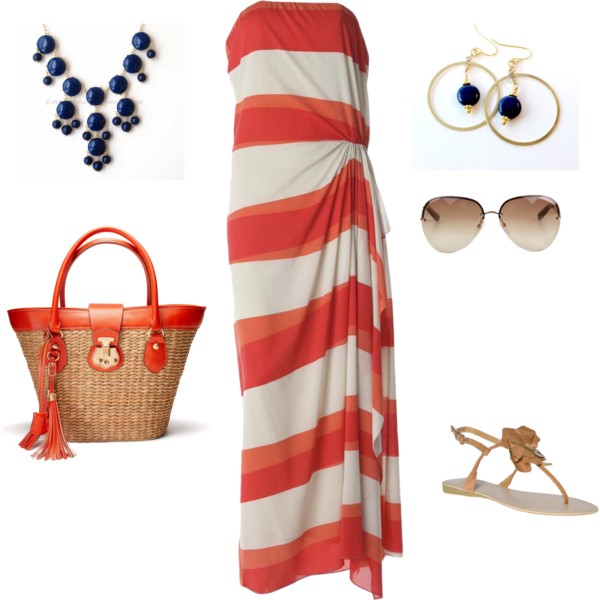 Here's one more maxi dress (clearly, we really like 'em). This time, it's strapless and striped. The bold striped pattern and colors are so eye-catching that if you wear something like this, you won't have to worry about putting much else on. With the jewelry or not, you'll still look beautiful.
18. White lace tank and orange skinny jeans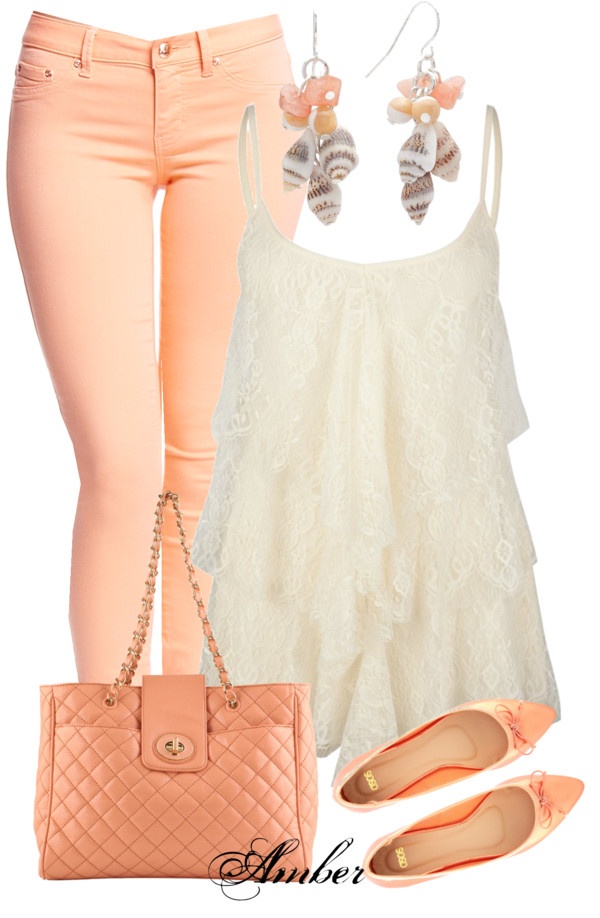 Yum! Thanks to this light-colored orange, doesn't this outfit look just like a Creamsicle? It's one of our favorite shades of orange for summer. With white or taupe, it's…awesome.
19. Orange one-strap mini dress and colorful accessories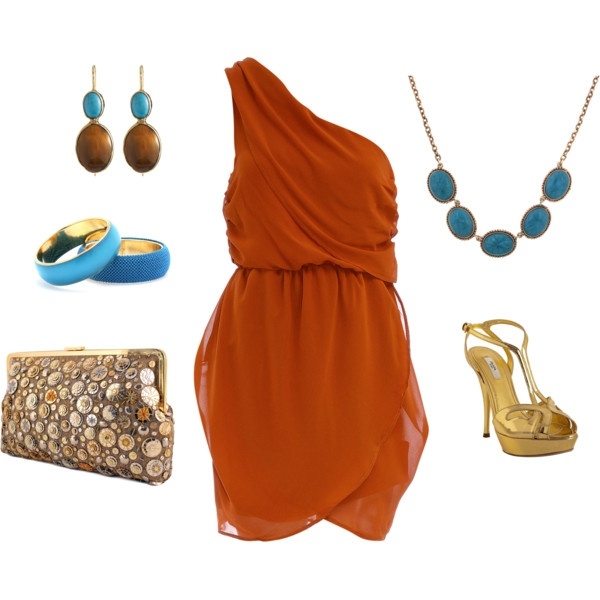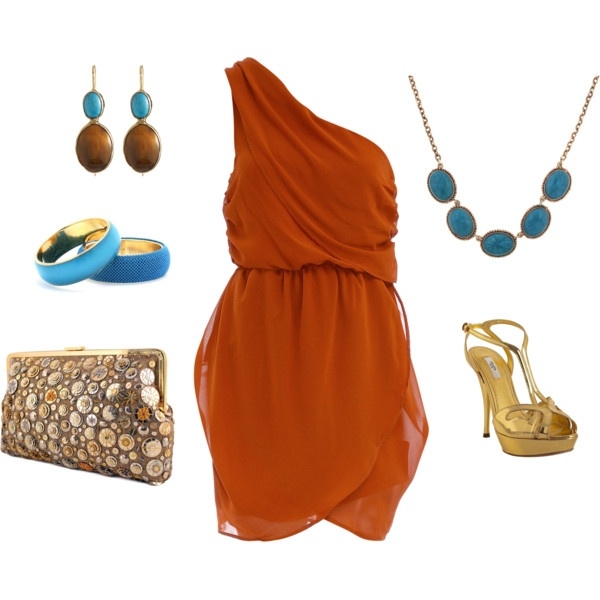 Sultry. The word literally means "sweltering" and "emitting great heat" and who couldn't deny that you'll be doing both of these things to the men looking at you in a number like this? One of the best things about this look is all of the different colors that are being used to accessorize it. That, and the fact that it's a darker shade of orange—if that's your thing.
20. Orange skirt, white tank and jean jacket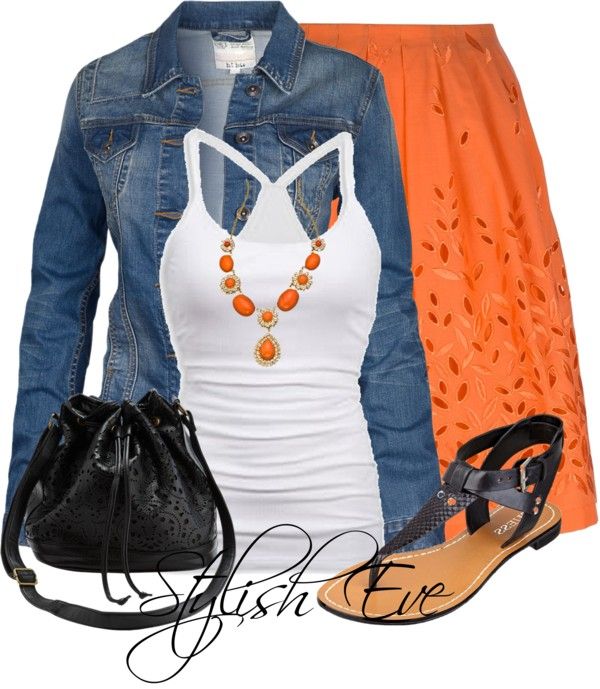 "Cutesy pie" is what we think of with outfits like this one and honestly, it's probably because of the way the skirt is made.  We will say this: If you naturally gravitate to skirts that look a lot like that one, try and make sure that it has some detailed stitching or that it has somewhat of an eyelet pattern to it. Otherwise, it might appear too "heavy" for summer.
21. Orange one-shoulder dress and gold accessories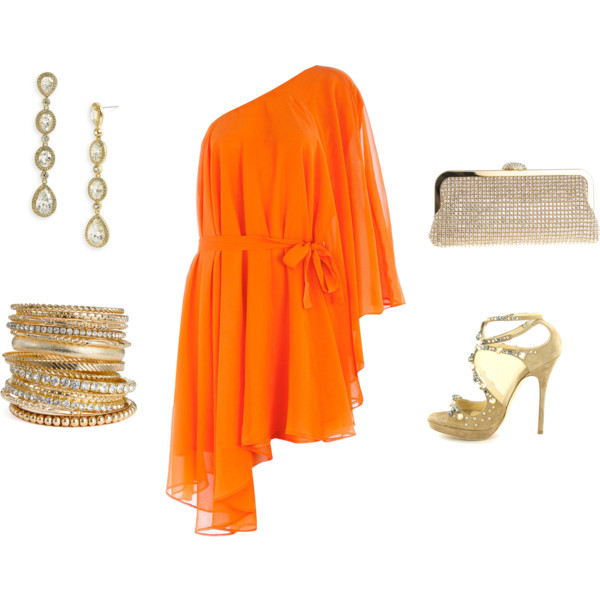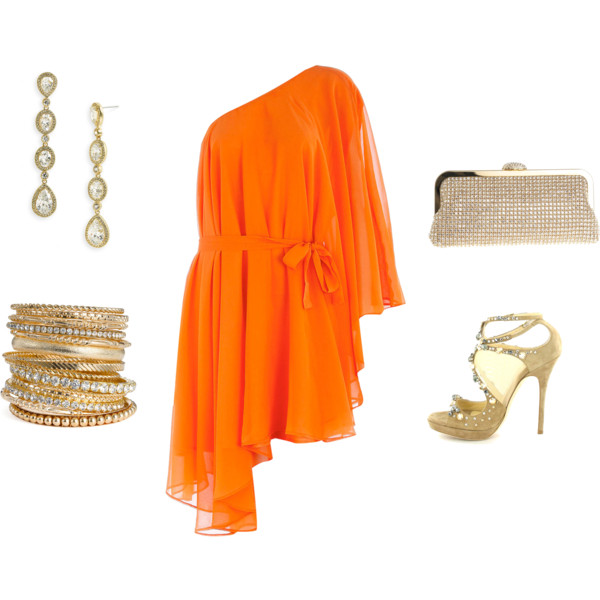 A wedding or a night on the town would be the perfect place for a dress like this. It looks like it's made out of chiffon which makes it light and flowing. And the one-shoulder style is pretty fashionable right now. And gold? If your skin has even a hint of a tan to it, the gold accessories are going to definitely bring that out.
22. Blue-and-white striped shirt and orange shorts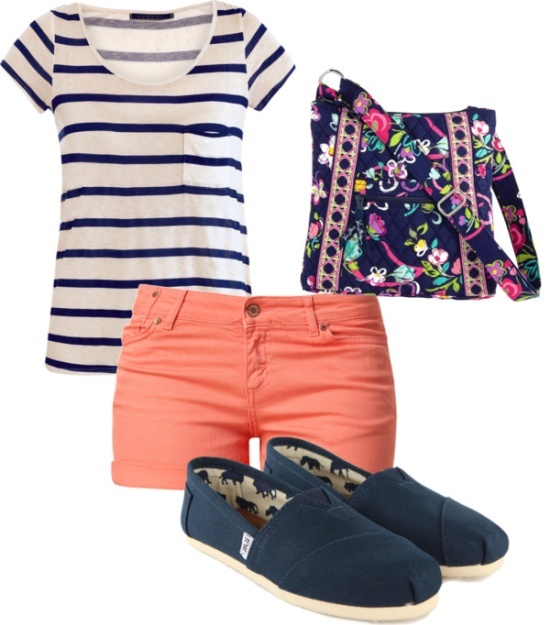 This is one example of how accessories can help you to "play with pattern". The shirt is blue-and-white striped and then the purse is floral with the colors in the shirt and the orange shorts mixed in with some others. Not only does this approach help to bring out the colors, but it also makes the outfit a bit more visually appealing in a way that it might not have been otherwise.
23. Orange sleeveless flare dress and gold heels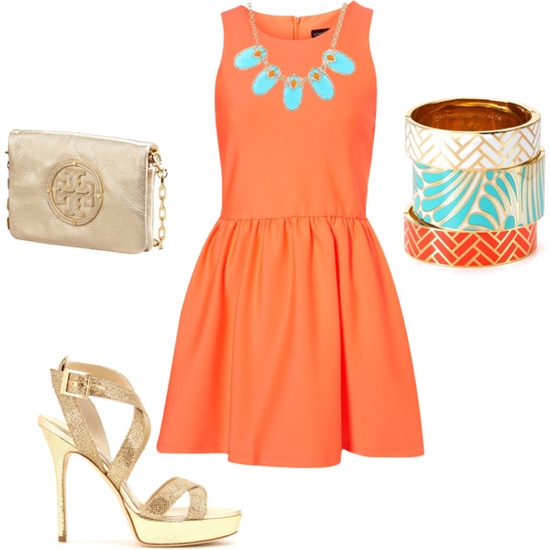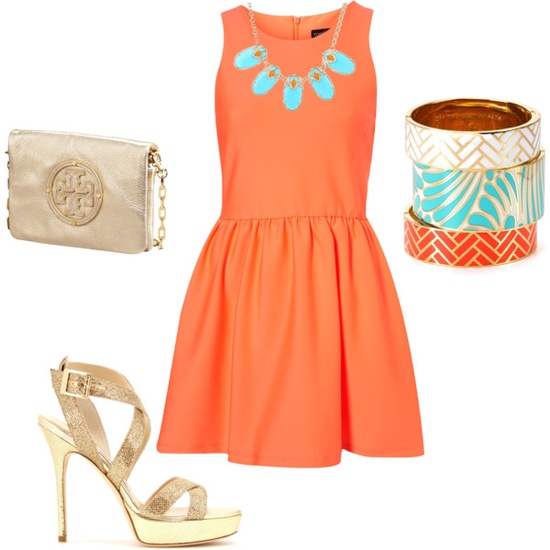 This is so one of our favorite first night looks for summer. It's pretty, thanks to the dress. But what makes it a little sexy is the gold shoe. It's also a really good example of how colorful accessories can make an outfit appear to be pretty multi-dimensional.
Do you love these outfits? Find more outfit ideas on stylesweekly.com