Angled. A-line. Graduated. These are just some of the words that are used to describe bobs that are not "straight across" but actually have a bit of a slant to them—somewhere in the haircut. Usually from back to front.
It's a cool look because while it's still pretty easy to maintain (like the more traditional bob hairstyles), it adds a bit of chicness and distinction so that you can look really pretty but also somewhat seductive and sexy too.
As you'll be able to clearly see in some examples of angled bobs below…
Straight or wavy angled lob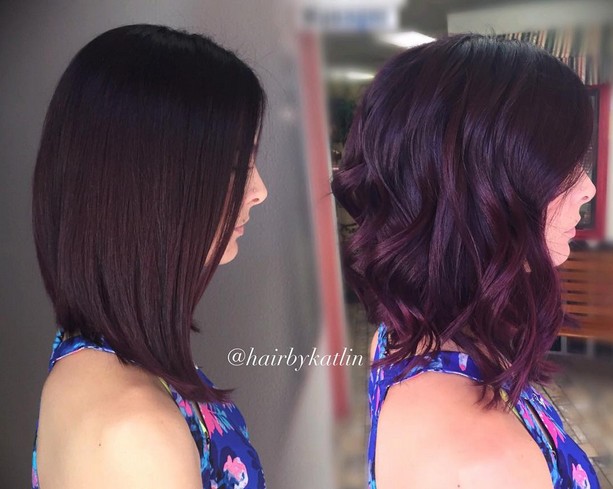 We call this a lob because it's longer than a lot of other bobs. This is a perfect look to start off with too being that you can see how versatile a hairstyle of this length is. You can wear it super straight or even wavy and not sacrifice a ton of length in the process.
Angled bob with side part for thin hair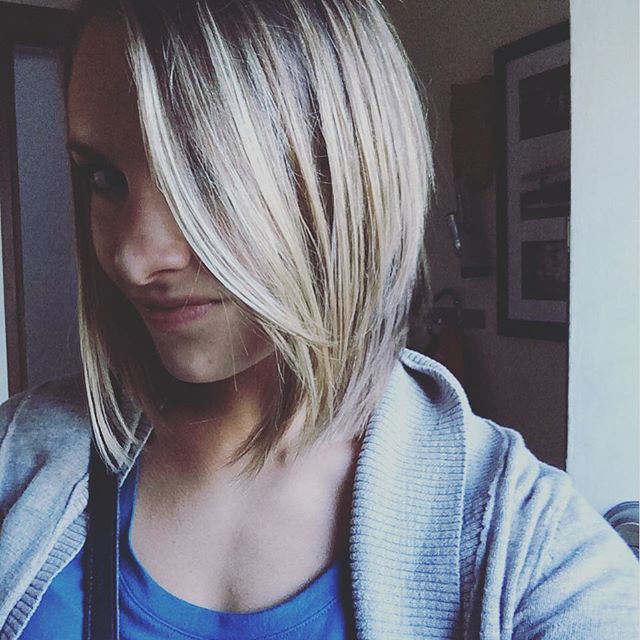 Women with thin hair can make an angled bob work for them just like anyone else. This picture proves that quite well! And although you can go with any length bangs that you want, we personally like the longer ones. There's something really…sensual about it.
A-line angled bob with platinum and purple and a tapered neckline and bangs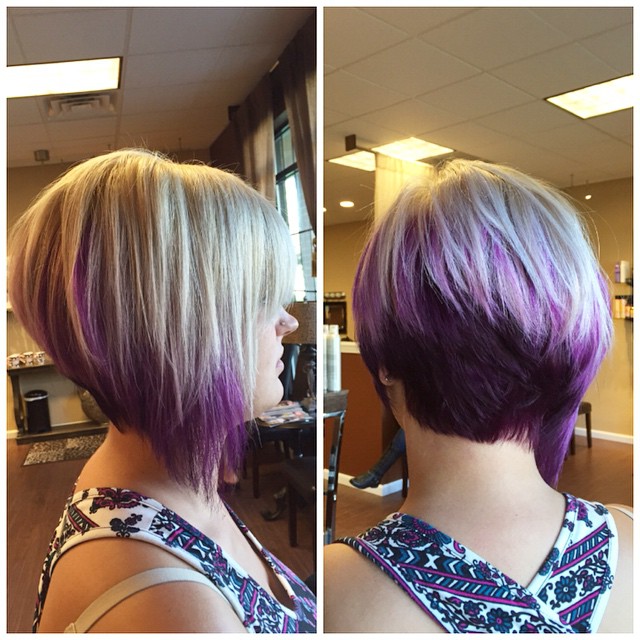 We really like the "feathering" of the back of her neck. It's one of the best thing about this look because from the front, this is pretty much a traditional A-line bob with bangs. But this goes to show that being creative can make things look totally different. Take the dark purple that's added to the platinum for example…
Wavy and bouncy angled bob for women over 50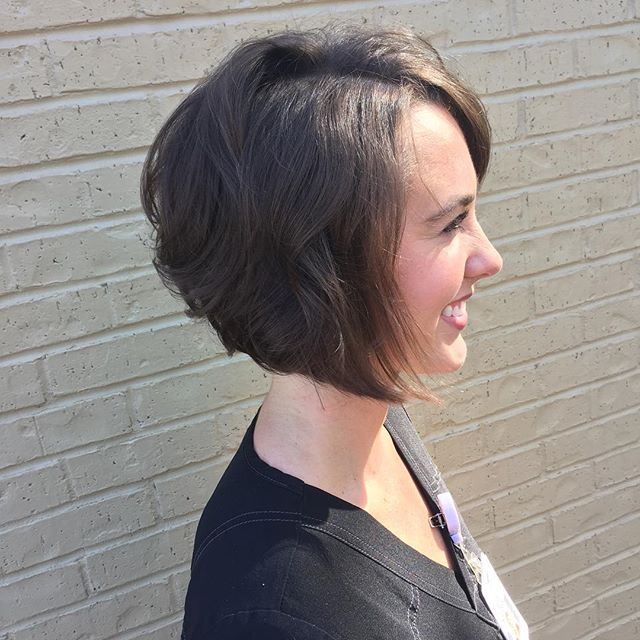 Sure, a woman of any age could wear this bob! But due to how it's styled, we set this wavy and bouncy look apart for the more mature woman because it's a way to have the look without adding some of the styling extremes that are featured in some of the other pictures.
Angled bob for thin hair with deep side part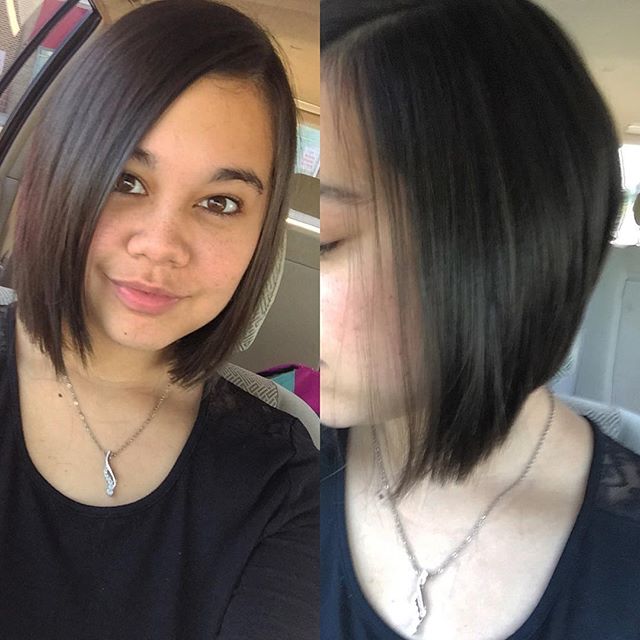 Cute simple bob hairstyle for girls: If you have thin hair, a trick that you can try is to put a side part onto one side. That will instantaneously make one side of your hair look more voluminous than usual. Plus, side parts are in all of the hair magazines so you'll be in good company if you decide to add one. Also you can try the blunt bobs.
Asymmetrical angled bob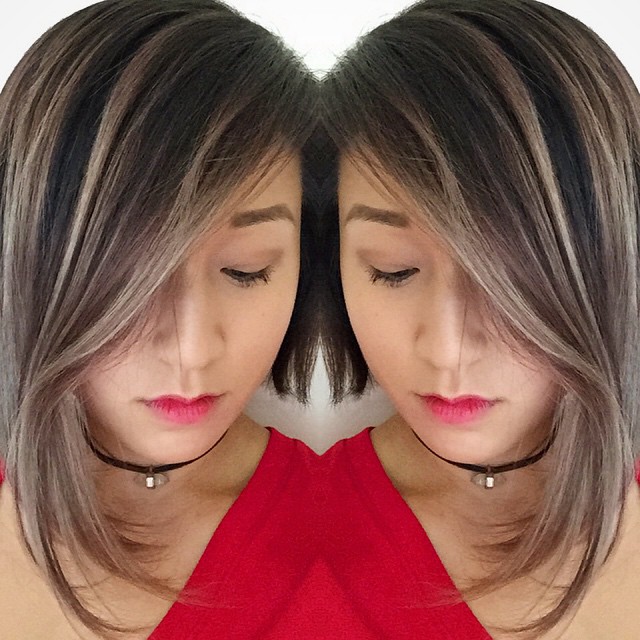 Here's a bob that is right at her chin on one side and touching her breastbone on the other. It's basically the "marriage" between a bob and a lob. What do you think? Would you prefer to wear this straight like the model or curlier?
Angled bob with low lights (purple bob cut)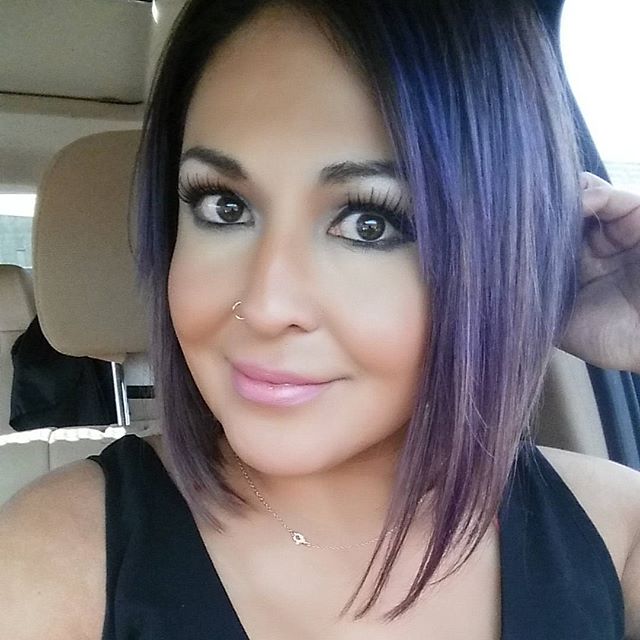 Highlights are pretty much what the word sounds like: colors that are strategically placed throughout strands of hair all over your head in order to make it look a bit multi-dimensional. Low lights are meant to do the same thing; only they colors are much softer to provide a more subtle effect.
Straight bob with side-swept bangs and maroon chunks of color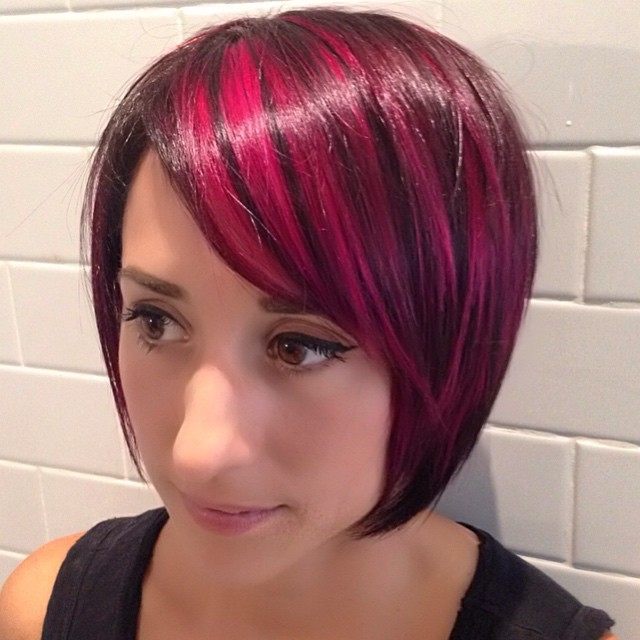 Cute short bob hairstyle for oval faces: It's our guess that this is a synthetic hair wig. It's all good, though because it's a reminder that if you see a hairstyle that you happen to like but you don't want to fully commit to it, wigs are one way to still wear it without having to do so all of the time. But if you are in love with this bob, a stylist can cut and color your natural hair so that you can get these kinds of results as well.
Wavy copper angled bob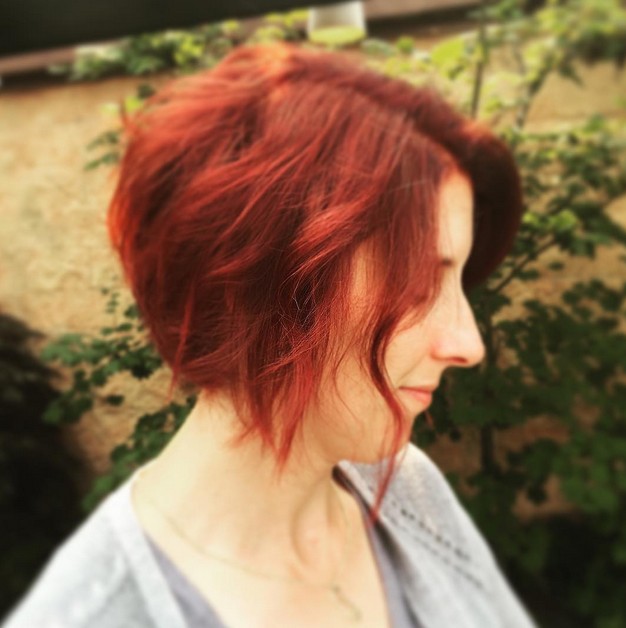 Fabulous messy bob haircut with bright hair color. Since copper is one of the most popular hair colors going right now, of course we had to feature it here! Red can bring out the fire and radiance in pretty much every woman! Plus, when it's added to a wavy hair texture and the bob is cut at an angle…look out! No one will be able to touch you!
Messy blonde and light brown wavy angled bob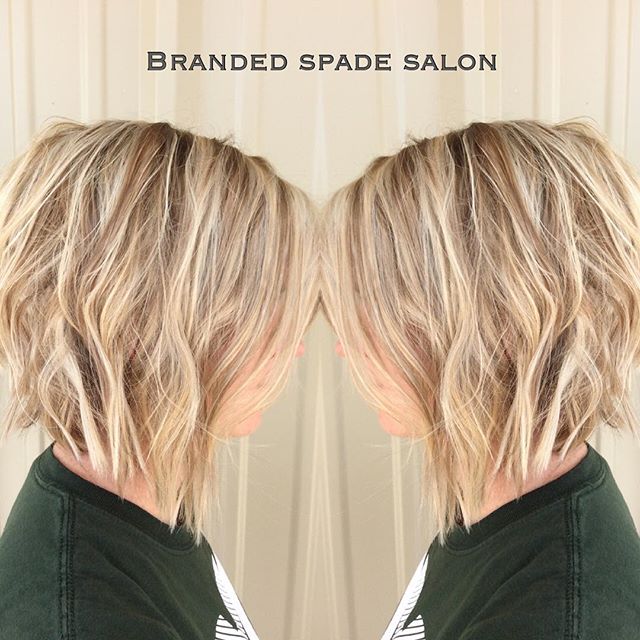 Short hairstyles for 2016: the tousled bob cut. This is one more color combination that you might want to consider whether your hair is straight or has a wavy pattern to it. Two-tone colors tend to work extremely well with air that is in a "messy style". Visually, it provides so much to look at.
A-line angled bob with lob front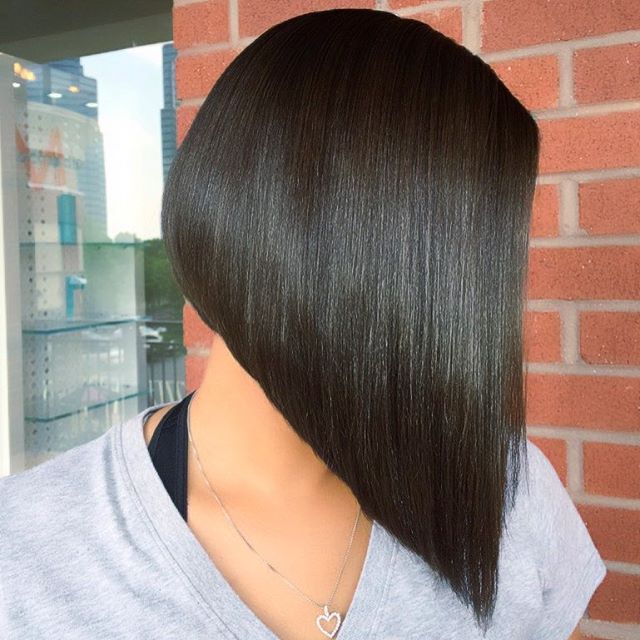 This is basically two haircuts in one. A short A-line bob that ends right at the nape of her neck in the back and a really long lob in the front. This could pretty much work for every hairstyle and texture. But we really do like that her hair is so straight in this shot. You're able to appreciate every angle of her cut this way.
Jet black and straight angled bob with long side-swept bang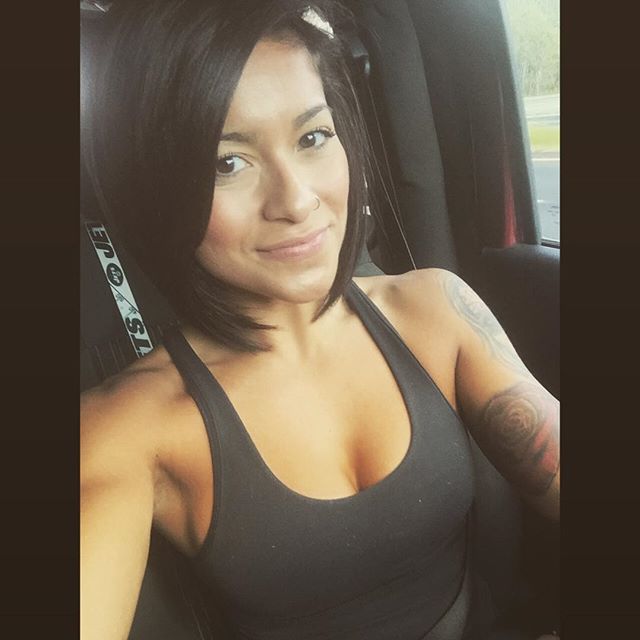 Thinking about going a little darker? Why not go all of the way and dye your hair jet black? Just as a heads up, this is the kind of color that looks best on darker skin tones; otherwise, it might be a bit too stark. But if you do decide to go this way and you get a low side-swept bang added, we're pretty sure that you'll receive lots of complements and you'll also have no regrets.
Redhead for short hair: Bright red angled bob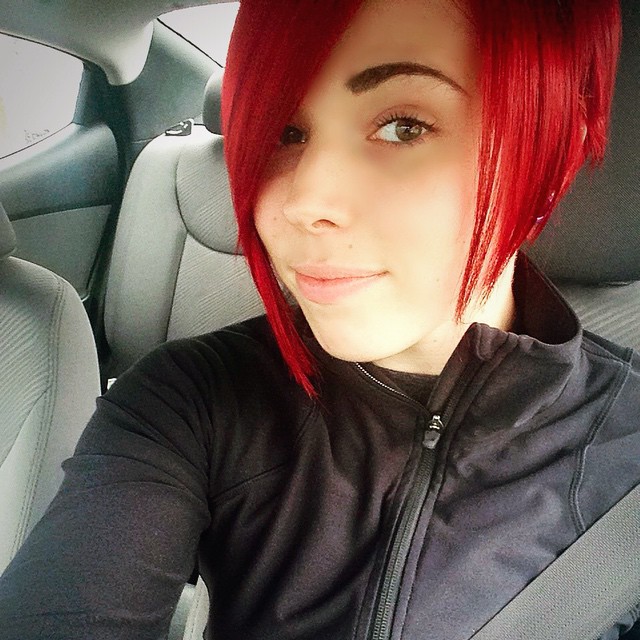 There's red. And then there's RED. Red symbolizes love. But it also symbolizes seduction and adventure with a hint of danger. Hair color is not just about having fun but giving people an impression of the inner you. Does red represent you well?
Violet angled bob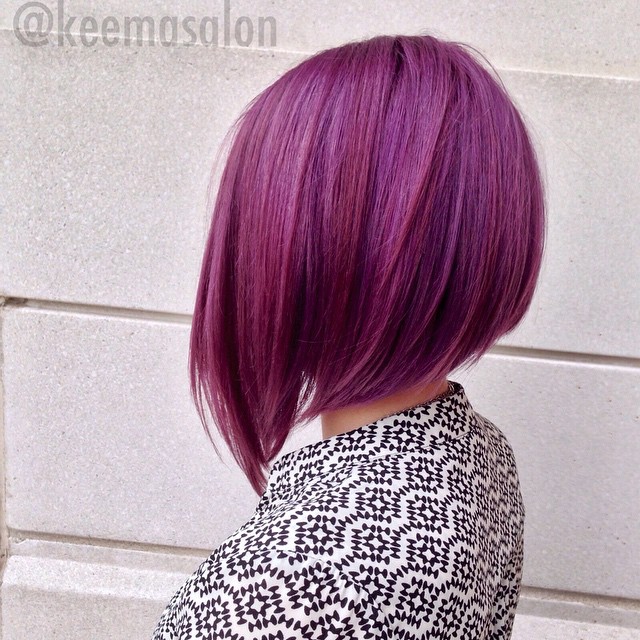 A traditional angled bob that's been updated thanks to the violet hair color. Purple symbolizes royalty and yes, we think that you will look regal and also really contemporary if you decide to try a look that's like this one. (Tip: Perhaps go with temporary color at first. Just to make sure that it's exactly what you want.)
Super straight brown angled bob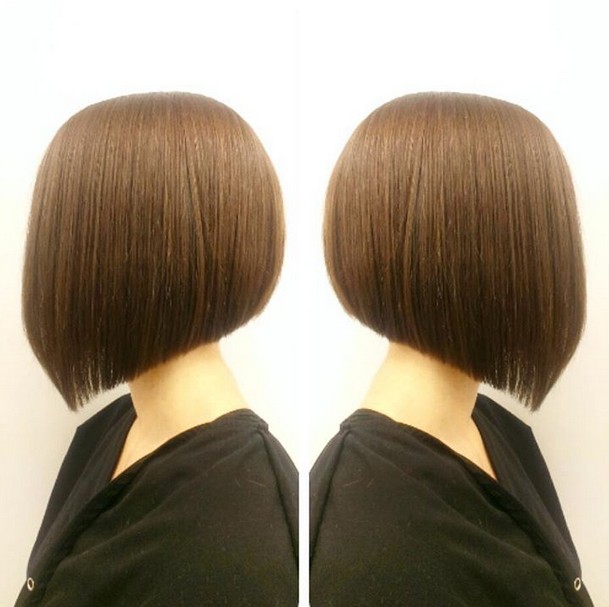 Easy inverted bob hair ideas: Hair doesn't come with too much more precision than this, does it? Do you see how straight the bottom of her hair is?!? Exactness like this is what makes this angled bob just as distinctive as some of the other looks you've seen. (That brown is a pretty delightful color as well!)
Slick angled bob for thick straight hair with dark purple highlights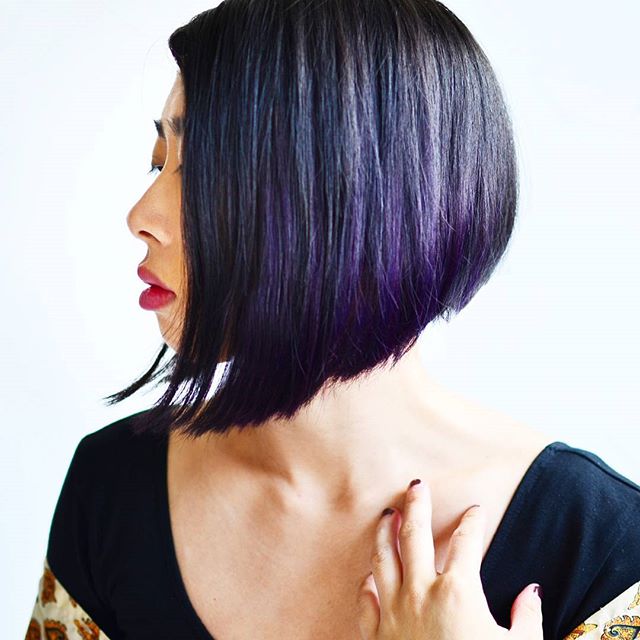 There is something that is so, almost bewitching about jet black hair. So, if that happens to be your hair color and you have no desire to change it, hey, we don't blame you! But how about adding some highlights as a "happy medium"? No one said that they have to be blonde or even brown. We're actually feeling the purple that's featured here.
Blue and platinum "reverse ombre" angled bob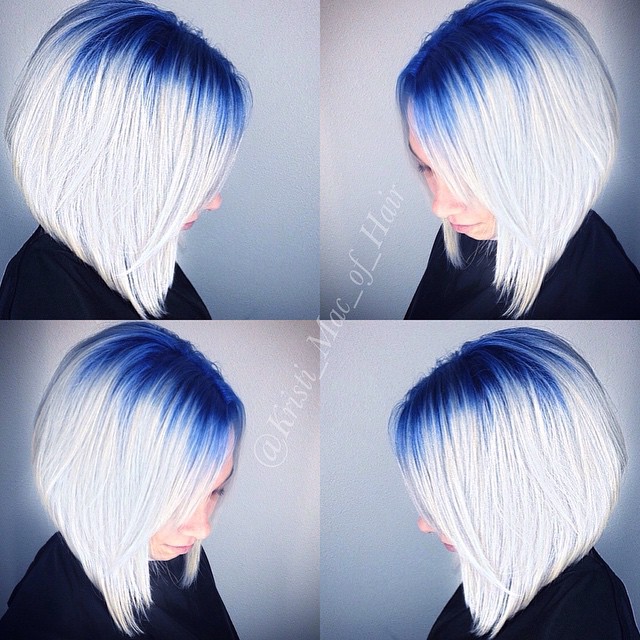 With traditional ombres, the hair is usually dark at the top and light at the bottom. This is why we call this the "reverse ombre". Pretty cool now her "roots" are dark blue rather than her natural cool. What's even more magnificent is how it plays against the platinum. A perfect wintertime angled bob style.
Angled bob with deep side part and feathered side-swept bangs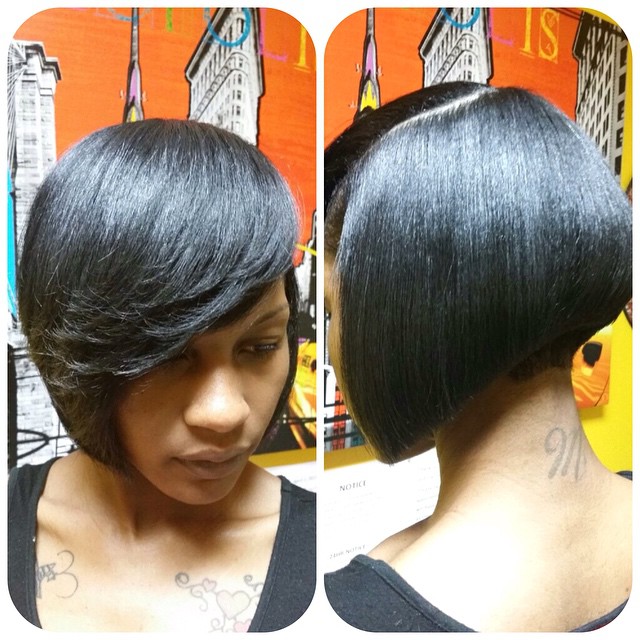 African American bob hairstyles: There's no possible way that you could love this look more than we do! The detailing of the neckline is both delicate and dazzling at the same time. And if you like bangs but you don't want to go the "cutsie" route, you can always take the feathered side-swept route and end up with results very similar to these! This angled bob cut is perfect for black women who want to cut their hair shorter this summer.
Dark blonde angled bob with low side part (for thick hair)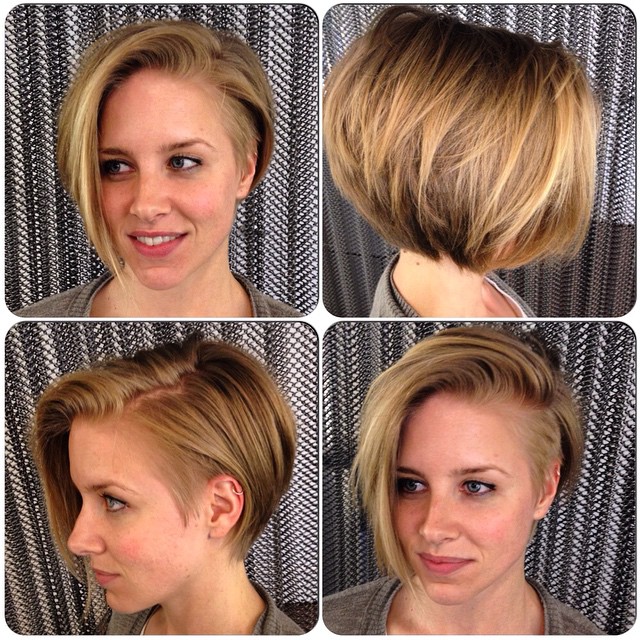 Daily hairstyles for short hair: the angled bob cut with layers. This is the kind of hairstyle that we honestly recommend for women with thicker hair in order to get results very similar to it. The standout points of this 'do is that the back is more of a graduated slope. Also, the side part is a bit lower to show off the extra short side.
Buttery blond straight slight angled bob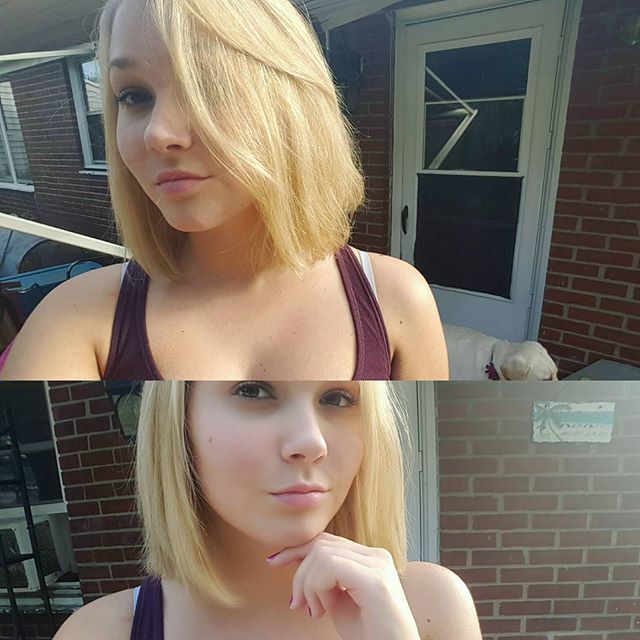 The buttery blonde color is honestly the first thing that stands out to us (how about you?). The second thing is the fact that although there is barely an angle, there still is one. It's a way to transition to one of these other styles that's a bit more…obvious. A perfect bob cut for round faces.
"Slight ombre" angled bob for thick hair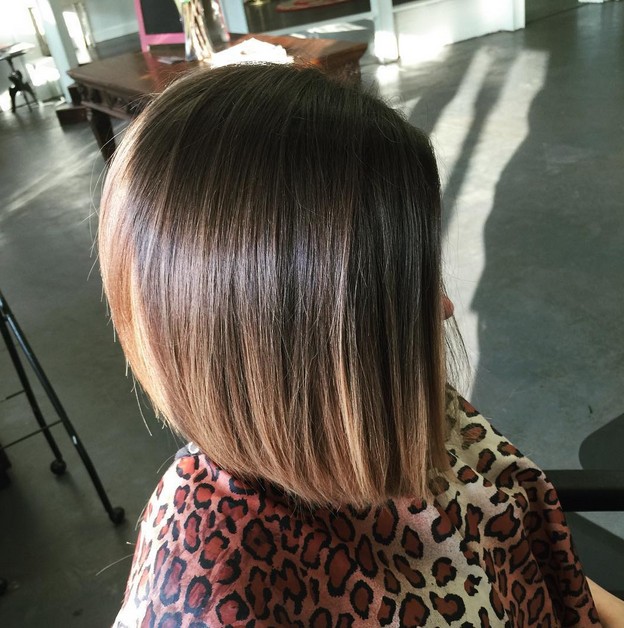 There reason why we recommend that women with thick hair try this angled bob is because the sleekness of it needs a bit of "heaviness" in order to trying pull it off. But as far as the color goes, anyone would look great in ombre! That's why it's been such a big color trend for so long, and you can find more cool stylish hair styles on our site stylesweekly.com!