Latest outfit ideas for winter
Now here's a trend that makes perfect sense for winter. Plaid is awesome because it's the kind of print that looks fantastic on an old plaid shirt, a semi-formal dress or even a fine tailored winter coat.
Whether you've worn plaid before or not, we're confident that one (or more) of these looks will certainly catch your eye. And embrace your flair for wintertime fashion.
1. Turtleneck, jeans and a plaid purse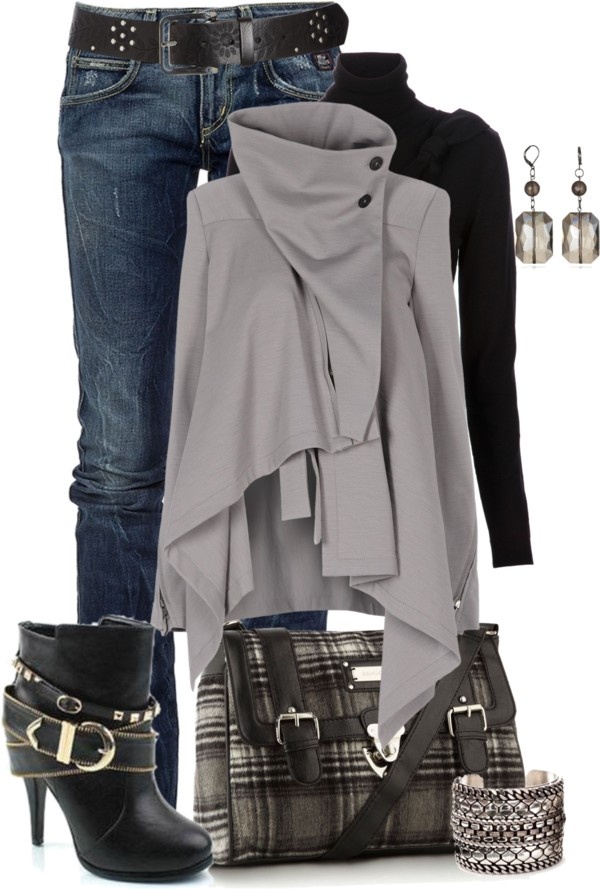 Do you honestly need a little help easing into plaid? If so, we get it. That's why we started this all off with a solid turtleneck and pair of jeans and a plaid purse. Yep, plaid also is a great print for accessories too…as you can so easily see.
2. Plaid shirt, knit cardigan and flats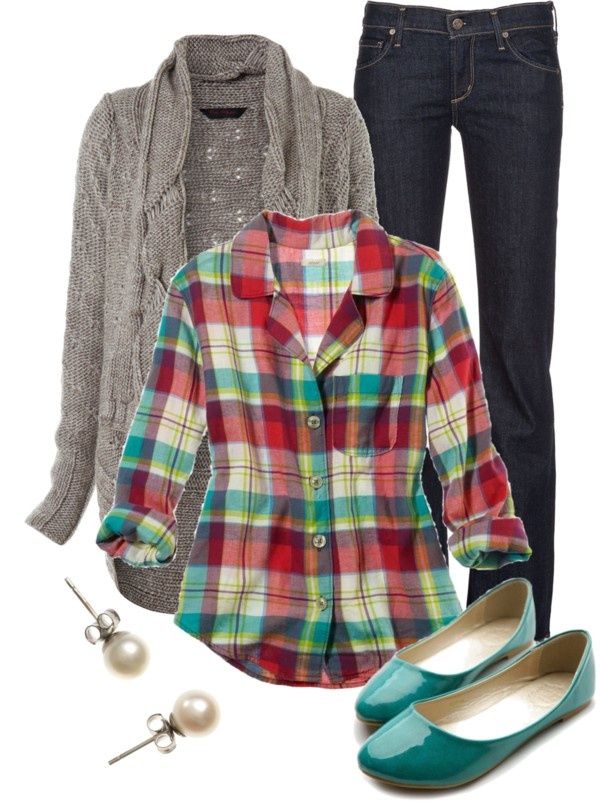 Do you love to lounge around in one of your dad's, your brothers or even better, your boyfriend's plaid shirts? They really are comfortable, right? You can make the shirt "step out of the house appropriate" by putting a solid knit cardigan on top and adding some flat (maybe even patent leather) shoes. Pearls are also in right now, so a pair of studs or perhaps even a string of pearls would "girlie it up".
3. Plaid shirt dress, matching cardigan and legwarmers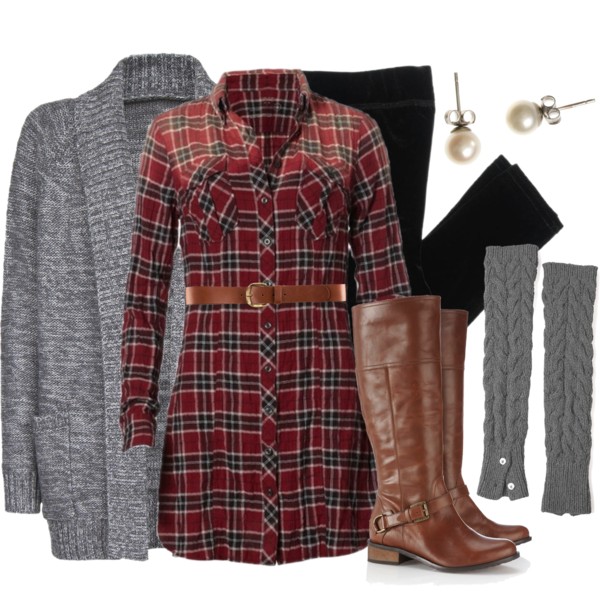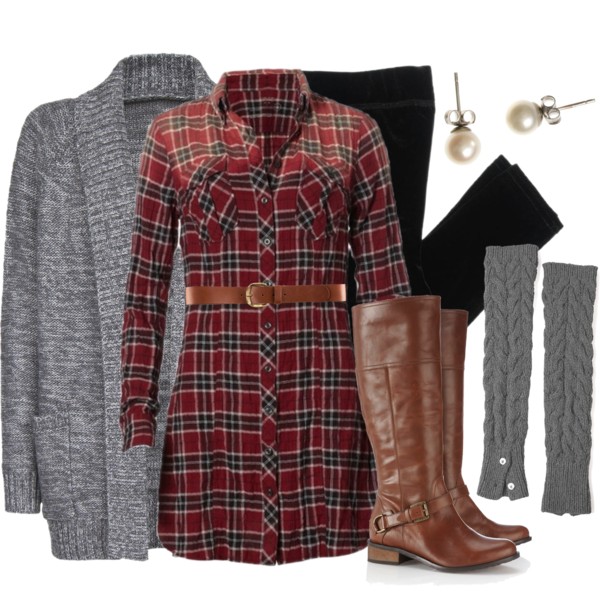 Every woman should have a shirt dress hanging up in her closet. There's no doubt about that. And if one of them is plaid, it will look wonderful during the holiday season. Add a matching cardigan and leg warmers to go over your riding boots. You can wear some dark skinny jeans, leggings or even tights under the dress to keep the chill off.
4. Solid turtleneck, plaid throw and jeans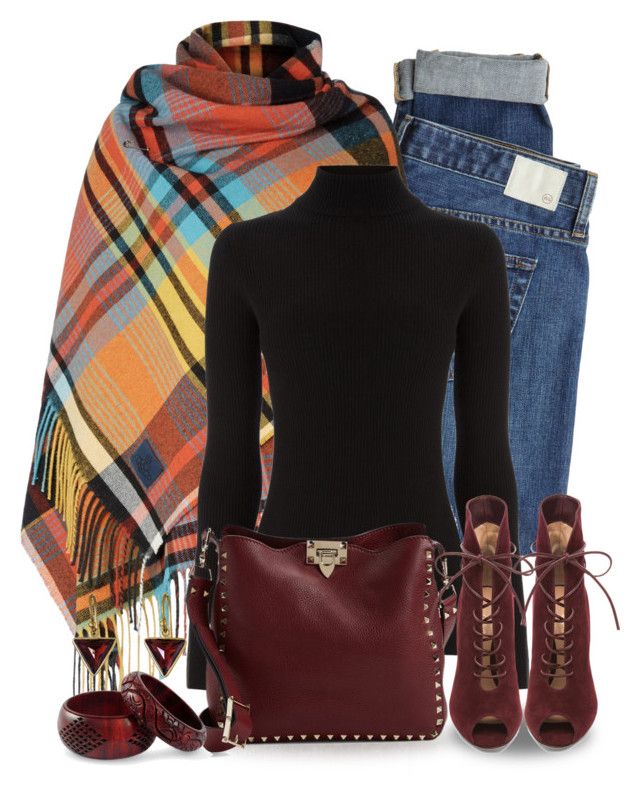 We loved this so much, we choose it to be our feature picture. The black turtleneck coupled with the burgundy (or Marsala) accessories is a regal look. The colorful plaid throw pulls everything together in a truly fun and festive kind of way.
5. Plaid skirt, solid tank and blazer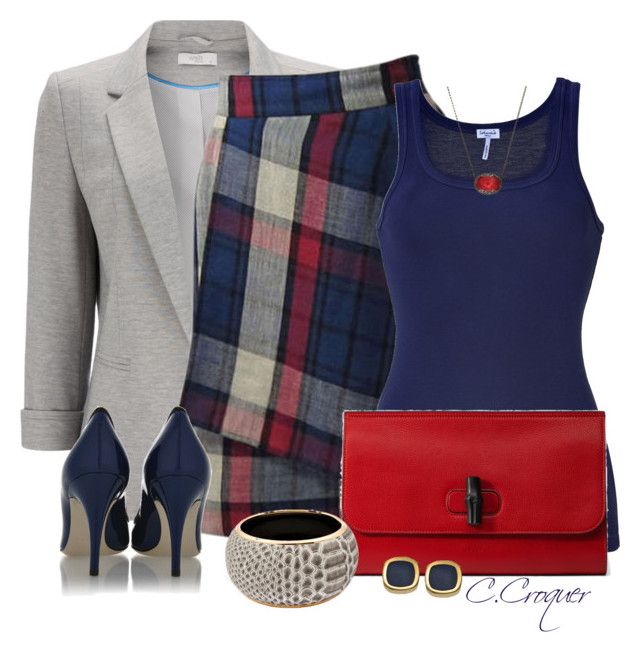 Here's a perfect look for work. Whether their skirt is a longer flare, a pencil or even a maxi, it will go really well with a solid tank top of your choice and a blazer that either matches the tank or pulls another hue from the plaid print in the skirt. Finish off this office attire with an animal print bangle and solid clutch.
6. Plaid shirt and hoodie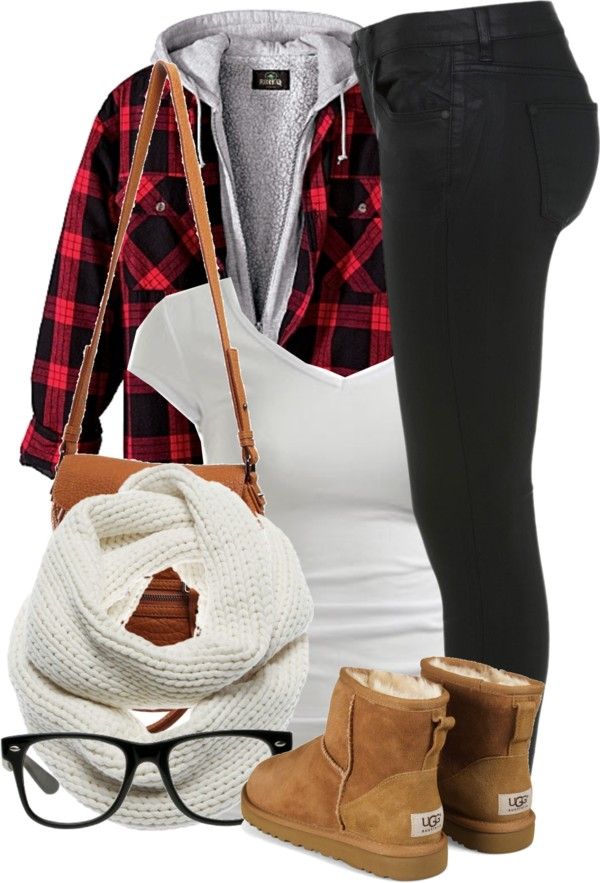 Do you have a plaid shirt that you like that honestly is about two sizes larger than you are? Here's a creative way to make it work. Rather than putting it under one of the hoodies that you have, put it over it instead. Add an infinity scarf and UGGs and you'll be ready for some serious holiday shopping.
7. Solid shirt with plaid skirt and suede boots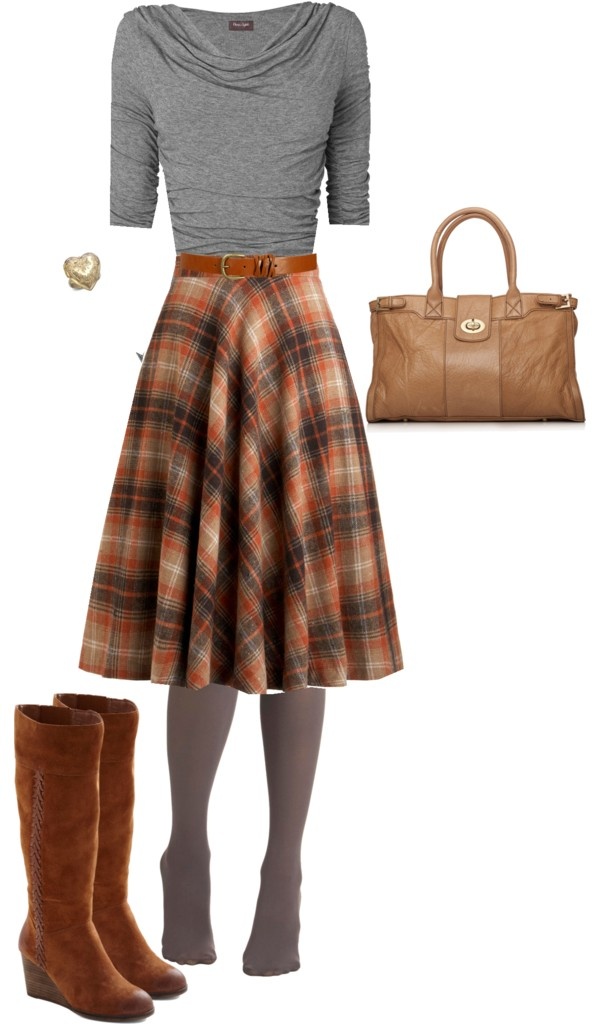 This look is sweet more than anything else. A part of it is due to the color combination. Another part of it is because of the length of the flare skirt. Our recommendation is to do just what this picture did: match the top with your tights. And although all boots would work, it never hurts to have at least one pair be wedge ones. (Don't you think?)
8. Sleeveless blouse, blazer and plaid pencil skirt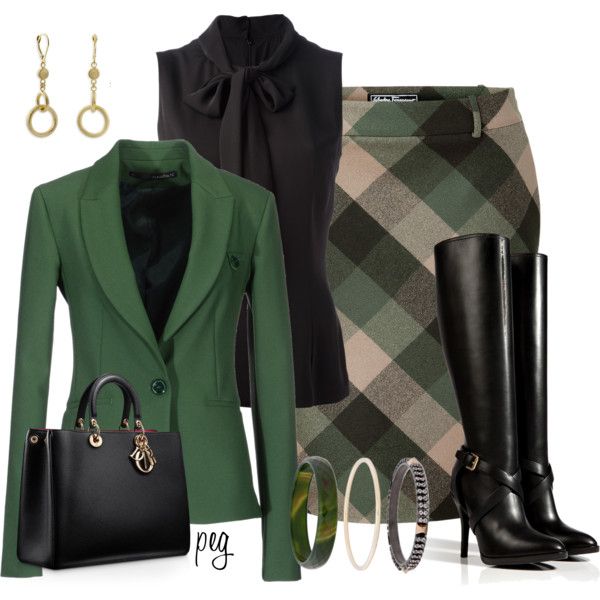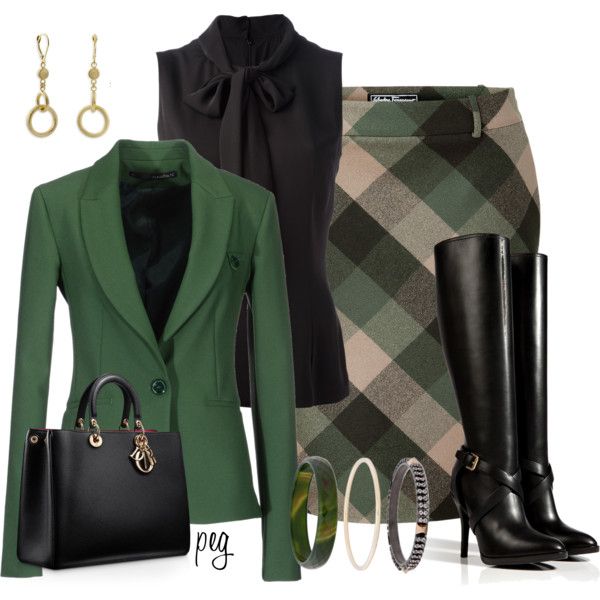 Pencil skirts always have and always will be very sexy. Getting one in plaid is something that you will never regret owning. This is also an ideal work outfit. Be sure to have a ball with your jewelry. When it comes to plaid, your bracelet don't have to match…just blend.
9. Plaid shirt, khaki jacket and tank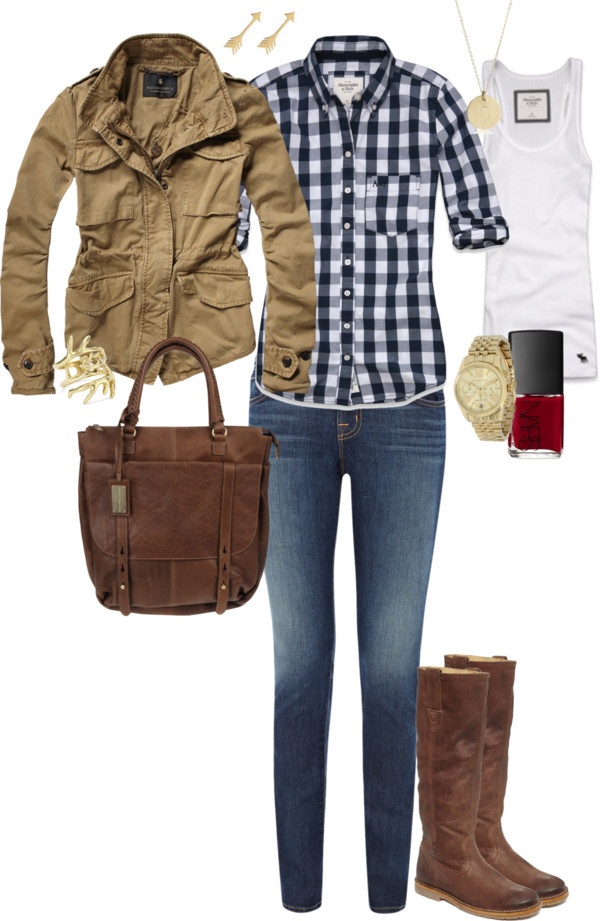 Whether you're planning on going hiking or on a ski vacation, this is the look you want to pull off. Plaid always work with khaki and tanks are perfect if you're trying to do some layering (for indoors and out).
10. Brown, seafoam green and plaid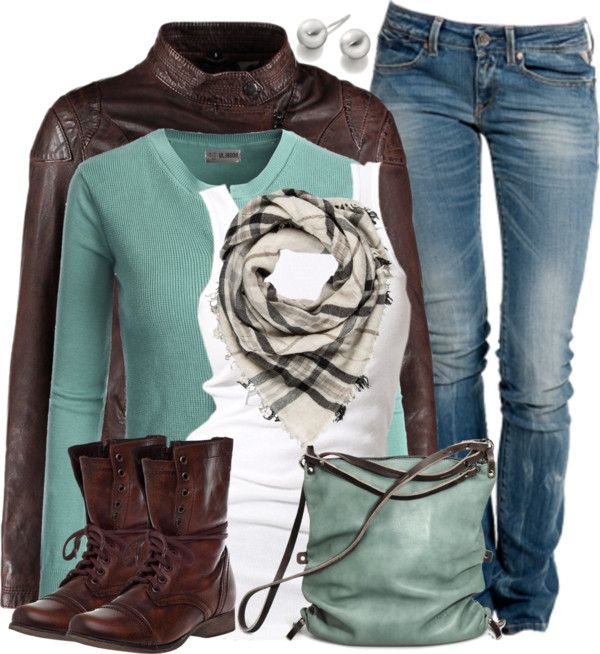 There's not a ton of plaid here, but that's a part of the reason why we're showing it to you. The plaid scarf is another example of how to use the print in a way that is not super overt. Another thing that we wanted to bring your attention to is the combination of seafoam green and brown. It's one of the best color combos that we've seen in a really long time. How about you?
11. Sleeveless blouse, plaid pencil skirt and coat
Here's a semi-formal look that works for an office party—or first date after work. The key here is to find a rich solid (like this blue) and to also make sure that the blouse is made out of something like satin, silk or maybe even cashmere. That will help to "dress it up".
12. Plaid shirt, tank and cowboy boots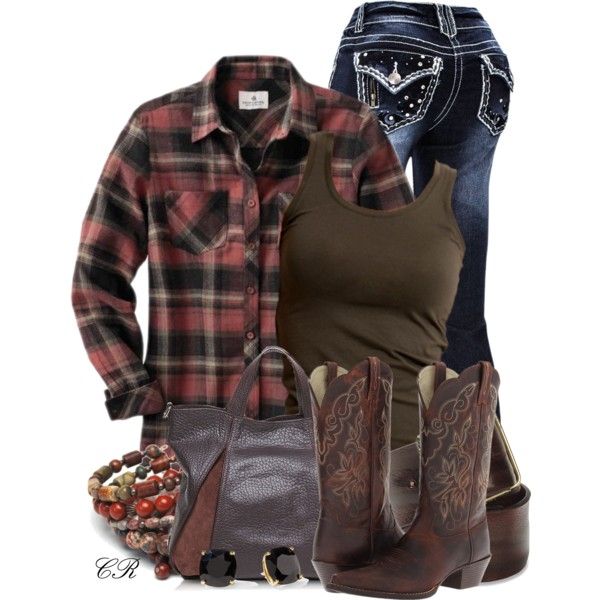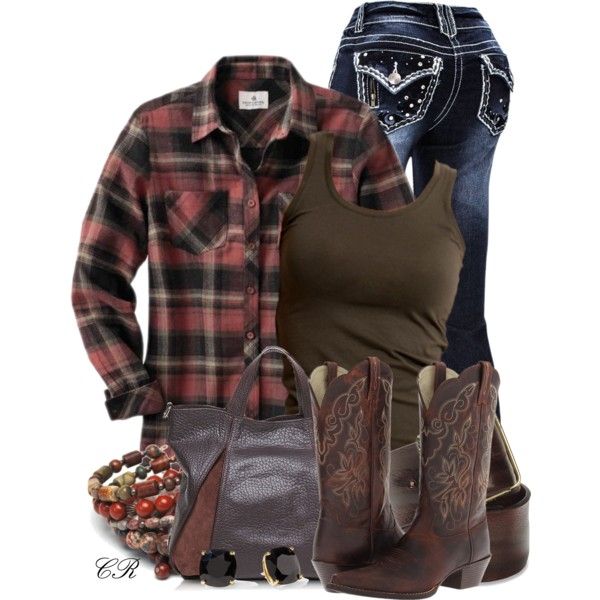 So, where are your cowboy boots? What?!? Don't tell us that you don't have any! After looking at this picture, hopefully you can see why they would be an awesome addition to your wardrobe. And when it comes to your plaid shirts? Trust us when we tell you that they will easily go with…all of 'em.
13. Tank, jean jacket, boots and mini plaid skirt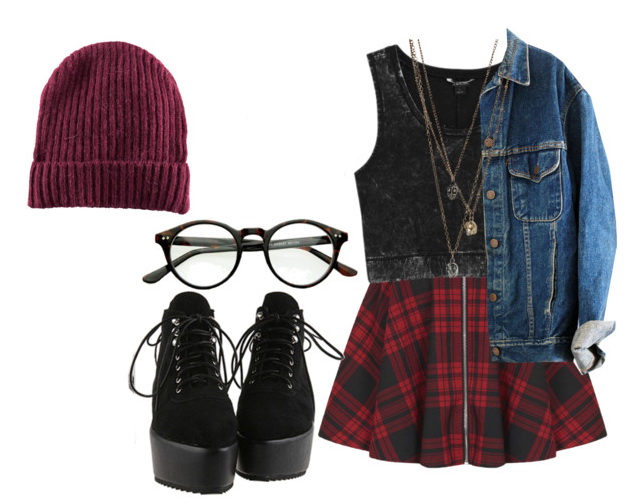 If a part of the reason why you hate winter is because you feel like you have to part with all of your summer wear, we actually could not disagree with you more! The key to keeping your tanks and mini skirts around is to throw on your jean jacket and some tights or thigh highs. (Printed opaque tights are in too!)
14. Sweater, leggings and plaid scarf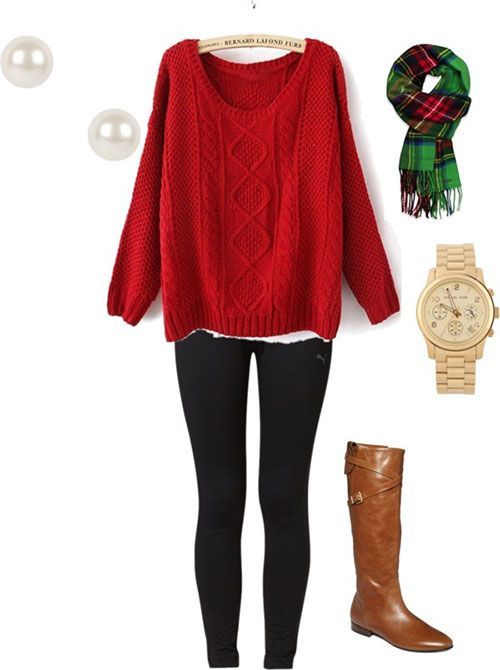 Here's how you can bring in a bit of Christmas cheer without literally looking like a Christmas tree! All you need to do is use your scarf as the way to bring in all of the traditional Christmas colors. And plaid is one of the best prints to effortlessly pull that off.
15. Plaid shirt, hoodie and backpack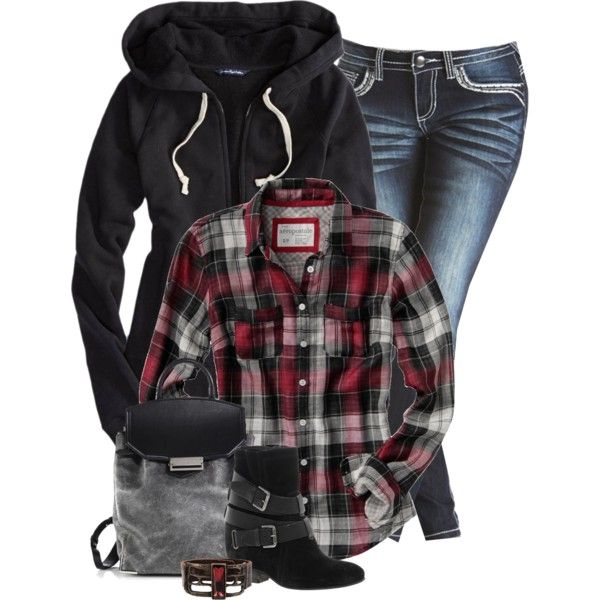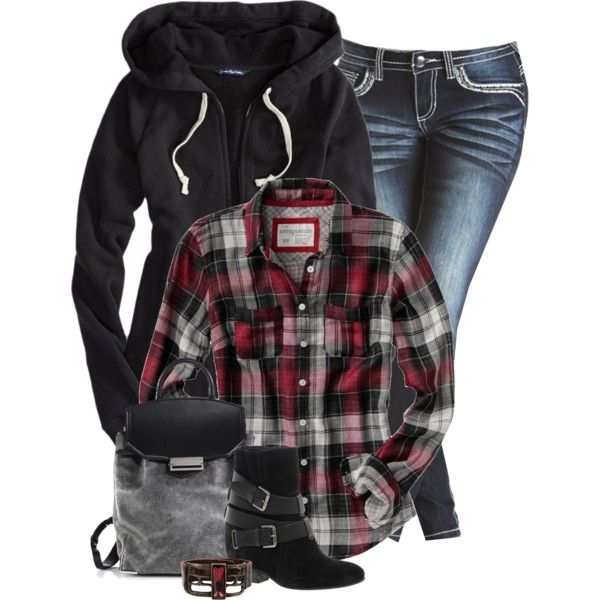 We already showed you how to wear one of your plaid shirts over your hoodie. But if you have a shirt that fits you just right, it can always go under your hoodie too. Oh, and we're showing you a backpack rather than a purse because backpacks are currently all the rage.
16. Plaid shirt, tank top and fitted jeans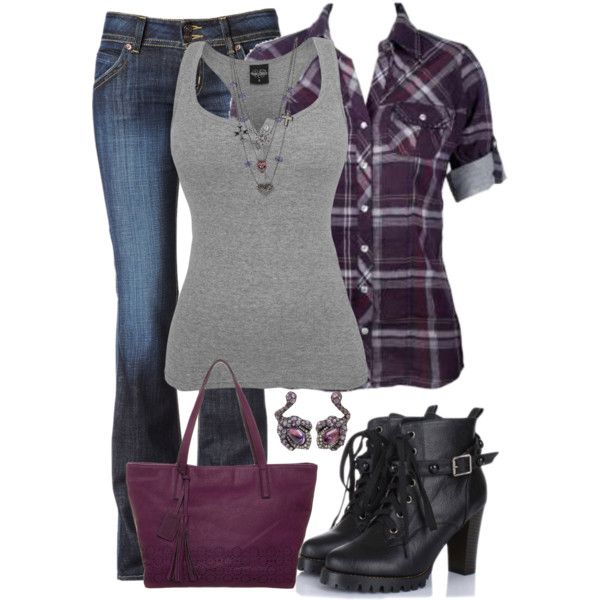 This is a pretty traditional look as plaid goes. One thing to note with the whole plaid-shirt-tank-top-fitted-jeans ensemble is that it's a good idea to wear them according to trending colors. One shade that you're going to see a lot of, from head to toe this year, is violet.
17. Plaid pajama pants and hoodie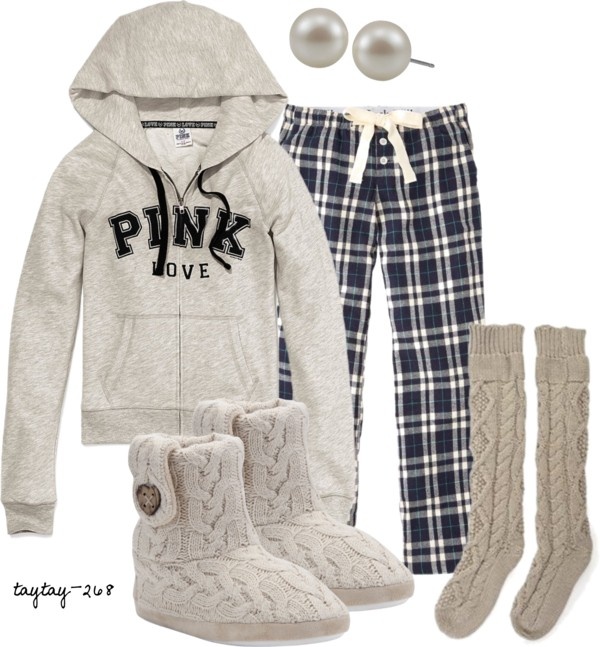 Victoria's Secret is just one of the places where you can get some flannel or cotton pajama pants (it's the only place where you can get that specific hoodie too). And if you thought that you could only wear in them indoors, that's actually not true. They are definitely one of the more casual looks on the planet, but if you're headed out to get some breakfast or to run a few errands, with the right accessories (like the pearl studs, for example), you can make it work for you.
18. Tank top, skinny jeans and plaid shirt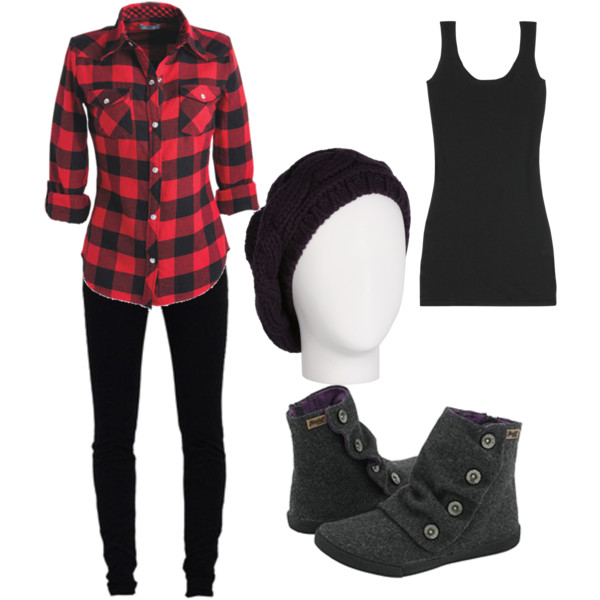 We like this look because no matter how big a plaid shirt may be, with skinny jeans, it will still bring out the "ladylike" in you. And if it happens to be a bad hair day, just put on a knit cap. No one will ever have to know!
19. Plaid shirt, leggings, skull cap and low tops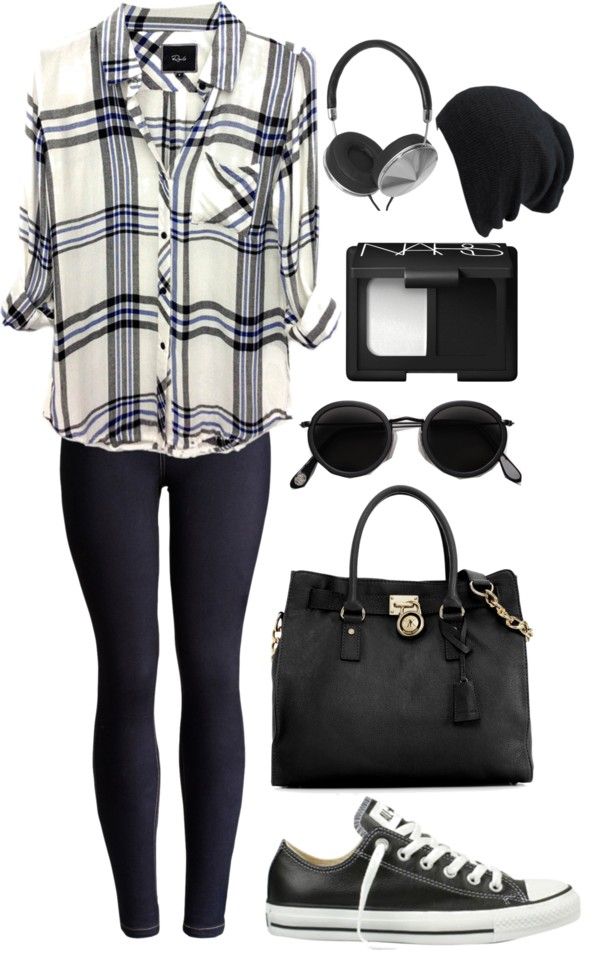 Here's another way to make the look that we just showed you work. Exchange the knit UGGs for some low tops and take the accessories as far as you want them to go. They can match or not match. You'll look good either way.
20. Plaid with herringbone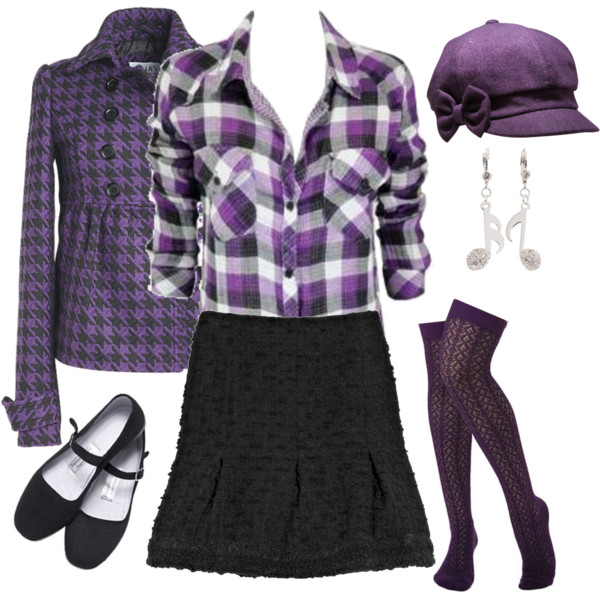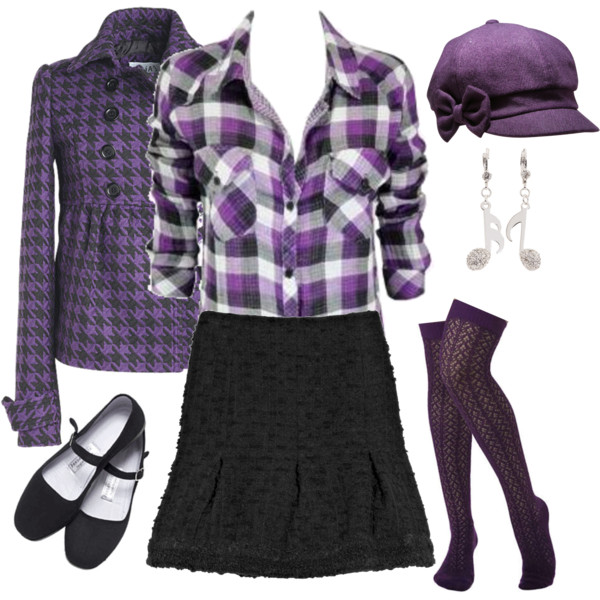 Another thing that we enjoy when it comes to plaid is the fact that you can have all sorts of fun playing with other prints and patterns. Take this outfit for example. Until now, would you have ever thought to put plaid and herringbone together? The key is to make sure the colors work, not so much the print.
21. Solid long sleeve shirt, skirt and plaid scarf
This is a really good office outfit. What will really make it ideal is if you buy some opaque tights that are the same color as a solid turtleneck. Then add a plaid scarf that literally ties everything in together.
22. Solid T-shirt, jeans and plaid scarf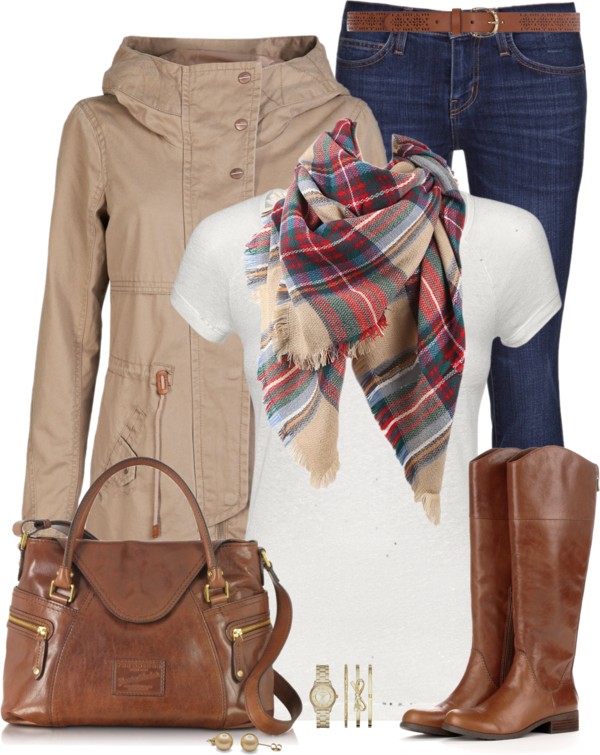 Do you live in a climate where things are "chilly" rather than bone-chilling cold? If so, how about this layering look? The khaki with the brown leather is perfect. So is the plaid scarf.
23. Plaid skirt and matching infinity scarf
One way to wear Christmas colors is to find a scarf and skirt that has those hues in them and then pair everything up with solids. This black and red look is one example.
24. Plaid jacket and solid pencil skirt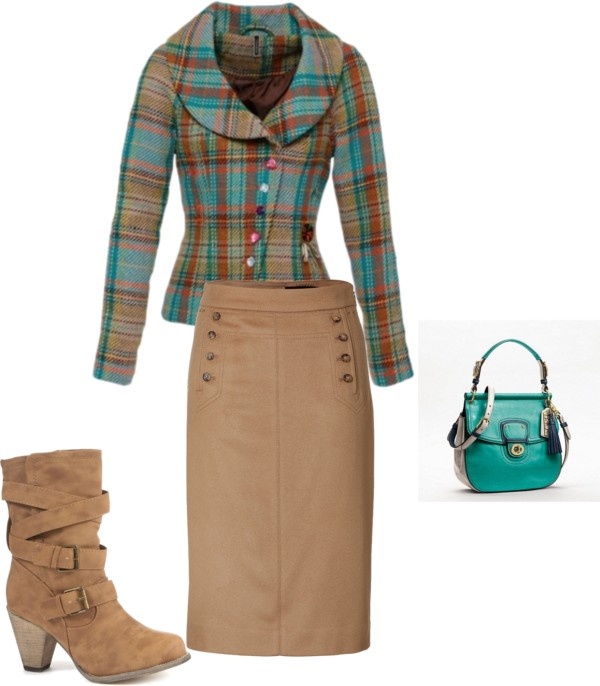 DIG IT. We dig every single thing about this look! The bright colors mixed in with the tan in the plaid jacket for one and then the tan pencil skirt and boots as well. Don't forget to put a tank or fitted solid T-shirt on under the jacket, though. You might want to take it off once you're indoors.
25. Plaid wrap dress and pumps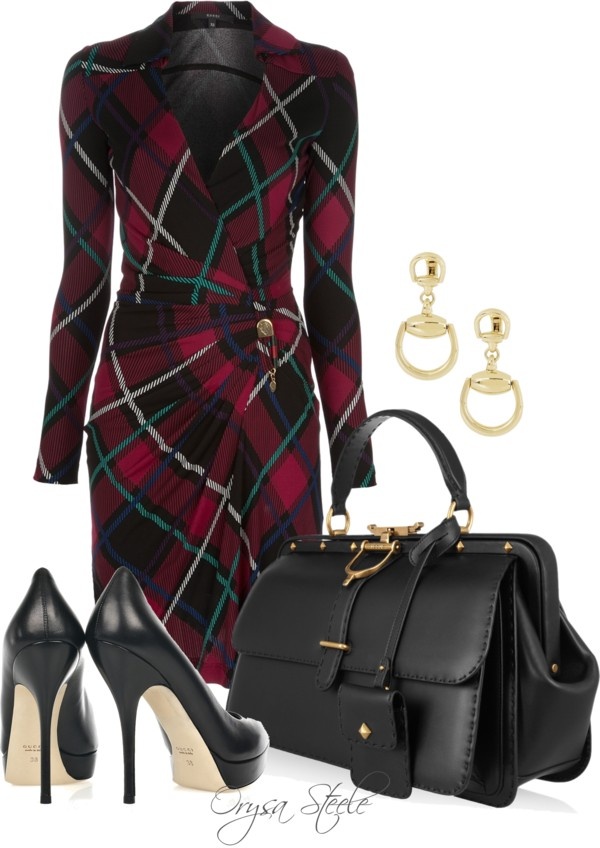 Wrap dresses are sexy on every woman, no matter what her body type. And even if you are…skeptical about wearing plaid because you might be on the fuller side, don't be. The key is to look for one that has some darker hues. You will look unforgettable in it. In the best way possible. Trust us on that! Do you love these outfit ideas? Find more on stylesweekly.com