If you are a real fashionista, it's not hard for you to find that every time the summer comes, the nautical trend will blow up! Every thing begin to go for the nautical styles. For example, almost all women have a nautical dress or top. Most of us love the nautical style because it is really cool and can go well with any other outfit piece easily. What's more, the nautical elements, such as stripes, blue and anchor patterns, can really make women look much younger and chicer.
Since the nautical trend is so hot in summer, why not just try it on your nails? In this post, we are going to show you a collection of 15 effortless chic nail designs with the cool anchors! Let's hit the trend! You may copy the stunning ideas below or just get yourself inspired from them. Just make a stylish nautical manicure to rock this summer! Scroll down and enjoy!
White and Blue Anchor Nail Design via hdimagelib.com
The most impressive colors about the nautical style are white and blue. They are effortless chic for the manicure. To make things better, you may add some crystals and glitter effects to the nails.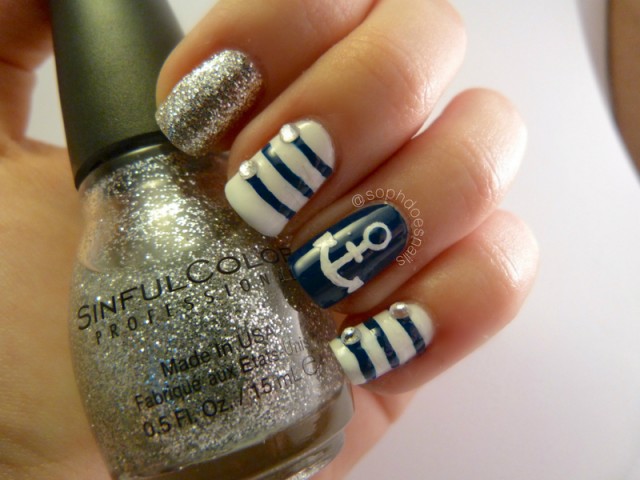 2015 Fashionable Nautical Nail Design via hdimagelib.com
Red anchors, white and blue tones, together with the golden stripes, make this nail designs edgy chic for fashionistas to try!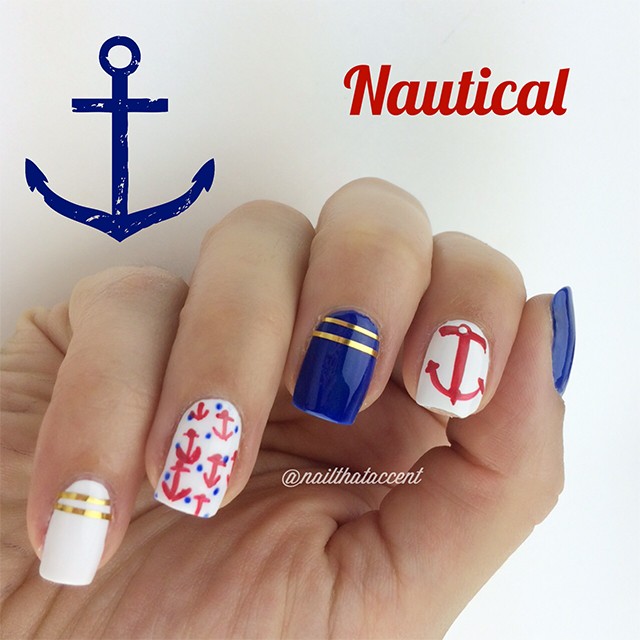 2015 Chic Anchor Nail Design via nailthataccent.com
The right color combo will make your nails more attractive! The white anchor becomes even more staring against the deep blue under painting! To be even more stylish, try to get one glitter golden nail to brighten the whole design.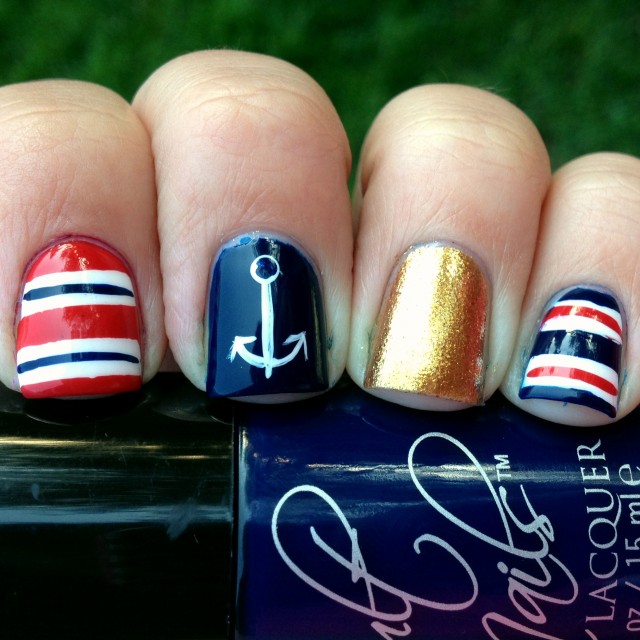 Lovely Nautical Nail Design  via polish-my-nail.blogspot.pt
Everything is about the navy!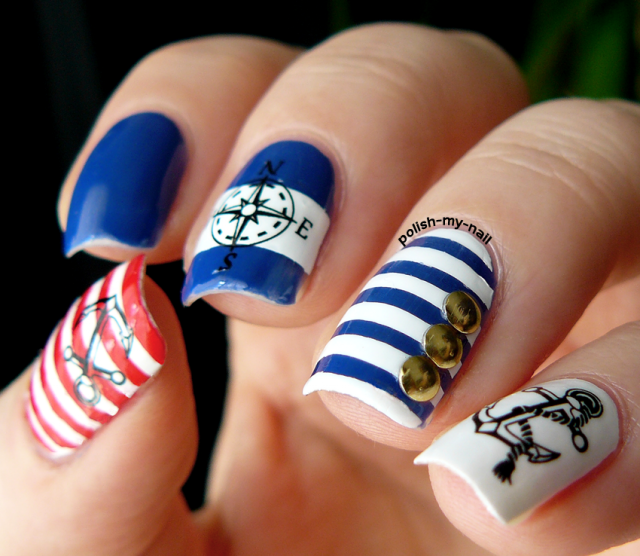 Stunning Anchor Nail Art for 2015 via nailsworlddd.blogspot.com
Simple yet rather stylish! I can't wait trying it!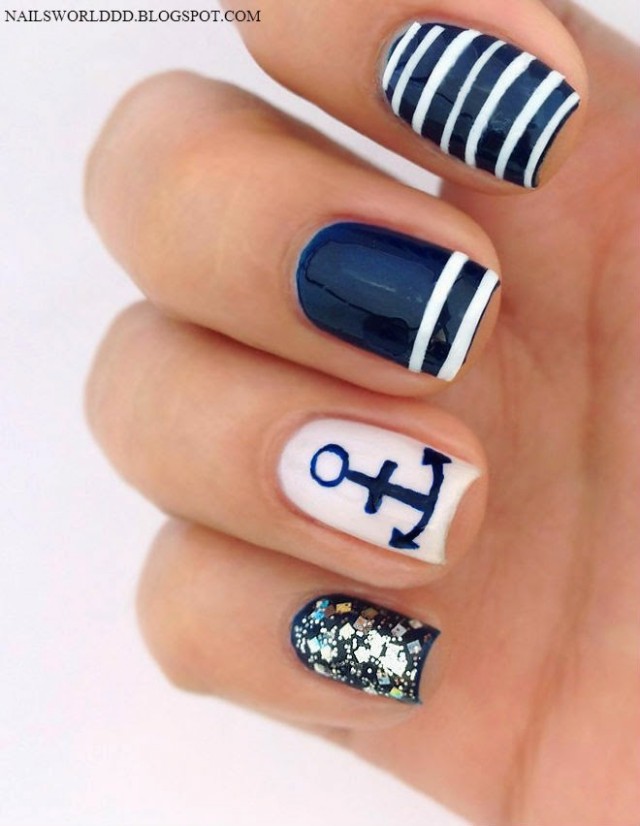 Stylish Summer Nail Design with Anchor Patten via hdimagelib.com
No one will say no to such a stylish nail design. It's wonderful for girls to try for fun!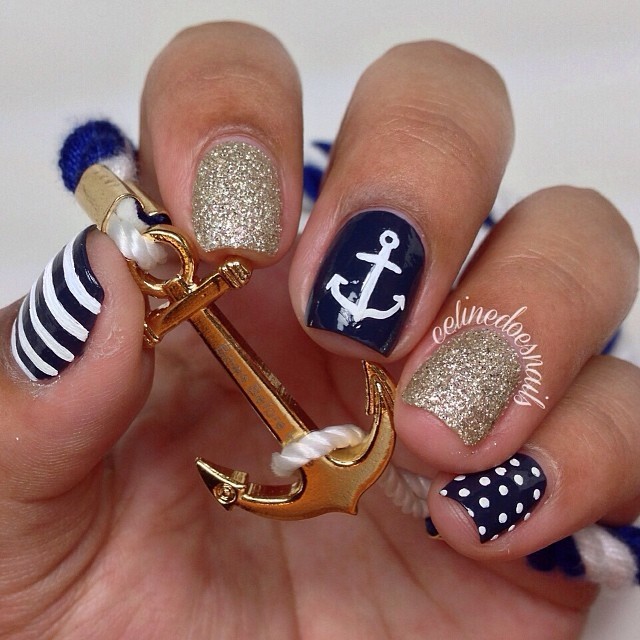 Cute Anchor Nail Design for Summer via hdimagelib.com
Stripes, dots , chains and anchors! The patterns and colors are both interesting and cute!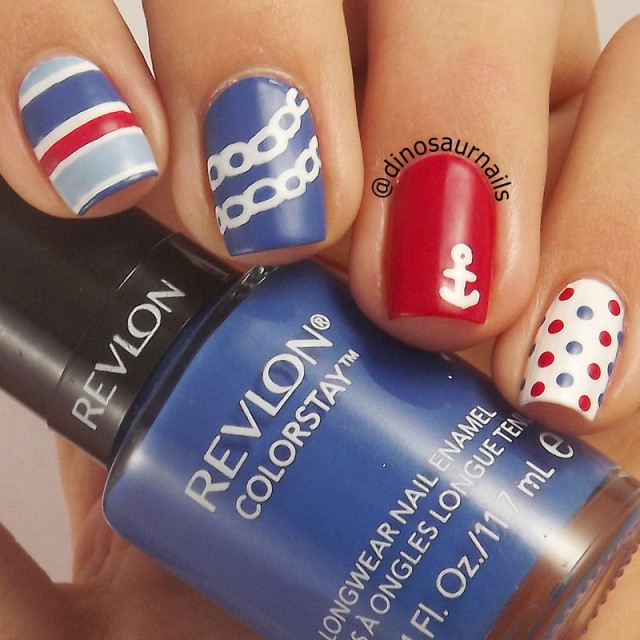 Nautical Nail Design with Golden Anchor via hdimagelib.com
Some golden sequins have been added to the nails, which make the simple nails much cooler. And  the metallic anchor is what turns this nail design eye-catching!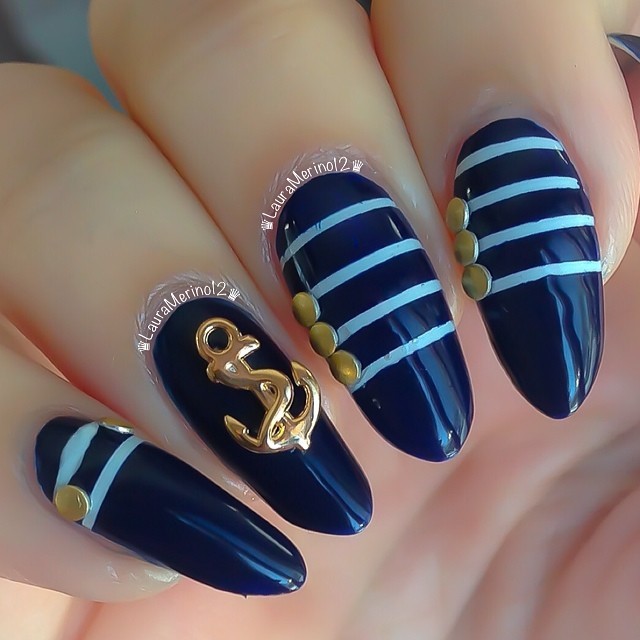 As we all know, fashion doesn't just mean a defined way to do something! You can create your fashion style, too. While others are doing the navy blue nails, why don't you show your personal taste and try some other colors! Anchor nails are not merely fashionable. They are adorable and breathtaking as well. Here are some more beautiful anchor nail designs! Keep checking them out!
Chic Floral Anchor Nail Design for 2015 via www.beautytipsntricks.com

Colorful flowers look sexy and pretty against the black back ground. And the floral anchor becomes far more attractive against the white background. Perfect! I love it!It's worth trying for all stylish women!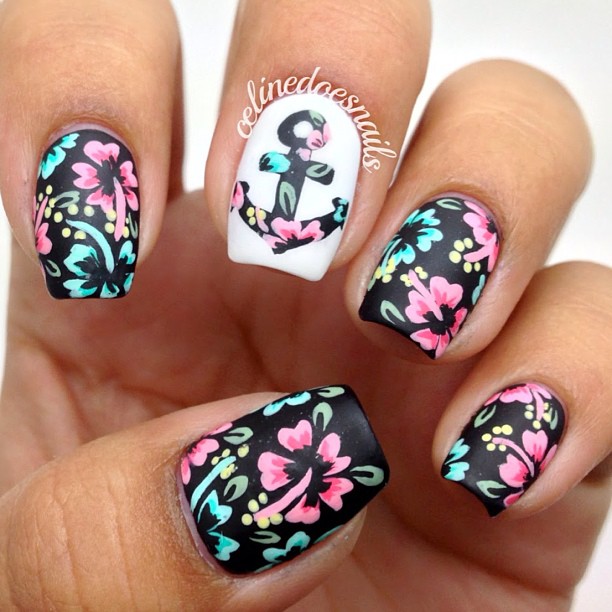 Black and Gold Anchor Nail Design via www.beautytipsntricks.com
The combination of black and gold is timeless and effortless by itself. When it is used for the anchor nail art, I have to say it's really amazing!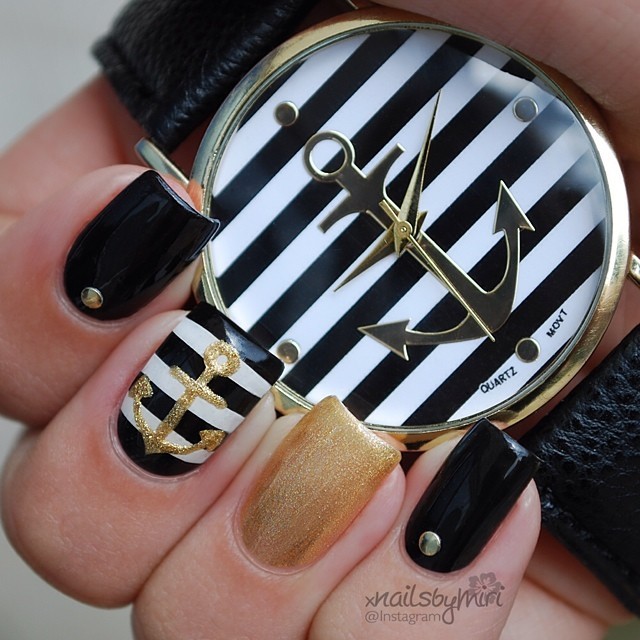 2015 Beautiful Anchor Nail Design via anyasnails.wordpress.com
The pink is so cute while the existence of black and white colors add a fashion vibe to the originally sweet look!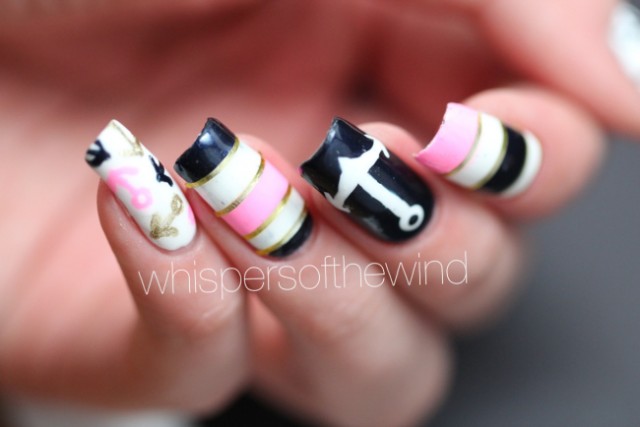 Pink and Mint Anchor Nail Design via websta.me
The lovely pastel nails are more popular with younger girls. As for this one, the golden glitter nail avoid this final design to be too childish!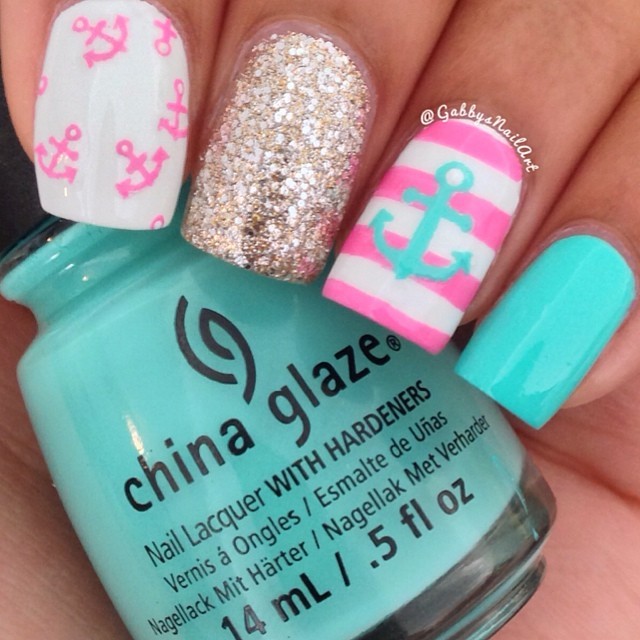 Bright Yellow and Blue Nautical Nail Art via www.beautytipsntricks.com
Such bright colors will make everyone relaxed and become cheerful! Quite suitable for summer days!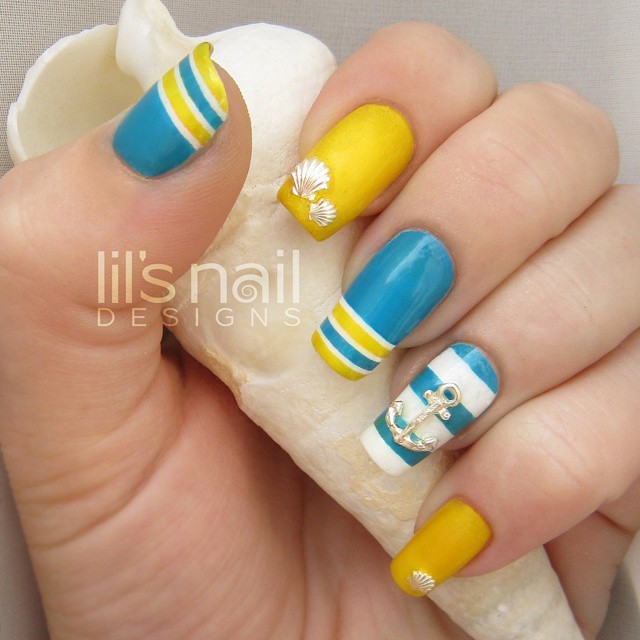 Floral Anchor Nail Design via www.beautytipsntricks.com
If you don't think stripes and dots are good enough to satisfy you, you may add some floral elements to your anchor nail! It can also be quite fascinating!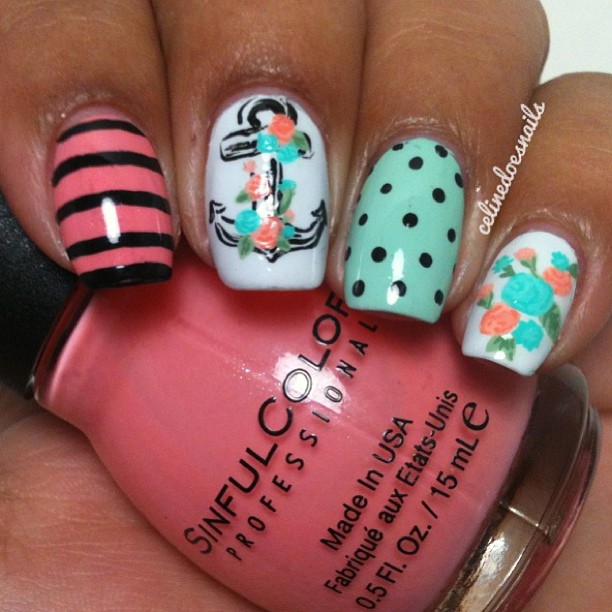 Interesting Anchor Nail Design via www.beautytipsntricks.com
You may try this for fun!