Opting for a center parting with your hairstyle might seem like a simple decision, but in actual fact many shy away from it. People shy away from a centre parting because choosing one truly shows off your face. This can make some people feel vulnerable. However, Styles Weekly are here to show you that you should be brave and embrace a center parting. They look incredible and will make you feel fantastic – trust us. Here's 10 looks to style your centre parting.
Blonde Bouncy Bob – Middle Part Hairstyle for Short Hair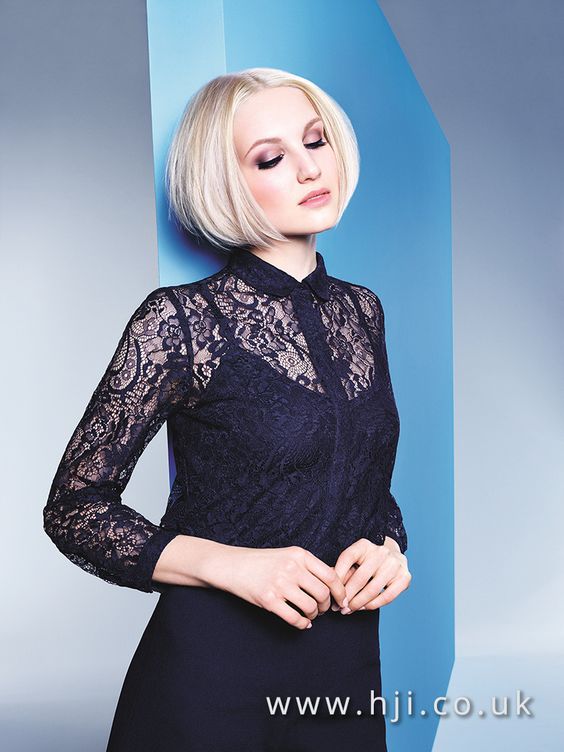 Centre partings look absolutely fantastic with bobs. This stunning blonde bob has been chopped to the jaw level. To recreate this look, centre your parting. Use straighteners or curlers to curl the ends of the hair under. Use your fingers to add lots of texture to the top of the hair. This will help you achieve the body and tousle in this stunning style!
Sleek and Tucked Behind the Ears – Middle Part Hairstyle for Long Hair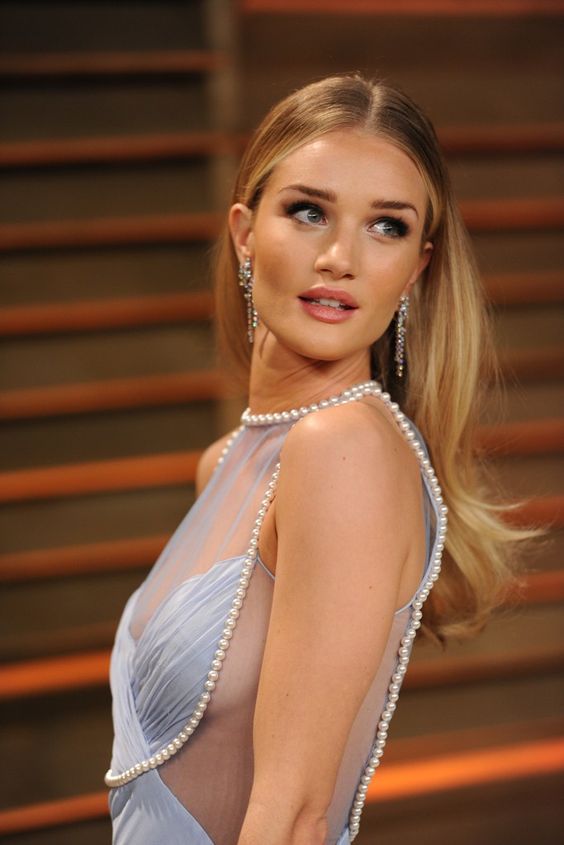 Showing off your centre parting hairstyle is a must, just like Rosie Huntington-Whiteley pictured above. Steal her style by parting your hair in the middle. Use product to make the top of your hair sleek, tucking it behind your ears for a straight look. With the ends of your hair, add curls and flicks throughout for a fantastic contrast!
High Ponytail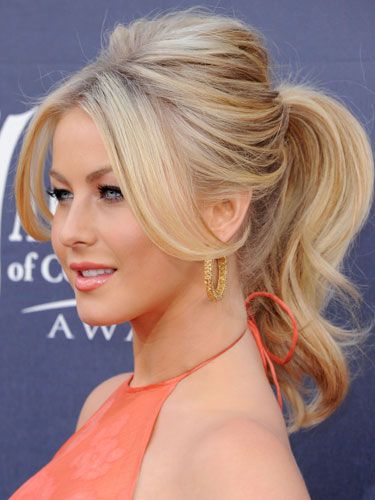 Centre partings work with a fringe too! Chop your fringe to around the ear level and be sure to part it in the centre. Use straighteners or tongs to curl the fringe under and backwards like Julianne Hough pictured above. Gather the rest of the hair into a high ponytail. Use a comb to get lots of volume up top. Let the hair cascade in curls down your back!
Center parted long hairstyle – Pretty Blonde Ringlets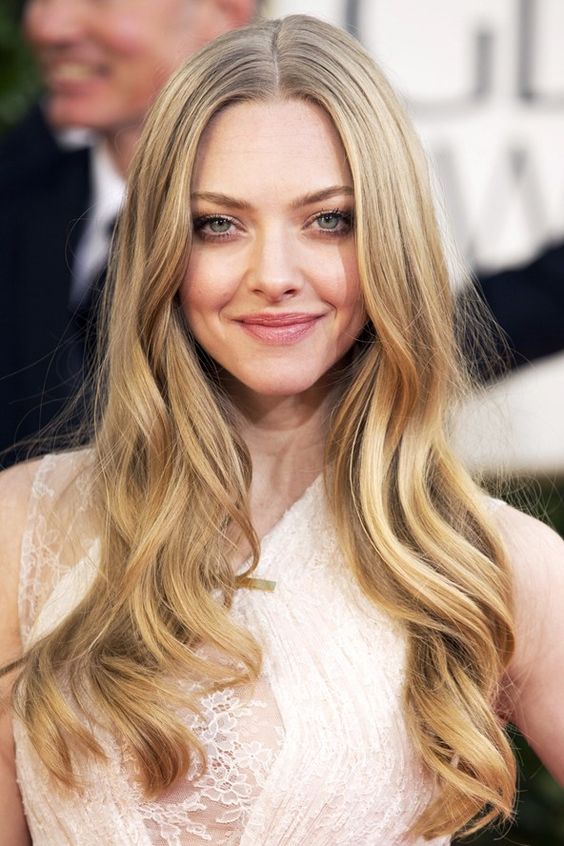 Choosing a centre parting can make your features stand out and your face look symmetrical. If you have long hair, the gorgeous Amanda Seyfreid pictured above is perfect centre parting inspiration. With your luscious long locks, add lots of ringlets from top to bottom. Keep the curls tight and flowing from around the ear level down the length.
Center parted Long Bob with Loose Curls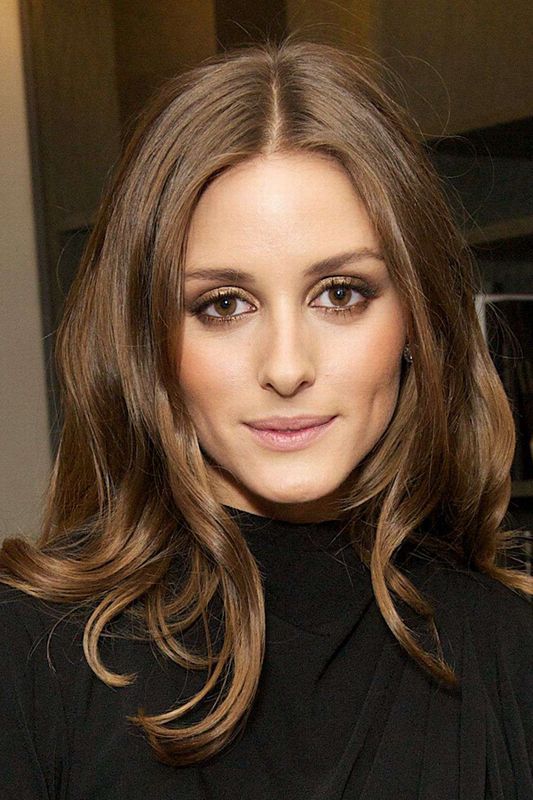 Long bobs are super chic. Especially with centre partings! Fashion goddess Olivia Palermo is pictured above with the perfect style to steal. Keep your hair roughly around the shoulder length. Part in the centre. Add texture to the top of the hair with your fingers. With the ends, add lots of lovely curls from the jaw length down for a wonderful finish.
Textured, Messy Bob – center part bob haircut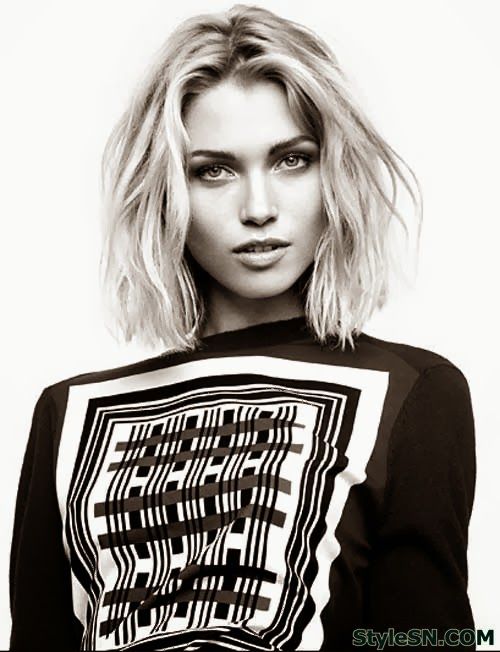 Texture and messy hairstyles work perfectly with center partings too! If you've got a bob, get it cropped to the jaw level. Part it in the centre, and roughly curl the entire hair. Use lots of product and your fingers to create a messy texture. Running your fingers through your hair and scrunching will give you the desired look. Et voila – the perfect rock chick finish!
Straight with Flicked Ends – Middle Part Hairstyle for medium length hair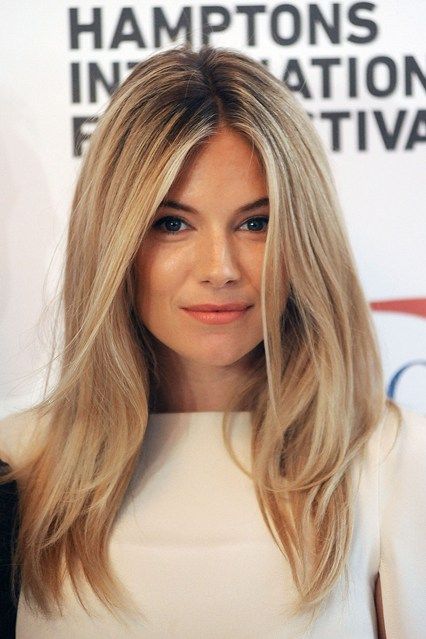 Sienna Miller is seriously our fashion crush. Her long center parted ombre hair is always great, which is why we just had to include her in this inspiration gallery! Start by keeping your locks long, a few inches below the shoulder. Part in the centre. Keep your hair straight to show off the lovely length. However, flick the ends out softly and gently curl them under for the perfect silhouette.
Bouncy Highlighted Bob – center parted lob hairstyle for shoulder length hair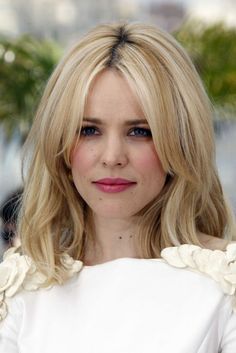 Bouncy bobs are perfectly finished with centre partings! Like Rachel McAdams pictured above, you simply can't go wrong with a bit of volume. Steal her style by adding wonderful caramel and bleached blonde highlights throughout. Use a comb to back comb the back section of hair for this wonderful voluminous finish. Loosely curl through the ends of the hair to finish.
Scruffy Bun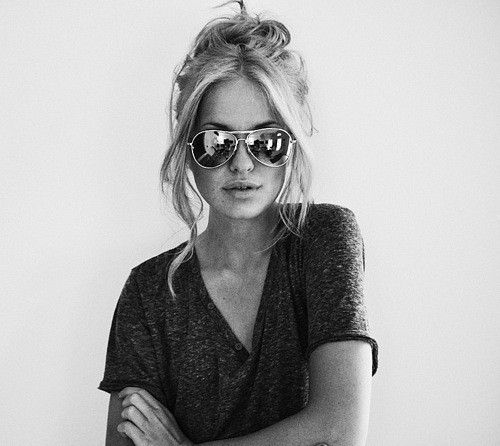 Scruffy hair is so super trendy. Especially when you have a centre parting in play too! Dry your hair with your parting in the middle. Leave two sections of hair on either side at the front of the face. Curl them loosely for effect. Sweep the rest of your hair into a high bun section at the back of the head. Be rough and scruffy to create the coolest casual bun we ever did see.
Centre Parting Fringe with Up Do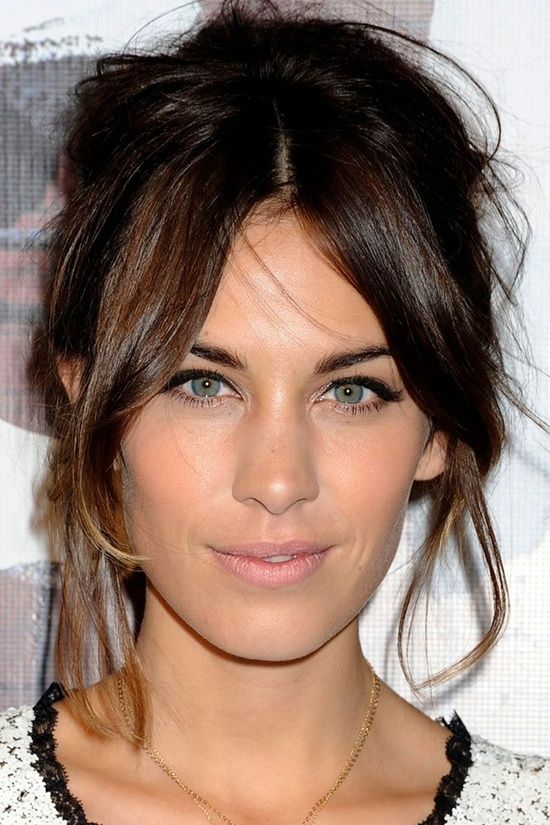 Did you know that fringes can have centre partings too? Alexa Chung pictured above is a real fashion queen. If it's her hairstyle – you know it's trendy! Cut your hair in a graduated line so it falls from around the eyebrow level down to the ears. Leave the fringe loosely around the face. Pull the rest of your hair back into a cute up do for a fancy night out look.
Do you see now how centre partings can completely transform your look? Each of these stunning women has worked a centre parting into their style and we think they look absolutely perfect for us. Which is your favourite centre parting look? Let us know in the comments below!