Spring is here! In the Styles Weekly office, this is great news. We absolutely can't wait for the change in season. From warm weather to fresh new wardrobes, and of course, wearing sunglasses all the time – Spring and Summer have it all. One of our absolute favourite things about the new season coming in is that with it, comes a whole host of exciting new makeup looks for spring. Here, we've gathered 10 pretty spring makeup ideas to provide you with the ultimate beauty inspiration.
Makup ideas for spring – Smokey Pink Eye with Flick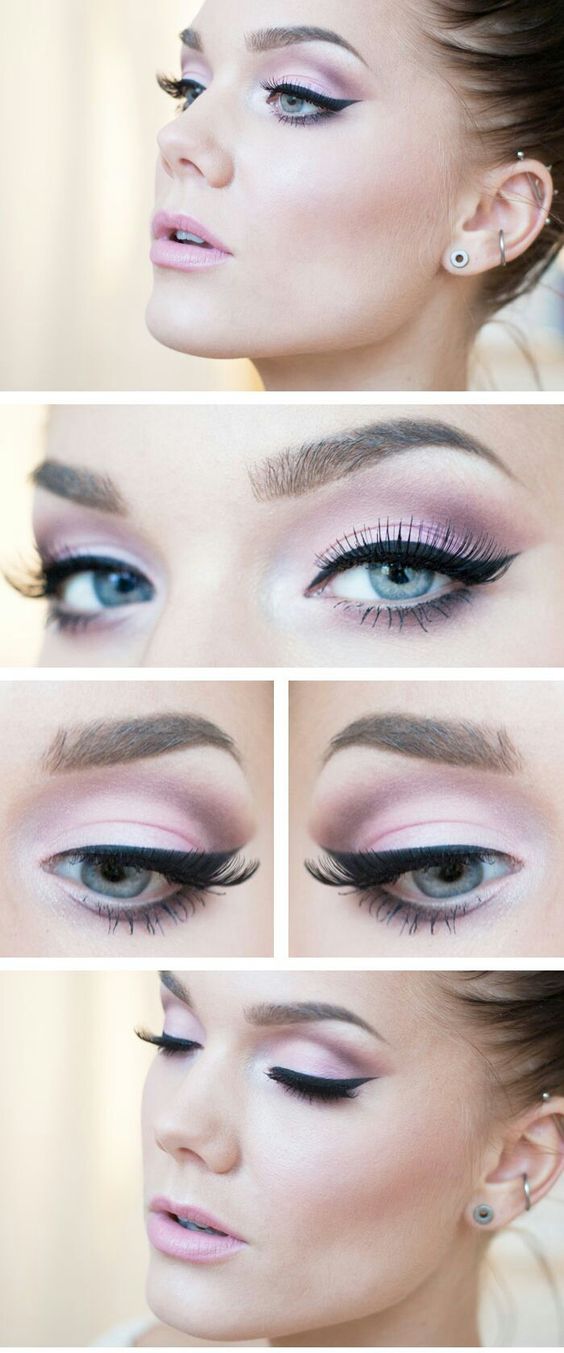 Smokey eye looks are traditionally done with grey shades or browns. To celebrate spring, why not incorporate a pretty pink shade into your smokey eye look? Start by choosing a white or silver and popping the colour on the inner corner. Take your favourite pink shade and pat across your entire eyelid. Blend through the crease and outwards with a chocolate brown and finish with black eyeliner.
Black Eyeliner and Glossy Peach Lips – Spring Makeup Idea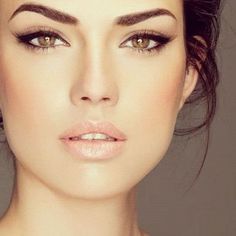 Peach is most definitely one of the predominant shades for spring makeup, and we couldn't love it more. Using eyeliner, draw along the top lash line and along the lower lash line too to frame the eyes. Do your typical base makeup, adding a pretty flush of pink blush. Finish the look with a peach lipstick and add a layer of gloss.
Spring Eye Makeup Idea – Peach Smokey Eye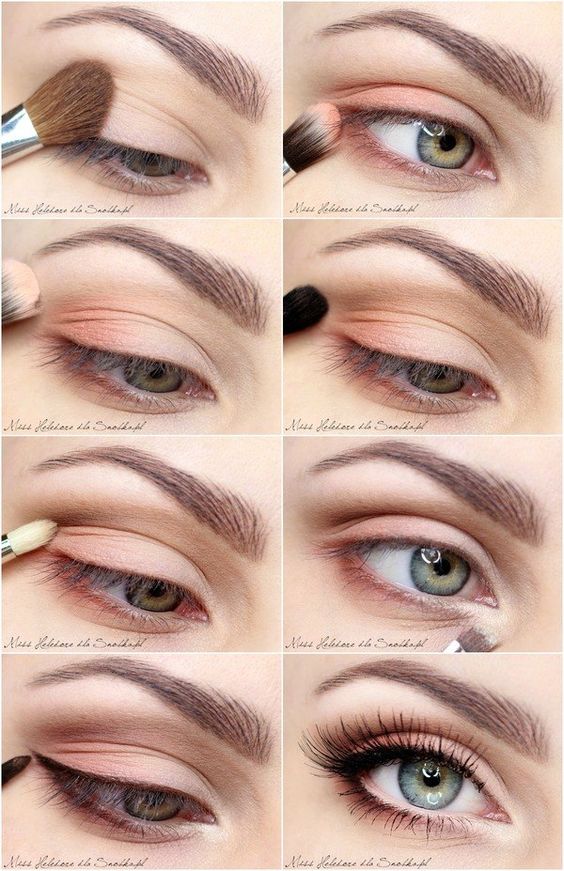 Another alternative to the smokey eye, we just adore this peachy colour palette! Start with a neutral shade in the inner corner. Taking a peach colour, add from the centre of the eye and blend outwards towards the outer corner. Use a brown shade to blend throughout the crease and outwards. Finish with eyeliner and mascara for a pretty peach look.
Colour Pop Look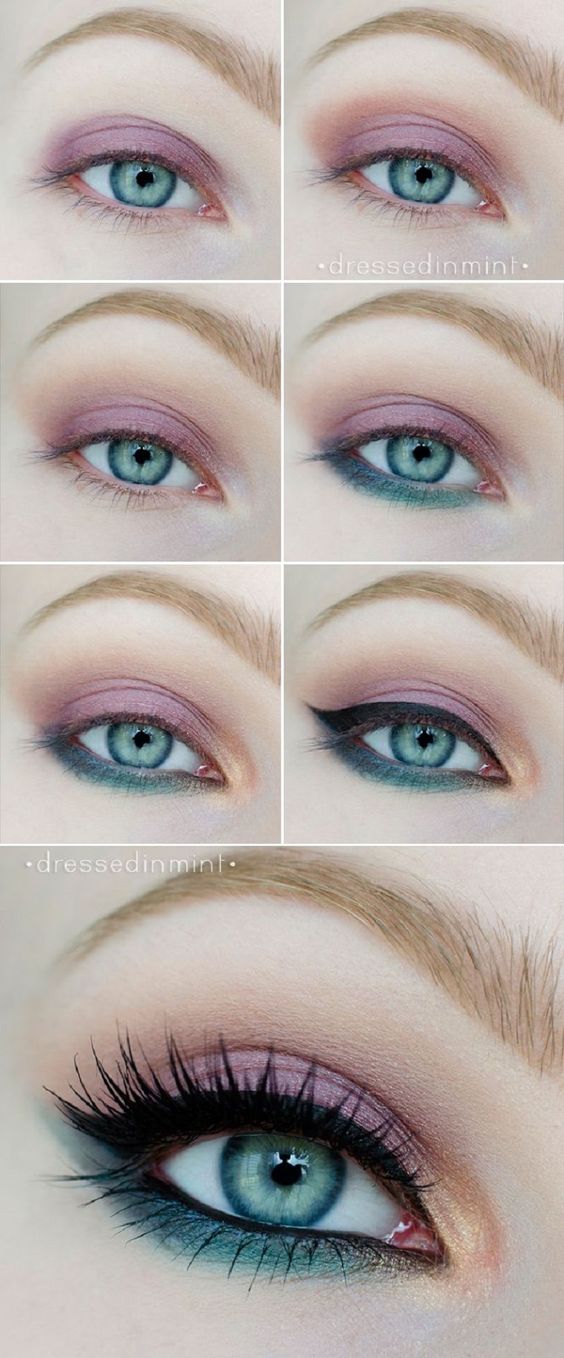 Why opt for just one colour when you can work with two? Choose a vibrant pink shade and work right across the eyelid. Taking a contrasting blue shade, paint along the lower lash line. Draw a line with eyeliner along the upper lash line and finish with a flick. Draw a black line in the water line and use your favourite mascara. Add a pretty peach colour to the inner corner for highlight.
Pale Pink Lips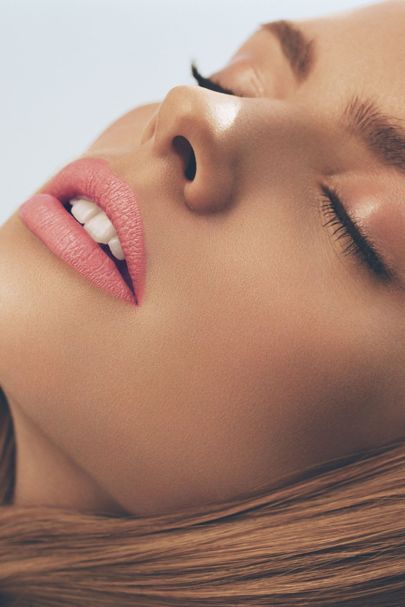 Sometimes, when it comes to Spring makeup, less is more. That's why we're so infatuated with this gorgeous style! Start by working your usual base makeup. Foundation, concealer, powder or whatever order you feel comfortable with. Add the slightest dash of blush to your cheeks. For the eyes, only use mascara. Finish with lashings of pale pink lipstick.
Dewy Skin and Pink Lips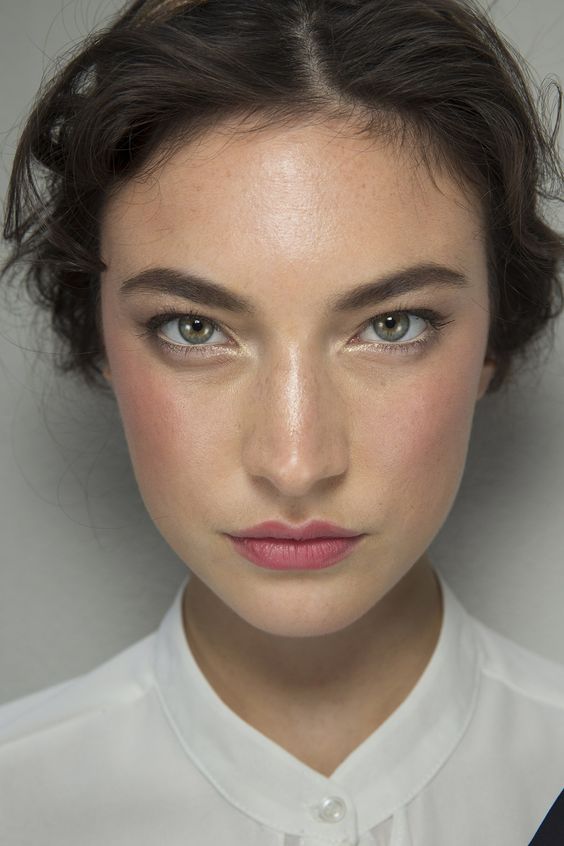 Highlighter is an essential product for the summer months. This lady proves why glowing skin is such a Spring trend! Recreate this look by choosing your perfect base makeup. Add lots of pretty pink blusher to the apples of the cheek. Using a highlighter, focus on the cheekbones, the nose and the centre of the forehead too. Finish with your favourite lippy!
Terracotta Eyeshadow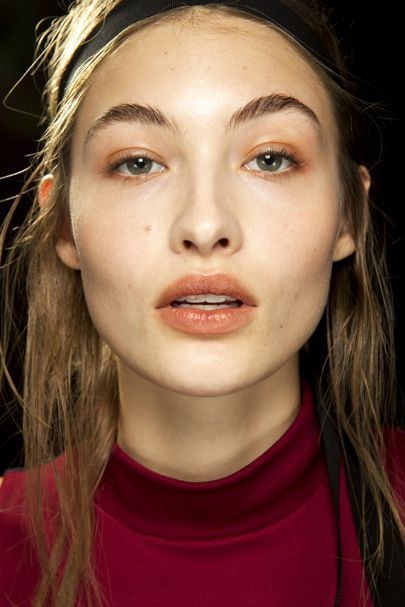 Warm shades like terracotta are often traditionally reserved for more winter based makeup. However, choosing the right shade can lend itself to spring quite perfectly, as this lovely lady proves. Take a terracotta shade and pat it lightly right across your eyelids. Drag the colour underneath the lower lash line too. Finish with mascara and a complimentary lip shade.
Glittery Pink and Pink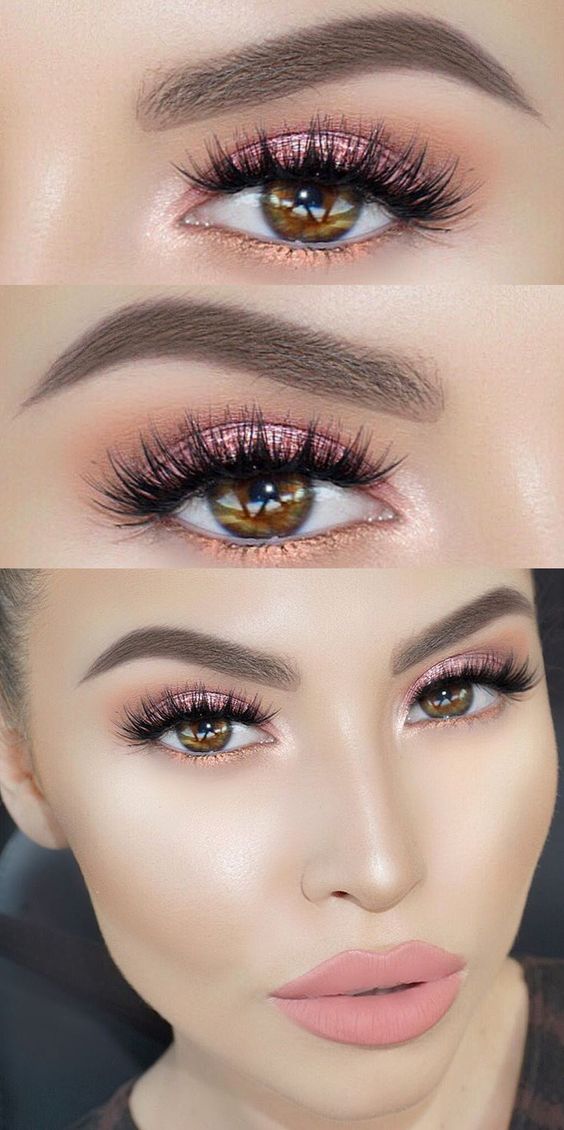 Why go for matte shades when you can add a little sparkle? For this look, you'll need a high coverage base with your favourite foundation. Add a soft peachy blush and highlight on your cheekbones and nose. Choose a matte pink lipstick. Now for the fun part! Choose a glittery pink eye shadow for the eyelids. Use a contrasting glittery peach shade to drag under the lower lash line. Finish with false lashes!
Pink and Gold Glow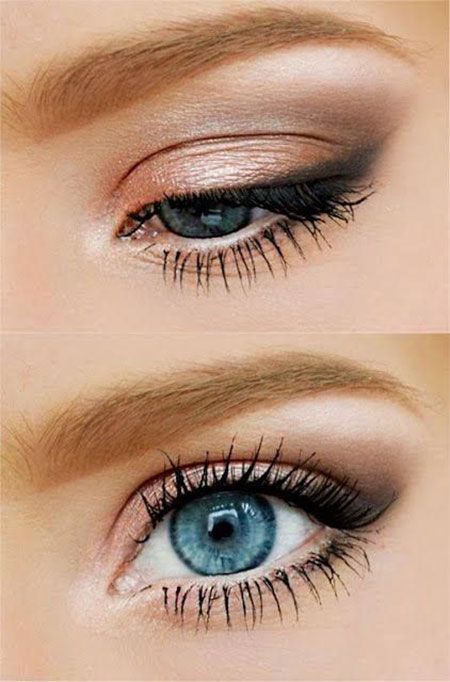 Few shades work better together than pink and gold – especially for spring! To recreate this look, blend a light gold shade right across the eyelid. Using a brown colour, work throughout the crease and blend outwards to create a smoky eye effect. Add a pretty shimmery pink to the inner corner and blend outwards. End the look with lashings of mascara!
Matte Smoky Eye Look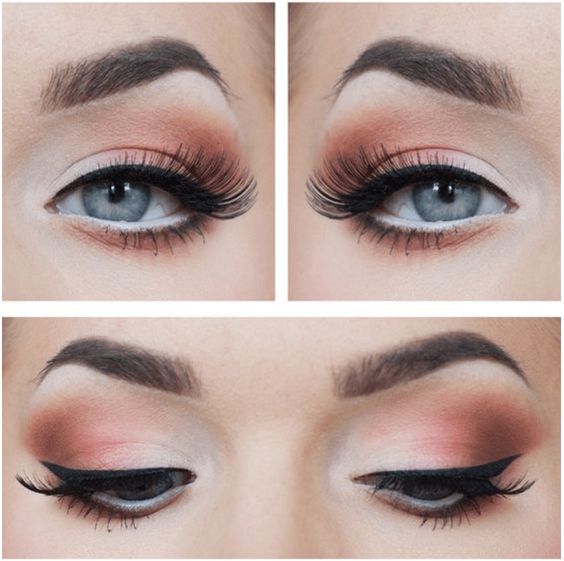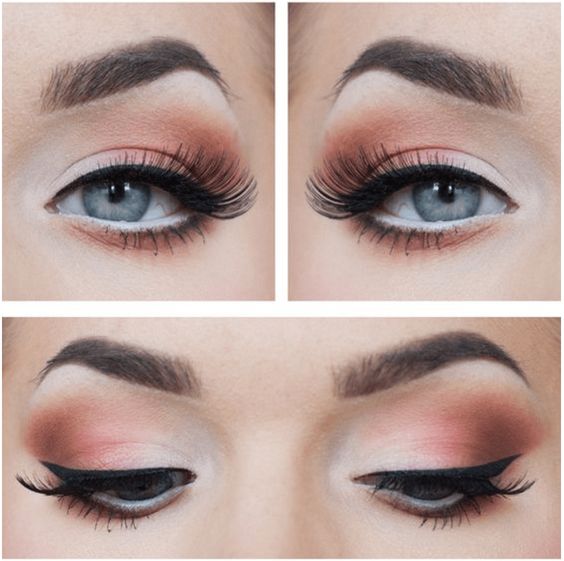 Matte eye shadows are some of the most effective on the market – that's why we just adore this look. Start with a white in the inner corners, which will also act as a highlight. Blend outwards to a matte pink shade in the middle of the eyelid. Taking a brown, blend from the outer corner inwards to create a smoky effect. Finish with liquid liner and mascara.
As we mentioned at the start of this blog, spring makeup is our favourite, so we love all of the looks in this gorgeous gallery. We're dying to know which style is your favourite – so be sure to leave us a message in the comments below!