If you're heading to get your nails done, then opting for acrylics adds a natural looking length and thickness to your nails, allowing you to be creative with the design and look you go for. Here at Styles Weekly, we believe that your nail designs are the finishing touch to your outfit, regardless of your event or special occasion, so it's important to choose a flawless colour which looks smart and sophisticated. Here are some pictures of our favourite acrylic nail designs for your inspiration.
Deliciously Dark Purple – Acrylic Nail at home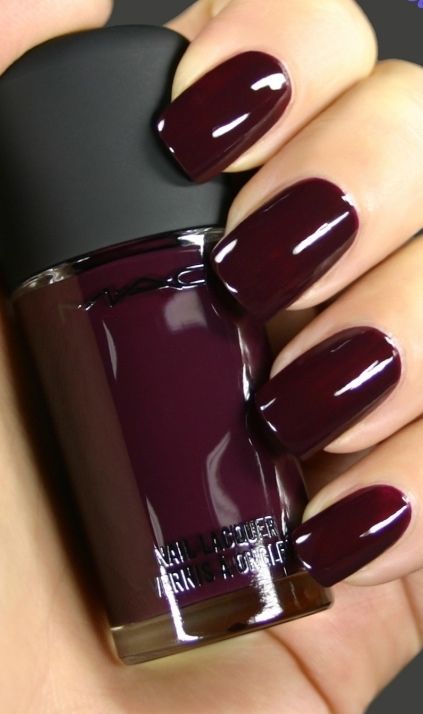 We're starting off with a classic look which has a simply flawless finish. This stunning dark shade of purple is glossy and gorgeous, in a wonderful colour which is incredibly versatile, complimenting most other colours and consequently making an excellent pairing for your favourite outfits. Adding a top coat will create the best glossy finish.
French Manicure with Patterned Accent Nail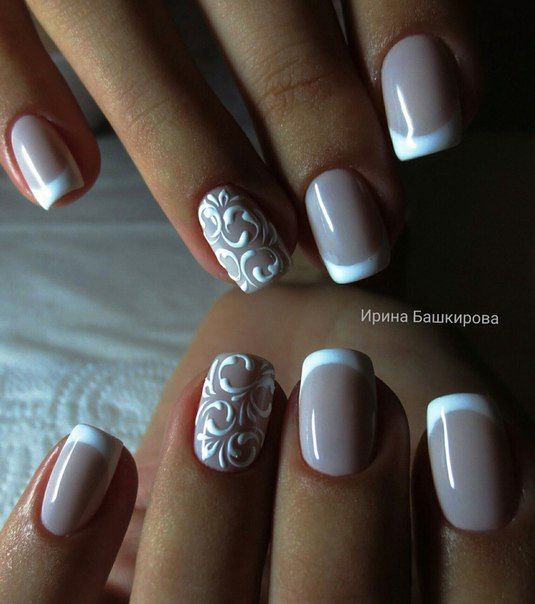 This stunning nail design is a striking twist on a classic French manicure style, adding a dash of flair to a signature style. Start by opting for a traditional French look on all nails except your index fingers, painting them a pale pink, with a stark white on the tips as a contrast. On your index finger, paint the full nail pink and using a nail art pen, take white nail polish and draw a striking swirled design as pictured above.
Glittery Neutral Palette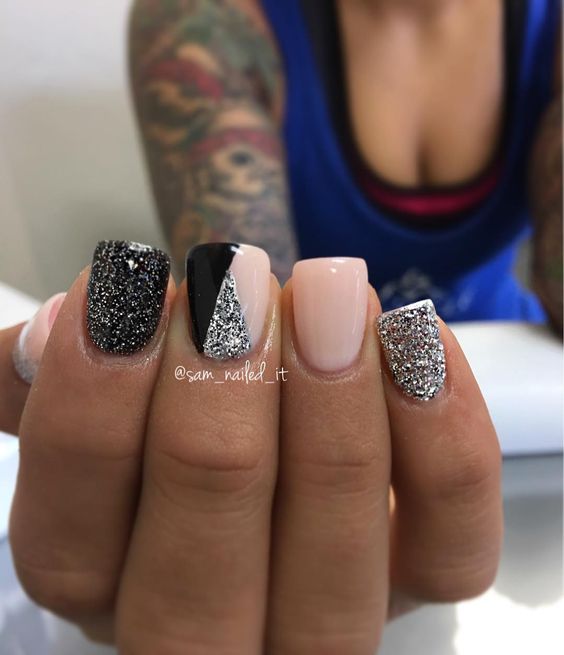 This gorgeous nail art is eye-catching and glamorous, comprising of a few core neutral colours and creating the most flawless finish for your special occasion. Take a pale pink, a silver glitter and a glossy black shade, and use these three colours to create alternating patterns across your nails, mixing and matching the shades for a wonderful end result.
Glossy Black Nails with Heart Accent Nail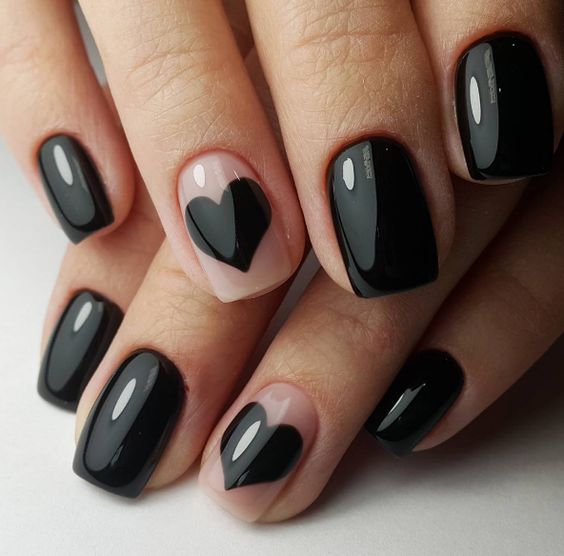 Another look which is simple yet so effective is this beautiful black design, which we simply cannot get enough of! Choose  glossy black shade and paint across all nails except the index finger nail, ensuring a consistent and even coat. On your index nail, draw the outline of a black heart and fill it in with nail polish. Finish off with a glossy top coat.
Black, White and Gold Patterns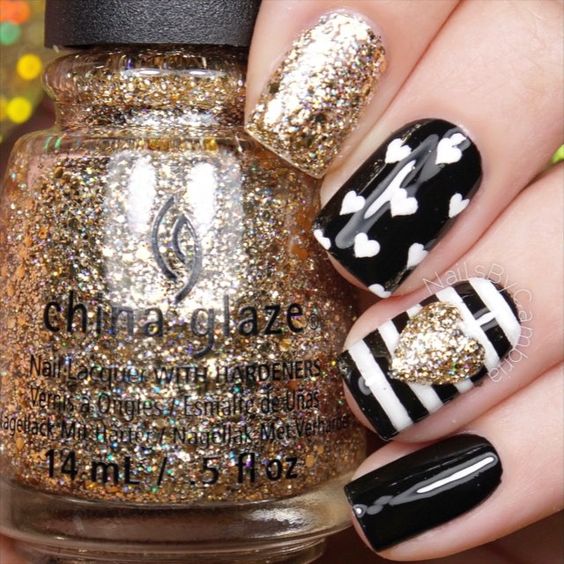 With a colour palette of black, white and gold, you can quite simply recreate thie gorgeous look with a range of alternating patterns. Use the different colour and a nail art pen to create a range of different patterns – from stripes, to hearts, and be sure to break it up with a block colour on your little finger and index finger!
Nude Nails with Cat Nail Art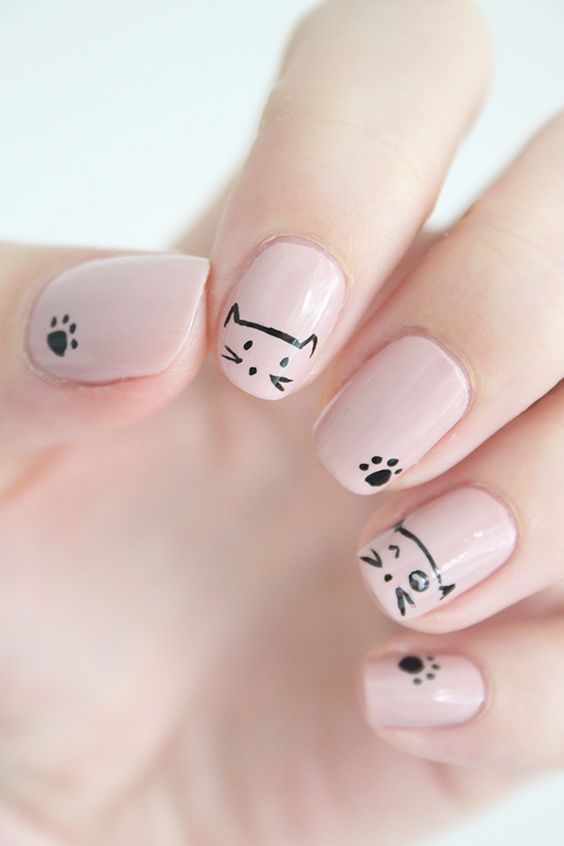 This is the most adorable nail art in our collection, and we cannot get enough of it! It's super simple to recreate too. Take a nude pink shade and paint all of your nails, ensuring a nice, even and glossy coat. Using a nail art pen and black nail polish, draw adorable little cat designs on each nail.
Black and Natural Nail Art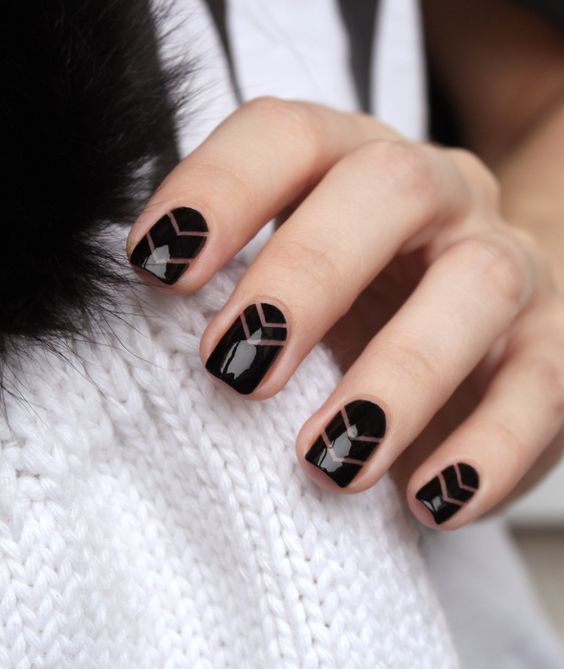 This incredible acrylic nail art style uses the negative space on the finger nails to create the most gorgeous pattern we ever did see. Start by painting each of your nails a glossy black in turn, and quickly, using a nail art pen, draw your patterns in to make sure there is negative space for the pattern.
Nautical Black, White & Gold Style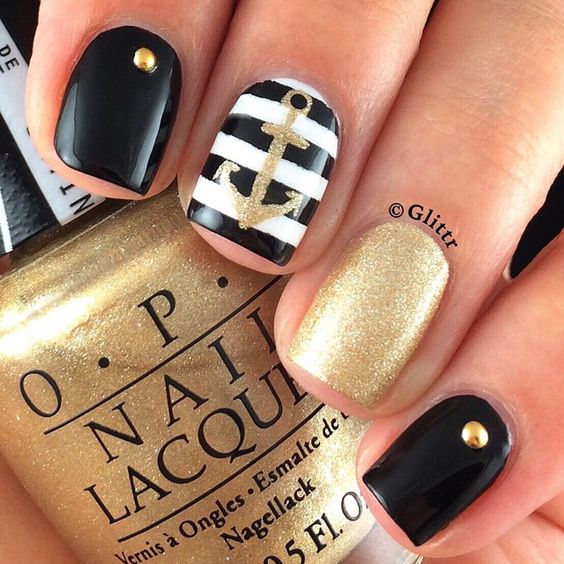 Another stunning black, gold and white colour combination – it appears these three nail colours just make the most perfect combination! Start by painting each nail an alternate colour, black, gold, white and so on. Using a nail art pen, draw contrasting black lines on your white middle finger, and finish with a gold anchor. Add gems for extra flair.
Pretty Pink Nails with White Floral Patterns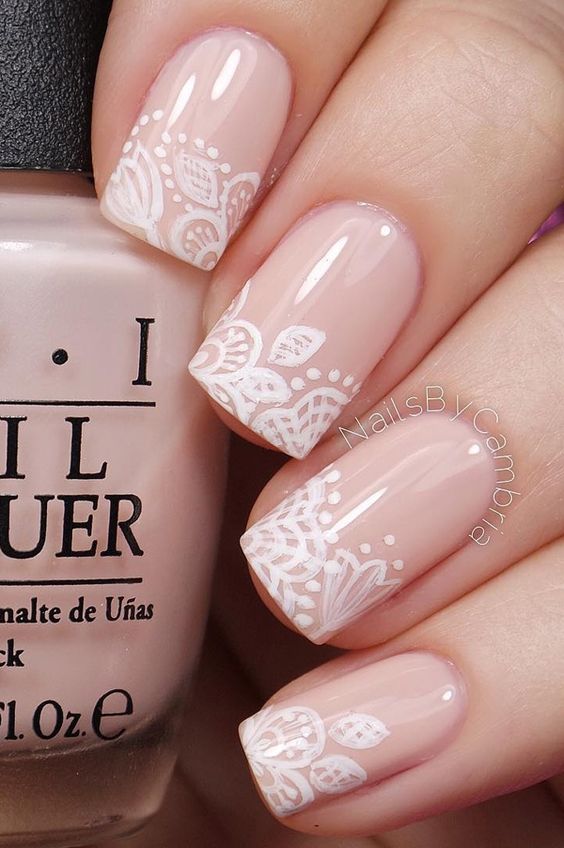 This look is simple yet oh so effective, and absolutely perfect for your special occasion or girls night out! Take a pretty pink pastel shade and paint all of your nails. Using a nail art pen and white nail polish, draw some flower designs across the tips of the nails to your taste, experimenting with dots and swirls. Finish with a top coat.
Purple and Pink Combination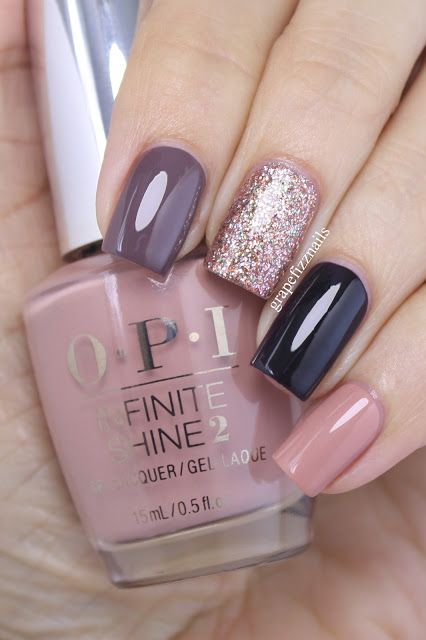 We absolutely adore this gorgeous nail art look and think the colours at work are just perfect. Select your favourite pink and purple nail polishes, ensuring you opt for light ones, darker shades and one glitter colour. Paint each of your nails a different shade for the most fantastic finished result.
Nude Nails with Gold Glitter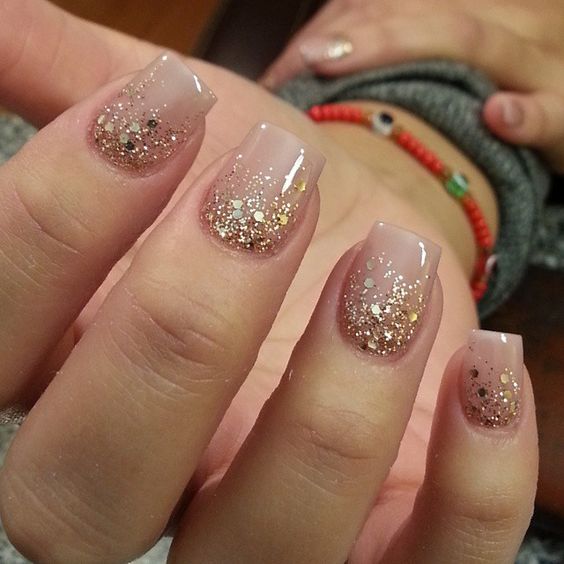 Ask for your acrylic nails to be shaped with square tips, and paint them in a beautiful neutral nude shade. Taking a gorgeous gold glitter, gently paint the bottom of the nail for a wonderful and glamorous finish which we simply adore.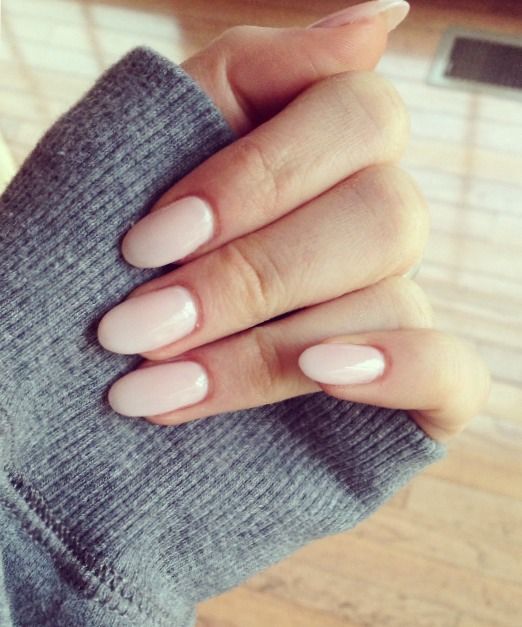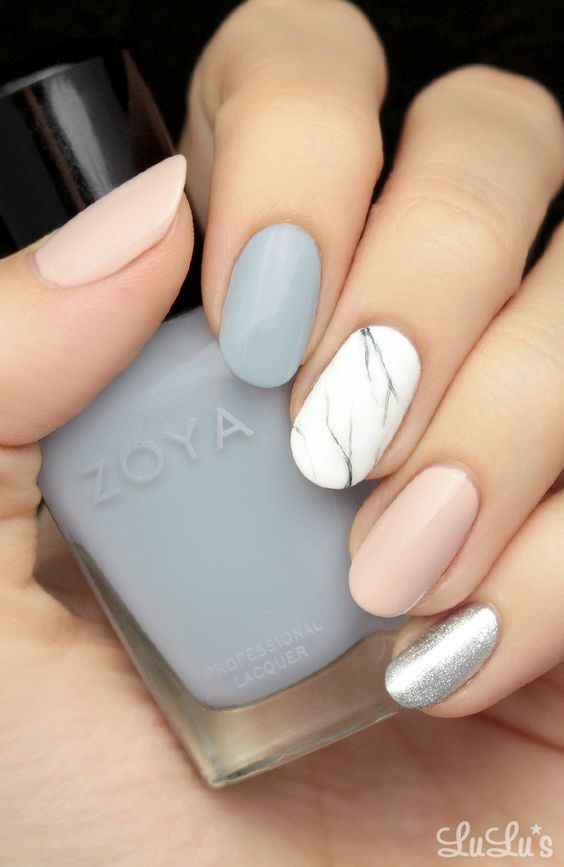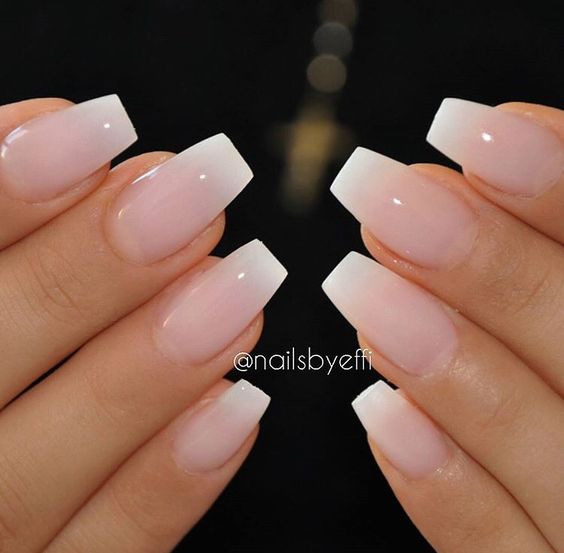 nude/pink and silver square oval acrylic nails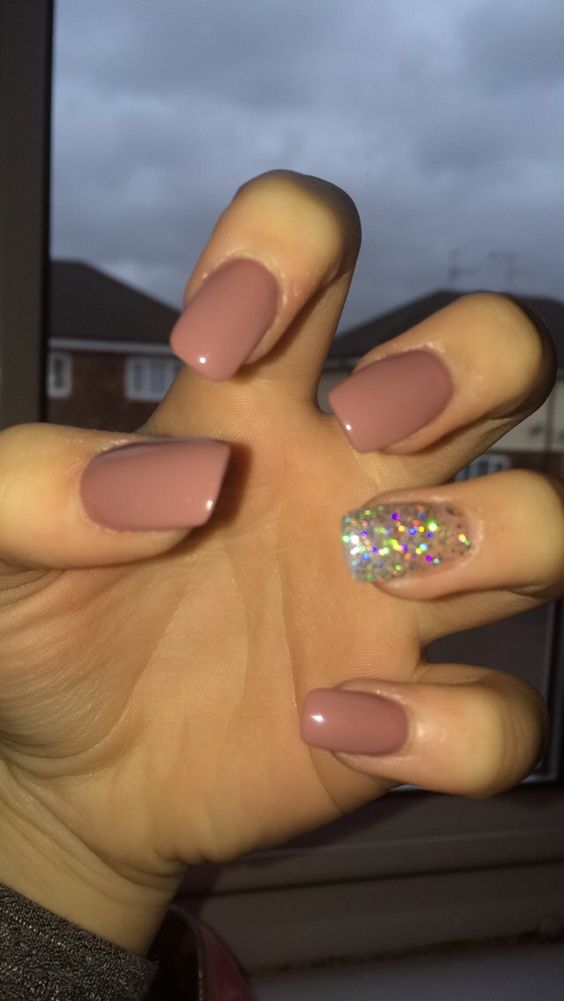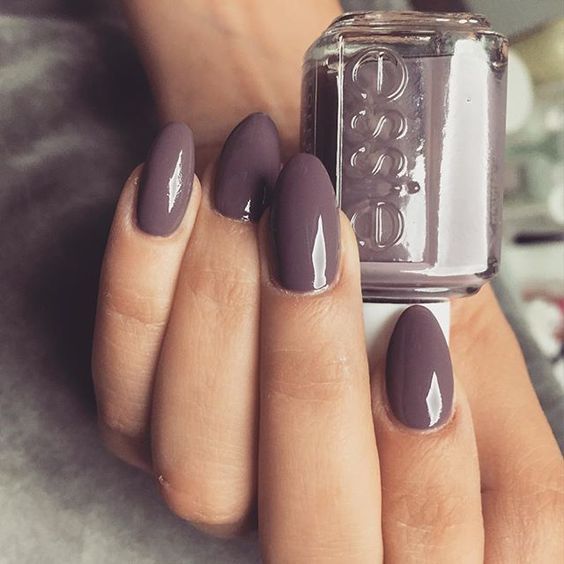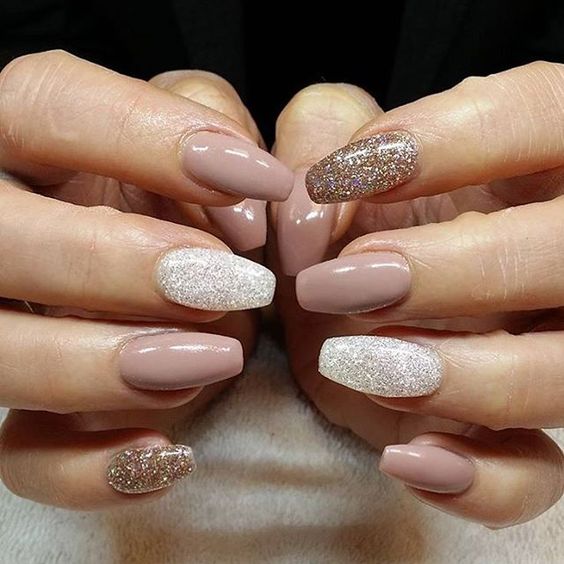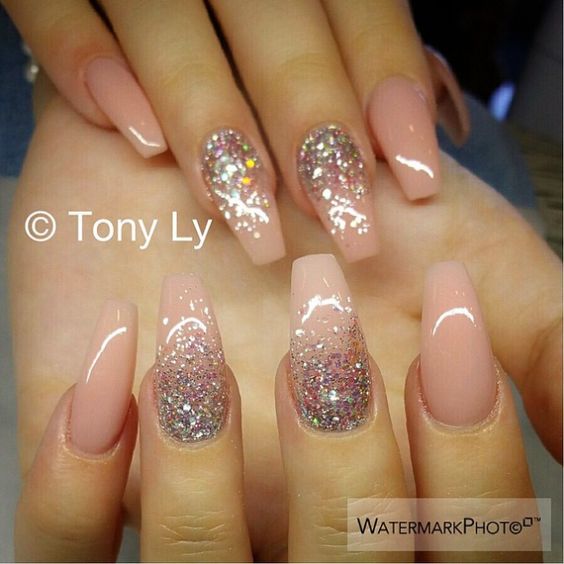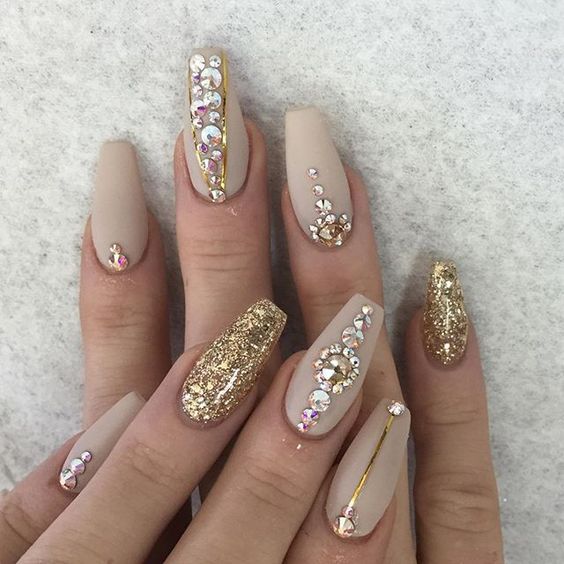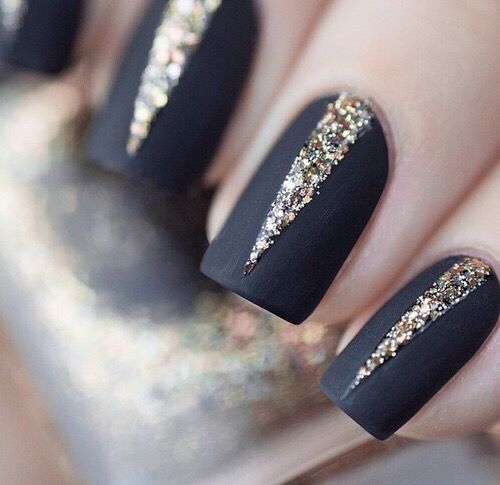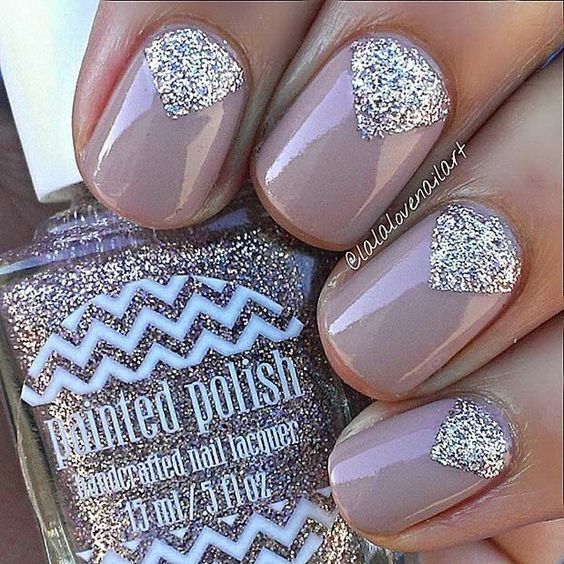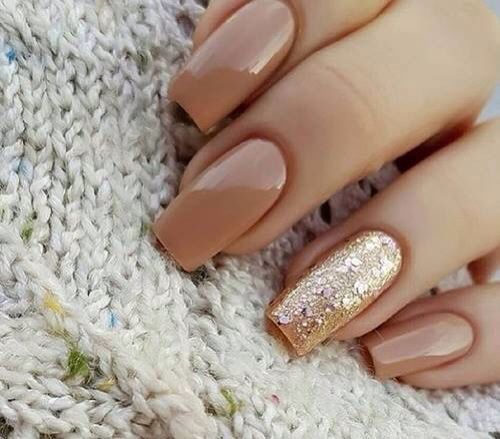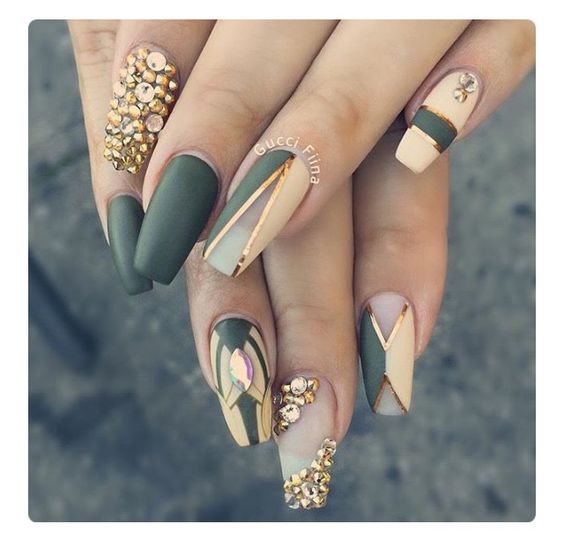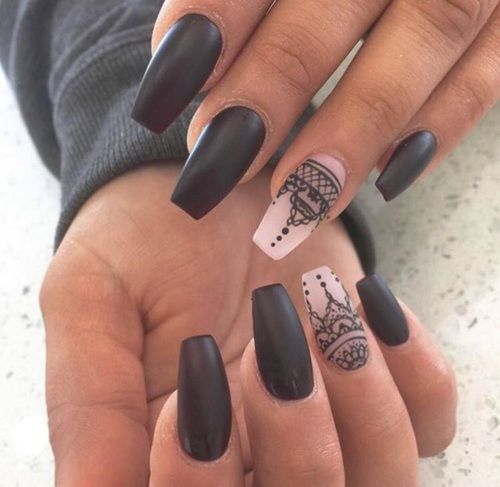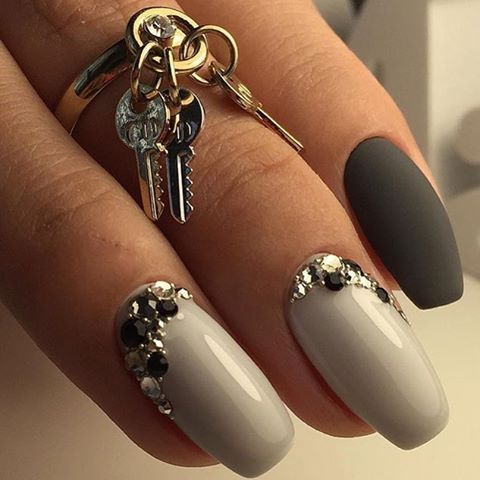 All black nail art design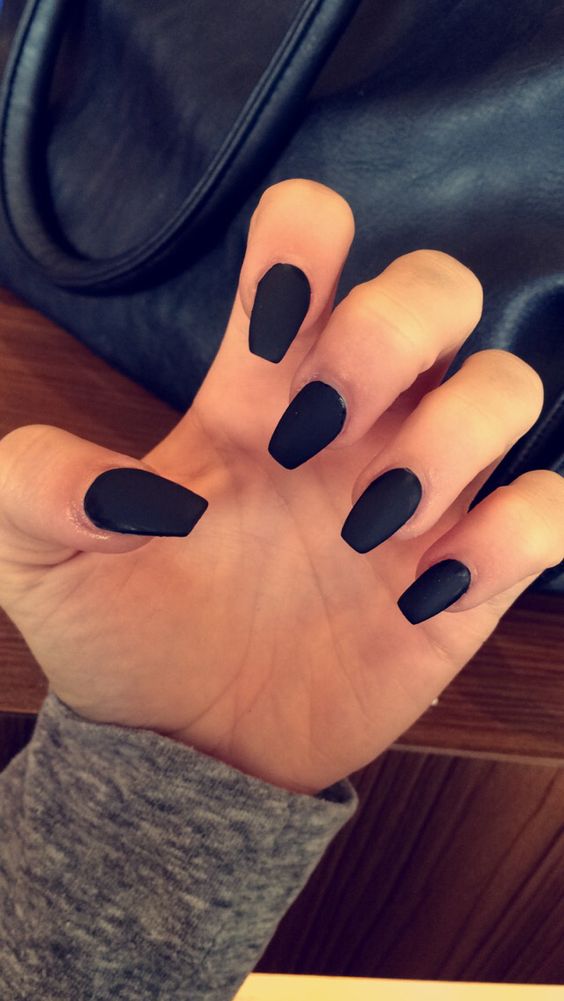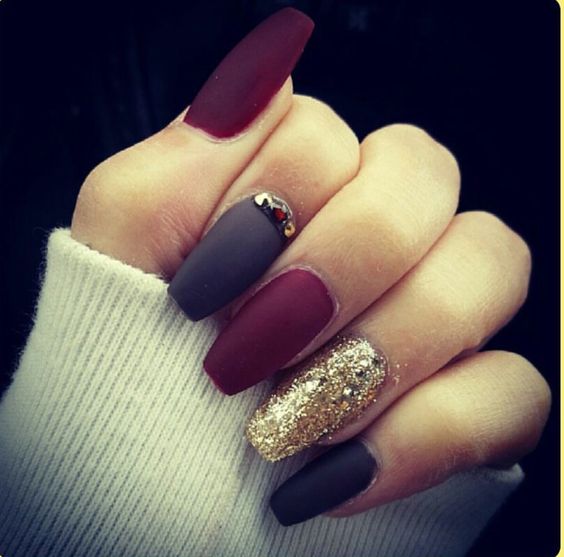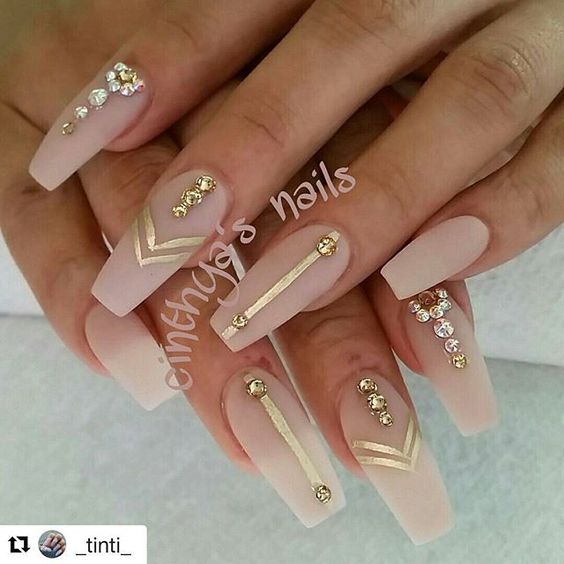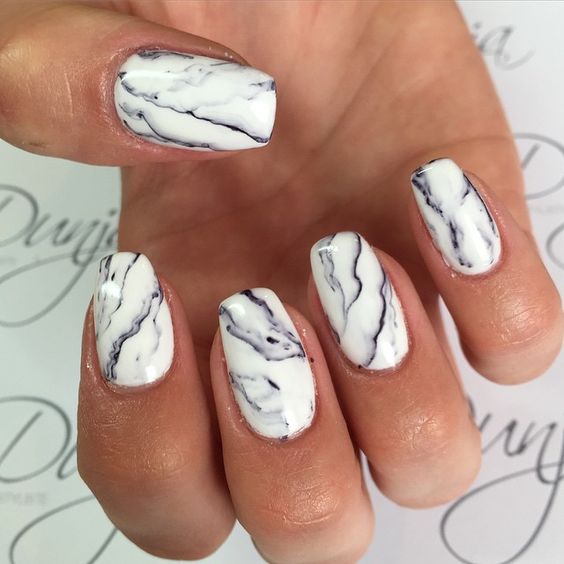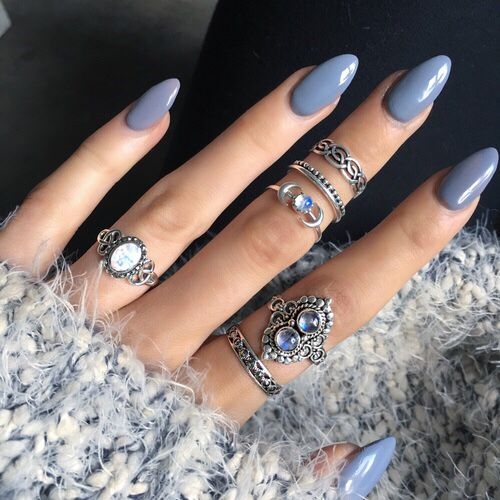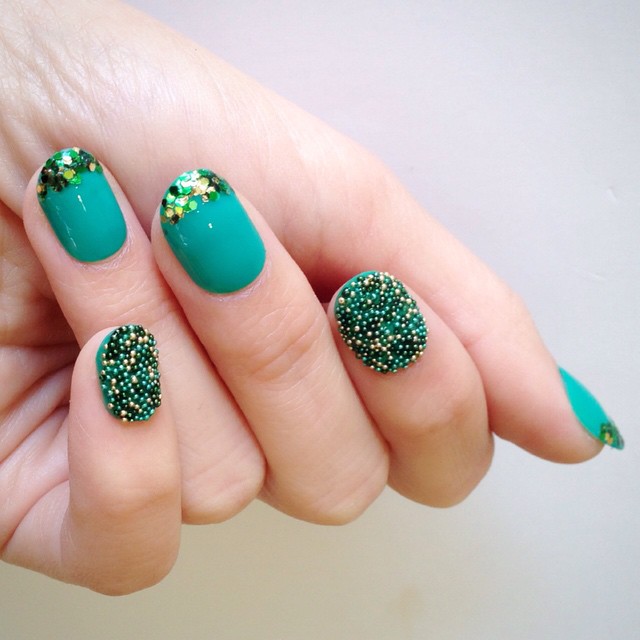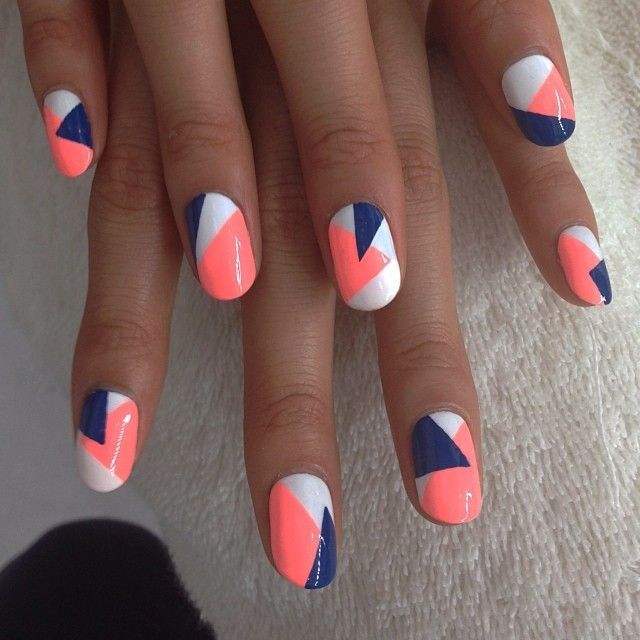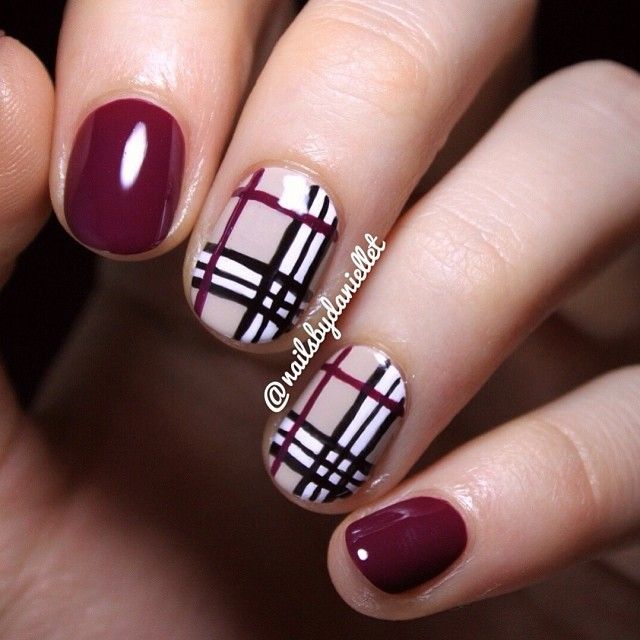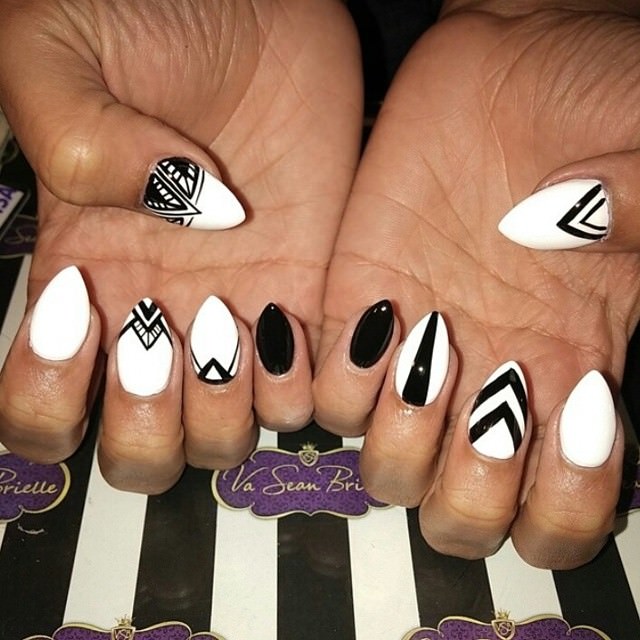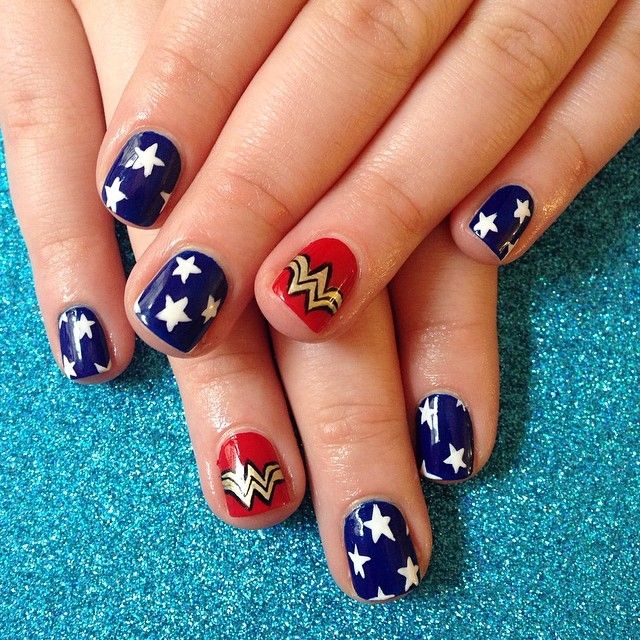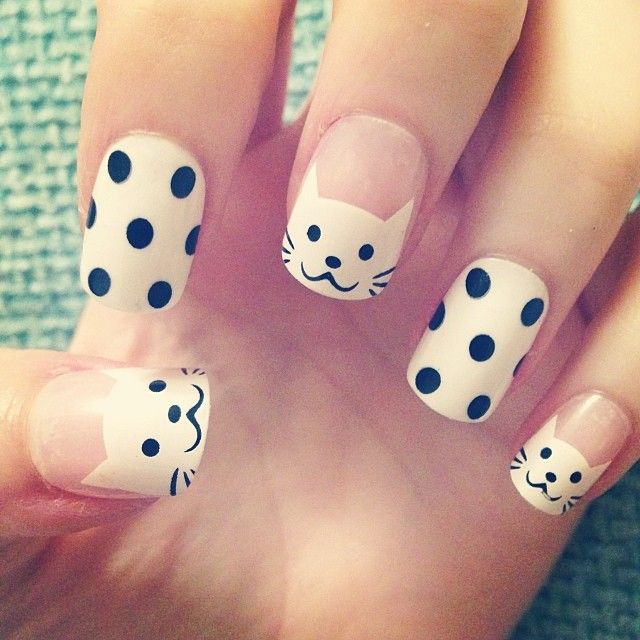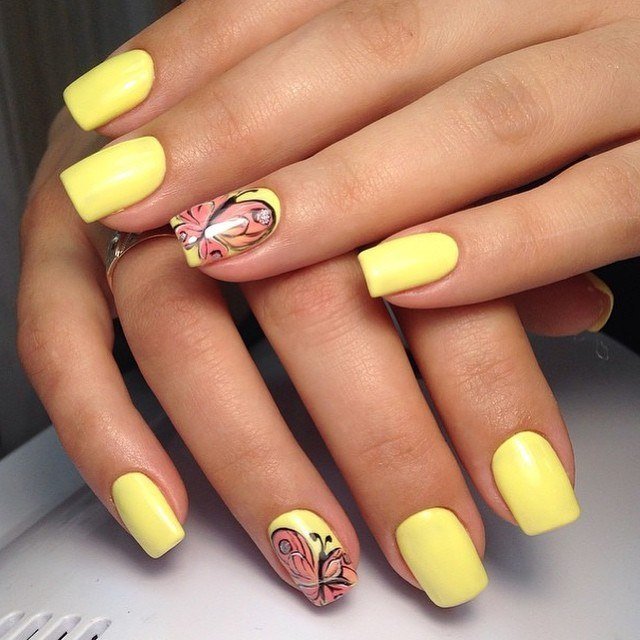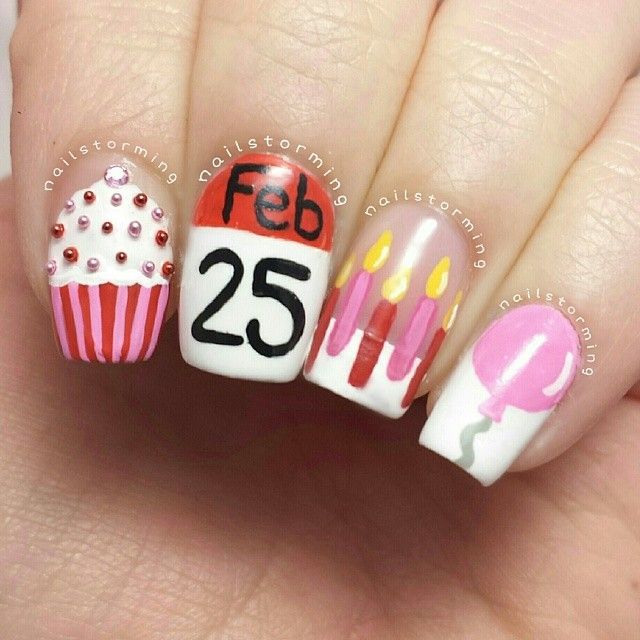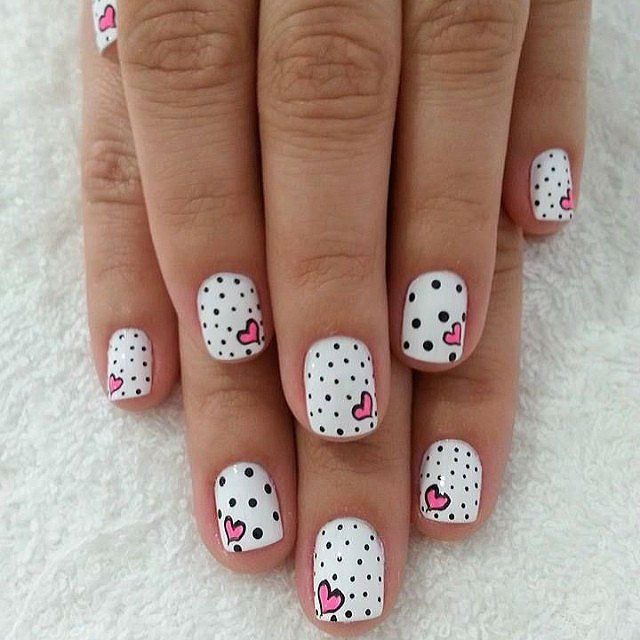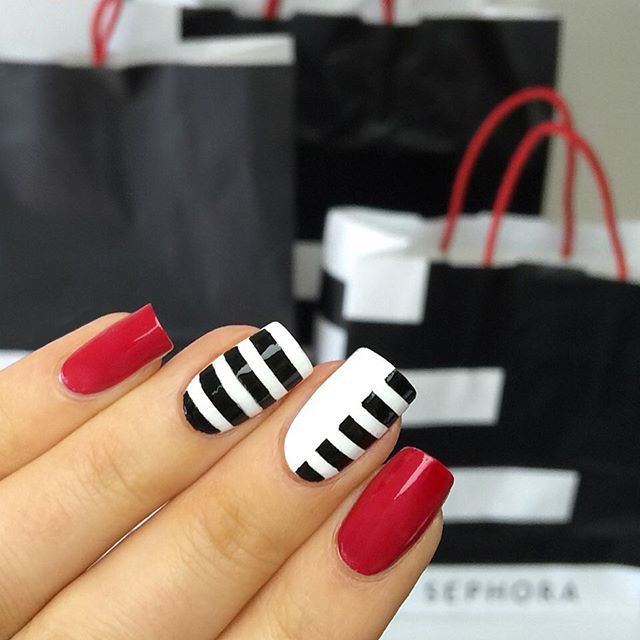 Our beautiful gallery of exceptional acrylic nail designs is full of nail art ideas which will transform your look and attract attention for all the right ideas. Which of these looks is your favorite? And you can find more nail art designs on stylesweekly.com!