Celebrity Hairstyles: Zoe Saldana Hairstyles
Find Zoe Saldana's latest hairstyles in this hair gallery, in this gallery, you will find Zoe Saldana's short haircuts, long hairstyles, updos and medium length hair, get inspirations from her now!
Zoe Saldana(June 19, 1978 ) is a Dominican-American actress. She had her breakthrough roles in the 2000 film Center Stage and the 2002 film Crossroads. Zoe Saldana's hair is natually curly hair, and her natural hair color is black, sometimes she dyed her hair in brown and blond.
1. Zoe Saldana Medium Curly Hairstyles – Sexy black curly hairstyles for black women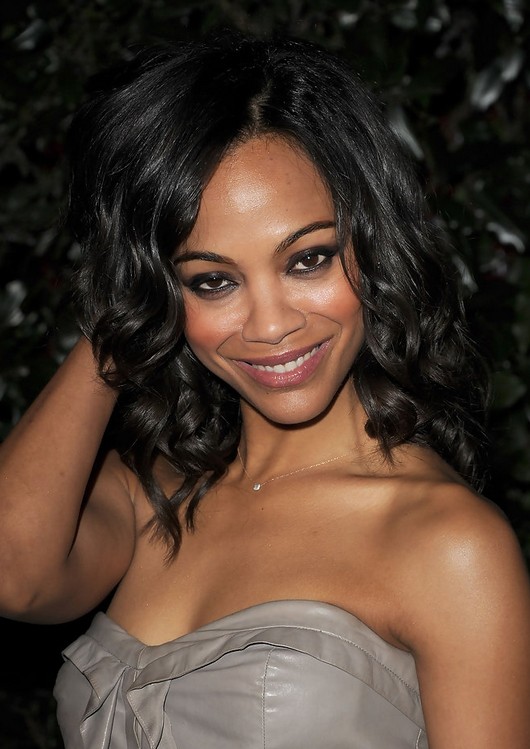 It is no surprise that Zoe Saldana's long dark hair looks amazing when worn with oodles of curls; her hair is thick, glossy and perfectly conditioned so curls sit beautifully without a hint of frizz, any stray strands or a single rebellious flyaway! The side parting allows Zoe to get loads of volume into the hair, so there is plenty of drama here, while the shine adds definition, making the hair look multi-tonal even though it is a solid all-over block colour.
 2. Zoe Saldana Loose Wavy Hairstyles: Casual long straight hairstyle for black women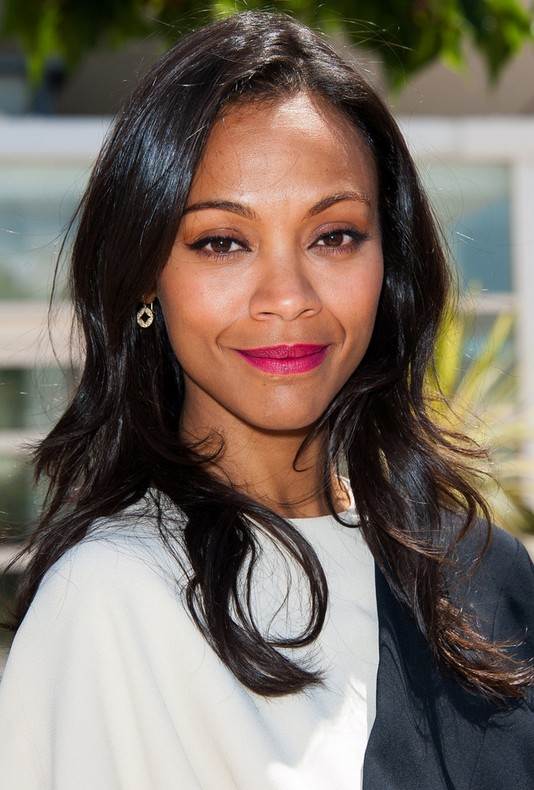 This is a very understated look – the parting is placed slightly to the side and her hair is allowed to fall in what looks like natural waves. Zoe Saldana gets away with very little styling thanks to a good cut; layers have been cut into the hair to give her hairstyle shape and the ends are feathered perfectly. As always, her dark brunette hair is gorgeously glossy and frames her face so well.
 3. Zoe Saldana Long Feathered Wavy Hairstyle: Highlighted black hairstyle for women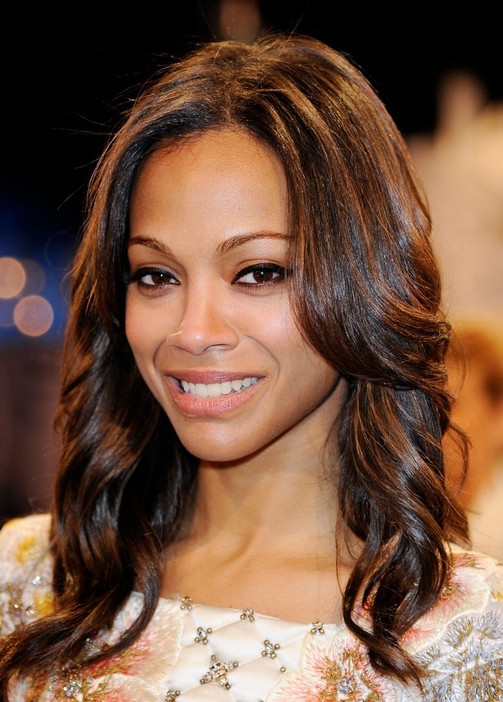 Zoe Saldana hair highlights: This style is made up of perfect loose curls that work brilliantly thanks to Zoe Saldana's layered and feathered style. A great cut and perfectly glossy hair make this a beautiful hairstyle that would work for a range of face shapes and hair lengths. Those fine warm highlights really lift the colour and stop it from looking too solid, creating a lovely feminine touch.
4.  Zoe Saldana Bobby Pinned updo – Popular summer hairstyles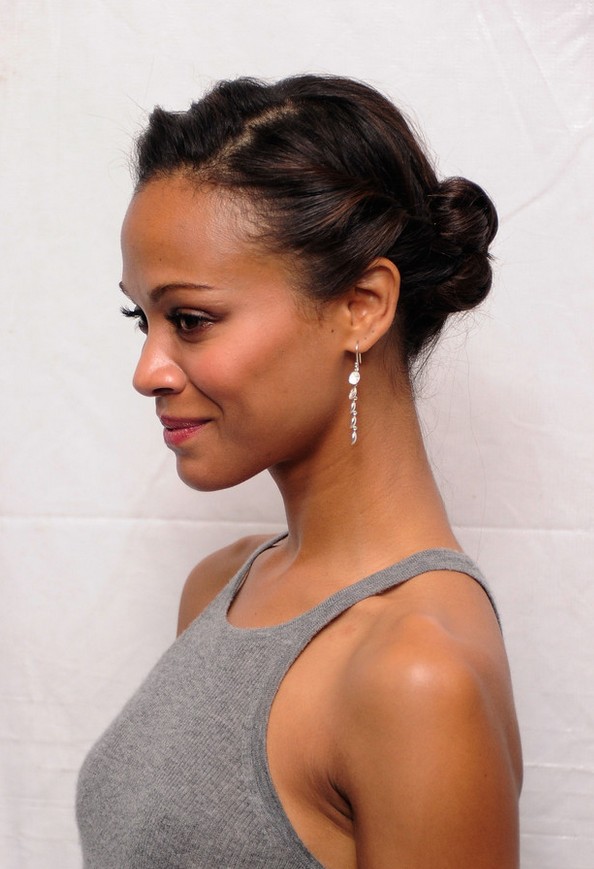 With her hair parted in a rough parting, and sections pulled back from the face and twisted before being secured with bobby pins, Zoe Saldana creates an elegant updo. The way this style has been worked means that it isn't uniform or perfect so it still has a casual feel that keeps it fresh and youthful and stops it being too harsh. Hints of warm highlights add interest and tie in with Zoe's flawless complexion.
 5. Afrian American Hairstyle Ideas – Zoe Saldana Short Hairstyles: black wavy bob cut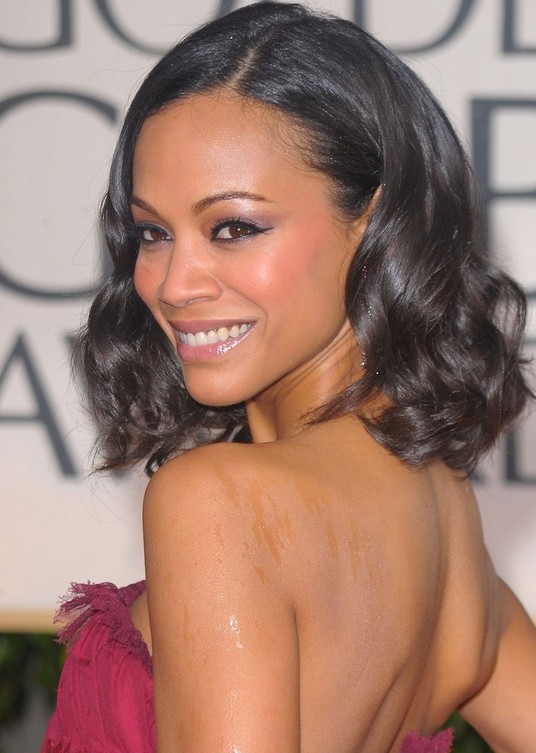 This is a very different style for Zoe Saldana, but the combination of a shorter length and the way the hair is swept to the sides away from the forehead, leaving it bare, means that the shorter style doesn't shorten her face. This is a clever technique and gives her a youthful look. The side parting frames one side of her face perfectly while the wavy bob is on-trend, and as always her hair is so glossy and shiny that her curls look stunning.
 6. Zoe Saldana Hairstyles 2014: Simple Casual Long Sleek Hairstyle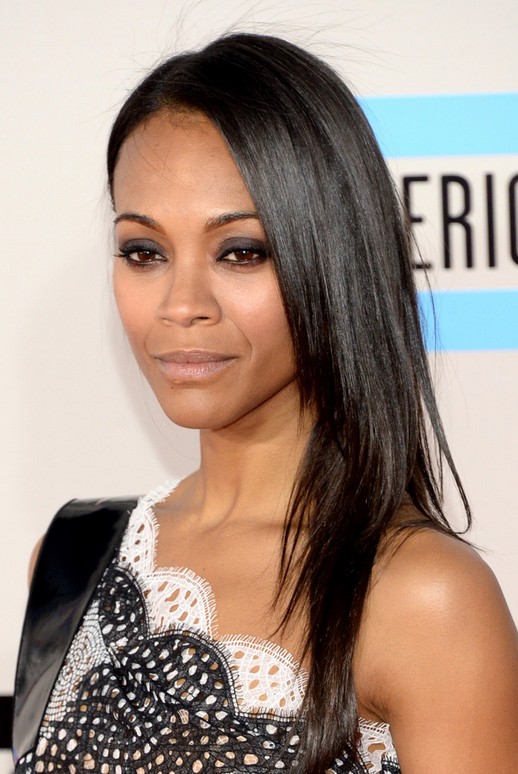 Long straight hairstyles for black women: Here is Zoe Saldana's latest hairstyle, she kept it simple at the American Music Awards with this sleek layered cut, do you love this style? If you're tired of wavy and curly hairstyle, why not try the straight cut this season?
7. Zoe Saldana Shoulder Length Hairstyles – Hairstyle for black women over 30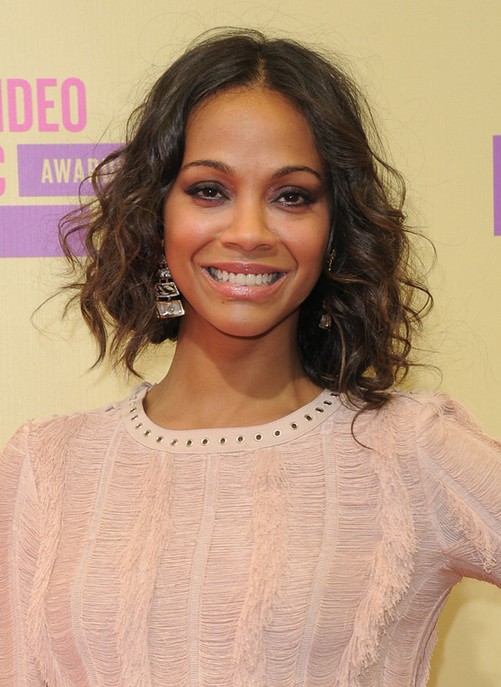 This is one of the most popular hairstyle in last year. Zoe dyed her black hair in dark brown this time, I think if she dyes her hair in ombre, that might look better, what do you think?
Find more Zoe Saldana and latest hairstyle for 2021 on our site.