20 African American Short Pixie Haircuts 2021
Pixie haircuts are bold, beautiful and so on trend; simply perfect for seeing in the new season in style. Opting for a pixie cut gives you a look which is both flirty and feminine, allowing you to show off your stunning facial features to perfection.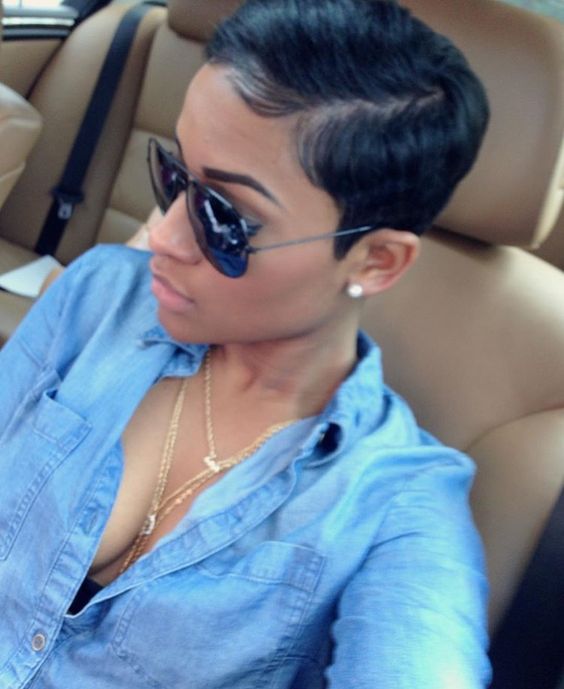 We think a pixie cut is so versatile because there are so many ways to work it, but here are some of our favorites for your inspiration!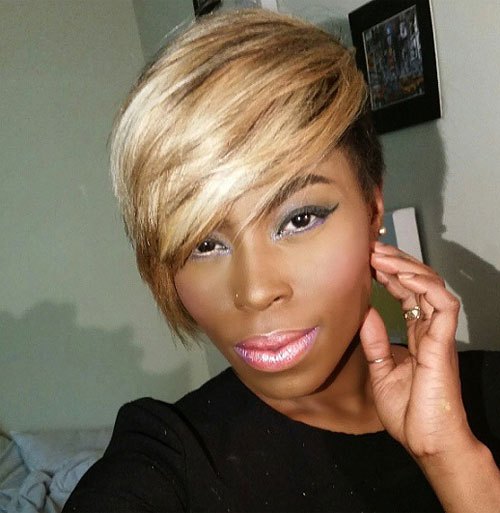 When it comes to a pixie crop, what you decide to do with the fringe section of hair is truly the finishing touch. This lady has gone for an absolutely stunning bold fringe full of beautiful, vibrant highlights in varying shades of blonde that swoops right across the forehead to create a gorgeous finish, perfectly contrasting her naturally dark brown hair.
Bright Red Curly Crop – short red pixie cut for women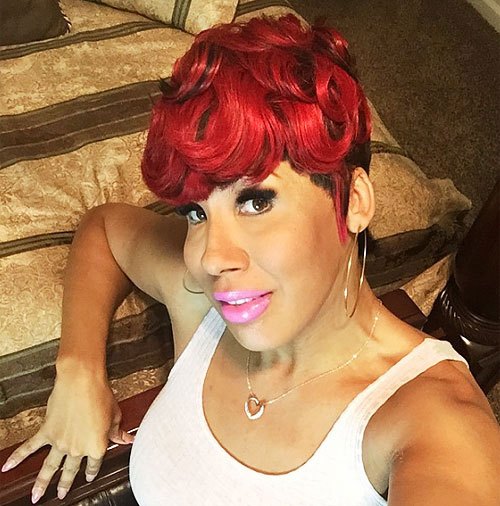 This lady has lifted her fabulous pixie crop with the most gorgeous bright red shade that attracts attention like no other! Her stunning pixie cut has a wonderful fringe section and is kept short and glossy for ease of maintenance, but she's finished it with gorgeous loose curls to create a wonderful curved finish that we can't get enough of.
Purple and Blue Pixie Crop – short haircut for black women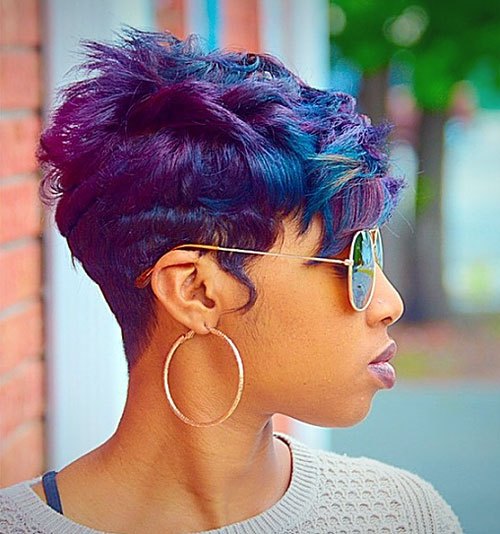 If you're going to be both bold and fashionable and opt for a pixie crop to show off your beautiful face, then why not take it one step further and enhance your hair style with a crazy colour too? This gorgeous lady has gone for two incredibly bright shades; a purple and a blue, that work together to create a truly stand-out hair style that we just adore!
Sleek Bob with Graduated Fringe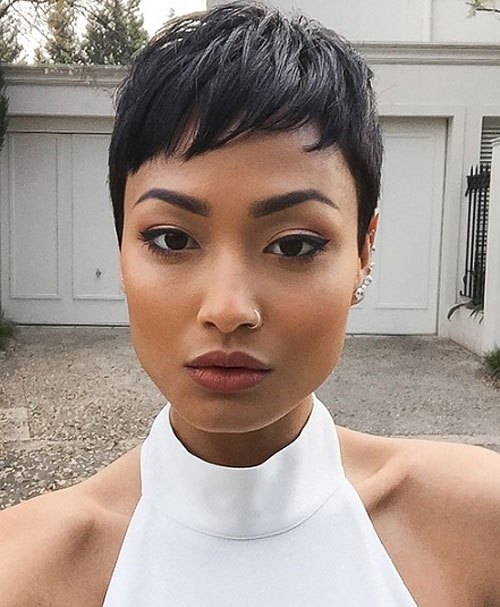 This absolutely gorgeous lady looks as if she could be a model – not least because of her absolutely striking pixie cut! She's cropped her black hair into as super cool cut that is kept shorter on the sides and ever so slightly longer on the top, to form a beautiful finished shape. The fringe is graduated into a slight slope that adds a cool edge to the look.
African American Hairstyles: Pastel Purple Curved Crop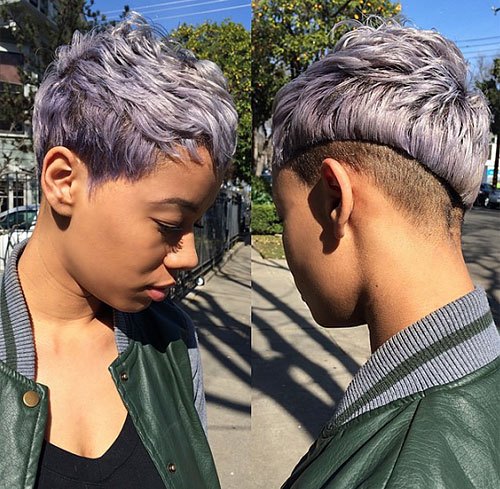 This incredible pixie crop is a cut with a difference; this stylish lady has opted for a cool, curved layer which creates the most unique finish! Combine this wonderful style with the gorgeous pastel purple colour she's chosen for her hair, and we truly have the most on-trend pixie crop that the Styles Weekly office ever did see – don't you agree?
African American Hairstyles: Afro Pixie Cut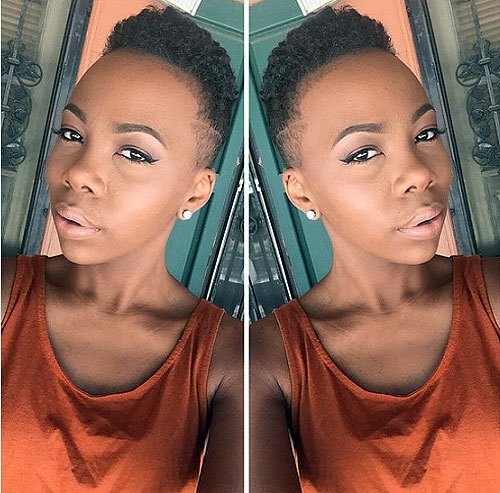 This gorgeous lady has the most striking complexion – which is perhaps why she's chosen to show it off with this stunning pixie cut! She's blessed with the most beautiful natural afro hair, pulled into tight curls for a gorgeous finish, and she's cropped it all incredibly short at the sides and longer at the top, creating a wonderful natural shape.
Short Curly African American Haircut: Copper Curly Crop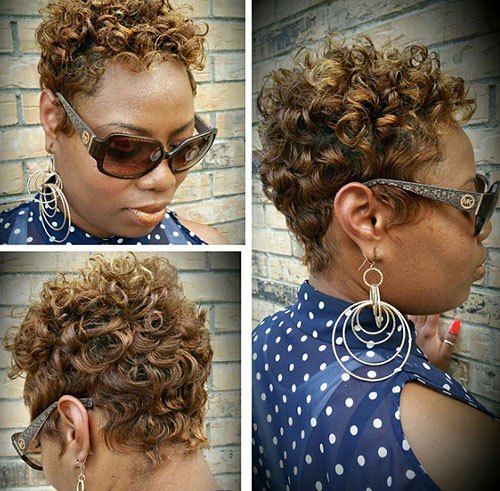 This stunning crop of hair has a gorgeous natural curl throughout, creating the most beautiful silhouette that we simply can't get enough of. This amazing pixie cut is finished with a striking copper colour which adds a wonderfully glossy shine to the finished look, which is kept incredibly short across the entire layer. We adore this look!
Glossy Black Pixie Crop – short black haircut for black women
This beautiful pixie crop has the most gorgeous and glossy finish that we ever did see! This stunning lady's hair is a deep, shiny black that creates the most striking sheen, and her hair is incredibly short, with choppy layers throughout the top for bounce and body, finished with a sleek fringe across the forehead to frame the face perfectly.
Pixie Crop with Tight Ringlets – Cool stylish African American hairstyle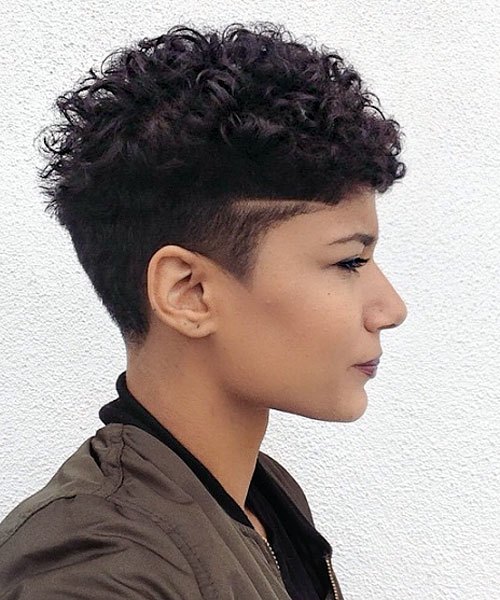 This impeccably stylish and fashionable female has opted for a classic pixie cut style, which is shorter to the back and sides of the head, in this case, shaved close for a cool silhouette, and then longer on the top to create bounce and volume for the body of the hair. This lady has finished the top layer with tight ringlets making a gorgeous silhouette that we simply love.
Natural Curly Crop with Slight Quiff – short curly African American pixie cut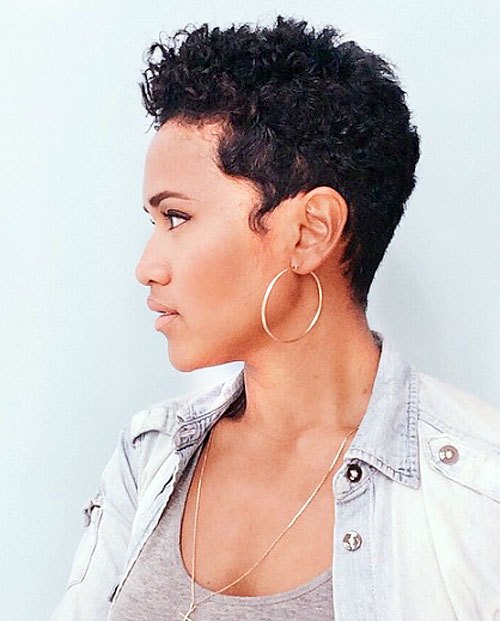 This beautiful woman has opted for a classic crop that reminds us of the famous Halle Berry's beautiful hair! Kept short and incredibly close to the head, this lady's pixie crop is simple, without too many different layers, requiring minimum effort to look great. She's kept her gorgeous natural tight curls, and slicked the front up in a slight quiff to finish.
Blue Black Quiffed Crop – long black pixie cut for women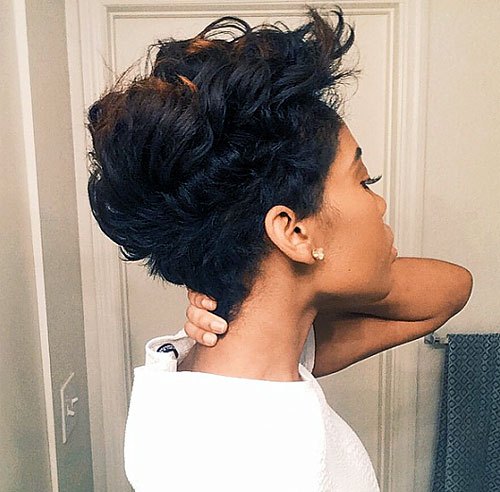 This utterly gorgeous pixie crop might just be our favourite of the bunch with the striking and elaborate finish. This lady has worked her blue-black hair into the most gorgeous style with a longer fringe section, and we think this look is perfect for an event or formal occasion! The hair is kept short at the back and longer at the front, swept forward in a gorgeous curly finish!
White Blonde Corkscrew Curls – African American short curly haircut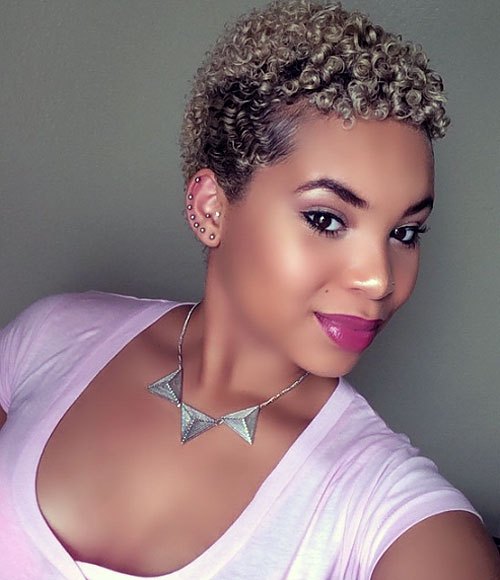 This lady is blessed with the most stunning head of natural corkscrew curls which form the perfect bounce and body. She's accentuated her wonderful natural hair by working a gorgeous white blonde shade throughout the ends to contrast the natural brown, and cropping her hair to this wonderful pixie style that is so on trend this season!
Asymmetrical Bob with Sweeping Fringe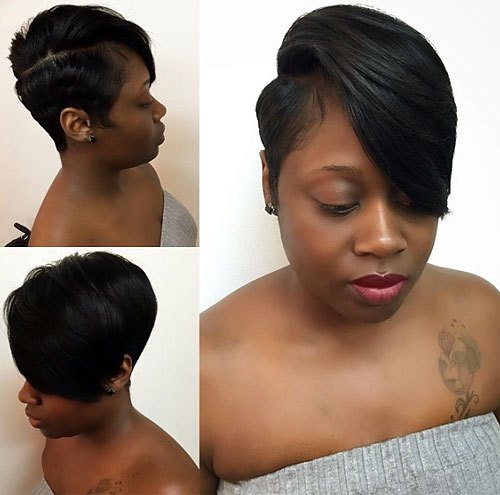 Short African American pixie cut with long bangs: We absolutely adore the juxtaposition of the two sides of hair featured in this utterly stunning asymmetrical pixie cut. This gorgeous black pixie haircut is kept short and close on one side, working its way to lovely shorter layers throughout the back creating a beautiful rounded shape, and is finished with a luscious long fringe section on the other side for a fabulous sweeping effect.
Chocolate Brown Pixie Crop with Fringe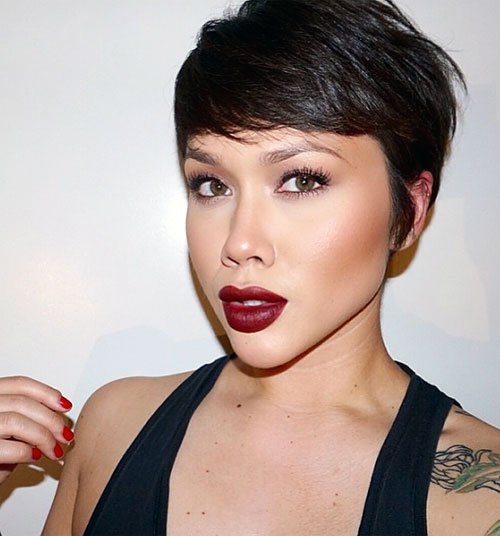 Glossy, sleek and full of body – these are the first three things that spring to mind when trying to describe this absolutely breathtaking cut. As if this lady weren't stunning enough already, her fantastic pixie crop takes her to the next level! We adore her sleek and shiny hair which falls perfectly into a fringe section that is swept to the side in style.
Curly Black Pixie Crop with Shaved Side Details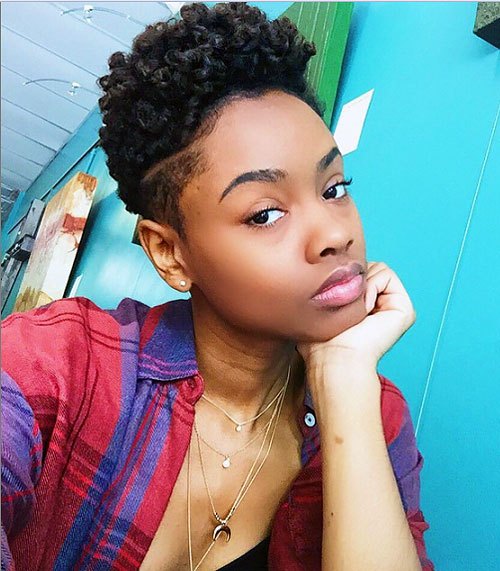 This gorgeous black curly pixie crop is making the Styles Weekly office swoon – we can't get over how stunning this young lady looks with it! A pixie cut is traditionally shorter on the back and sides and longer on the top, and this lady has a beautiful curl running throughout the top layer. She's worked some cool shaved lines into the sides for a funky finished look.
Glossy Black Curved Fringe – Cute African American short haircut with bangs for girls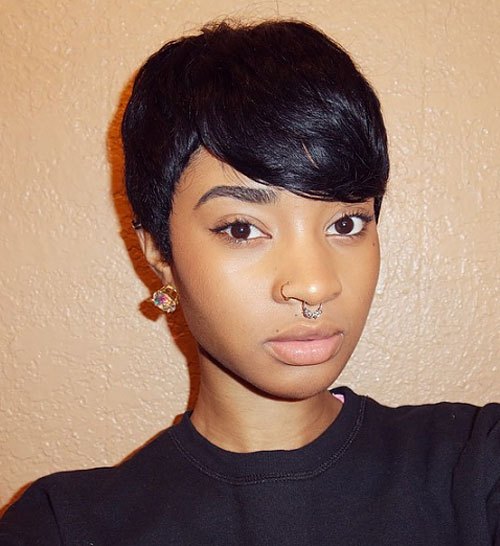 Plum Flicked Pixie Crop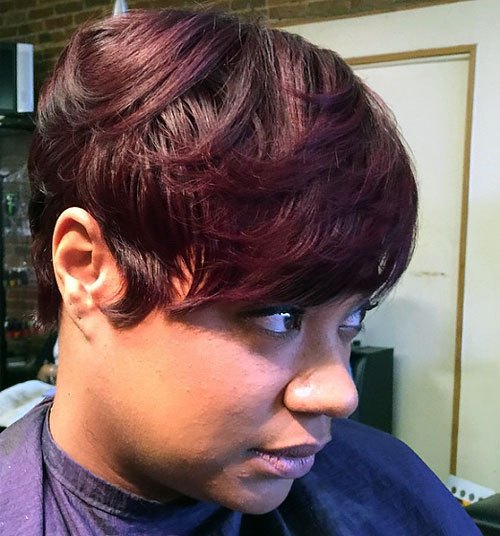 Forward Flicked Afro Crop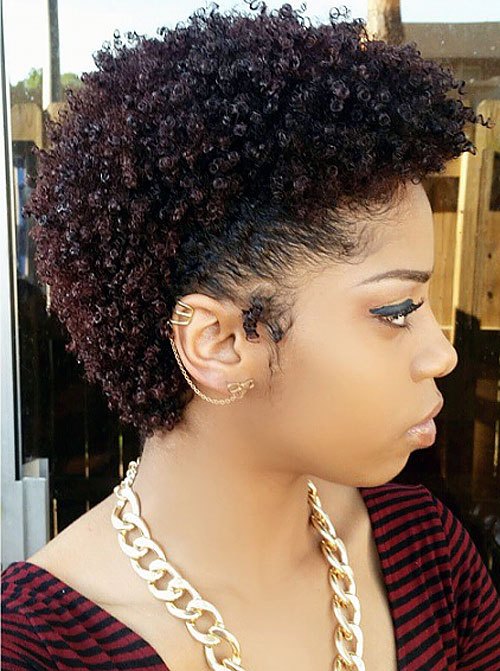 Pixie Crop with Full Fringe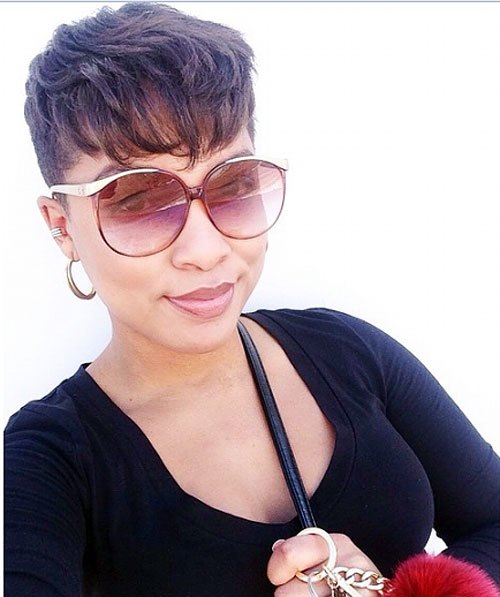 Beautiful Blonde Waves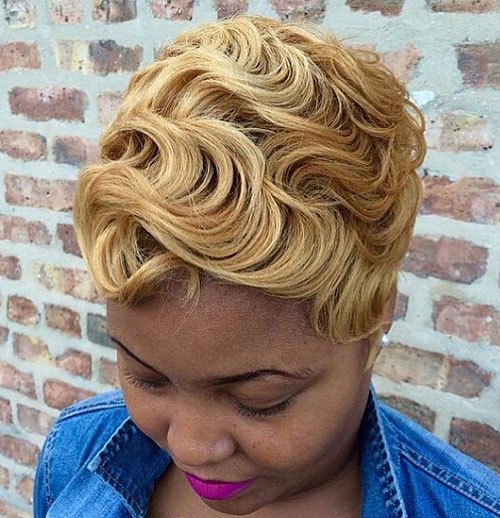 This lady has a gorgeous pixie crop which is the most beautiful caramel colour! It's softly highlighted with touches of a lighter blonde, and she's curled it throughout to create a fabulous wave effect that brings the most incredible finished shape to this beautiful blonde cut! We can't get enough of the wavy finish, especially around the fringe section!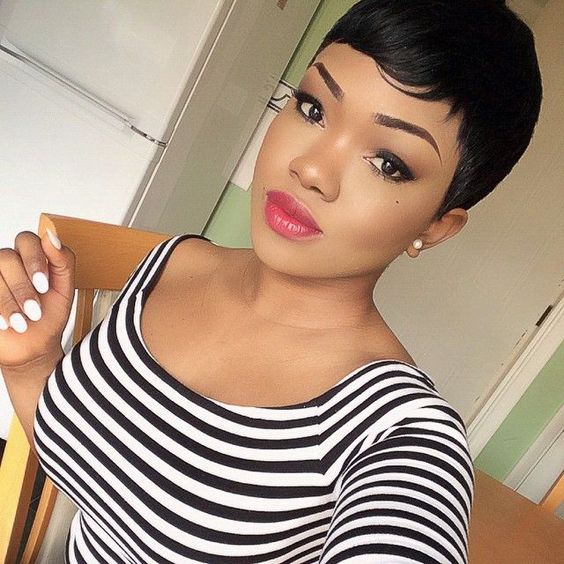 The pixie crop is making waves on the fashion scene, and thanks to this gorgeous gallery of short hair inspiration; it's really not difficult to see why this bold look has become so popular. When you book your next hair appointment why not go for a gorgeous pixie crop? If these beautiful ladies can, then so can you!