Sneakers are not only comfortable but also easy to put on. They are rather ideal for lazy divas who don't want to spend time thinking how to match their outfits with the appropirate shoes, for sneakers are timeless chic and easy to get matched with any outfits. All women should have some pairs of sneakers. Before you rush to the shops and get some new ones, you may as well saty here and see what we have prepared for you today.
In this post, we are going to show you some latest sneakers by thoes big fashion designers, such as Givenchy, Miu Miu, Christian Louboutin and so on. It's not possible that all of us can afford these expensive shoes, but it is quite possible that we can buy some similar ones. The trends are shown here and we just get what we can afford.
You may find the trendy elements from the gallery below. Floral prints, spikes, metallic and crystal details… Check out these fabulous sneakers and get yourself inspired about what to buy next time.
Givenchy Floral Sneakers for Fall 2015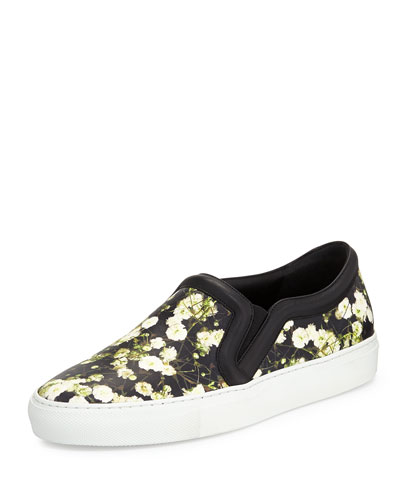 The round toe shoes are casual for women to match their jeans or skirts. Besides, those soothing flowers make the sneakers much more special and beautiful.
Miu Miu Sneakers for Fall 2015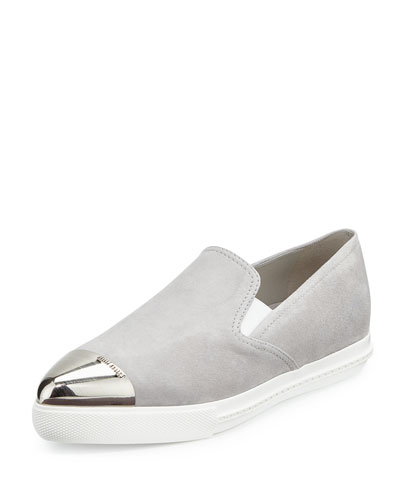 The metallic cap toe sneaker tells us sneakers can be as stunning as pumps. By the way, silver really goes well with grey. Do you agree?
Stuart Weitzman Sneakers for Fall 2015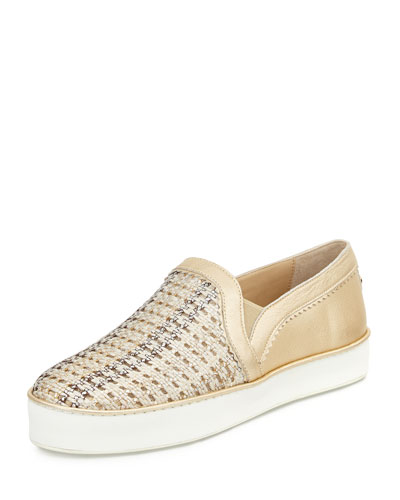 Golden shoes are effortless fashionable. You may buy a pair of golden sneakers in the woven style.They are cool for all outfits you wear.
Stella McCartney Sneakers for Fall 2015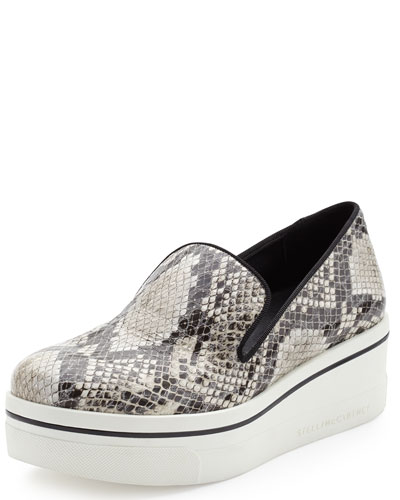 One thing you should never neglect in fashion is the animal skin prints. Look! The platform sole and the animal skin prints make a fabulous combination and It's so edgy for women to wear.
Ash Sneakers for Fall 2015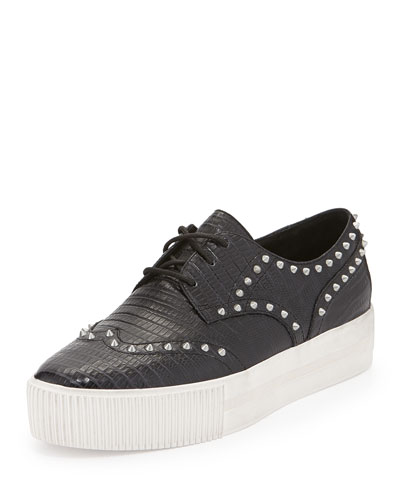 Black shoes are always cool. When you choose black sneakers, you may pick out thoses with faddish designs such as metallic spikes and platform soles. It may not be great for sweet girls, but rather stylish for cold beauties.
Saint Laurent Sneakers for Fall 2015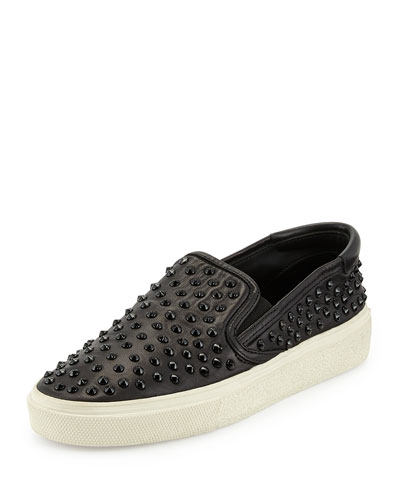 This Sanit Laurent sneaker is much more moderate than the previous one by appearance . Although the vamp is full of studs, the same color makes it stylish yet understated.
Fendi Leather Sneakers for Fall 2015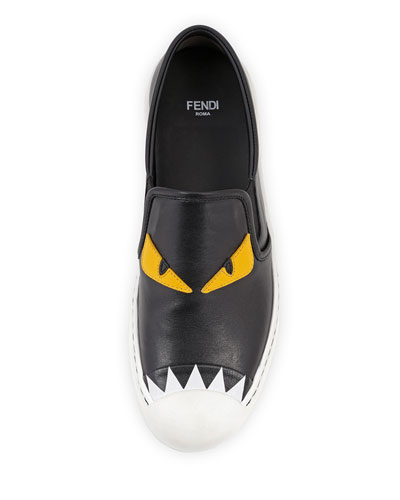 Of course, you should never lose your playfulness. All attentions must be drawn to your feet as you wear such interesting and faddish monster leather sneakers. There are many shoes with cute animal models on the market. If you like this style, just get one pair.
Miu Miu Glitter Crystal Cap-toe Sneaker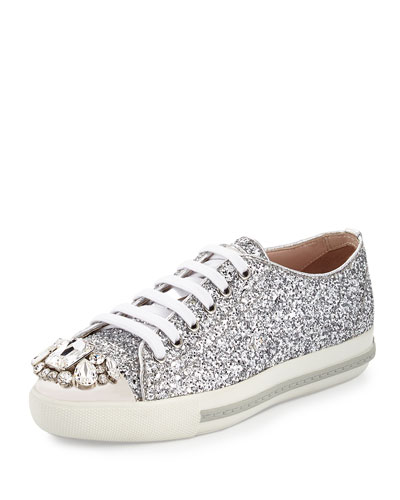 How I wish to have such beautiful shoes! Women seems to be fond of everything that is shining. The glitter crystals embellish the cap toe and and the whole shoe is glowing. So beautiful. It may be hard to find a similar one, but we can still appreciate it and admire it.
Christian Louboutin Spiked Cap-toe Sneaker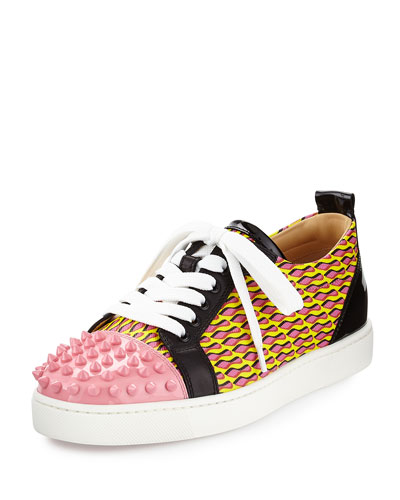 If you think the metallic and black spikes are too edgy for you, you may try some pastel colored spike shoes. Actually this shoe is quite stylish for all fashionistas to try. However, if you want to be elegent, avoid this one.
Christian Louboutin Sneakers for Fall 2015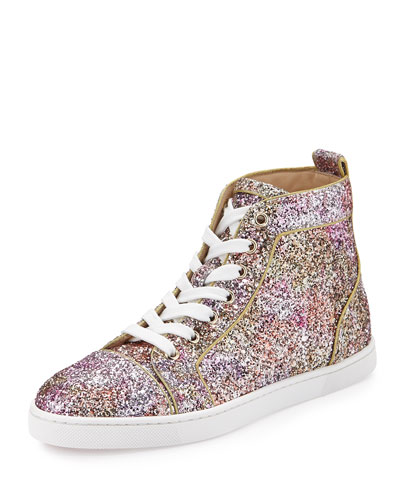 This colorful and shimmer sneakers will be perfect to upgrade any plain outfit. You can find many shimmer sneakers at a friendlier price at the shops.
Rene Caovilla Sneakers for Fall 2015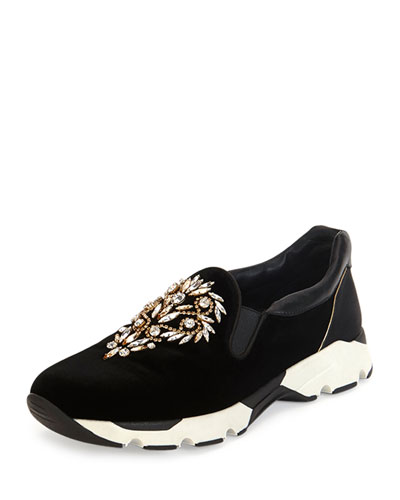 Velvet looks expensive and the crystal detals add more noble vibes to this black trainer. So, remember that velvet is a trend to go!
Tabitha Simmons Sneakers for Fall 2015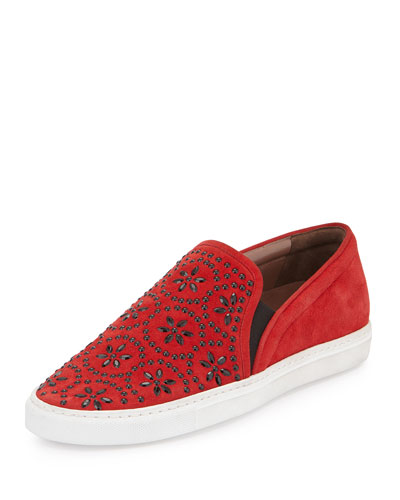 Red is a lively color for women to wear especially in fall and winter. This sequined red suede sneaker is just exquisite. Next time you buy new sneakers, don't just focous your attention on black or white ones. The colored sneakers can make a statement effortlessly.