Two-tone hairstyles are the perfect way to liven up your hair, adding a touch of personality to your look. As opposed to sticking to one colour shade, you implement another shade into the look; whether that's through highlights, balayage or an ombre transition. Two-tone hairstyles can be more subtle, working more natural shades together, or a little more wild – both styles we totally adore. Here is a gallery of gorgeous two-tone hairstyles that we simply cannot get enough of!
Red and Blonde Straight Style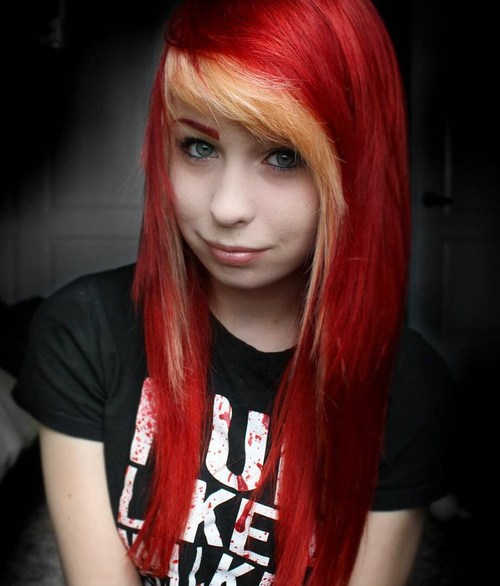 A great long hairstyle for emo girls! This gorgeous girl's long locks are full of volume, cut in a gradient style from the bottom upwards, forming shorter layers which fall around the face and finished with a super stylish side fringe. The bulk of the hair is a fiery and bright red which looks oh so striking, but the side fringe has a contrasting white blonde colour that creates the ultimate two-tone look.
Black to Orange Loose Waves – Two Tone Long Wavy Hair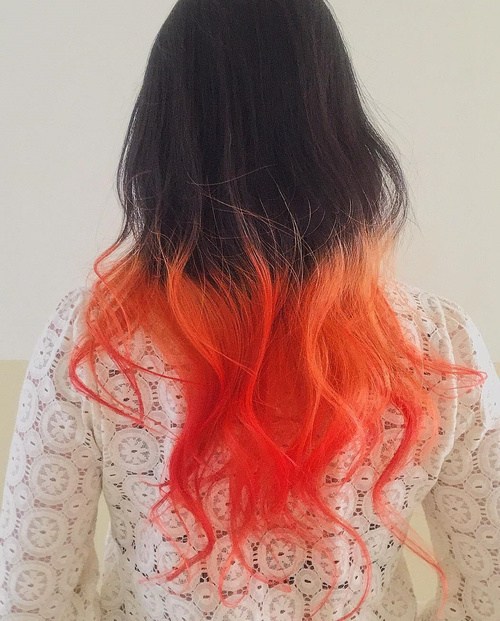 We can't get enough of this gorgeous loose waves style, which has truly stolen the hearts of the Styles Weekly team! These gorgeous beach-style waves cascade down her back in a wonderful and loose finish, which perfectly shows off the ombre blend of black to bright orange that this cool lady has opted for. This style is oh so eye-catching and even more trendy!
Brown to Copper Flicked Ends for Long Hair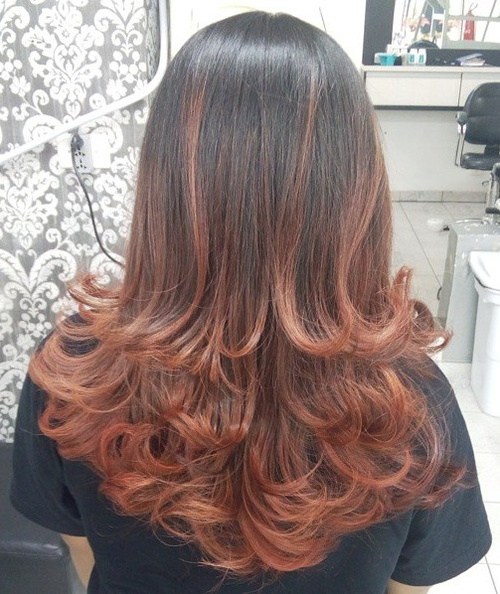 This lady's lovely long hair starts with a deep brown shade at the root, which melts seamlessly into a bright copper at the ends of the hair. She's cut feathered layers into her locks from the middle section down, creating tiered layers which look striking. She's flicked the ends out in an elaborate style to create this totally unique silhouette that we love.
Brown and Pink Voluminous Bob – Two Tone Hairstyle for Short Hair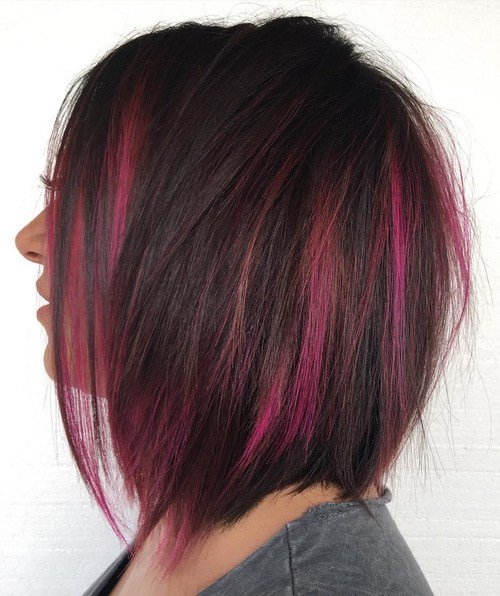 This gorgeous, straight and sleek bob is so full of volume that we can barely take our eyes away from this remarkable cut! Finished an inch or so above the shoulder, the hair is kept longer at the front and ever so slightly shorter at the back. The roots are a wonderful dark brown, and she's added vibrant pink highlights throughout for a fabulous two-tone finish.
Two Tone Updo – Black and Peach Top Bun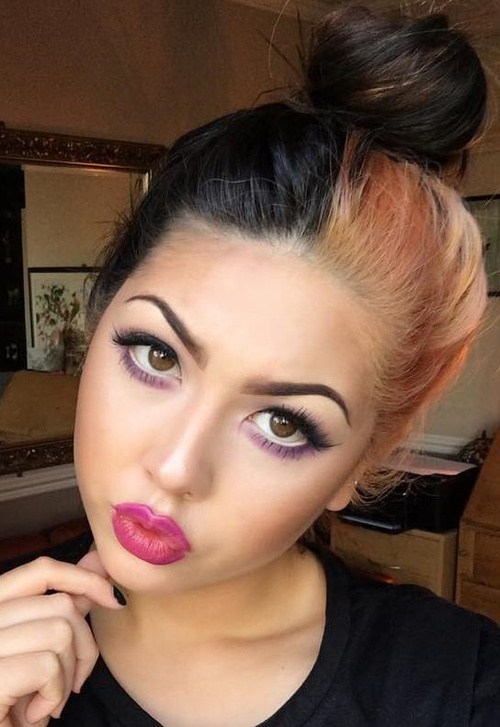 Another gorgeous half and half look, this lady has opted for a combination of black and peach to create the ultimate finish. Half of her hair is a glossy black and the other half is a lovely peach shade, which she's swept up into a high ponytail and finished it off with a top bun on top of the head. This look Is the perfect casual hairstyle that is adorable too!
Black and Pink Shaved Hairstyle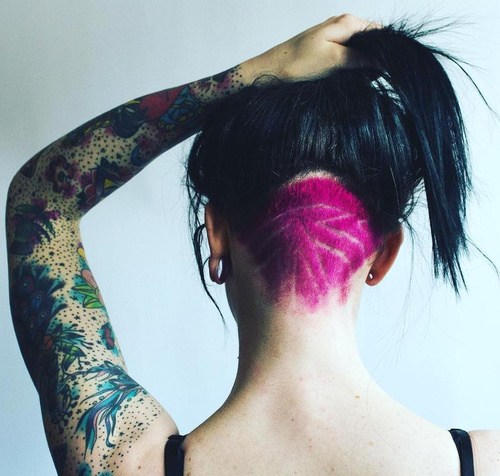 This lady is so cool and fashionable that we think her hair stands out from the crowd for miles! This cool and contemporary hairstyle has two layers – one long and black glossy layer of hair which forms the bulk of the hair. This lady has shaved the underneath layer of the hair, working a cool pattern into it and colouring it a shocking pink – making the most amazing finish when her hair is worn up, don't you think?
Harley Quinn Style Pink and Blue Locks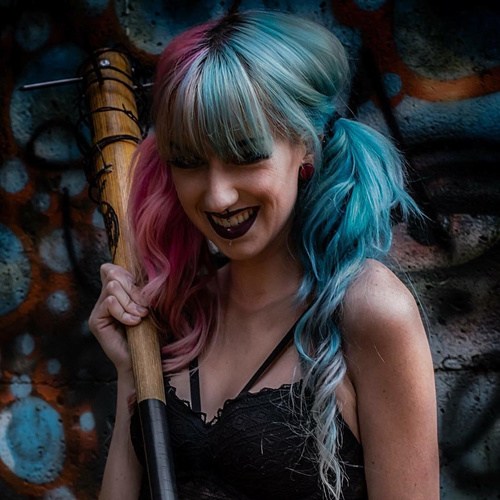 In a fabulous and fashionably style which totally resembles Marvel super villain Harley Quinn, this gorgeous style is a combination of pink and blue, melting into a stunning white shade at the tips of the hair. The colours grace half of the head each, and have been separated into bunches to show off the contrasting shades. The look is finished with a fringe to frame the face.
Edgy Hairstyle – Purple and Green Curly Bob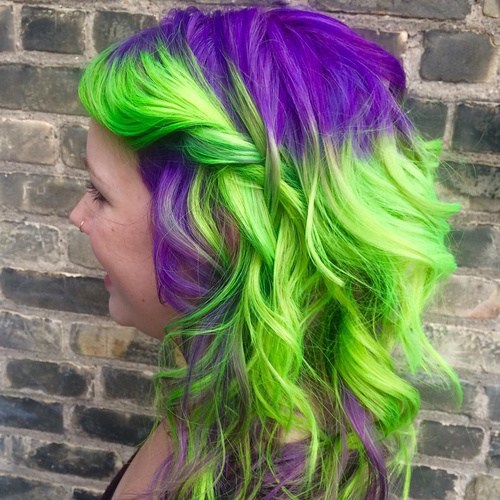 This lady certainly doesn't shy away from the brave and the bold; and we think her vibrant choices totally pay off! This shoulder length cut is full of stunning and voluminous curls, and the most striking two-tone style we ever did see. Working a bright purple with a crazy and vibrant shade of green, this look is not for the fainthearted that's for sure!
Red and Brown Hollywood Curls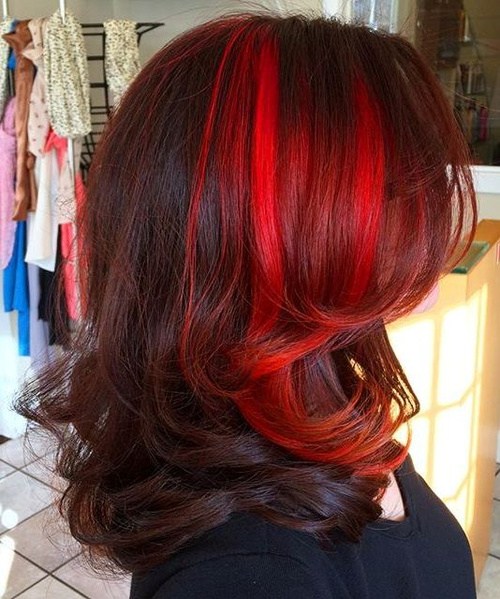 With arguably the most glamorous style of the bunch, this stunning brown and red colour combination has stolen our hearts! This gorgeous lady's hair falls around the shoulders, with a beautiful red toned brown shade at the back of the head blending into a striking and fiery red at the front. The ends are curled to create this fabulous Hollywood style that is simply perfect.
Trendy Blonde and Brown Wavy Bob Haircut with Blunt Bangs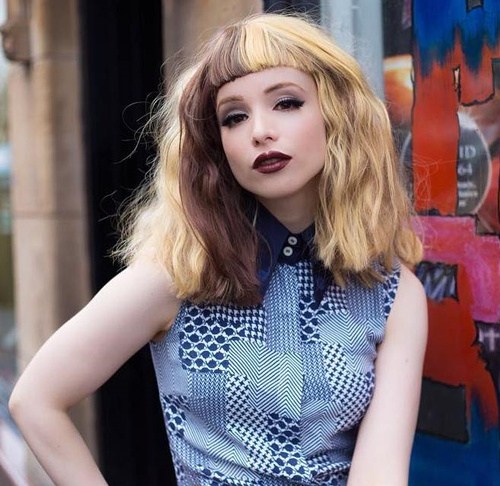 This cool and contemporary hair cut is edgy and vibrant, creating the most ideal finish we ever did see. Falling in a square cut across the shoulders, she's worked a loose wave and tousled effect into the style that looks fantastic. The majority of the hair is a golden blonde shade, with one chunk of a chocolate brown colour on the other side of the head to finish off the two-tone style.
Two Tone Haircut for Short Hair – White Blonde Asymmetrical Bob with Pink Fringe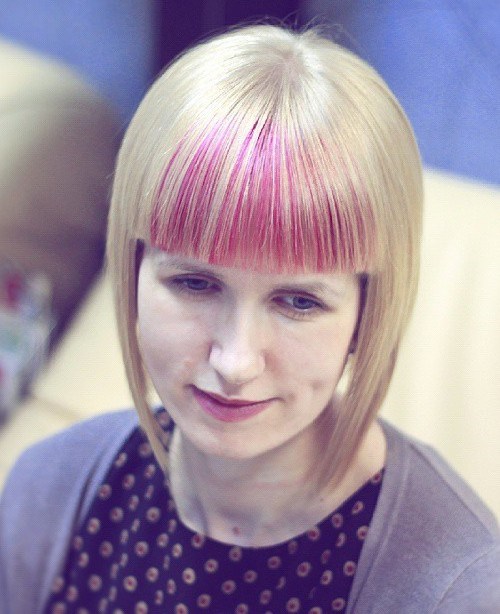 A two-tone hairstyle need not work two shades throughout the entire hair, and can rather be a more subtle style, like this gorgeous lady has gone for! Her wonderful short bob is longer at the front and kept a lot shorter at the back, finished with a wonderful straight fringe across the forehead. The bulk of the hair is white blonde, and this lady has worked a vibrant pink colour throughout the fringe for the perfect finish!
Half and Half Two Tone Style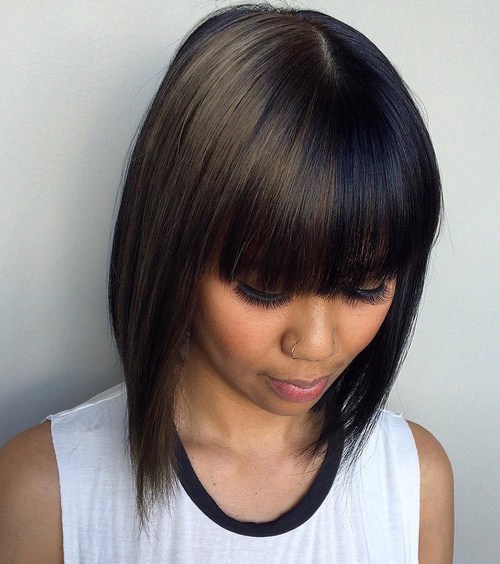 In a totally unique two-tone style, this utterly beautiful lady steals the show with her incredible hair! Her long bob falls around the jaw length at the front and slightly shorter at the back, finished with a straight fringe across the forehead. Half of her hair is a chocolate brown colour and half of the hair is a glossy black – the two colours working together perfectly.
Picture of Two Tone Hairstyle – Black Hair with Blonde Tips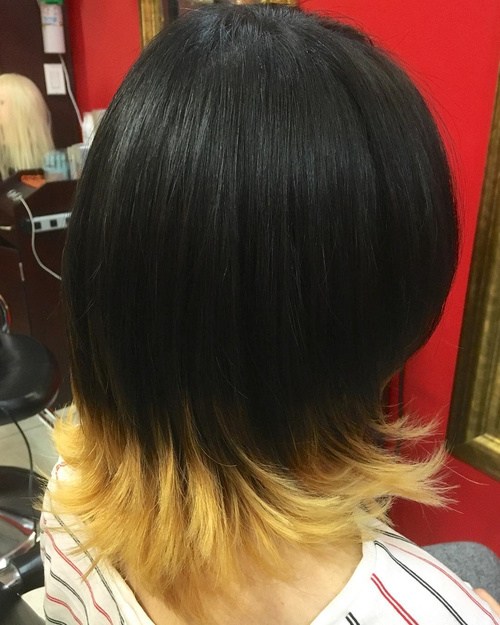 This lady has opted for a stunning ombre transition to create an incredibly fashionable two-tone effect; and we think it looks incredible! Her glossy black hair falls just above the shoulder, and she's used an ombre transition to make the ends a beautiful bright blonde. Her hair is straight and sleek, but she's flicked the ends out to show off the colour change.
Blue to Blonde Balayage Trend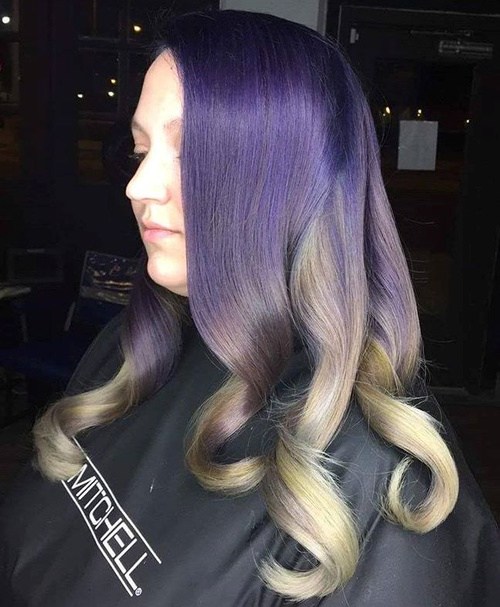 This lady's glossy long locks is a stunning balayage blend of two different colours which work together perfectly we think! With a gorgeous royal blue at the root, this lady has opted for a balayage transition to a white blonde colour at the tips of the hair. To show off the stunning colour transition, she's added loose barrel curls through the ends of the hair.
Two Toned Hairstyle – Blonde to Brown Tousled Locks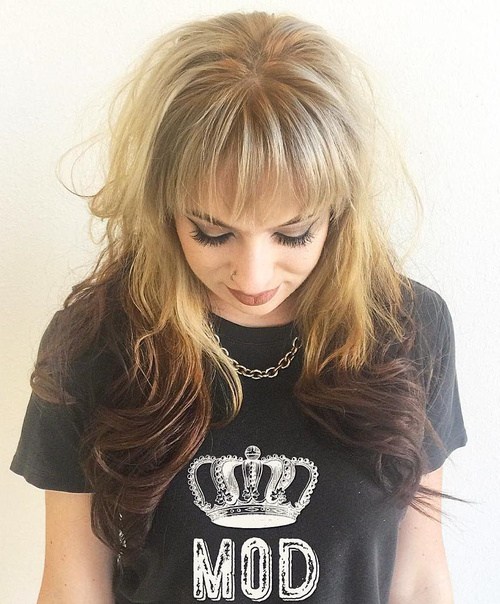 Another stunning ombre two-tone style to add to the collection; this gorgeous woman has worked a lovely caramel toned blonde with a beautiful chocolate toned brown together, melting the blonde from the top into the brown at the root seamlessly. Her long hair has been roughly tousled up top, finished with a wonderful curl at the ends that we simply adore! If you love ombre hair, here are more for you to choose from.
Two Toned Hairstyle for Long Hair – Grey and Yellow Tousled Curls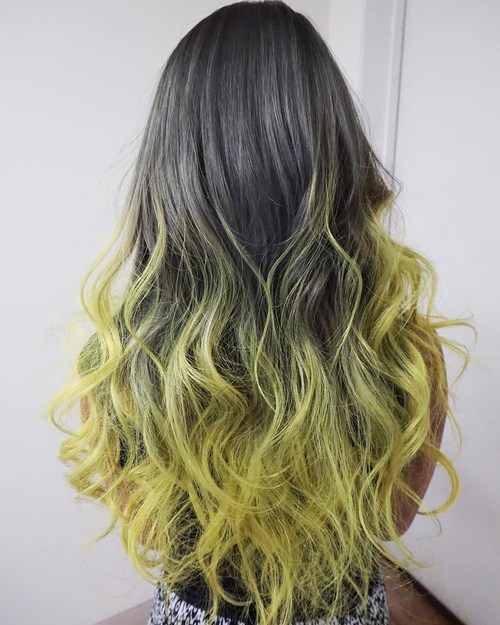 This lady has the most stunning natural hair that we ever did see! It's long, thick and oh so curly – worked into wonderful tousled curls to add volume and a cool edge to the style. As well as a fantastic cut and style, this lady has opted for an incredible two-tone colour scheme too, working her hair from a glossy grey to a bright yellow at the ends – so individual!
Brown to White Blonde Balayage Swept Style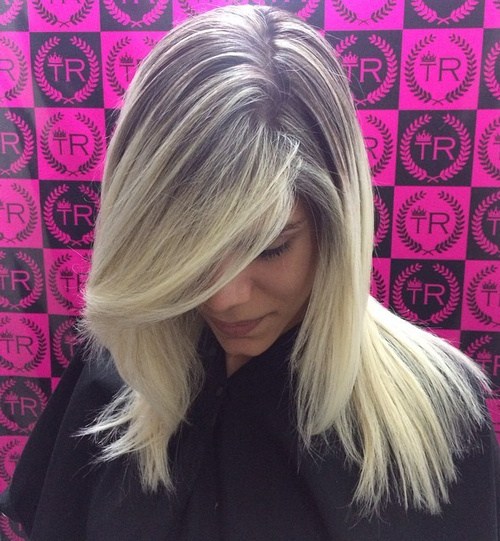 This gorgeous girl has a deep side parting, which means her luscious shoulder-length locks fall in a deep swept look across her face, that we simply adore. Her hair has been kept straight and sleek to show off this wonderful finish, and she's quickly worked her dark brown roots into an icy white blonde for the body of the hair through a balayage transition.
Brown to Mahogany Barrel Curls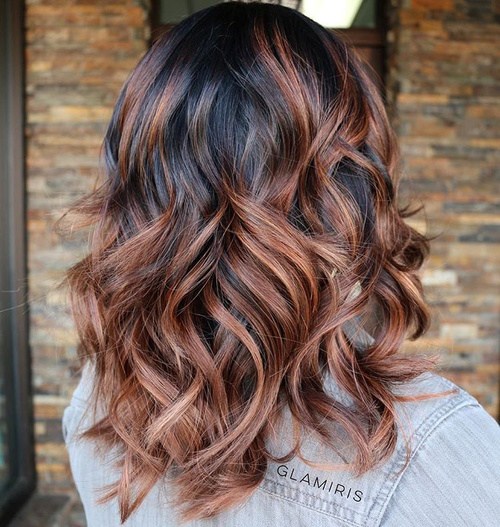 This bouncy curled style is oh so beautiful that this lady is without a doubt ready for an event or a special occasion – this hair is too gorgeous to waste on an average day! Working from a dark brown at the root and blending to a beautiful mahogany shade for the tips, she's worked tight ringlets throughout for the ultimate volume and bounce.
Picture of Two Toned Hairstyle for Long Hair – Bubblegum Blue and Pink Straight Style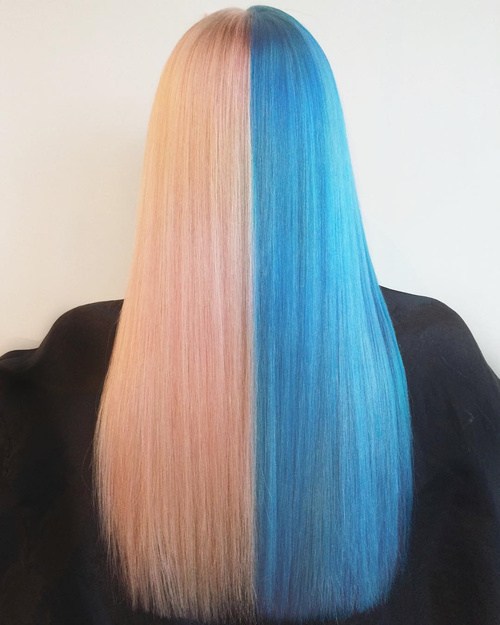 This lady has beautiful long locks which cascade half way down her back. They're oh so glossy and shiny, finished with a straight edge and no layers to create this simple but effective style. This lady has opted for a beautiful bubblegum two-tone style that is very stylish indeed, with a baby pink on one side of the head and a bright blue on the other!
Mahogany and Blonde Staggered Cut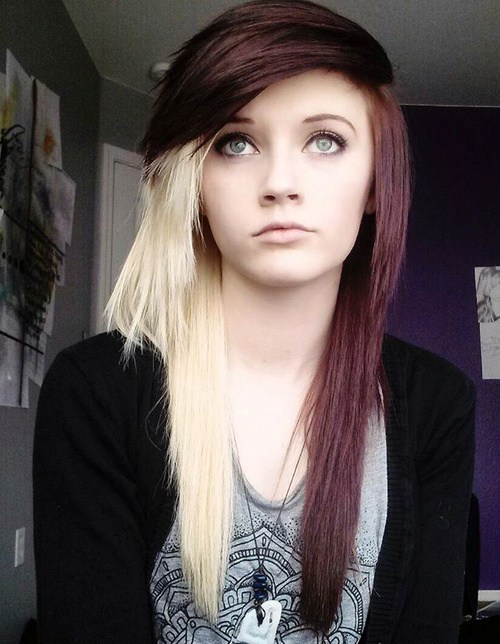 Scene hairstyle for scene girls – This utterly beautiful girl has even more beautiful hair – and that's quite the statement indeed! Her hair finishes well below the shoulder, but has lots of shorter and choppy layers around the face to create a stunning silhouette that we can't get enough of! She's opted for a deep mahogany shade for the bulk of the hair, and added a white blonde chunk on the other side – the colours work together perfectly!
Two-tone hair styles are oh so striking – and work on a range of hairstyles, whether your hair is short, long, curly or straight! We hope this gorgeous gallery of two-tone looks has inspired you to create your very own two-tone look with your next hair cut. Let us know what you think!