Unless you've been hiding under a rock, it will have been impossible for you to miss the boom in silver and white hair on the fashion scene. The growing trend of opting for gorgeous silver or white locks has taken the world by storm, and the Styles Weekly team just cannot get enough of it! There are so many stunning styles that silver and white hair is just perfect for, so why not be bold and go for one of these shades this spring? Here's our silver and white hair gallery full of plenty of inspiration on how to show your luscious new locks off!
White Flower Bun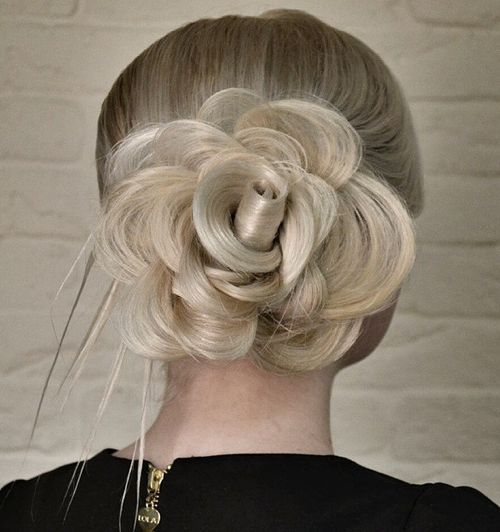 This bun is an absolute thing of beauty, which makes it utterly gorgeous for a wedding or a special occasion! This lady has fashioned her luscious white blonde locks into a side ponytail, then crafted the hair into a gorgeous rose shape, with layers cascading out and pinned into place to form petals. This hair style is truly a work of art, don't you think?
White Braided Bun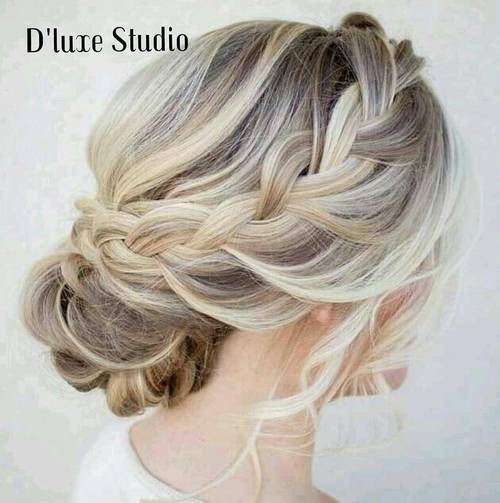 This lady has lifted her beautiful blonde hair with a range of white highlights that simply gives her curly hair the most beautiful glow! She's showed off the stunning colours at work here by braiding the sides of the hair into a chunky french plait and tucking the ends under to form a curly bun. The front strands are left in ringlets around the face, finishing the style with a romantic look.
Chunky White Milkmaid Braids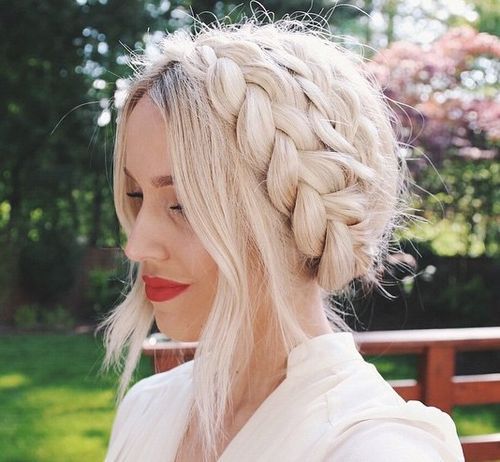 This beautiful lady has opted for a shock of red lipstick to contrast her gorgeous white hair and we think the combination is really quite something. She's worked the ever so popular milkmaid braid style into her lovely locks by separating her hair at the centre, creating two braids on either side and pinning them up on top of the head to create this lovely halo effect.
Tousled and Twisted White Locks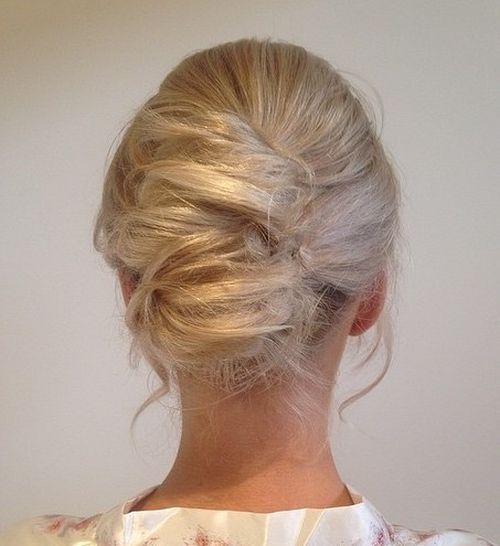 Our favourite way of opting for a formal hair style for a special occasion is to add a slight tousle to create a unique blend of smart and casual, resulting in the most striking finishes; as this lovely lady has proved! Her white blonde hair has been rolled into a large twist and pinned, but with a tousled effect as opposed to smooth and sleek, which we just adore!
White Sleek Sweeping Bob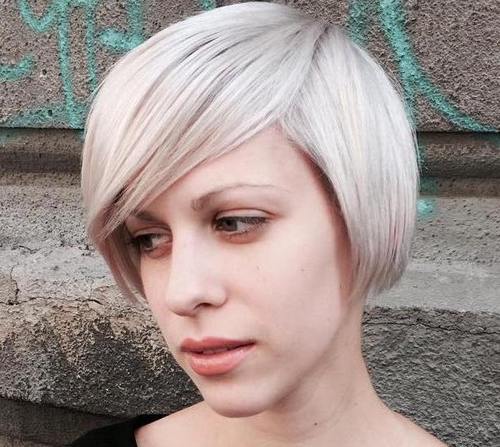 We absolutely adore this stunning sweeping bob look, which finishes just below the ears and is parted to the side, creating a gorgeous and long sweeping fringe that falls across the forehead. This lady has kept her bob smooth and sleek to highlight the gorgeous cut, but has opted for a bright white colour that really brings the style to life.
Wonderful White Pixie Crop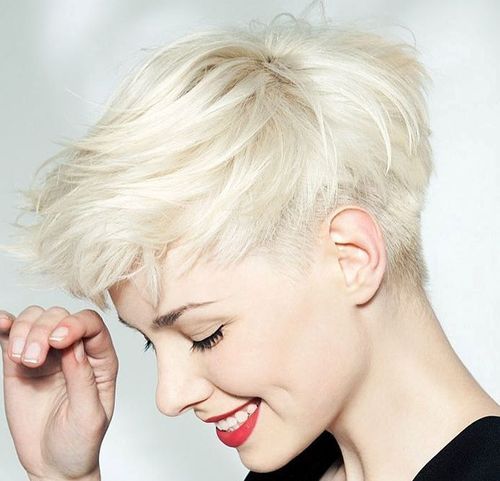 This lady's shock of white blonde hair looks absolutely gorgeous against her stunning porcelain complexion; not least because of the beautiful pixie cut she's opted for which shows off her features to perfection. She's kept the crop incredibly close to the head on the back, and left the top layer a little longer so that she can sweep it into a fringe; we love this look!
Silver Curly Crop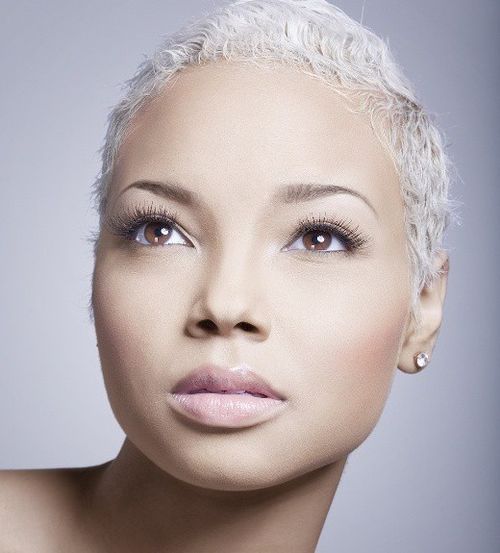 Another absolutely beautiful pixie crop to add to the collection; but this one is even shorter than the last! This lady has an absolutely stunning face, which is showed off perfectly by her incredibly short hair that is kept close right throughout – only just showcasing her natural curls. The cut is finished with a stunning silver colour that we absolutely adore.
Stunning Silver Pixie Crop with Long Fringe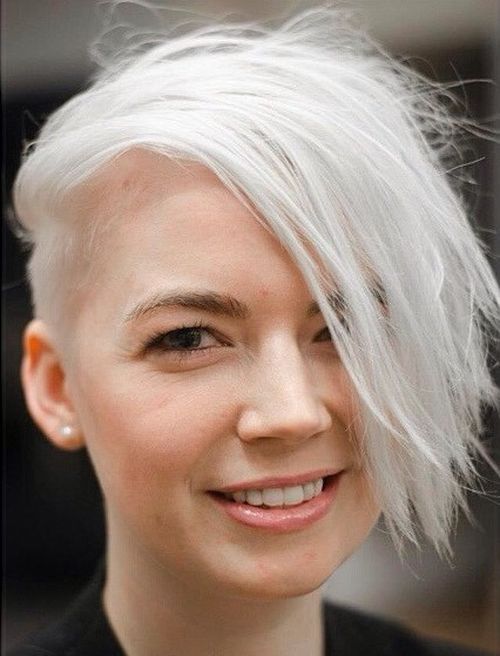 If you fancy cropping your hair short for a low-maintenance but high-impact style, then you need not go the full whack and get rid of all your hair – you can still keep a long fringe like this lovely lady to create a wealth of versatile looks with your new short locks! Her silver hair is cropped closely everywhere except for the top layer, which forms this incredible swooping finish that she's kept straight here.
Slicked Back White Faux Hawk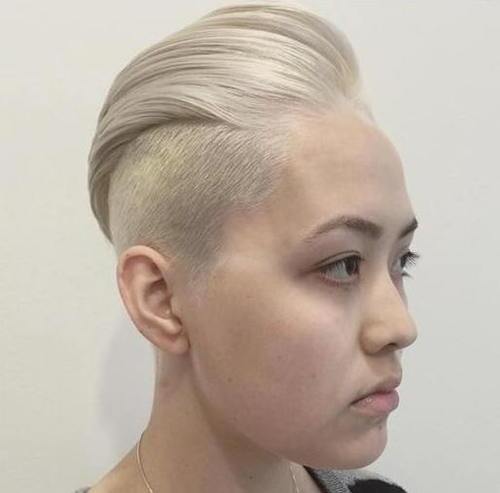 This lady has been oh so brave by opting for the incredible faux hawk trend with her white hair; and her bravery has most certainly paid off! This wonderful look has been created by shaving the sides and the back of the head, and then leaving the middle section longer, so that she can slick it back and create a cool faux hawk style showing off that lovely white colour.
White Graduated Long Bob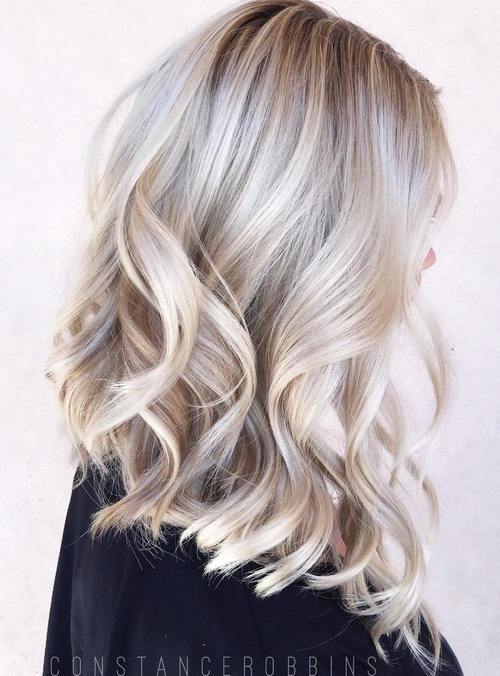 We love the graduated bob style, which typically has a shorter cut at the back of the head and graduates into longer locks which fall around the front and frame the face, however; we've yet to see the graduated style on longer hair like this lady has – and we're smitten with it! This gorgeous look shows off her white locks perfectly; especially because of the beautiful curly finish.
Sleek White Hair with Flicked Ends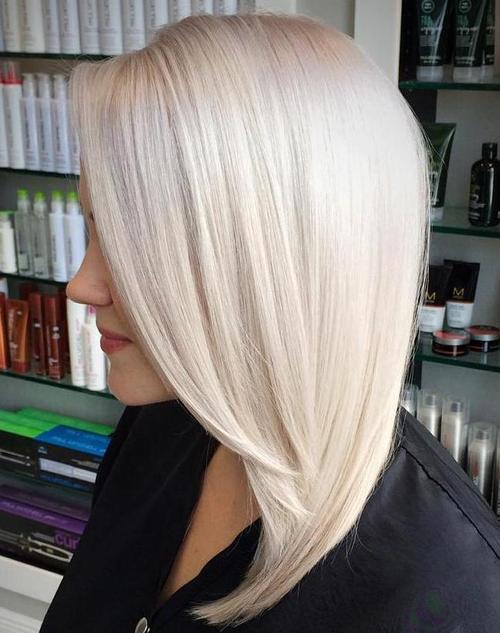 This lad has opted for the most beautiful white blonde colour which is both glossy and shiny, creating the most amazing finished look! Her stunning hair falls just across the shoulders and is finished in a super straight and super sleek fashion, showing off the colour to its full potential. She's ever so slightly flicked the ends to create a wonderful shape.
Bubblegum Blue to Silver Ombre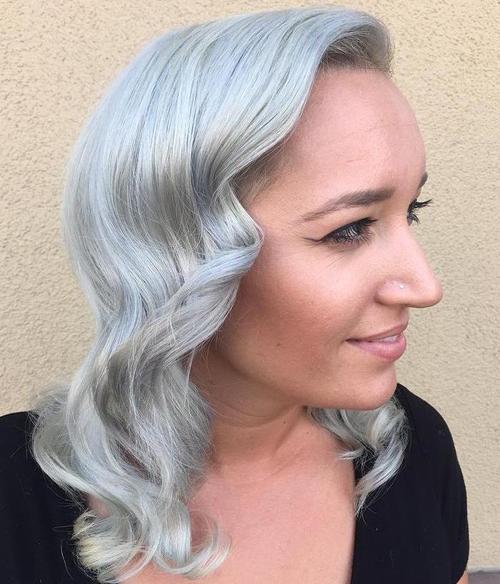 Why go for one shade when you can blend two together and create an amazing look like this lovely lady has done? Her hair goes from a striking bubblegum blue at the root and blends using an impeccable balayage transition to a vibrant and shiny grey at the ends. She's showed off the amazing colours with soft curls throughout the hair, which we think looks incredible!
Brown to White Blonde Balayage Blend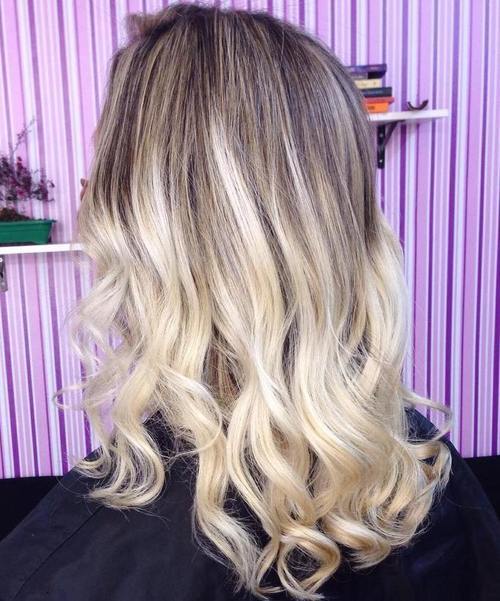 If you fancy dabbling with a white or silver shade, then you need not dye all of your hair, instead, you can opt for a more gentle balayage blend like this incredibly fashionable lady has done, experimenting with the colour in a subtle way. This lady works white into her hair from a deep brown root, through to a lovely white blonde which she's curled to perfection.
Long White Waves
This beautiful woman has equally beautiful hair; which is totally on trend too! These lovely long locks are super sleek, oh so smooth and finished with the most gorgeous white blonde colouring that is just perfect for spring. She's worked her hair into an incredibly loose wave which adds volume and shape to this gorgeous cut like no other style!
Silver Jaw Length Bob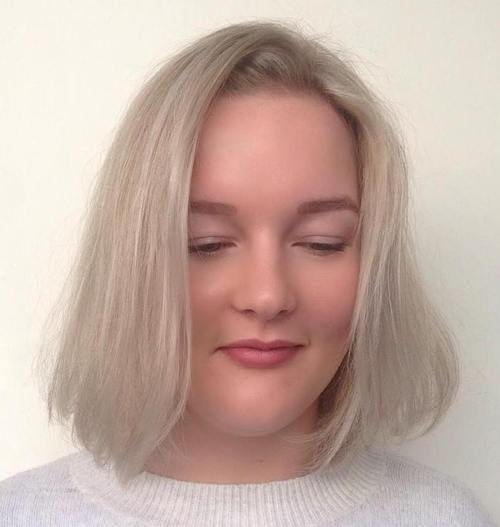 This incredible jaw length bob is full of volume, life and light – thanks to that incredible silver colour this wonderfully fashionable lady has opted for! This gorgeous shade of silver runs from root to tip and gives the most glossy finish that we ever did see; especially with the blunt bob cut which is left in a naturally straight finish full of body.
White Blonde Corkscrew Curls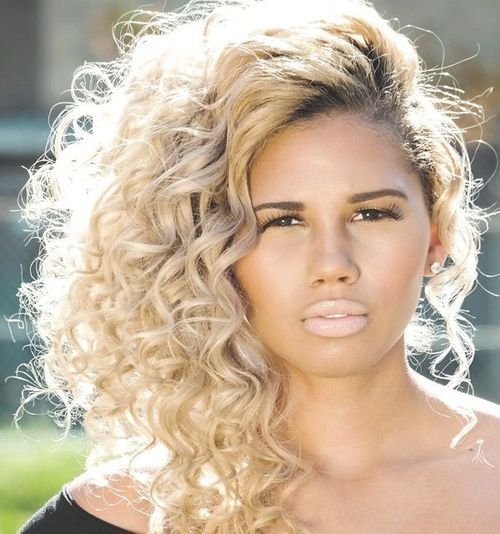 This wonderful hair is most certainly designed to attract attention for all the right reasons, and we're sure you'll agree with us that it most definitely does! Her amazing white blonde hair falls in wonderful corkscrew curls throughout that creates the most striking finish. She's pinned the curls to one side which fall down one shoulder.
Silver Braided Half Up Half Down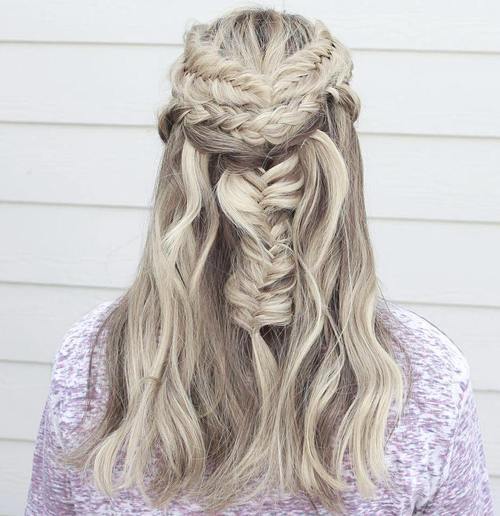 This incredible silver hair is full of different silver and blonde tones blended together in a gorgeous ombre fashion, which makes the most wonderful finished look! It falls below the shoulders in wonderful natural waves, but the real star of the show is the incredible braids worked through the look. She's braided two chunky braids across the head at the top, and then worked some of the middle section into a super cool fishtail braid for a bohemian look.
Black to Silver Ombre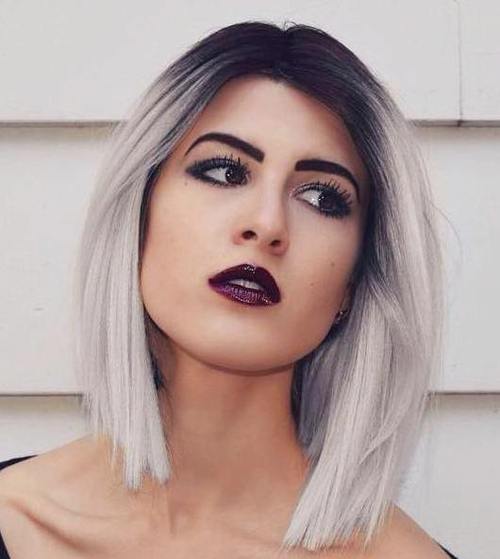 This girl's look can be summed up in three words; dark, daring and dramatic – but the Styles Weekly office simply cannot get enough of it! In fact, it might just be our favourite silver look of the bunch. With a wonderful black colour at the roots blending quickly into a striking silver, this sleek bob is designed to stand out from the crowd, and it certainly does.
Silver Braided Up Do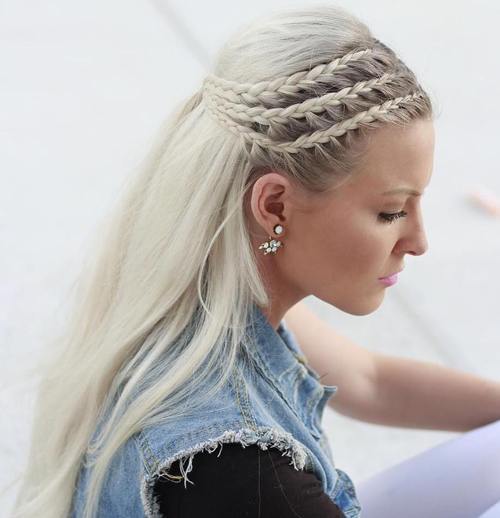 This lady has gone for an absolutely remarkable hair style which is both practical and incredibly stylish at the same time, sweeping her hair off her face in three chunky braids from the front section, which are secured in a half up half down style at the back of the head. Her long silver locks are then left to fall down her back to finish the look off in style.
We hope that our gorgeous gallery of silver and white hairstyles designed to show off your gorgeous new colour has been exactly what you're looking for – and please let us know which styles you'd like to see inspiration for next!