Typically, when people think about the color combination of red-and-white, it's in the context of Valentine's day or, if blue is added, Independence Day. But what we noticed with a lot of fashion runways for the spring and summer is that it's also a trend that's pretty big outside of those two holidays. And what's so awesome about it is there are so many different ways to pull it off.
Take these outfits, for example…
1. Red halter top, blue jeans and red-and-white polka dot pumps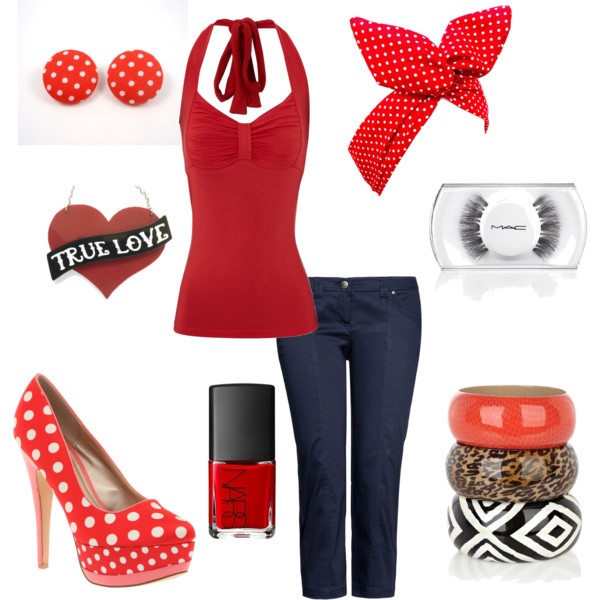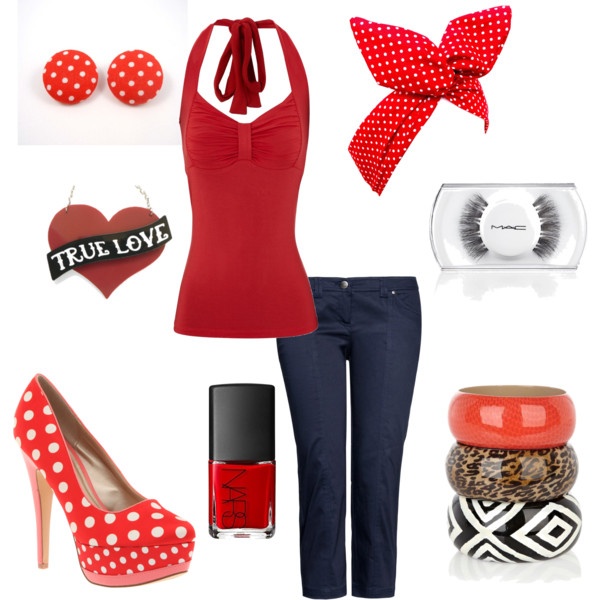 Red Polyvore outfit ideas: As you can see from this picture, pretty much a halter top in any color is going to have you looking pretty hot. But a red one? Yeah…that's RED HOT! With a red-and-white polka dot pair of pumps and a matching head scarf, it can make you look pretty throwback to the 60s in the absolute best way possible.
2. White flowing tank, jeans and red wedges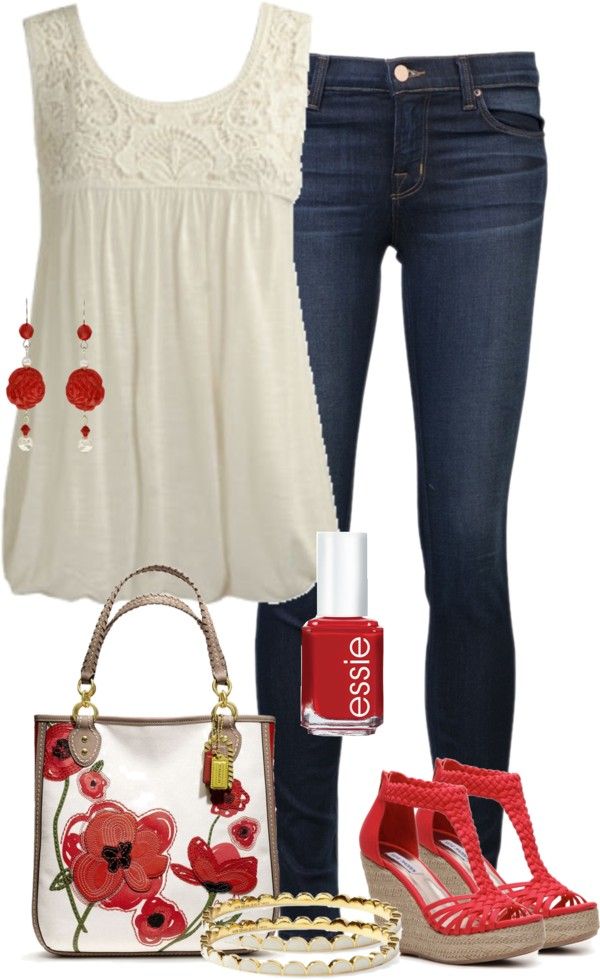 Polyvore outfit ideas for spring: This kind of look will accentuate all of the right places on your body, while hiding any others that you don't want to be seen. A part of the reason is due to the cut of the jeans and then the style of the tank. Since the tank is long and "full", you won't have to worry about sucking your tummy in to hide any bulges that you may have.
3. White tank with red shorts and gold sandals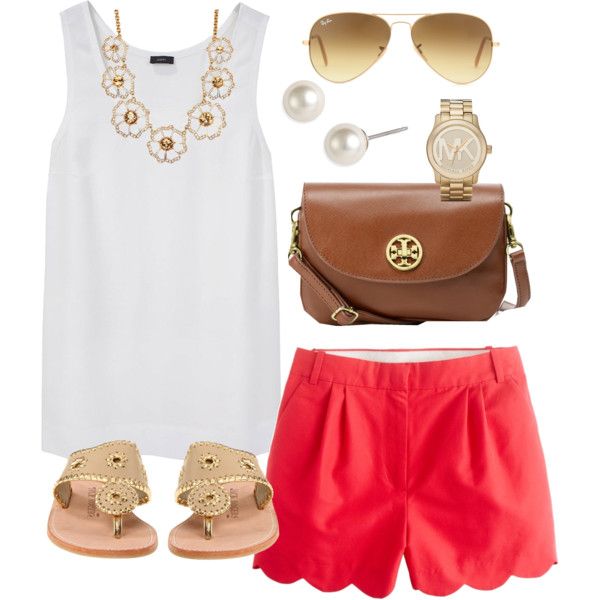 Here's a really simple way to pull of red-and-white look. Simply throw on a tank top that you already have or one of your boyfriends and then put on some red shorts. It will be really cool if you found one with a creative hemline like this one you see here. And yes, gold and neutral hues are super ways to accessorize.
4. White V-neck T-shirt, red skirt and denim jacket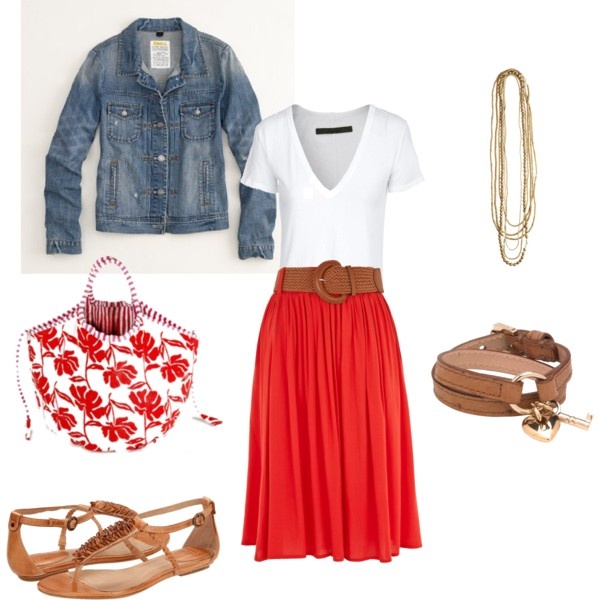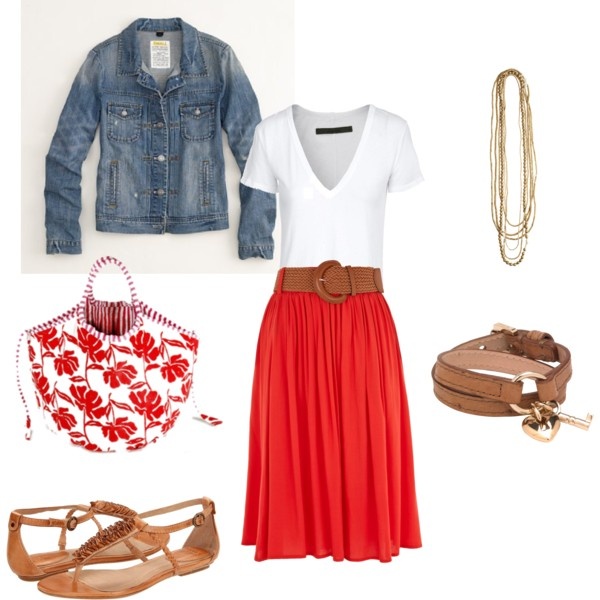 If it really is high time that you got yourself a new skirt, look for one that's red. Just because red-and-white are the trending colors for spring and summer, that doesn't mean red won't still be stylish long after. A red skirt really is a good staple for your closet. Some brown leather sandals works in mild or hot temperatures. Use the jean jacket on those spring days when things are extra cool.
5. Red-and-white polka dot dress and taupe cardigan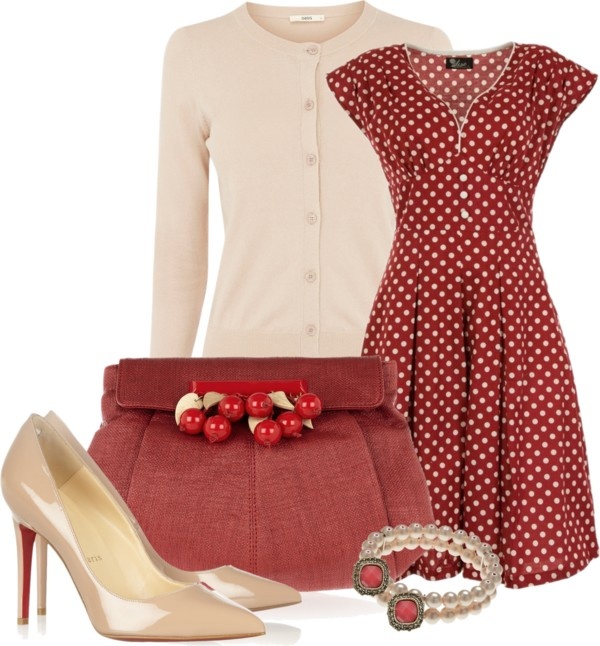 Cute outfit ideas for dating: In our minds, a spring wedding is the perfect place to wear something like this. The red-and-white polka dot dress is so dainty and the cardigan is ideal if the wedding is outside and there's a bit of a cool breeze. It's also nice to see that the cardigan and patent leather pumps match—and that they're taupe. You'll probably be seeing quite a bit of that this year.
6. Red-and-white strapless top and jean shorts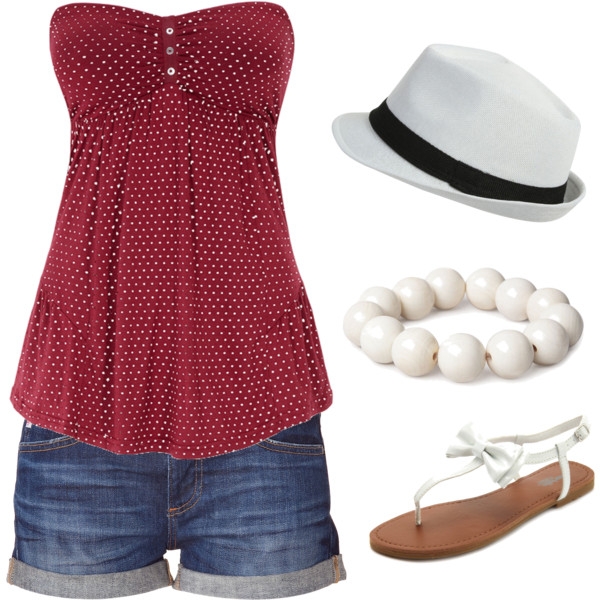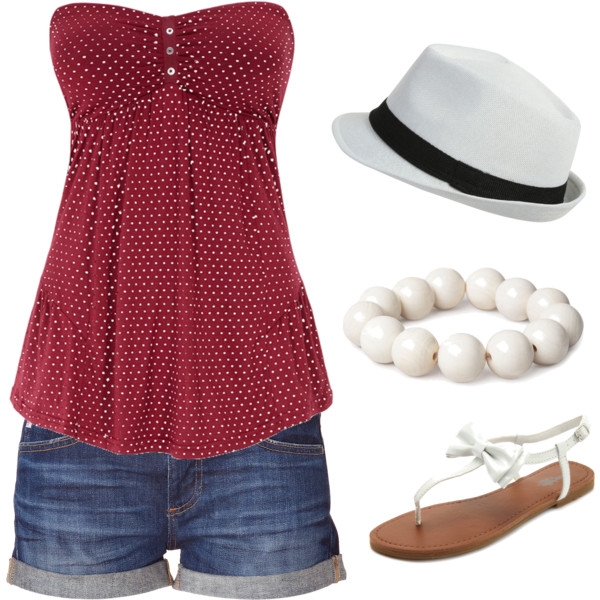 Cute outfit ideas for summer: This red-and-white strapless number is basically a shirt version of a baby doll dress. And that's what's so charming about it. It goes to show that if you have the right top on, you can wear even your oldest pair of blue jean shorts and still look pretty much like you dressed up for wherever it is that you're going.
7. White tank, jean jacket and red-and-white striped maxi skirt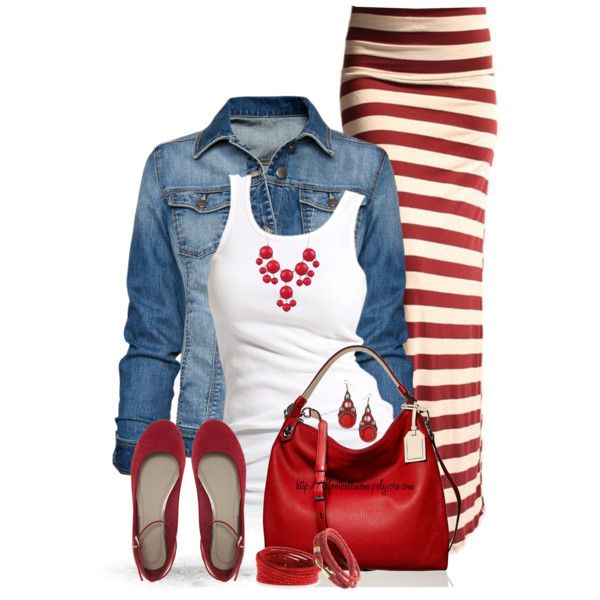 Although a lot of maxi skirts tend to flare out and be wide, as you can see from this shot, there are some that are fitted. And if you go with a red-and-white horizontal stripe pattern, you'll look thinner and yet curvy at the same time (pretty cool, right)? A tank top will help to "Coke bottle" you even more.
8. Red flowing tank and white shorts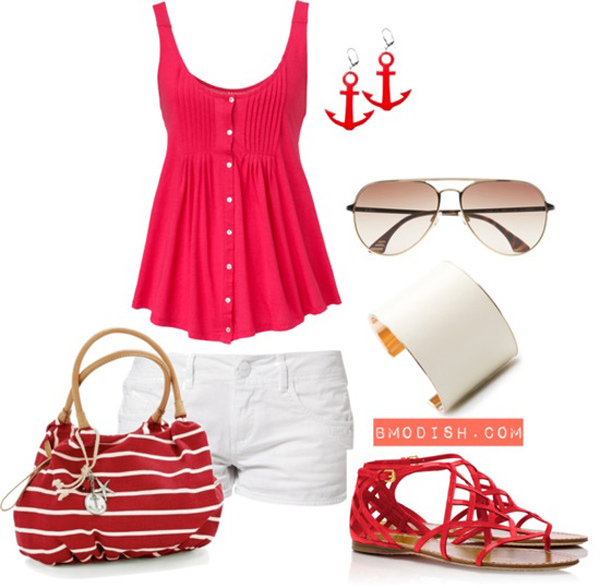 This is basically the verse of the tank and shorts outfit that you already saw. Only this time, it's the tank top that's red and it's the shorts that are white. The anchor earrings and striped purse provide a nautical effect that's perfect for boating.
9. Red-and-white halter dress and red sandals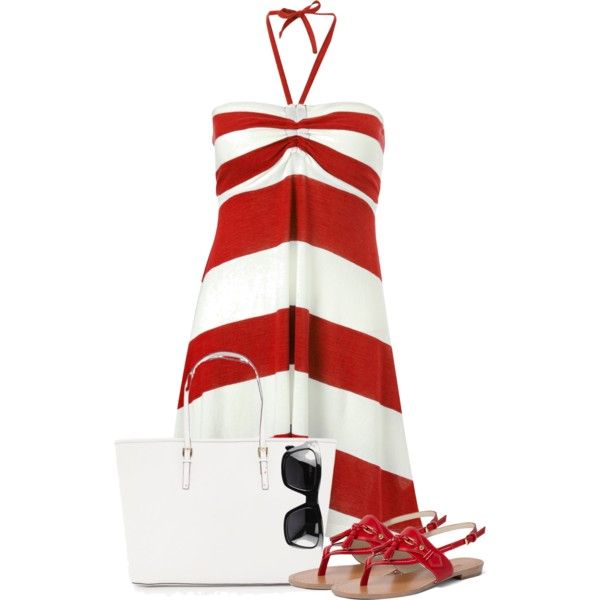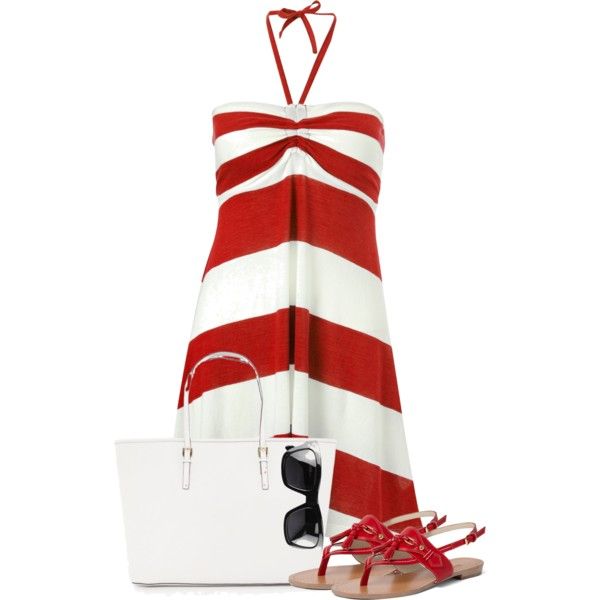 Halter dresses honestly don't need a ton of accessorizing. Just look at this dress to see why we've come to that conclusion. A red-and-white striped (or polka dot or floral one), along with a messy bun is a perfect look for pretty much every summertime occasion.
10. White tank and red asymmetrical maxi skirt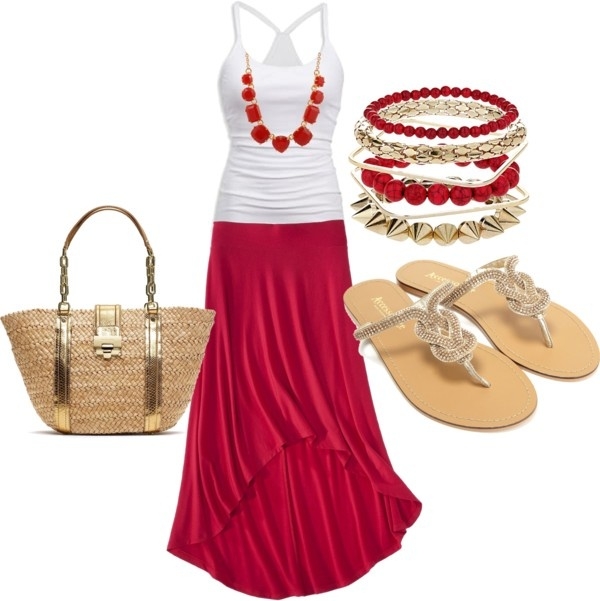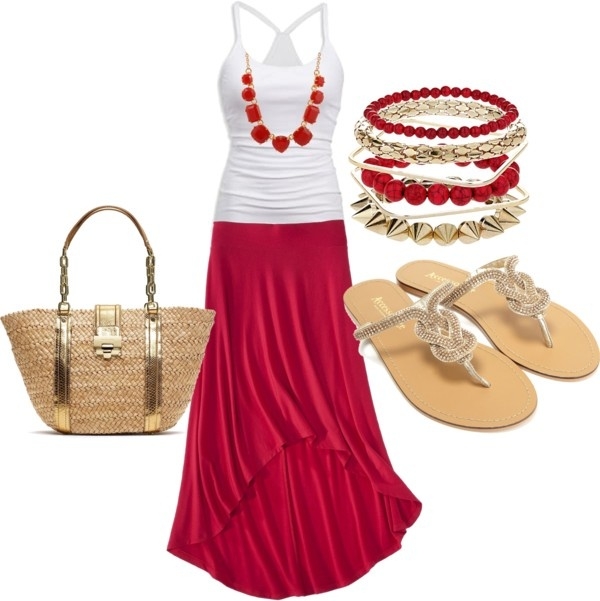 As far as hemlines go, asymmetrical ones are not quite as popular as they were a couple of years ago, but if you like them, we certainly won't blame you for getting a couple. Red is an ideal color for a maxi skirt because you can dress it up or down—for a day at the movies or dancing with your man.
11. Red-and-white plaid shirt with red tank and distressed denim shorts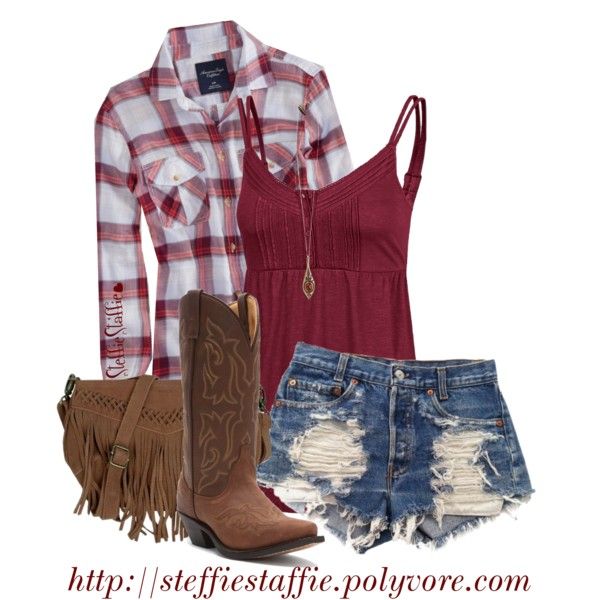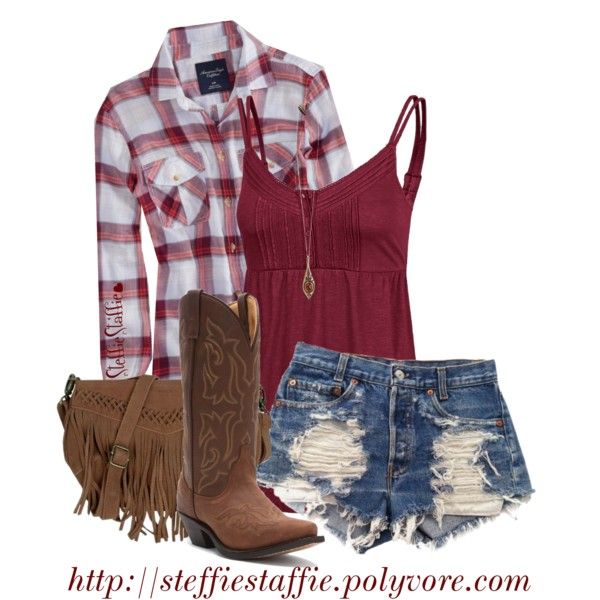 Here's kind of a cowgirl/Boho looks merges. The red-and-white plaid shirt and leather cowboy boots: cowgirl. The distressed shorts, flowing tank and fringe purse: Boho. Definitely the best of both worlds.
12. Red-and-white polka dot halter dress with white clutch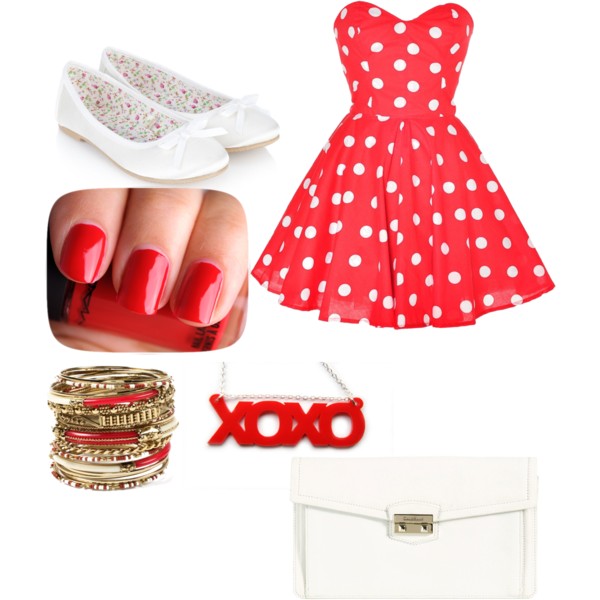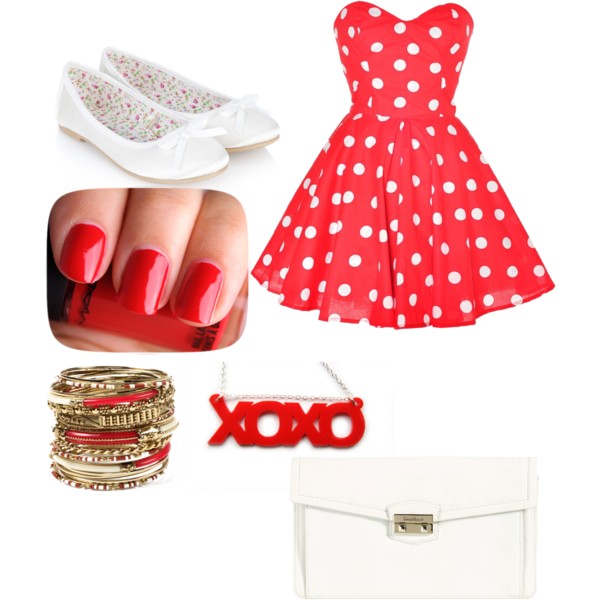 Does your man wanna take you out and he says "It's a surprise"? You'll be the one to flip the script and actually surprise him with a little red-and-white number like this strapless polka dot party dress with a sweetheart neckline. Fashion suggestion: opt for some peep toe pumps rather than flats, though. That will take it from really cute to super sexy.
13. White shirt, distressed jeans and red flats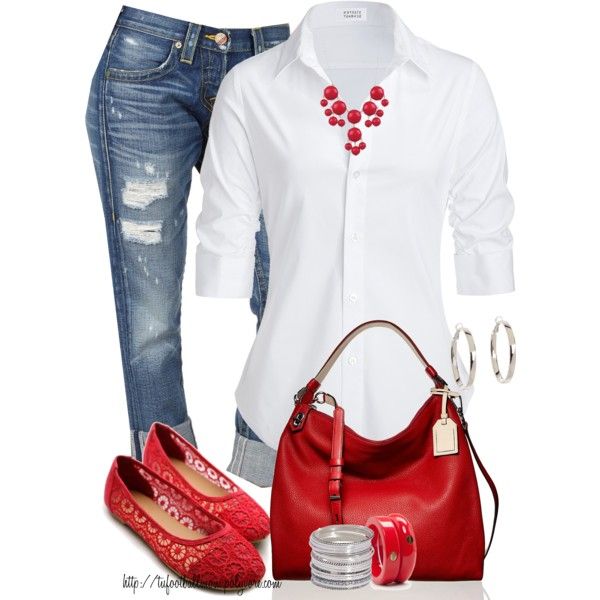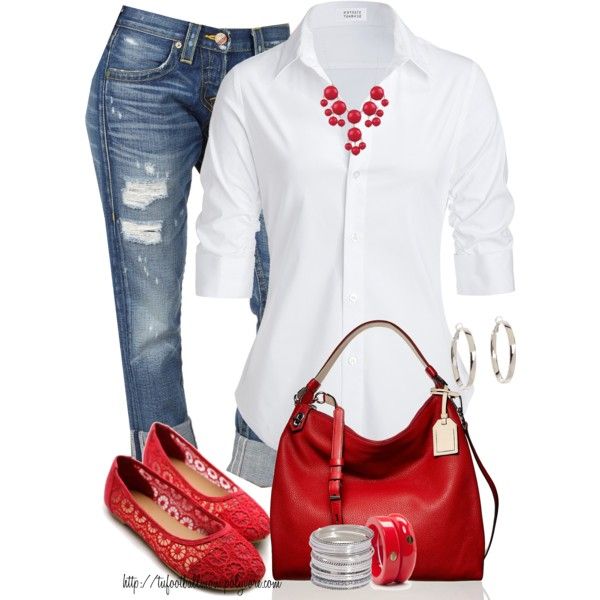 A crisp clean white shirt always makes a woman look sophisticated. Even if she wears it with the most distressed jeans that she has in her entire closet. So, if you have both items in your possession, try pairing them together to see how much you like it.
14. Red jeans, white peplum top and brown oxfords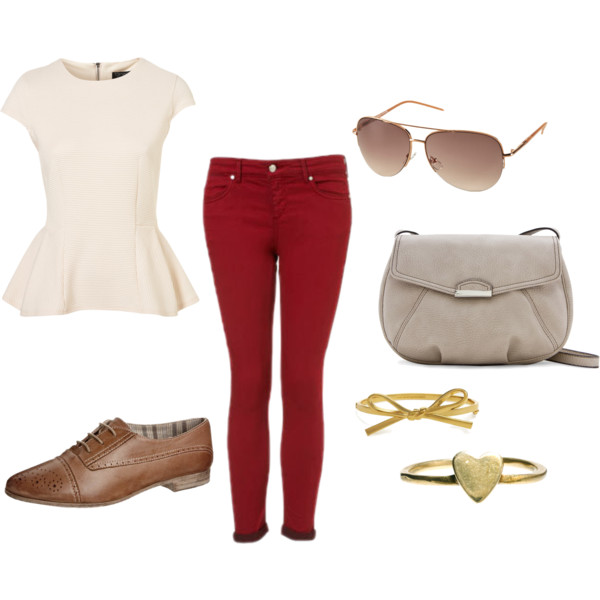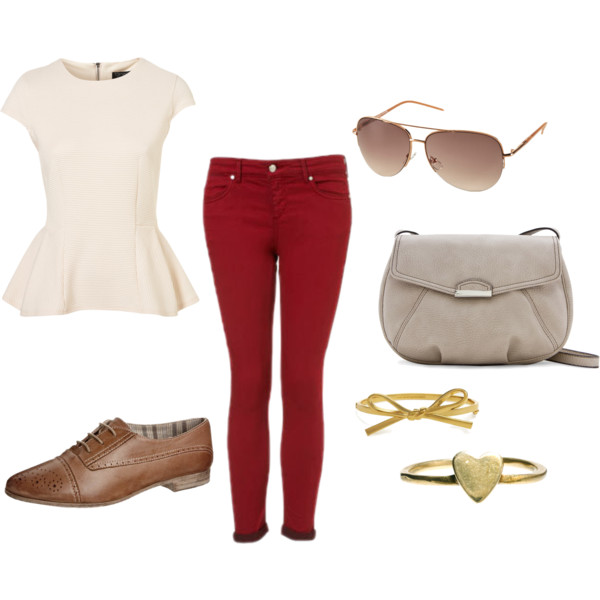 Peplum tops are in right now and such the perfect top if you feel like your waistline is not as small as you would like or if you have more of an athletic build and you'd like to appear as if you have a few more curves. Something that is a welcome surprise to this look are the Oxfords being that many people would probably opt to wear some heels instead.
15. Red tank, white blazer, jeans and brown accessories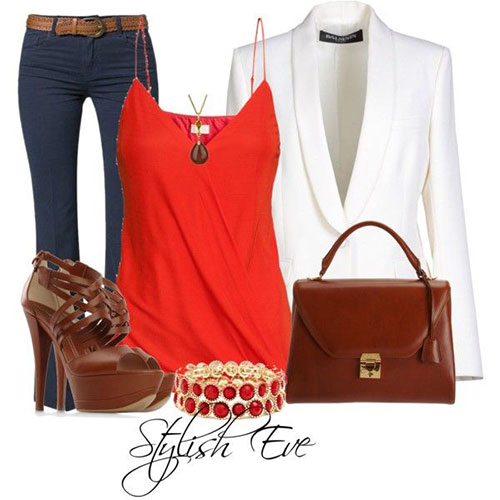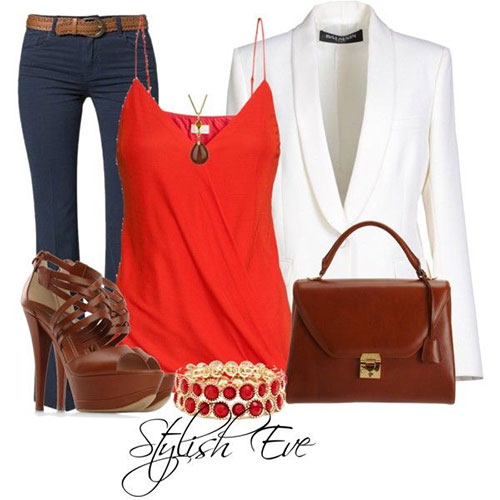 A white blazer and red tank top is a nice look for work. Being that the jeans in this picture are dark and flared, they'll be more than appropriate, even if you don't want to dress casually. Especially if you put on some dark brown heels and a gemstone bangle bracelet.
16. White tank top, red blazer, blue skinny jeans and red sneakers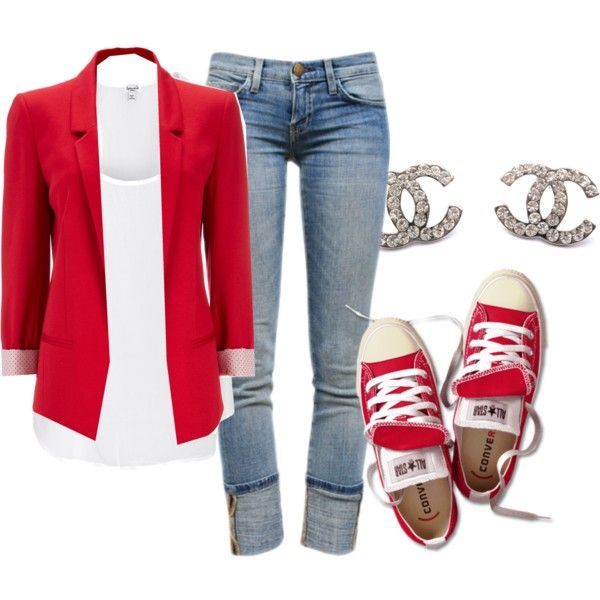 On the casual days at work, here's an outfit to consider. If the jeans are too light, go with darker ones and maybe rather than the red flat-tops (which we think are pretty on-point), put on some red (or white) patent leather flats instead.
17. White graphic T-shirt and red skinny jeans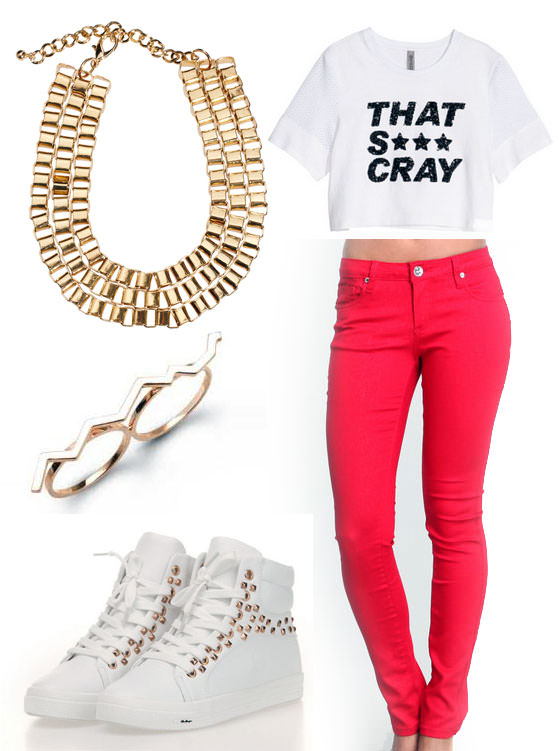 A white graphic tank still qualifies for this feature. And believe us when we say that if you can find some red skinny jeans…you'll have people asking you all day long where you got 'em.
18. White tank, red asymmetrical skirt and white sneaks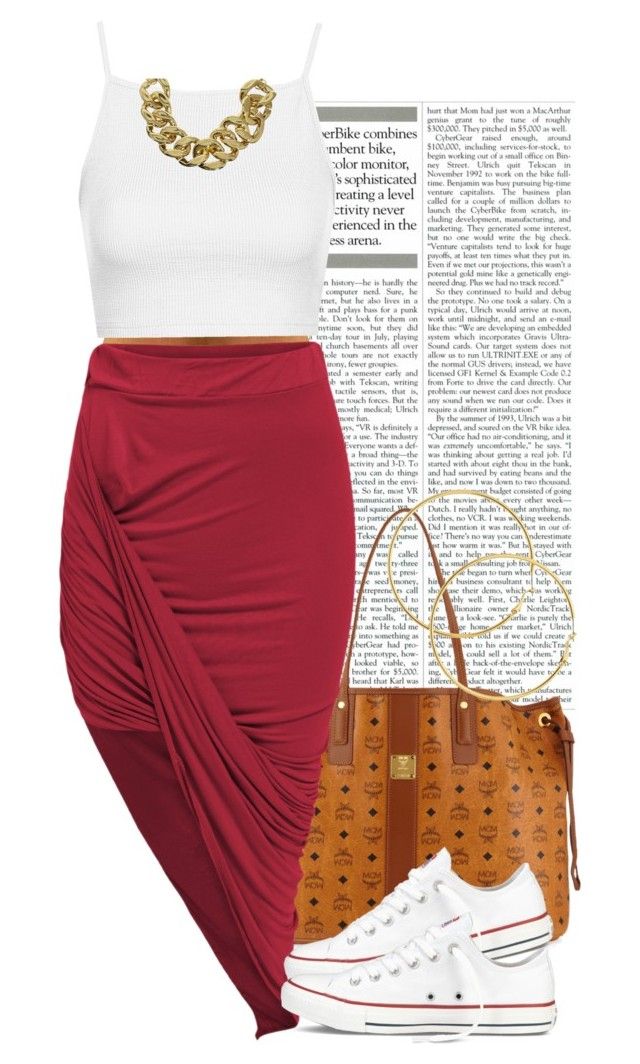 On a hot summer day when you really want to wear as little as possible while not being over-the-top, this outfit fits the bill. It's a super casual look, but that has nothing to do with how sexy it is as well. A big part of it is due to the make of the skirt. If you have a hard time finding one with an asymmetrical hemline, you can always pull up one side of one of your fitted maxi skirts and sew it to the waistline or pin it.
19. Off-white tank, red and white print skirt and red flats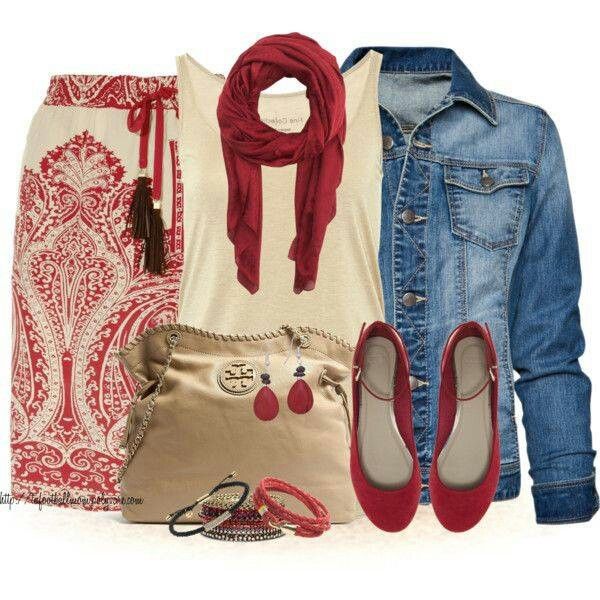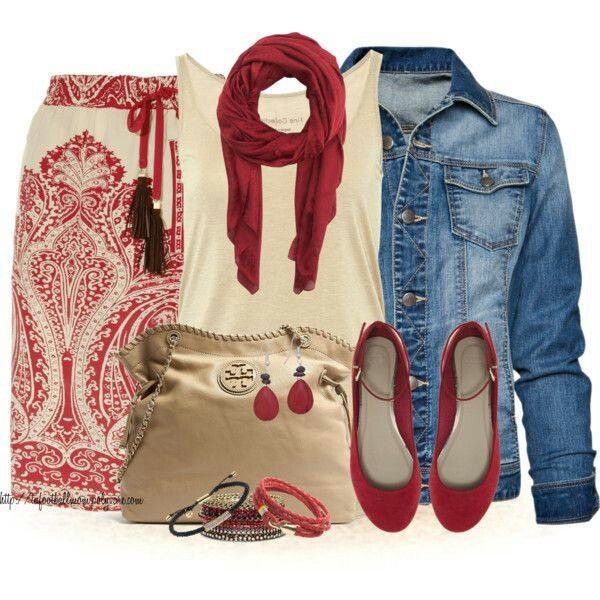 "Off-white" still qualifies for the trend. We really like the print of the skirt. It's one that you could also wear in the fall if you want. And one thing about off-white is that it's a neutral that conveys quite a bit of warmth, which in turn makes the red that you may have on appear so much richer.
20. Red, white and black party dress with red shoes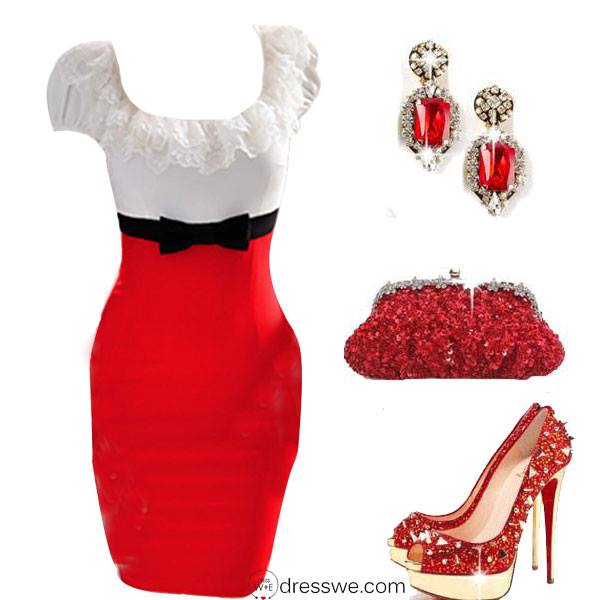 This has such a throwback look due to the style yet is still pretty modern due to the shape of the dress. And then a welcome surprise? The gold studs on the red Stilettos and how they are matched up with the ruffles up top.
21. White lace dress with red accessories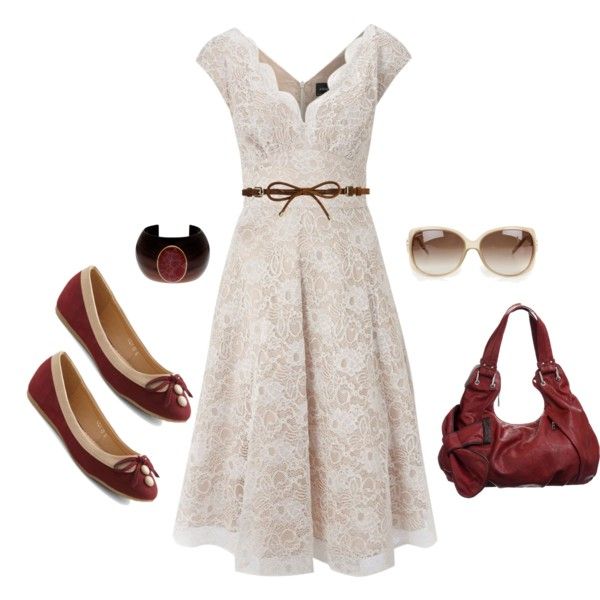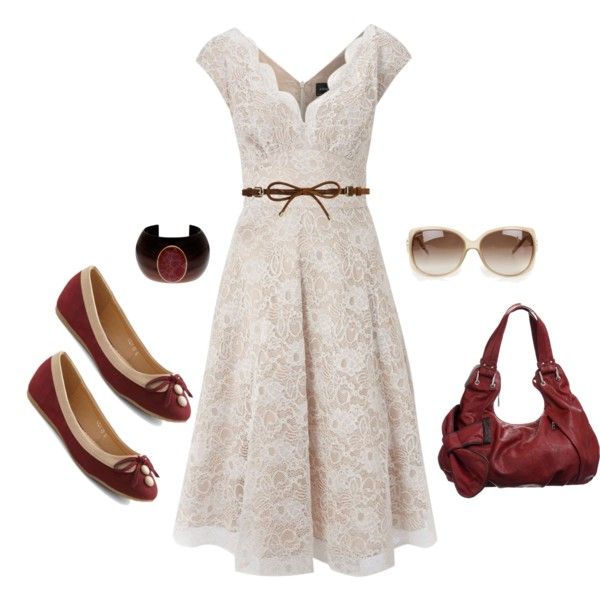 This is the kind of look where the shoes can basically change everything. A white lace dress with red-and-white flats is sweet. Add some peep-toe pumps, though, and it's going to be a bit sexier. Based on the look that you're trying to convey, it really is all up to you.