Aside from June, the most popular month for weddings is in October. That makes perfect sense being that the weather is cooler (but usually still comfortable enough for a daytime outdoor wedding). Also, the leaves are turning stunning colors which makes for awesome wedding pictures.
If you're recently engaged, you're thinking about having a fall wedding and you're wondering what some of the popular colors are for autumn nuptials, we have provided you with two ways to use several different popular hues. No matter which one you decide to go with, we're sure that your day will look so sophisticated and stunning by adding them.
1. Champagne wedding dress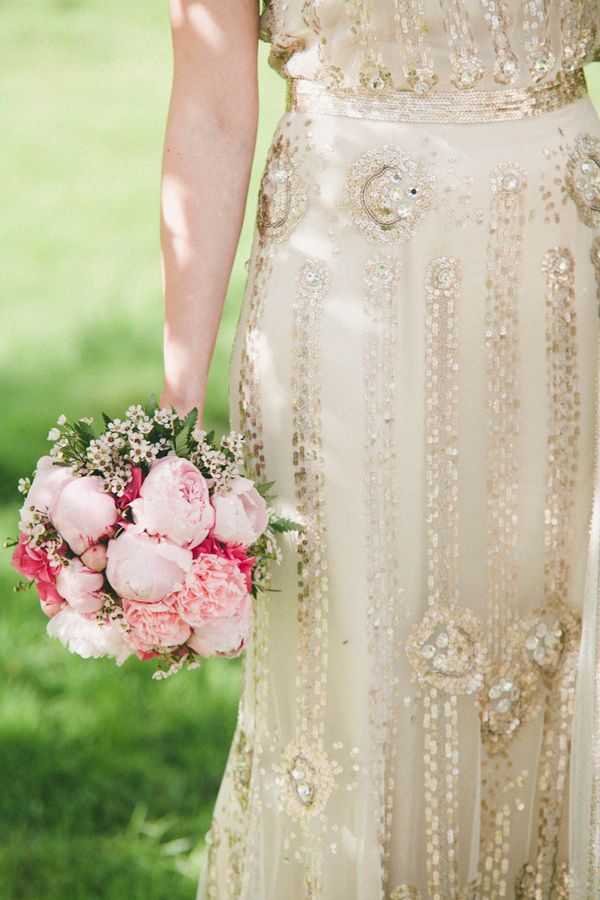 If you'd prefer not to wear white but you don't want to wear a color that's too extreme, how about champagne? It's so soft and romantic and is a perfect complete to the outdoor fall surroundings.
2. Pink chair decorations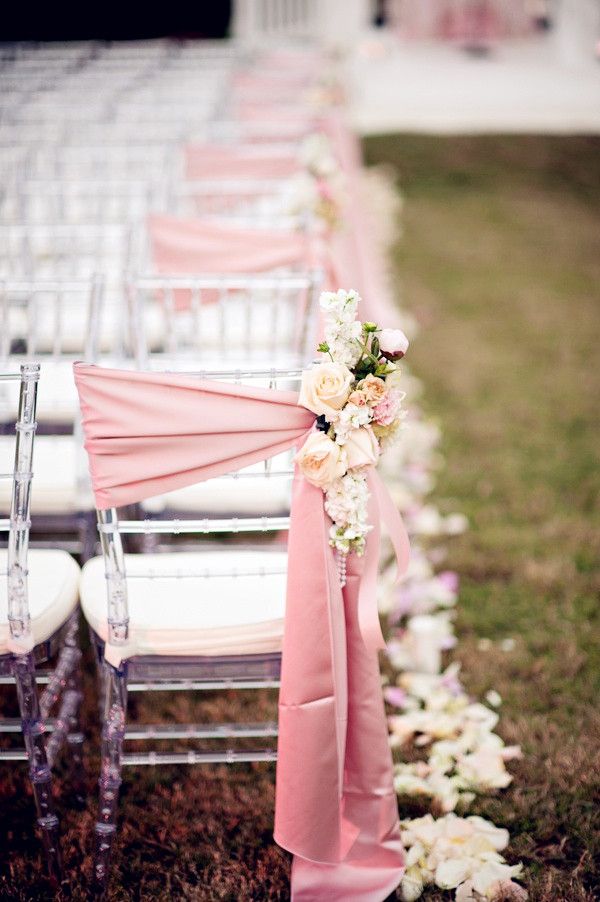 Pink is so feminine that of course it makes sense that it would be a fall wedding color trend. As a satin ribbon the back of chairs is just one of the million ways that you can incorporate it.
3. Burgundy bridesmaid dresses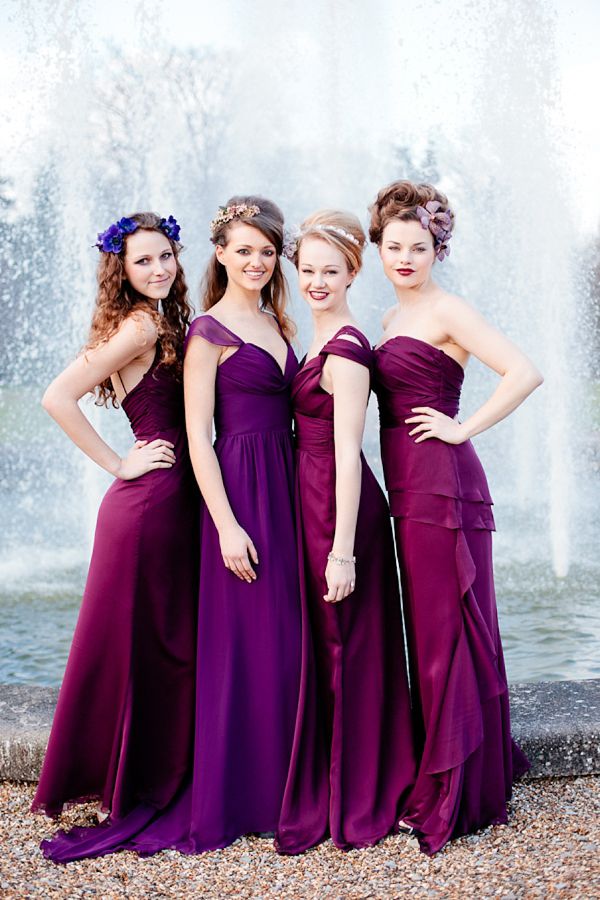 A deep hue of sophistication is burgundy. And as you can see, it goes so well as a bridesmaid dress.
4. Navy flower girl dress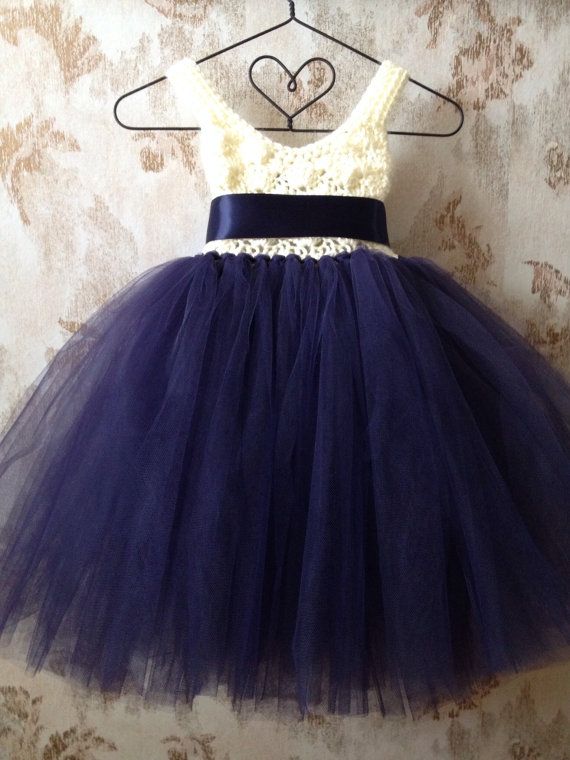 If you never thought about using navy as a color, we're willing to bet that you're thinking long and hard about it now, thanks to this darling flower girl dress.
5. Violet tree hangings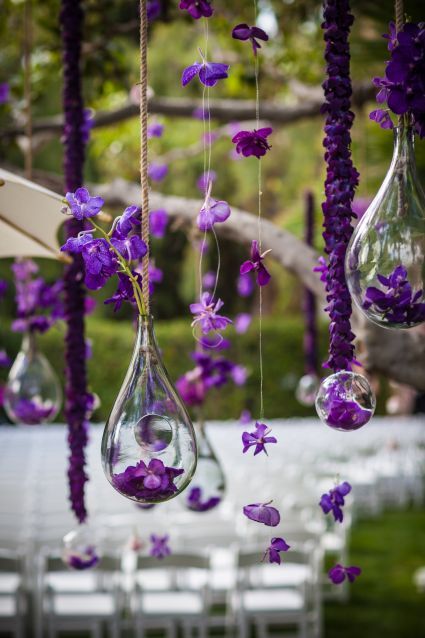 Violet is another shade that's getting quite a bit of attention. We find these tree hangings a perfect whimsical addition to a fall outdoor wedding.
6. Chocolate wedding cake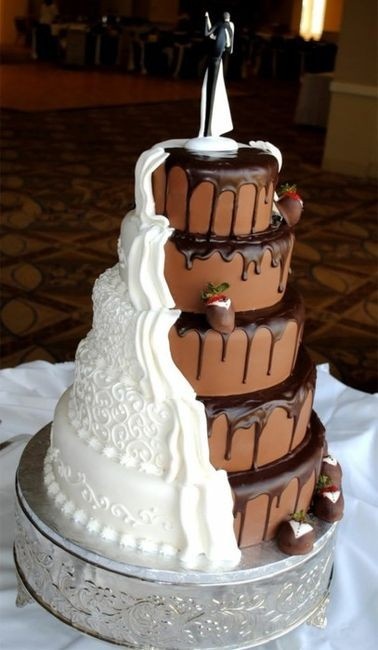 Chocolate is a big color too. And how creative is this? A wedding and grooms cake incorporated into one visual and tasty delight.
7. Tangerine groomsmen tie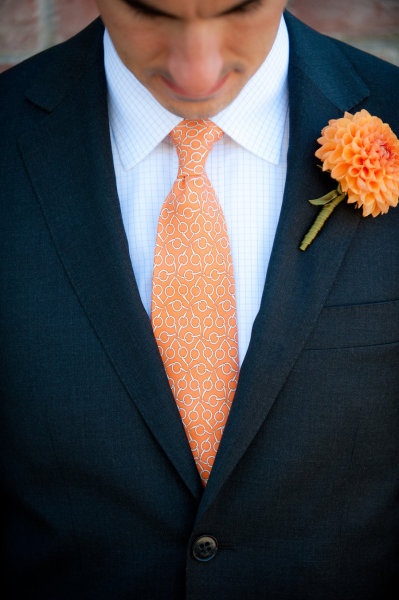 Sometimes it can be challenging to choose wedding colors because you want to find what both the bridesmaids and groomsmen will be comfortable wearing. Tangerine is nice because it's warm, inviting and fitting for both genders.
8. Violet place settings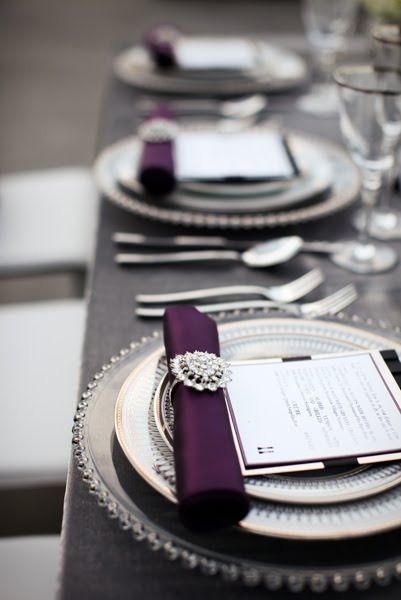 Look at how royal that violet is with that silver and grey. If you want to have a formal wedding, violet is one of the best colors that you can choose.
9. Slate wedding cake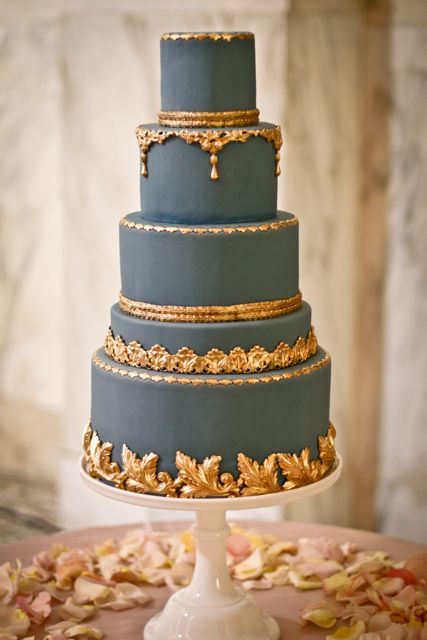 Speaking of looking royal and regal, another color that you might want to use, even if it's just as an accent color is slate grey. As you can see, it goes really well with gold.
10. Orchid boutonnieres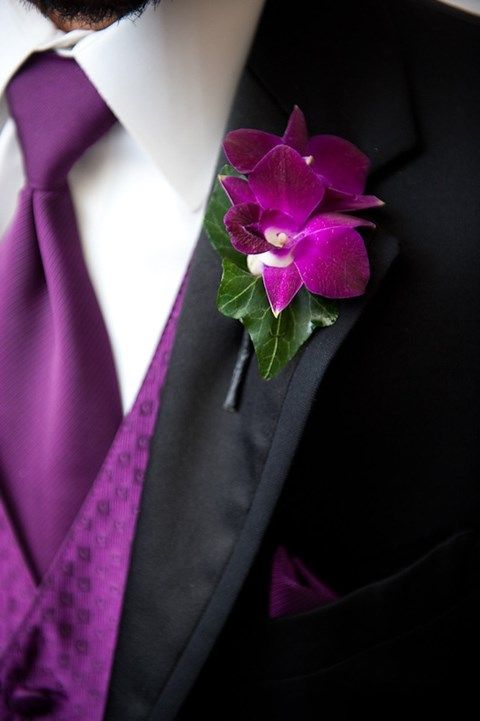 Orchid is such a rich color. It's another shade that works really well for both men and women.
11. Classic red decor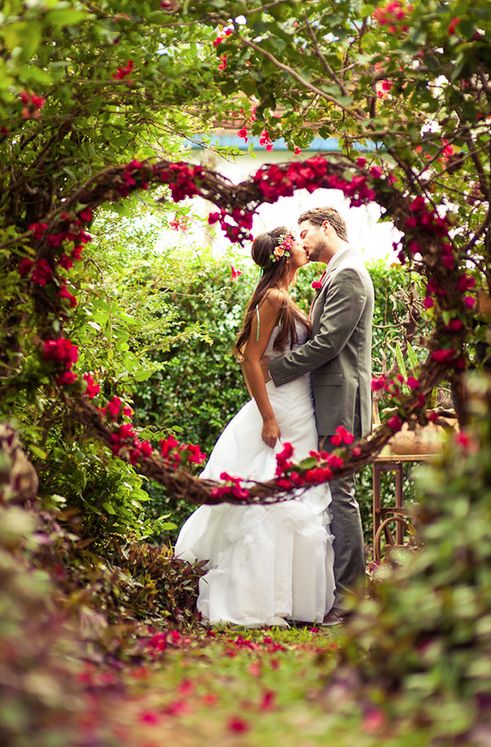 Classic red is big right now. So, if you've always imagined being surrounded with a room full of red roses, this fall would be the season to use them!
12. Burgundy wedding dress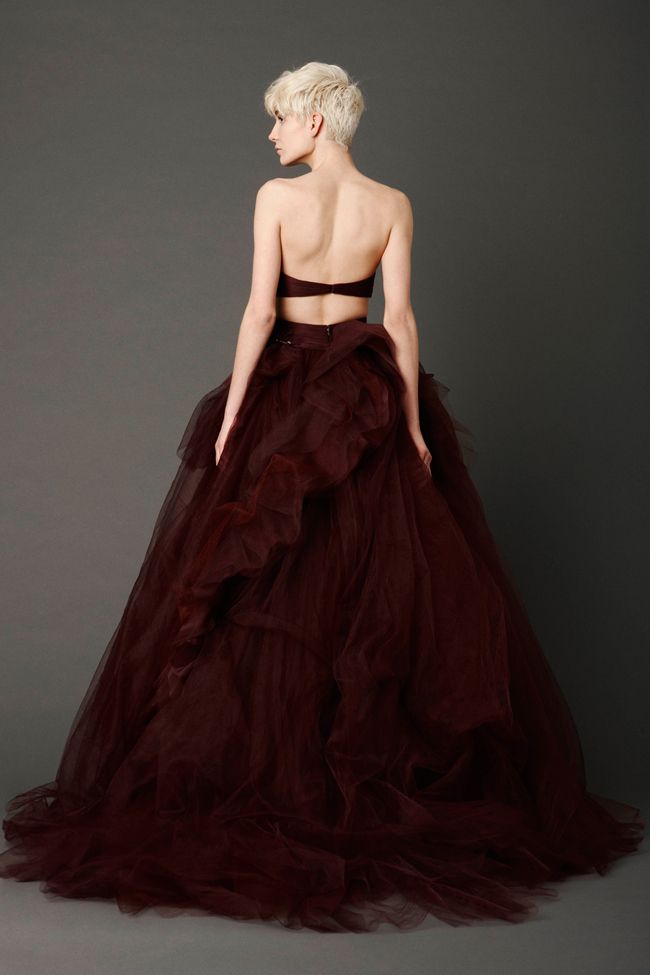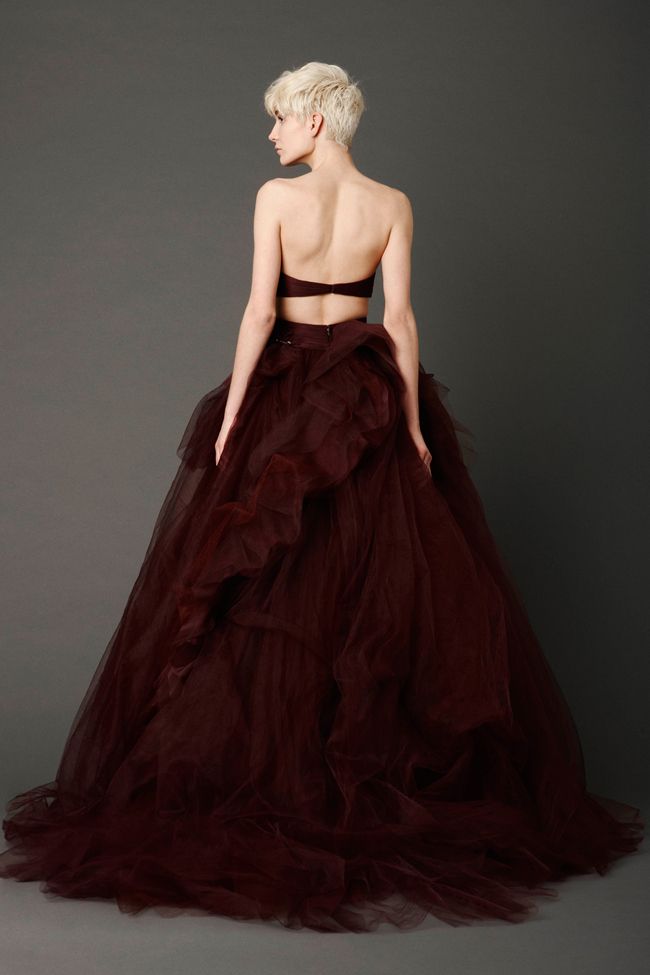 If nothing about you is traditional, then how about bucking the system and going with a deep color for your wedding dress like burgundy? It's warm and invigorating—two things that we're sure you'll be feeling as you walk down the aisle.
13. Coral floral walkways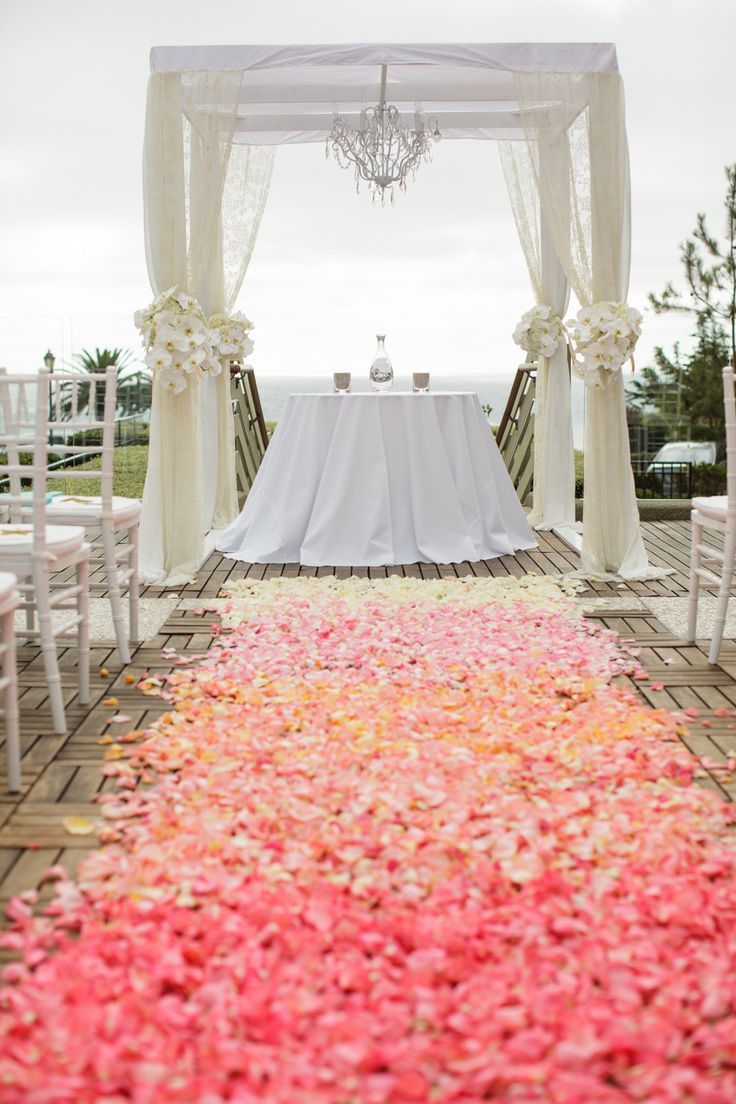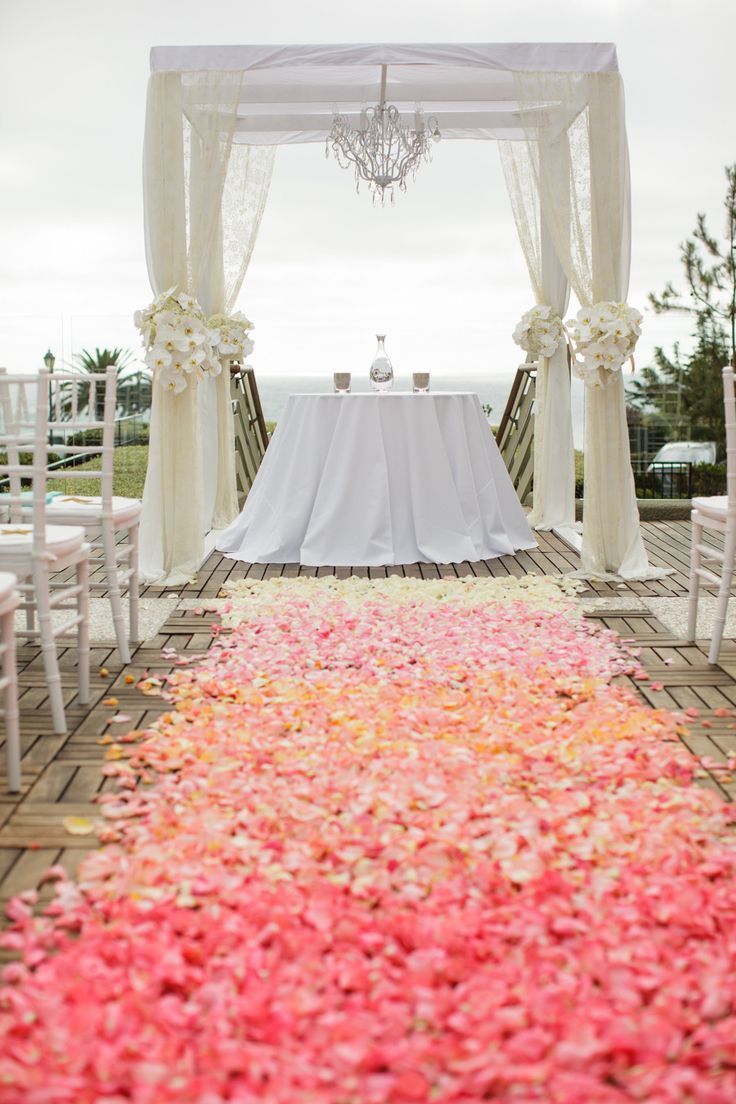 If you can't take your eyes off of this picture, then you already know what coral is such a wonderful color for fall weddings. It definitely draws you into everything that it's around.
14. Navy groomsmen attire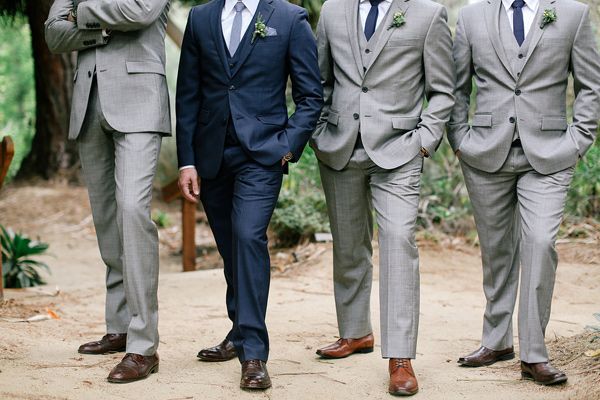 Don't want your groomsmen to wear black? How about navy—or accents of navy. Still just as fashionable with a twist of distinction.
15. Chocolate bridal bouquet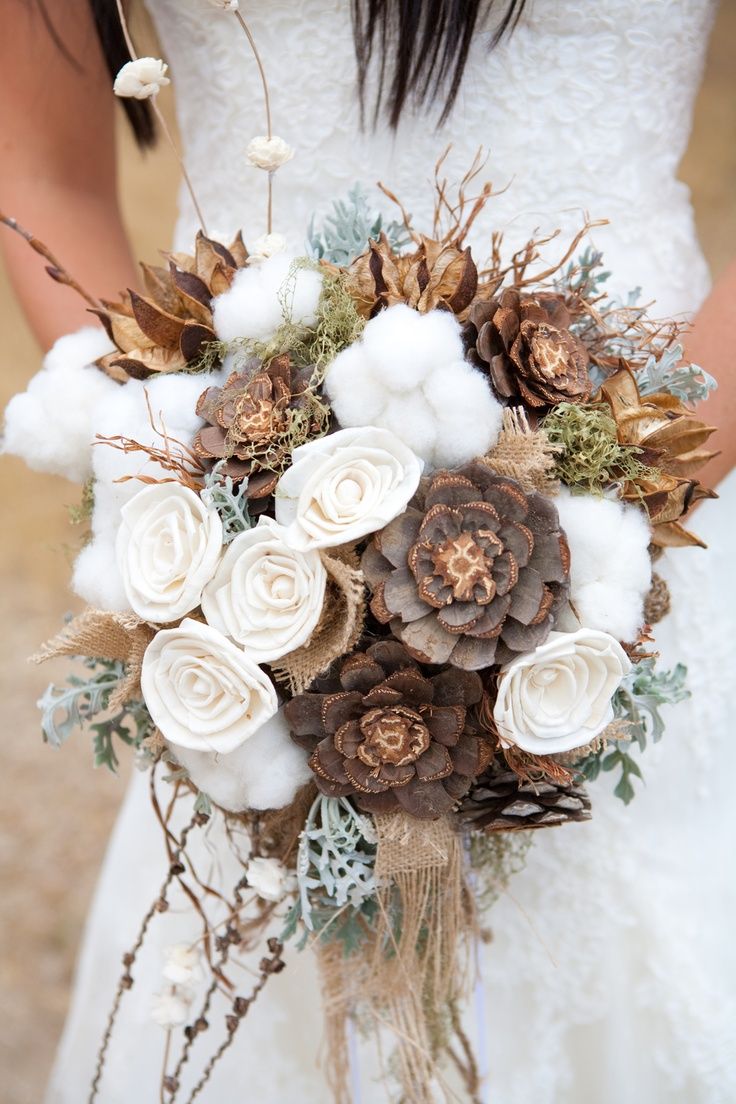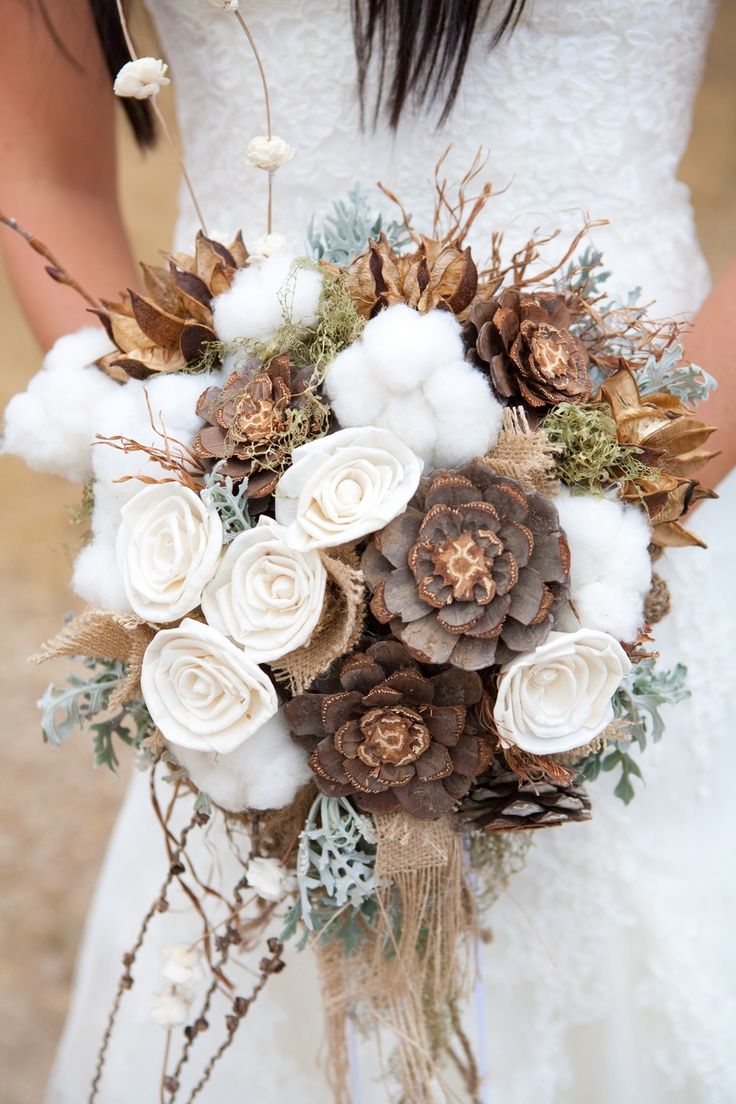 This is a great bridal bouquet whether for a fall or winter wedding. We love how the pine cones work so well with the cotton and white roses. It's exquisite.
16. Classic red place cards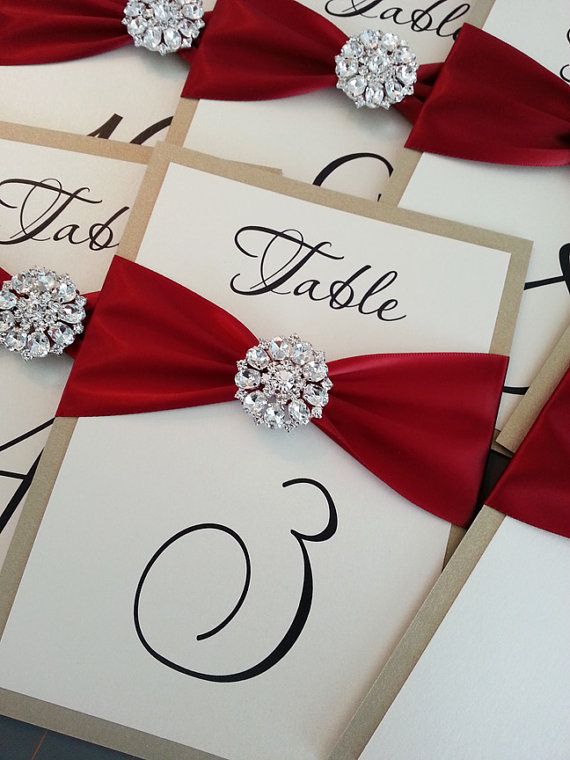 This is just one more way to add classic red to your wedding. Everyone will notice place cards like these.
17. Tangerine table settings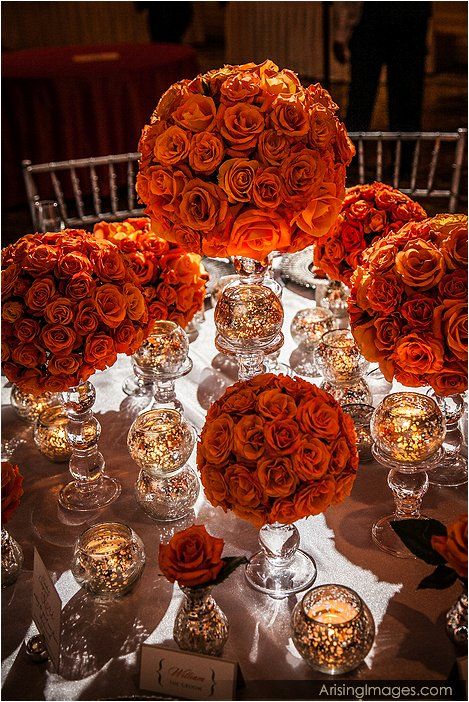 What is visually appealing about this particular place setting  is that the tangerine flowers look so much like autumn leaves don't you think?
18. Orchid bridal shoes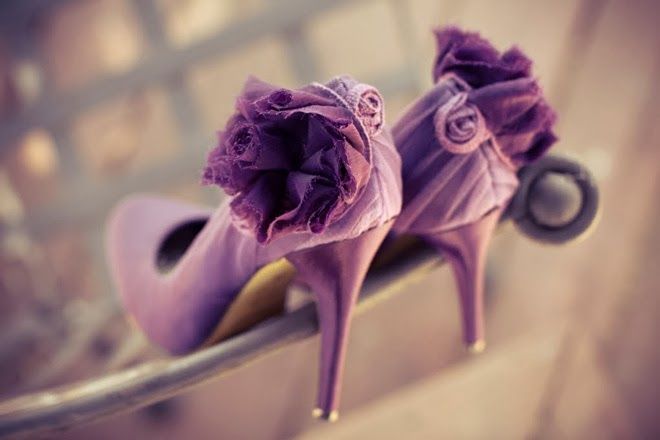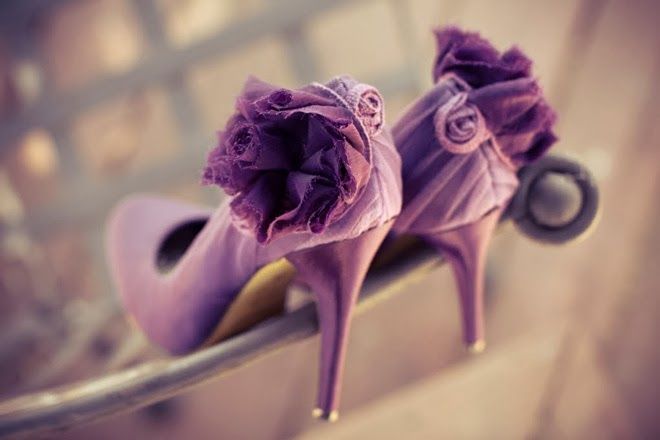 It's pretty common for brides to nix the white bridal shoes and go with a pair that have a pop of color. You'll definitely stand out if that shade happens to be orchid.
19. Champagne jewelry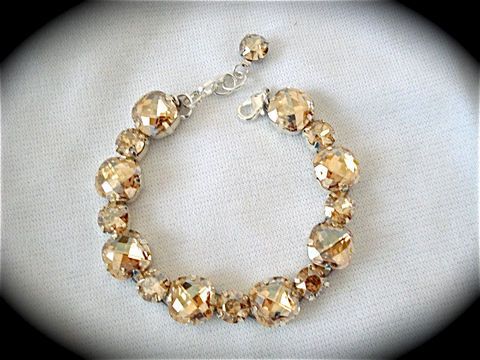 Here's another way to wear champagne. In the form of a bracelet, it will provide the perfect touch.
20. Coral boutonniere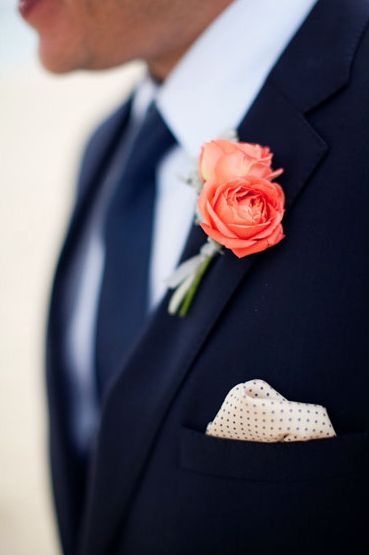 Say that you do decide to go with coral. If your fiance' doesn't want to wear a lot of it, you can always come to a compromise by having him and his groomsmen wear a color boutonniere like this one.
21. Pink wedding cupcakes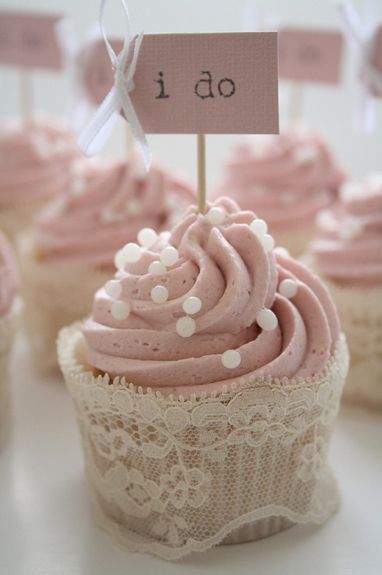 Don't want to go the wedding cake route? You can always put out a display of pink wedding cupcakes like these. Cupcakes are always a really nice alternative.
22. Slate bridesmaid dresses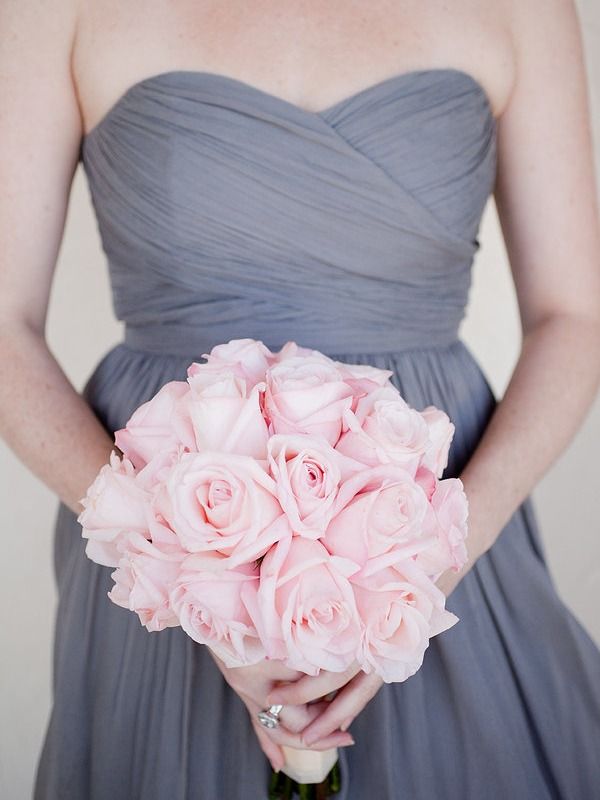 And here's another way to wear slate. If your bridesmaids' dresses are this color, you can always go with another popular fall shade like pink, tangerine or orchid to complete your fall color wedding look.