Have you ever sat and thought to yourself "I wish I could have the best of both worlds: a short and longer haircut all in one"? If so, that doesn't have to be a fantasy!
The reality is that one of the best ways to get both looks at once is to go with a stacked bob. And although you might initially think that there's basically only one way to get that kind of style, as you'll see from these cute looks, there are all sorts of ways to make it work for you.
Stacked platinum bob with pink front streaks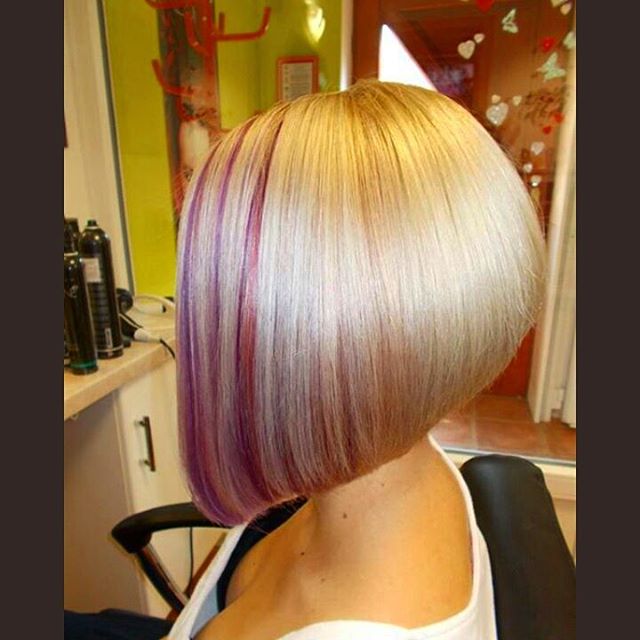 Smooth. Sleek. Graceful. Striking. Simply magnificent. This is all of the words that first come to mind when we look at this stacked bob. A part of it is because of how slick the cut is. Another is because of how seamlessly the pink streaks blend in with the platinum coloring.
Stacked bob with short bangs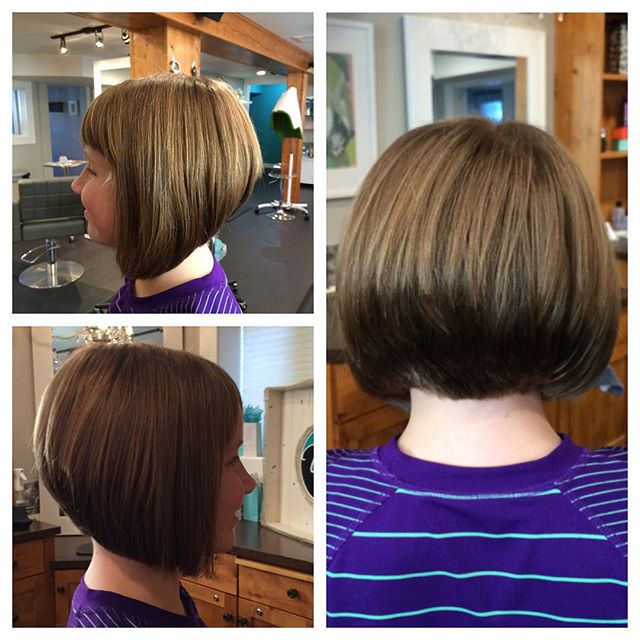 Although a child is featured in this cut, it's the kind of hairstyle that works for women of all ages. As a girl, the bangs make the stacked bob age-appropriate. As a woman, the bangs helps to make you look much more youthful.
Stacked bob for thick hair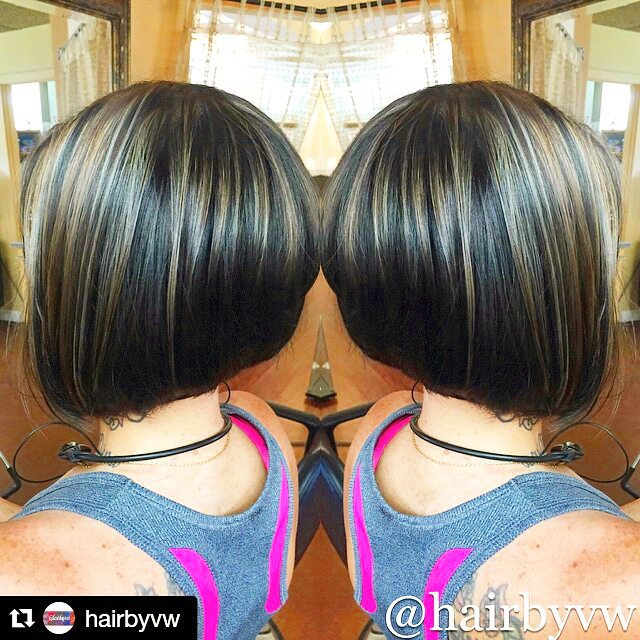 Do you consider your hair to be super thick? If so, this is basically how a stacked bob would look if you got one. We recommend to get your hair colored similar to this. It can help to keep your stacked by from looking like a wig; it will help it to look much more natural.
Purple and copper stacked bob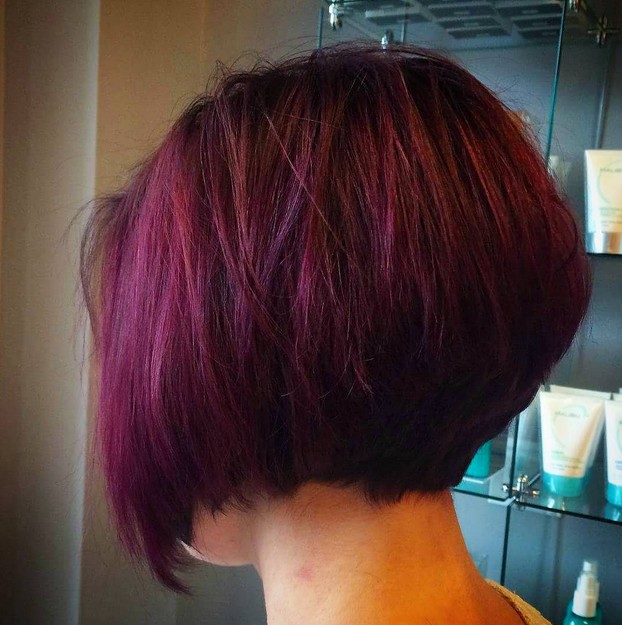 Hair color ideas for short stacked bob: If you're someone who lives in the corporate world but you'd prefer not to look like it, here's a stacked bob to consider. The cut is more than appropriate but the color is one way to merge your conservative side to your wilder flair. Basically, the base of her hair is red and the highlights are violet. A very alluring blend.
Very wavy stacked bob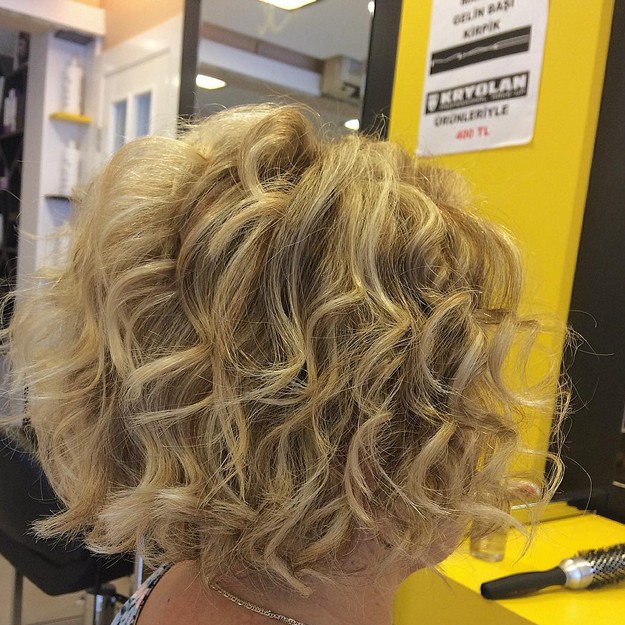 Short wavy/curly bob hairstyle for women: Is your hair naturally wavy (or curly)? Congrats! That means that if you decide to go with a stacked bob, your hair is going to have an unbelievable amount of volume which will easily make you the envy of all of your friends! Just make sure to keep regular appointments with your stylist. That's going to be the best way to tame your fly aways.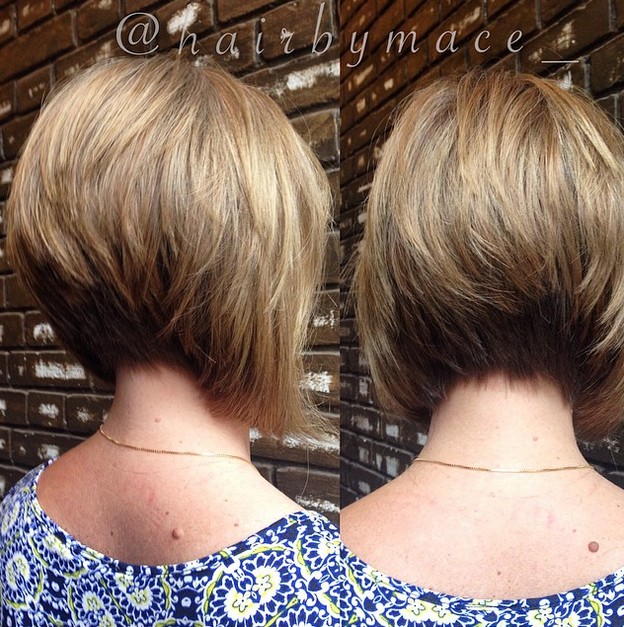 One of the reasons why a stacked bob works so well when it comes to thin hair is it can provide the illusion that your hair is so much thicker than it actually might be. Especially if you get a color job that incorporates several different hues. Like this cut.
Stacked bob with short bangs and teal chunks of color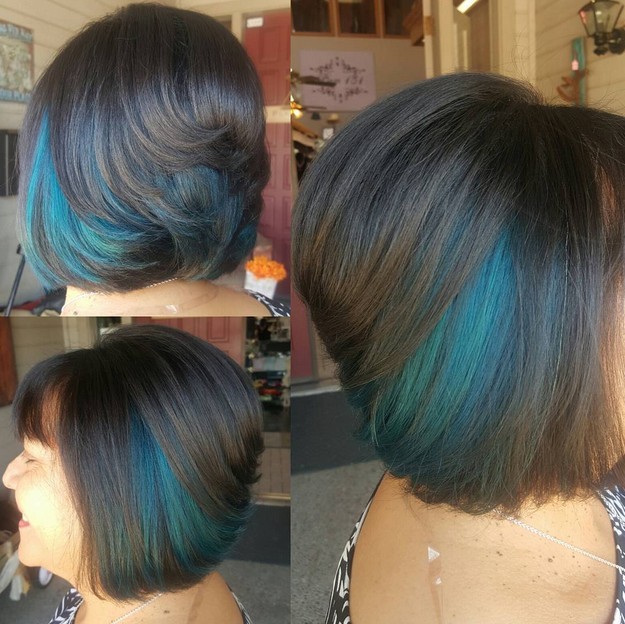 It's pretty hard to not fall in love with this stacked bob at first sight. First, the long layers of the stacked bob flow really loosely. The chunks of the teal color are a delightful surprise. And then there's the bangs. Bangs are in, so why not add them to your stacked bob?
Stacked bob with very long layers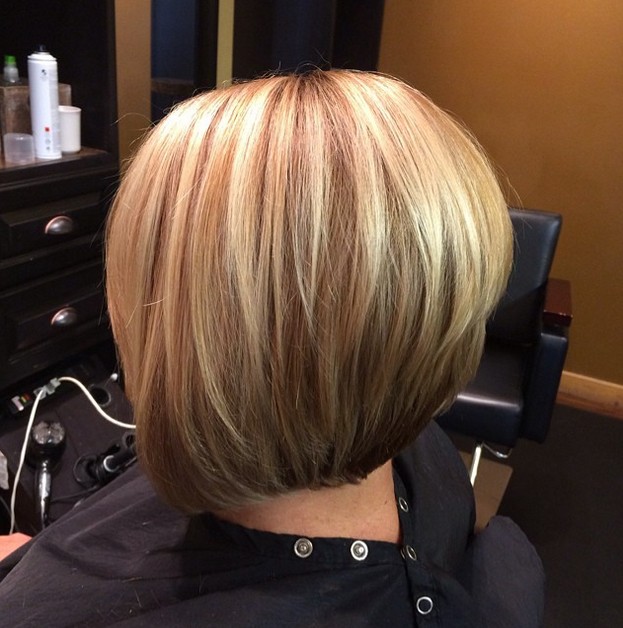 Simple easy classy bob hairstyle for short hair: It may not seem like this is a stacked bob. But look closely. Do you see how it has a bit of a long A-line down towards the nape of the neck? If you'd like to eventually go to a shorter bob, here's a subtle way to begin making the transition. (It's also a nice way to remove in reverse from a bob to a lob.)
Longer stacked bob with natural highlights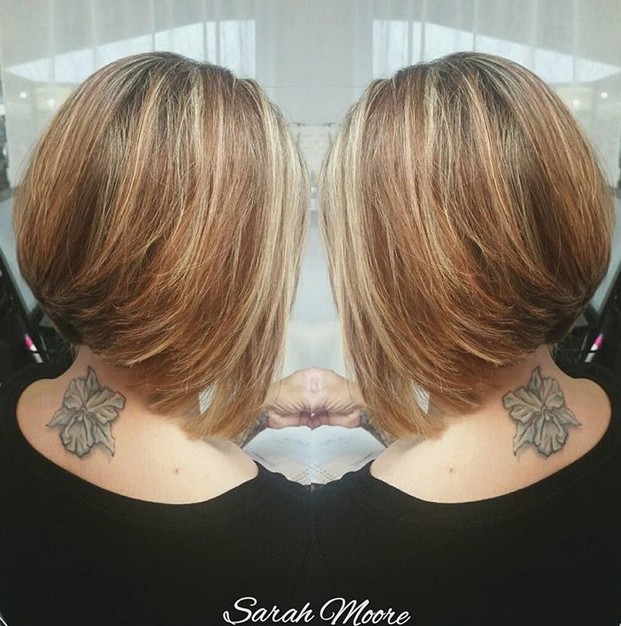 Some women hesitate to go with a hairstyle that has any kind of layering in the back because they think that 1) it will hinder their styling options and 2) it will be harder to grow up. Here is an example of how you can get a bit of a stacked bob and also still pull your hair back into a short ponytail. Plus, when you are ready for a longer look, it will be a lot easier to make the transition.
Platinum stacked bob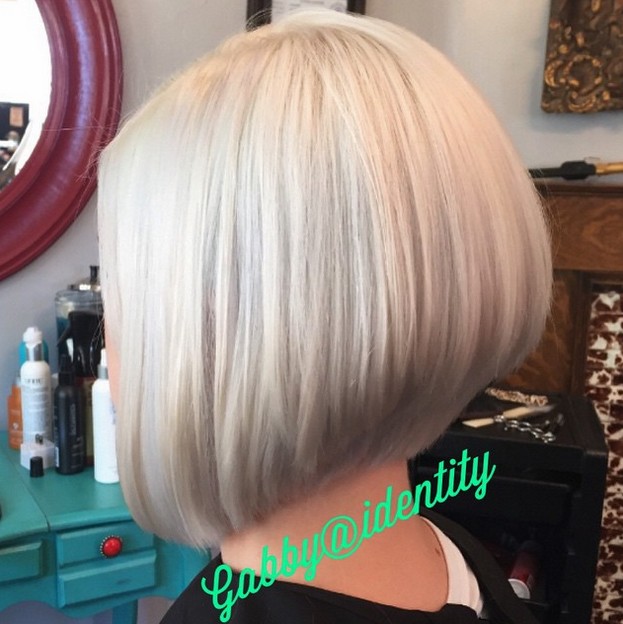 This is what a stacked bob looks like when it has a platinum color to it. Platinum is pretty big right now, so if you've been thinking about this look, here's one reason to not shy away from it. We also like the middle part. A way to keep hair off of your face if you don't want to get any bangs.
Stacked bob with tapered neckline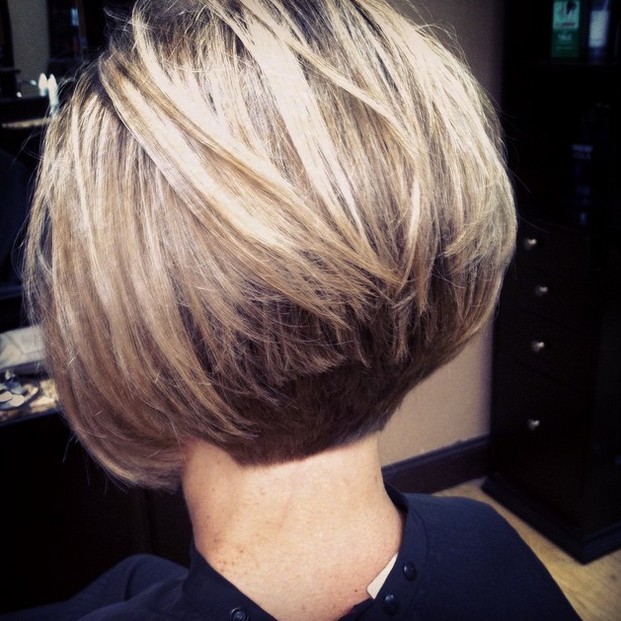 One way to make your stacked bob look even high is to taper the neckline. Just keep in mind that this is basically like having a short hairstyle towards the nape of your neck. It won't be easy to pull your hair back but in exchange, you'll be able to get up and go without quite as much hassle in the morning!
Red stacked bob with really loose waves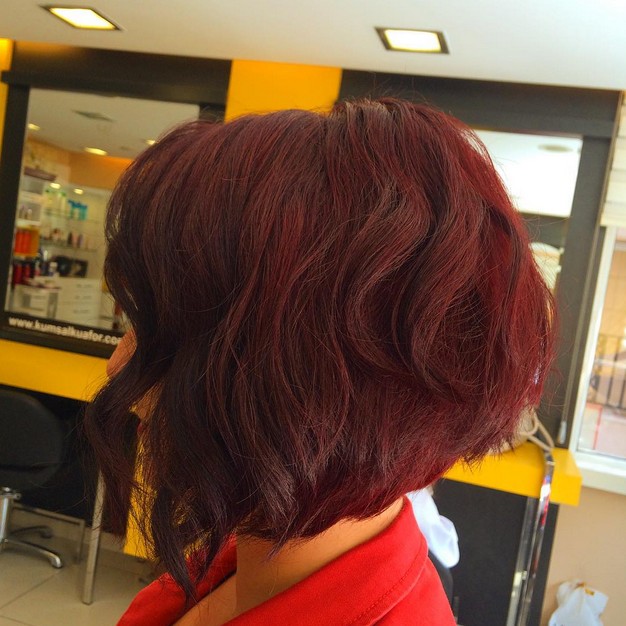 Did you know that air-dried hair is really popular right now? There are so many reasons why that's good news. One of them is because that's one way to have really healthy hair being that you'll be using no heat. Another reason is because if you have a slight wave pattern to your hair, you'll be able to easily achieve this look! (Don't forget the red color. It adds to the "WOW!" factor.)
Stacked bob with curls, side-swept bangs and long sides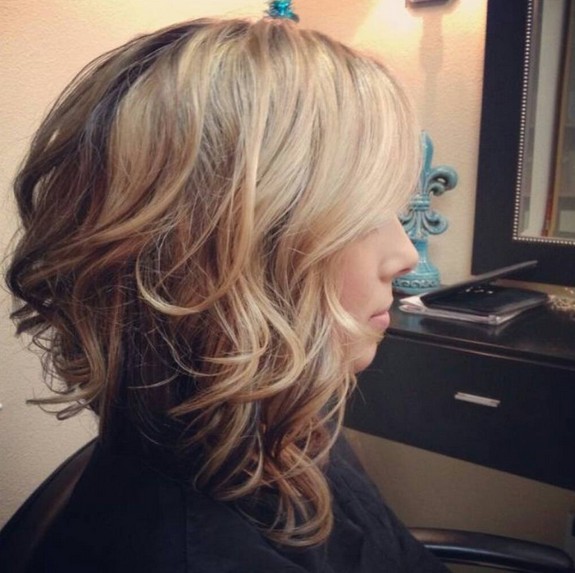 Messy bob haircuts: This is a stacked bob that's combined with a lob. We say that because of the really long sides which, from the front, looks like a lob. This style will basically work with straight or curly hair. Although we personally like how the curls cascade down the front of her face. Make sure to get some longer side-swept bangs too.
Black high-stacked A-line bob (with middle part)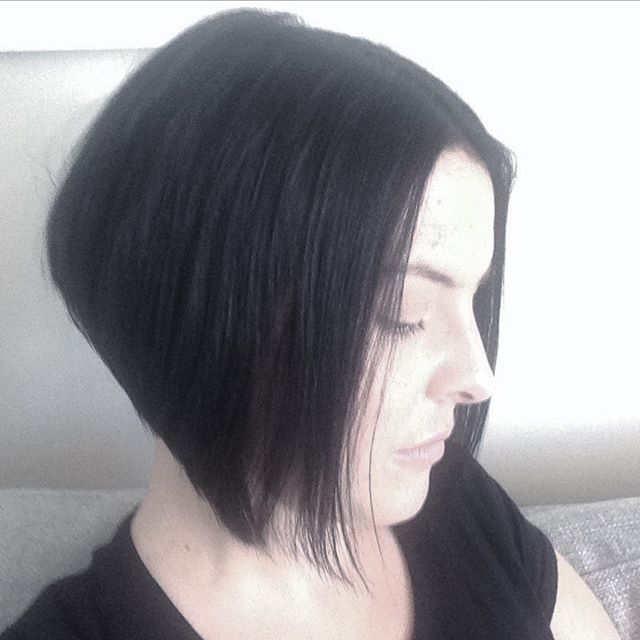 Do you like black hair? Would you ever consider wearing it straight and with a stacked bob. The main features of this particular look is the fact that it's a really high A-line bob in the back. Plus, the deep middle part makes it even more eye-catching. This is a great look for thick or thin hair.
Stacked bob without bangs and with two-tone color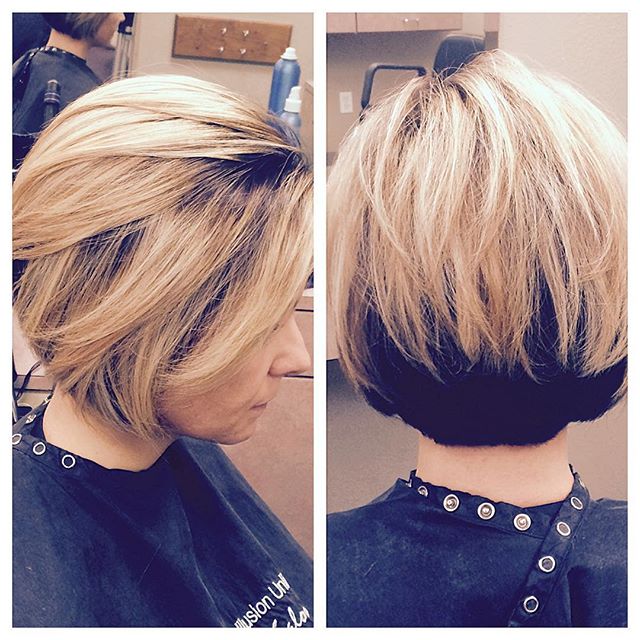 You already saw a cut that's similar to this, but this angle shows how it will look if you decide to not have bangs. Also keep in mind that while this is blonde and black, you can go with a variety of options. Black and red, brown and caramel, blue and green—there are so many ways to go!
Long stacked bob with lots of blonde highlights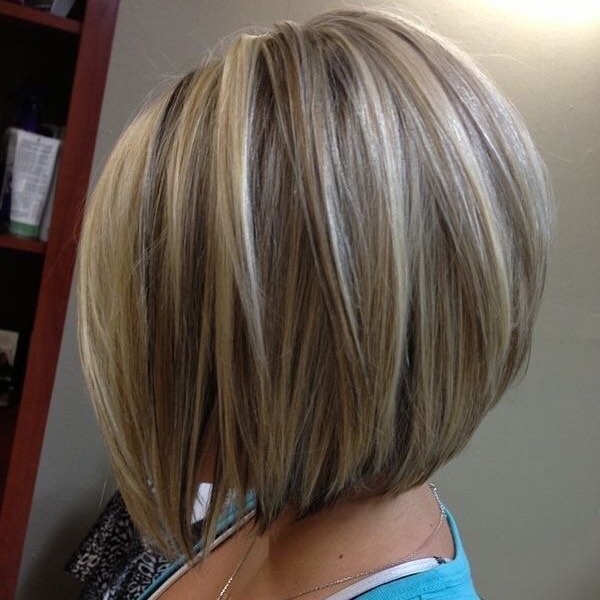 This is a nice and conservative longer stacked bob with tons of blonde highlights all throughout it. What makes it a more subtle stacked bob is all of the long layers that you see. It would be a great style with bangs or without.
Blonde and brown stacked bob with clipper cut neckline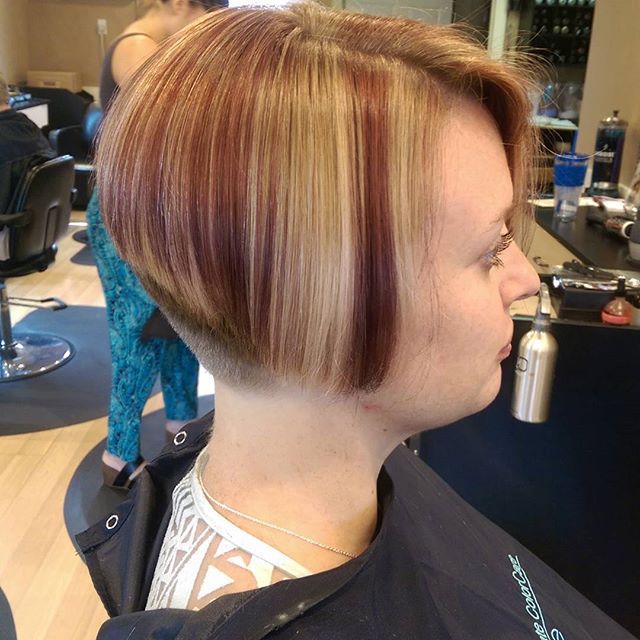 Here's an example of what a brown and blonde combo would look like. Pay close attention to the stacked bob in the back. Around the last 3″, the hair is tapered very closely with the help of a set of clippers. You will need to see your stylist every couple weeks in order to maintain this look.
Stacked bob with long "tips"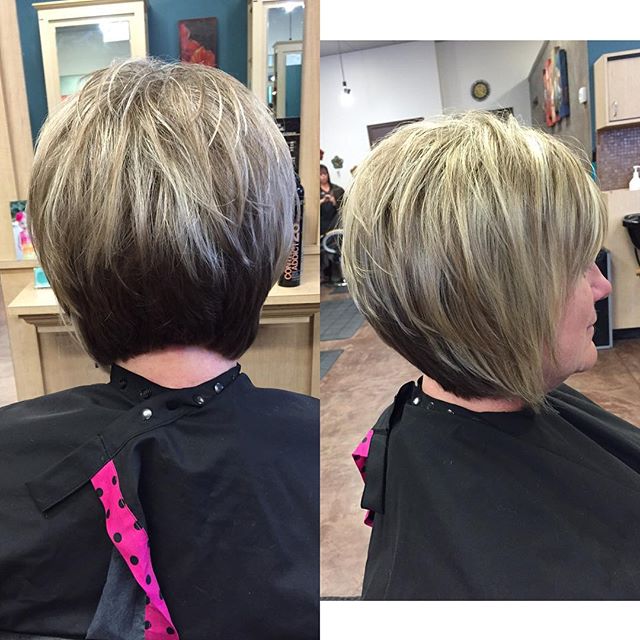 This stacked bob is not only stacked in the back, but on the sides as well. All the way down to the "tips" that are about 2″ longer than the rest of the hair on the side of her face. The top of her hair is a bit heavier than some of the other dos. Talk with your stylist if this is something they would advise you doing or not.
Choppy stacked bob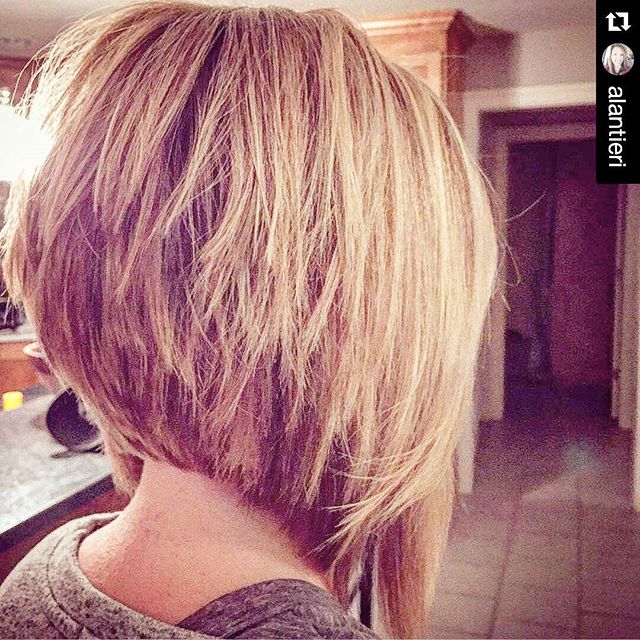 Short haircut for 2016: She has a whole mot more layers than some of the other stacked bob that have already been featured. Not only that, but because her hair is bone straight, it is easier to give her a choppy effect. It's fun and provides lots of movement. Tip: Go all out with color! That will help to complete the look even more.
"Rounded" stacked bob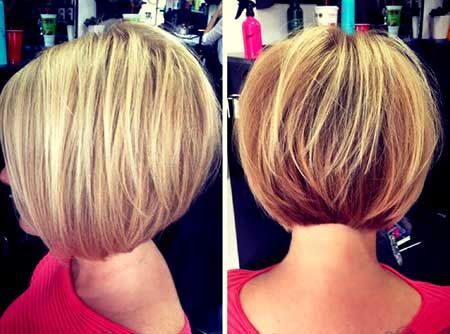 Did you notice that some of the other stacked bobs had a firm A-line? That's not so much the case with this one because it is a bit rounder than the others. First, the cut blends the back and sides a bit more. Secondly, a big barrel curling iron helps to give it some lasting bounce.
Do you like these fabulous stacked bob haircuts? Find more trendy hair styles on stylesweekly.com!