Amanda Twisted Bun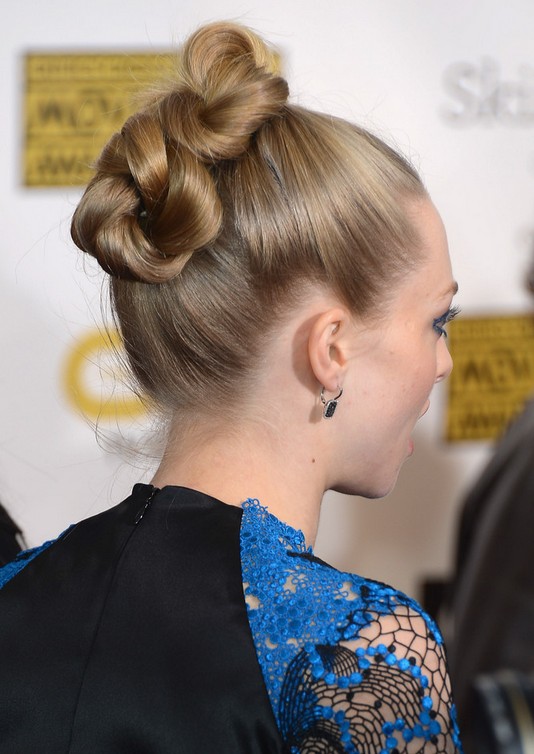 This is a great take on the classic bun; the hair is twisted twice and pinned into two buns to give the effect of a longer, twisted style that gives extra height to the top of the head for a more formal look. As always, Amanda Seyfried's blonde tones are perfect, the colour looks so natural and the hair is in gorgeous condition. This is a great look for big events and more formal occasions, adding a touch of sophistication to any style.
Amanda Seyfried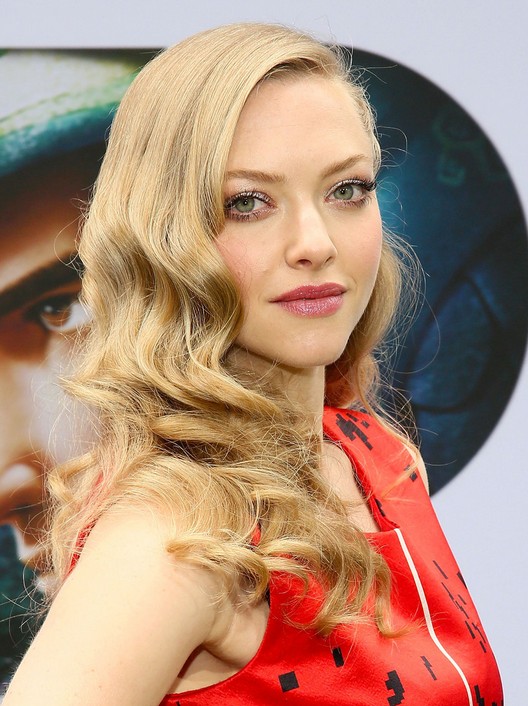 This is Amanda Seyfried's take on the trend for retro-inspired vintage glamour, with a deep side parting which brings most of the hair over the head where it can fall in well-defined waves over the shoulder. The trend demands glossy, shiny curls and Amanda has just a touch of frizz to contend with but despite this, the style works well. Her blonde hair has a range of tones, adding depth to what could otherwise be a cold look.
Amanda Seyfried Updo: Braided Hairstyles for Updos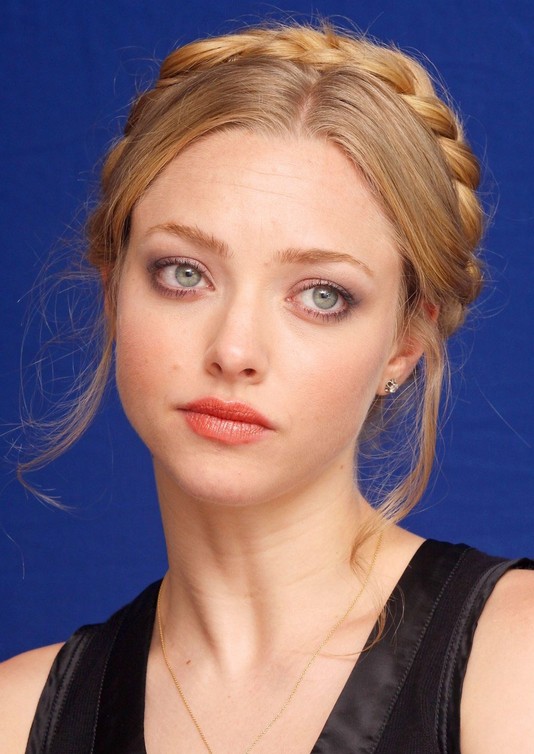 How angelic does Amanda Seyfried look here?! With those big blue eyes and pale brows set against a porcelain white skin tone, her hair style adds to this ethereal look by crowning her with a braided halo. The front of the hair is centre parted and a few loose strands frame the face and make sure the style isn't too perfect. The blonde tones here look so natural and match her skin tone and subtle makeup so well.
Amanda Seyfried Long Hair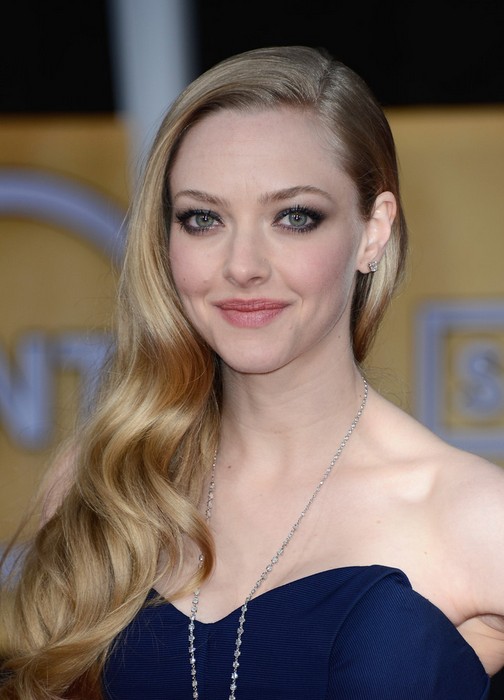 This style is a pared-down version of the trend for retro-inspired Hollywood glamour. The side parting with so flattering to her face, skimming her forehead beautifully before cascading in very loose gentle waves over the shoulder. Key to this look is the stunning uber-long blonde waves that really steal the limelight here. Amanda Seyfried's pale skin tone and icy-blue eyes really suit this range of cool blonde tones, especially when the hair is so silky and smooth.
Amanda Loose Bun: Side View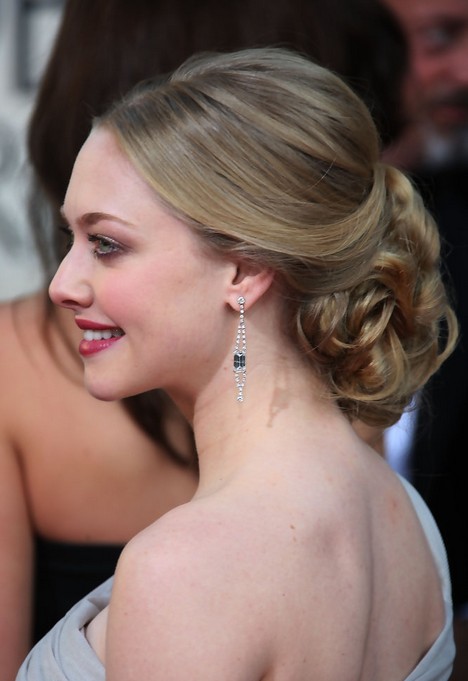 Amanda Seyfried gives us a lesson in the formal, elegant updo here. This style is just so perfectly executed; there isn't a hair out of place, it is smooth, silky and styled with absolute expertise. The lengths are pinned into a loose bun with the ends curled, giving texture and volume. The from section of hair is swept back to the sides beautifully and fixed above the bun to give a gorgeous curved shape that really defines the look. Perfection!
Amanda Long Wavy Hairstyle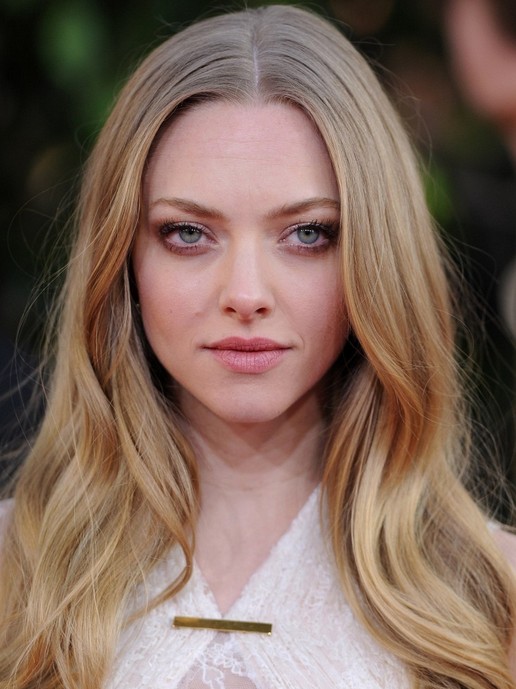 Moving gradually from an icy ash-blonde to a warmer straw blonde shade, this light and airy style gives Amanda Seyfried an ethereal beauty that is perfect with her pale, porcelain skin tone and blue eyes. With light, nude makeup and her hair style in a series of gentle loose waves and loose, fine strands, this is a very strong look for Amanda Seyfried. Even that outfit looks lacy and white – a pure, cool look that she carries off so well.
Amanda Chignon: Prom Updo Hairstyles Bangs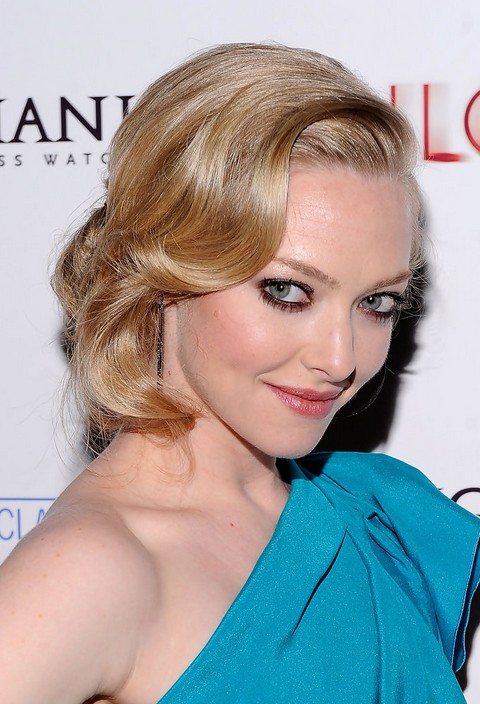 Amanda Seyfried's dark-rimmed eyes command all the attention here, and our attention is immediately diverted to her eyes by the perfectly smooth side sweep that flows from a dramatic side parting and meets the rest of the hair in a series of beautiful waves. The rest of the hair is pulled gently back into a beautiful chignon. This is a very elegant look that really shows off the perfect range of golden and straw blonde tones.
Amanda Braided Hairstyle: Holiday Hairstyles for Loose Side Braid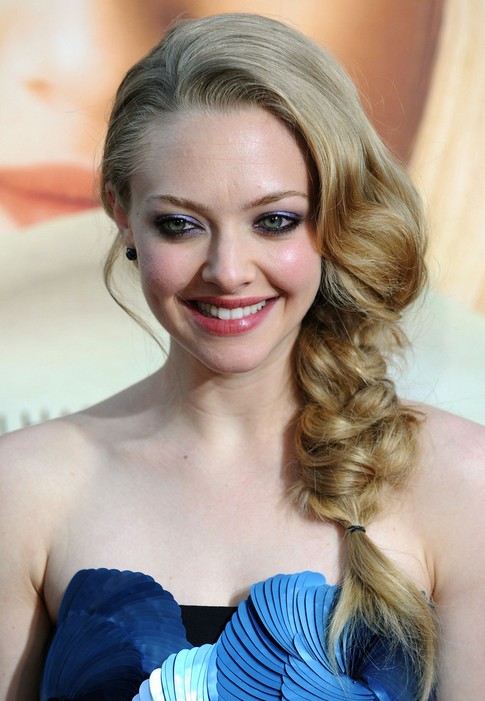 This dramatic style is a homage to two big trends in hair styling, the messy side braid and the big side parting and sweep inspired by fifties retro glamour. Here,Amanda Seyfried wears her hair swept smoothly to the side, with loads of volume, and then the lengths are braided in a thick, chunky braid. The braid is tousled and a little messy but it is also shiny and gorgeous. The icy blonde tones really compliment Amanda's skin tone, adding to the perfection of this style.