Red. It's the color of fire. It's the color of passion. And it's also one of the hottest color trends going right now. Not just when it comes to fashion but hair color too.
So, if you're a natural-born redhead, lucky you! This season, you're easily the envy of your friends. But whether your hair is naturally red or you need the help of a bottle of hair color (and a stylist), in a few minutes, you're going to see some shades and styles that will have you looking vibrant, radiant—and even a little sexy too!
Amber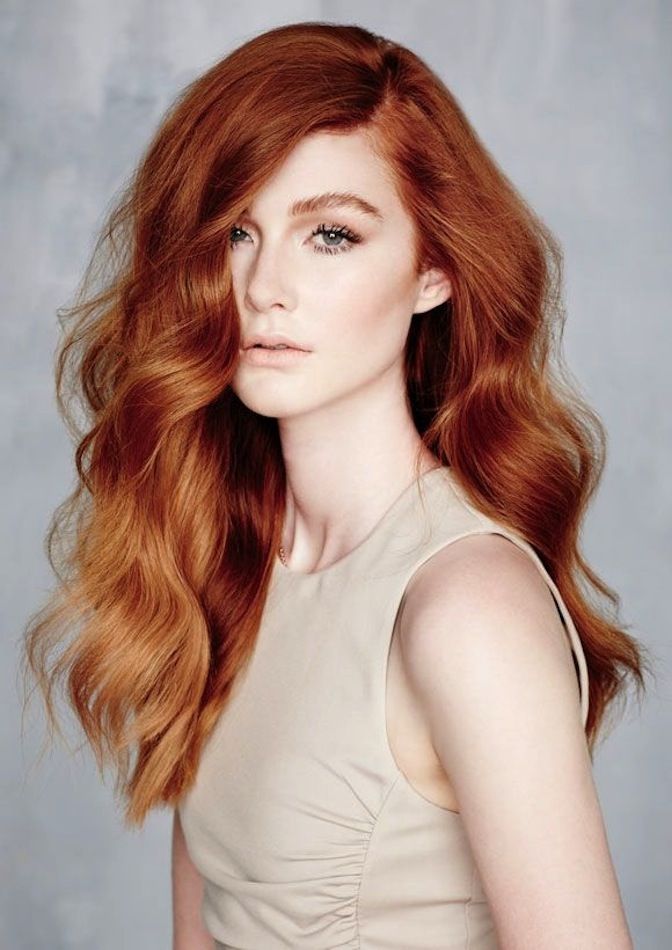 Amber is a softer hue in the red hair family. And being that it's not too drastic, if you're not naturally a redhead, this color can be kinder to your tresses than some of the other shades.
Deep copper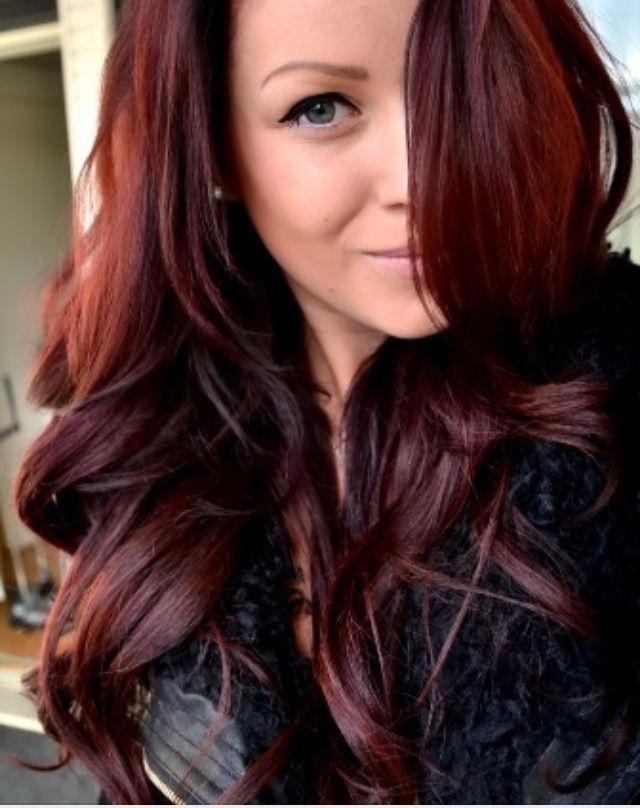 Deep copper is really nice. Especially if you are a brunette who wants to do a little experimenting.
Brick red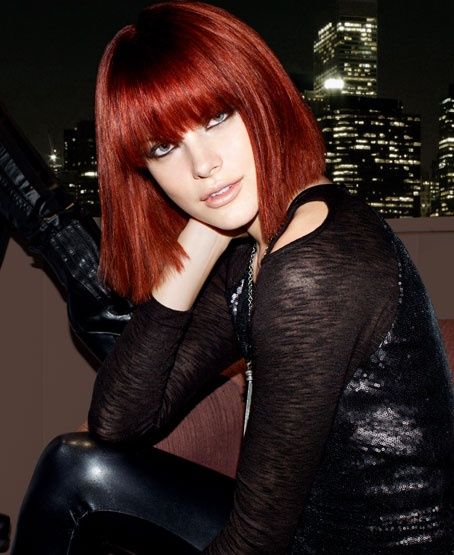 One of the reddest of red hair colors is brick red. It's so intense and yet so natural-looking at the same time.
Crimson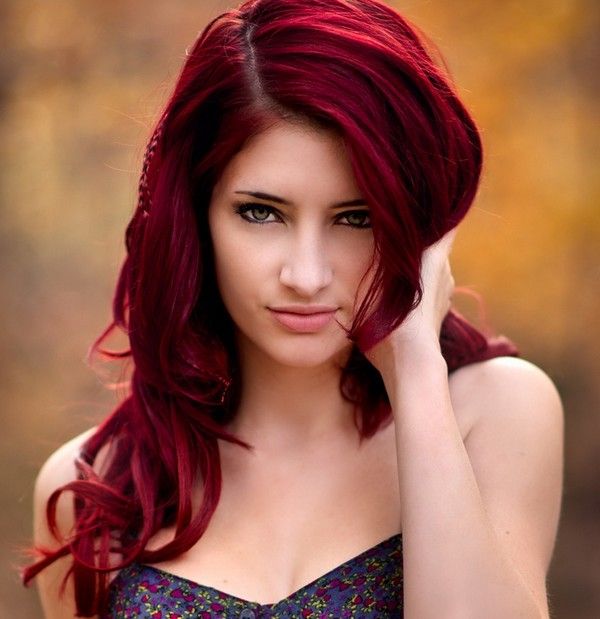 Do you want your hair to have a lot of drama? Crimson will definitely get the job done for you.
Rich ginger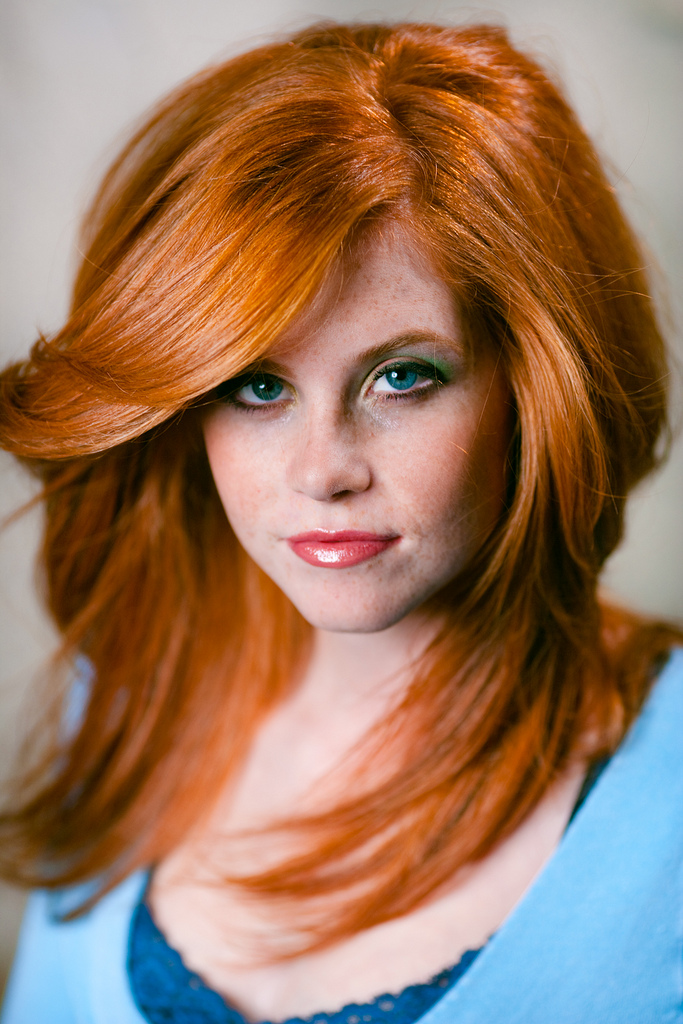 Ginger is a nice color for redheads who want to try something a bit "spicier" or blondes who want to make a really big change—and impression.
Red chestnut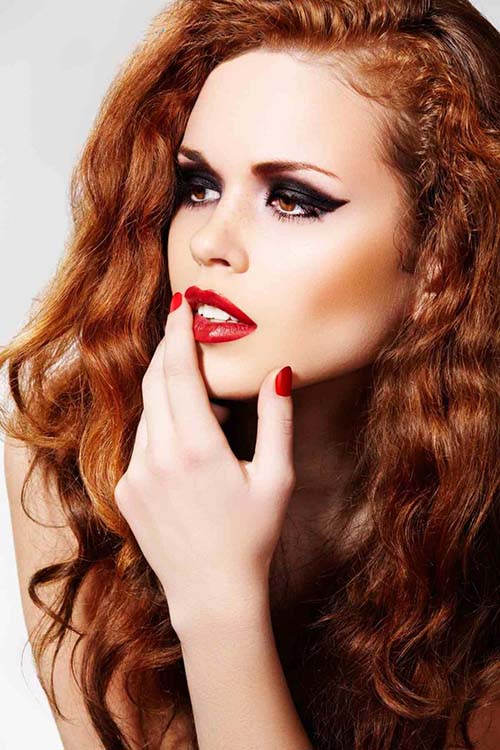 Red chestnut is a softer shade of red. You can color your hair all over with it or you can use it to add a few highlights here and there.
Red ombre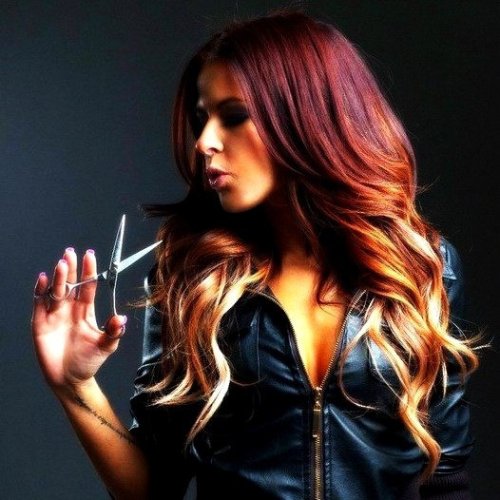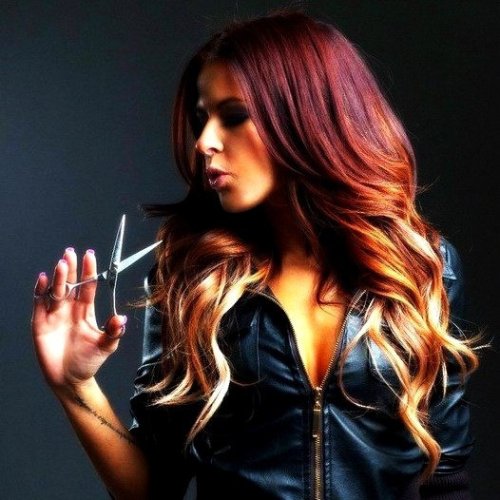 Ombre is still a technique that is trending. And red that changes into blonde will have you blazing hot!
Reddish brown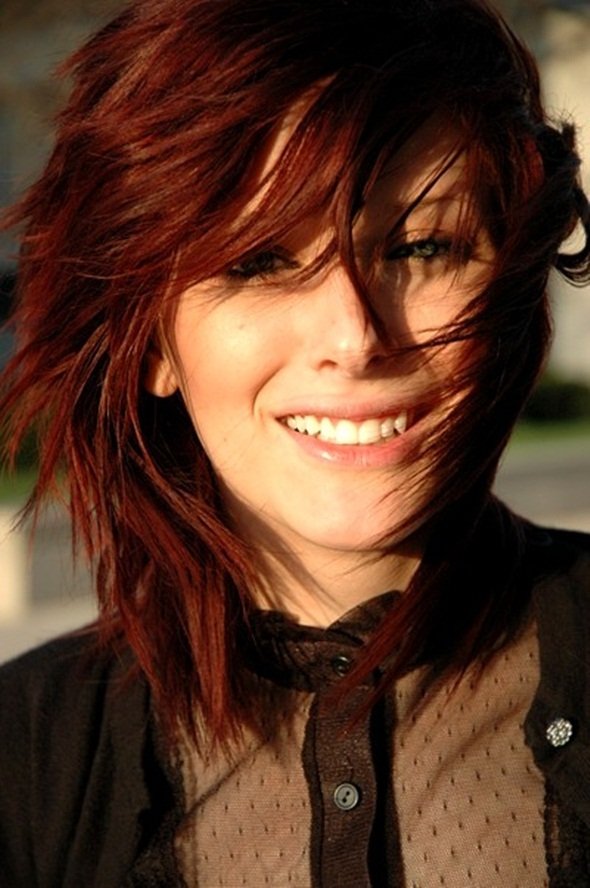 Here's another look to think about if you don't want to be too extreme. Reddish brown is beautiful on just about any skin tone, too.
Candy apple red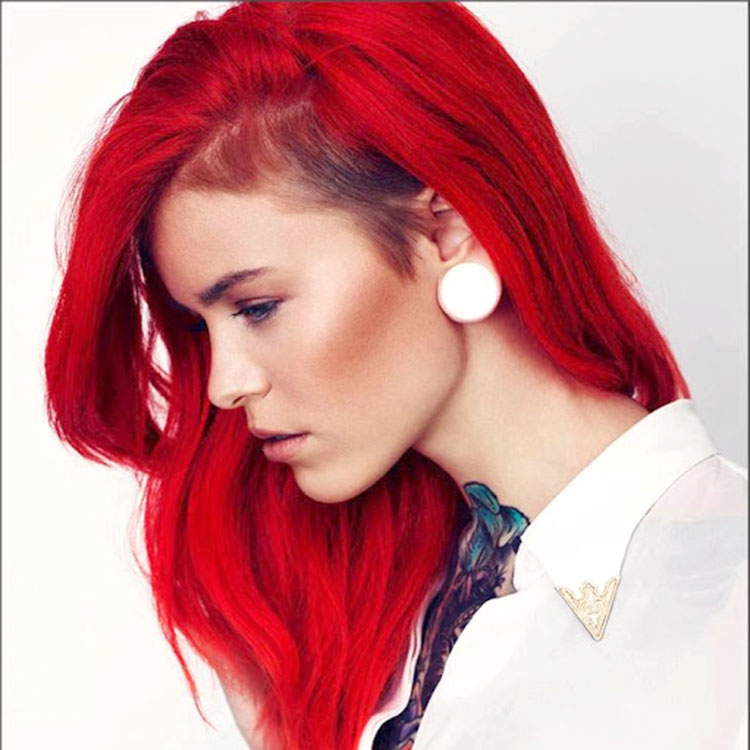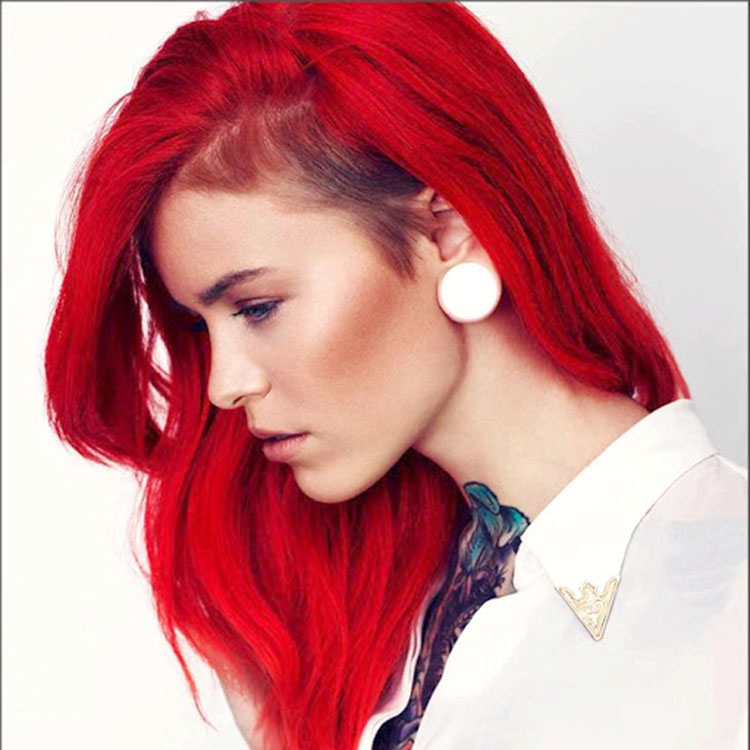 What we like about candy apple red is that it's the right color for an edgy haircut. Case in point.
Strawberry blonde with blonde highlights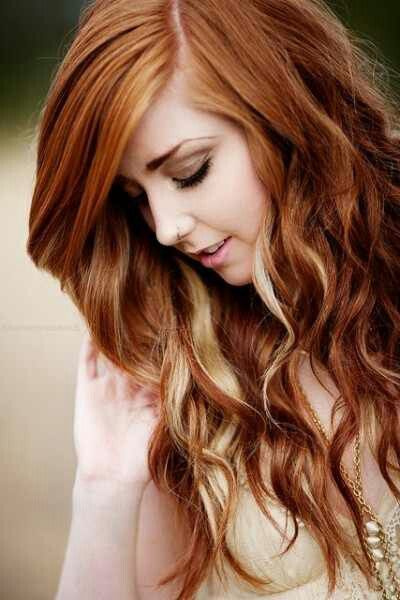 Are you a strawberry blonde and while you like your hair color, it's time for a bit of a change? Rather than changing your entire head, add some blonde (or white) highlights instead.
Black with copper highlights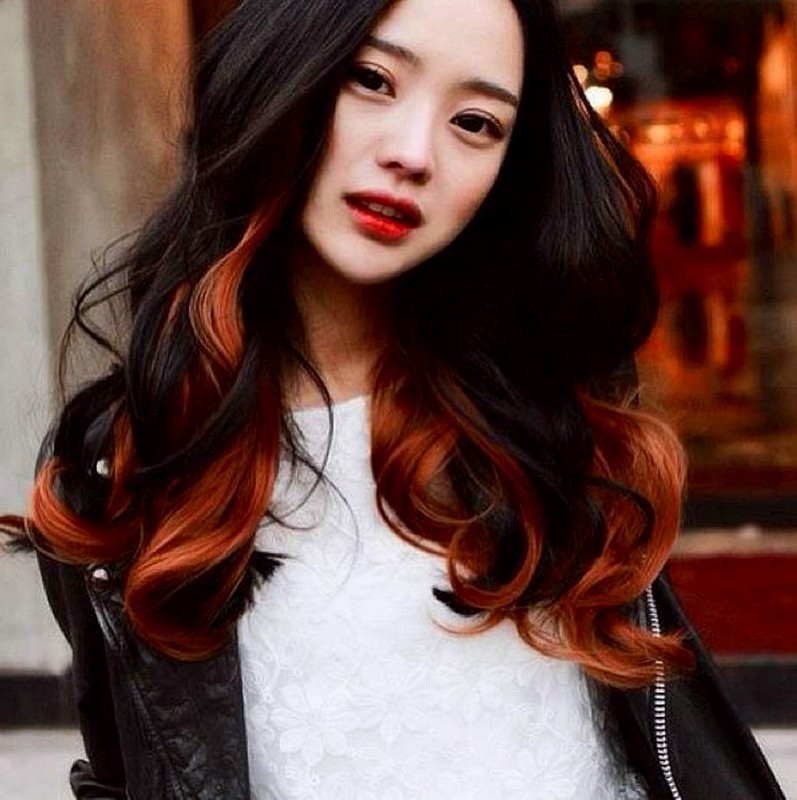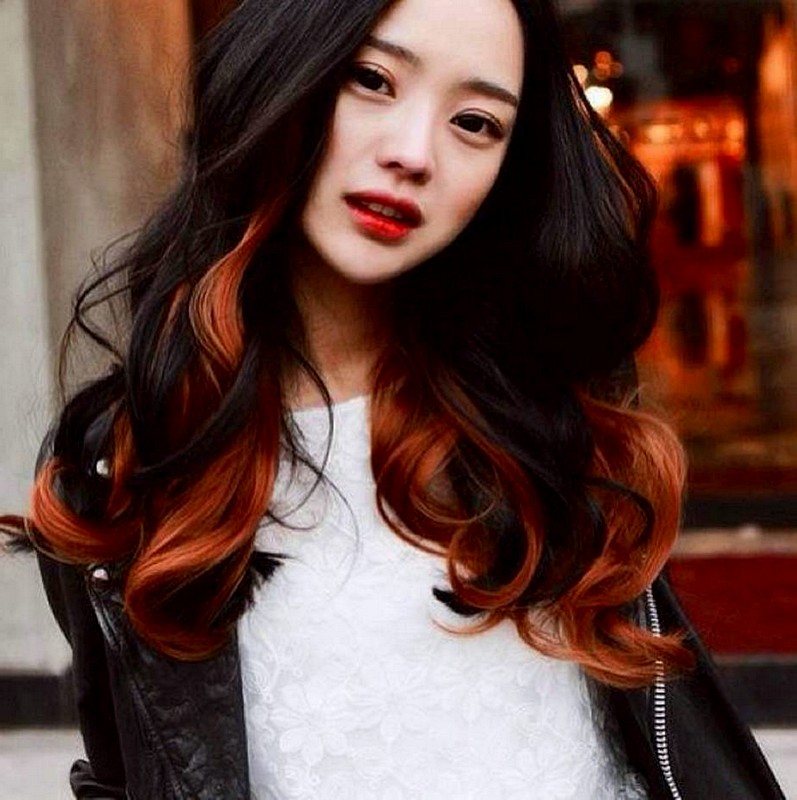 Here's another creative way to incorporate red into your tresses. Add some red highlights. Copper ones like these are so…pretty and powerful on dark hair.
Voluminous auburn hair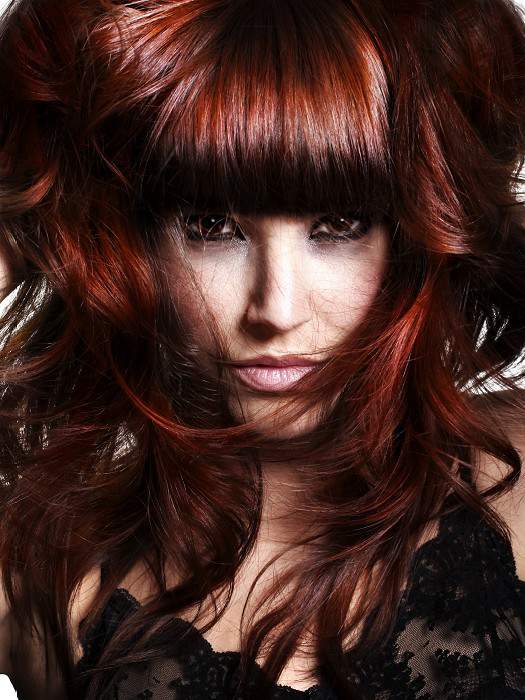 Creating show-stopping hairstyles is not only about the color you choose but how you style your locks as well. With the 70s look being all the rage right now, you can never add too much volume.
'Fro hawk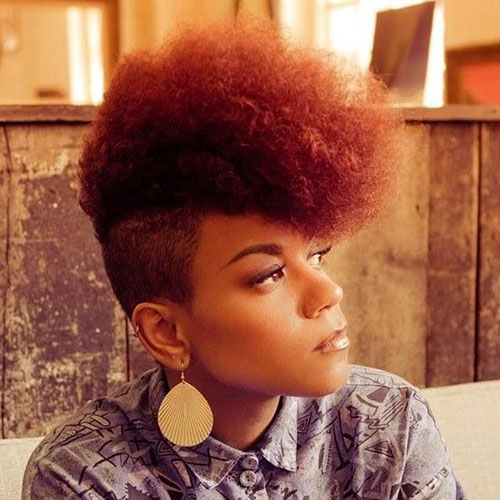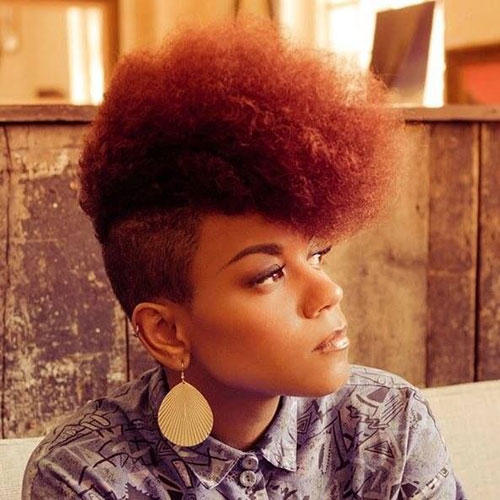 If you're a black woman with natural hair that's recently been colored a shade of red, take the funky route and get a Mohawk. It takes the traditional Afro to entirely new dimensions.
Ringlet curls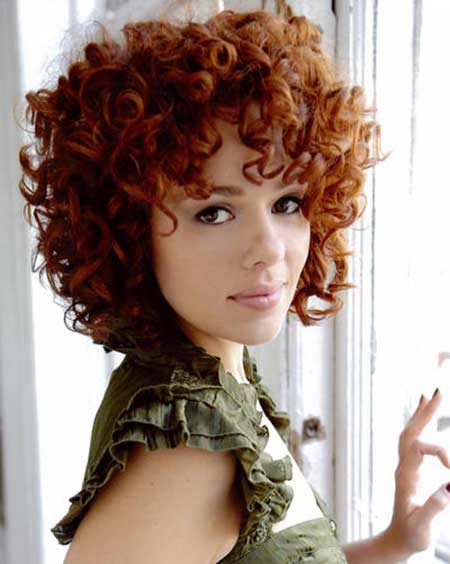 Don't you just adore these ringlet curls? No matter what your hair texture may be, a good trim and roller set can give you these types of results.
Red and wavy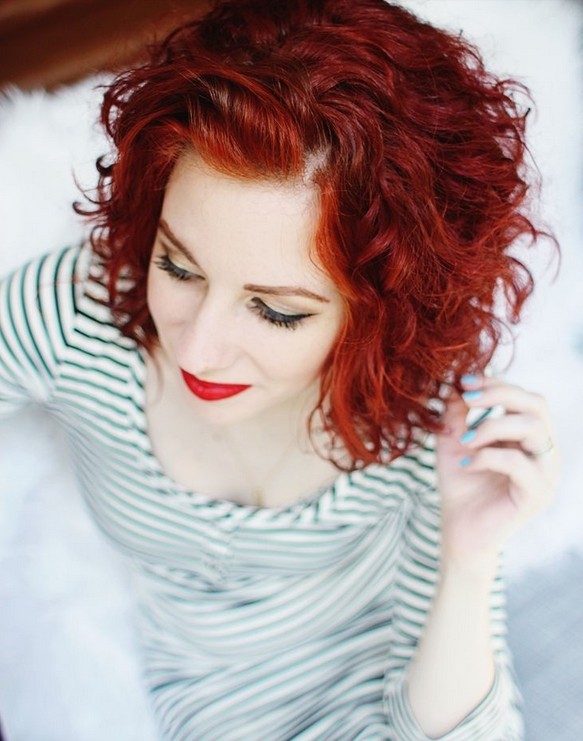 Is your hair naturally wavy? All you need to do is add a few layers and you'll be good to go.
Straight and asymmetrical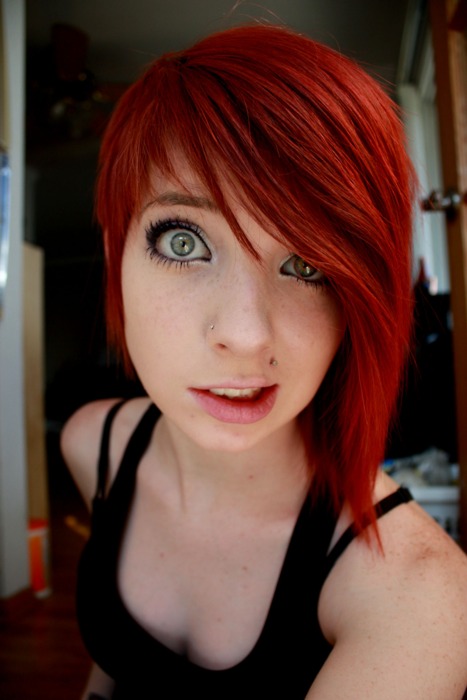 This cut? Definitely a hot one for straight hair or even thin hair. And when you add color like this to it, everyone will be giving you compliments. That's for sure.
Striking bangs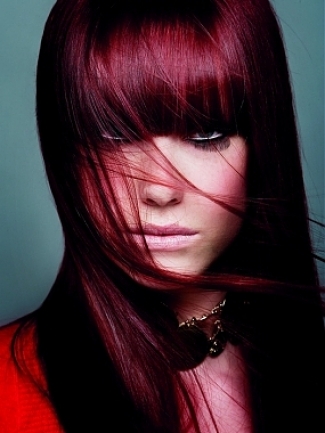 Bangs are back. Looks like this one reminds us of why.
Pixie cut with short bangs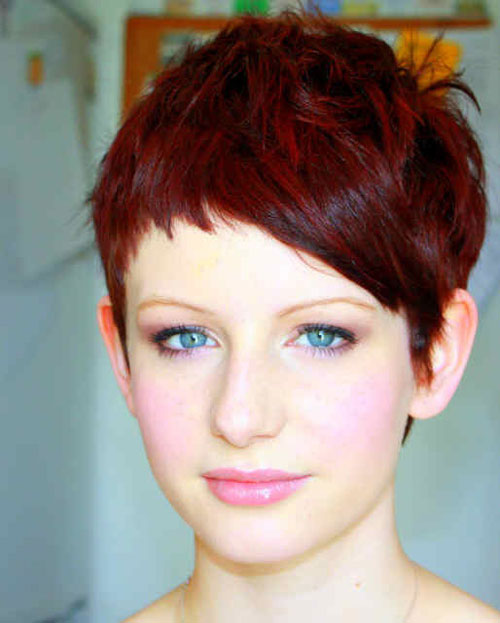 When it comes to bangs, if you don't want to constantly be pushing your hair out of your eyes or you're ready for a short 'n sassy haircut, consider going with a pixie one like this. A crimson color (or rinse) will really set it off.
Low fishtail ponytail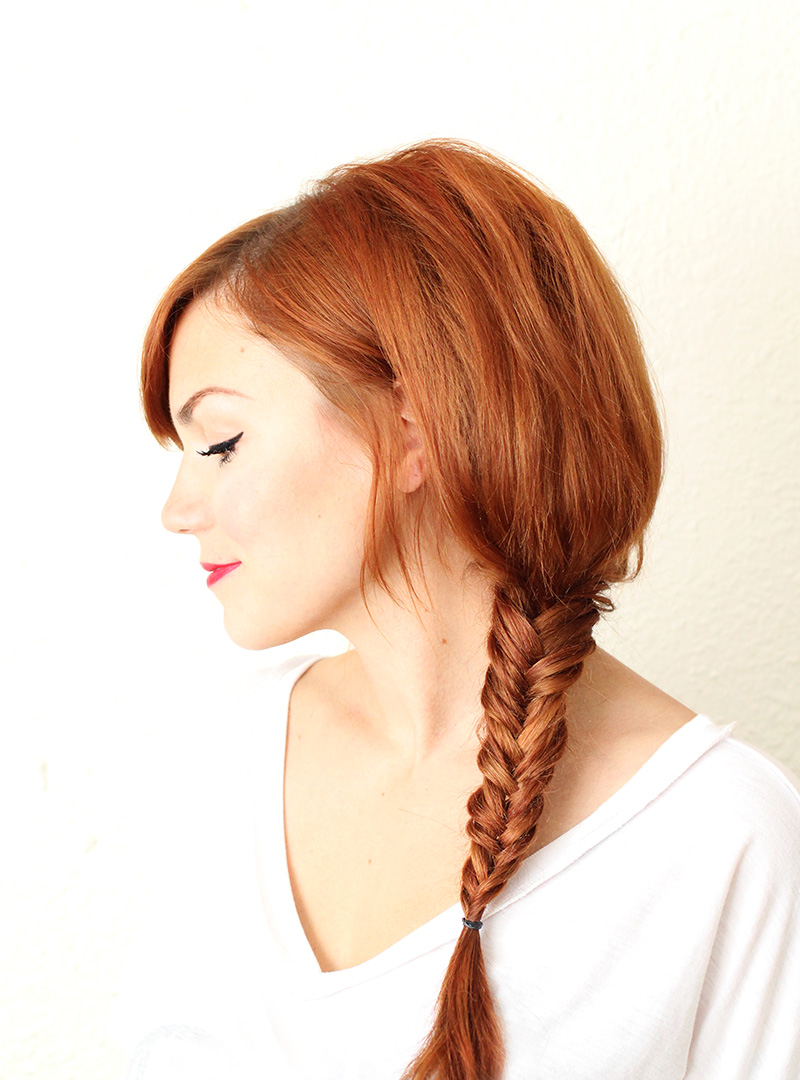 We couldn't do a feature on red hair color and styling trends without mentioning the fishtail ponytail. And right now, when it comes to popular ponytail looks…the lower the better.
Orange red tiny Afro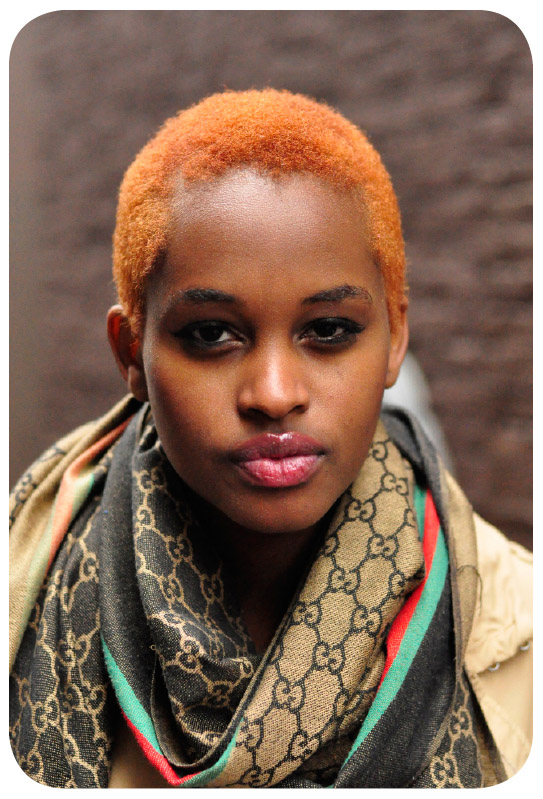 Here's another awesome natural look for black women. Although in black or dark brown, it might appear a bit "ho hum", that couldn't be further from the truth when you add some orange red coloring to it.
Choppy and layered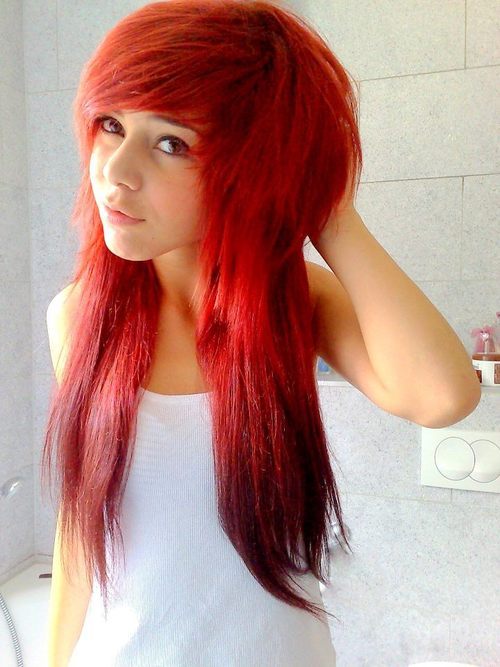 This is one of our favorite looks, for sure. The choppy layers simply add so much personality and dimension. And the red color is basically the icing on the cake!
Red streaked bob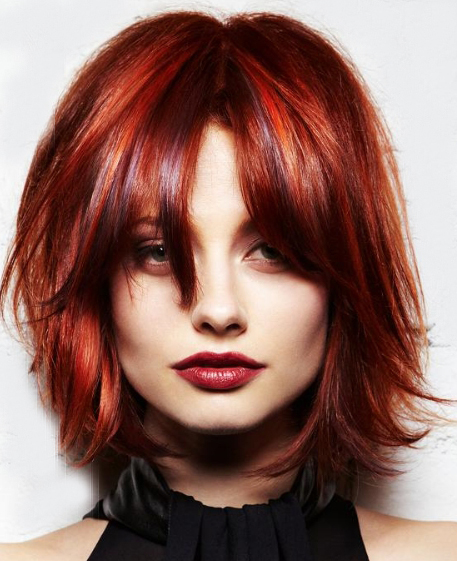 This is another great look, mostly because it's timeless. No matter how old you are, you'll turn heads with this red-streaked type of bob.
Loc'd up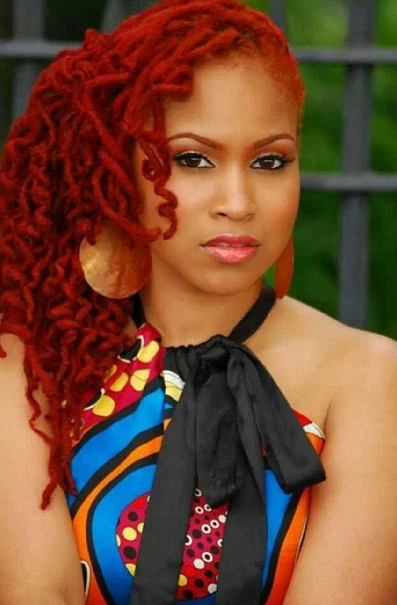 Locs are so lovely on a woman. And what can make them super sexy is red hair color.
Laid back lob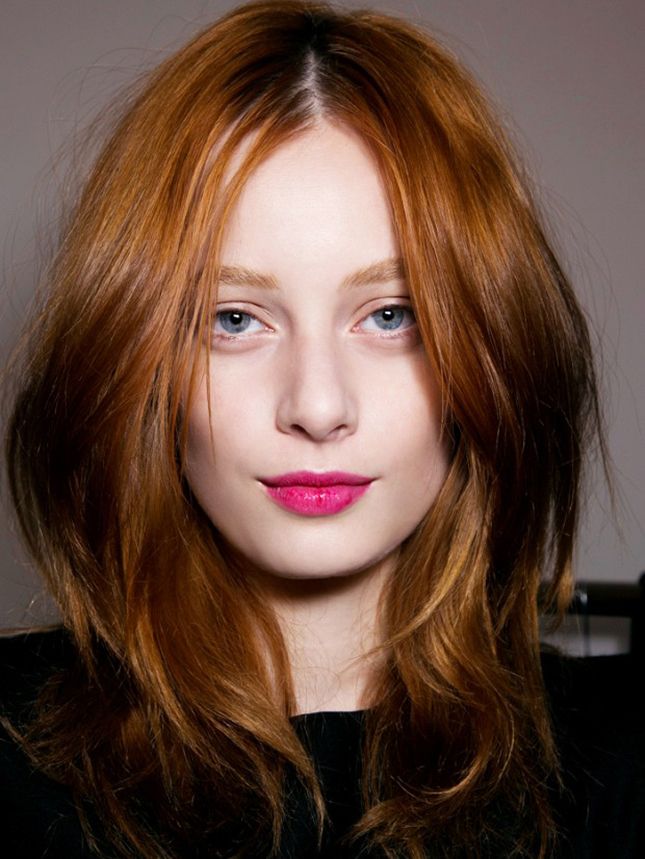 If you don't want to do anything too over the top, a lob is the look to go for. It's easy, it's fresh and whether you're a redhead or not, it's oh so very beautiful.