Red is a striking colour that is synonymous with passion, fire and warmth, which makes it a simply stunning colour to add to your hairstyle as a wonderful and exciting change. There are also so many different tones each as beautiful as the last within the red spectrum.
If you're thinking of adding a touch of red to your hair for a new look, then we couldn't possibly encourage you any more. Here are some of our favourite hairstyles that incorporate red.
Straight Red Ombre Style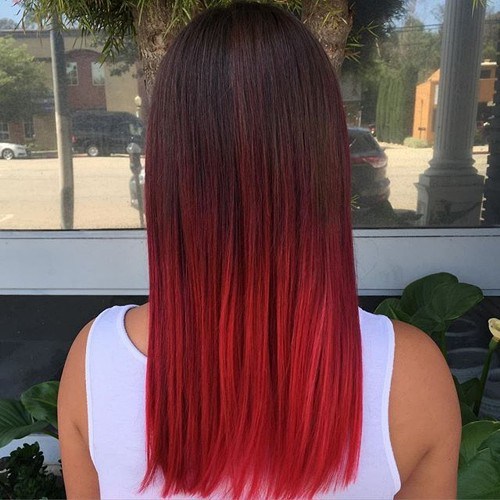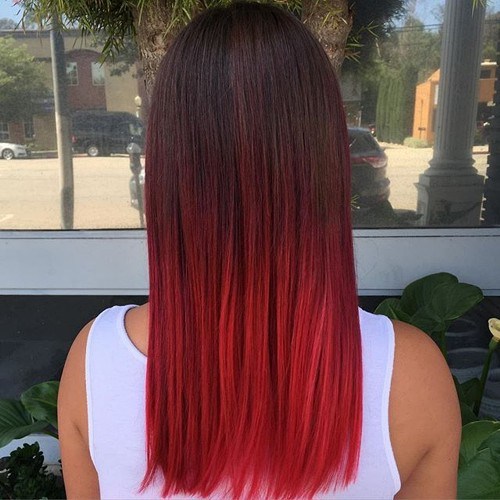 Many gorgeous girls in this gallery have gone for voluptuous curls in their hair to highlight their beautiful red tones, but we think that a straight and sleek style looks every bit as beautiful with red hair, as this lovely lady proves! She's gone for a gorgeous ombre transition from dark brown to a beautiful bright red and this glossy finish is oh so striking.
Subtle Red Highlighted Bob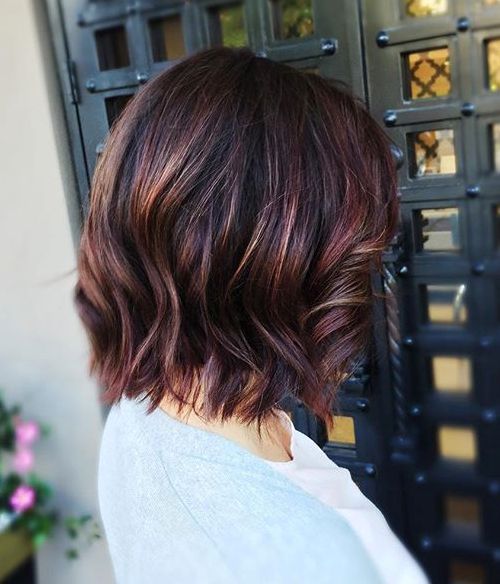 This lady's gorgeous and curly bob falls just around the jaw line, creating a beautiful finished shape that is full of bounce and body. If this wonderful cut weren't nice enough of its own, this lady has incorporated a gorgeous, dark red tone in subtle highlights throughout her naturally dark hair, adding a stunning finish to this remarkable style.
Gorgeous and Glossy Red Hair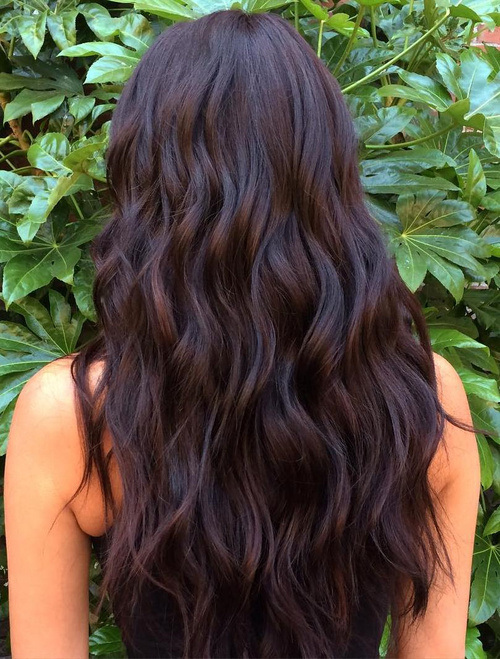 There's something about red hair which just creates the most striking finish, as this beautiful lady shows with her outstanding glossy locks! Her hair is incredibly long, thick and shiny, falling in loose curls down her back and creating the most stunning silhouette. As for colour, she's opted for a deep and dark red that we just adore!
Bright Red to Orange Blend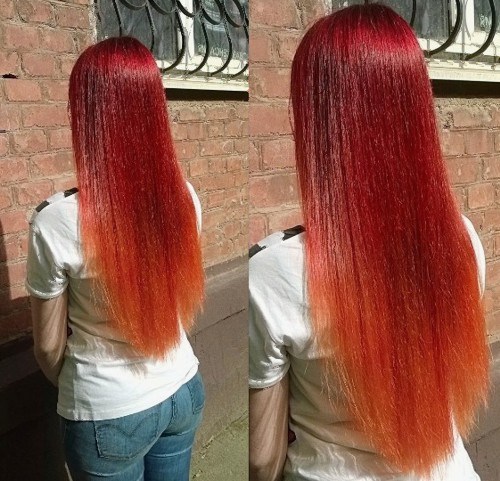 Ombre is the perfect hair trend for blending two gorgeous colours together, exactly like this striking lady has proved! She's transformed her long, straight and sleek hair into the most beautiful look with fiery red and orange tones! It starts with a glossy and vibrant red at the root and transitions smoothly to a bright orange at the tip, which we just adore.
Black and Red Balayage Look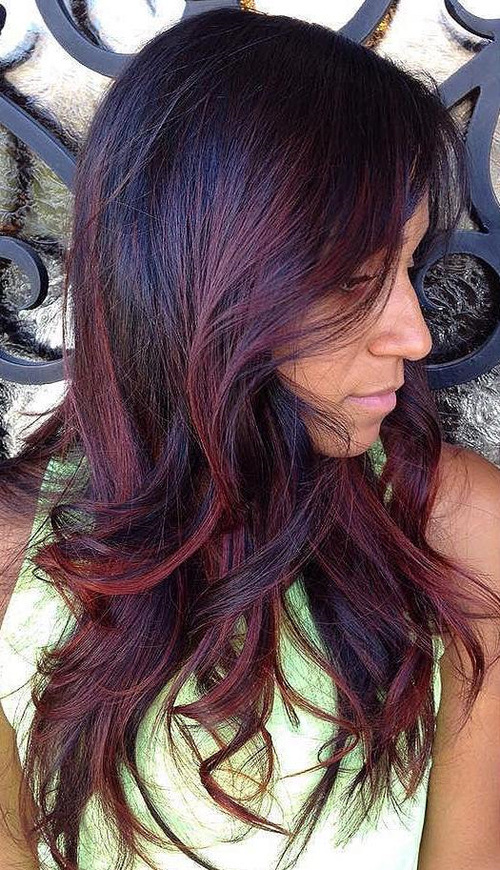 Black and red go together like summer and the sunshine – one is so much better with the other; as proved by this simply stunning lady! Her incredible long hair is finished with ever so slightly shorter layers to add a lovely shape around the face, and she's added a gorgeous red balayage to her natural black hair. Curls finish the look perfectly.
Bouncy Red Curls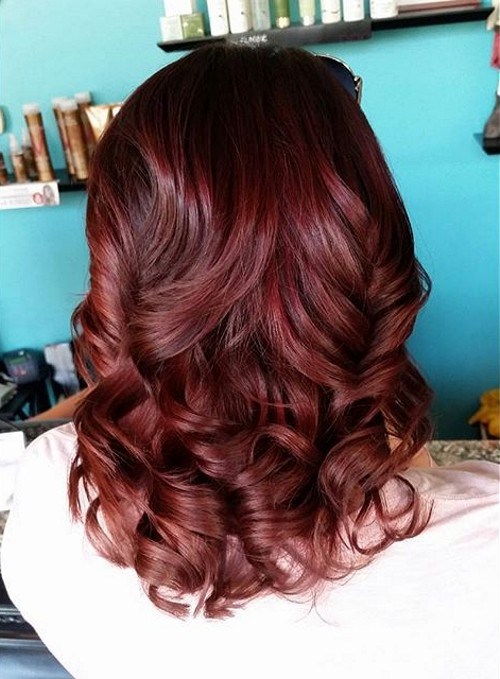 This lady has opted for a remarkable and striking red tone which is deep and vibrant – the Styles Weekly office approves! There's no point in choosing such a gorgeous colour as this without choosing an equally beautiful hairstyle to show this breathtaking colour off right? This lady has gone for gorgeous barrel curls from top to bottom, creating a lovely and striking finish.
Deep, Dark Red for soft wavy hair
This lady is blessed with the most gorgeous and glossy hair that we ever did see, and we simply can't get enough of it! Her amazing hair falls in glorious waves down her back in the most beautiful deep and dark red colour. This gorgeous shade has a beautiful red/brown tone and is oh so shiny and sleek. The waves accentuate this remarkable colour, don't you agree?
Flame Red and Blonde Ombre for shoulder length hair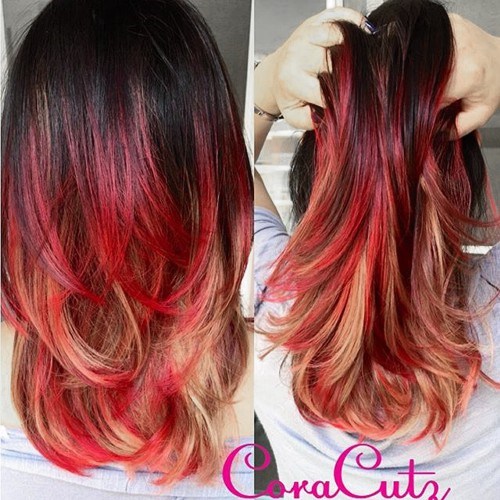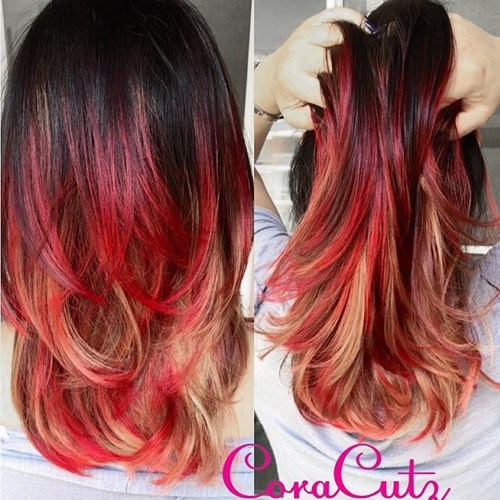 This absolutely gorgeous hair has utilised a stunning and fiery bright red in the most fashionable possible way, by creating a beautiful flame effect using the famous ombre technique. She's worked a stunning bright red into her black hair and finished with gorgeous blonde ends, creating the most unique finish. She's flicked the ends out to highlight the amazing colours at work.
Dark to Light Red Ombre for long wavy hair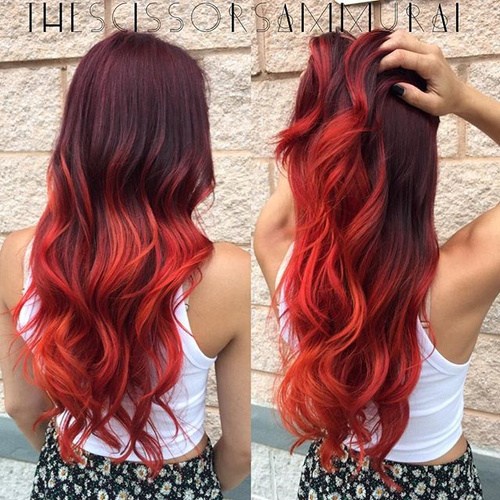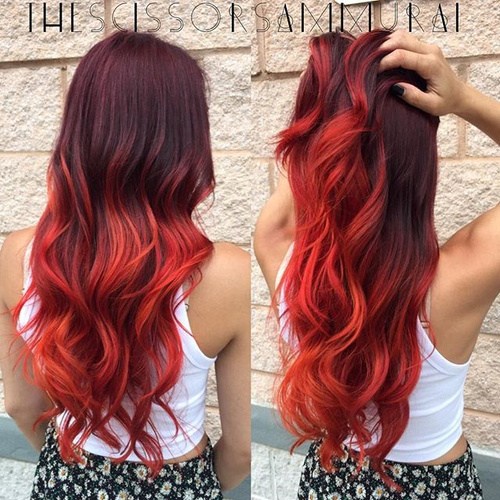 Why go for one red tone when you can have two? This lady proves that, with her simply breathtaking colour transition! Her hair is long, shiny and curled to perfection; falling in breathtaking ringlets down her back. Working from a rich and dark red at the top to a stunning and striking bright red at the bottom, this ombre transition is flawless.
Subtle Red Balayage for shoulder length hair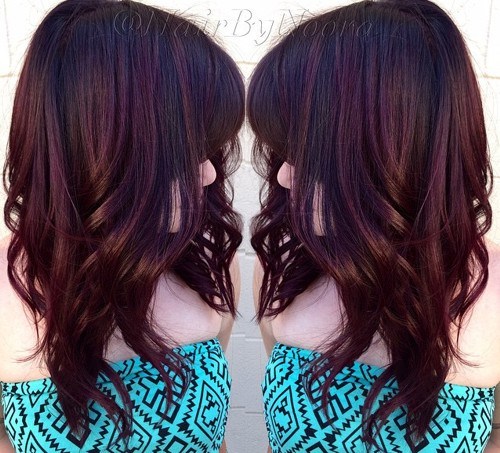 This gorgeous hair finishes just below the shoulders in the most beautiful cut, with a fringe that runs right across the forehead, framing the face beautifully. This fashionable lady has left the fringe straight, and has loosely curled the ends of the hair to create a gorgeous and bouncy shape. She's opted for a balayage transition from black to a deep red which we adore.
Subtle Red Ombre Hairstyle with Bangs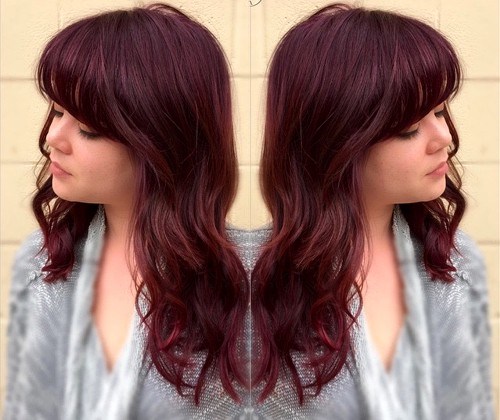 Another breathtaking red hairstyle, this lady has opted for the most subtle ombre transition that we ever did see, creating the most gorgeous and natural colour blend, working from a dark almost purple-toned red at the root, to a stunning light red at the tips. She's curled her fringe under for bounce and added ringlets to the ends of her amazing hair.
Red Long Bob with Flicked Ends for Medium Length Hair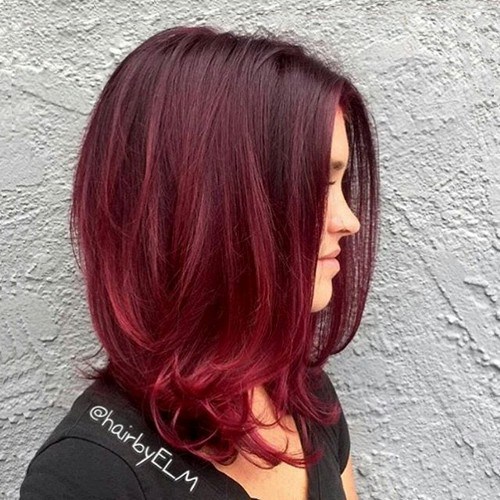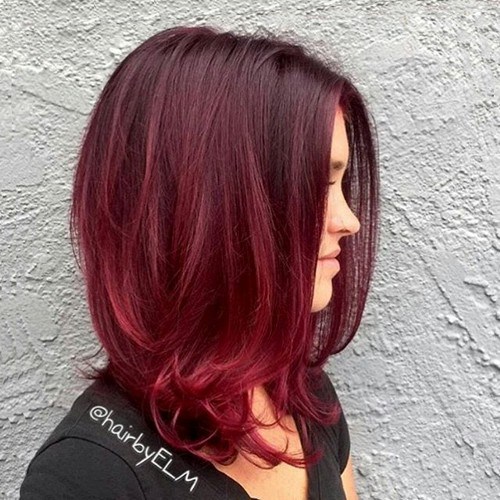 This lady has finished her lovely long bob which sits at shoulder-length with a gorgeous burgundy-toned red that gets gradually more vibrant from the top to the bottom. The bob is slightly graduated, finishing a little longer towards the front than the back, and this lady has opted for stunning flicked ends to create a gorgeous finished look.
Medium Hairstyles: Dark Brown to Auburn Ombre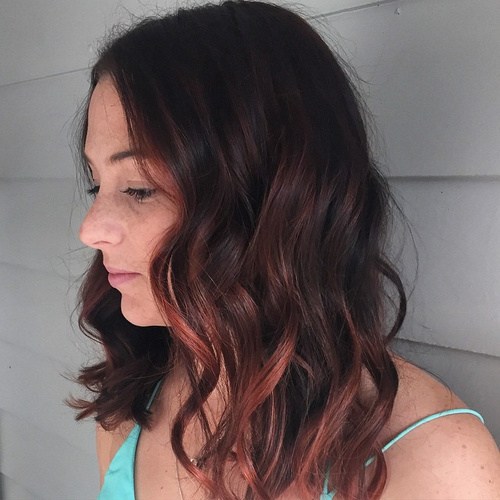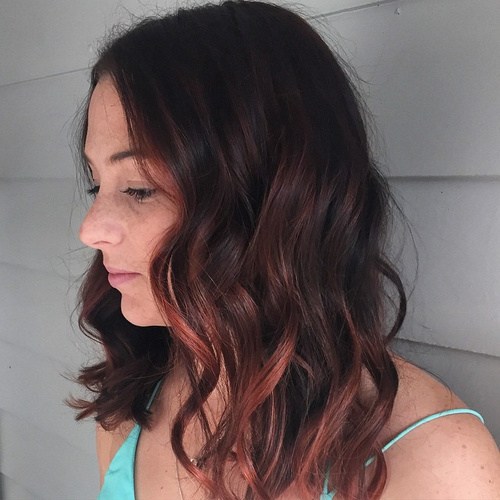 Opting for an ombre style is the easiest way to inject a little colour into your hairstyle in a completely natural way that isn't too much of a drastic change. This lady has opted for a beautiful and warming ombre tone to grace the ends of her rich brown hair, which she's curled into very loose ringlets to highlight the beautiful colour change at work.
Beautiful Mahogany Curls for Girls
This simply stunning lady has opted for a gorgeous mahogany deep red tone which is such a dark shade that it becomes completely versatile and oh so natural looking too! This beautiful deep shade of red is highlighted to perfection with this lady's gorgeous curls, which merge all the layers of her lovely hair into a beautiful finished look.
Bright Red Pixie Crop with Orange Streaks for Short Hair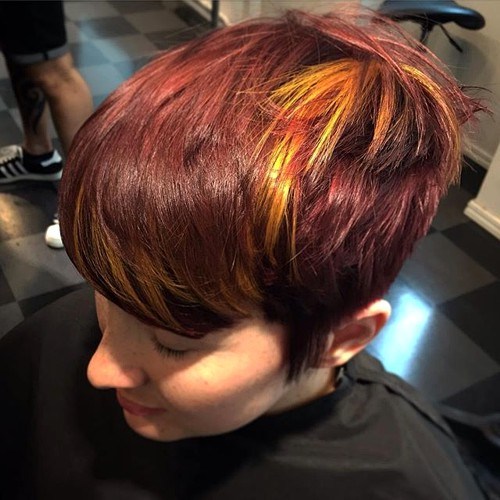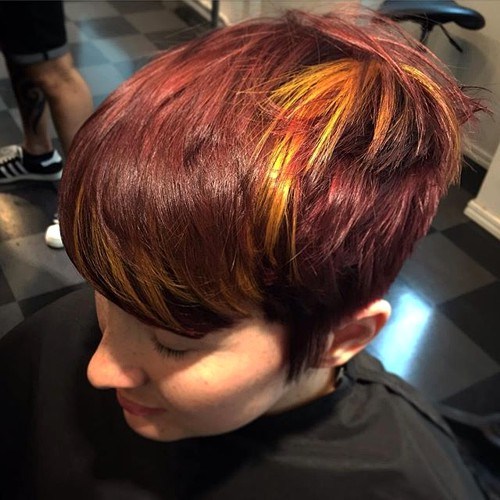 We've shown you lots of luscious long red hairstyles, but opting for a gorgeous red tone on shorter hair makes for an equally impressive finish! This lady has picked a gorgeous pixie cut with short and choppy layers at the top, and a wonderful fringe section to finish the look off perfectly. She's added subtle orange streaks to create an amazing and vibrant finish!
Black and Red Corkscrew Curls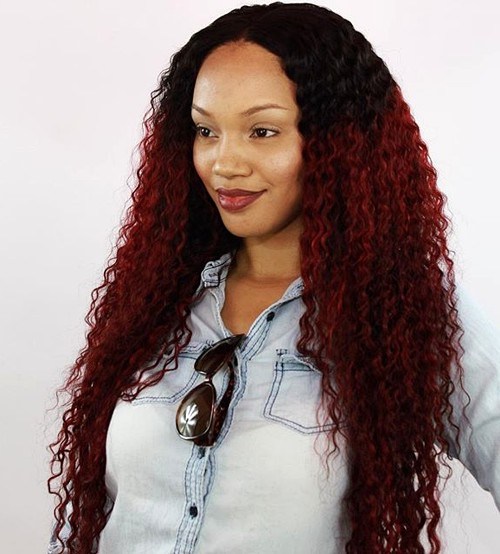 Long red curly hairstyle for black women. If you're fortunate enough to have the most beautiful and natural corkscrew curls like this absolutely stunning lady, then why not opt for a bold and vibrant colour to show off your spectacular hair? This lady has her hair in a perfectly symmetrical style with a middle parting, and has gone from a deep and dark black shade to a gorgeous vibrant red.
Black and Soft Red Curls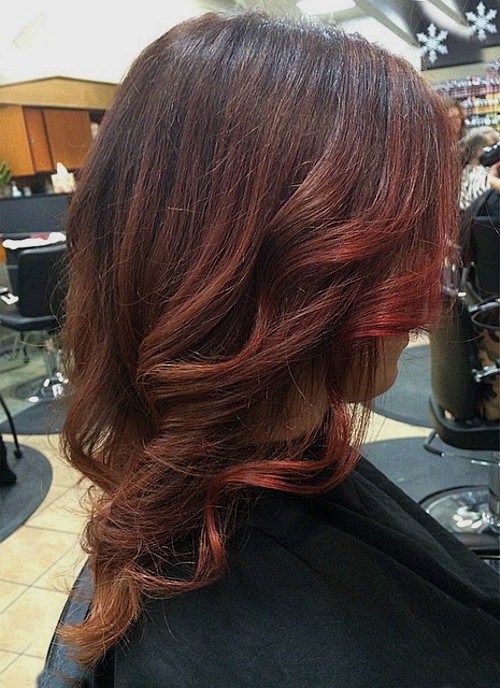 Of course, implementing a red tone into your hair doesn't always need to be a vibrant and wild affair, you can add a subtle shade of red to add an element of interest without going overboard if this is more your style. This lady, for example, has gone for a lovely and muted shade of red which is every bit as beautiful as a more bright hue, don't you think?
Luscious Long Red Hair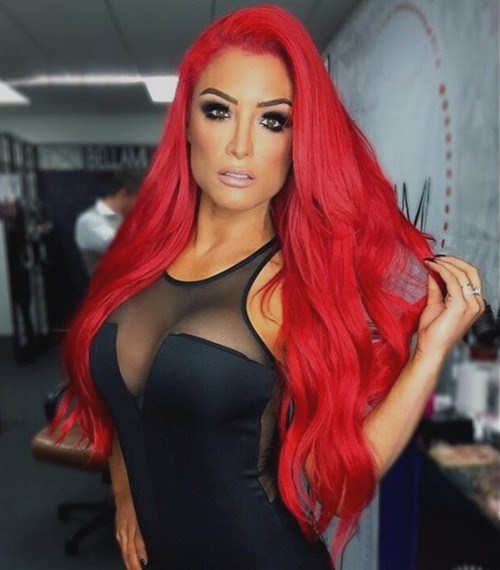 If bright red is what you prefer, then that can look equally beautiful too – as this gorgeous lady has proved! Her hair is strong, long and oh so thick, falling around waist level. She has a side parting and a longer fringe section, and she's added loose waves throughout, highlighting the simply breathtaking vibrant red colour which is all over the hair.
Deep Purple Toned Red for Straight Hair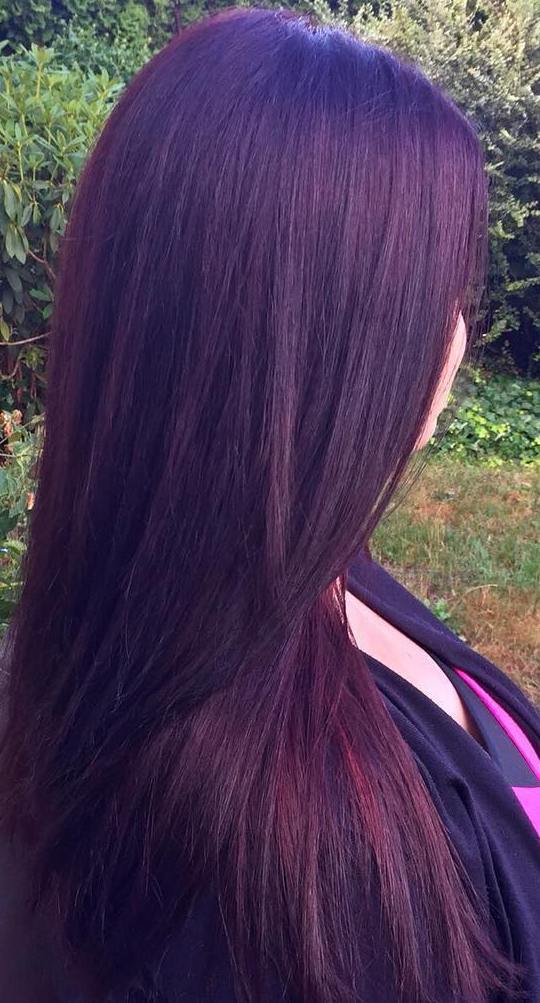 The spectrum of red tones is vast and diverse, working through brown tones, purple tones and true red tones. This lady has opted for a beautiful purple-toned red which is deep, glossy and vibrant; we simply can't get enough of it. Her long hair is straight, sleek and glossy, creating a beautiful finished look. Add some curls for a night time look!
Beautiful Bright Red Ringlets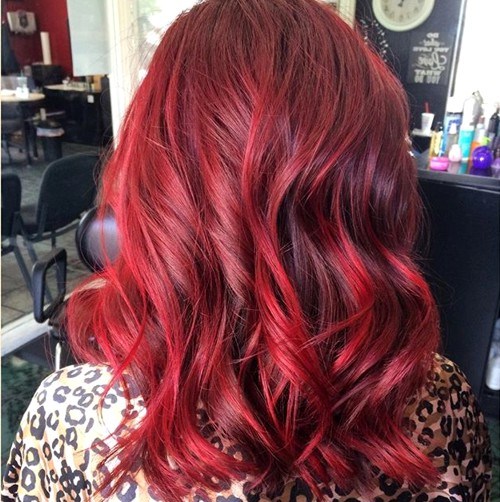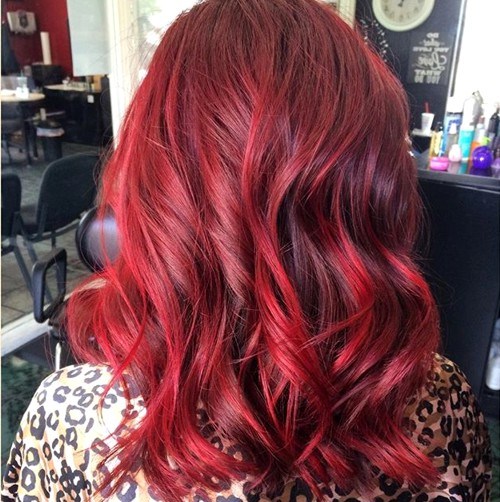 This lady is blessed with lovely long hair which falls below her shoulders, and is cut in a gorgeous straight layer. To bring the cut to life with bounce and body, this incredibly stylish lady has added a gorgeous curl throughout the hair from root to tip. To finish off this stunning cut and curly style we have a beautiful and vibrant red colour throughout.
Red, Strong and Long Locks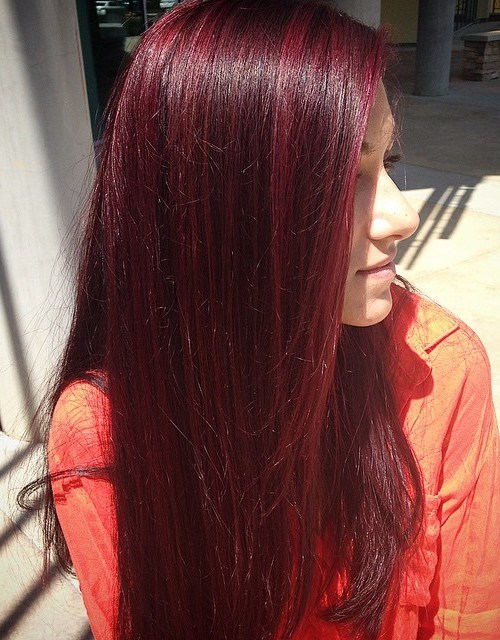 This lovely lady's hair is strong, long and oh so beautiful. Finished with a gorgeous sheen and shine, this stunning look has been straightened to perfection, with a slight curved end at the bottom of the layers to create a beautiful style. This lady has gone for a stunning, deep red tone which is vibrant and dark, adding to the beautiful glossy look of  this hair!
If you've previously fancied dabbling with a dash of red in your hair then we hope this gallery of gorgeous hairstyles has inspired you to take the plunge and opt for something different. StylesWeekly.com will always bring you the latest hair trends and styles, so don't forget to come back for more hair inspiration.