Short & Chic Hairstyles for Women
What I love most about my short hairstyles is that I never have bad-hair days anymore!
I love to look modern and chic! And, of course, with a short hairstyle you can change your colour and highlighting more frequently and never get stuck with split-ends.
Anyway, now that spring is showing itself I decided to collect a few up-to-the-minute short spring hairstyle photos to help us all decide which new look to go for!
Arty Asymmetry in Copper Shades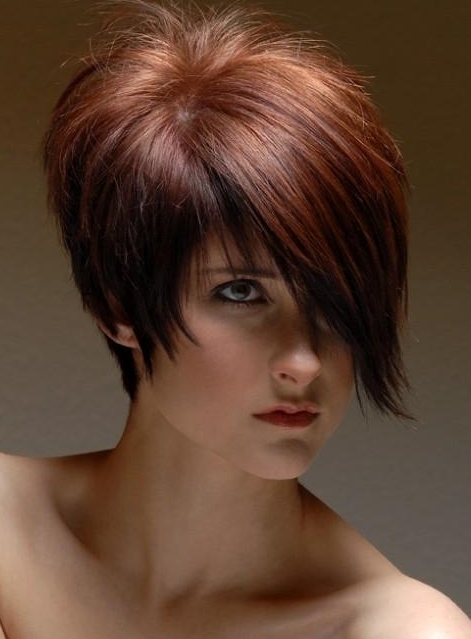 I love the rich chestnut brown angled cut with an asymmetrical vibe and extra-long fringe that make it look very arty. The copper highlights on top draw attention to the volume and the darker sides are perfect for minimising width at the sides. And the spiky sides, styled onto the face are also great for reducing the roundness of full cheeks.
Colour Me Trendy!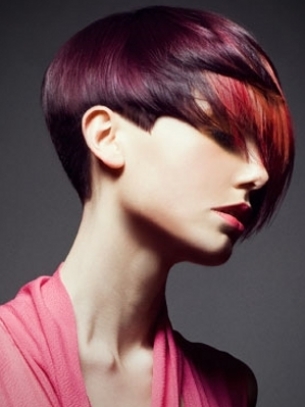 This short cut impresses for many edgy features that give it a very avant-garde look. The colour ranges from deep brown, plum, red, orange to beautifully blended peach-blonde shades on the longer side.
Pretty Platinum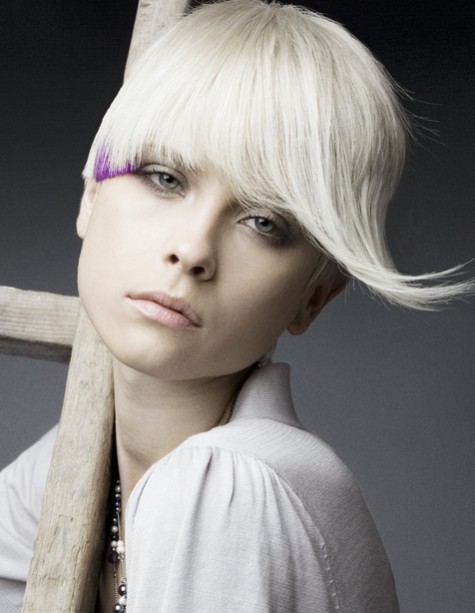 This original platinum-blonde style is very eye-catching with the fringe cut up to the center in a strong line, and then gradually lengthening into an exaggerated flicked-up section.
The lovely purple accent at one temple accentuates the eyes as does the rest of the fringe, too! So with trendy, purple smoky eye makeup to match, this would be a terrifically eye-catching look for an unconventional woman who loves to be different!
Lengthen a Low Forehead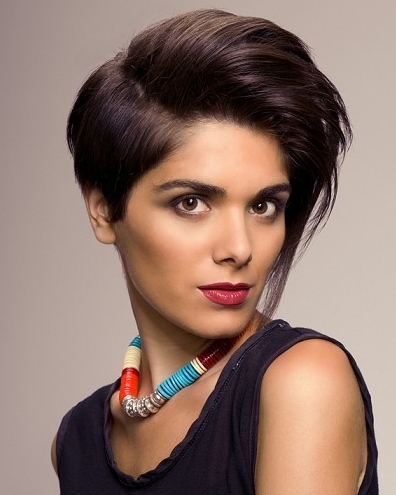 And if you have a low forehead, style your hair up into an impressive, round bump of volume above the forehead to elongate your face. This style works best of thick hair which has natural volume and the sides are thinned by razor cutting to limit the width at the sides.
Tailored Bangs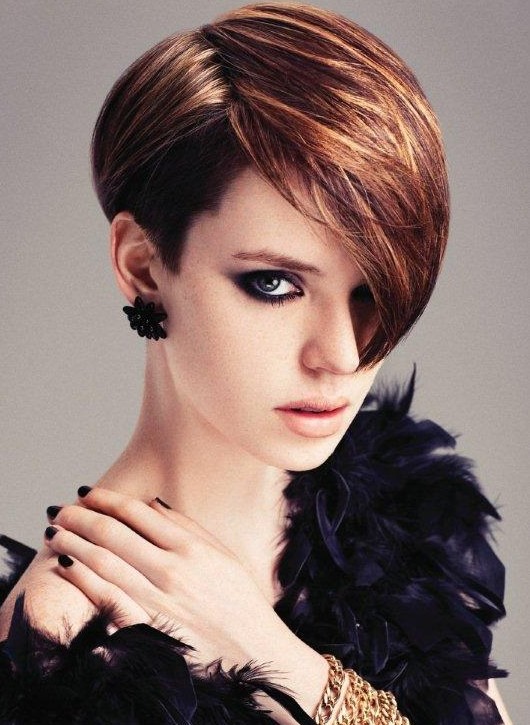 As you can see, extra-long bangs are popular – along with side-parting with a face-flattering asymmetric fringe that your stylist can tailor to suit your face shape perfectly.
These styles also allow you to wear more eye-makeup, because short cuts do draw lots more attention to your eyes. And with fantastic metallic copper, gold and bronze eye-shadows totally on trend for spring, you can match your eye-shadow to your hair colour for a fabulously chic spring short haircut!
And here are more popular short haircuts you may love, enjoy.

Short Hairstyles for Women: Bob Haircut with Blunt Bangs/credit
Short Hairstyles for Women: Cute Bob Haircut for Girls/credit
Short Hairstyles for Women: Easy Straight Haircut for Girls/credit
Short Hairstyles for Women: Insanely Pixie Haircut/credit
Short Hairstyles for Women: Long Pixie Cut/credit
Short Hairstyles for Women: Textured Layered Haircut/credit
Short Hairstyles for Women: Razored Pixie Cuts/credit
Short Hairstyles for Women: Mena Suvari Bob Haircut/credit
Short Hairstyles for Women: Cool Pixie Haircut Ideas/credit
Short Hairstyles for Women: Awesome Messy Bob/pinterest
Short Hairstyles for Women: Very Short Hair for Women/credit
Short Hairstyles for Women: Short Haircut with Side Swept Bangs/credit
Short Hairstyles for Women: Blunt Haircut for Blonde Hair/credit
Short Hairstyles for Women: Modern Haircut for Women/credit
Short Hairstyles for Women/credit
Short Hairstyles for Women: Adorable Layered Pixie Haircuts/credit
Short Hairstyles for Women: Chic Short Haircut with Side Bangs/credit
Short Hairstyles for Women: Layered Crop Hairstyle/credit
Short Hairstyles for Women: Ombre Hairstyle for Bob/credit
Short Hairstyles for Women: Frankie Sandford Asymmetrical Hair/credit
Short Hairstyles for Women: Red Hair Trends/credit
Short Hairstyles for Women: Asymmetrical Messy Haircuts/credit
Short Hairstyles for Women: Trendy Layered Haircut/credit
Short Hairstyles for Women: Trendy Stacked Bob/credit
Short Hairstyles for Women: Trendy Stacked Bob /Via
Short Hairstyles for Women: Long Bob for Fine Hair/credit
Short Hairstyles for Women: Jagged Cut Hair/credit
Short Hairstyles for Women: Wavy Bob/credit
Short Hairstyles for Women: Impressive Pixie/pinterest
Short Hairstyles for Women: Asymmetric Bob Cuts/pinterest
Short Hairstyles for Women: Asymmetric Short Haircut/credit