Spring outfit ideas
If you're someone who loves to be the "It" girl when it comes to fashion trends, then you must make sure to read this feature all the way through. It's going to provide you with all kinds of ways to rock one of the biggest looks going this spring: PLEATS.
If something about that word automatically makes you think about schoolgirl uniforms or old lady skirts, then that's even more of a reason to hear us out. As you're about to see, there are all kinds of fun, fashionable and youthful ways to wear pleats. It's all about keeping an open mind.
1. Sleeveless pleated top and jeans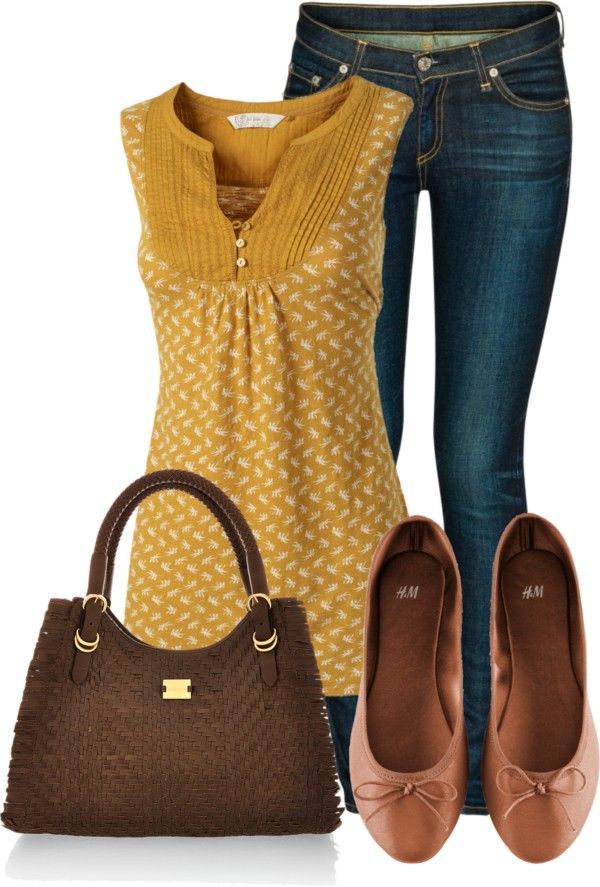 When it comes to high fashion, it really is "all about the details", even as it relates to casual looks like this. The print, along with the pleats on this sleeveless top is what really makes it stand out. The chocolate straw bag and a ballet slippers are awesome accessories.
2. Black top and pleated nude flare skirt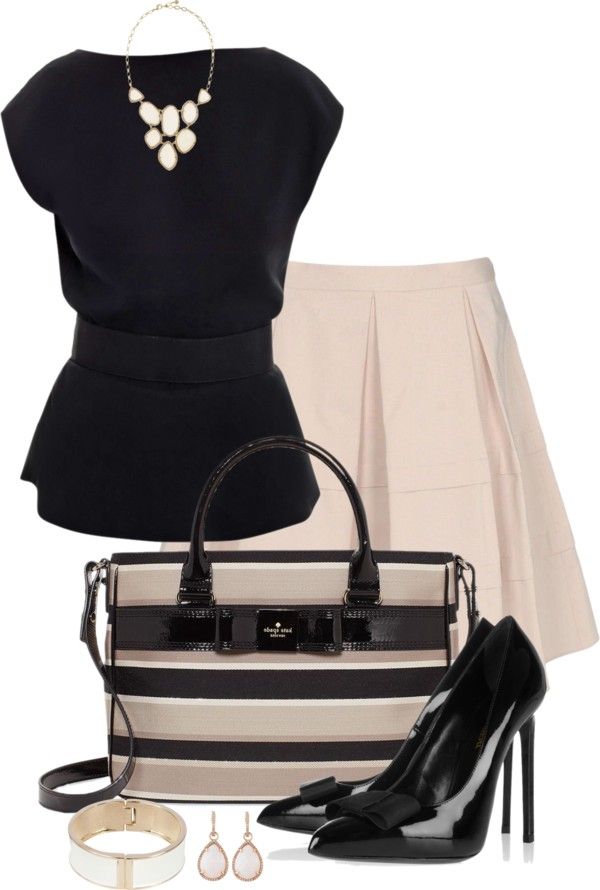 Nude is a color that you're going to be seeing quite a bit of this spring, which is why we are featuring this outfit. A nude pleated skirt and a black top are two neutral pieces that are divine together—for work or for play.
3. Solid pleated tulle skirt, tank and striped blazer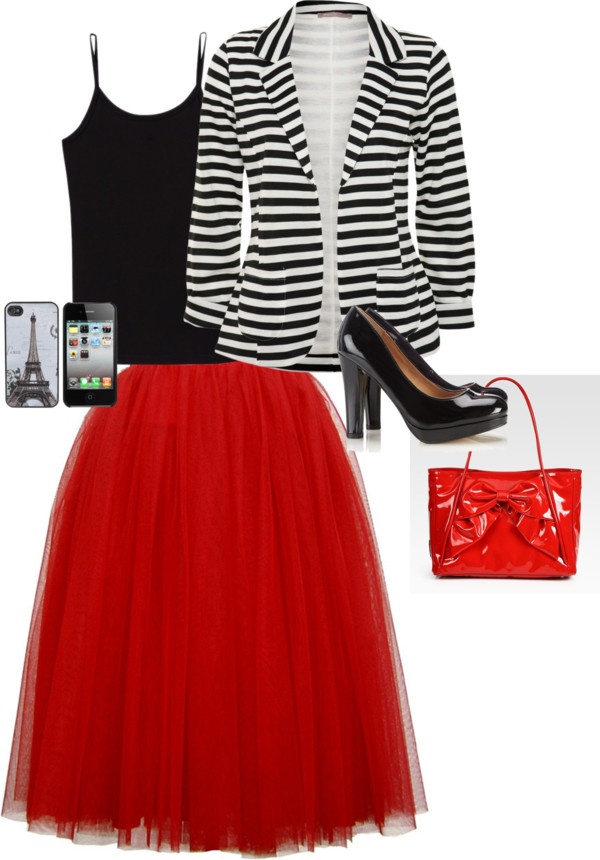 Polyvore outfit ideas: Tulle skirts that are pleated are one of the best ways to wear pleats. And although we would probably swap out the stripes for a floral blazer if you were going to wear it to a wedding (or similar function), there's not a lot to pick apart about this look. It's pretty much close to perfect.
4. Pleated sleeveless dress and cardigan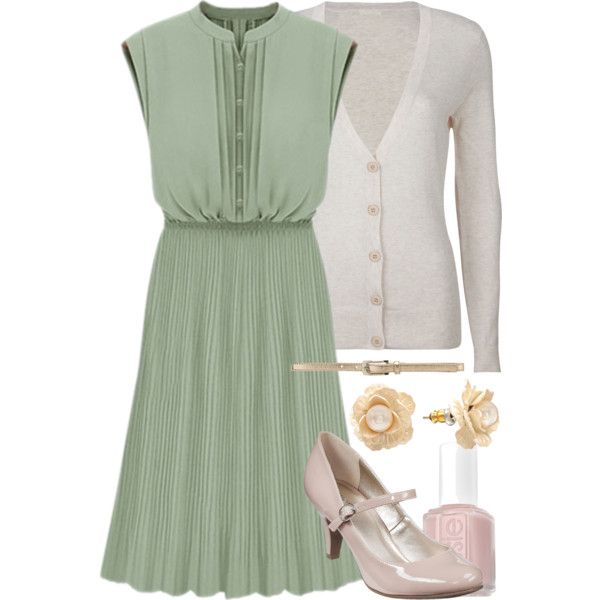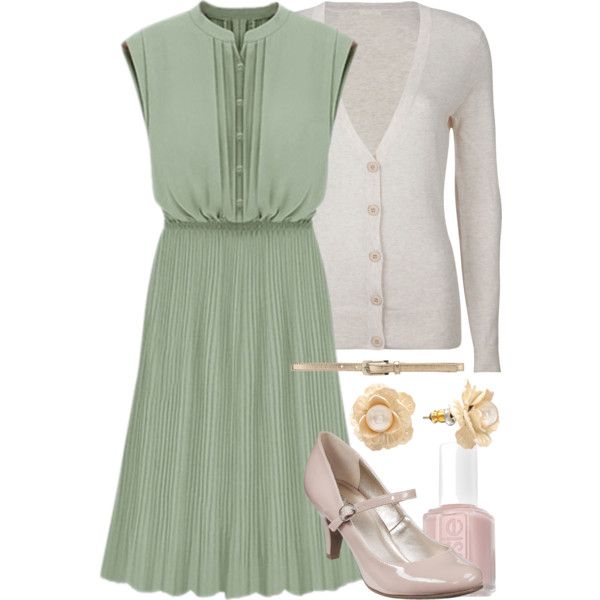 This has Ann Taylor or Banana Republic written all over it. And the good thing about that is since pleats are in right now, those are two stores that you can go to off top in order to find a dress that's very similar to this one. With a dress this color, the sky is truly the limit when it comes to accessorizing.
5. White blouse and printed pleated skirt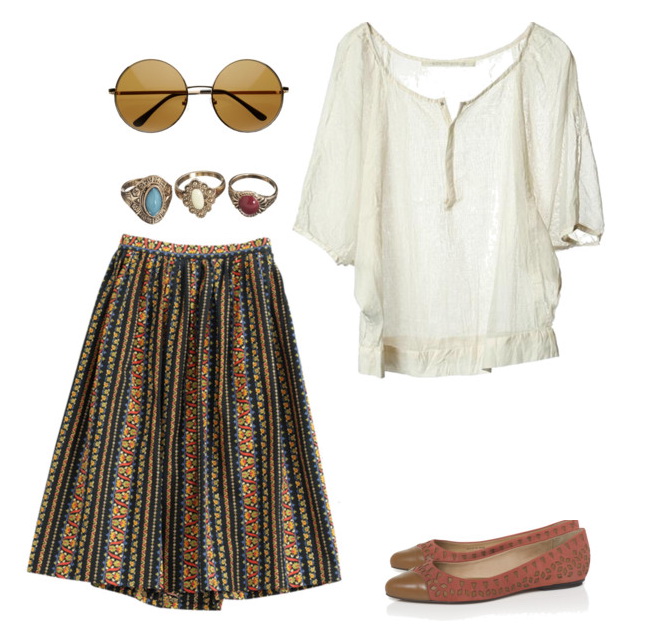 "Boho peasant". That's what we think about with a look like this. It doesn't have a ton of shape to it, so you might want to put on a wide belt to give your body more definition. But we still think it's "feature-worthy" because it's another example of how pleats and prints (in the skirt) work so well together.
6. Striped cotton shirt and pleated silk skirt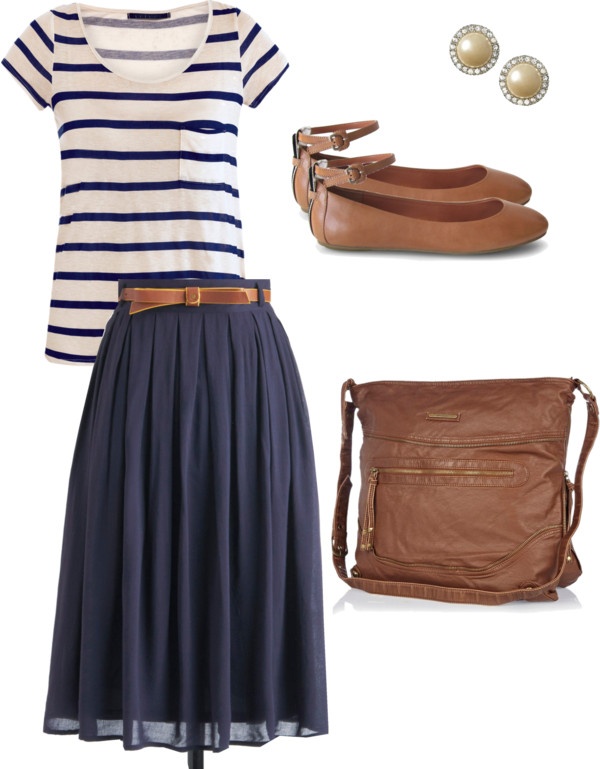 Without a striped T-shirt, this dressy pleated skirt wouldn't probably be considered as a casual look. With it, it's perfect for going shopping in the mall. For more pleated articles of clothing.
7. T-shirt and pleated leather mini skirt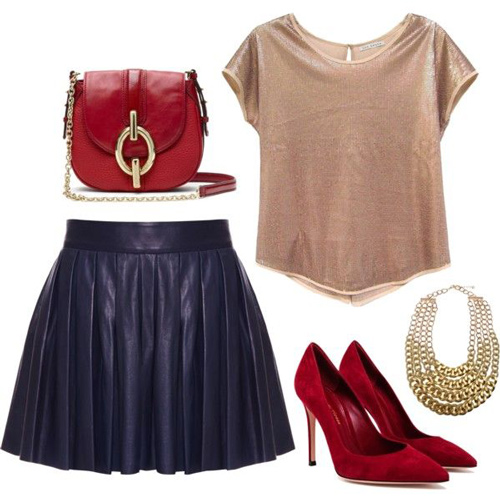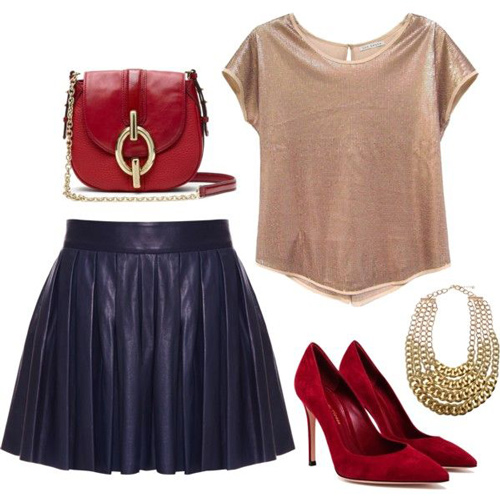 Polyvore outfit ideas for spring: Are you shopping for a new mini skirt? Look online to see if there's a pleated leather mini skirt. You can wear it with a plain T-shirt or a funky graphic tank. Shoes-wise, go with some suede pumps like the one in this picture or some high-top sneakers. (Put on the gold chain either way.)
8. Pleated strapless cutout dress and pumps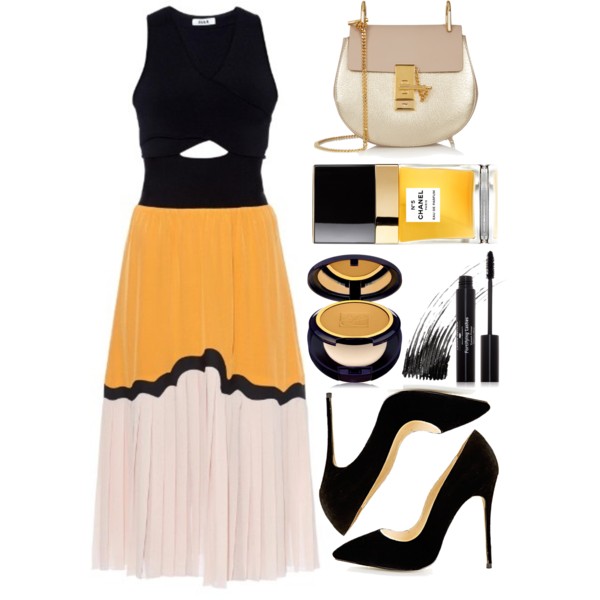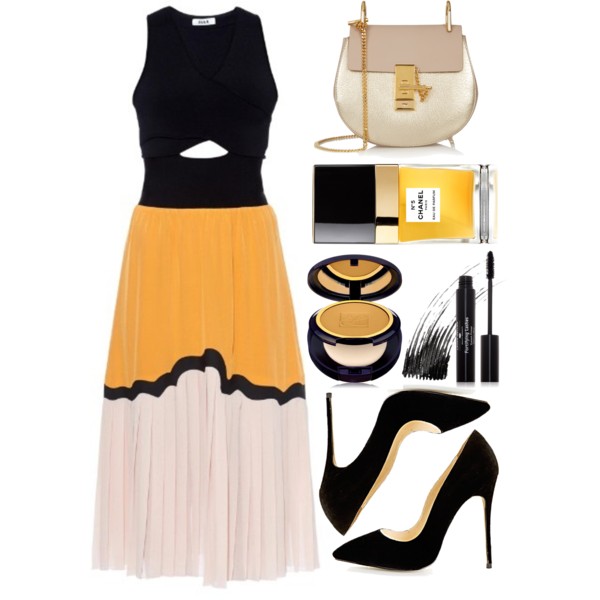 SO MUCH IS RIGHT about this dress. The halter in the top. The three colors in the pleated skirt. The cut-outs in between. There's not one wrong thing that we can—or will ever—say about this dress. Take it from winter through spring.
9. Solid midi top and printed pleated skirt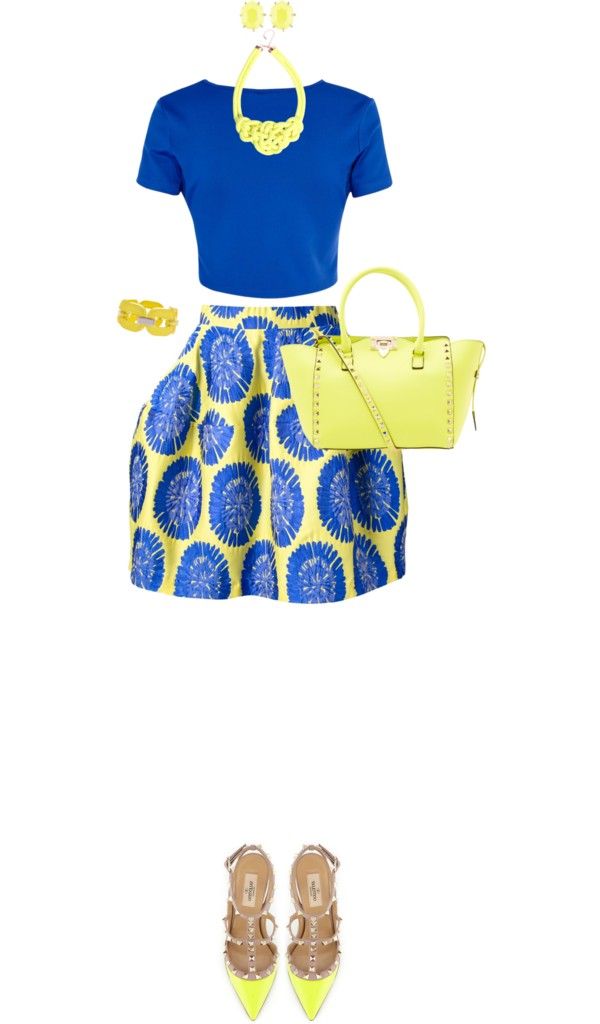 A short and pleated mini skirt is adorable. Absolutely adorable. This skirt appears to have pockets which actually makes it even cuter and even trendier being that skirts and dresses with pockets are showing up on fashion blogs more and more.
10. Pleated maxi skirt, tank top and denim jacket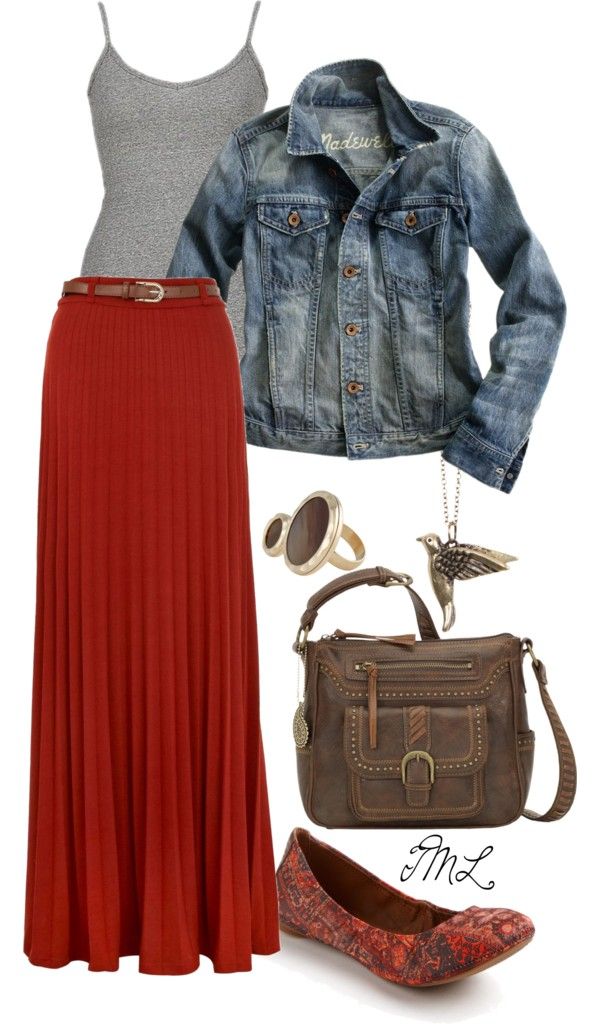 If you don't already own a pleated maxi skirt, let this serve as the fashion announcement that it's time to get one. If you prefer solids over patterns, pleats will help to keep your maxi skirt from looking so bland (if that's possible once your body puts shape into a maxi skirt).
11. Pleated halter top, blazer and jeans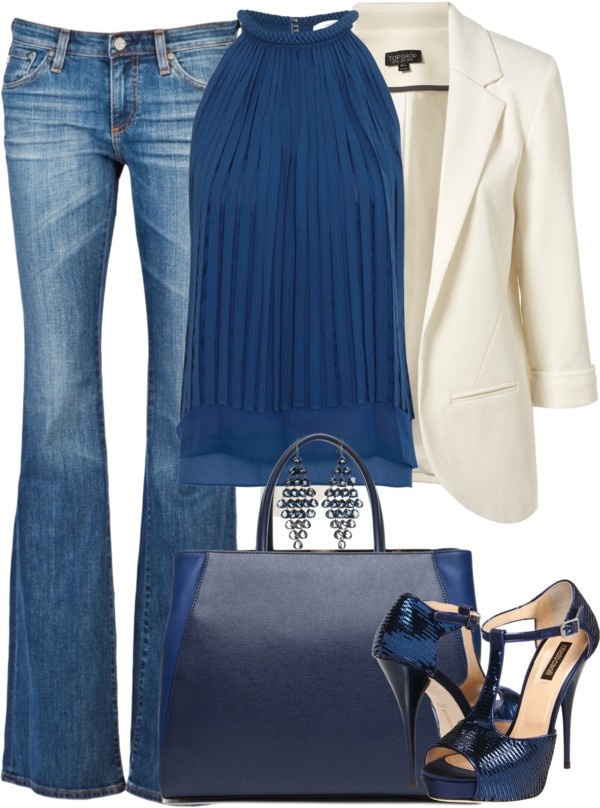 Blue and cream. YES! No matter what form this outfit came in, we'd be all over it…quite frankly! If it's not warm enough to wear a plated halter top (isn't it simply fabulous?!?) alone, throw the cream blazer on over it. Go with flare jeans if you're dressing up. Go with skinny jeans if you're dressing…"down".
12. Pleated skirt, button-down blouse and heels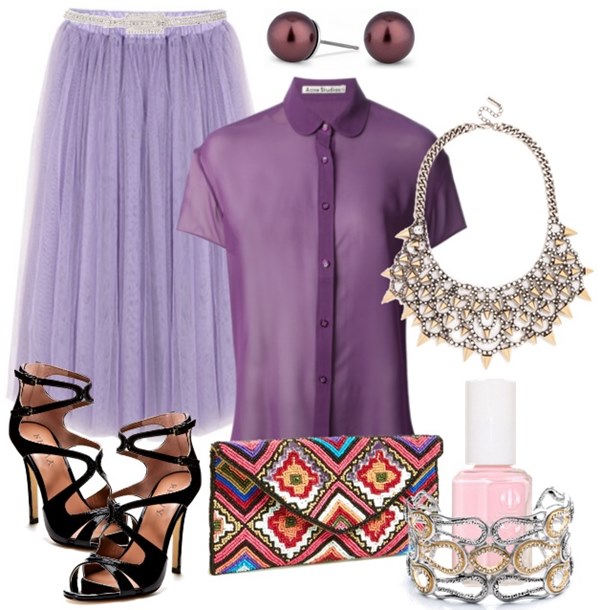 Different shades of purple. Royal, regal and what a beautiful look on virtually every skin tone. The gathering at the waist of this particular skirt is what offers "the pleated effect". And a colorful clutch and strappy sandals are two things that you can wear over and over (and over) again. Pleats or not.
13. Pleated strapless dress and sandals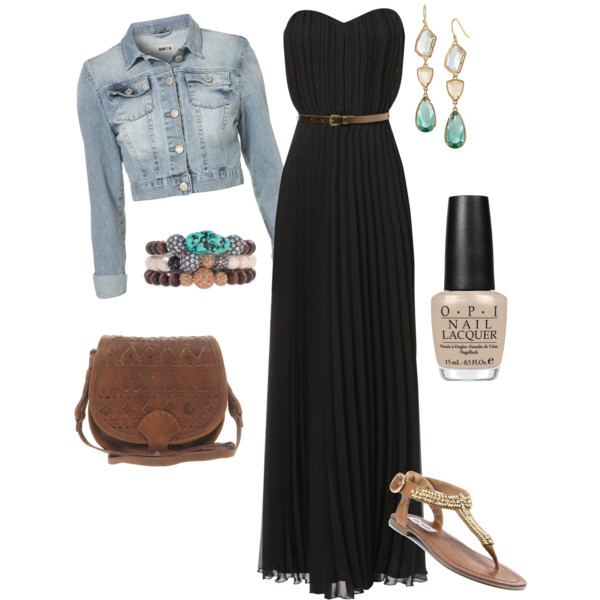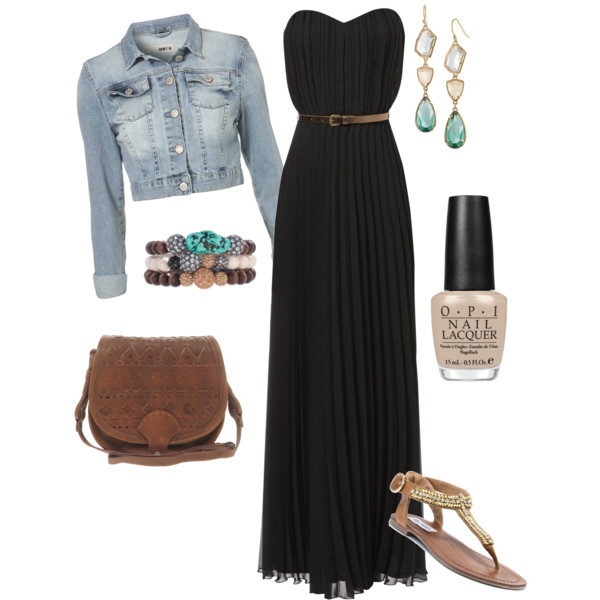 If you're wearing a solid-colored strapless pleated dress, you really don't need to put on anything else. Shoot, you could wear something like this barefoot and still be off the charts! But we know that you probably like to add some flare to your look, some beaded sandals, some (costume) gemstone earrings and a denim jacket—all of your friends will envy you.
14. Printed sleeveless top and white skinny jeans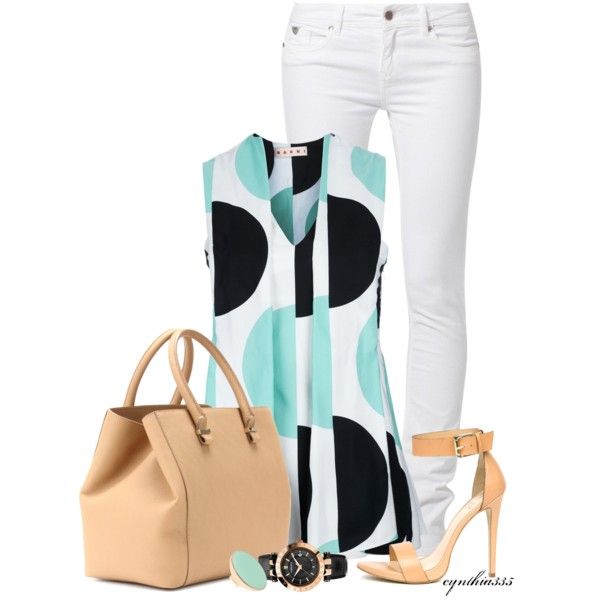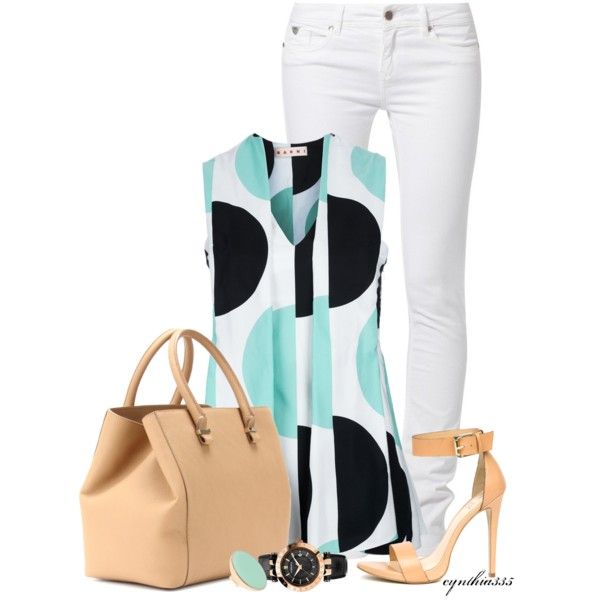 Outfit ideas for 2016: Polka dots are always a stand-out pick for clothing and mint green with black (and white) is not the kind of polka dotted pleated top that you'll see every day. We review fashion all of the time but even we admit that we probably wouldn't have thought to accessorize with nude, at least at first. The more we're looking at it, the more we're digging it now, though.
15. Pleated sleeveless dress and low-top sneakers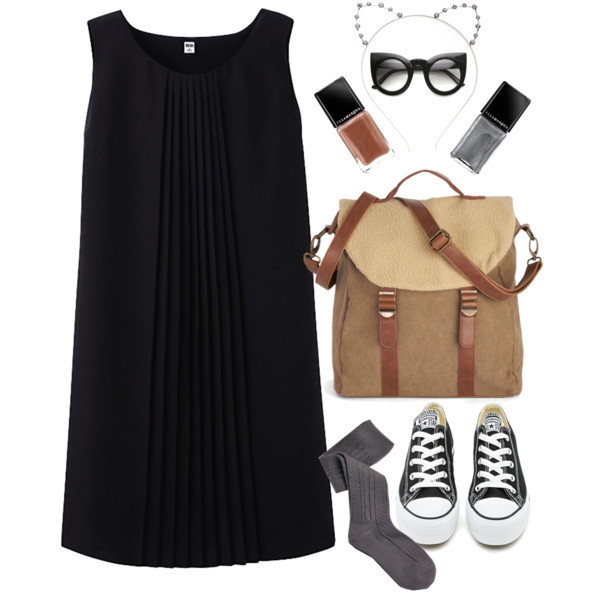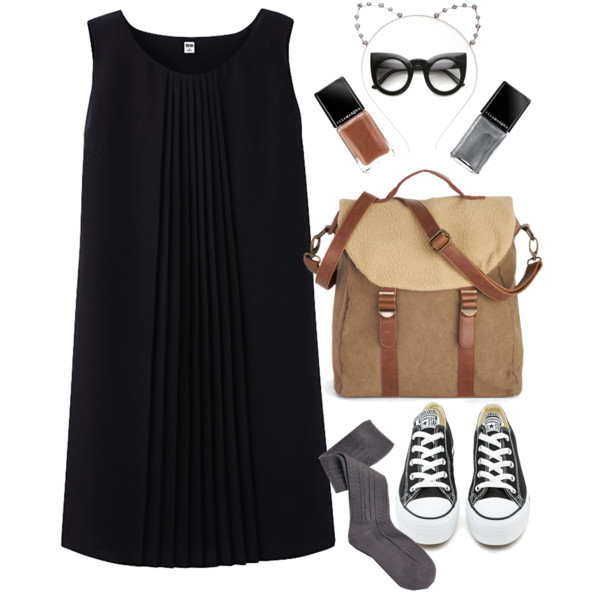 A sleeveless pleated dress like this one is an example of how a dress that might seem a bit too conservative for your taste can be right up your alley with the right kind of accessories. Some low-tops are not the most typical addition, but that's actually what we like about it. Style is about not letting them see you coming sometimes; about doing the unexpected.
16. Strapless gathered (pleated) dress and matching heels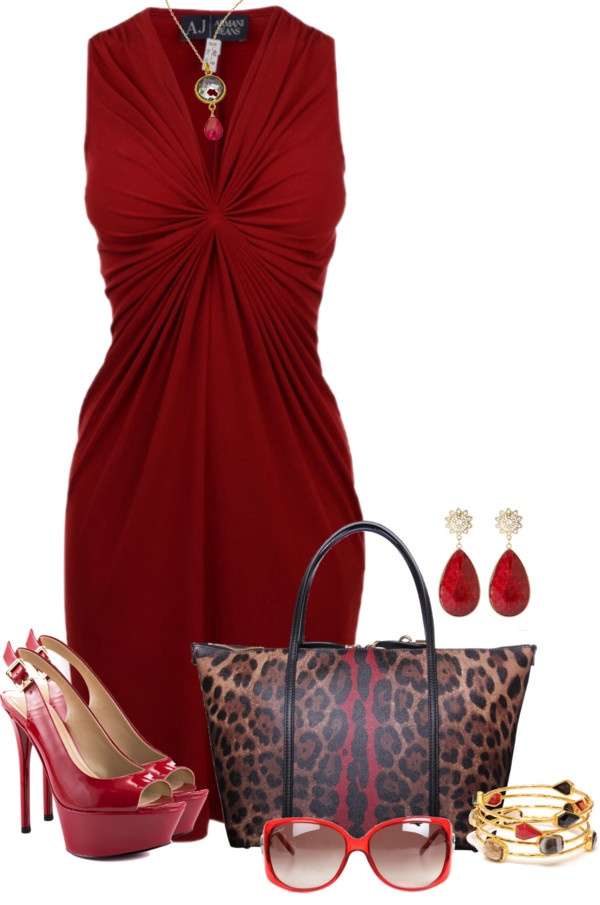 Here's an atypical way to wear pleats: gathered in the bust line area of a sleeveless dress. Red symbolizes love, seduction and adventure—the perfect message for a dinner date with that special someone. Red patent leather pumps are sexy and fun and eyeglasses with red frames are an accessory you'll be glad that you have in your possession…many years from now.
17. Sheer top, lace bra and pleated flare skirt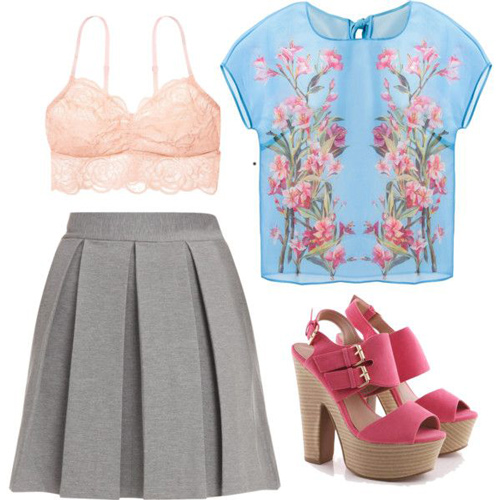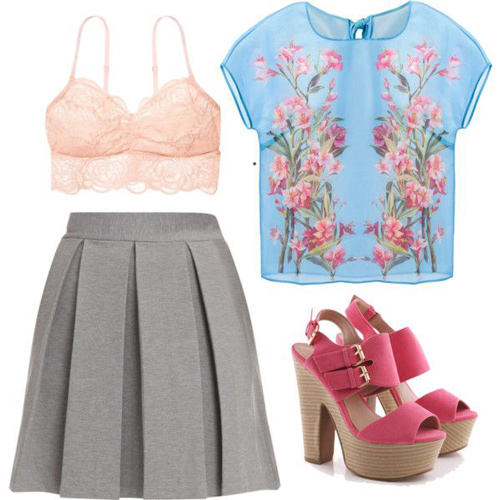 You might not think to put a cotton or knit heather grey skirt with a silk and sheer silkscreen blouse simply because the materials might initially seem to clash. But clearly that's not the case. Out of all of the outfits on this list, here is one of our favorites. If you're a bit too shy to wear a lace bra, you can always put on a solid satin one or even a tank top underneath.
18. Graphic shirt and pleated leather skirt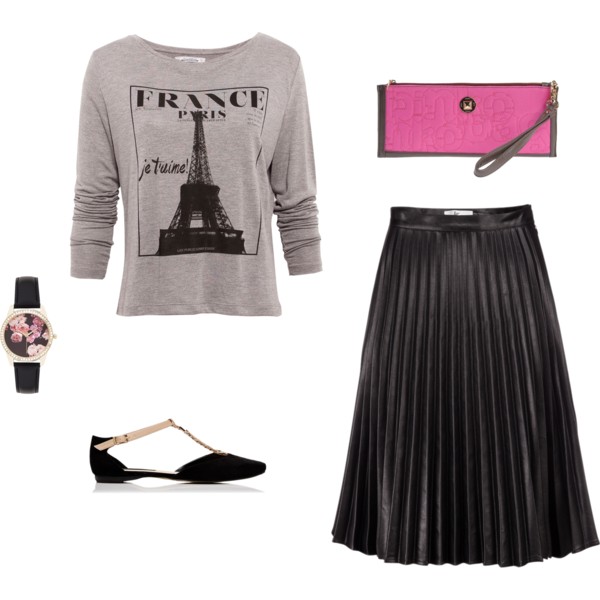 Polyvore outfit ideas for women: This could be a satin pleated skirt but our imagination (and desire) has determined that it's leather. And boy oh boy, if you can find a black pleated leather skirt, why would you not go all the way out of your way to get it?!? You could throw pretty much anything on with it; including a graphic shirt.
19. T-shirt, pleated skirt and patent leather flats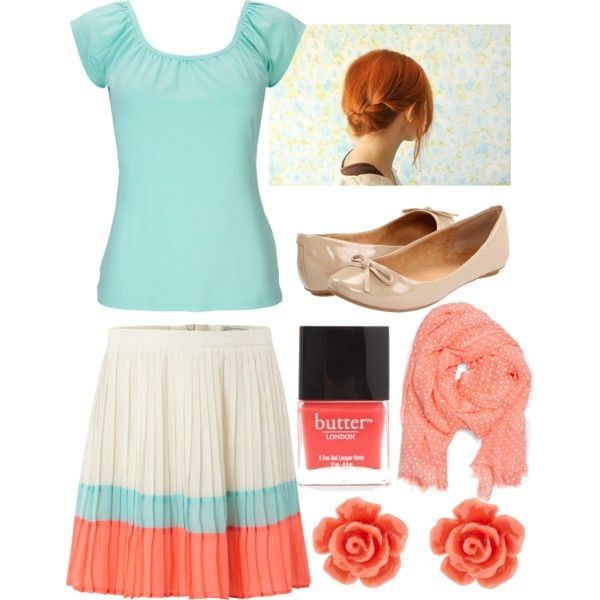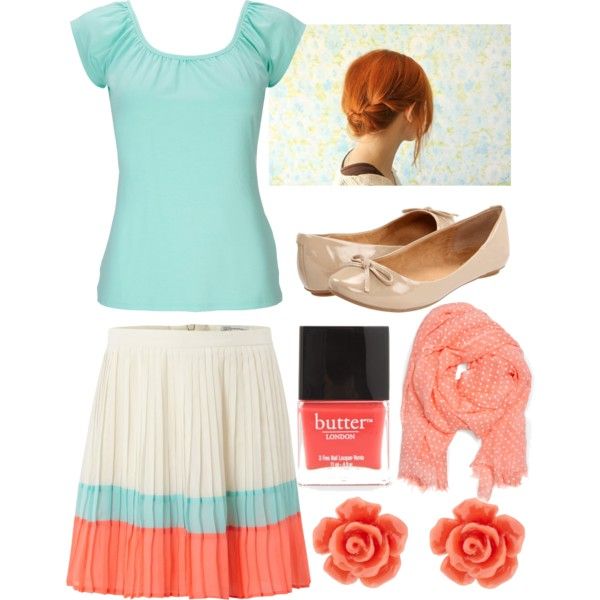 Casual Polyvore outfit ideas: If you look really closely at the top, the T-shirt even has minor pleating to it—around the neckline. That matches impeccably with the tri-tone pleated skirt. An outfit like this one is a reminder that colors can really take style a long way. It's like a walking cup of three scoops of sorbet.
20. Pleated skirt, dressy tank and light denim jacket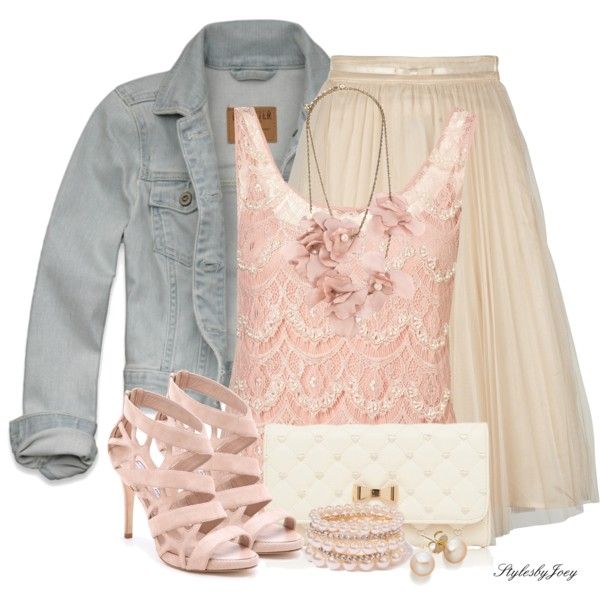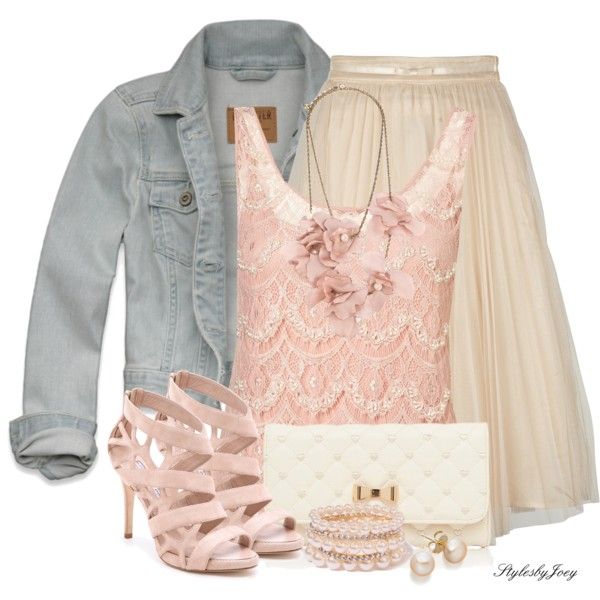 Are you kind the girl who likes to wear denim pretty much every day? Here's how you can rock it with a dressy outfit. Being that the denim is light blue, it's so fanciful with this light pink lace tank and cream tulle skirt.