1. Kirsten Dunst: Long Hair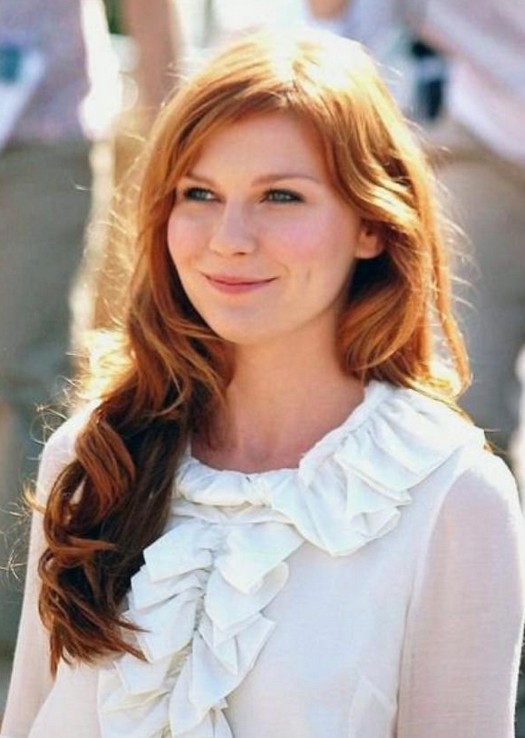 Thanks to her beautiful fair skin, Kirsten Dunst can wear this rich auburn colour so well. She really suits the warmth and brightness of this sumptuous shade, and the style is shaped to suit her small features and rounder facial shape. Long lengths of hair are styled in tousled waves and draped over the shoulder, elongating the face slightly, while the other side of the face is kept bare so as not to swamp her small features. A rough side parting, gentle weaves and lots of loose strands make this a great style for casual every-day wear while the big impact from the colour and length make it great for more formal occasions too – a very versatile look.
2. Kirsten Dunst Short Haircuts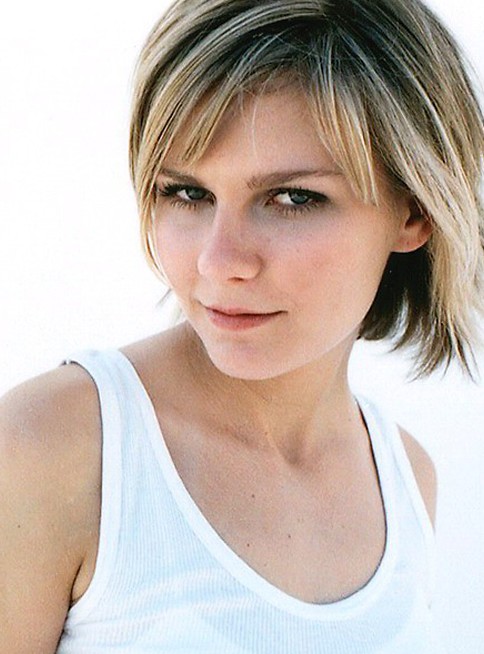 Kirsten Dunst really suits a short style – her facial features are very fine and she has a great, balanced facial symmetry. A short hairstyle really highlights a delicate and shapely chin and jawline. This style makes great use of a mixture of dark and light blonde tones with lots of very fine highlights to add interest and detail to the look. The darker tones bring out her eyes while the lighter tones work very well with her fair skin tone. Shorter layers and a fringe create the shape, while the ends have a rough, razor cut finish that make it a truly contemporary look.
3. Kirsten Dunst Short Bob Hairstyles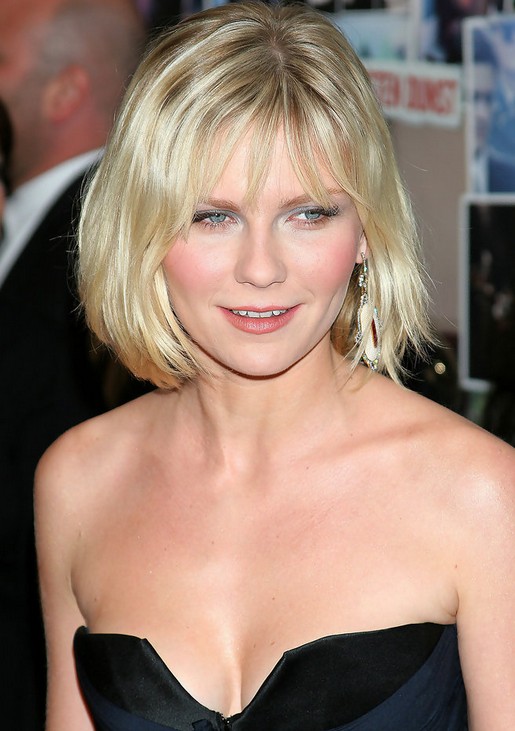 With Kirsten Dunst's round face shape, a short bob and fine fringe shouldn't be this flattering! However, Kirsten Dunst's fine features, delicate jawline and great facial symmetry mean that this short style works really well. The fringe is light enough not to shorten the face like a solid one might. A parting set slightly to the side and a cut that has loads of subtle layers creates plenty of volume and shape. The colour is great – plenty of highlights in a range of blonde tones creates loads of interest.
4. Kirsten Dunst Medium Hairstyles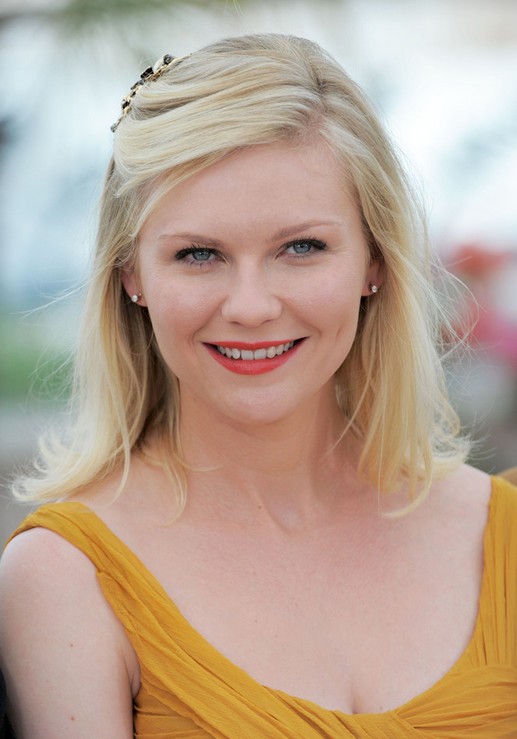 A medium length hairstyle can be a great opportunity to get creative with hair accessories, like this beautiful vintage inspired look as worn by Kirsten Dunst. Here, Kirsten's icy blonde shade looks great against her fair skin – a range of ash blondes and slightly warmer straw tones create a multi-tonal look that is really very flattering. The style itself is flattering also; a side parting creates a big swathe of hair to sweep across the face where it is pinned back high on the head by a stunning hair slide. The lengths are loose and light, falling naturally onto the shoulders. A very pretty, slightly retro style that is feminine and pretty.
5. Kirsten Dunst Hairstyles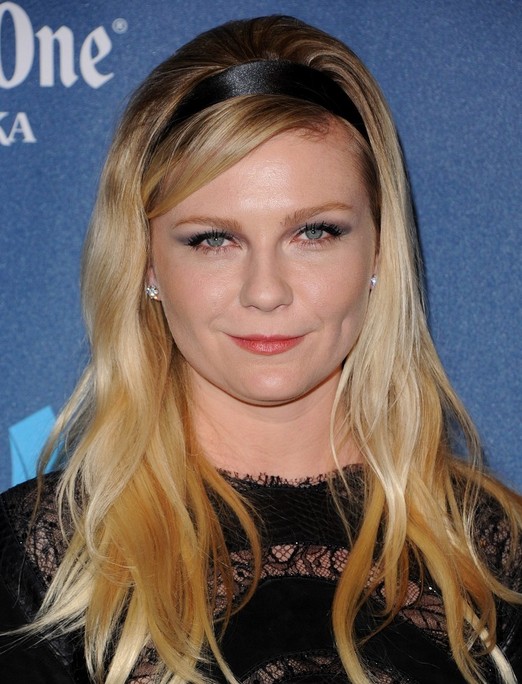 Creating height on top of the head can be a great way to elongate a rounder face, as Kirsten Dunst shows here with her long style with added volume and a satin hair band to add height and interest to a simple style. The front section of hair has been brought forward instead of being held back by the band, sweeping to the side and tucked behind the ear. This gives a girly aspect to the style and means it is a softer, less harsh look. The lengths of the hair are beautifully golden and styled in soft glossy waves to add shape. More shape is created by the few fine layers around the face.
6. Easy High Ponytail: Kirsten Dunst  Hair Styles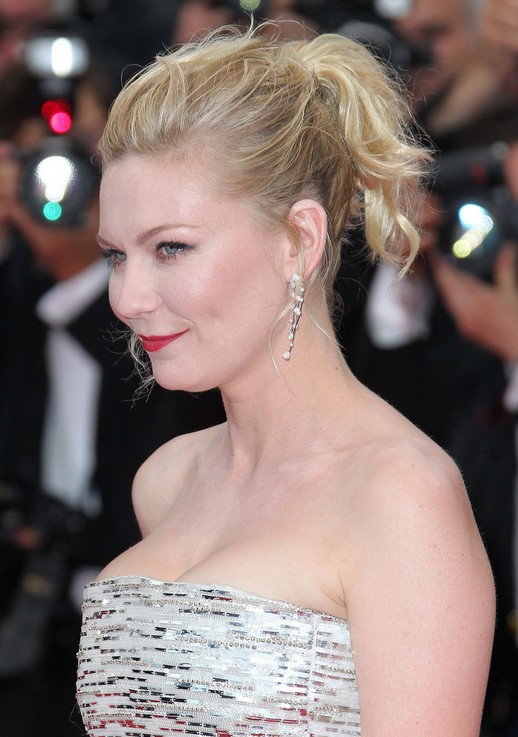 This high ponytail is a hairstyle that many of us turn to for every day, casual convenience. But just add a touch of messy chic styling and a great colour and it becomes a look that is more than fit for the red carpet, as shown here by Kirsten Dunst. Here, Kirsten's bright golden blonde hair is gathered high up at the back of the head, and then lots of strands have been pulled loose from the top of the head. A few strands fall to the sides while others are swept back to soften the effect pf the high ponytail. A great look to mix the casual with the elegant and hit the messy trend perfectly.
7. Half Up Half Down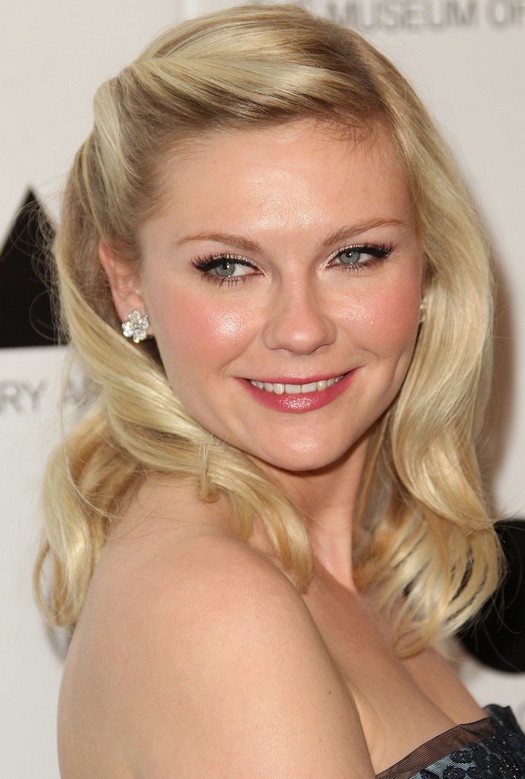 This is a fantastic twist on the classic half up and half down style. Instead of securing the top layer of hair at the back of the head, Kirsten Dunst has pinned back one side of the hair and left the other side loose. All the hair is wavy; gently styled in soft, glossy waves that are loose but shapely. The hair that is pinned back is rolled back to create a vintage look that is right on trend. The vintage look really works with Kirsten Dunst's beautiful blonde shade, a very pale gold that compliments her fair skin perfectly. This is a great style for those with symmetrical face shapes and fine features.