1. Dianna Agron Updo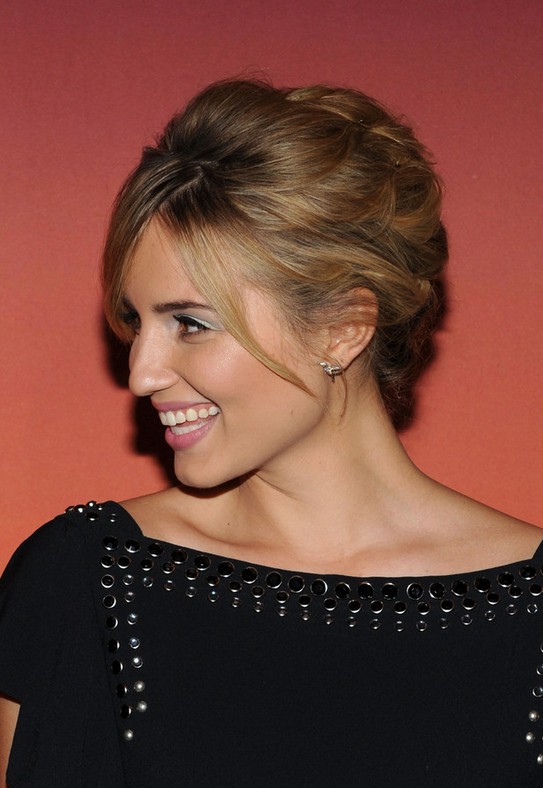 This is a truly beautiful style that must have taken a wonderful stylist a long time to get just right. At first glance this might look like just another updo, but look more closely and you can see that strands at the sides of the style have been pinned to create an intricate design. This adds a really beautiful touch of extra detail to the look and turns a classic updo into a much more modern, fun style while maintaining that elegant profile that is so hard to achieve. The shape of the design is echoed in the fringe which is in two overlapping parts – simply stunning!
2. Dianna Agron Short Hairstyles: Messy Hair for Heart Face Shape

Looking for a contemporary style for short hair that is edgy and feminine? This modern cut and style worn by Dianna Agron could be just the look you want. If we could aim one criticism at this look it is that it might be just a little too fluffy… However, the messy chic look is a big trend, and a great way to soften a style or make it more casual with that 'just rolled out of bed' sexy tousled look. The cut itself has a razor cut look at the ends for an edgy finish, while the shape relies on carefully cut layers. The fringe is shaped to the side for a touch of asymmetric styling while the length draws our attention to that perfect jawline.
3. Dianna Agron Medium Hairstyles: Winter Hair Styles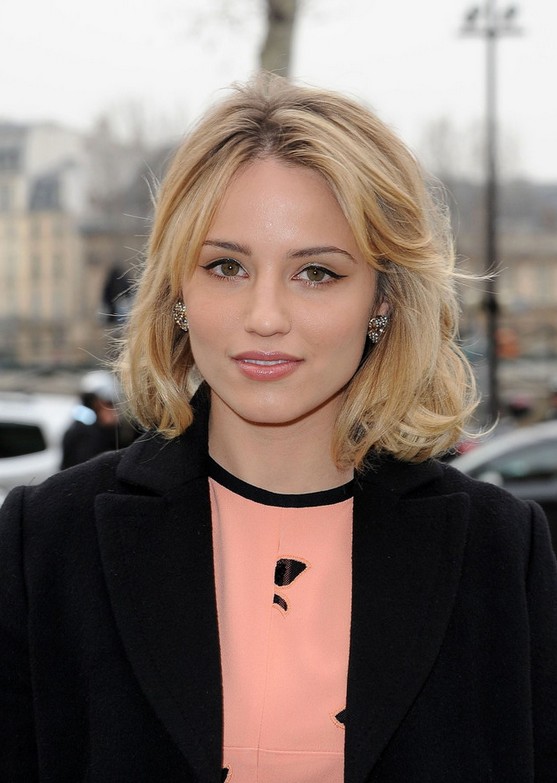 A medium length style looks great on women with well-balanced facial shapes and features – just like Dianna Agron who has a very well-proportioned face with a strong but soft jawline that really looks good with the hair falling just onto the shoulders. She is also sporting some long bangs here, a fringe that has been parted in the centre like the rest of the hair, and pulled to the sides. With a gently curved shape, this really helps to frame the face. The colour is a mixture of honey and straw shades of blonde, with slightly darker ash tones at the roots. This tousled, effortless style is a good look for the actress, and gives her a casually cool look.
4. Dianna Agron Long Hairstyles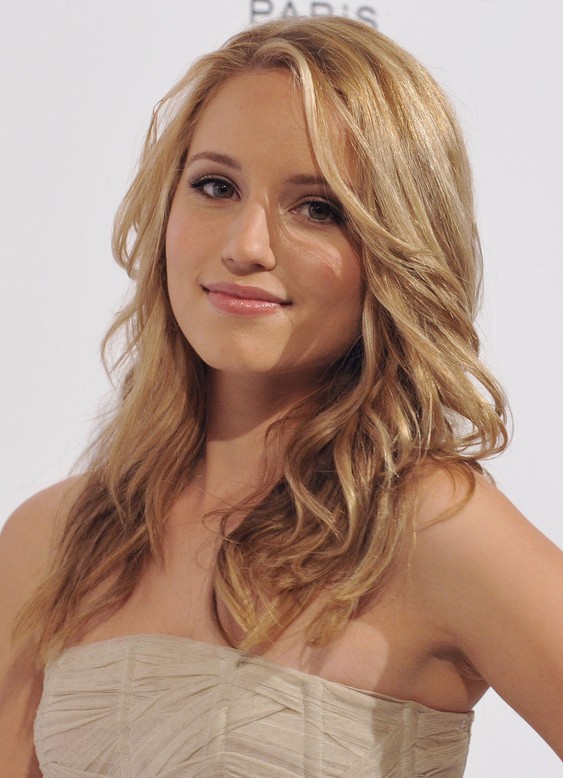 Here, Dianna Agron wears her long hair in a side parting and long loose waves over the shoulders. This is a classic style that we see again and again – and the reason we see it so often is that it works for so many different face shapes. This is one of the most versatile looks you can try with long hair – it works for both casual occasions and big events, and it gives a soft, feminine look that is so flattering. Dianna Agron's blonde shade is interspersed with pretty straw blonde highlights which are really good for helping to make those loose waves seem more defined. This is a great length for helping to elongate a rounder face.
5. Dianna Agron Hairstyles: Blonde Curly Hair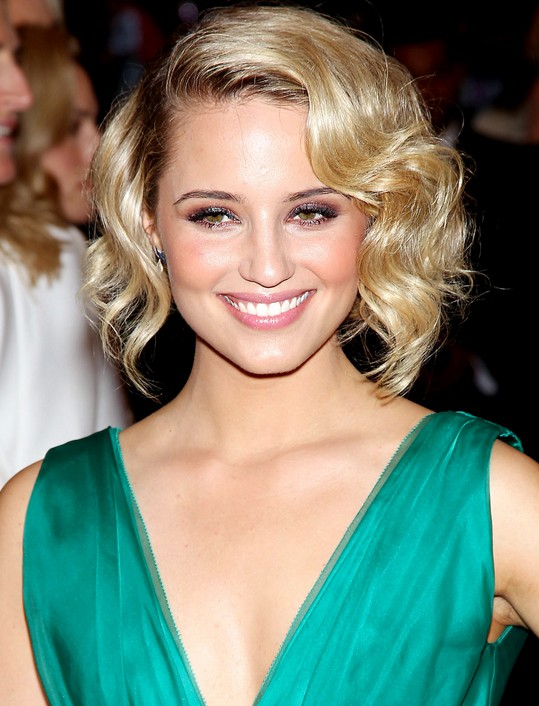 This is a stunning look for Dianna Agron. The actress' blonde hair is styled with a series of beautiful waves that create a classic look that gives a big nod to the retro trend for fifties finger waves and dramatic side sweeps. The side parting looks great on Dianna, who has a very balanced face with a symmetrical shape and full, defined features. The face is framed perfectly at both sides by big bouncy waves in a beautiful blonde shade that looks fantastic against a pale skin tone.
6. Dianna Agron Fishbone Braid: Updo Hairstyles with Finish Braids Bangs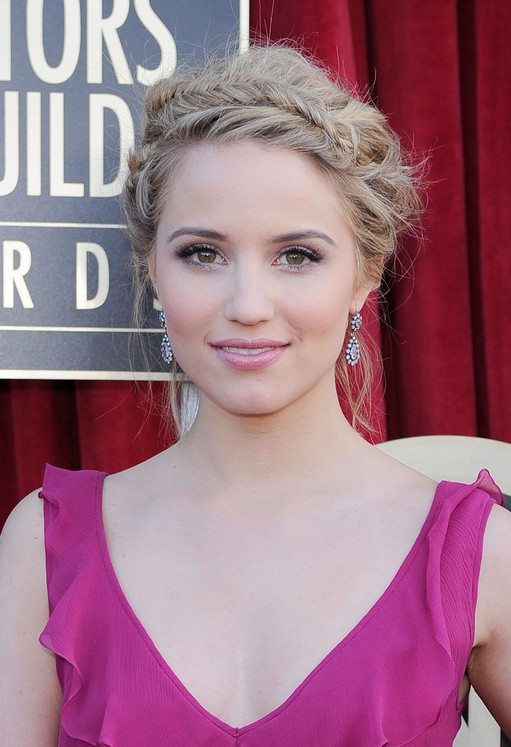 The fishbone braid, also known as the herringbone braid, might look tricky, but it is deceptively simple. It is a great technique for creating messy down dos and glamorous updos – and here is a brilliant example from Dianna Agron. Here, the actress and singer wears her long hair in an elegant updo with a pretty fishbone braid across the front of the hair. Lots of fine, loose strands and a 'messy chic' finish makes this a really fashionable look that takes a classic updo and adds some edgy styling for a big impact. The natural looking ash blonde tone is great with Dianna's pale skin tone.
7. Dianna Agron Bob Hairstyles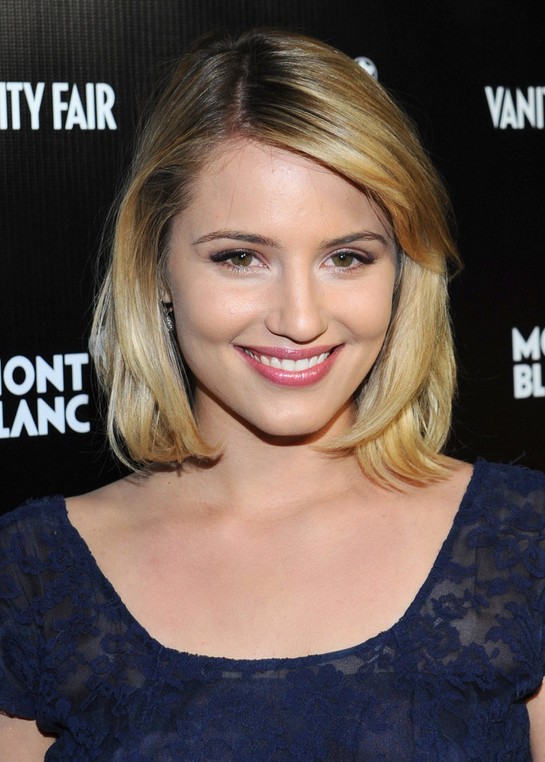 This is a very feminine and sweet bob cut that looks great with Dianna Agron's facial shape and strong features. A side parting always makes a bob more interesting, and it usually helps to soften the effect of a harsh cut. Here, the side parting adds shape to a simple style and sweeps across the forehead to balance the face. The colour is another success for Dianna Agron; a multi-tonal blonde that is darker at the roots for a gentler more graduated look. The length of this bob, ending between the jawline and shoulder level makes this a great casual look for flattering a rounder face or adding width to a long face shape.