Not only is your little boy your absolute pride and joy, but your little one is an extension of yourself! Your fashion sense and style preferences are reflected in the way you choose to style your little man – which means he must be dressed to impress at all times! He may only be a baby, but he can still be a little style icon!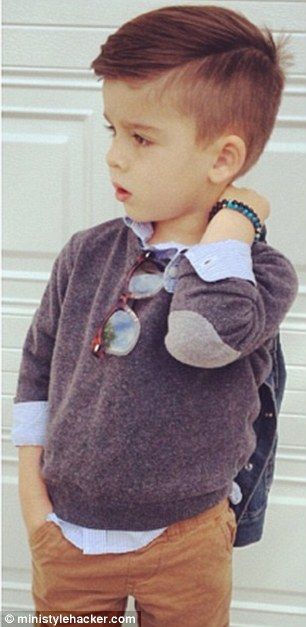 Here are a collection of gorgeous haircuts that we think are simply adorable for baby boys; hopefully you can find inspiration for styling yours here.
Brown Flicked Fringe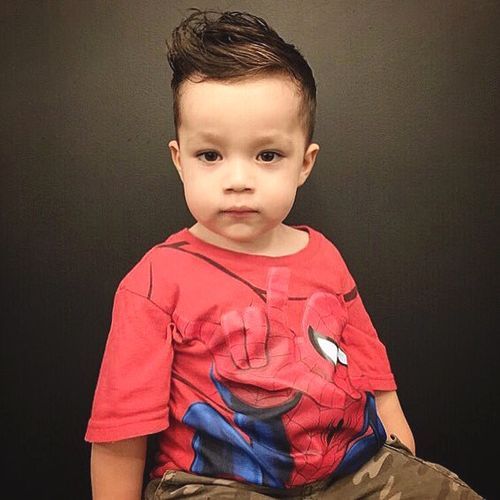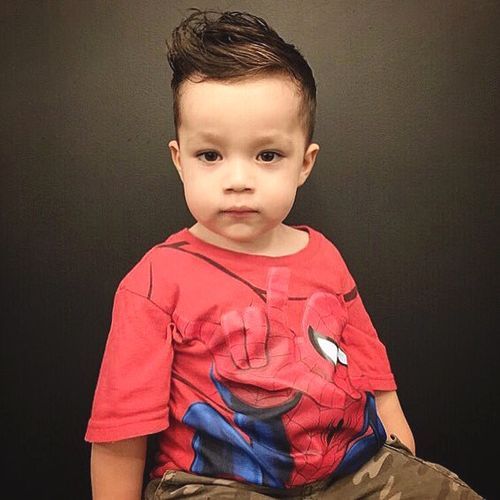 This beautiful little boy has a shock of gorgeous brown hair which has been styled to perfection by his incredible fashionable mum or dad. They've opted for a cool hair style to match his cool Spiderman t-shirt, and have flicked his curly brown hair to one side to create a gorgeous quiff effect for the fringe section of his hair. We love this look!
Cropped Blonde Cut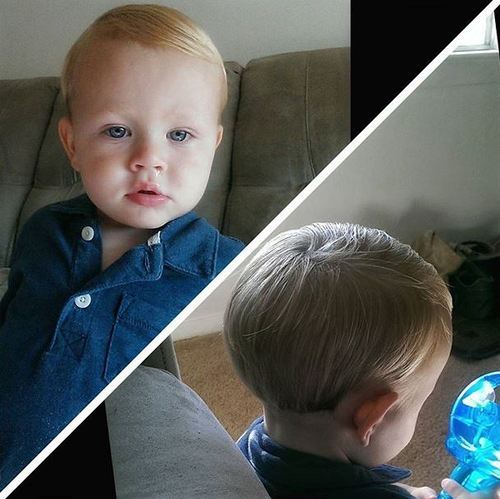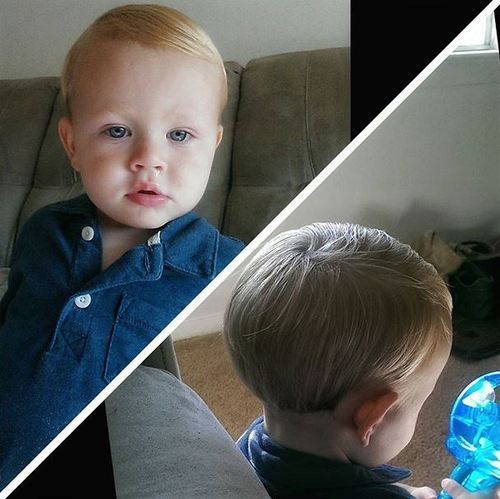 This bouncing baby boy is simply adorable – look at those big blue eyes! Combined with his gorgeous blonde hair, we just can't get enough of this beautiful look. His lovely blonde hair has been finished with a completely straight line across the back of the head, cropped closely for a beautiful style. The top of the hair is shorter and is swept to the side.
Beautiful Baby Curls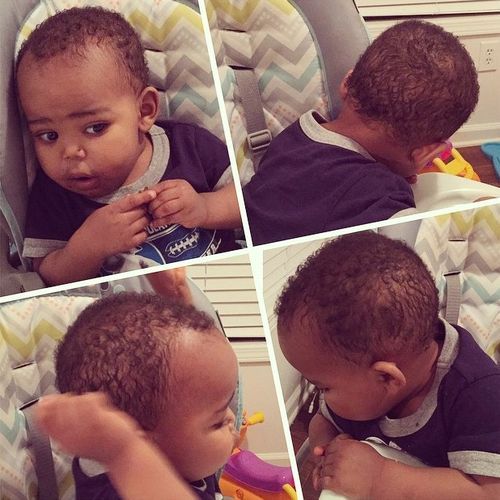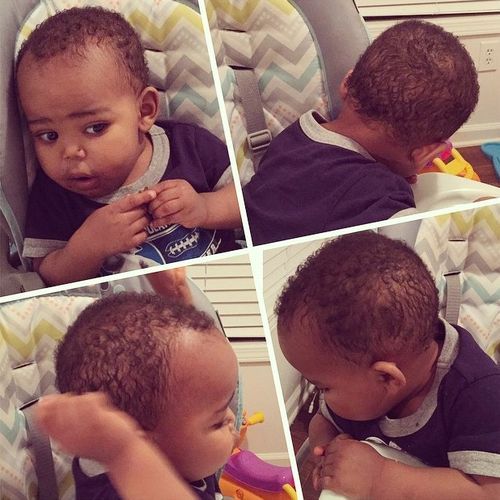 This simply adorable baby is the cutest thing that we ever did see – especially because of his beautiful baby curls! His soft hair grows in the most adorable little ringlets which just add to how cute he is in our opinion. These wonderful soft curls create a stunning look that is simple and completely low-maintenance, creating a glorious finish for no effort.
Shaved Bottom Layer with Longer Side Fringe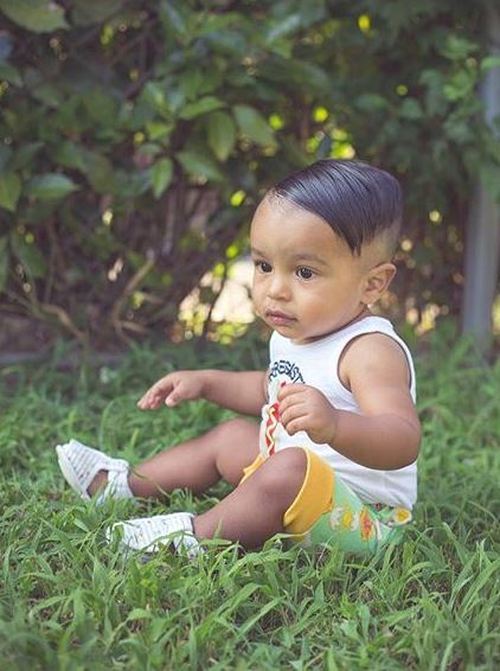 This sweet little boy is every inch the fashion icon with his gorgeous little face, adorable summer dress sense and most importantly of all, his beautiful hair! His hair is separated into two layers; the bottom layer which is shaved closely to the head and then the top layer, which is left longer and swept over to one side to create a striking look.
Spiked Back Brown Style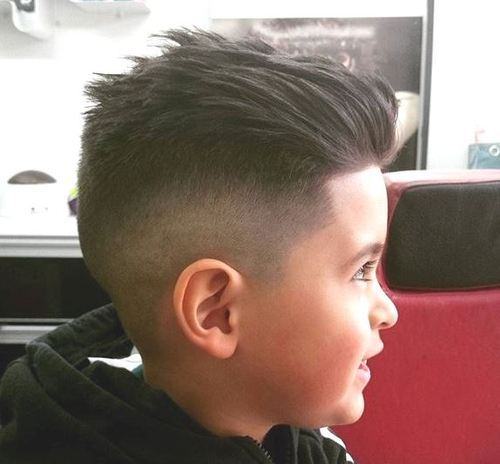 This little chap is going to be such a heart breaker when he's older – just look at that wonderful smile! His adorable little face is finished off by a seriously stylish hair cut that we're sure makes him the envy of all of his friends. The back and sides of the cut are shaved so closely to the skull, and the top layer is left long and spiked backwards to make him look cool.
Gorgeous Blonde Waved Fringe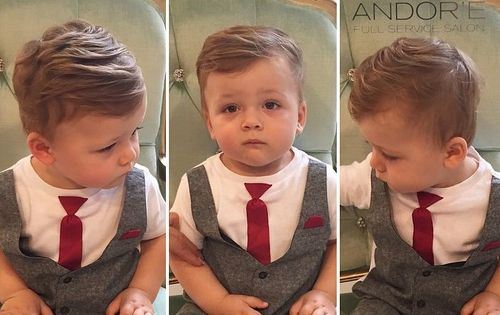 This tiny little guy is absolutely dressed to impress with his gorgeous little tie and waistcoat combination – he looks so incredibly smart that this is the perfect look for a special occasion. His naturally wavy hair is so adorable, and has been swept to the side from the fringe section backwards to create an effortless and stylish finish that we utterly adore.
Short and Spiky Blonde Hair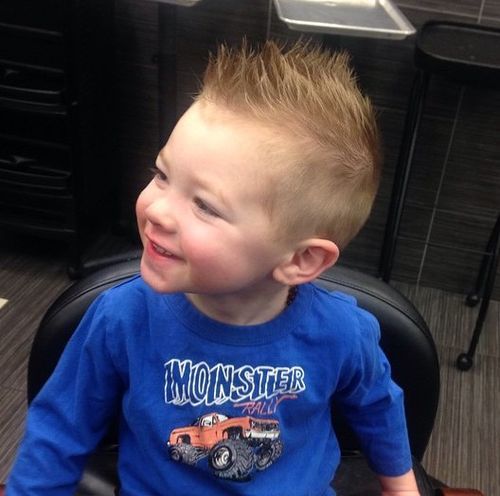 This spiky little guy has stolen the hearts of the Styles Weekly office which his simply gorgeous little face – we can't get enough of that smile! If his lovely face weren't quite enough, there's also his super cool hairstyle that we absolutely love too. His wonderfully blonde hair is short at the back and sides and is spiked up at the top for a super cool look.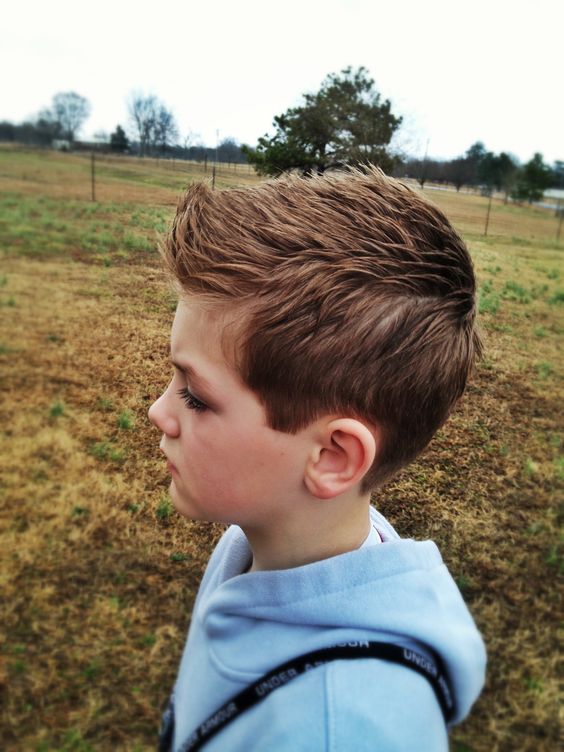 Short on Top and Long on the Back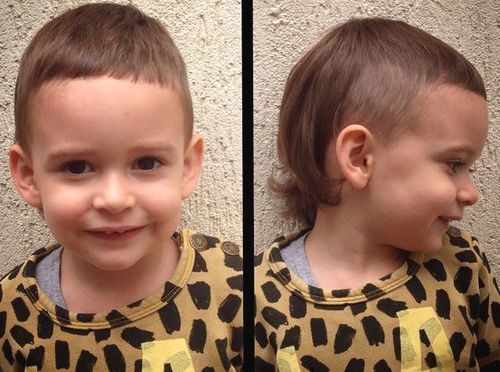 This little guy is single-handedly bringing mullets back into fashion with this throwback hair style that is simply outstanding and incredibly stylish! His lovely brown hair is cut into a very short fringe section at the front, and finishes into a much longer section at the back which curls at the ends in the most adorable fashion, as we're sure you'll agree.
Zig Zag Stripes and a Purple Quiff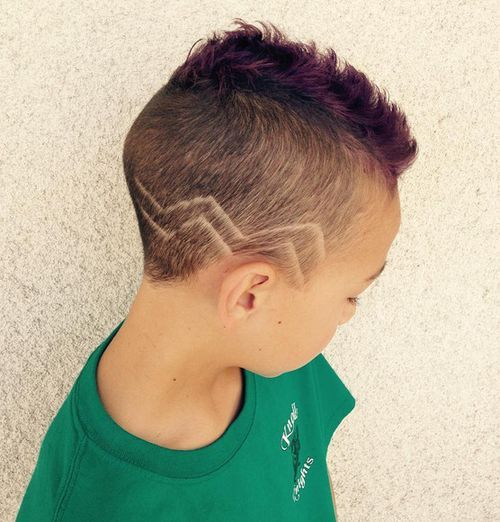 Shaving shapes into the hair is the easiest way to inject some personality into your hair and add a remarkably cool finish to any cut. This little boy has opted for a unique zigzag style starting from the front of the head to the back, and has finished off his look with a glorious Mohican style quiff that runs from the front to the back in a beautiful and vibrant purple!
Smooth Side Parting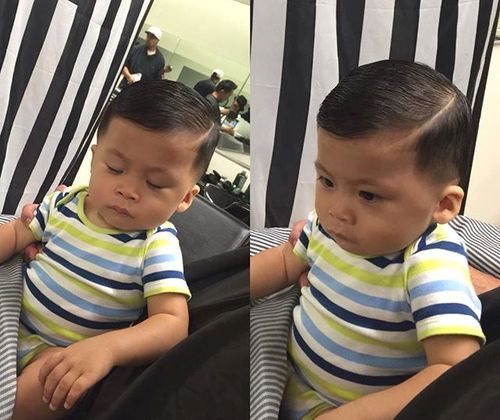 This little boy is simply adorable – don't you agree? Not least because of his beautiful hair! His gorgeous black hair might be short, but it's super stylish and we just can't believe how adorable he is. His glossy hair is parted from the side, his fringe section swept neatly to one side. Finished with gel to keep his little fringe in place, this style is to die for.
Quiff and Lightening Bolt Cut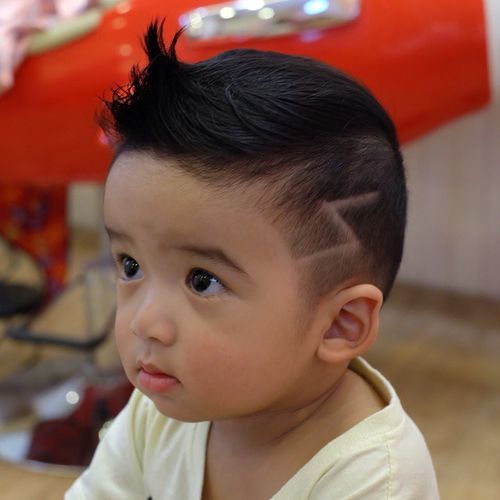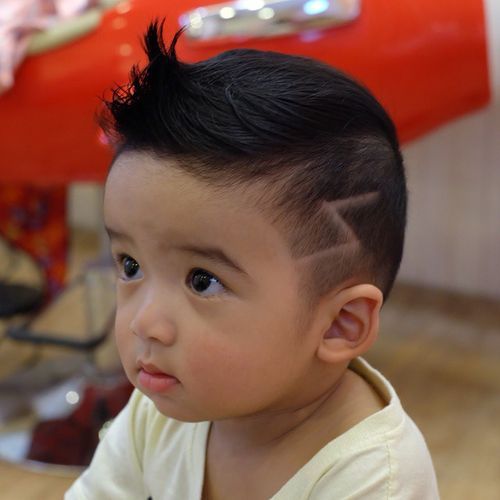 This little dude is breaking records in the style stakes for being the most fashionable baby that we ever did see! His adorable hair is absolutely gorgeous and we think he's ready for a smart occasion. With a lightening bolt shaved into the side of his head and the rest of his hair is gelled up into a super cool quiff at the front, this look is absolutely fantastic.
Shaved Sides and Curly on Top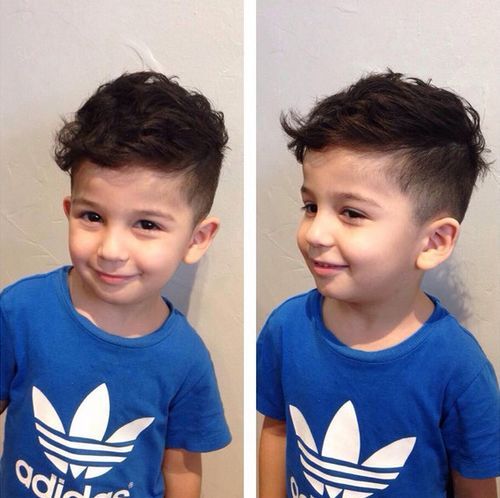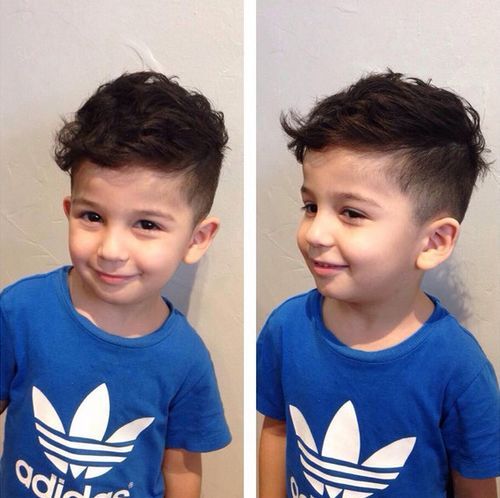 This sweet little guy could be a baby model he's so cute! With his on-trend Adidas t-shirt and his luscious hair we think he looks as if he were straight from the catwalk. The back and sides of his head are shaved and cut closely, and the top is left longer so that his natural curls can create a gorgeous layer. Swept to the side, his hair is just gorgeous.
Black Tight Ringlets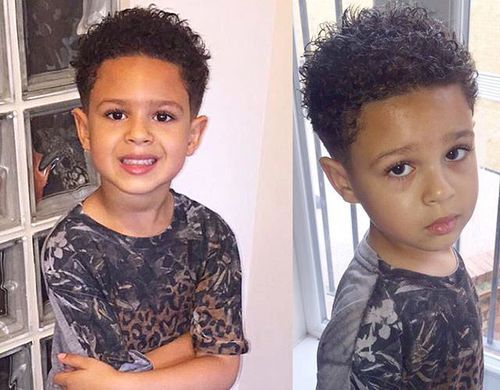 This little boy is gorgeous and he knows it – look at his adorable pose for the camera! Without a doubt the most effortless part of his style is his gorgeous hair, and we simply adore it. His curly hair is cropped short and closely to his head at the sides, leaving a longer layer of curls on the top which look beautiful. We love this stylish hair cut!
Bright Blonde Quiff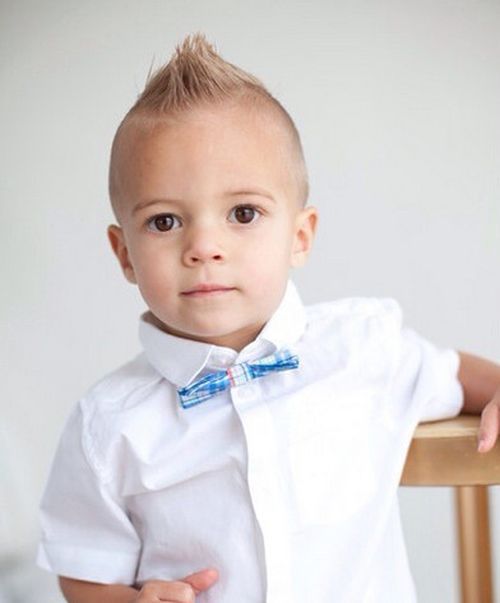 This adorable little fellow is dressed to impress in his white shirt and bow tie and we think his hair is the perfect finishing touch to this super stylish look. He's got white blonde hair which is simply adorable, and it's cut very closely to his head on the sides, but forms the most adorable little quiff in the centre of the head, which is absolutely fantastic.
Patterned Cut with Gelled Fringe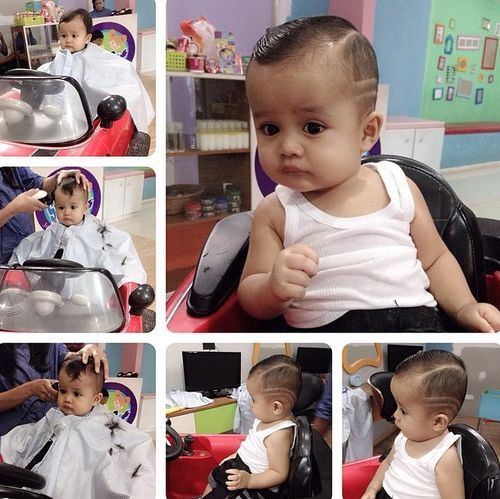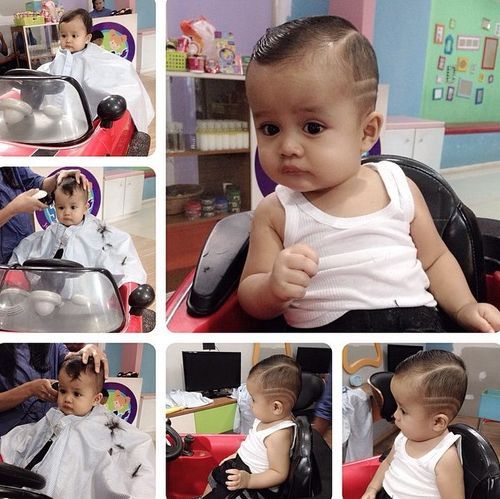 This adorable little sweetheart looks like he's starring in the baby version of Grease with his super cool look! His incredibly cute short hair has been finished with thin lines which have been shaved into the hair to create a stylish pattern. The fringe section of the hair has been gelled back to secure it and create a sleek and stylish finish that we love.
Slicked Back Blonde Cut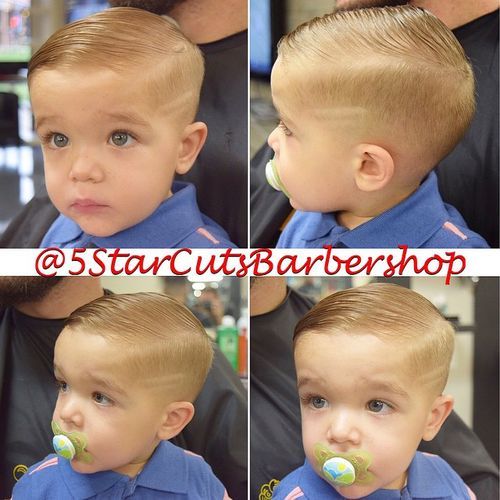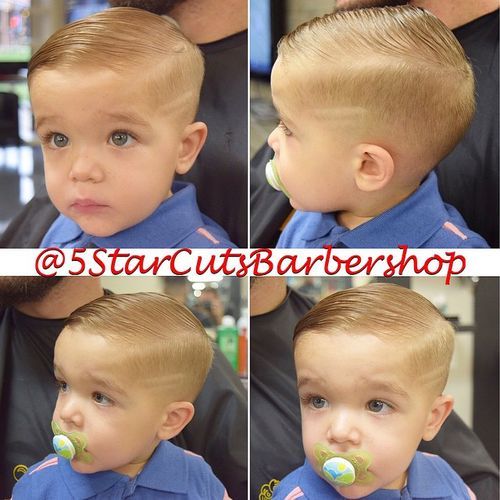 This striking blue-eyed little baby has an impeccably stylish look, especially thanks to his beautiful and blonde slicked back hair! One side of the hair is longer than the other and has been swept to one side and slicked back to create a sleek and stylish finish. There are very subtle lines cut into the other side for a cool looking style that we adore.
Spider Web Patterned Design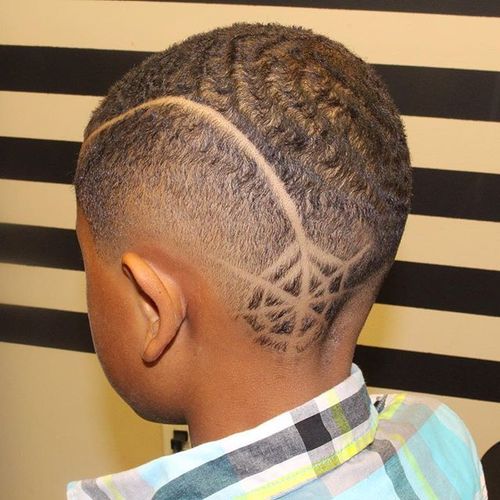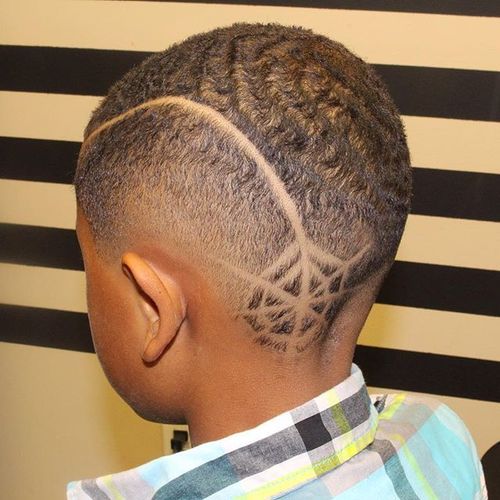 This super cool little chap's hair is finished with a very tight, natural curl which is simply to die for. He may never realise quite how lucky he is to have such incredible natural hair, but he's certainly accentuated his style by opting for a unique and stylish spider web design to be shaved into the back. It's finished with a cool line from the back to the front. So stylish!
Gorgeous Gelled Side Quiff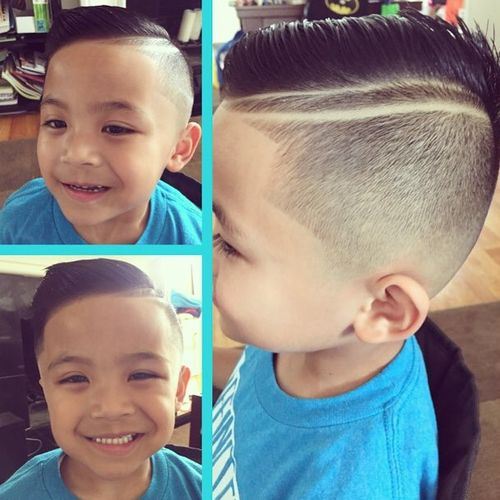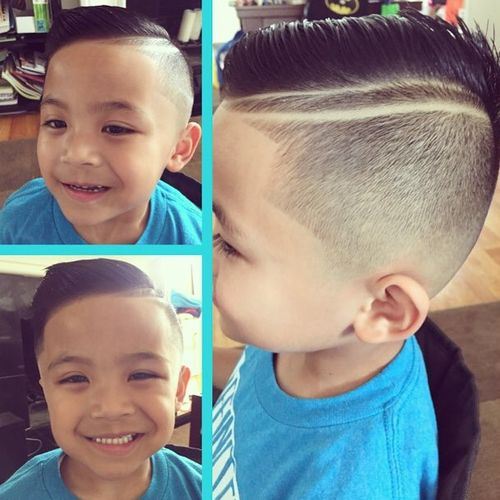 This gorgeous little guy is simply grinning from ear to ear – and who wouldn't be smiling like the Cheshire Cat with such a fantastic hair style? We know we would be! The back and sides of his hair and shaved closely and finished with a super cool line design, and he's then got the most gorgeous side quiff which has been gelled to perfection.
Adorable Quiff with Cool Cut Out Design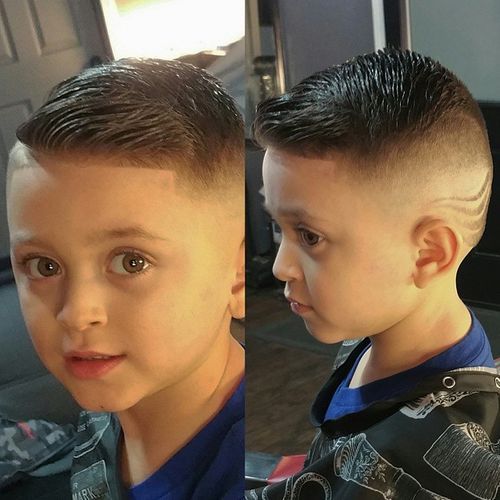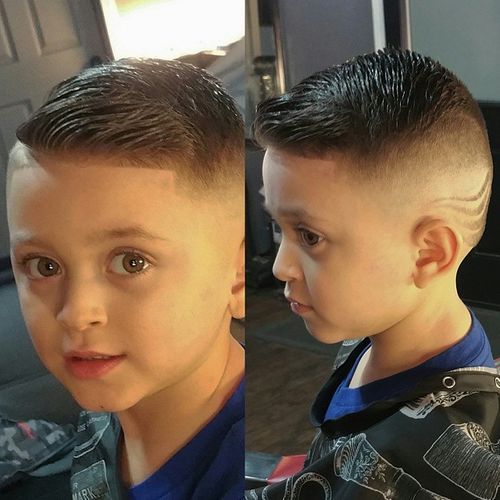 This gorgeous little lad looks like butter wouldn't melt. Those beautiful big eyes are the second best thing about him – and his hair is most definitely the first! His hair is cut very close to the head at the back, and has been shaved with some gorgeous curved lines to create a totally cool finish. The rest of his hair forms a cute little quiff that has been slicked back.
Bouncy Side Fringe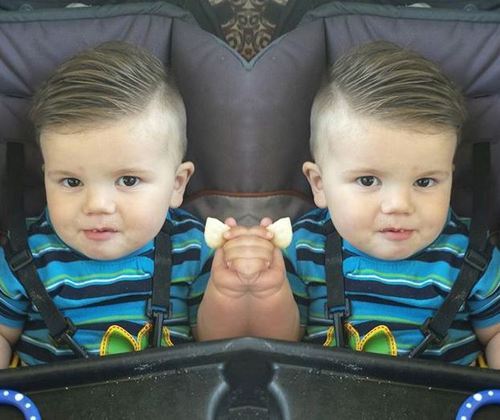 This bouncing baby boy has equally bouncy hair and we simply adore it! This remarkable little guy has the coolest hair for a baby that we ever did see – not least because he has an incredible sweeping side fringe that is full of gel to keep its place. The rest of the hair is incredibly short, which creates the perfect juxtaposition for the big quiff he's rocking on top!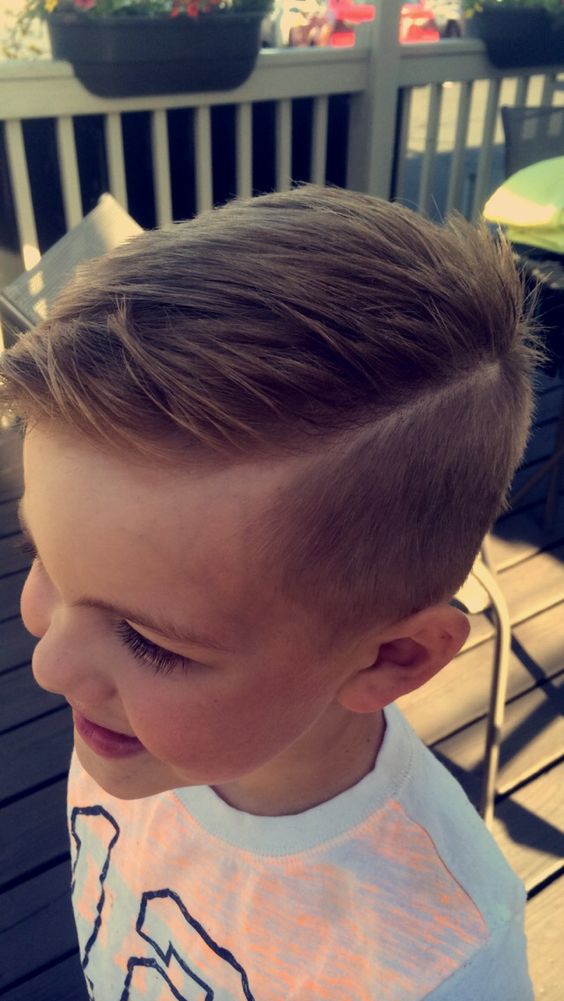 Baby boys can be incredibly stylish from a very young age – as this collection of handsome little chaps have proved! We hope this post has provided you with plenty of inspiration for how to style your little chap with the coolest hair on the block – trust us, he'll thank you when he's older and he looks back on his baby pictures. Styles Weekly is full of the latest style inspiration at all times, so be sure to check back regularly and see what's going on.