There are a few different occasions which require you to dress smartly and sophisticatedly. From work meetings to office job scenarios, date nights or evenings out. Job interviews and weddings also require smart and sophisticated outfits – as do girls nights! Smart and sophisticated outfits come in a whole host of different finishes – from skirts to trousers, dresses to jeans. There are a number of different ways that you can pull off a smart and sophisticated look with ease. However, to make this style even more accessible we've gathered some amazing outfit ideas for you in one handy blog post, designed to inspire.
Polka Dot Shirt and Midi Skirt

Polka dots are always a good idea – but especially when worked into this stunning ensemble. Start with a classic black and white polka dot shirt. This one is slightly cropped and has a tie function around the waist which is super cute. Pair with a gorgeous burgundy red midi skirt – you can tuck the shirt in if you wish. finish with some comfortable wedges and a matching handbag.
Crop Top and Skirt

Another midi skirt to add to the collection! This one is in a gorgeous chiffon material. Choose a stunning grey chiffon midi skirt that is pleated for the perfect princess look. Pair with a fitted and fancy black crop top. Add your favourite pair of cut out heeled boots as well as some gorgeous accessories and you will be truly ready to dazzle.
Bodysuit and White Trousers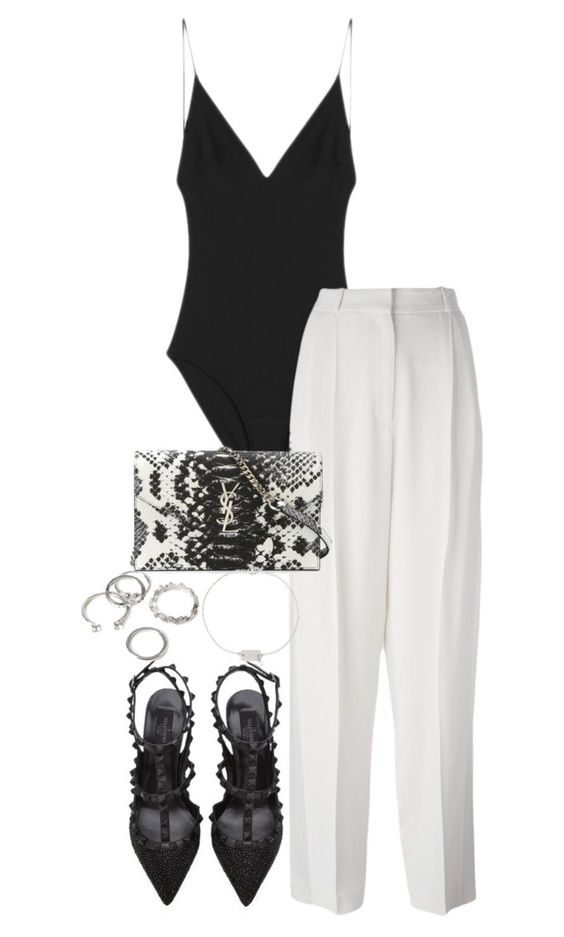 Bodysuits are super flattering and very versatile, which is why we just adore this gorgeous outfit. Choose a black bodysuit with thin straps and a gorgeous v-neck detail. Tuck into some stunning white wide-leg pants which will endlessly flatter your figure. Add some jazzy black heels and a statement handbag. This look will be finished to perfection with a red lip.
Stripy Jumper and Pencil Skirt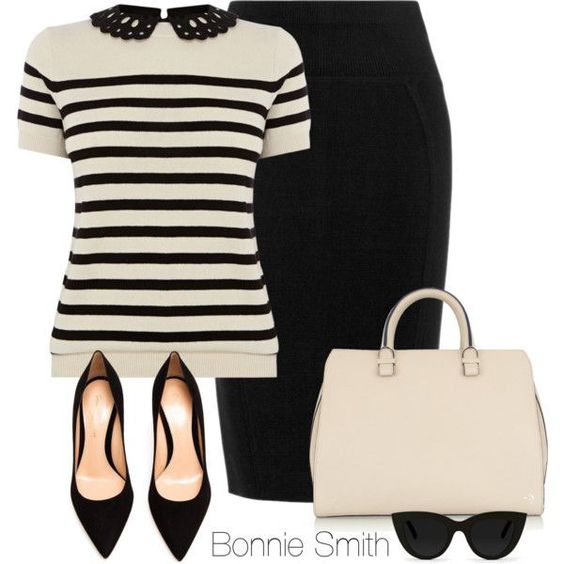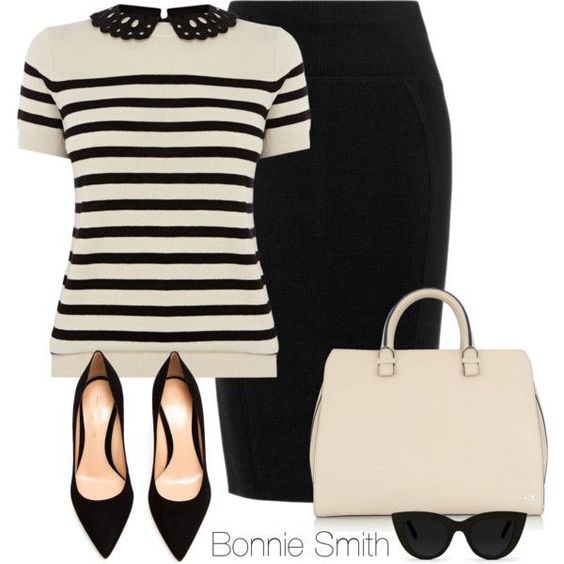 Stripes are always sophisticated darling – so be sure to use this outfit as an inspiration. Start with a super cute stripy jumper. This one has short sleeves and an adorable lace collar. Pair with a fitted black pencil skirt that will cling to your figure and show off your gorgeous shape. A classic outfit needs classic shoes, so stick with straightforward black court heels.
Shirt with Dramatic Neckline and Pencil Skirt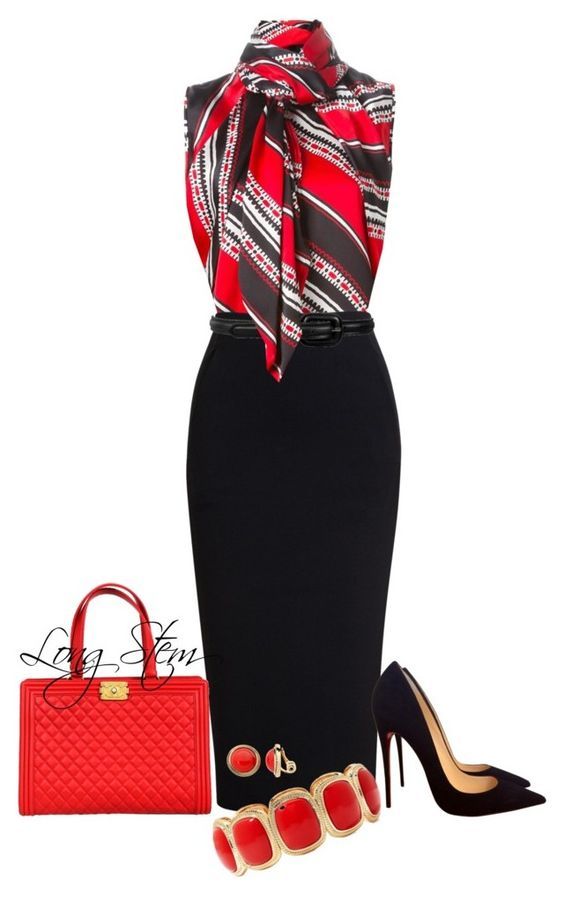 Dramatic outfits can be oh so chic – which is why we just adore this outfit pictured above! Start with a beautiful red and black statement shirt. Be sure the patterns are bold, and if you can choose one with a pussybow neckline as pictured above then you're really in luck. Pair with a high waisted pencil skirt and some gorgeous black heels. A red bag will be the cherry on top!
Jumper, Denim Shirt and Jeans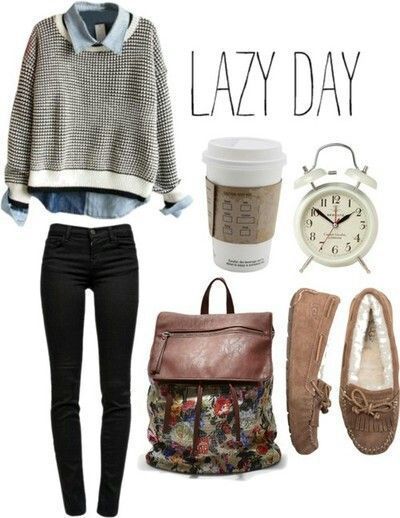 Smart and sophisticated outfits need not always be glamorous – instead, you can create a smart look from perfectly casual clothes too. Start with your favourite pair of black jeans that fit you like a glove. Add a denim shirt, then layer with a comfortable and cosy sweater. We adore this black and white checked jumper. Finish with some super cosy loafers for the perfect smart day style.
Camel Coat and Double Denim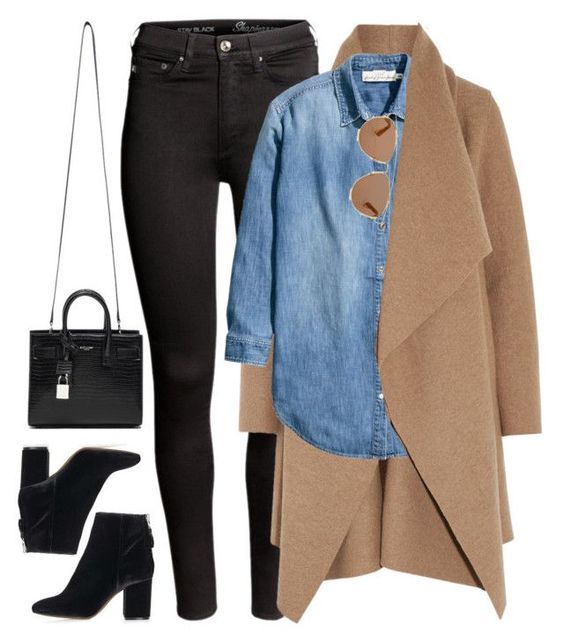 Camel coats are incredibly fashionable, and we certainly think that every girl needs one in her wardrobe. This outfit is pretty simple. Choose your classic black skinny jeans and pair with a fitted denim shirt. Add a stylish camel coat and some black heeled ankle boots. We love this look with a red lip and a messy bun for the ultimate daytime chic style.
Blazer and Thigh High Boots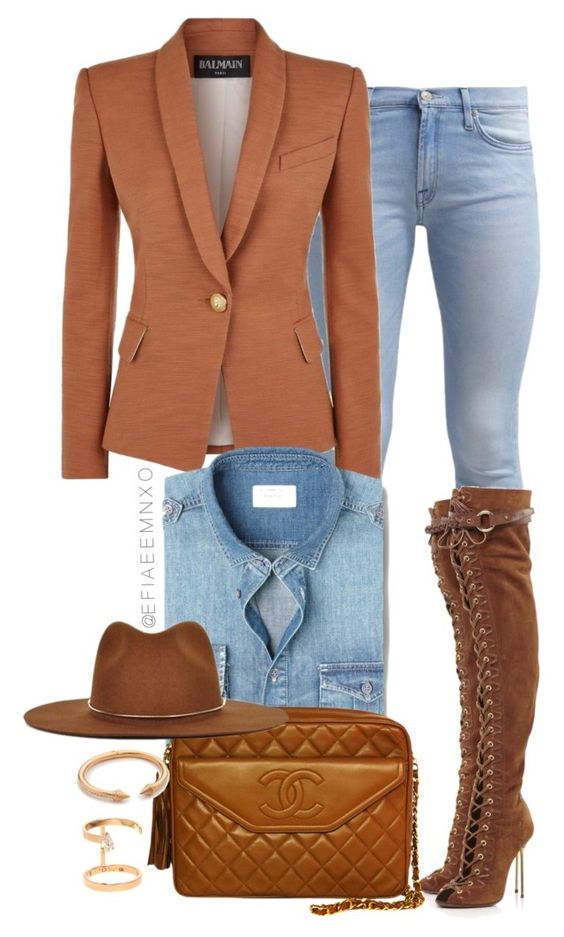 Thigh high boots are oh so stylish and they certainly aren't going anywhere – we just adore this wonderful silhouette. Work a classic double denim outfit to perfection in this look. Blue jeans and a sassy blue shirt with buttons. Pair with a complimentary blazer – perhaps in a brown shade as pictured above. Finish with some brown thigh high heeled boots for a tough of class.
Red Mini Skirt and Jumper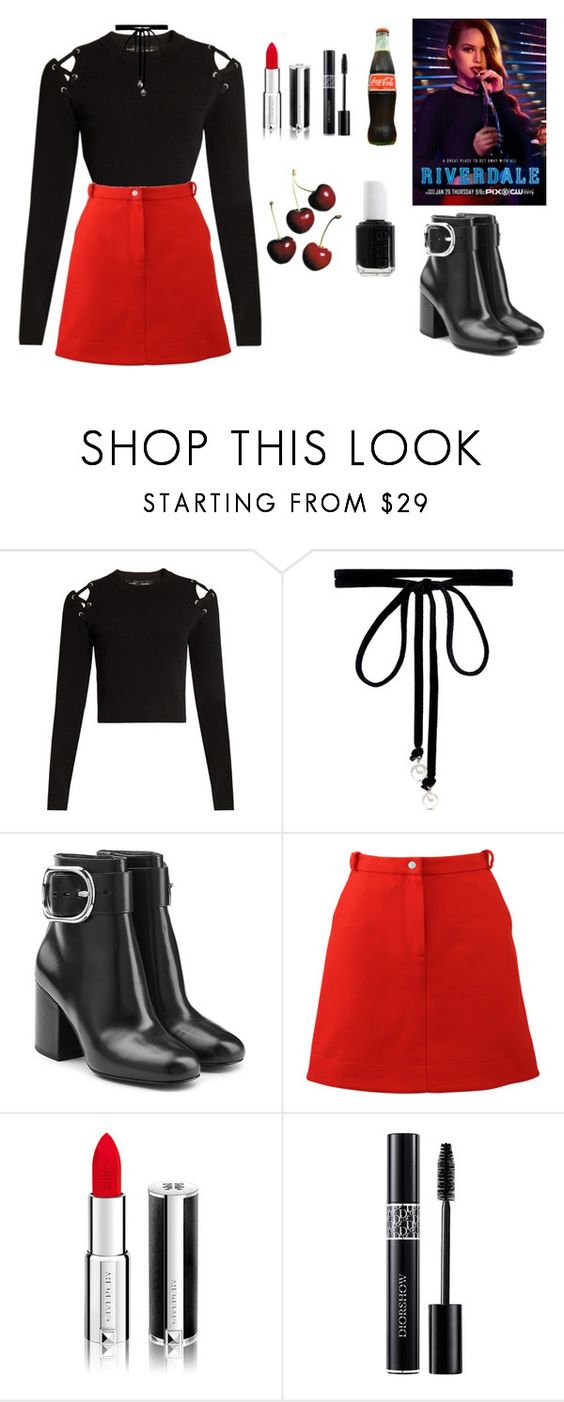 Mini skirts are the epitome of sophistication – so we just couldn't not include this outfit. Start with a gorgeous black sweater. If you can find one with a bit of detail or interest as the one pictured above, then even better. Tuck into a bright pillar box red mini skirt. Wear with some opaque tights (or without if it's warm) and some heeled ankle boots. Red lipstick, always.
Jeans and Pinstripe Shirt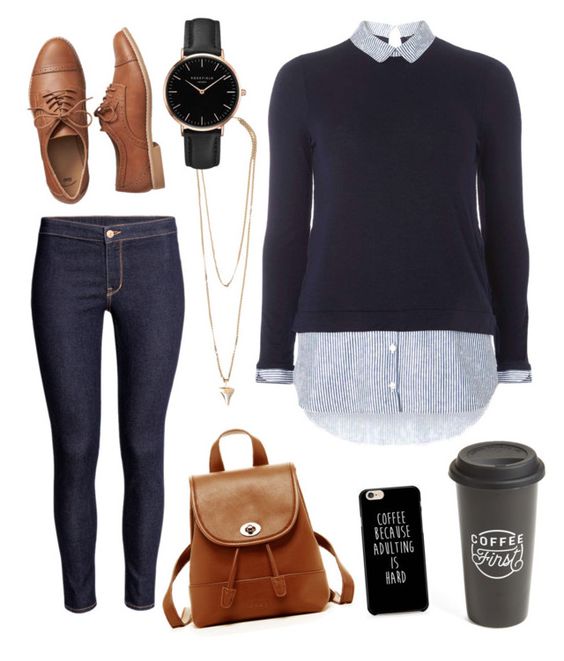 Every wardrobe should contain at least one pinstriped shirt. When paired with a navy jumper they look truly excellent. That's exactly what you should do to start this outfit off. Finish with some fitted navy skinny jeans. Your shoes should be a tan pair of brogues. Add a backpack and a smart watch for college cool style.
Each of these different smart and sophisticated outfits is designed to cater for a variety of different occasions. Whether you want to look professional for a meeting or presentable for an evening out – we think we've got you covered. Let us know which of these looks is your favourite!