We're willing to bet that some of the people closest to you are secretly envying your naturally curly hair, even if you have days when it's the last thing that you want to have. It's not that you don't love your ringlets. It's just that there are definitely times when they can be, shall we say "unruly"? So much so that even the most expensive product has a hard time taming them.
If this is what you've been going through when it comes to your hair and that's what's been preventing you from going as short as you would like, our suggestion is not to straighten it, but to go with a cut that will bring out the best in your wavy and curly texture.
Hmm…maybe some of these wavy and curly pixie cuts perhaps?
Easy-going curly pixie cut for short hair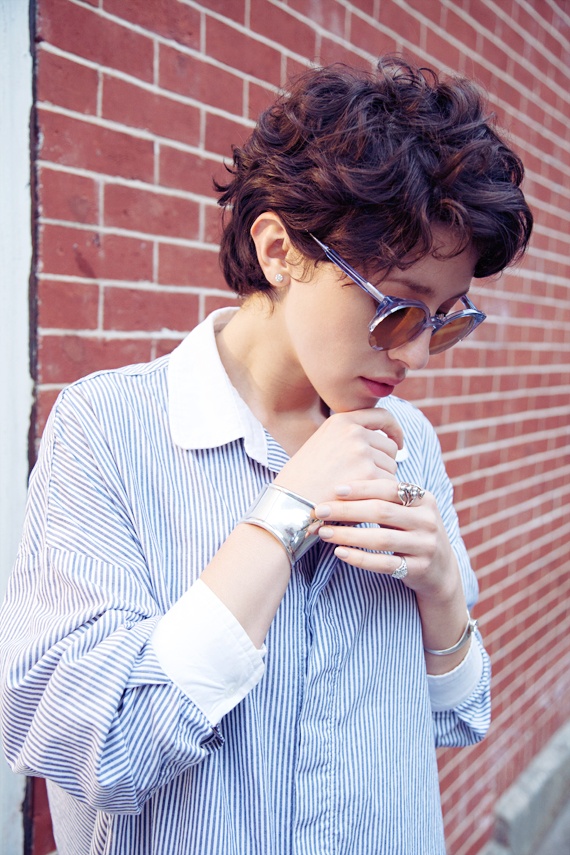 Short curly pixie cut with glasses: Here's a pixie for curly hair that doesn't require quite as much upkeep as some of the others that you've already seen. Since there is not a lot of tapering and the layers are fairly long, you probably will only need a trim once a month or every six weeks.
Caramel-colored curly pixie with blonde low lights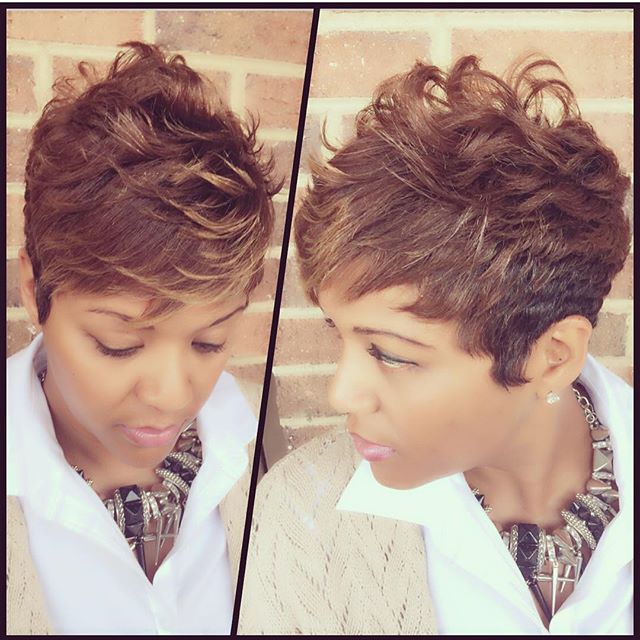 Whether or not your hair has a naturally curly texture, you can achieve this look with the help of a professional pixie cut, some caramel coloring added to it and then a bit of blonde low lights added to the front. It's chic enough for women of all ages.
Copper wavy pixie with blonde highlights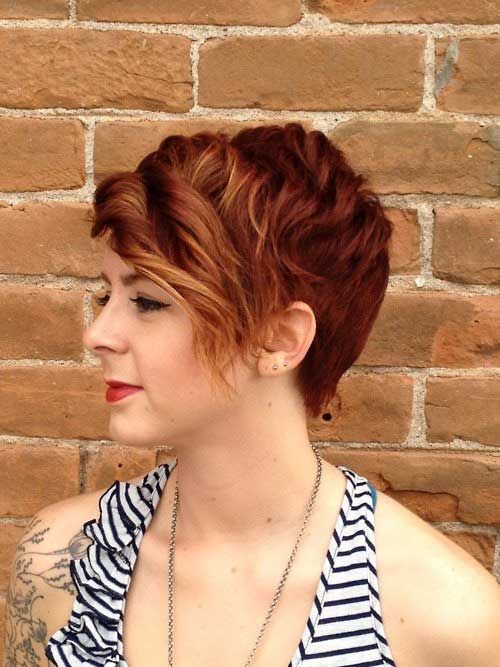 If you're thinking about dyeing your hair red this season, copper is the way to go. As one of the hottest hues in hair color, it will look absolutely amazing on a pixie cut. Especially if you add some blonde highlights in the front—right where your waves (or spiral curls) are.
Loose waves pixie with long bangs for wedding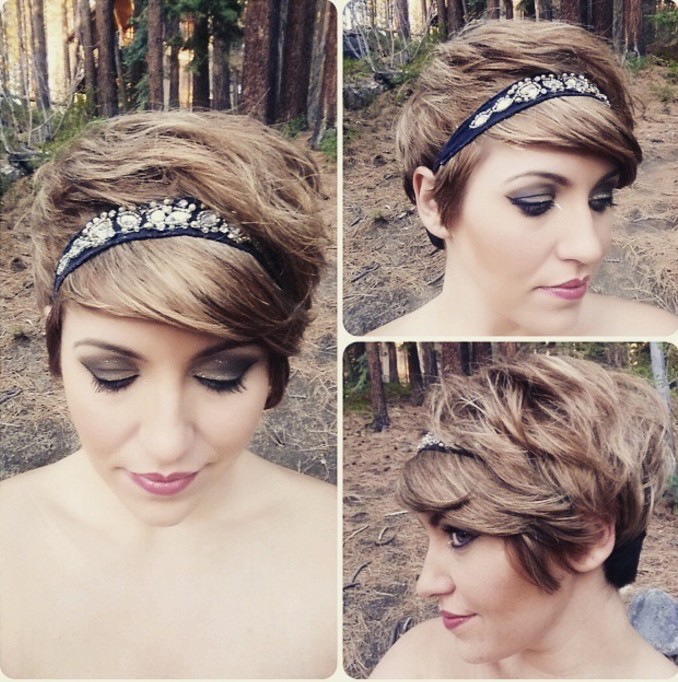 One of the best things about having wavy hair in the form of a pixie is when the layers are long, you can have a ball with all shorts of hair accessories from scarves and barrettes to hair pins and headbands, this cut is perfect short cut for wedding!
Wavy and curly pixie with tapered sides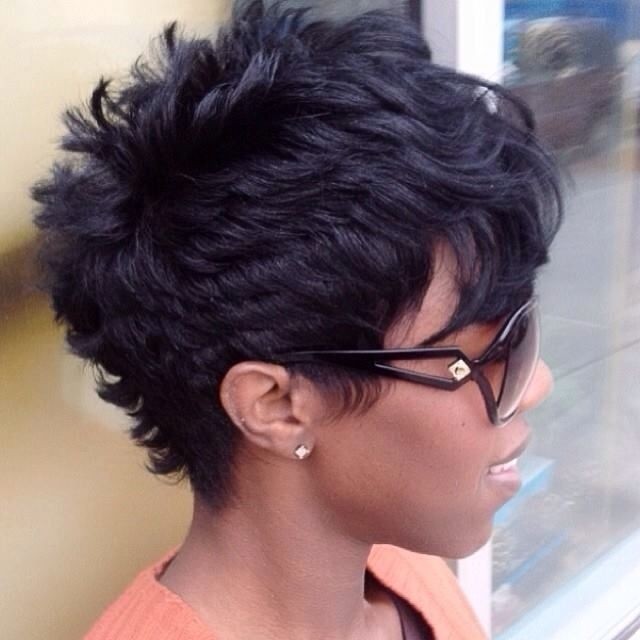 Do you have the kind of hair texture that is a bit of a mix between curly and wavy? If that's the case, what do you think about this particular pixie? We love everything about it because it's really short but still super feminine. And being that the bangs in the front are fairly long, you can wear it forward or slicked back.
Curly pixie with "fire front"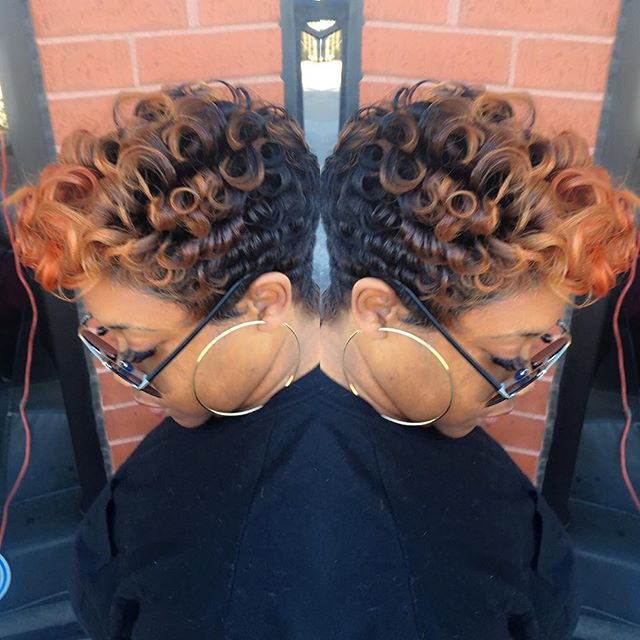 African American short curly hair style: Yeah. We're pretty sure that you can see why we called this a "fire front". The orange and blonde tones in the front of her hair, pardon the pun, make her look "super hot"!
Close cut curly pixie with a light brown streak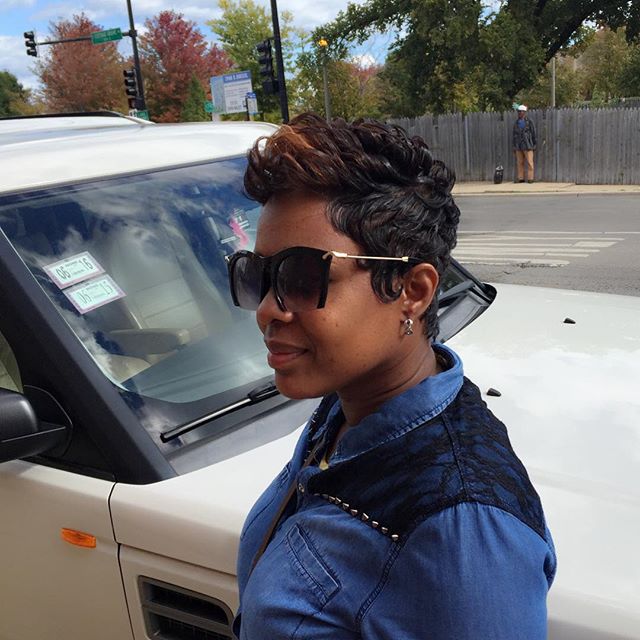 Short wavy curly haircut for black women: – the pixie cut. This particular pixie cut will not require a lot of maintenance at all—so long as you see your stylist a couple of times a month for a trim. And if you're not big into color, here's one way to add just a bit of "pop". Have a piece if your hair dyed light brown or even blonde (or green or blue or pink).
Loose waves pixie with side part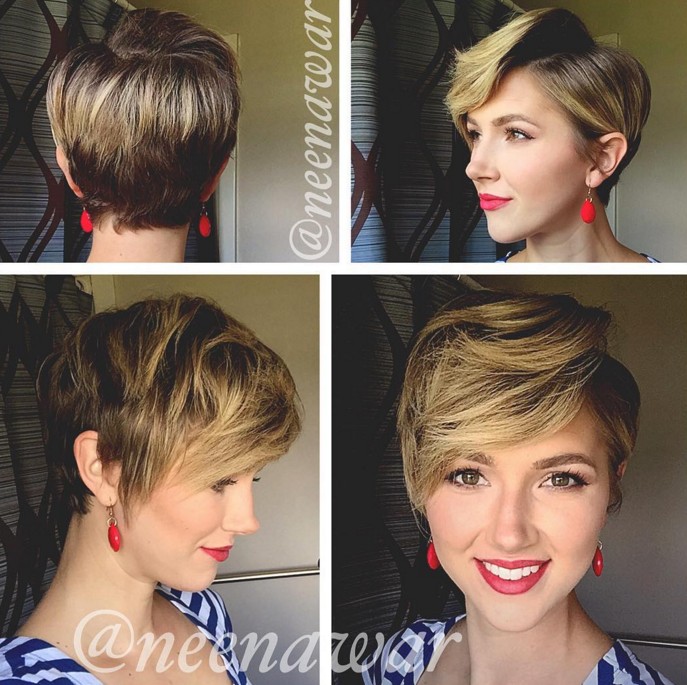 This is a pixie that has quite a bit of length to it. It's a good look if you've already had short hair for a while and you're thinking about growing it out. The side part helps to give the left side lots more volume and helps to play up the waves a bit more.
Platinum curly pixie with full layers in front and back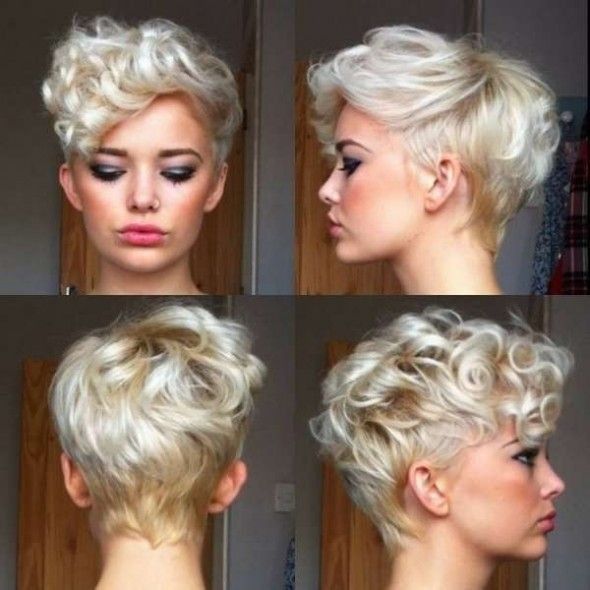 This is the type of pixie hairstyle that has a lot of length in the front and back in order to give it a bit more versatility and movement. It's just perfect for naturally curly hair because you don't have to worry about losing a bit of length on the humid days.
Wavy pixie with bold blonde chunks of color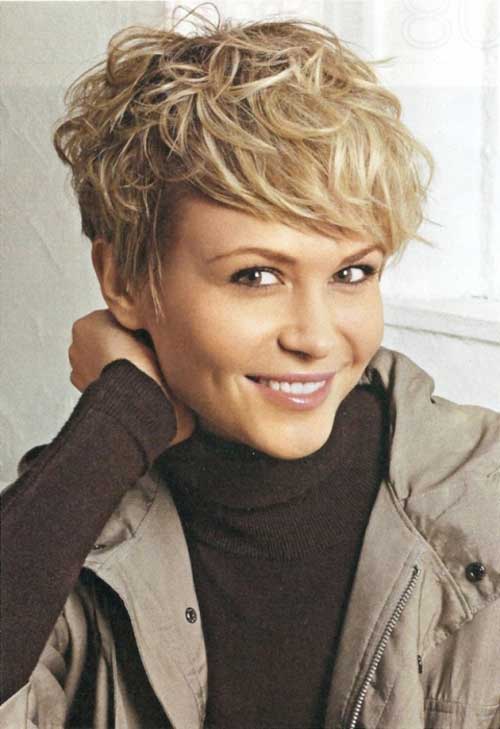 Since another trend this season is letting your hair air dry rather than relying on a hair dryer, you can probably see why this is a perfect look for women with wavy hair who want to go a little short. The blonde chunks in the front bring the focus to the face. That makes playing up the eyes a lot more fun to do!
Long wavy Mohawk pixie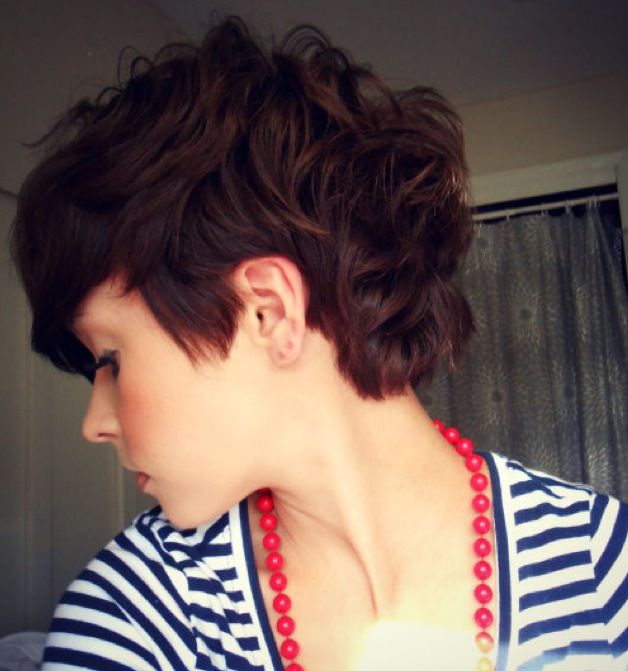 The reason why we call this a "Mohawk pixie" is because if the sides were shaved, that's exactly what this cut would be. This is basically the kind of Mohawk look for the kind of woman who wants to give the cut a try without doing something that is too drastic.
Curly "bob pixie"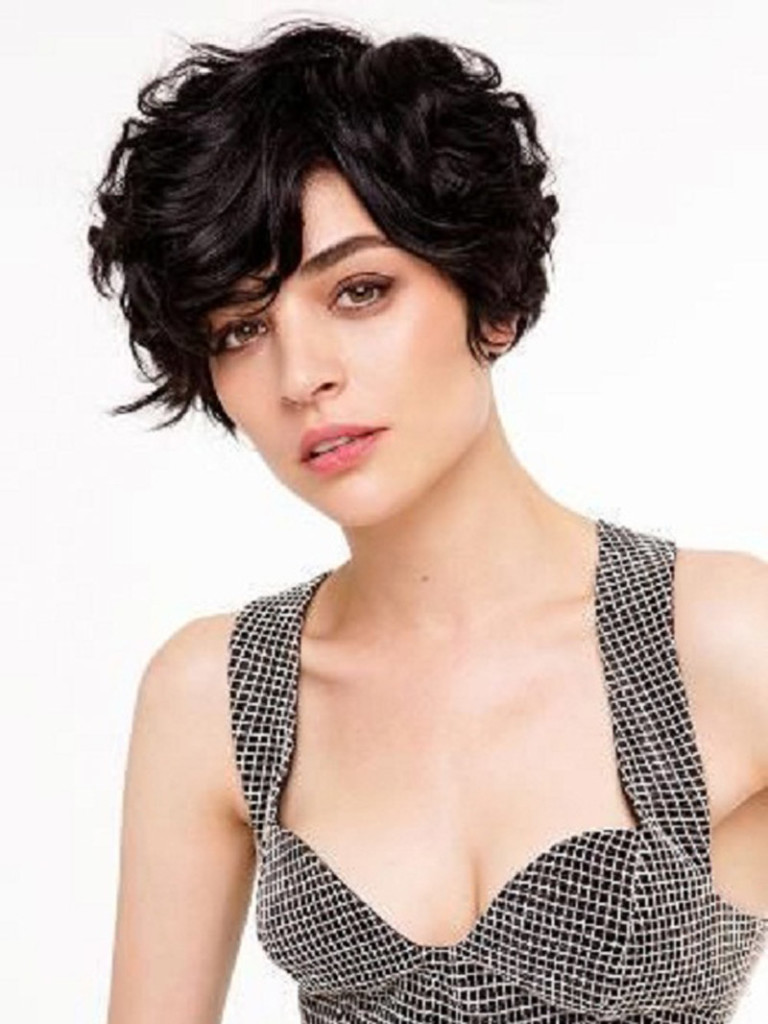 Technically, this particular pixie could also pass for a really short bob (especially if the curls were straightened out). It's a perfect style for you if you're wavering between going short and super short.
Curly and wavy Mohawk pixie with orange top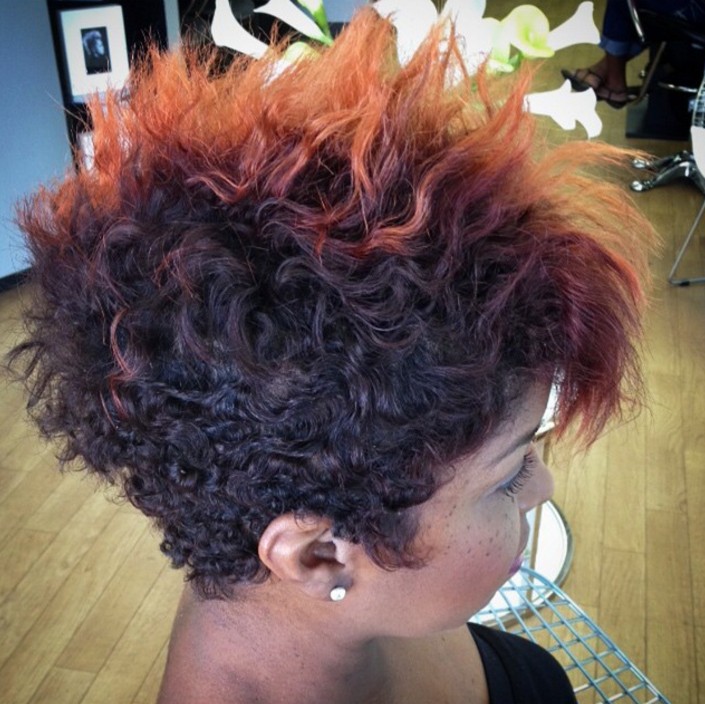 Haircut for 2016: Remember the Mohawk that we referenced a couple of looks back? This is what a true Mohawk looks like, short tapered sides 'n all. Frankly, we'd love this 'do even if it was all one color but the orange top definitely helps to make it…her own.
Buzz cut with wavy pixie top
Uh-oh! And here's one more Mohawk. This time, the sides are buzz cut with a set of clippers while the top is left to be wavy and fancy free. (That buttery blonde is a really great addition.)
Curly pixie with long layers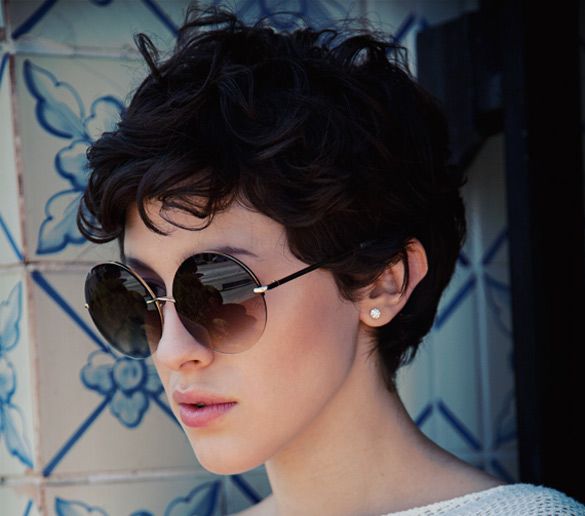 Is your hair super curly? So curly in fact that you find yourself pretty frustrated with it three days out of the week? A no-nonsense kind of hairstyle that will still have you looking like a runway model is a pixie cut. Try and avoid going really short on the sides in order to get these types of results.
Classic pixie cut for curly hair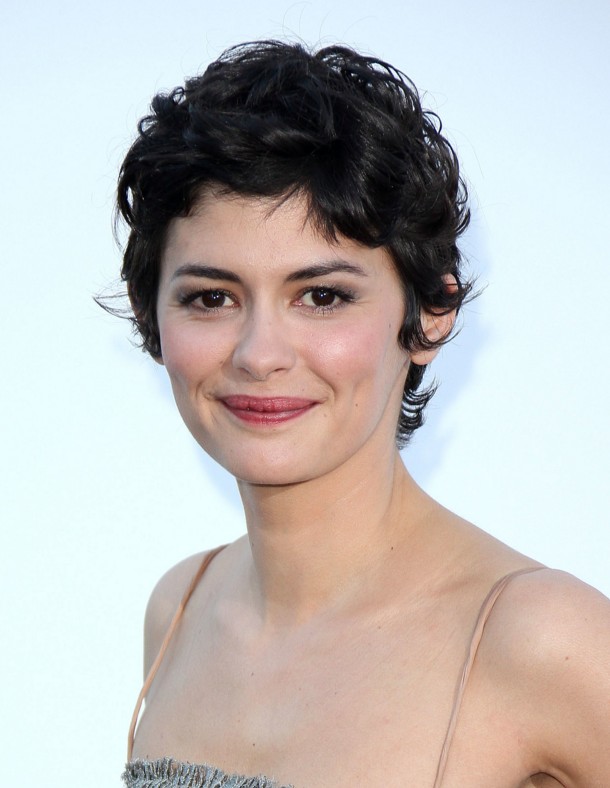 On the other hand, if you want the kind of pixie cut that has a bit more shape to it, go a bit shorter on the sides and get the back tapered. That way, you'll have more of a classic kind of pixie look.
Wavy platinum pixie with natural roots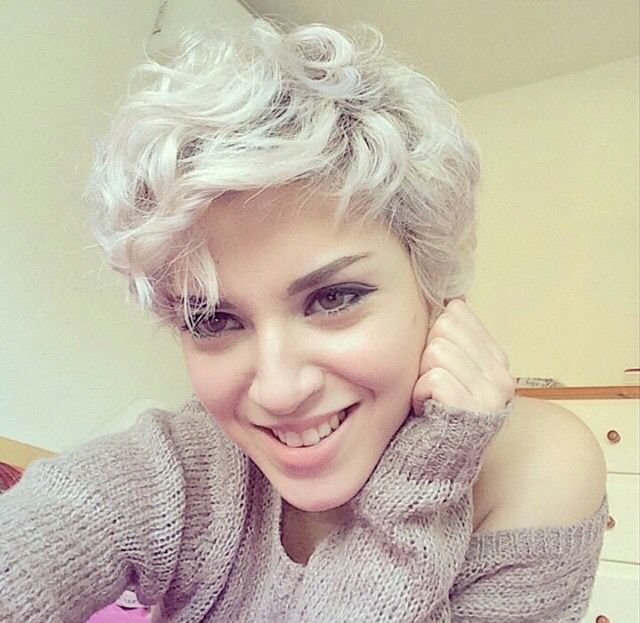 Is your hair a platinum color and your roots are about to show? If so, don't make an appointment with your stylist. Let them grow out a little. For one thing, it's a big trend right now. Plus, not over-processing your hair will keep you from doing too much damage to it.
Curly pixie with short bangs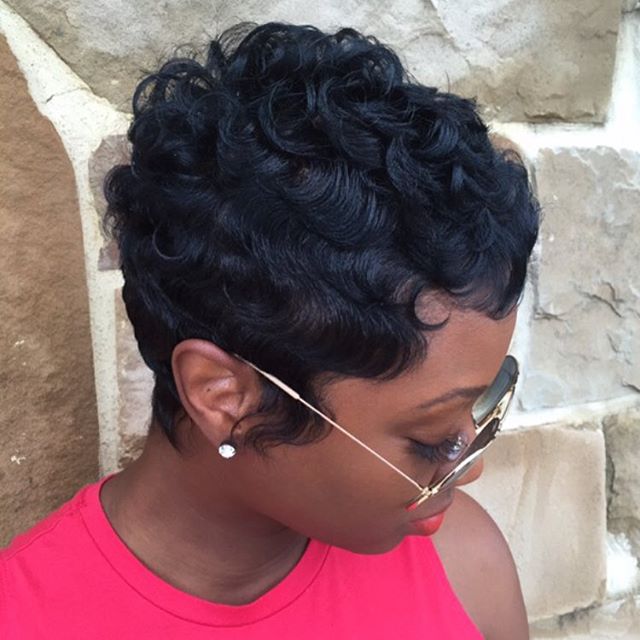 If you've been thinking to yourself "If I go short, I want to do as little work as possible", this is the pixie cut of your dreams! It's super cut but being that it's short all throughout, including in the bang area, you won't have to do much maintenance at all. Just wrap it up at night, wake up in the morning and…GO!