Have you been saying to yourself for the past few months that you're ready to try something new with your hair? If so, there are a few things that you can try. You can weave it. You can braid or twist it. Or you can be super daring and get your tresses cut.
Although wearing short hair is nothing short of bold and courageous, being that there are so many different styles to choose from, we're extremely confident that you can find a look that is simply perfect for you. In fact, we're willing to bet a couple of bucks that you'll find at least a variation of a cut that you will want, simply by checking out some of these stunning haircuts!
1. Poofy Mohawk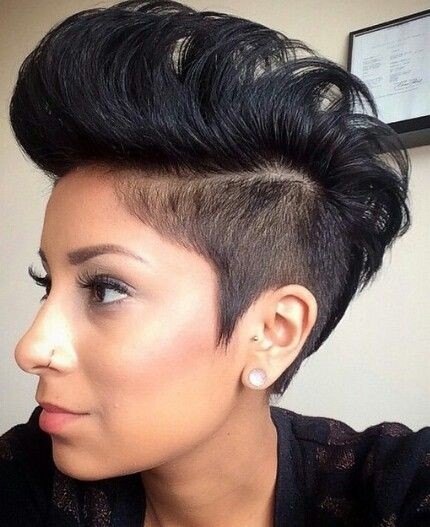 Although Mohawks have been around for a few years now, stylists are continuing to find ways to modify the look. This cut with a "poofy" top is one of our favorites because it is funky and also feminine too.
2. Super low and platinum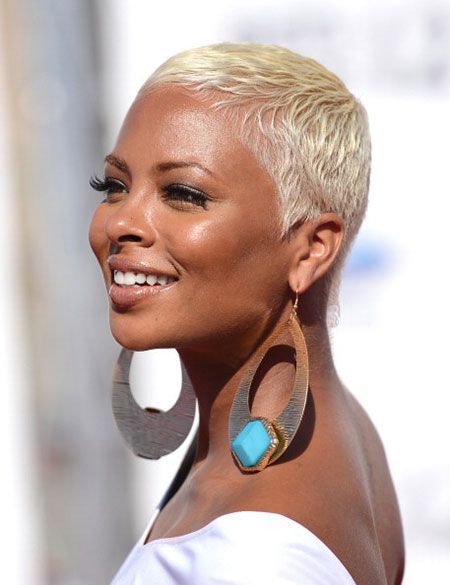 Suppose your hair is already short and you want to try something a bit drastic? You can always put a guard on a pair of clippers and take it down to a couple of inches. But don't stop there. Then add some platinum hair color too. You'll stand out, heads above the rest, literally…for sure.
3. Wild razor cut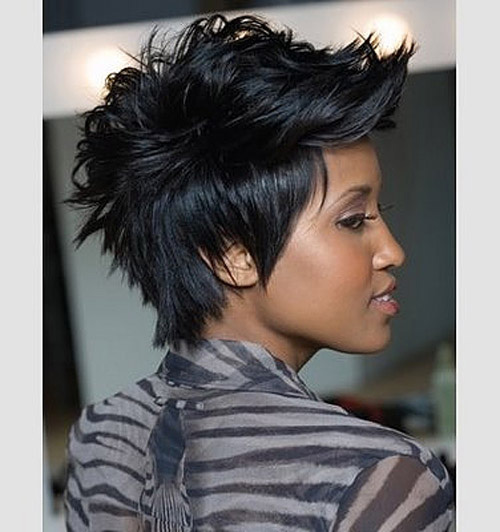 The great thing about razor cuts is you're able to have all kinds of different lengths to your hair. That provides lots of detailing and distinction.
4. Sexy low fade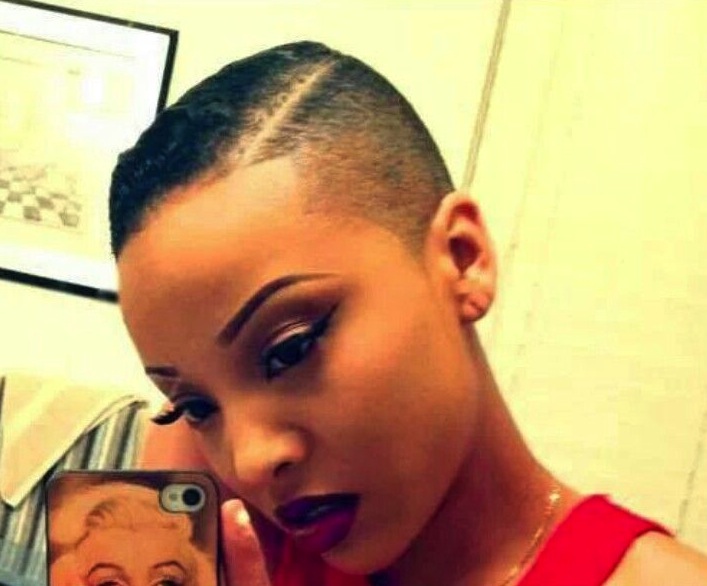 When it comes to fashion, the 80s are back. This means that when it comes to hair, so are box top fades. This is a super feminine way to pull it off.
5. Short and sleek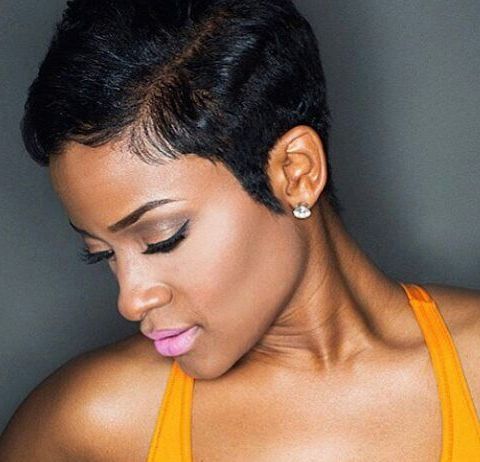 If you want a look that doesn't require a ton of maintenance, you can always try a short and sleek cut like this one. Usually after leaving your stylist, all you'll have to do is wrap it up with a scarf at night and the style should hold.
6. Subtle highlights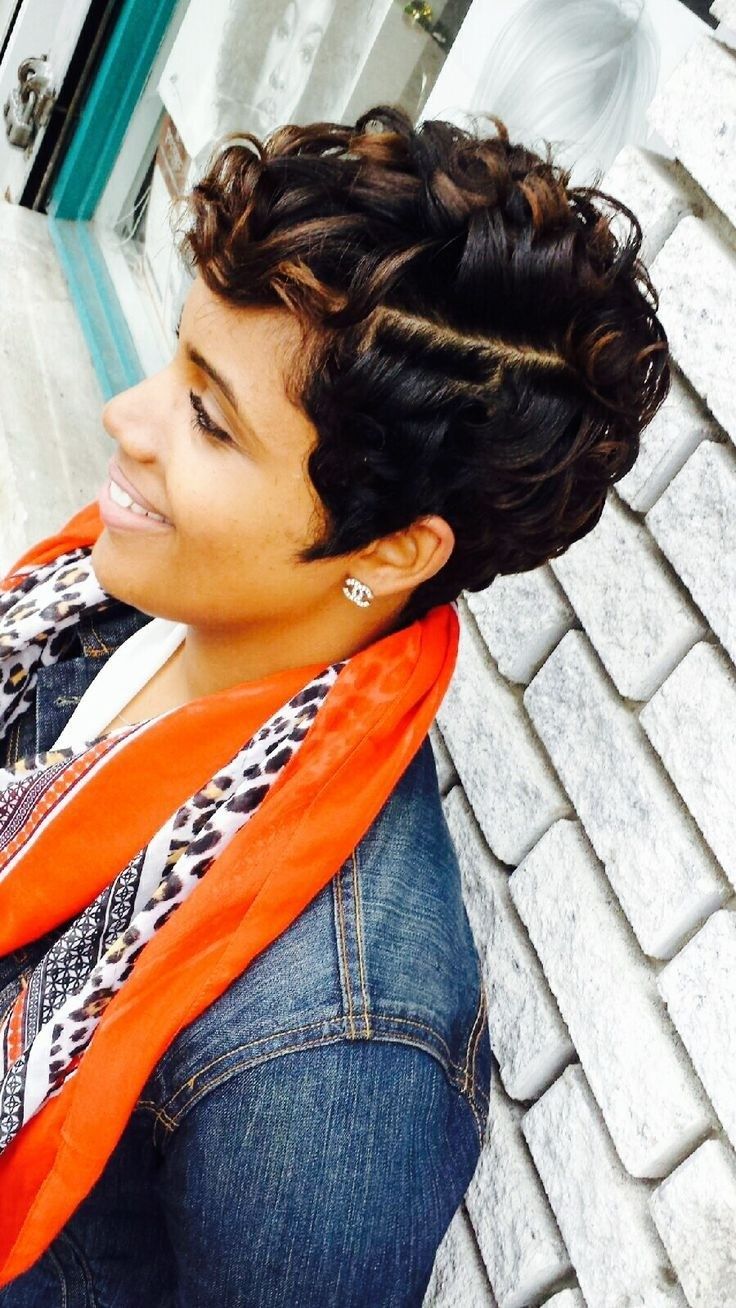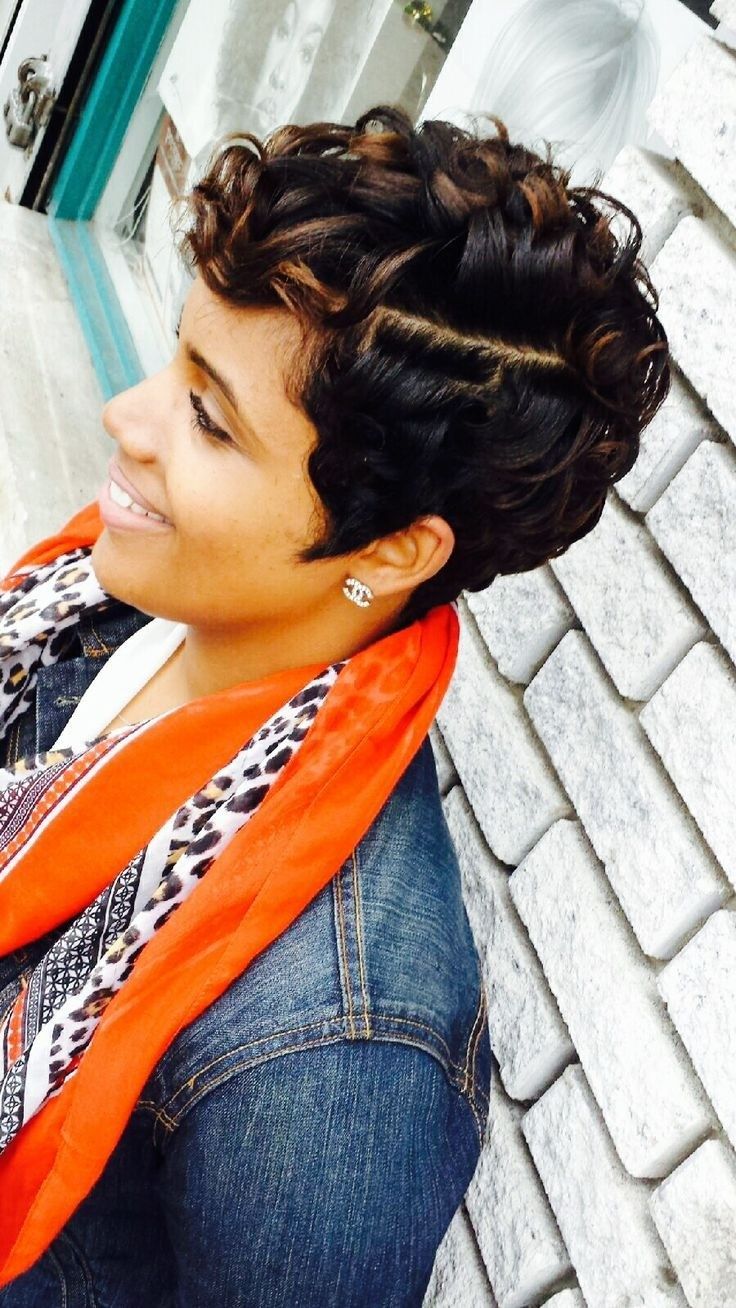 Yep. Sometimes it's not the cut, but the color that makes it stand out. If you're not ready to go "all in" by changing your entire hair color, you can always go with some highlights instead.
7. Long and layered bangs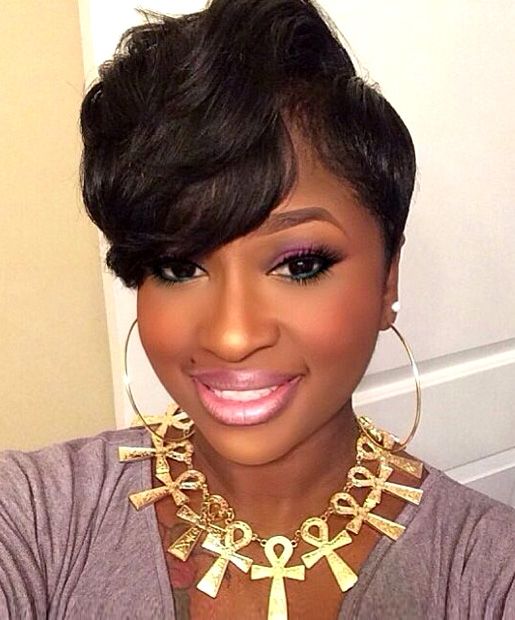 This is basically a variation of a pixie. What makes it unique is the super long (and layered) bangs. That way, you can curl your hair going towards the front or the back.
8. Dirty blonde layers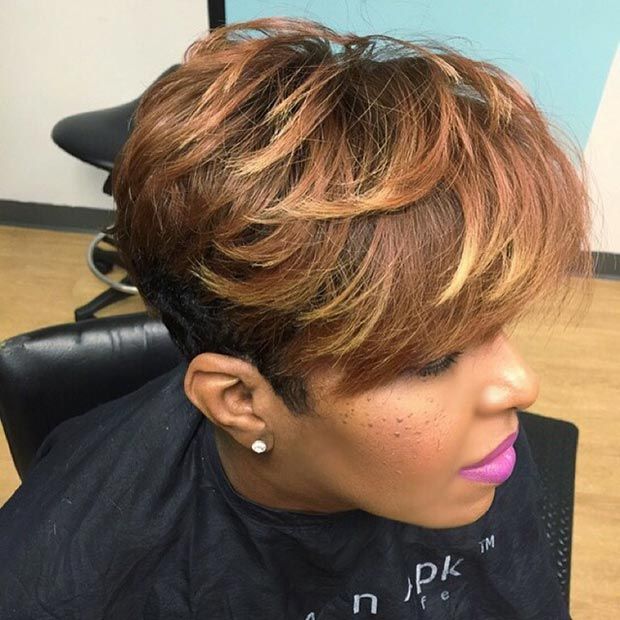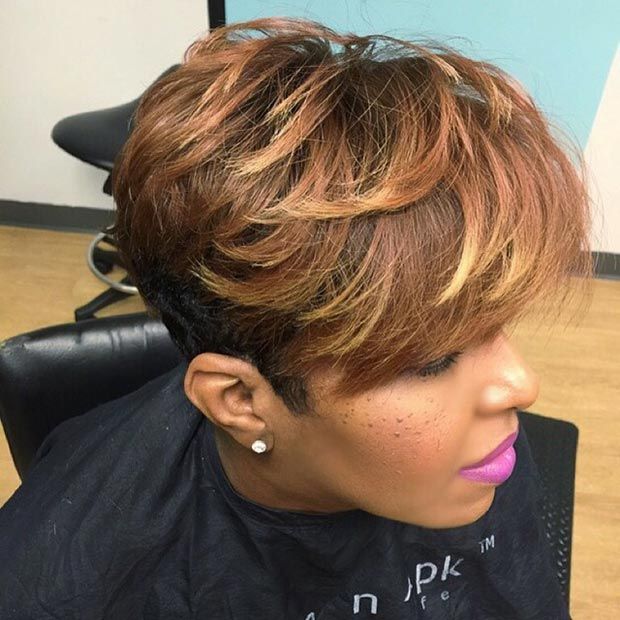 This is a step up from the subtle highlights. We like it because it makes her layers look like they've been kissed by the sun.
9. Modified Mohawk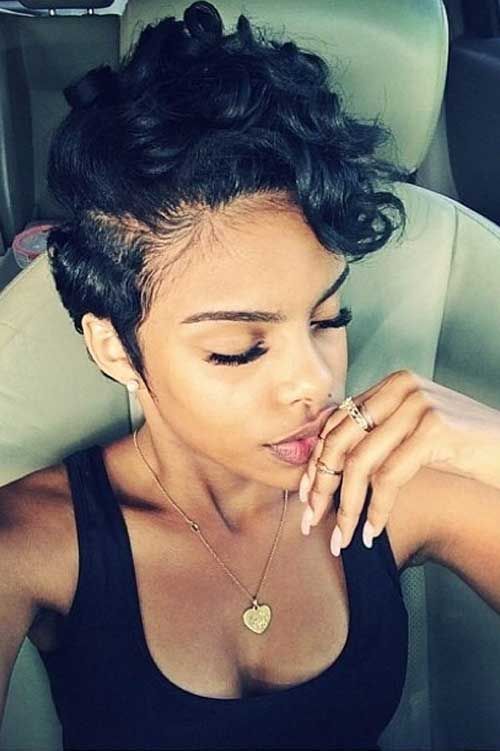 A fan favorite. No doubt about it! If you look really close, you'll notice that it's basically another take on the Mohawk. Only because the sides are not shaved, it's not quite as drastic. (It really is one of the best short cuts we've come across in a while!)
10. Top heavy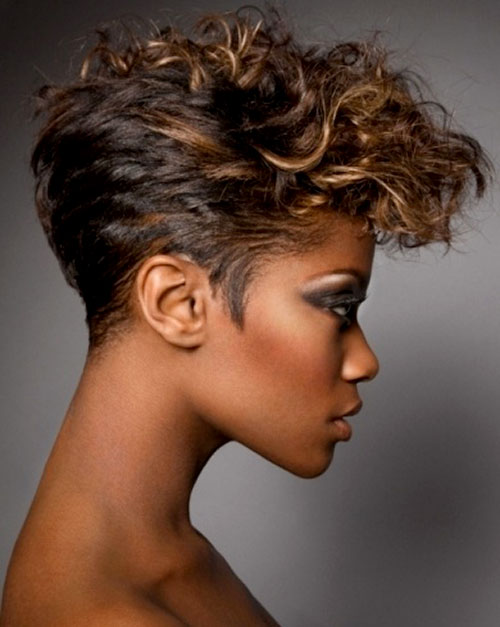 Here's a look to consider if you just can't fathom parting with all of your hair. Cutting down the sides while still leaving a lot of volume up top leaves you with endless styling possibilities.
11. 'Feather' cut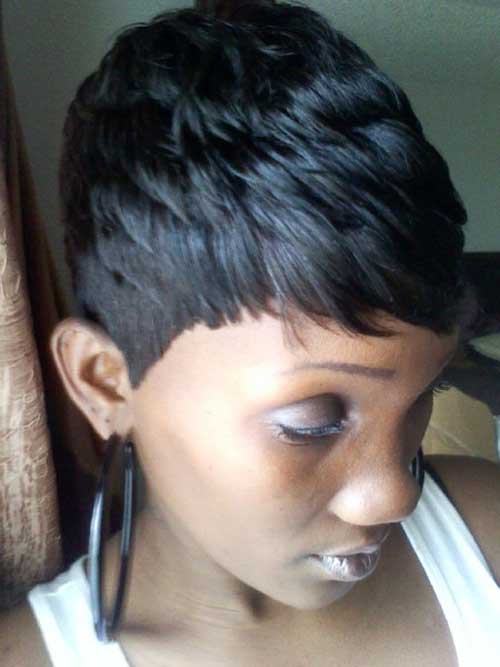 We call this the "feather cut" because doesn't it look like a bird's feathers. Yep. It's pretty fly. (Pun intended.)
12. 'Messy' pixie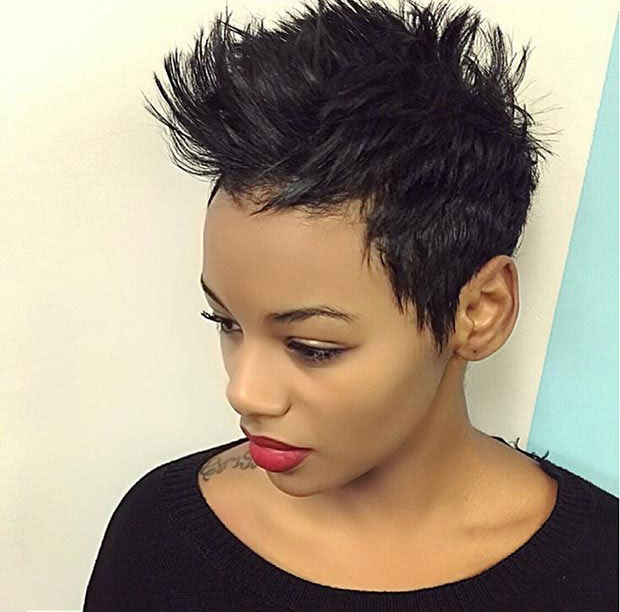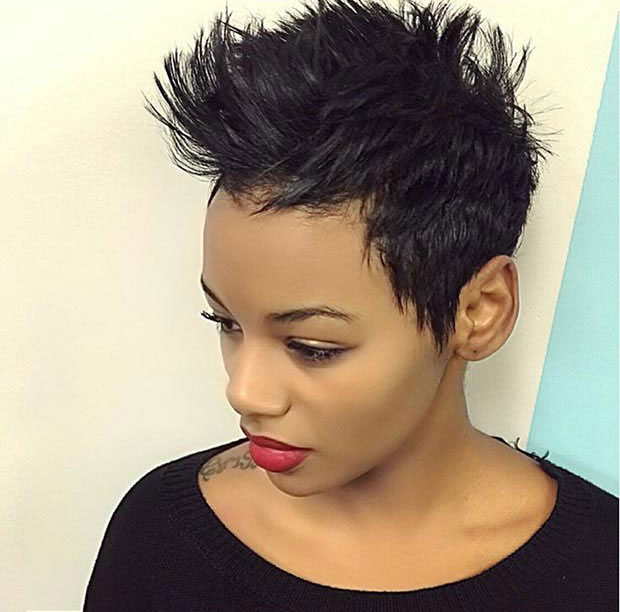 Do you like the "messy hair look"? If so, go with a spiked pixie cut like this one. For the record, one of the best things about it is you won't have to worry about damaging your hair a lot due to the heat.
13. Short and red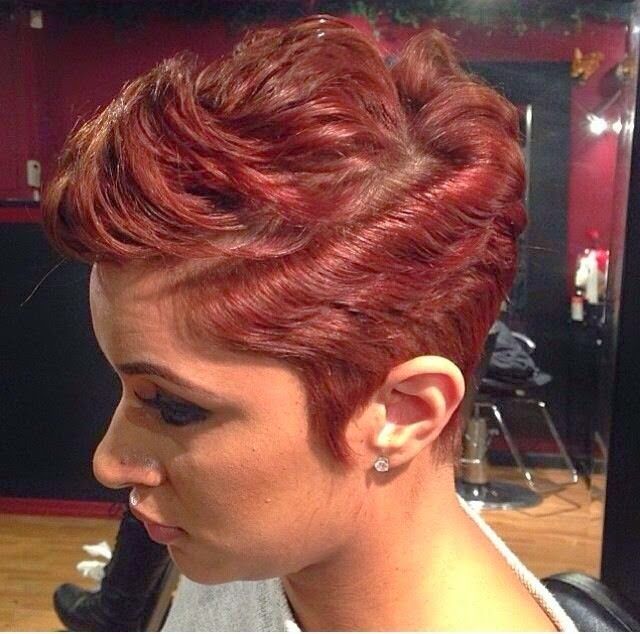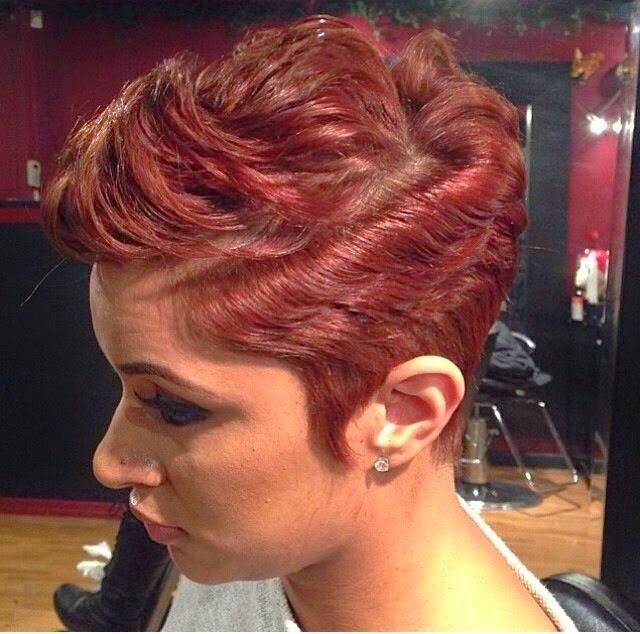 If you are ready to try some color, red is big right now. And it goes so well with a lot of black women's skin tones.
14. Volume up top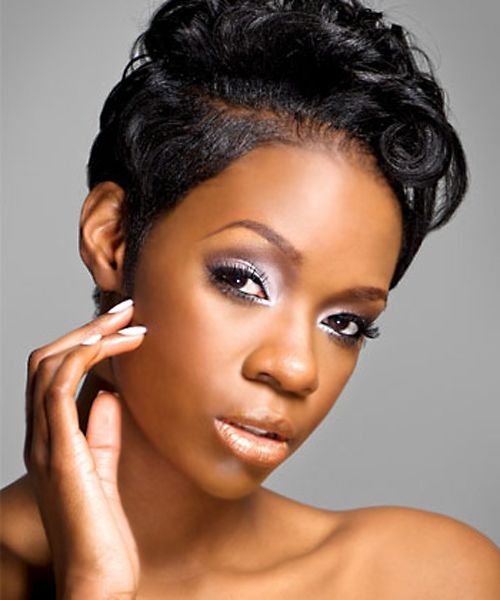 If you're in the process of transitioning a short cut, make sure to leave the top alone. The more volume you have in that area, the more things you can do with your short hair.
15. Short modified bowl cut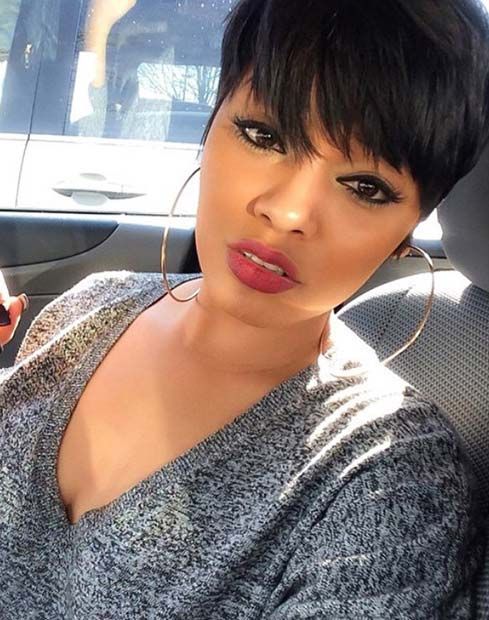 This is kind of like the old school Halle Berry haircut. Or a modified bowl cut. Call it what you want. It's stunning.
16. Pixie with short bangs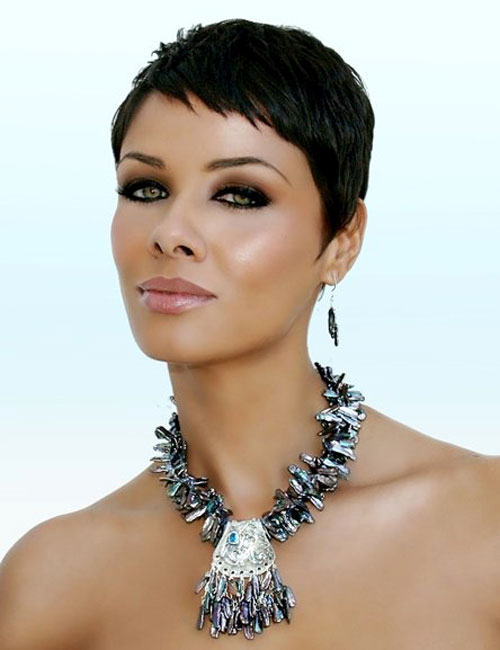 Here's another way to pull off a pixie cut. Just go with really short bangs. It will showcase your beautiful face all the more.
17. Fuchsia hair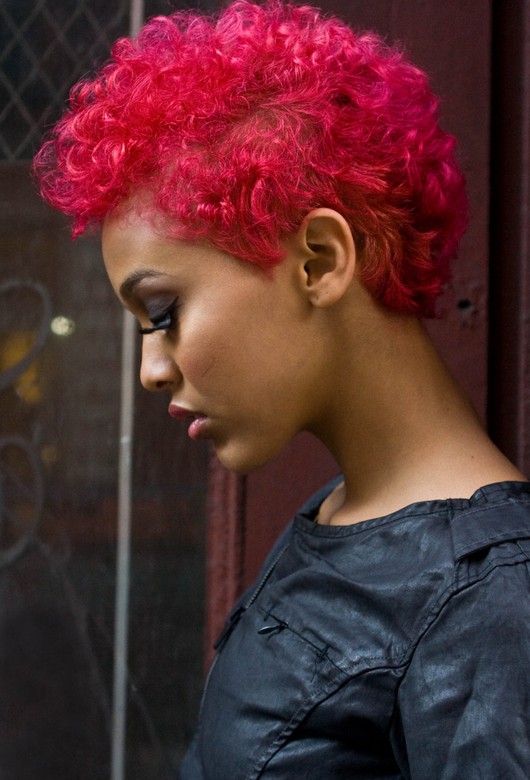 Yeah, we know. Not everyone is daring enough to try fuchsia hair. But you must admit…she looks pretty darn good with it!
18. Tiny finger coils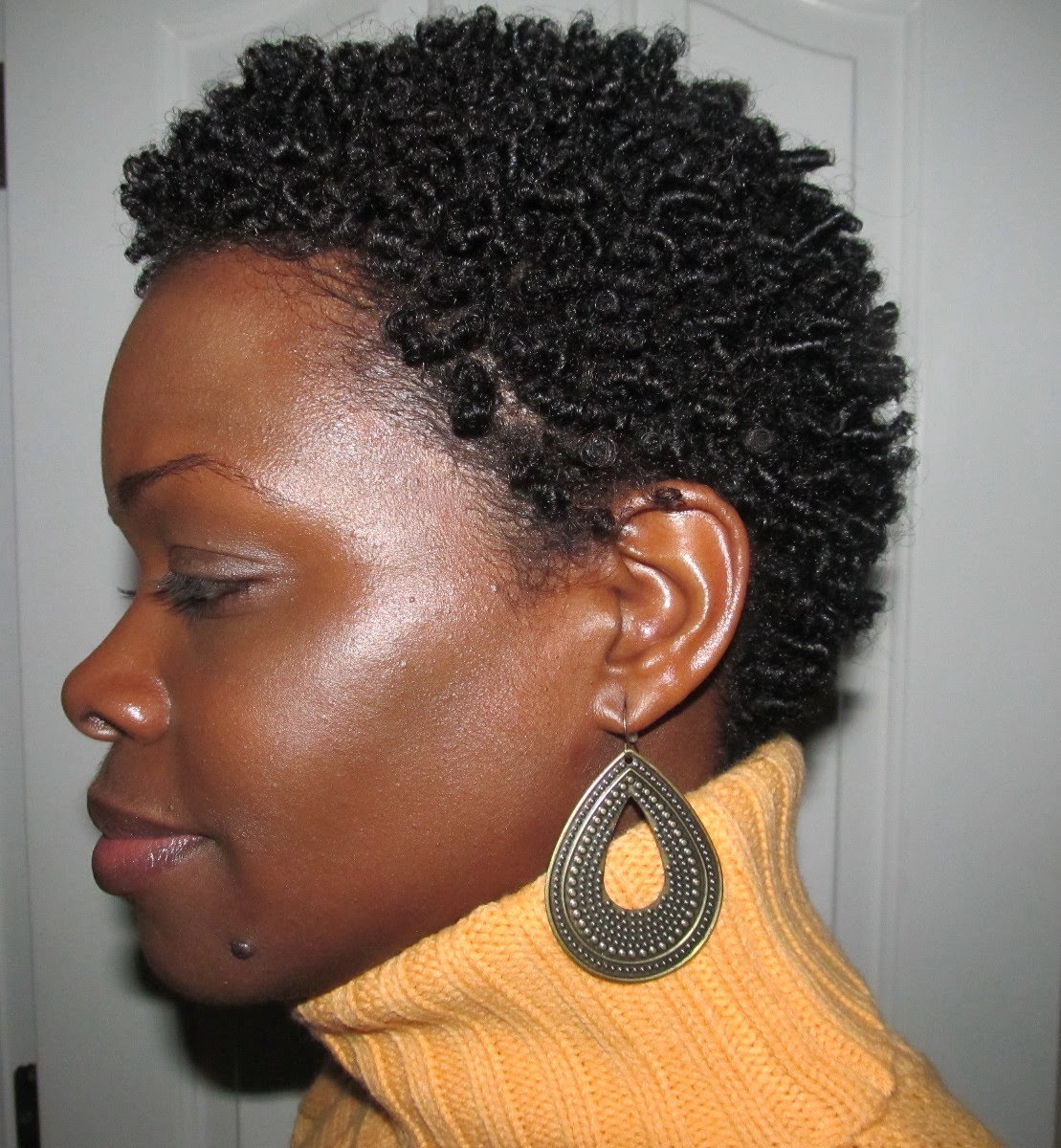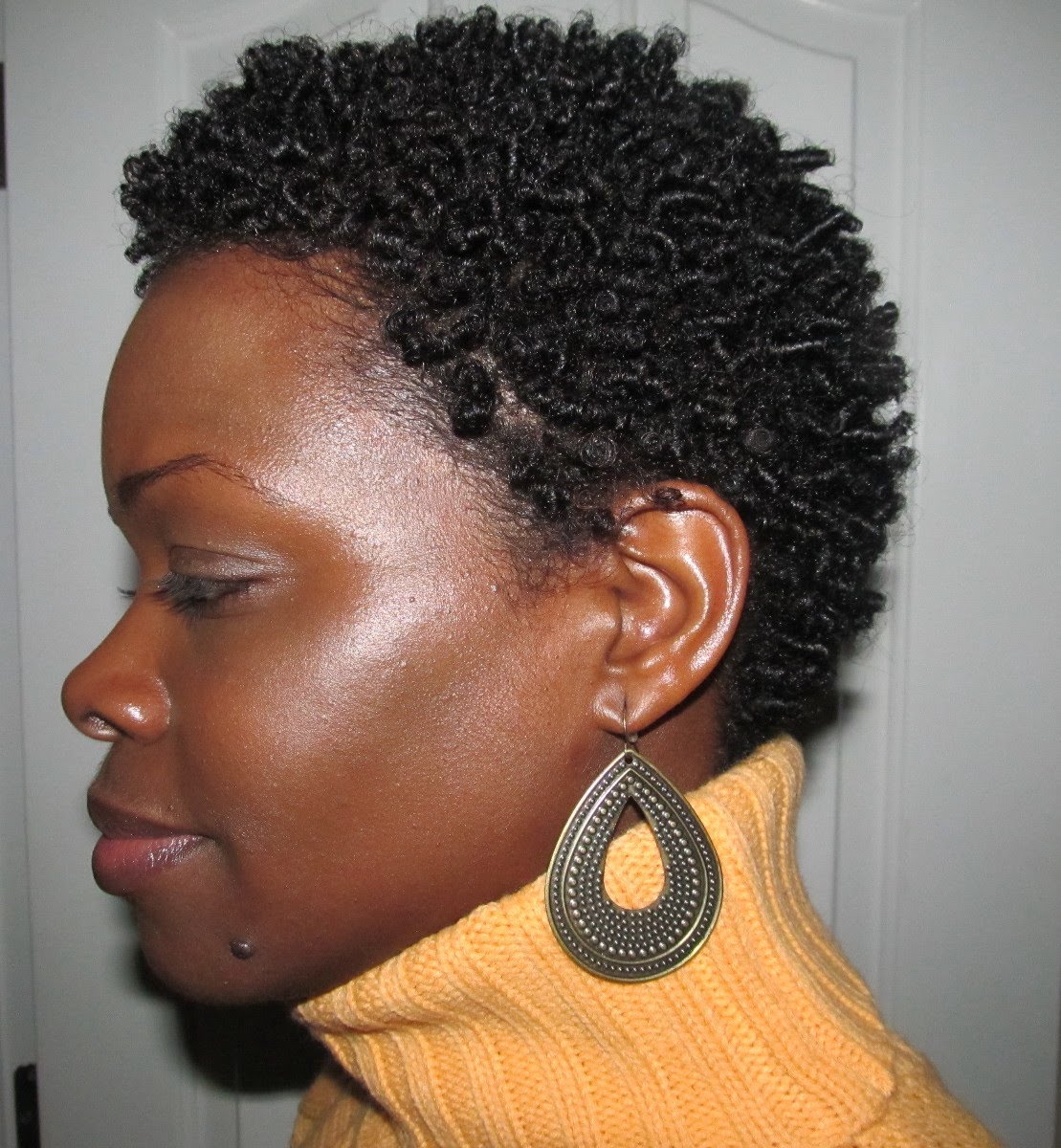 We couldn't do a feature on short hair and not shout out the natural look. This one is so pretty. Plus, tiny finger coils are pretty easygoing when it comes to upkeep.
19. Designs on the sides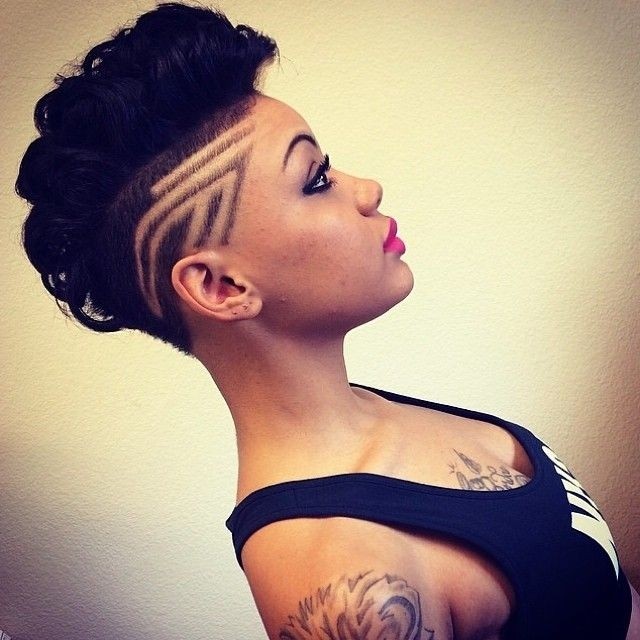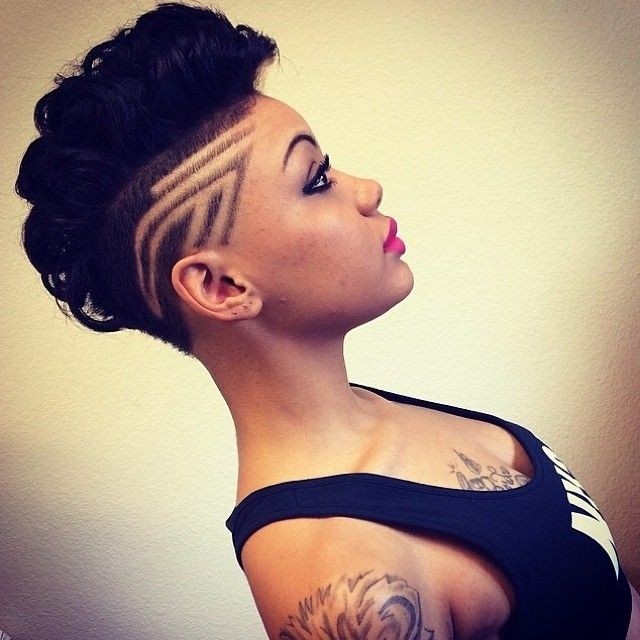 Do you want a bit of a rocker look? You can get your stylist (or a barber) to use their clippers to cut some designs into the sides for you.
20. Half shaven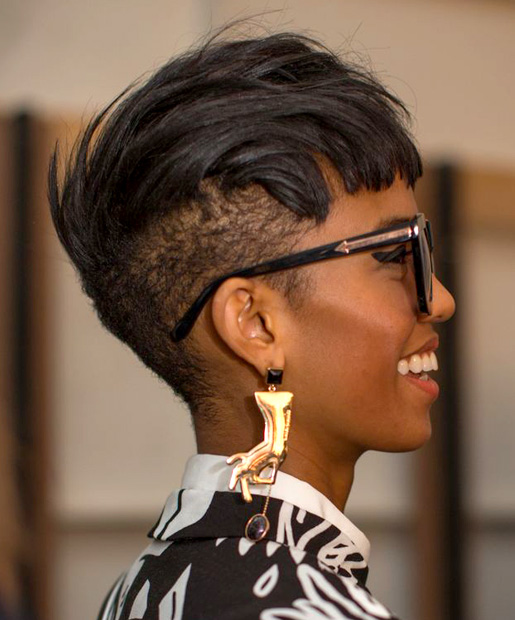 If you've thought about getting a Mohawk but you're not all in yet, you can get your head half shaved and see how you feel. With enough length up top, it will be easier to grow the look out should you decide to change your mind.
21. Small 'tail'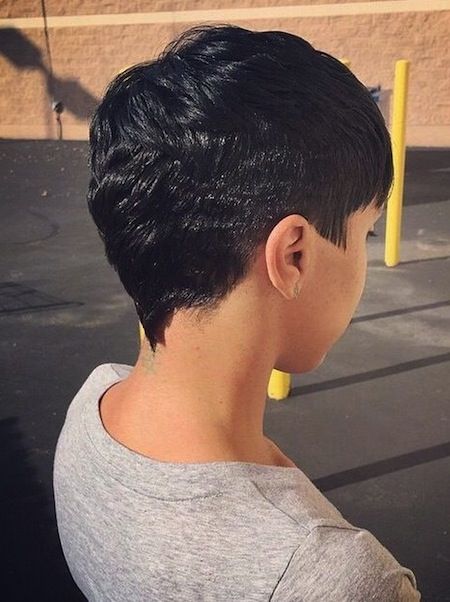 Sometimes, it's the little things that can make the biggest impressions. This super cute cut with a tiny "tail" at the nape of the neck showcases this perfectly.
22. Mohawk with blonde in front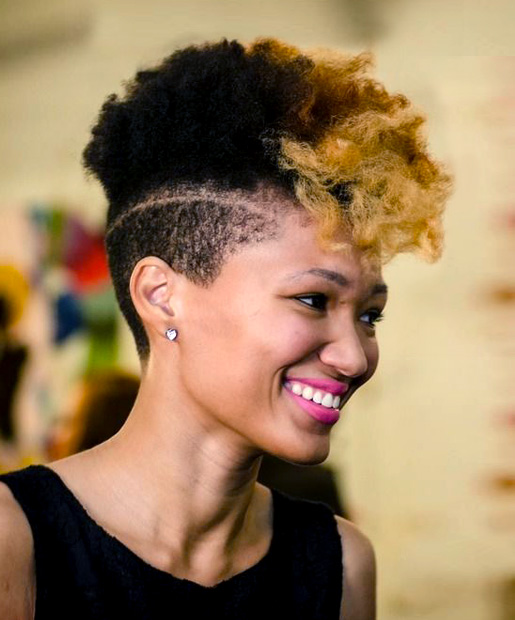 Do you have a natural hair Mohawk? If so, spice it up by adding a color like blonde (or even violent or blue) in the front.
23. Big tapered texture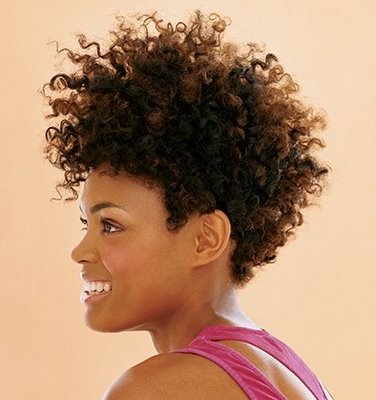 Here's another great look for natural hair. Keep the top and sides as big as you want. But taper down the area by your ears and also the back of your head to give your natural curls a bit more definition.
24. Pin curls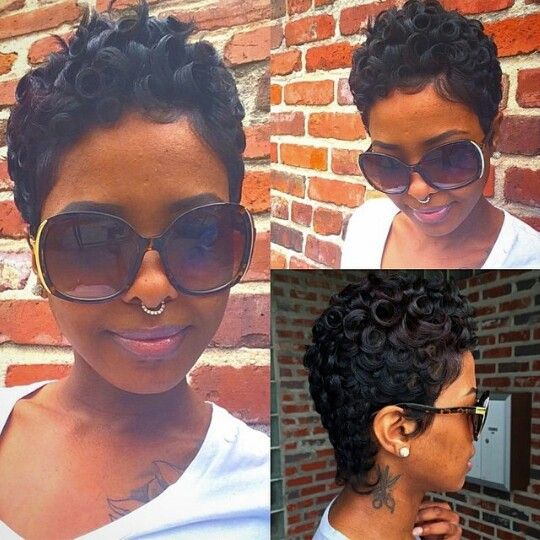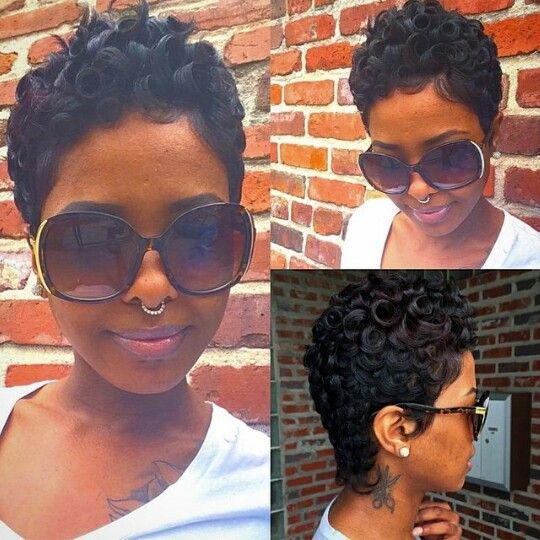 Pin curls. They are a throwback look that still is so darling. Especially on a short haircut. Give it a try—at least one time.