If there's one item of clothing which has been sweeping the fashion scene by storm lately, it's undeniably the midi skirt. A midi skirt is incredibly chic and stylish, as well as being flattering for all different body shapes and types. You can dress them up or down, accessorise them in a variety of ways and work them into an outfit for almost any occasion. They truly are versatile and super on trend, so why not add a few to your wardrobe this season? Styles Weekly can guarantee you'll be reaching for your midi skirt time and time again. Here are some really cute midi skirts to swoon over!
Ditsy Blue Floral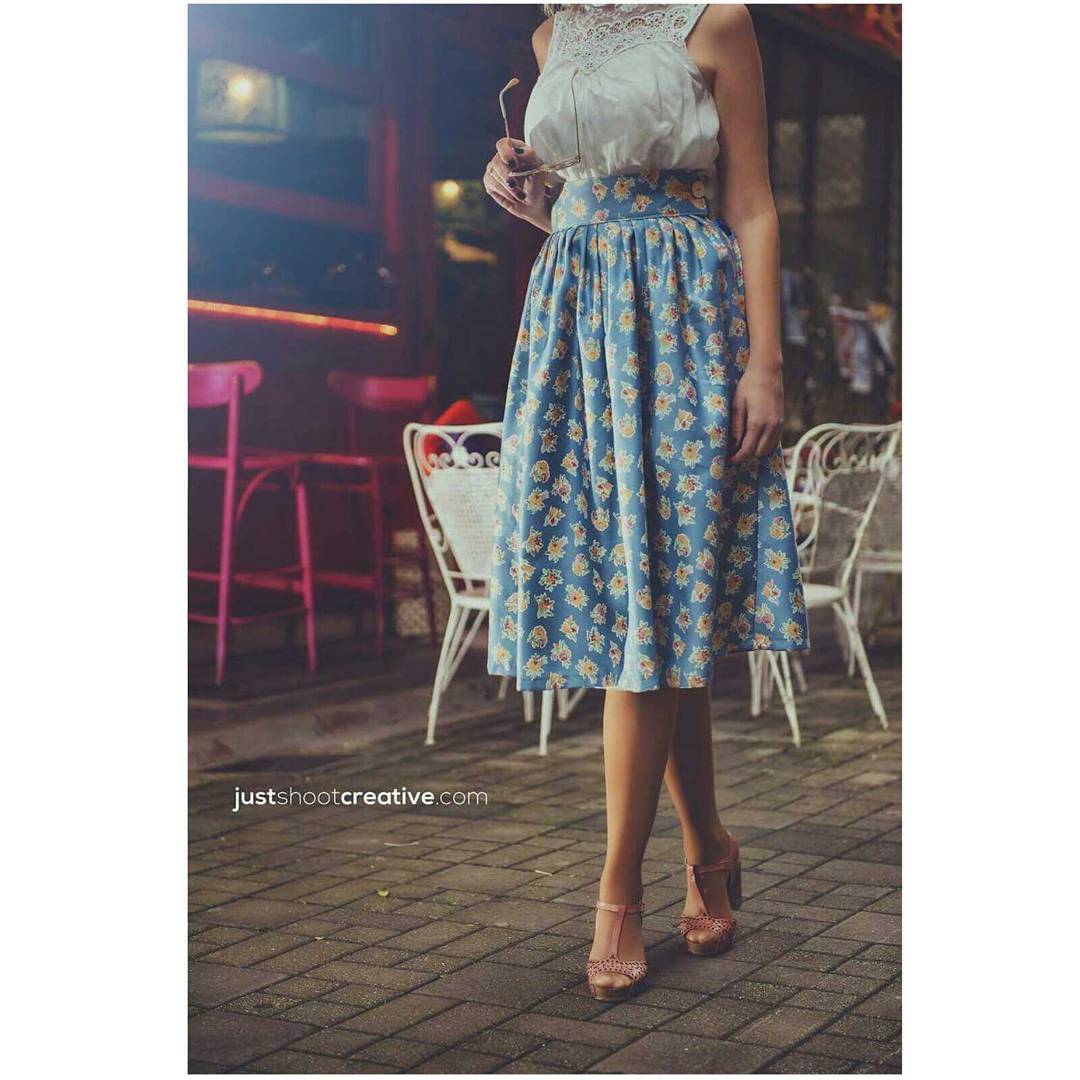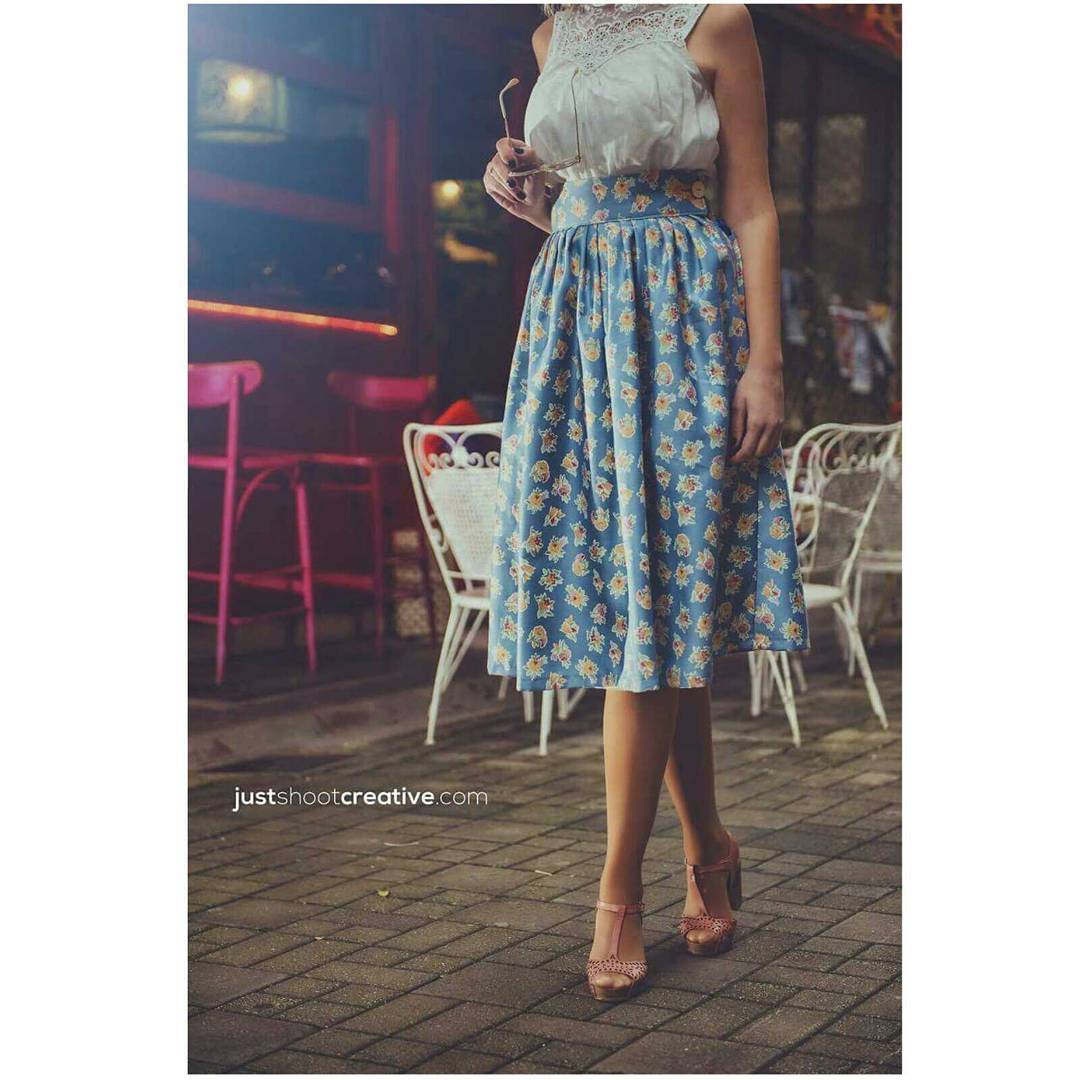 Ditsy floral print is the shabby chic style which has swept the nation by storm. It's on cups, bags, handkerchiefs and now this stunning midi skirt which we cannot get enough of. It's a gorgeous shade of blue and finished with the most beautiful flower print. Tuck a pretty white shirt into this skirt and wear your favourite pair of pink or tan heels to finish the style off perfectly. Wear your hair up too!
Baby Blue with Bow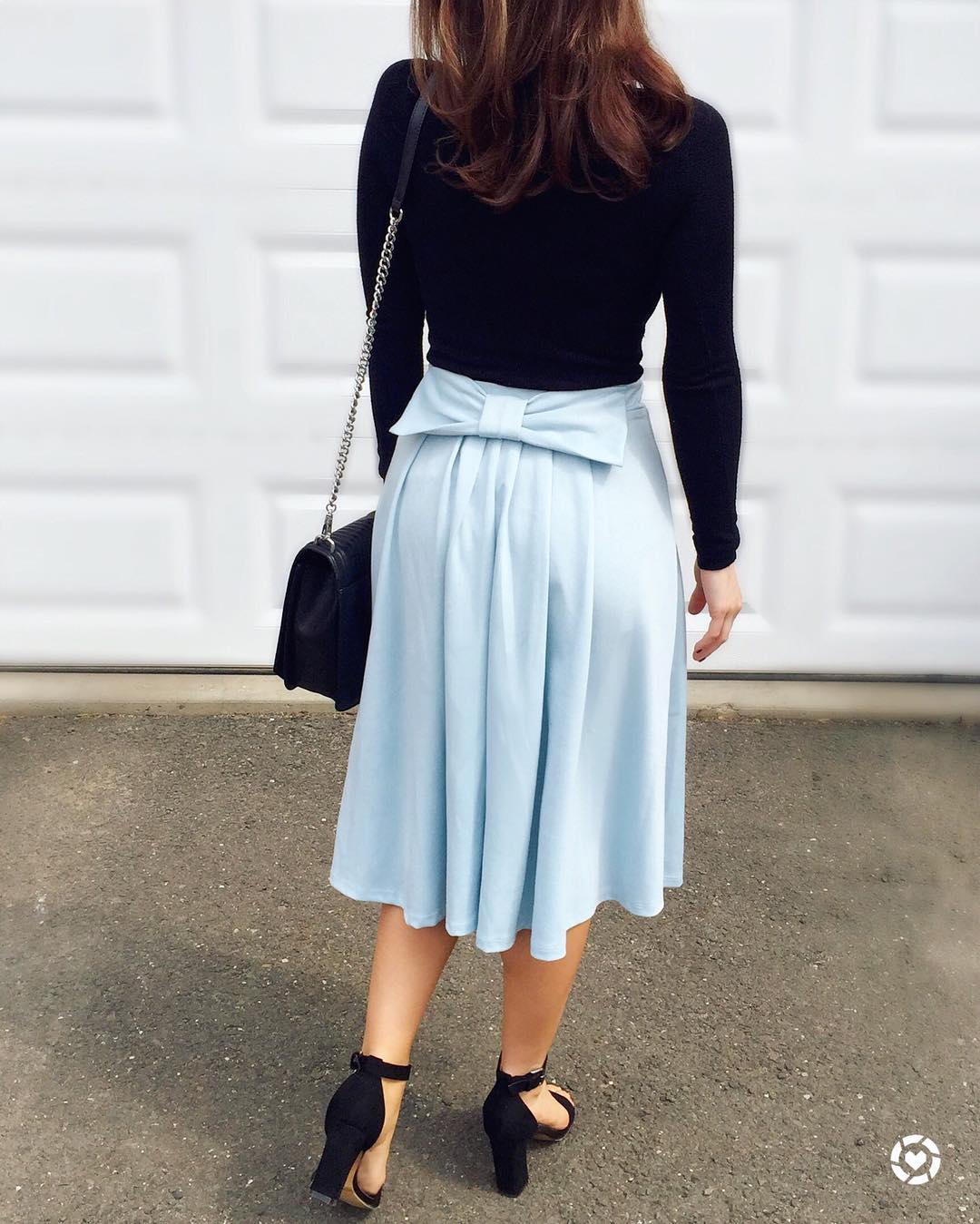 The bow detail on this gorgeous skirt has well and truly stolen our hearts. This baby blue midi skirt absolutely needs a place in your wardrobe! It drapes in such a stunning way and is finished with a bow at the back for an element of interest. Wear with a black long sleeved top tucked in, some black high heels and a black handbag. Wear your hair down in waves for a luscious day time occasion style.
Pink with Chiffon Layer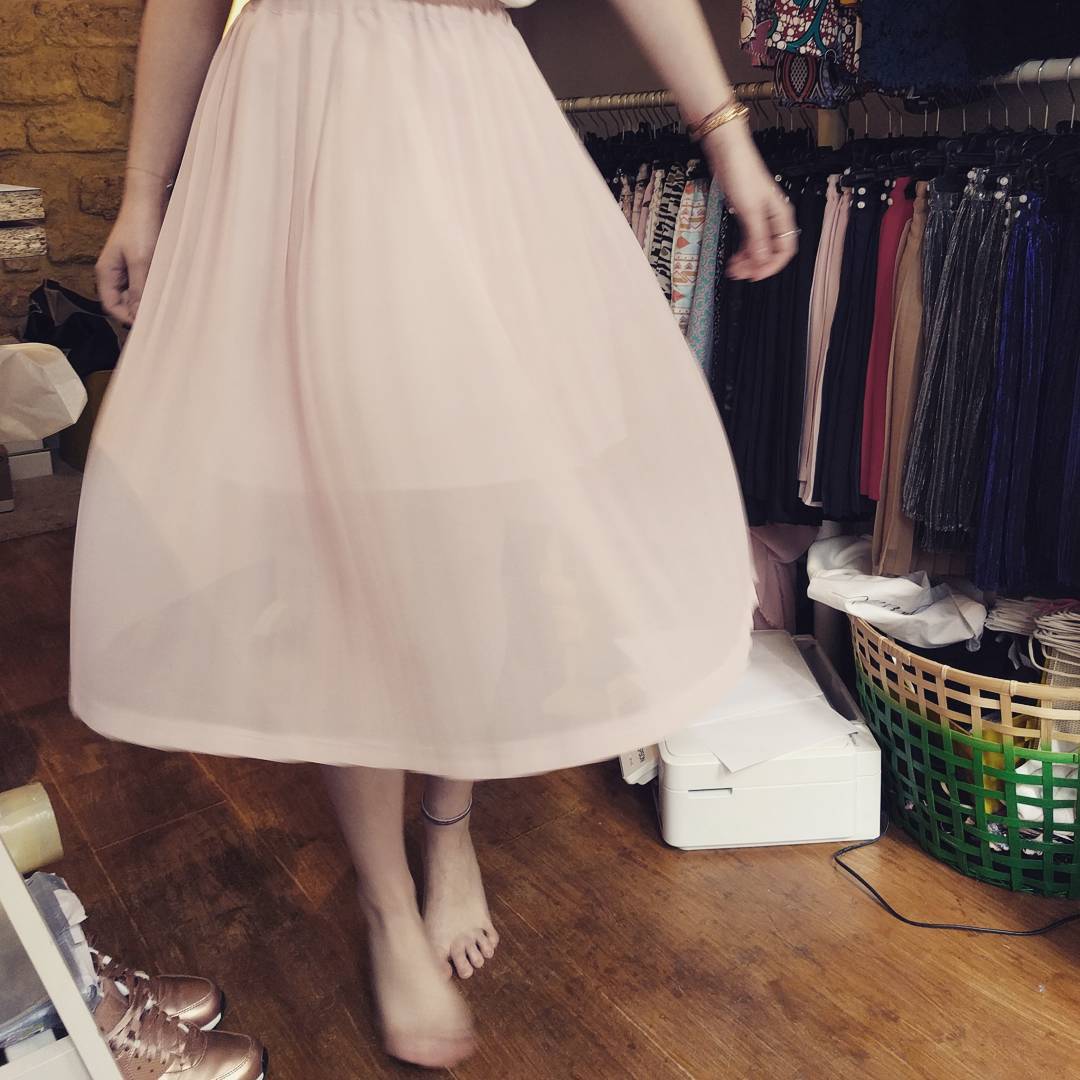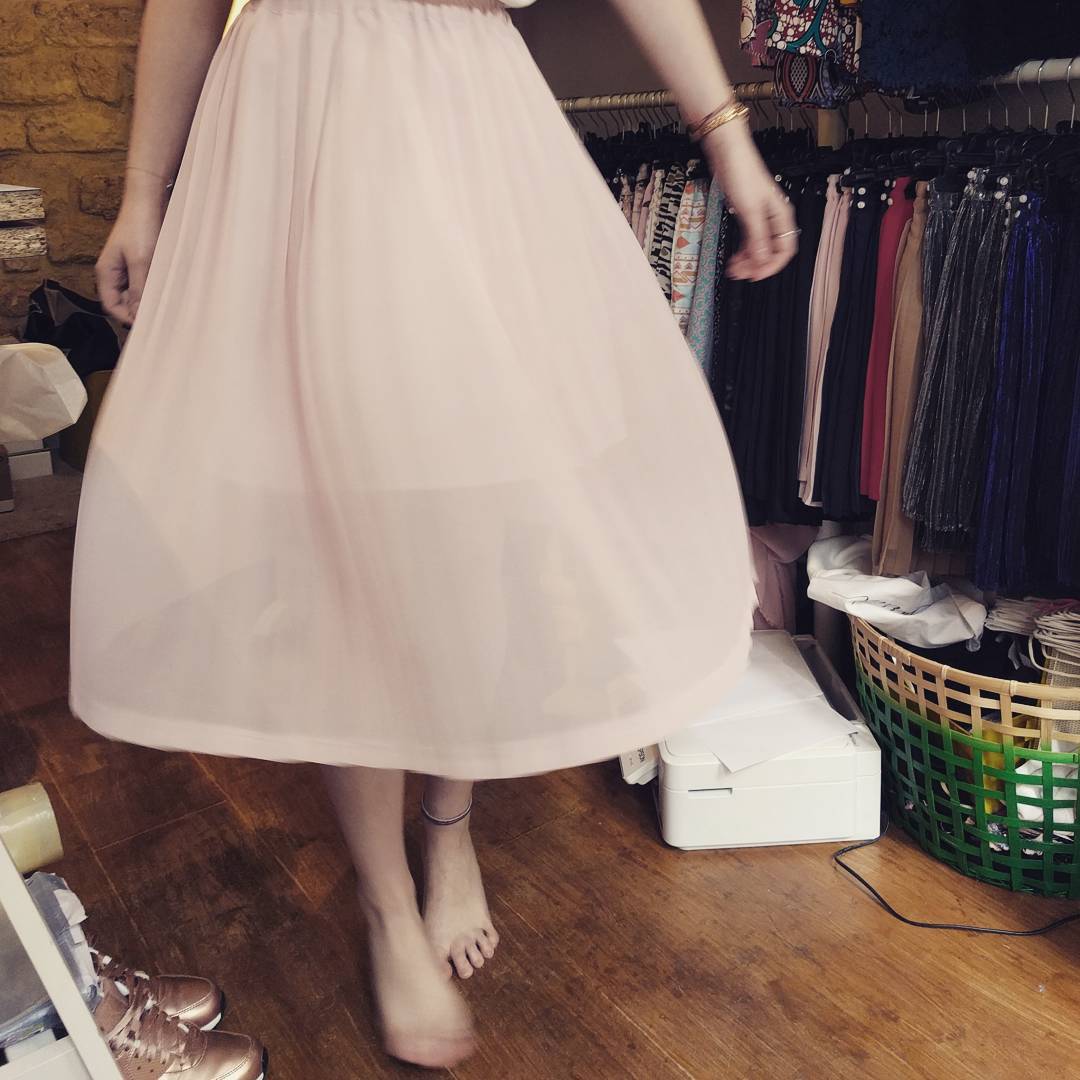 Princess is the word which immediately springs to mind when you cast a glance at this gorgeous skirt! It's a stunning baby pink shade with a chiffon layer over the top, providing optimum twirl when you spin around. Tuck a white vest or t-shirt into this chiffon skirt and wear with sandals or high heels, depending on the occasion you're wearing it for.
Pleated White Skirt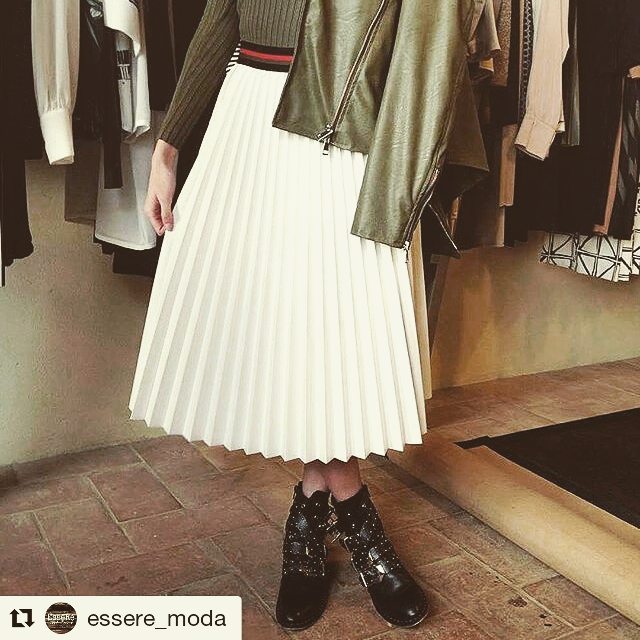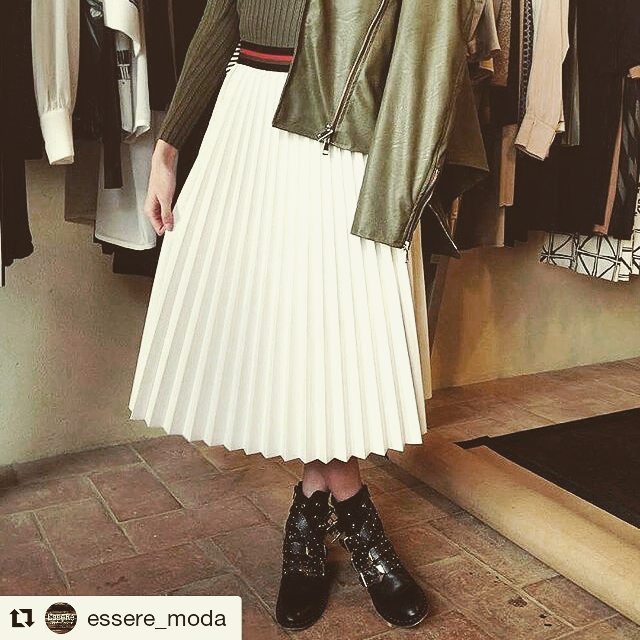 Pleats are incredibly in fashion at the moment, so of course we had to include a pleated midi skirt in the mix! We absolutely adore this white one, especially when paired with some grungy biker boots! Add your favourite pair of boots, and wear with a cool sweater. This fashionable female has opted for one in a khaki colour. Finish with a leather jacket to match your biker boots.
Pink and White Skirt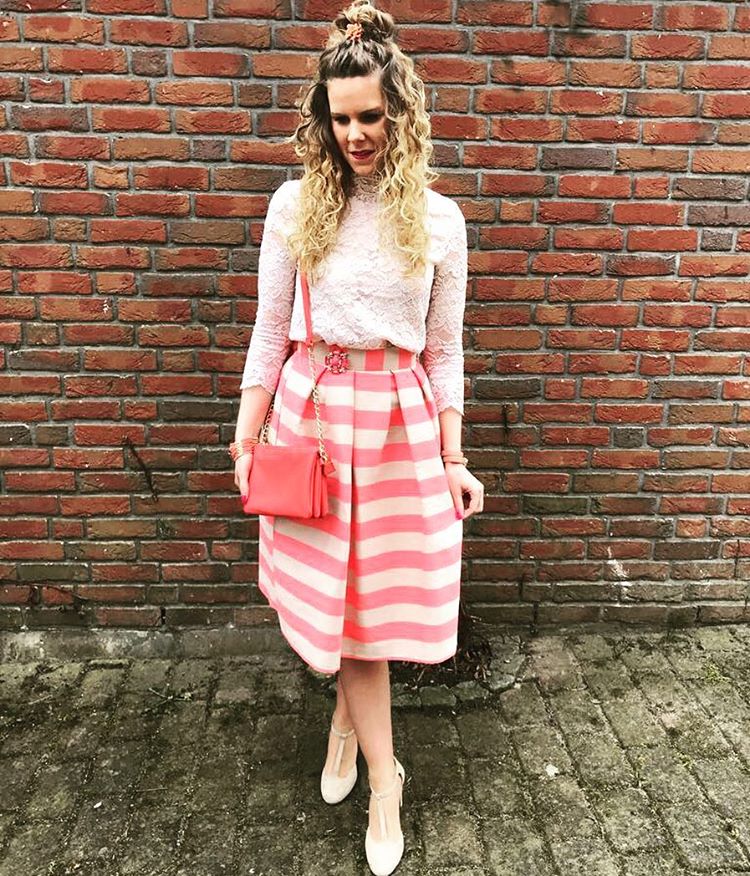 Pink and white go together like bread and butter – and they really work for this amazing looking skirt! With candy stripes in pink and white horizontally across the material, this structured midi skirt is just perfect for a special occasion. Team with a pale pink or white lacy long sleeved top, which you can tuck in. Opt for cream high heels and a pretty pink bag and you've got yourself a seriously gorgeous outfit choice.
Golden Pleated Midi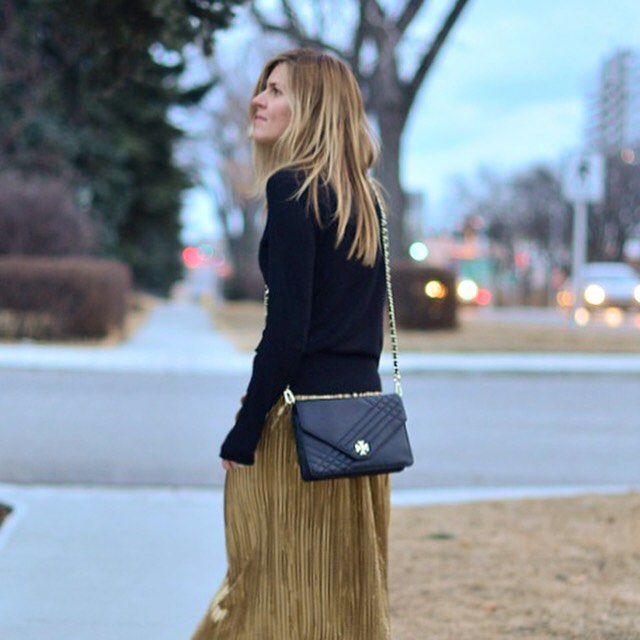 Everyone needs a touch of gold in their life – don't you agree? And what better way to incorporate this metallic colour than in the form of a pleated midi skirt! This incredibly on trend midi skirt is exactly the way to our heart. Team with a black long sleeved sweater and a beautiful black handbag. This is the perfect smart evening wear or great for a work occasion.
White Button Down Denim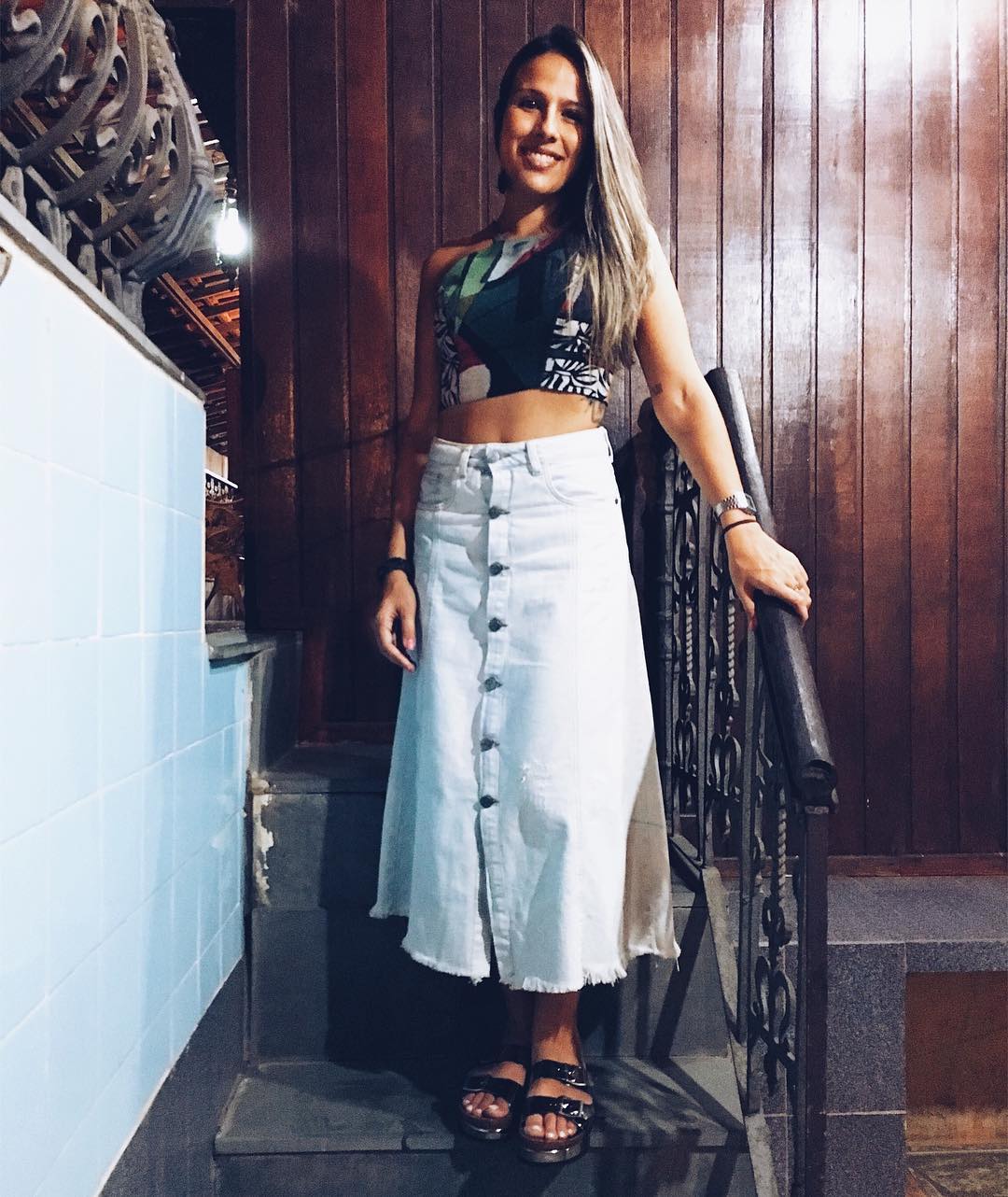 Denim skirts are back in fashion in a big way – especially in this wonderful midi length! We particularly love the button down style of this skirt, and the light wash denim. Choose a denim midi skirt with frayed ends. Add a crop top and some chunky sandals. Wear your hair down in loose waves and you've got a wonderful day time style which we cannot get enough of.
Purple Pleated Midi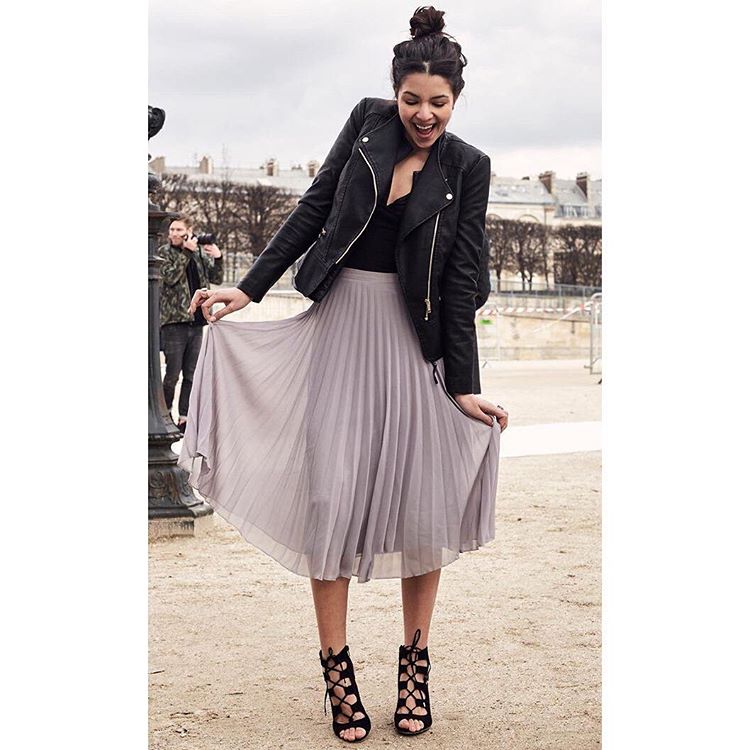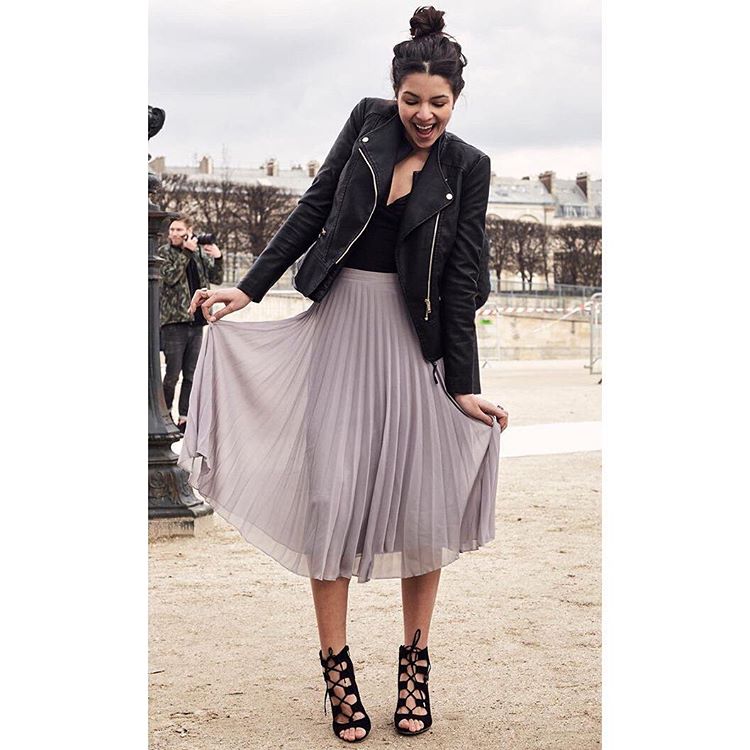 Pretty and purple are two words we'd use to immediately describe this gorgeous skirt. This purple pleated midi dress is made from a light, chiffon style fabric and is undeniably the centrepiece of this look. Add a pretty black top which you can tuck in. Choose your favourite statement black high heels. Finish with a leather look biker jacket and wear your hair up in a bun. Ballerina rock chic – we dig it!
Black Frill Net Skirt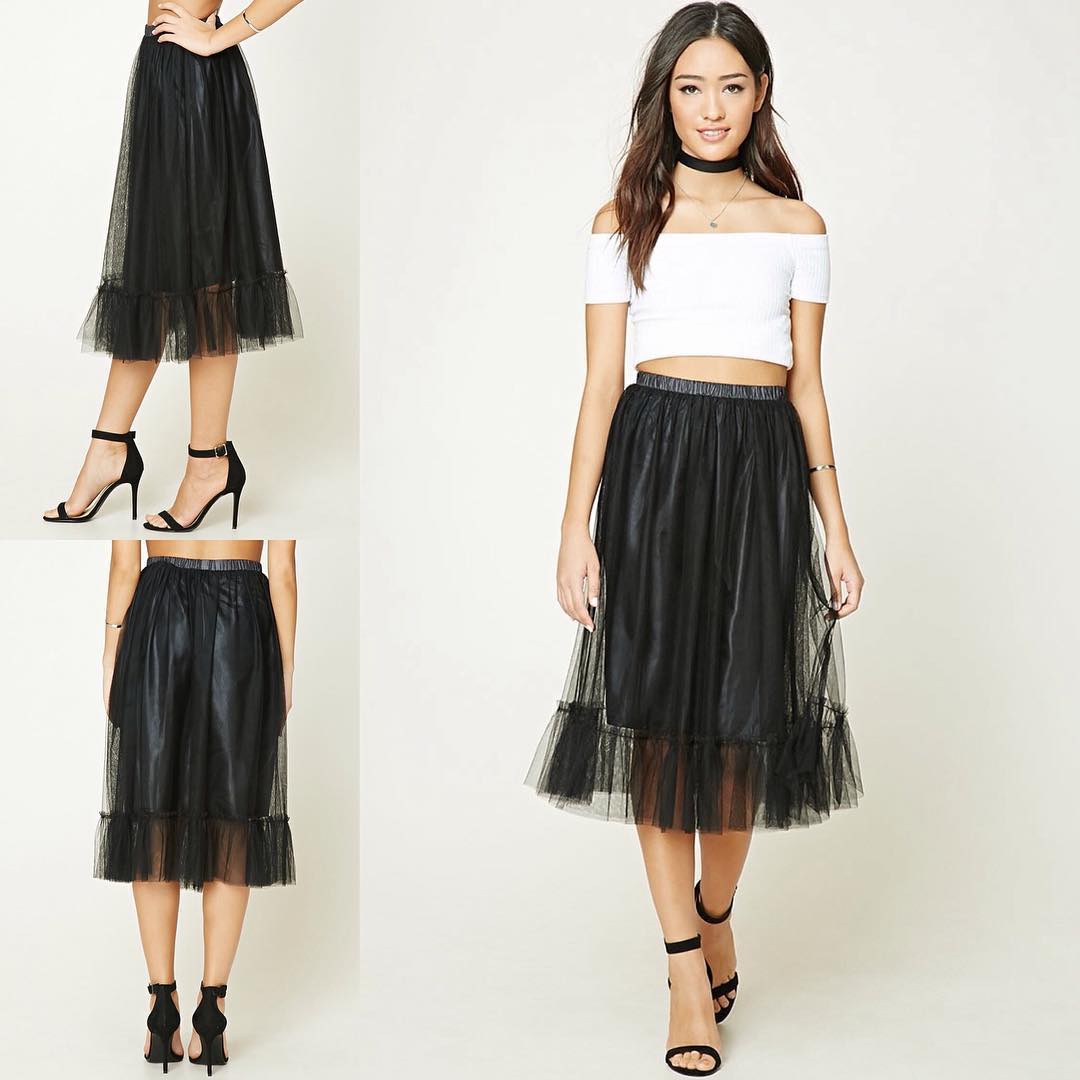 This black frilly netted skirt is grungy, cool and totally unique, which is why we just can't get enough of it! This cool netting is light, airy and totally trendy. We particularly love the frill detail around the bottom of the skirt. Add with an off the shoulder white crop top and your favourite pair of strapped black sandals for a fantastic night out look.
Black and White Pleats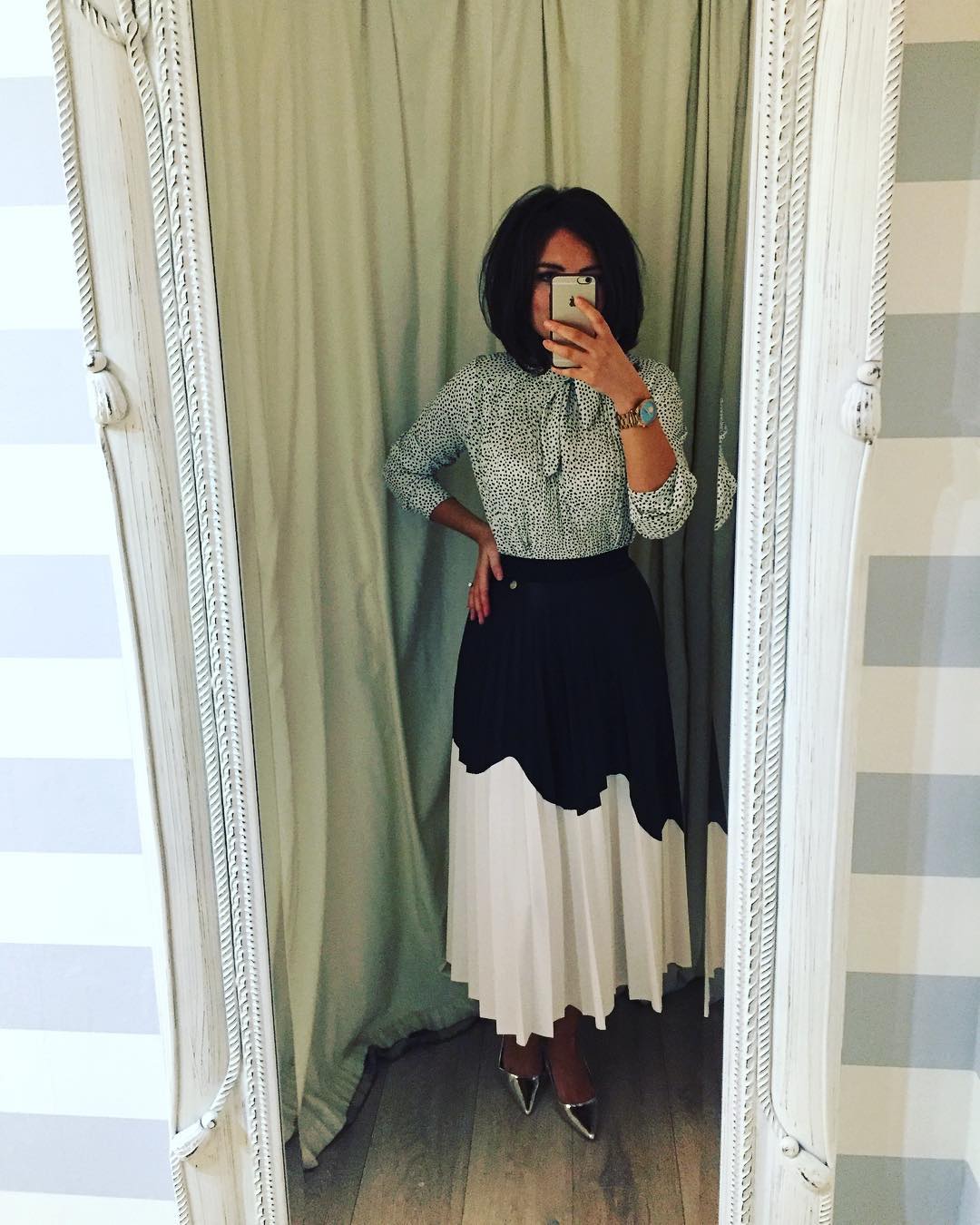 Monochrome style is everything – especially when it comes to statement midi skirt pieces! This incredible midi skirt is designed with a cool, colour block effect – black at the top and white at the bottom. The colours merge thanks to a cool diagonal line. Add with your favourite shirt – don't be afraid to mix patterns here. Why not finish with metallic shoes to seal the deal?
Let us know which of these amazing midi skirts is your favourite!