If you're seeking stylish satin bridesmaid dresses for your wedding this fall or winter, this is the place to start!
The traditional bridesmaid customs and styles have undergone a huge shake-up during recent years and if you haven't been following the trends, you may feel a little overwhelmed by the many new options.
For example, as the number of bridesmaids increases, so does the problem of agreeing on a style and color that will suit everyone. And as the bridesmaid buys her own dress, you need to be sure she is happy with your final choice.
Trendiest new ideas for satin bridesmaid dresses this season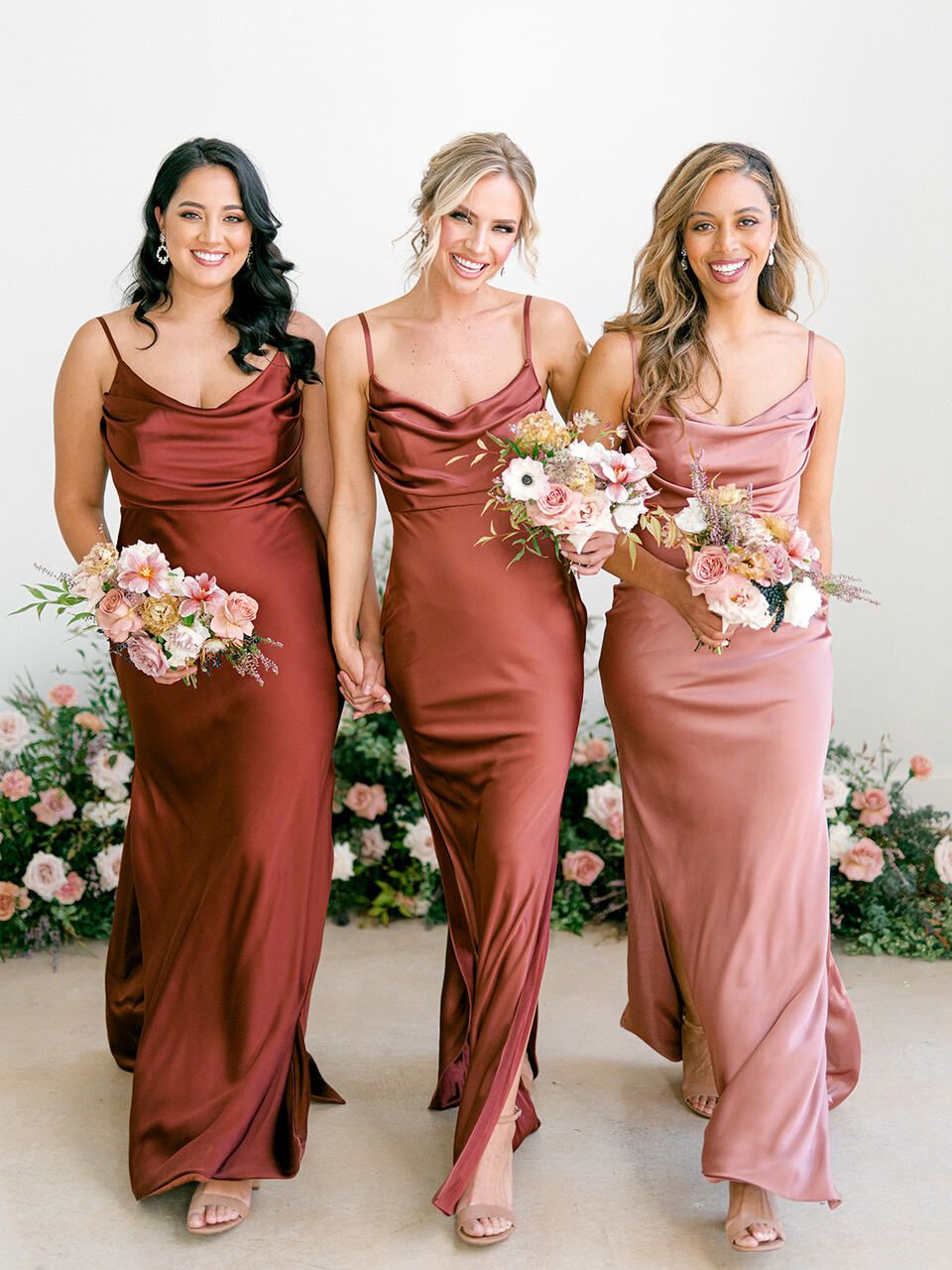 Some of the trendiest new ideas are mixed-style, satin bridesmaid dresses, which allows each young woman to wear a style that suits her height and body proportions.
Some bridesmaids love to show off in Old Hollywood glamor dresses, with sexy low necklines and thigh-high skirt slits. Others may favor a more modest front, but be delighted to wear a backless style!
The latest trends are following cottage-core by including a floral panel, or being completely floral, and there's the high popularity of Goth fashions is being shown in the latest black, satin bridesmaid dresses.
Corseted bodices from the Bridgerton series are influencing fashion tremendously this year and will continue to do so, well into next year.
And of course, you must ensure your maids are comfortable and warm enough in cold weather in long sleeves during a long day.
This year's top jewel color trends for satin bridesmaid dresses
The latest colors for autumn and winter in the western hemisphere are warm shades of terracotta, burnt-orange, and burgundy. Plus the cool, jewel shades of royal-blue and emerald-green, which all look rich and luxurious in satin fabric.
And if you live in the southern hemisphere and are approaching your warm weather season, long rose gold satin bridesmaid dresses, lemon, bright shades of pink and even white are popular in bridesmaid dresses.
Bearing in mind that each bridesmaid will expect to get her money's worth out of her dress, by wearing it to other special events in the future, you need to set aside sufficient time for careful consultations with your friends.
This season's satin bridesmaid dresses from quality online stores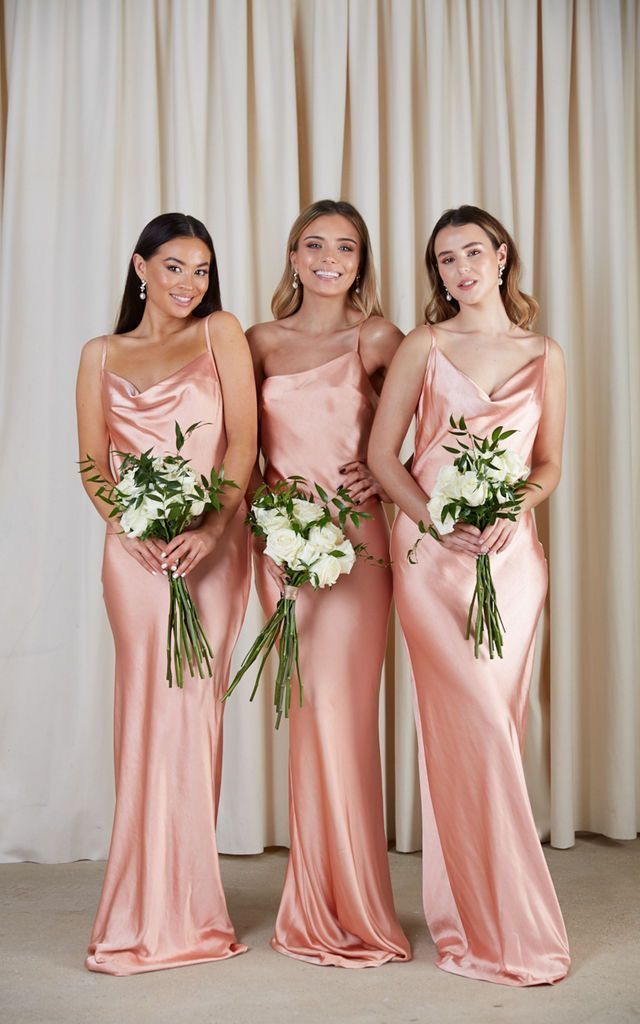 This year's favorite fabric is satin, which is similar to silk and has a discreet sheen, which makes it stand out as an expensive-looking, luxury material.
Modern satin is slightly stretchy, which gives an excellent fit and washes well, dries easily and needs little ironing. Bridesmaids find it comfortable for the wedding day and love wearing it after the event!
And as satin is so much cheaper than hard-to-handle silk, this choice of fabric is bound to meet with the approval of all your bridesmaids.
Satin has always been regarded as a high-class fabric and the modern version has just enough stretch in it to make it move with your body and never pull or pinch!
And if you're savvy enough to buy from a good-quality, online bridesmaid store, you'll get a beautifully-made dress at roughly half the price of a bricks and mortar 'bridal store'!
5 Top Bridesmaid Dresses Trending Right Now
1. Long royal-blue satin bridesmaid dresses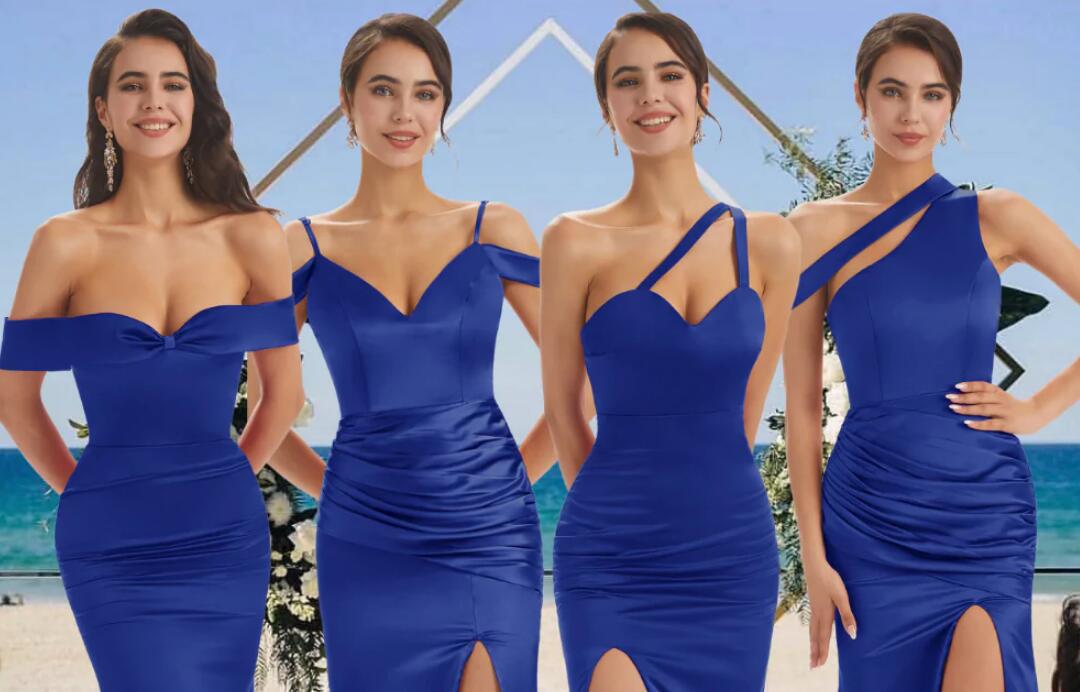 Searches for jewel-toned bridesmaids' dresses surged this year, as all manner of rich colors came to the forefront of wedding fashions.
This version of the year's favorite satin bridesmaid dresses has a classic, slim silhouette designed to fit and flatter sizes from extra-small to U.S. size 30.
Inclusive stores that offer the full range of women's sizes make it easy for you and your friends to shop together from the same store. And this greatly decreases the time and anxiety you need for this important task.
The floor-length satin bridesmaid dresses are marvelous for fitting bridesmaids of differing heights, without the gowns needing to be shortened by expensive tailors.
The V-necked design allows a little décolletage to show, without being too low for a classy wedding. And the beautifully shaped waistline is very flattering. With the unusual strap decoration, this is one of those long satin bridesmaid dresses that's a real magnet for compliments!
In particular, the asymmetrical pleated detail on the skirt will make the tummy and hips appear smaller and avoid the problem of creases appearing after the 'maid has been sitting down.
Bridesmaids who have worn this style range through all of the sizes and larger women were extremely pleased by the flattering fit and the comfort of this dress.
So although it is shown on a tall, slim model that doesn't mean it won't suit the full range of sizes!
The front side split means you can walk freely and enjoy dancing at the wedding reception! If you're going to buy long royal blue satin bridesmaid dresses, here is a good store.
2. Ravishing long rose-gold satin bridesmaid dresses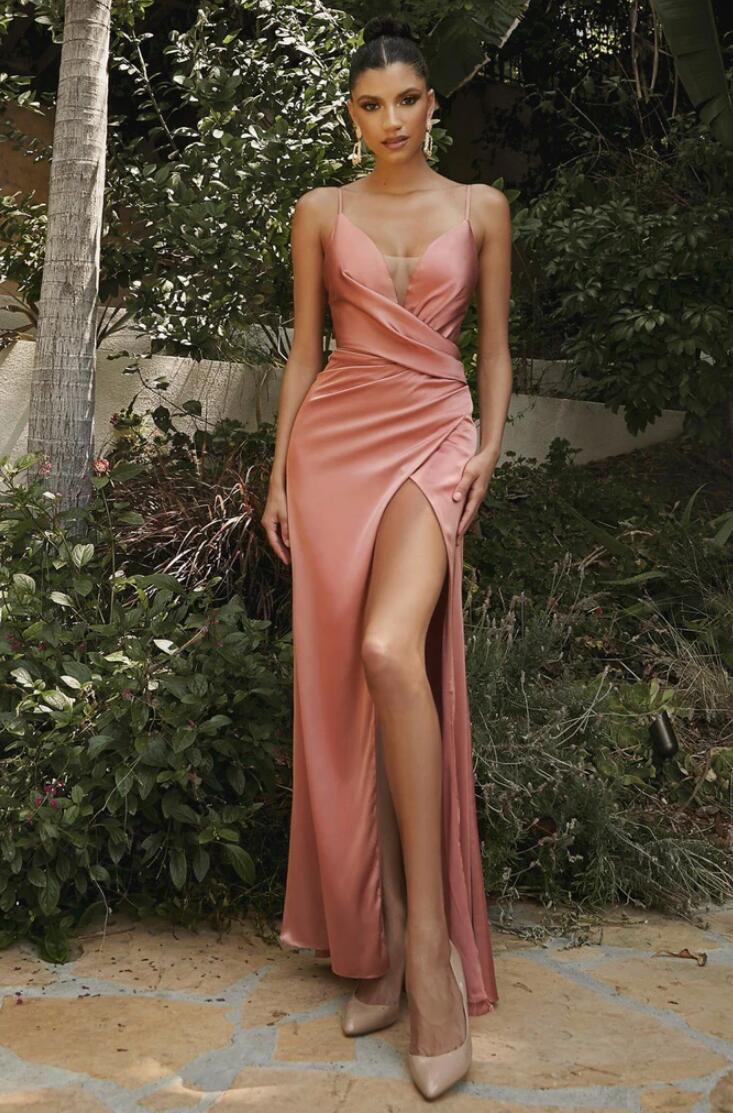 Here's another gorgeous long, satin bridesmaid dress designed to suit most shapes and sizes.
The rose-gold color is perfect for summer and early autumn weddings and can also be part of a color-mixed set of dresses.
For example, rose-gold, light and dark terracotta and burnt-orange shades can be matched to each of the bridesmaid's natural hair and skin-tone. This makes a group of 'maids look like a beautiful bouquet of flowers!
The asymmetrical bodice has a lovely classical look, but with the latest trend for spaghetti straps bringing it right up to date.
The clever design creates diagonal fabric which draws attention the waistline, before changing direction to drape over the stomach in an extremely flattering front section.
And this inspired use of asymmetry makes both the waist and hips appear narrower!
The skirt is floor length with a side-split to thigh level for easy walking and dancing.
3. Elegant boho long burgundy satin bridesmaid dresses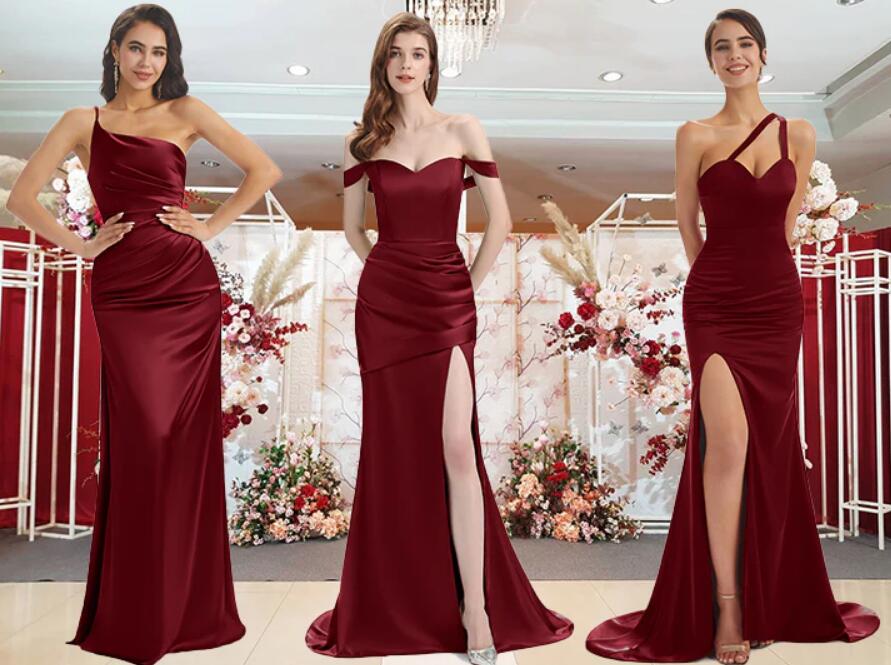 Whether you're planning a boho-themed wedding or an upmarket black-tie ceremony, this fabulous extra-small to plus-size favorite will look extremely stylish.
The neat neckline shows off the shoulders, and the cute, short sleeves cover any extra weight at the top of the arms.
And if you're a small or medium size, you'll be equally flattered by the contrast between a closely- tailored top section, and the luxuriously flared-out, swishy skirt.
This is a slightly different hem-style for long satin burgundy bridesmaid dresses, with a shorter section around the feet at the front.
The asymmetrical hem is great for showing off a pretty ankle and super sandals, and makes the dress easier to walk and dance in!
With comfortable, secure top and short sleeves, the long burgundy satin bridesmaid dresses are elegant and flirty, without showing too much flesh!
4. Long emerald-green satin bridesmaid dresses with long sleeves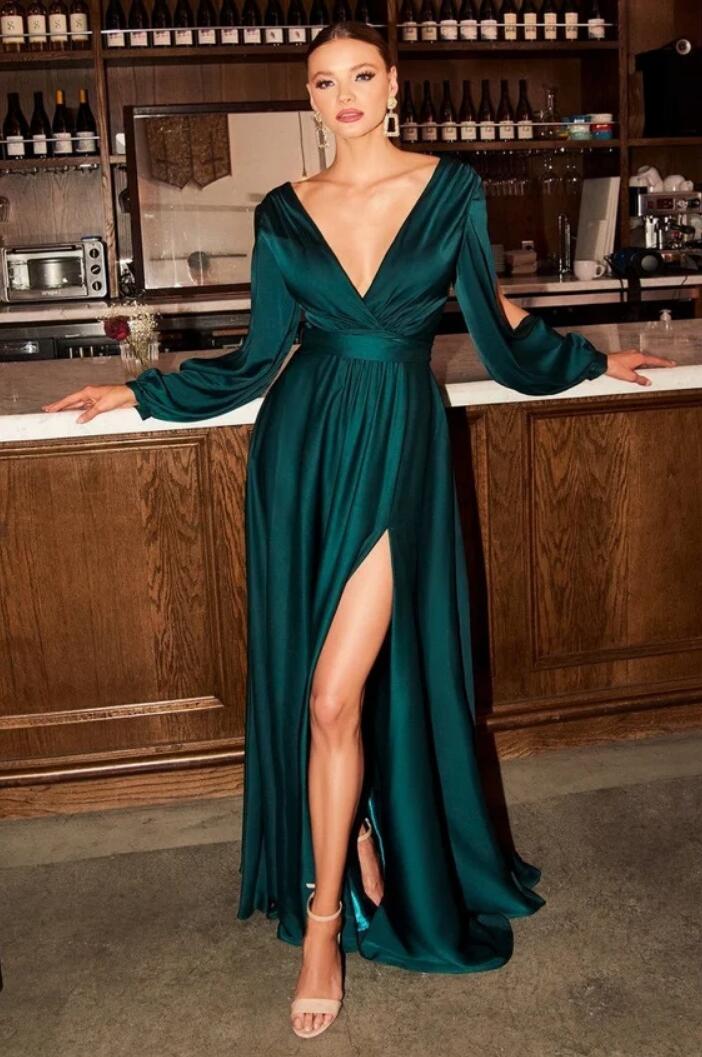 Do you love long emerald green satin bridesmaid dresses? If your wedding is taking place in a colder climate, you will need to ensure the bridesmaids are warm enough.
And this long satin emerald-green bridesmaid dress is a great choice for an elegant, but comfortable gown.
The long sleeves are neatly tailored to give a close-fit to the wrist and the V-neck shows a little cleavage, whilst covering the shoulders well.
The A-line skirt flatters all shapes and sizes and with a flirty side-split, shows off the legs for a nice touch of sex-appeal!
Long emerald-green satin bridesmaid dresses make an outstanding display when worn by several bridesmaids, who may be matched or mismatched in the design.
This is a richly admired, jewel color that adds luxury and elegance to any wedding party.
5. Backless long rust satin bridesmaid dresses with a high front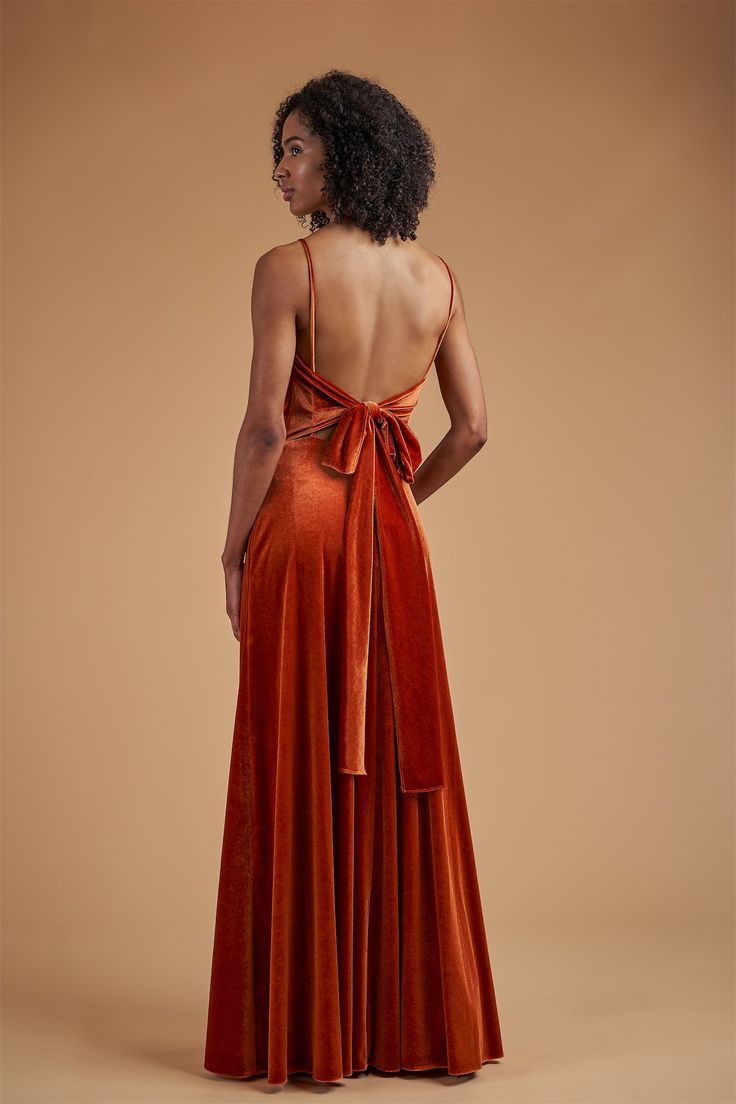 This is one of the most sophisticated, long rust satin bridesmaid dresses we've seen from this season's collections.
The bodice has an unusual short V neckline and there's a lovely pleated asymmetric panel between the breasts leading down to a neatly shaped waist.
There's also another, 'slimming' asymmetric panel draped over the stomach and hips above an attractive, carefully-placed, thigh high split.
These folded panels of fabric add elegance and figure-flattering shape to a bridesmaid dress that keeps the bosom modestly covered.
However, that doesn't mean it's not daring and appealing!
The outstanding aspect of this gorgeous, long, rust, satin bridesmaid dress is the stunning backless feature that will definitely attract a host of compliments!
This year's bridesmaid dress collections are full of appealing, high quality dresses and satin is far and away everyone's favorite for this season – and the next! Let us know your thoughts about the best bridesmaid dresses below:-
1. What do you think of the latest satin bridesmaid dresses?
2. Have you any advice to offer brides searching for fashionable bridesmaid dresses?
3. What bridesmaid dress fabrics have you worn and were they comfortable or not so comfy?
4. What are your favorite long satin bridesmaid dresses color choices?
Thanks for sharing your opinions and experiences with our community! We cover trends from many countries, including the U.S., U.K., New Zealand, Canada and Australia – as well as having lots of valued readers from other, excellent parts of the world!