Although traditionally, white has been associated with things like purity and innocence, what makes it a color that we're super fond of is the fact that it also represents light. And no one shines brighter than a well-dressed woman. That said, the more white, the better!
So, why not put on all white sometimes? Not just during the summer time but even after Labor Day too (who says we have to keep that old-fashioned fashion rule?). Whether you're casual or dressy, in it, you'll be remarkable.
White overalls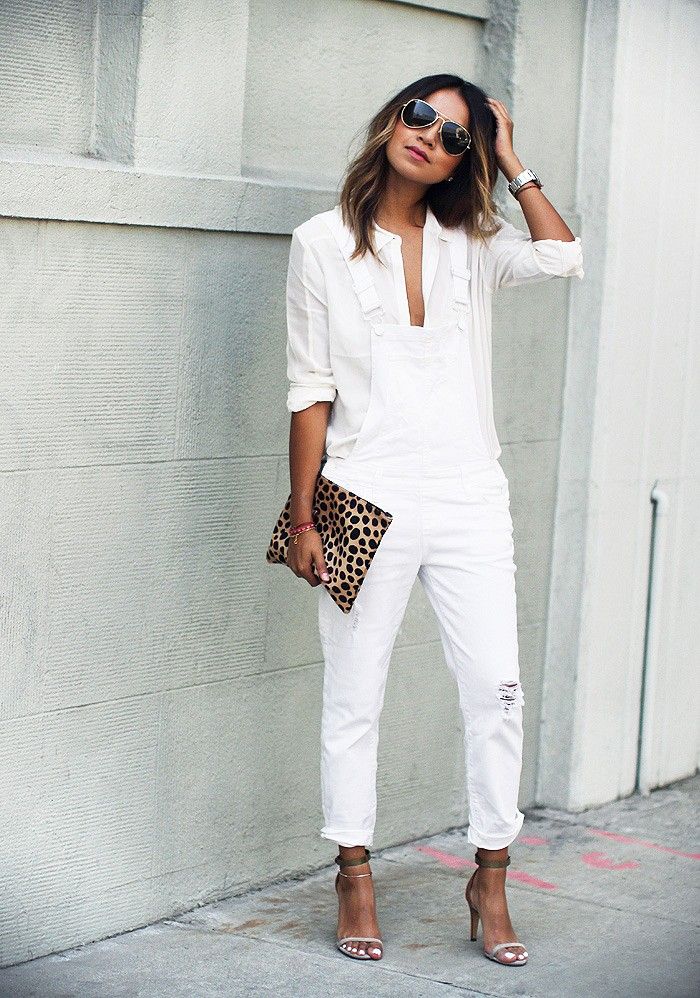 When we first saw this outfit, we had to look a couple of times to make sure that they were overalls. And that's why we recommend it. It's comfy and sophisticated. That's always a winner in our book.
White maxi dress

A white maxi dress should be a staple in every woman's closet. You can wear it practically anywhere and make an unforgettable impression.
White dress

This is the perfect white dress for work. Or an event after work. Or a date.
White V-neck tee

It's kind of amazing how a simple v-neck white tee can produce such eye-appealing results. Especially with a pair of white pants to match.
White crocheted skirt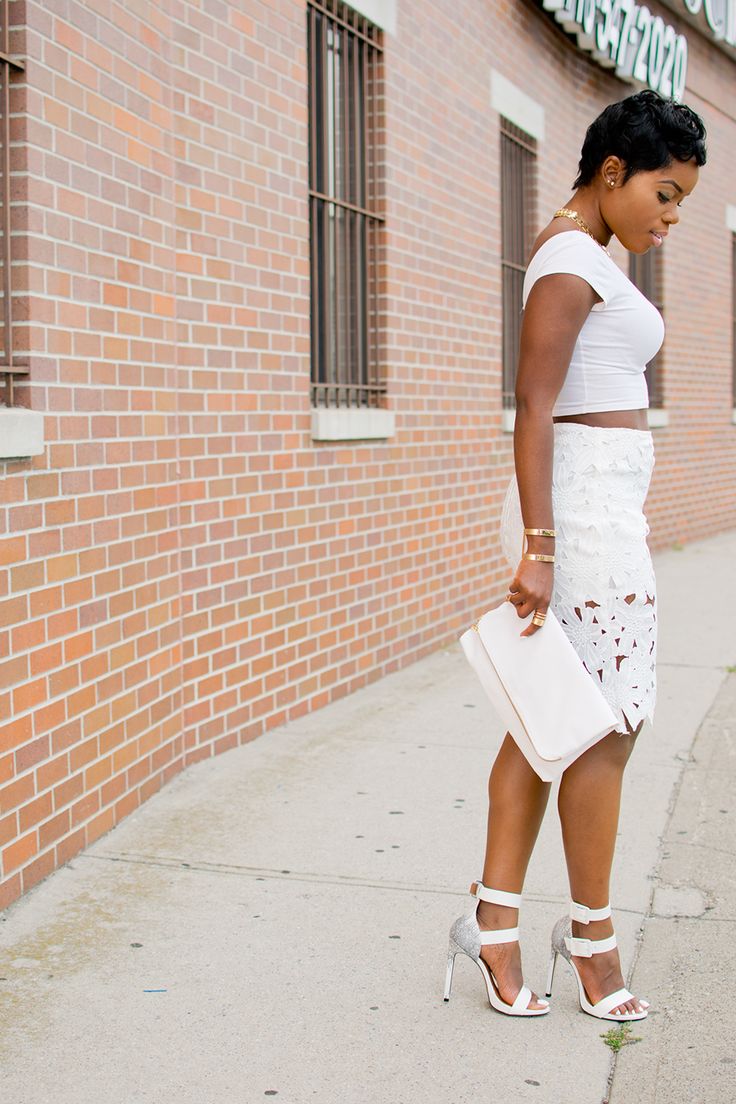 This is a striking look. The crocheted skirt is unique and those white high-ankle heels are to die for!
White flared pants

Flared pants are nice on any woman's frame. And the white color makes them appear cool enough for a dinner party with friends or a walk along the beach with that special someone. (Don't forget to get a big white hat!)
White lace bell sleeve dress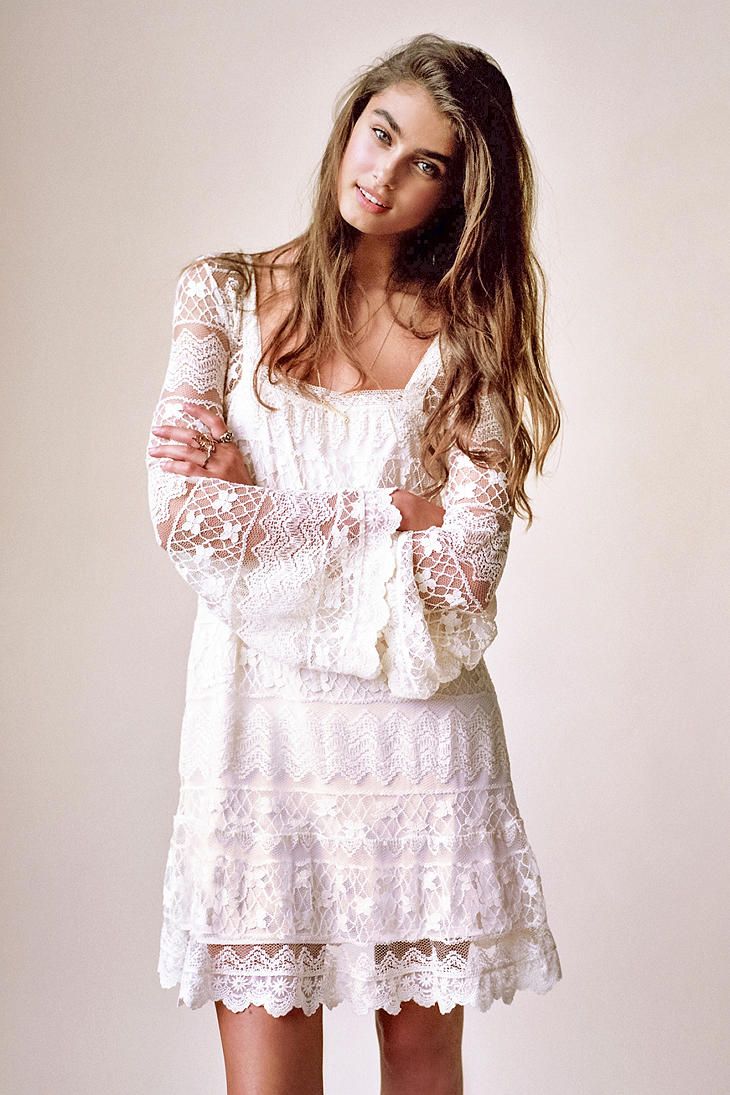 If you've always wanted a babydoll dress, make your first one an all white and all lace one. It's timeless enough to wear for years and years to come.
White summer sweater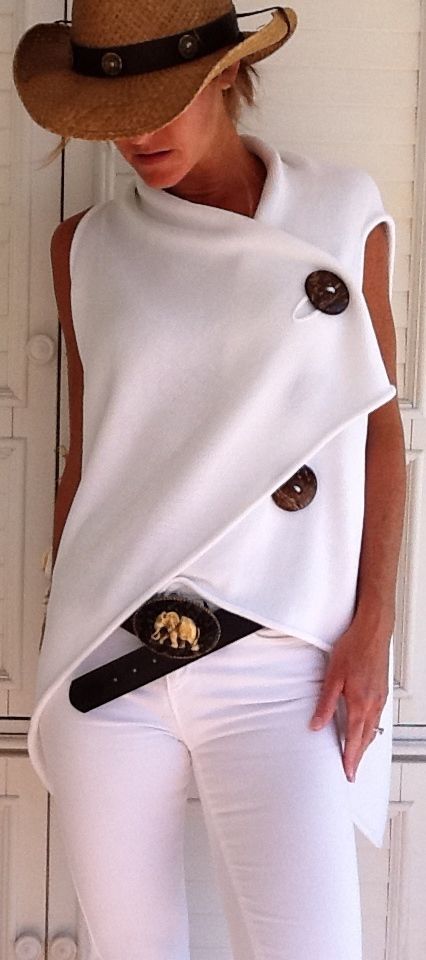 Even when it's scorching outside, you can still wear a sweater. A summer sweater like this one. You'll look heavenly in it along with a pair of white jeans.
White cocktail dress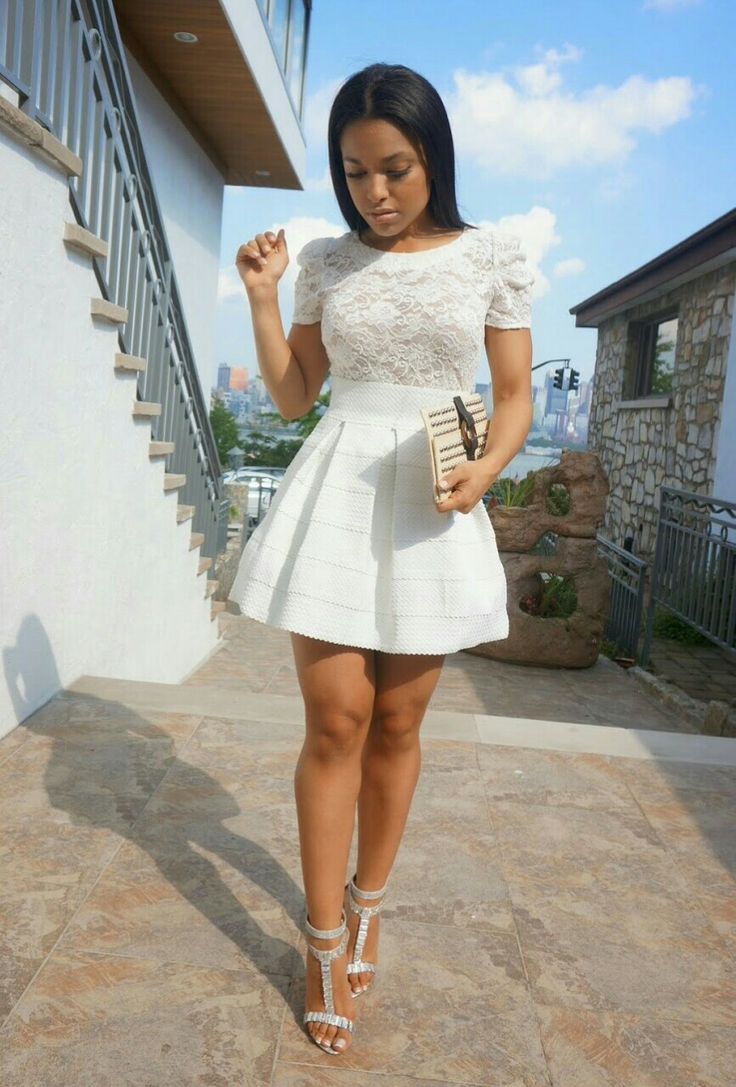 A cocktail dress makes every woman feel desirable. It can be an all white dress or two all white separates. What we like about this particular look is how the top part of the outfit is lace while the bottom has subtle stripes. (We really like these silver heels too.)
White Boho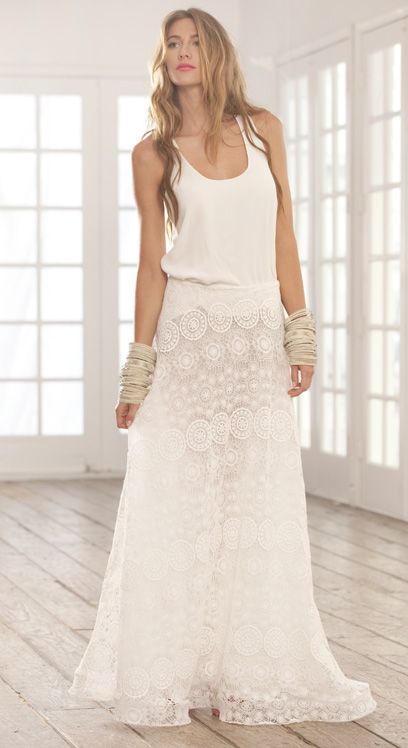 The Boho look is pretty big right now. And even once the trend fades, you will always look amazing in a white lace maxi skirt. Just pair it with a white tank and you'll have the perfect outfit on.
White snakeskin print pants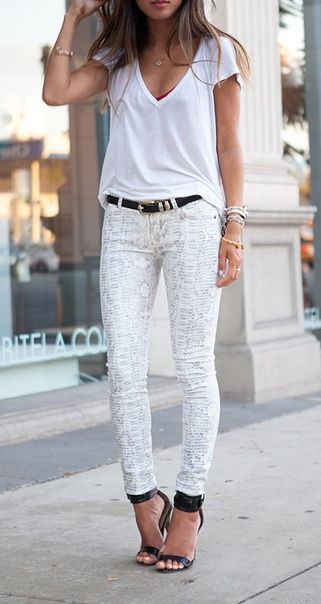 Whew! Those white snakeskin print pants are inviting…provocative…racy. So awesome!
White tunic dress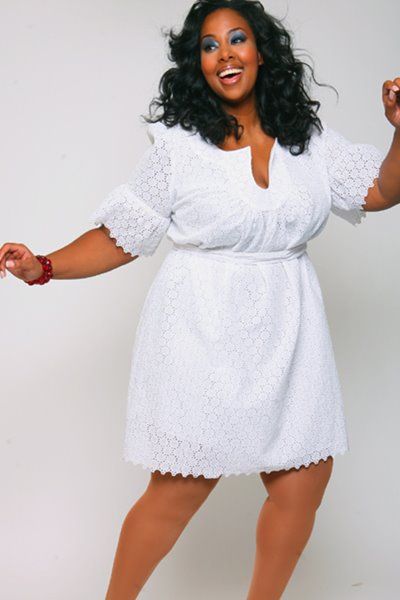 It doesn't matter what your body type or size may be, a tunic will complement your figure. And if it's white, it will complement your smile too.
White shorts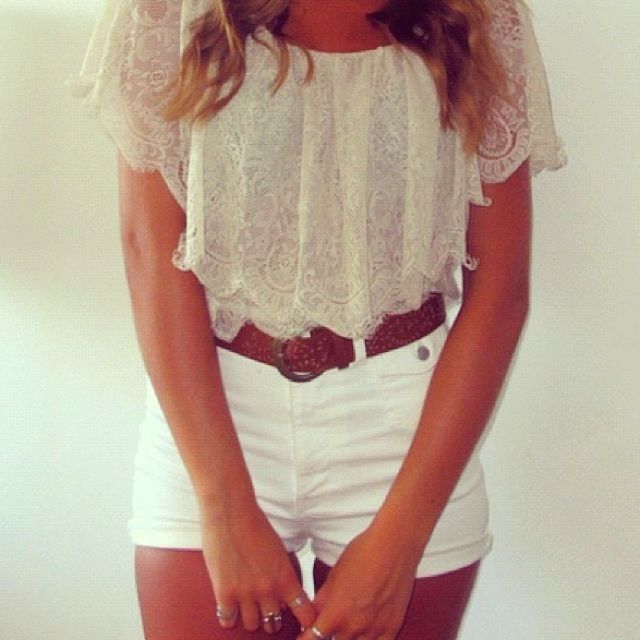 Got a summer vacation coming up? Don't forget to pick up some white shorts. A white shirt while you're at it too.
White distressed jeans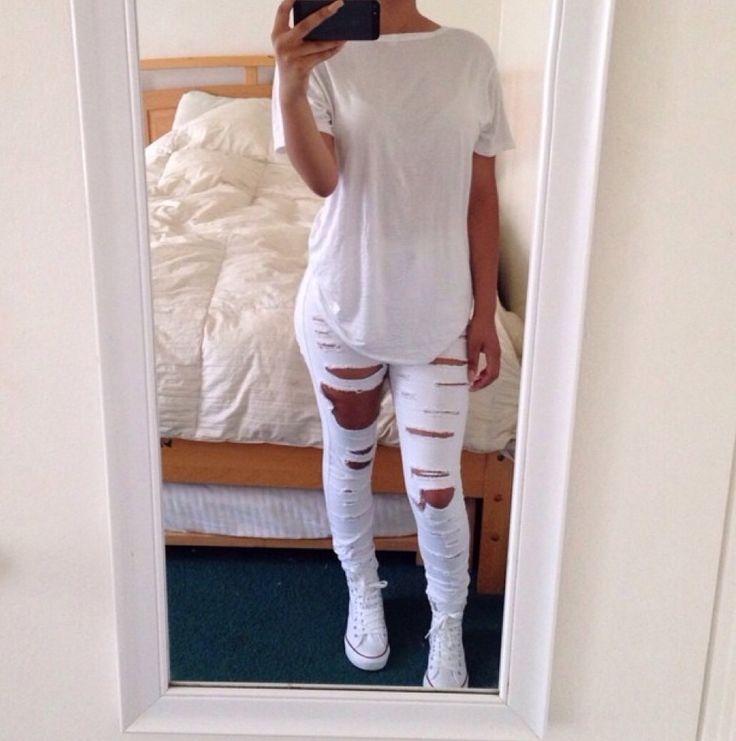 These white distressed jeans are too cute. Especially with those white high-top Converse.
White jumpsuit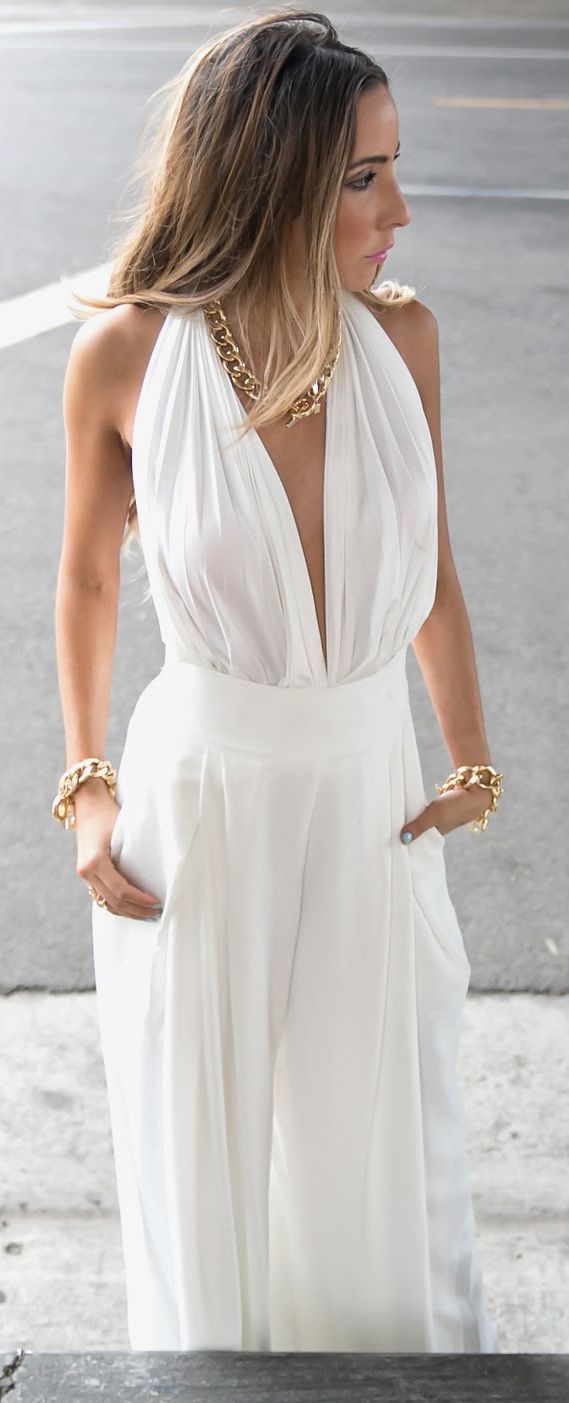 If you want his heart to skip a couple of beats, a silk white jumpsuit such as this one will be sure to do it.  In this case, nothing more needs to be said.
White shirt dress and sneakers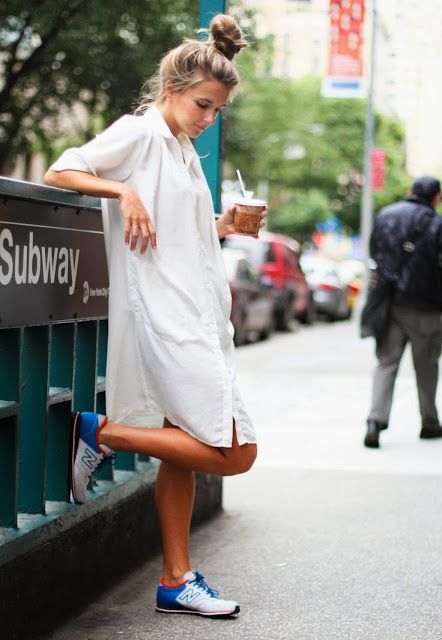 In your wildest fashion dreams, you might not have ever thought to combine a white shirt dress with a pair of sneakers and call it "fashion".  But look…it is.
White ruffled mini skirt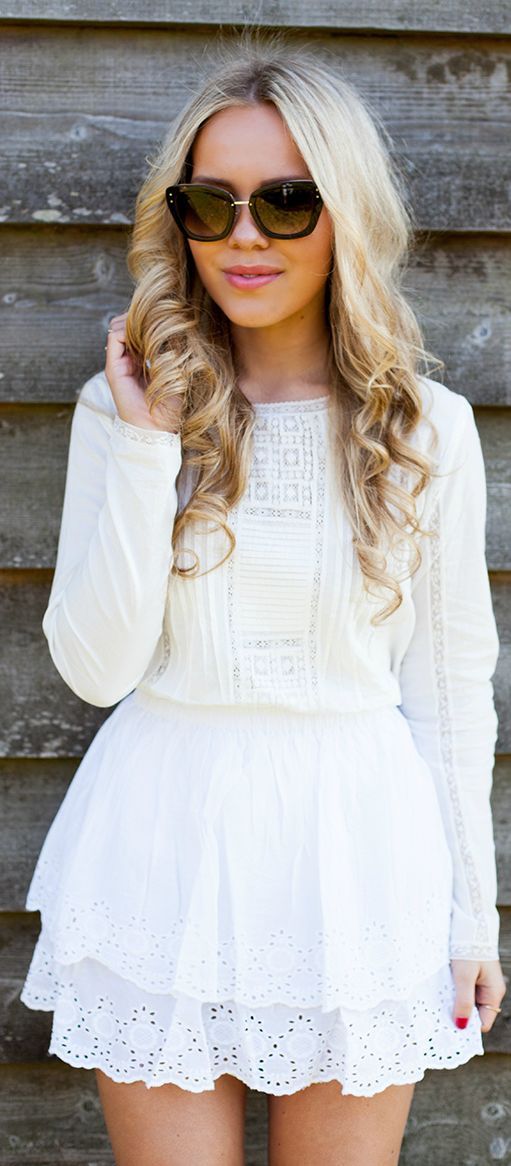 We couldn't really tell if this was a dress or a top and skirt. It doesn't matter. Either way, it's a reminder that a white ruffled mini skirt is adorably feminine.
White goddess gown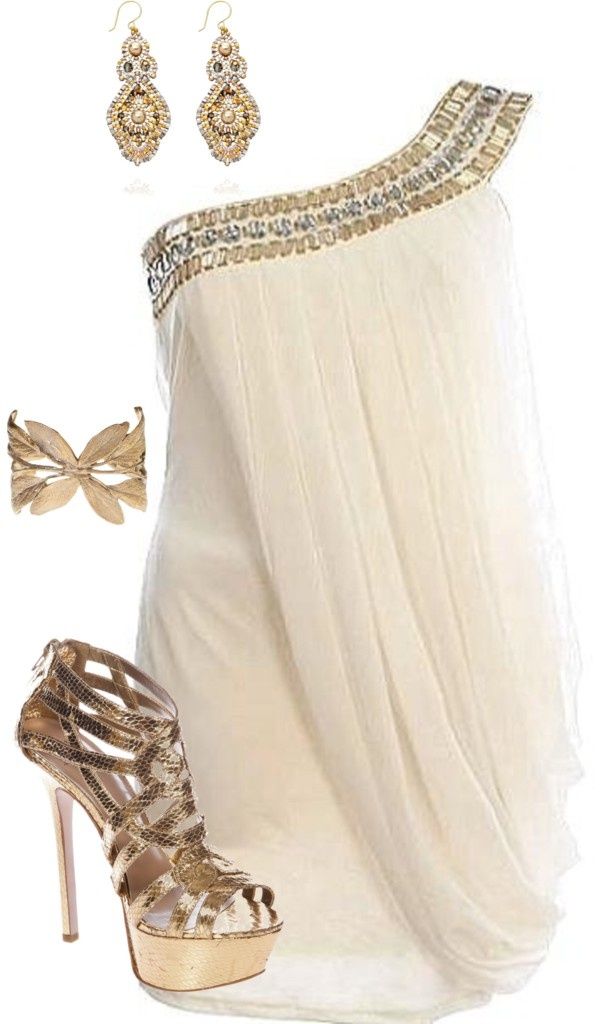 A. White. Goddess. Gown. If you add to it some gold jewelry and heels, you will look so resplendent. Majestic, even!
White sequined dress

This is another all white look that deserves some praise and attention. It's so spectacular, but at the same time, you don't have to worry about it wrinkling up. This means that you can sit back, chill and simply looking amazing.
White tank top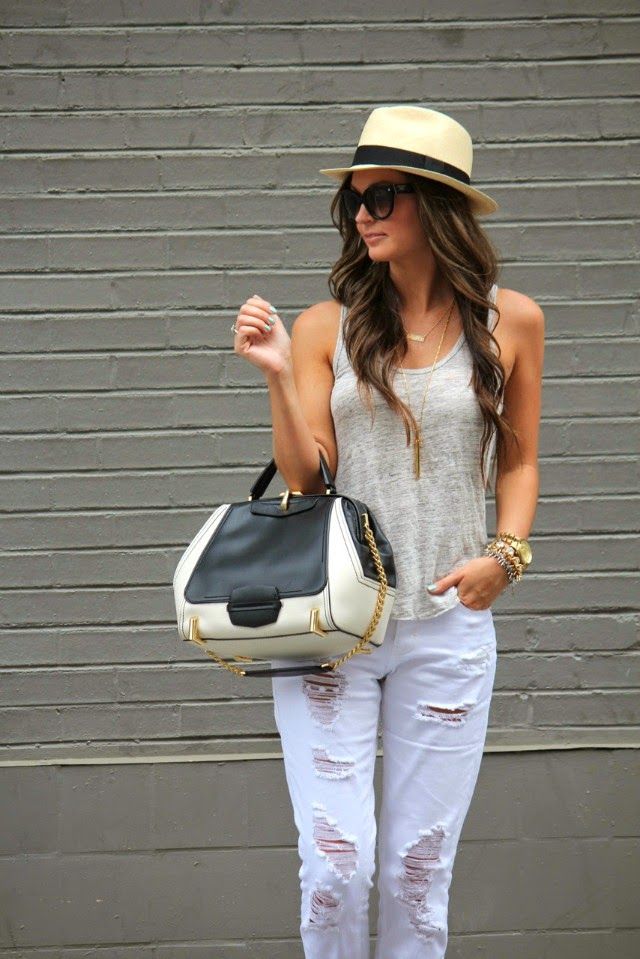 Upon first glance, the tank may look grey but it's actually white. This darker parts of it are sheerer parts of the tank. It goes really well with the slightly baggy distressed white jeans and black, white and gold accessories.
White casual dress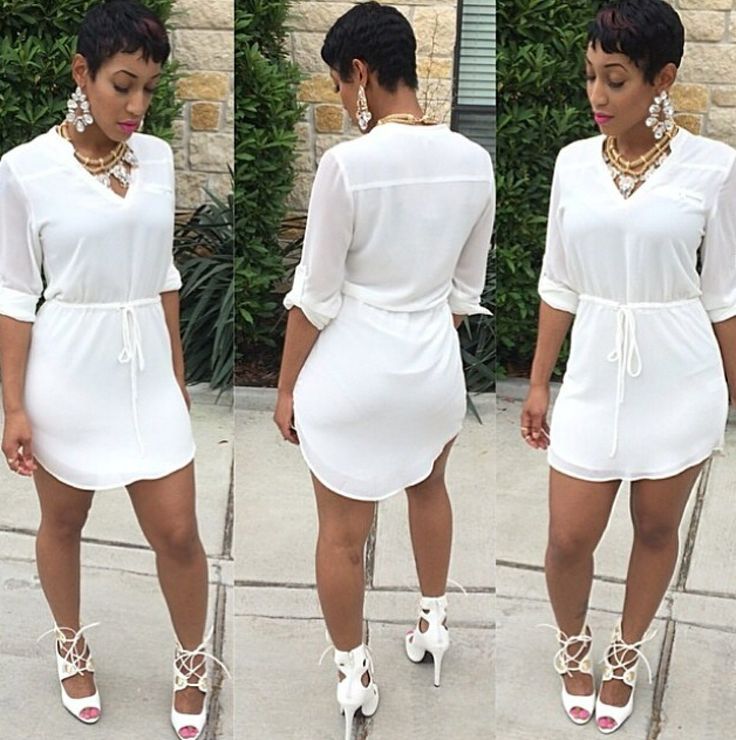 This dress is another take on a shirt dress. The crystal dangling earrings and white lace-up heels are what made it catch our attention. It's also a reminder that all white looks great on every skin tone. It really does.
White peplum top

If you have a semi-formal occasion coming up and you don't want to wear a dress, pull out your all-white jeans and then buy a white peplum top to go with it. You'll be just as dressy as the women in the gowns.
White suit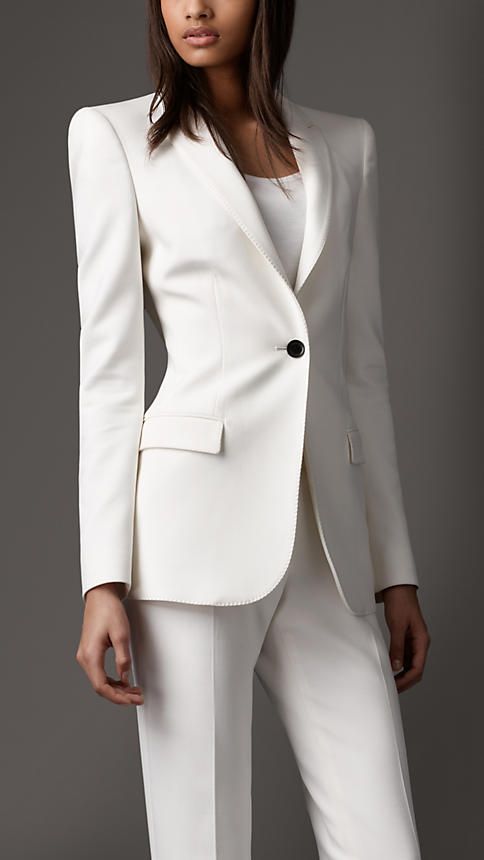 Look at how crisp and clean a white suit looks. You'll be sure to stand out any and everywhere that you go.
Off-white with gold accents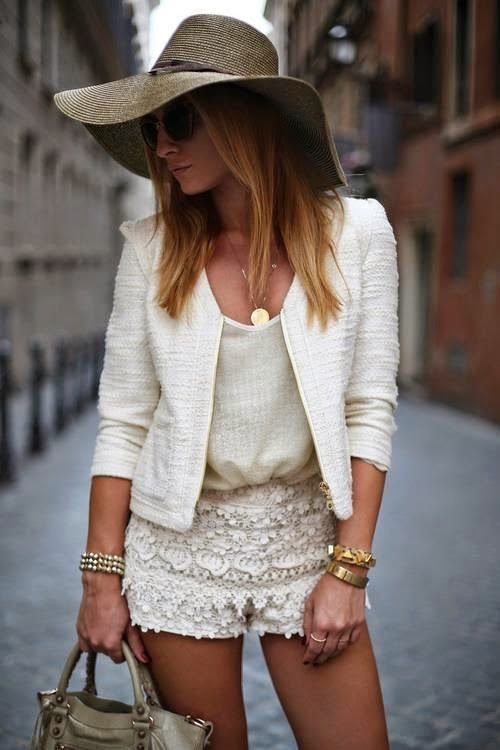 We couldn't do a feature like this without mentioning the fact that just like any other color, white comes in all shades. So, if you don't want to wear stark white, go with something softer like off-white, shell and antique white. Whatever the hue, if you accent it with gold, you'll still look great. Shoot, better than that.
White coat and white pants

This look right here totally dispels the myth that white in the fall or winter is not fashionably appropriate. Not only is it totally suitable, but it's the sign of a true fashion maven!