Due to all of the hype surrounding 70s fashion right now, one look that is getting tons of attention is fringe.
If you're the type of gal who never really considered wearing it before, you might be hesitant to give it a try now. That's understandable. However, don't write it off—just yet.
There are countless ways to make fringe apart of your daily wardrobe. We couldn't provide you with all of them, but we've got a few really cute fringe looks that we think will—pardon the pun—tickle your fancy.
Fringe (high heel) sandals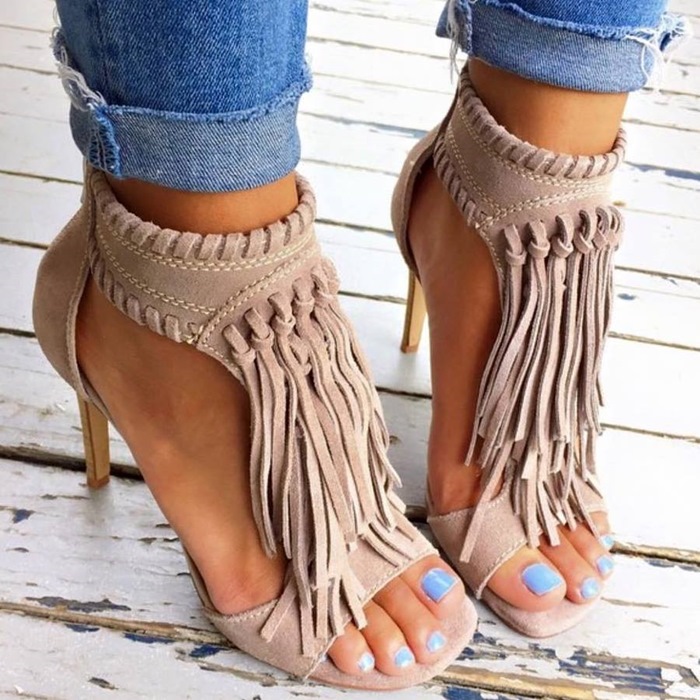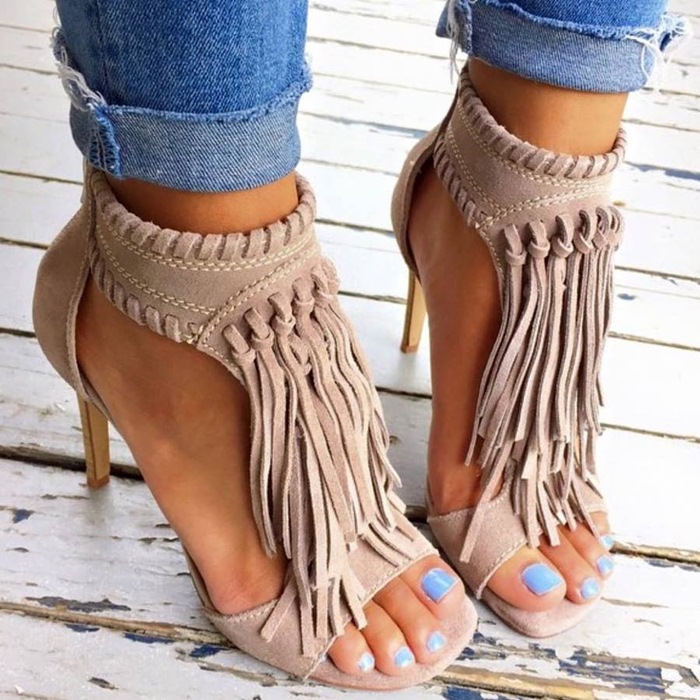 If you tell us that you're not in love with these high heel fringe sandals, we're not going to believe you. They are way too distinctive and plain ole sexy to be ignored—or denied!
Fringe kimono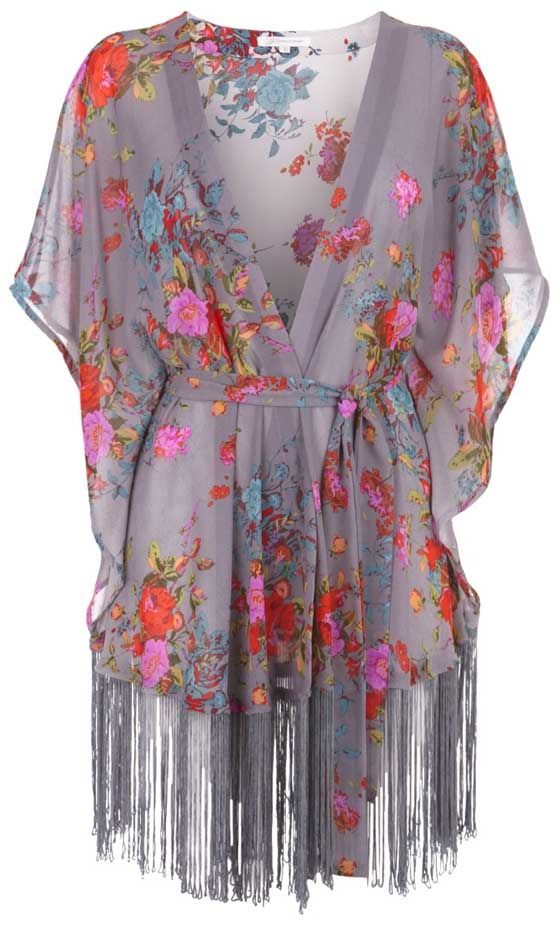 In honor of the Boho look, kimonos jackets are really popular right now. Getting the kind with fringe hanging off of the sleeves can make yours look a bit more unique.
Fringe earrings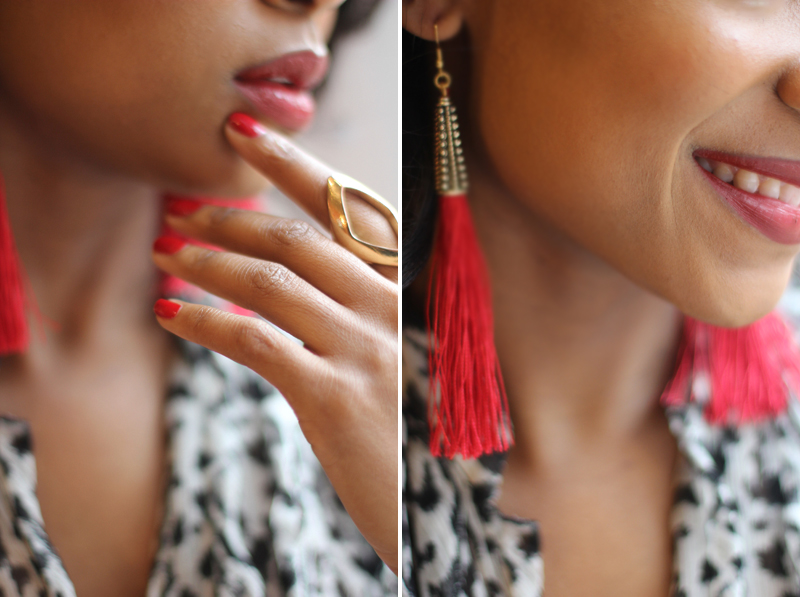 Another name for fringe earrings is "tassel" ones. It's one of the cheapest and easiest ways to be fashion forward when it comes to this particular look and style.
Fringe mini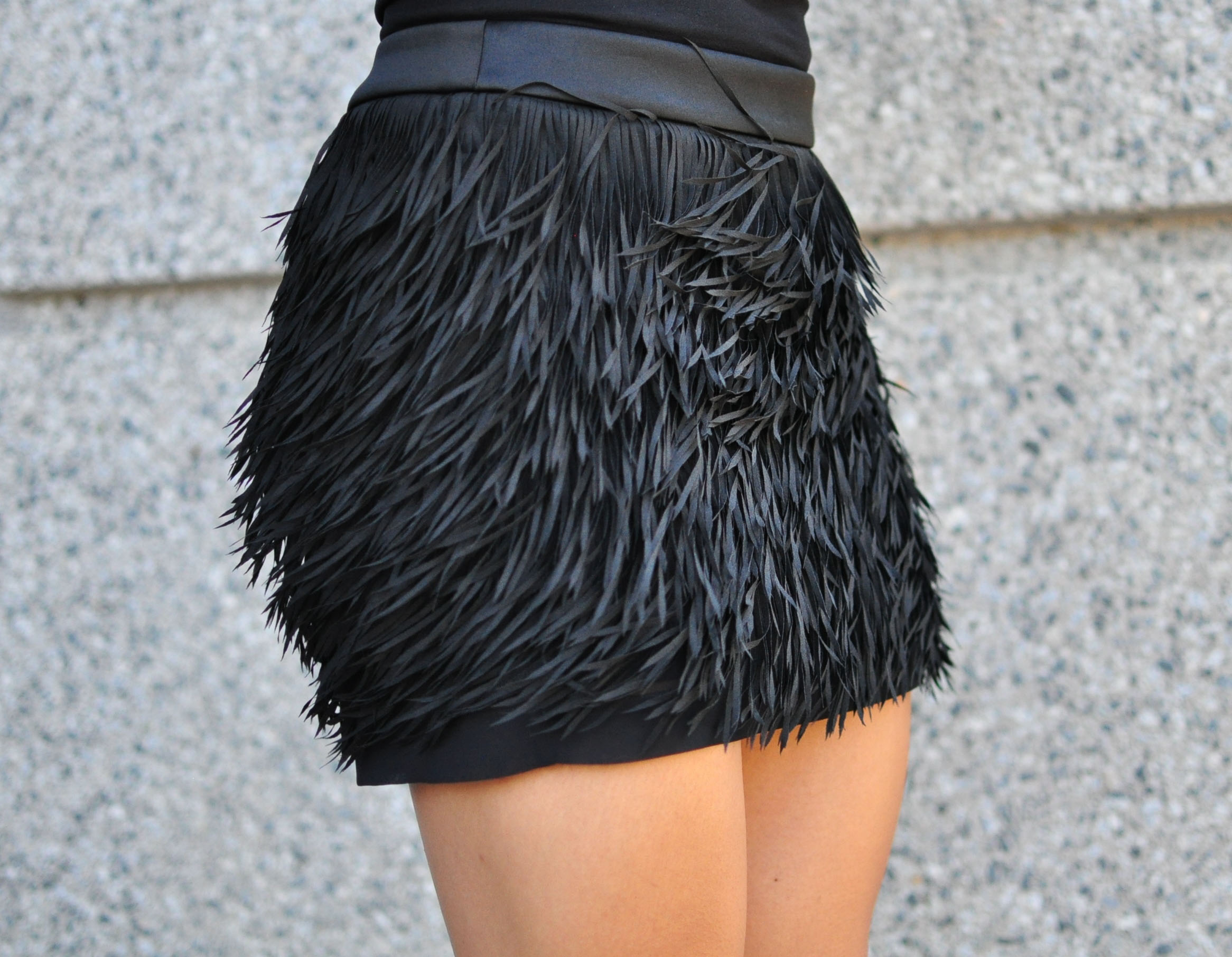 Got a dinner and dancing date coming up? How can you possibly go wrong with a fringe mini? #youcan't
Fringe dress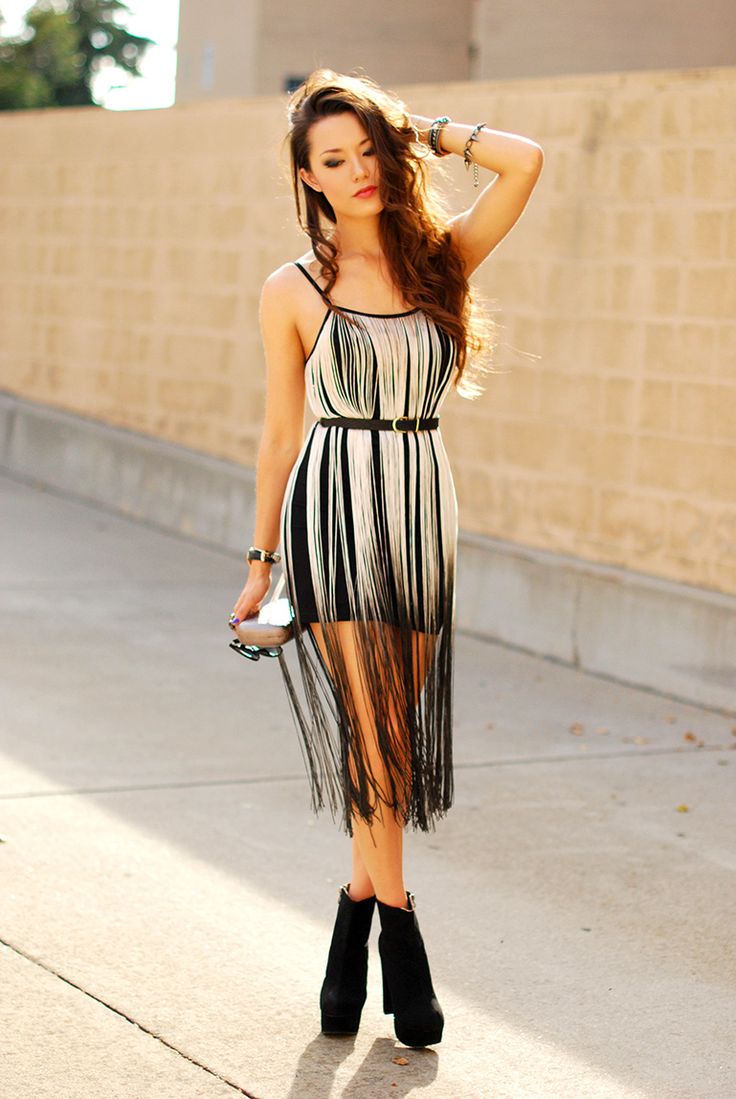 That is unless you want to take things up a notch and go with a fringe dress like this one. It's a bit harder to find than the skirt but so worth the extra effort.
Fringe leather jacket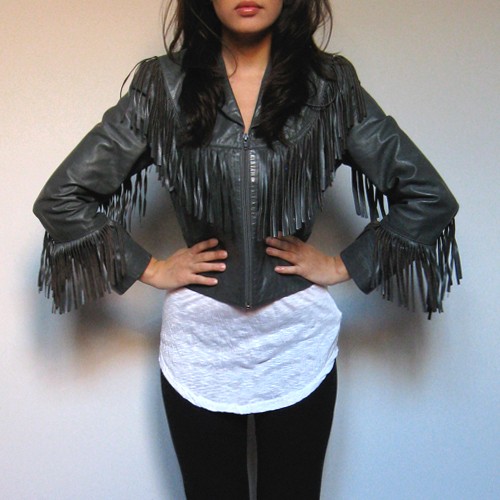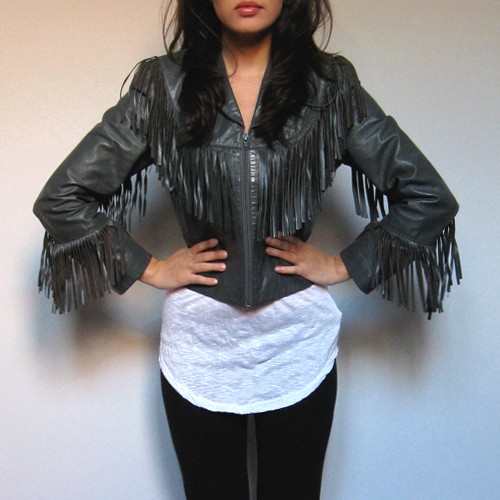 One fringe item that you can wear year-round is a fringe leather jacket. We guarantee that everywhere you go, at least one person will ask you where you got it.
Fringe bracelet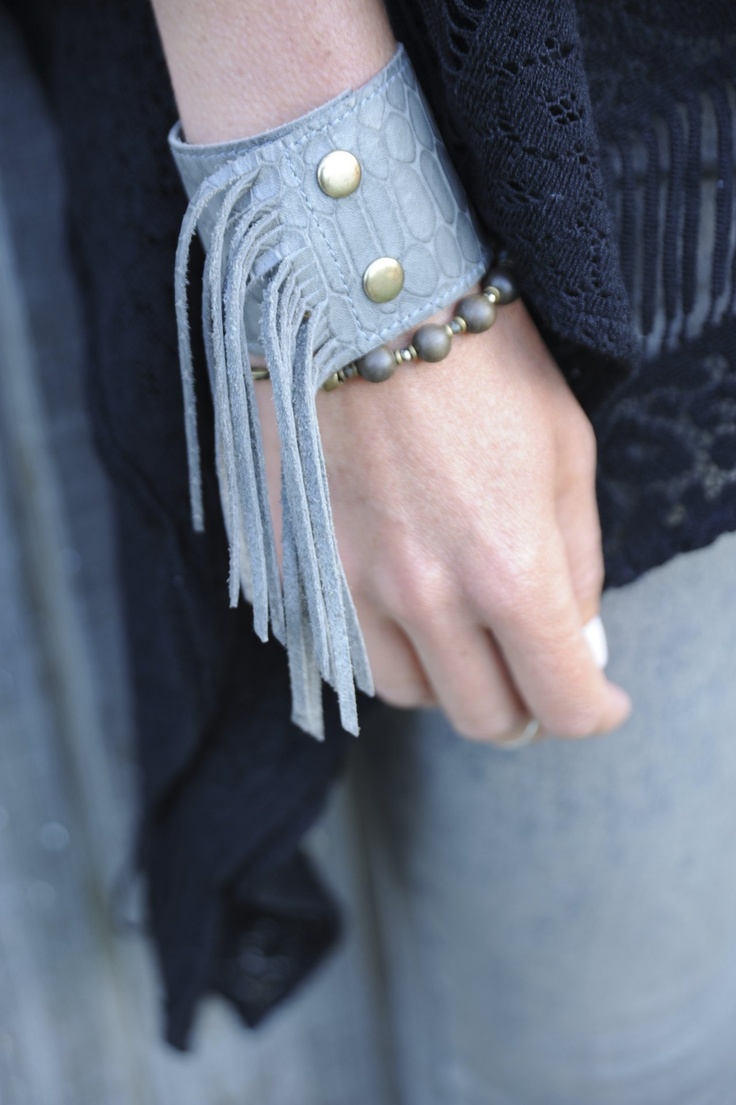 Sometimes it's the little things that can make a really big impact. This fringe bracelet is a great example of this very fact.
Fringe skirt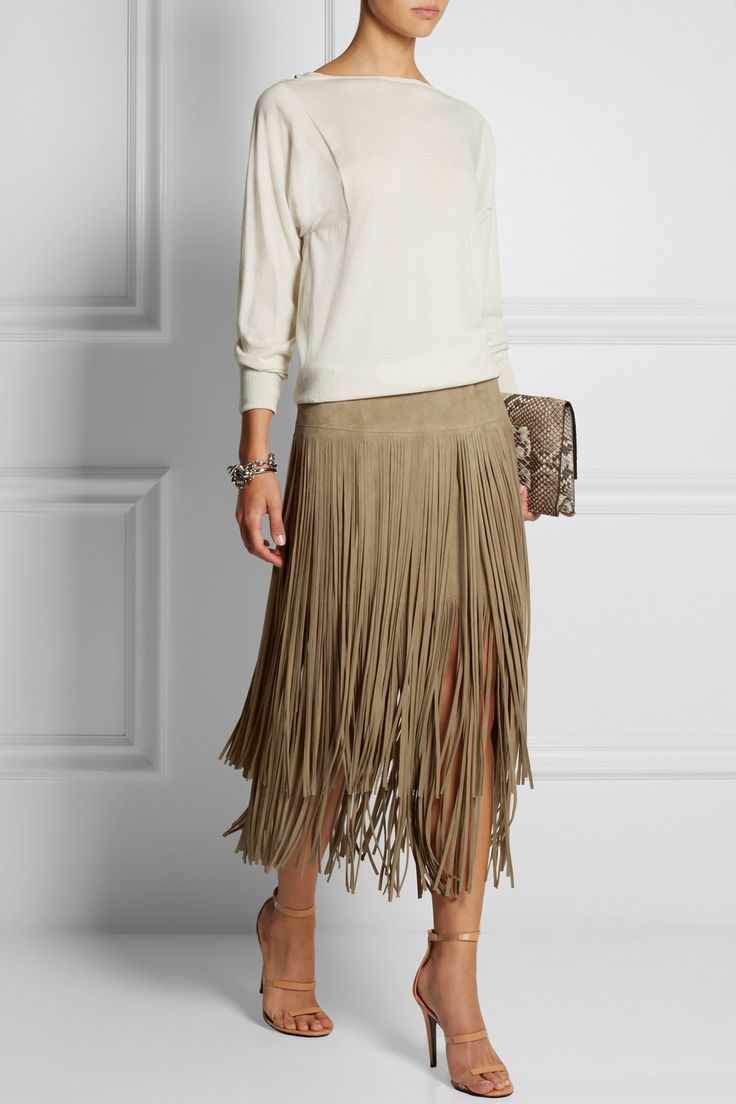 If you're finding yourself liking the thought of wearing fringe more and more but a mini skirt is not quite your style, you can go a bit more conservative by opting or a skirt that has a bit more length to it such as this one. It's really nice it's made out of suede material.
Fringe shorts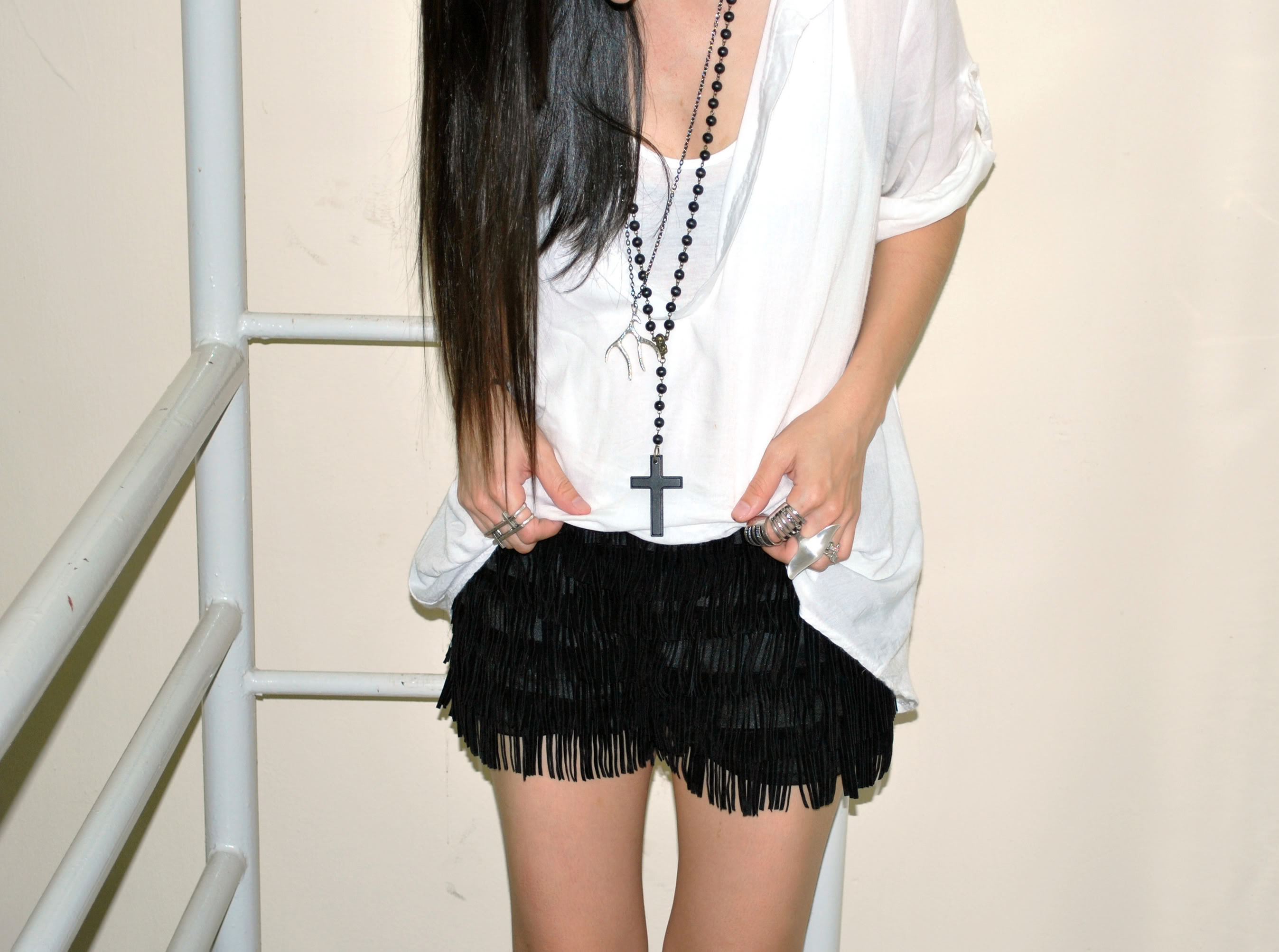 On the other hand, if you like the fringe mini but you don't want to have to worry about "sitting pretty" or crossing your legs the entire time, fringe shorts are a super alternative. The looks minus the (wear) maintenance.
Fringe anklet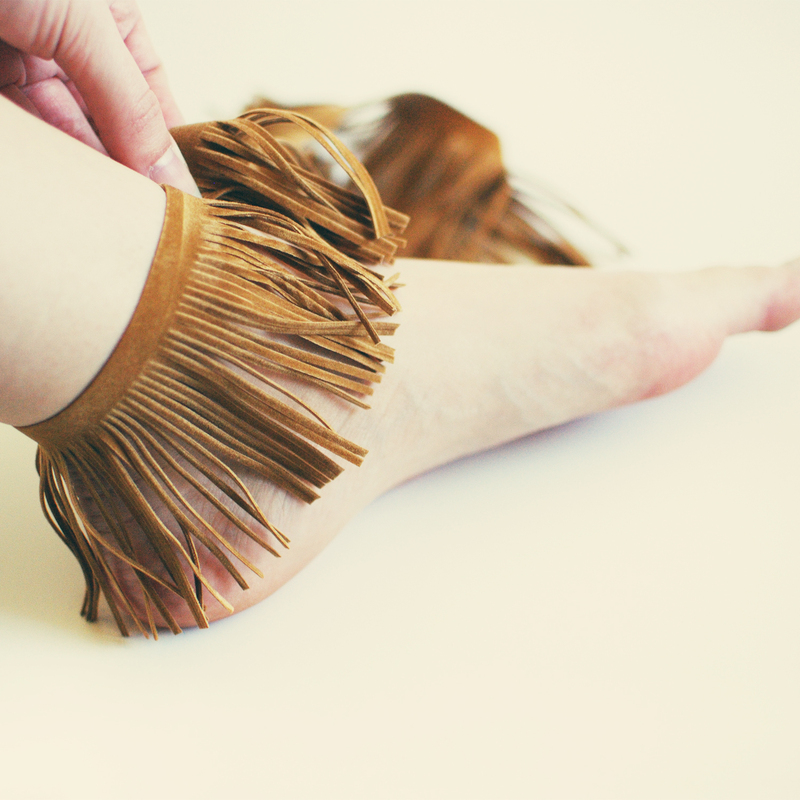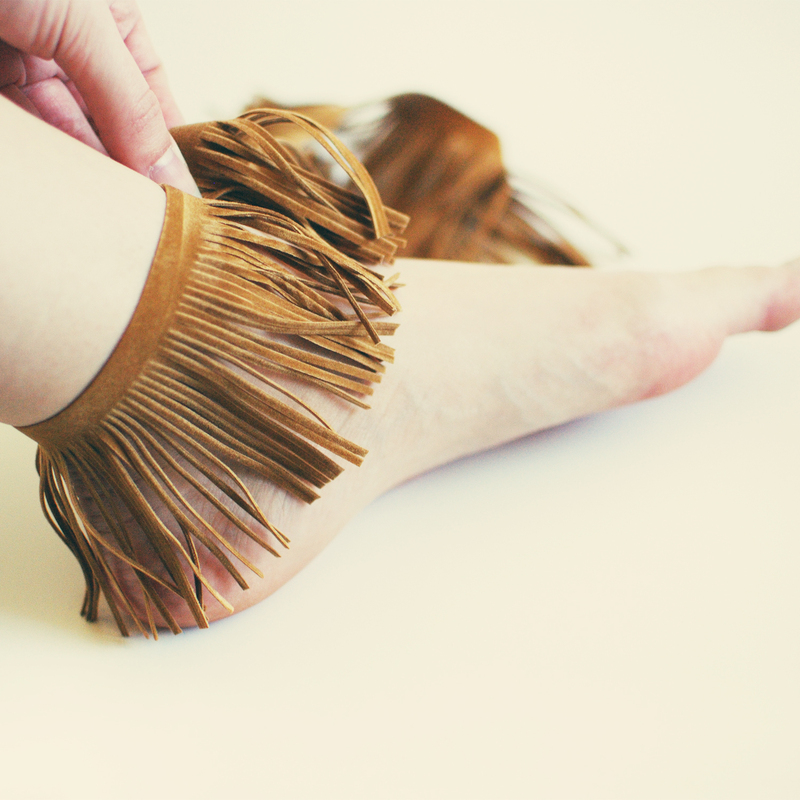 Planning on spending a lot of your summertime laying out at the beach. How about decorating your ankles with fringe rather than putting on any shoes?
Fringe clutch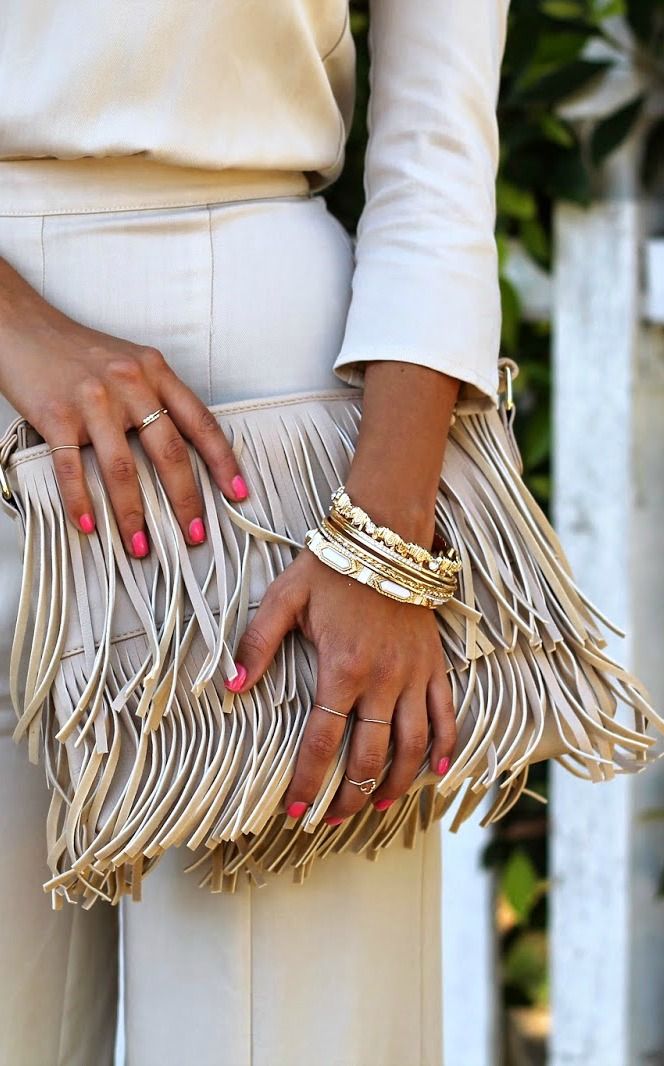 One of our favorite fringe accessories is a fringe clutch. You can take it from work to drinks to a hot date and not miss a beat.
Fringe scarf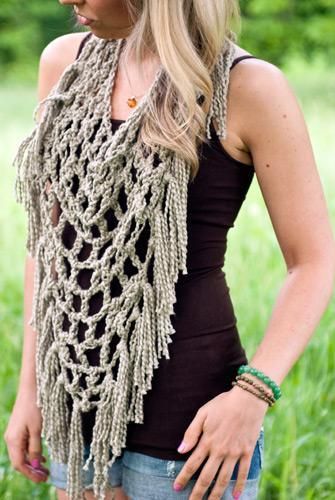 Do you like to crochet during your down time? Your friends will love you for making them a couple of fringe scarves like this one.
Fringe maxi dress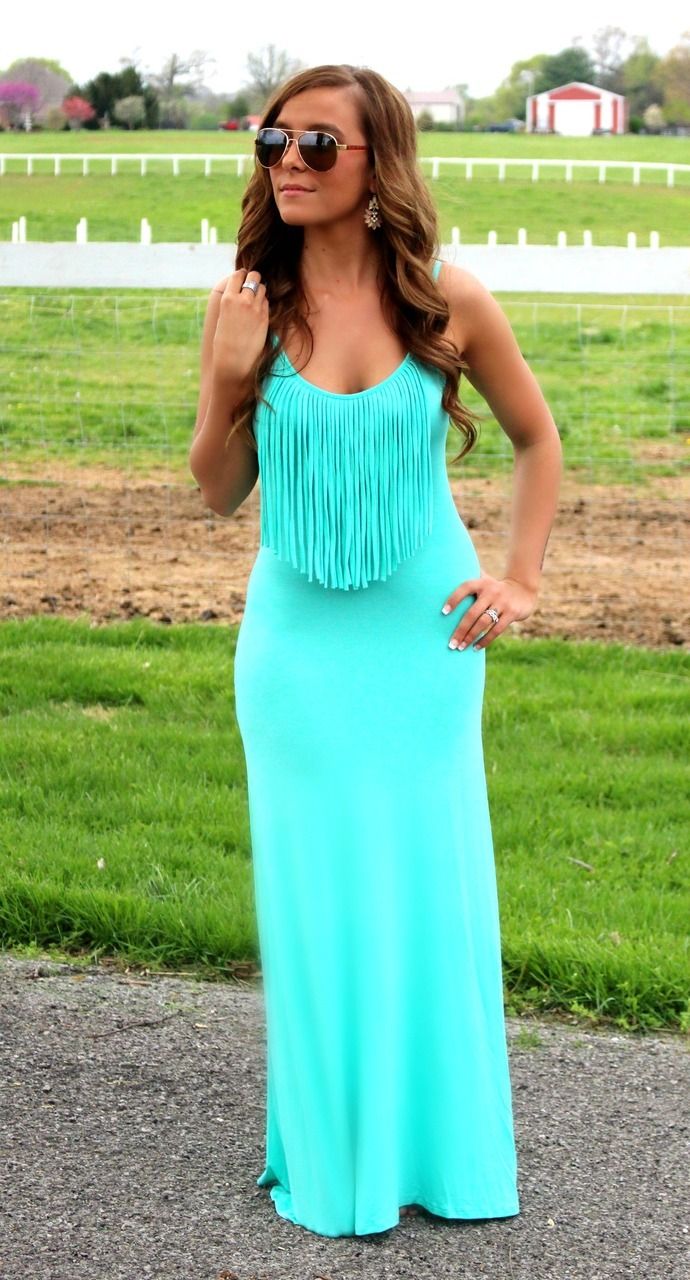 You might've never thought about saying "fringe" and "maxi dress" in the same sentence. It's pretty easy to do when you look for the kind of dress that has a bit of fringe where the flare tends to go.
Fringe cover-up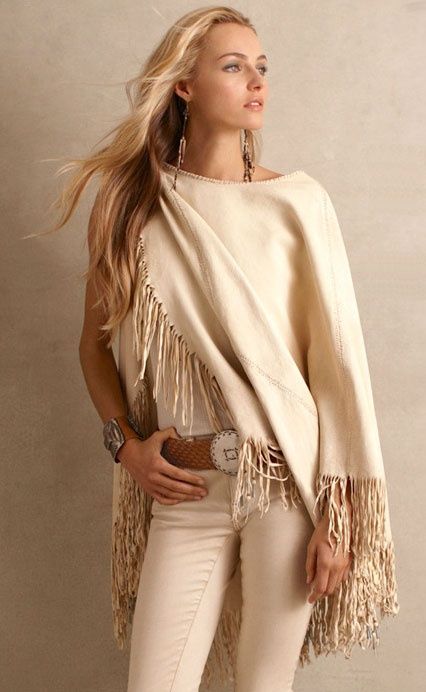 Kimono cover-ups are great for summer. For winter, look for one that is made out of cashmere or wool such as this.
Fringe boots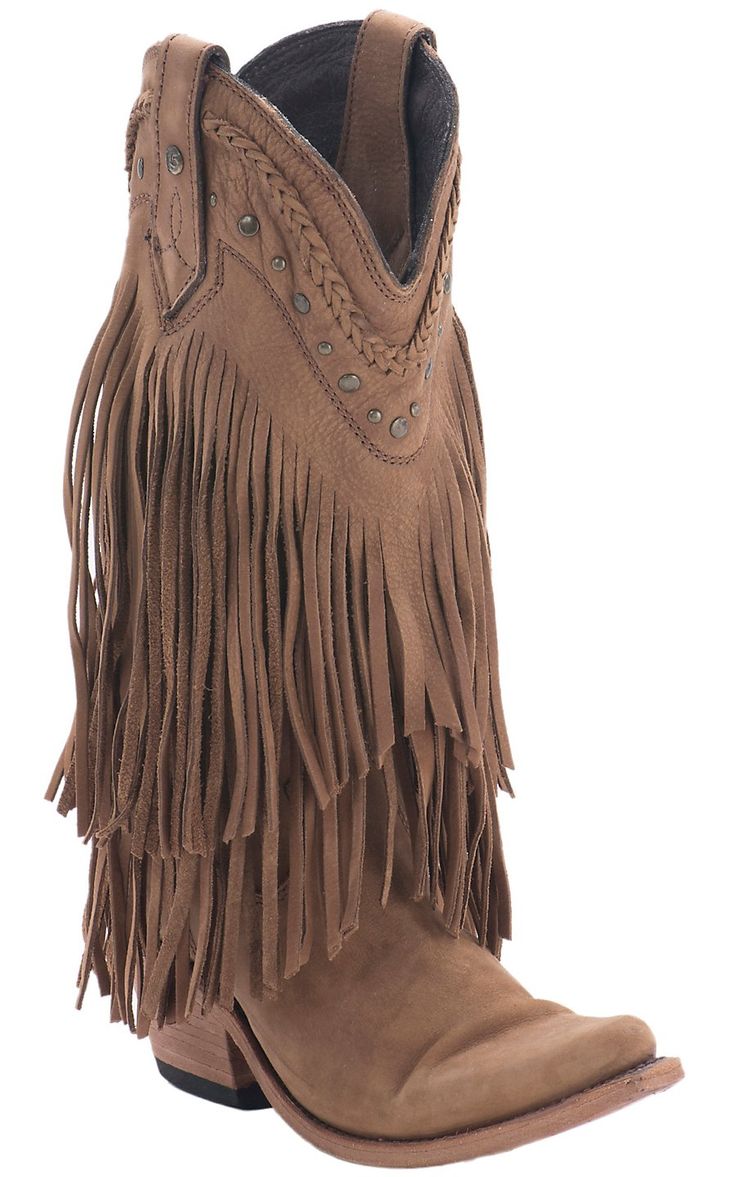 If you're in the market for a new pair of boots, cowboy ones are awesome. Cowboy ones with fringe? Even better.
Fringe bikini
Fringe and neon are two trends that go really well together. Can't you tell?
Fringe purse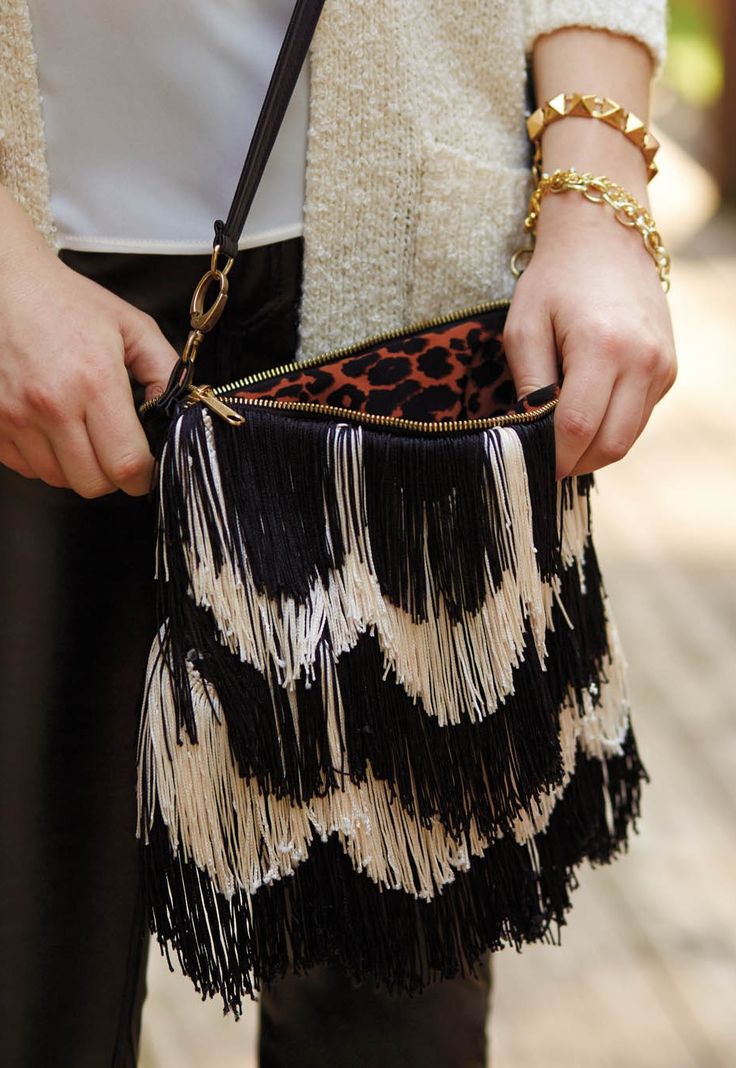 If you like to carry a purse, but you'd prefer one that has a strap (instead of a clutch), look for a fringe purse such as this one. We especially like how the fringes come in two different colors.
Fringe (gladiator) sandals
Gladiator sandals are visually striking. And if you buy a pair with fringes on them, you'll be sure to be unforgettable.
Fringe tank top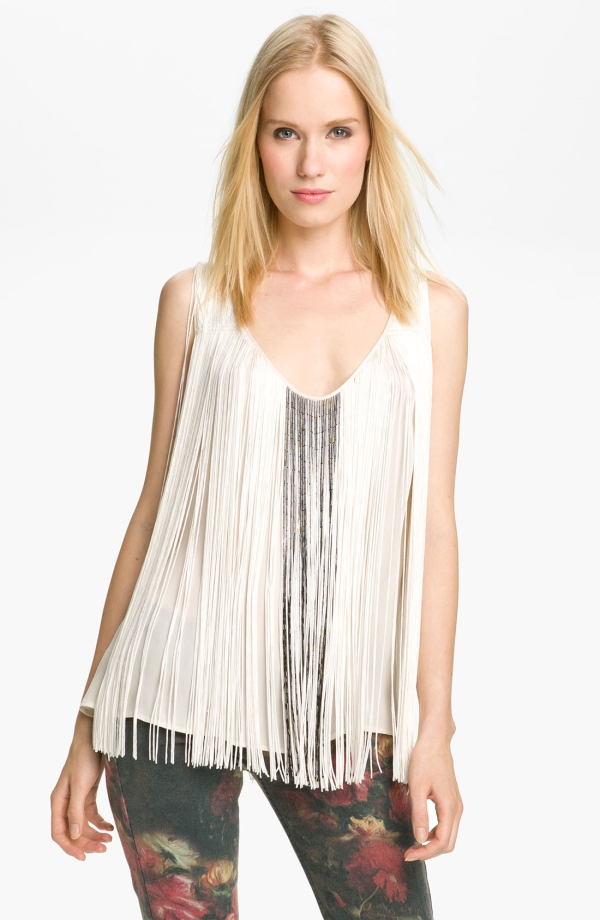 Tank tops are a mainstay for any woman's wardrobe. "Shake things up a bit" by getting a few with long fringes on them.
Fringe necklace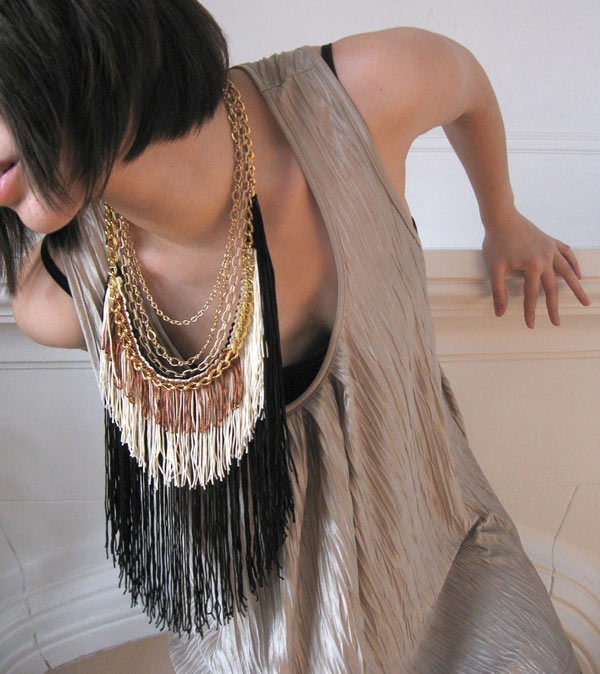 If we still haven't been able to convince you to invest in some fringe, at least get a necklace. No matter how casual your outfit might be, a necklace like this one will definitely dress it up.
Fringe pencil skirt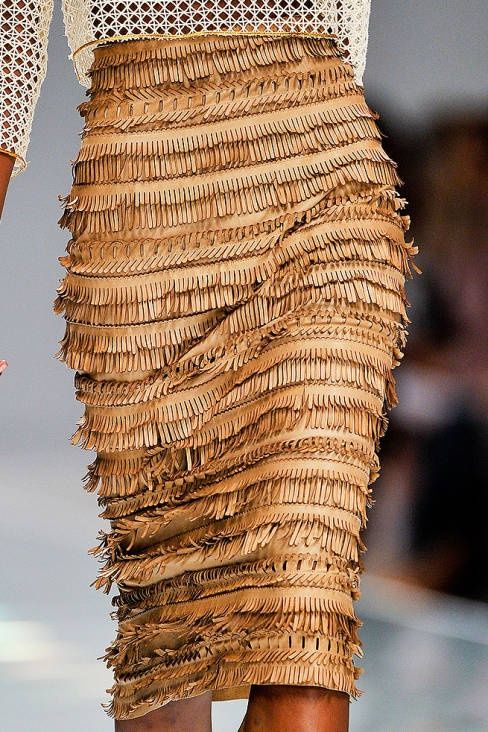 Ah! Some articles of clothing are just too good for words! That's how we feel about this fringe pencil skirt.
Fringe 70s vest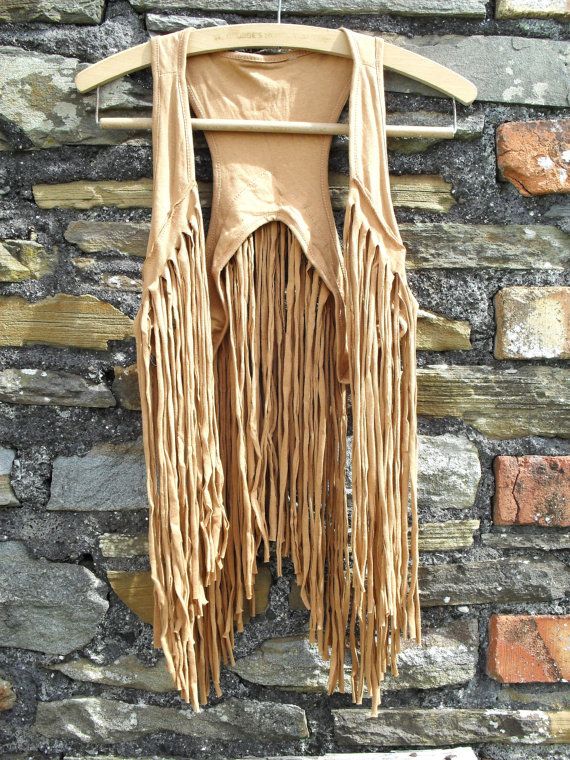 In the 70s, vests were proudly worn. And two kinds that were particularly popular were fur and fringe. Now that the 70s are back, they are looks that you still should consider wearing.
Fringe fingerless gloves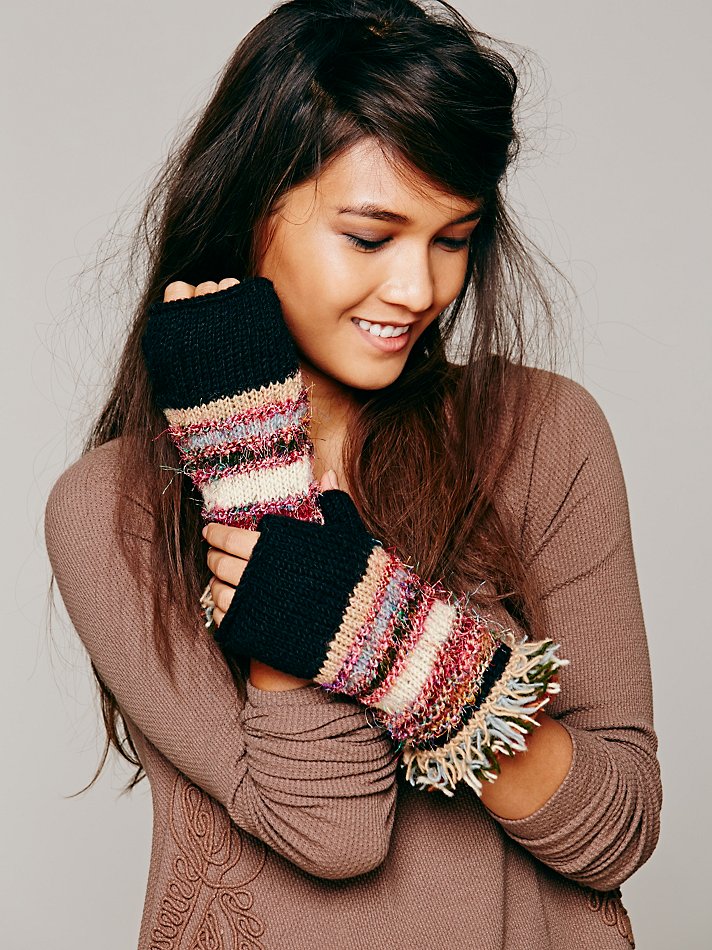 Sometimes you just want to look cute and adorable. That's a sure bet with the help of a pair of fringe and fingerless gloves.
Fringe cardigan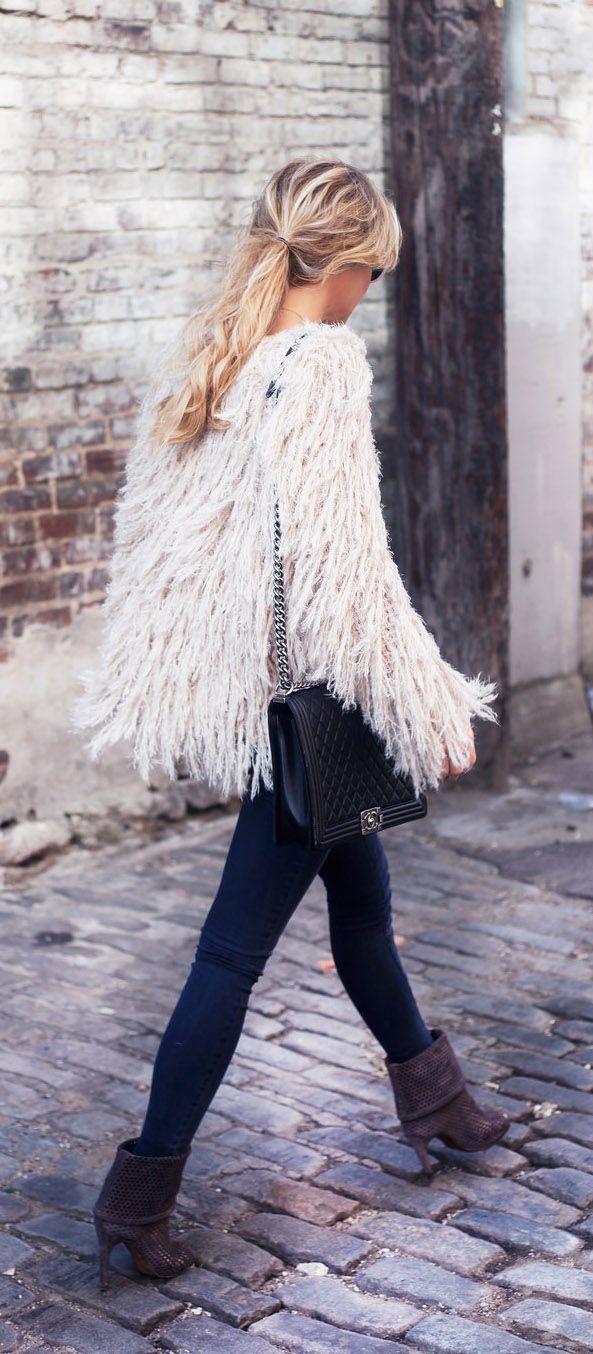 And finally, the fringe cardigan. Truly, it needs no introduction—or additional copy. It's as beautiful as it is unique. Such a special take on fringe.