First there was the bob. Then there was the lob (and long bob). Now what a lot of women are rockin' is the mob. And just what is that exactly? It's pretty much in between the bob and lob: It's a medium-length bob.
Yeah, we know that's pretty much splitting hairs when it comes to what makes it different from the rest. But we're hoping that after you check out some of these looks, you're going to find yourself saying "Although I didn't know what a mob was before, I can't wait to get a mob now!"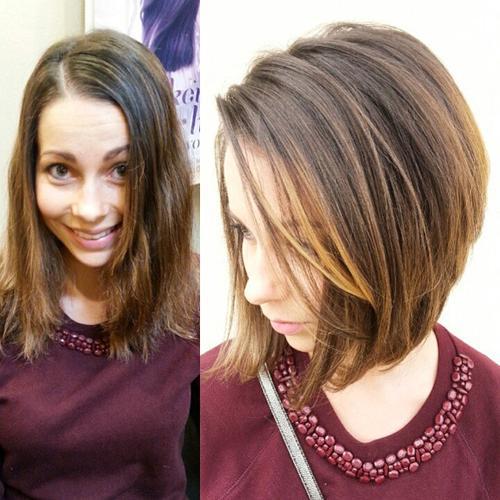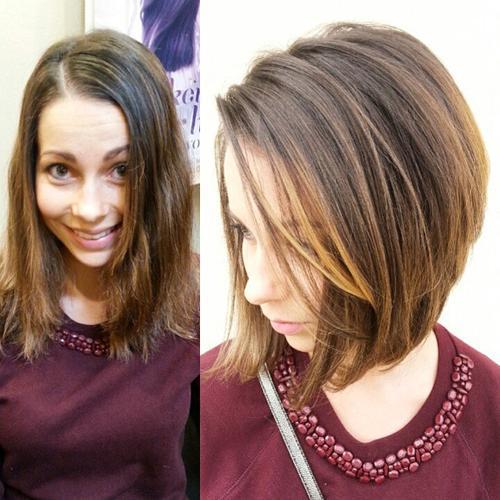 Straight mob for square face shapes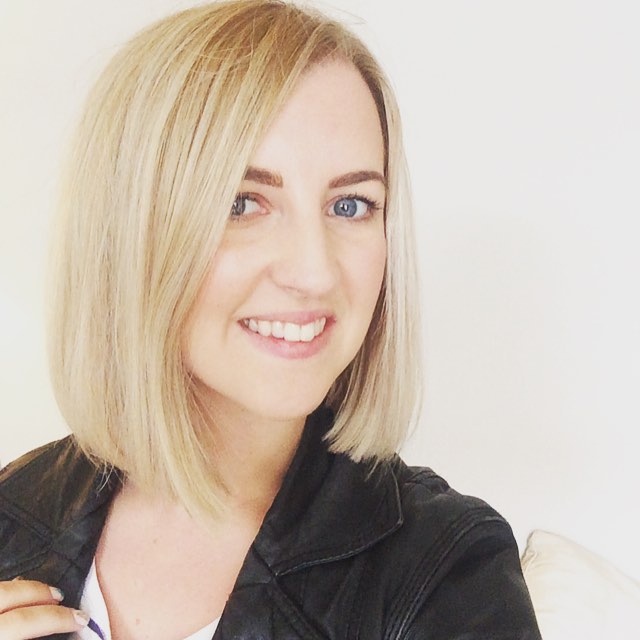 Simple easy daily hairstyle for square faces: If your hair is thin, a mob is a good length for you. Since it's not too long, you won't have to worry about your hair appearing straggly and since it's not too short, you won't have to worry about if it's going to hold any curls or product. You can just let it do…whatever it's going to do.
Wavy mob with blond chunks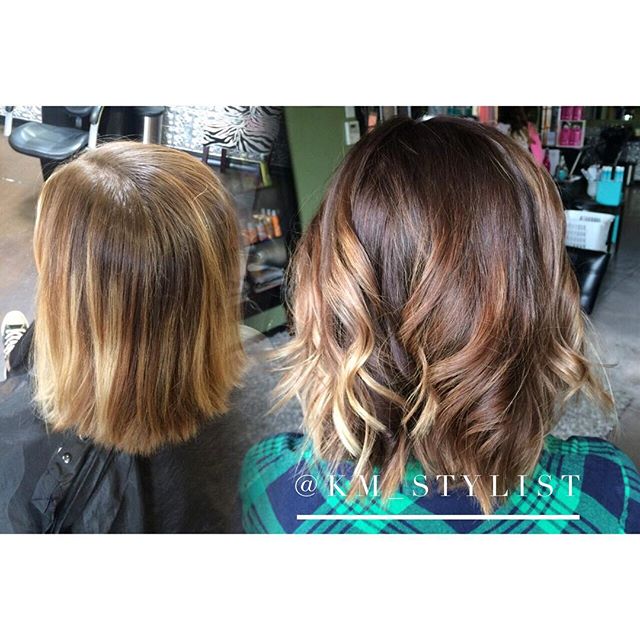 Something that's really awesome about a great color job is the fact that if it's done right, people will b left guessing if your hair is color-treated at all! So is the case with this mob. The blond chunks look so good with her deep caramel color that you can't help but wonder if it came out of a box…or straight from the sun.
Asymmetrical mob with natural roots and green tips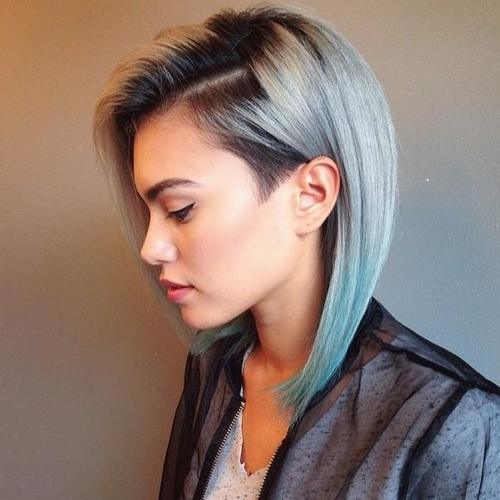 The cut itself pretty much stands all on its own. But there are some intricate things that are added to this particular mob that make it so exceptional. For one thing, the platinum color is cool. So is the fact that the sides are cut with clippers rather than being long like the rest of her hair. And then there's those green tips. Yep. Hotness all the way around!
A-line mob with long tips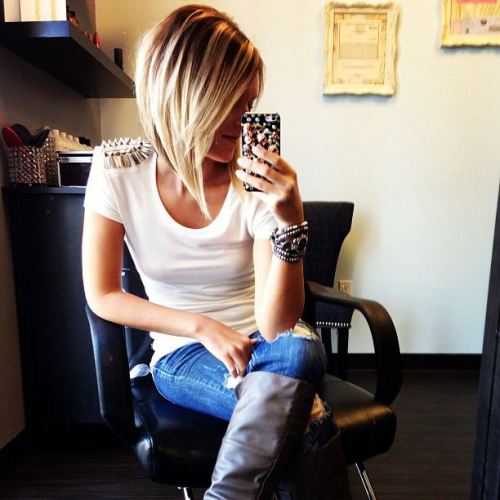 This style is pretty similar to the one that you just saw. Except that it's blond, there are no bangs and the length is more right at the tips than anywhere else. It's a more conservative approach if you want a look that is appropriate for a corporate position. If you love this style, you may love these cool angled bob cuts.
Smooth mob with "bent" ends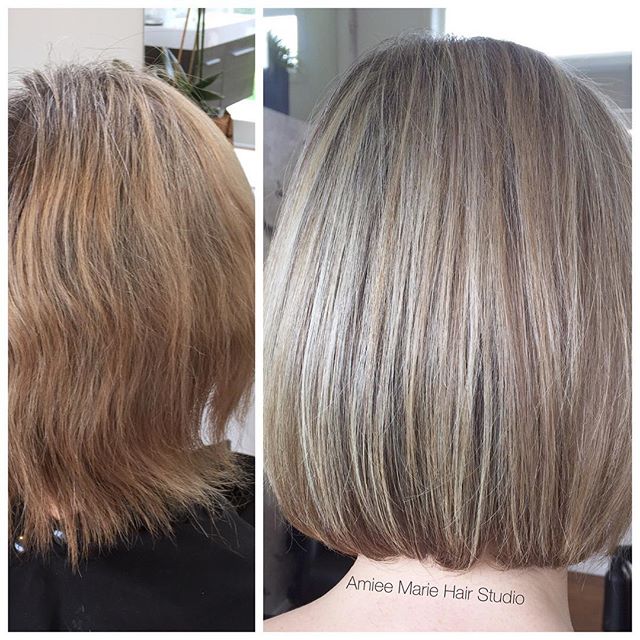 This mob doesn't have a ton of bells and whistles. If you're looking for a pretty easy hairdo and you don't want to spend a ton of time, styling it, this is an option to consider. If your hair is super straight, all you have to do is use a wide barrel curling iron to "bump under" the ends.
Dramatic A-line mob with blonde streaks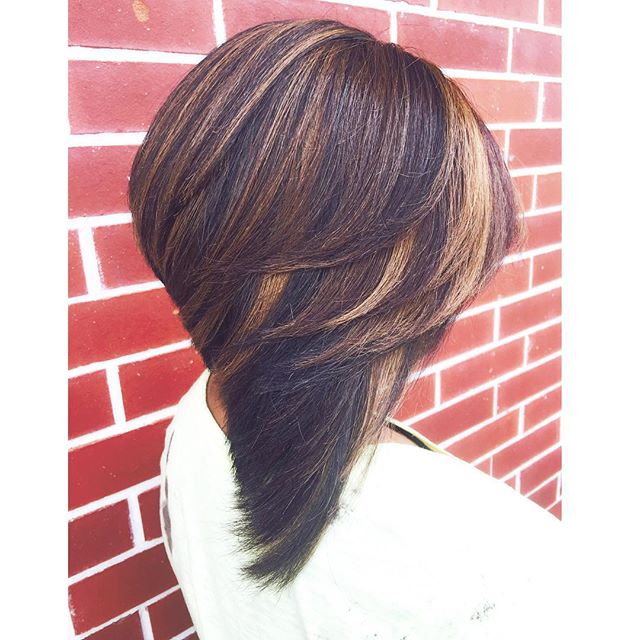 One. Heck. Of. A. Cut. Yeah, we're pretty sure that you'll agree. It has one of the most dramatic A-lines from back to front and the streaks of blonde in the midst of all of the deep dark brown makes it top on our list. (The bangs are pretty hot too!)
Light brown mob with no layers and bangs
If you've been hesitant about taking a couple of inches off of your hair, mostly because you think that you'll never be able to rock a ponytail again, with a cut like this one…yes you can. Being that it's a bit longer and has very few layers, you can pull it back to the nape of your neck pretty easily.
Pink and wavy asymmetrical mob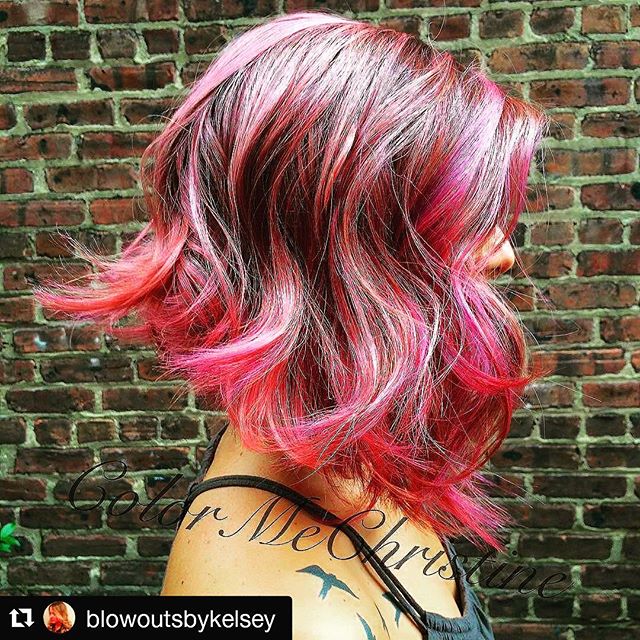 Cool messy wavy bob cut with bright color: There are three ways that you can make this look happen. You can cut your own wavy hair into this style and then have it professionally colored. You can strategically place some pink weave pieces all throughout your head. Or you can cop a wig (preferably human hair). No matter what you decide, you'll be a showstopper!
Navy blue wavy mob with bangs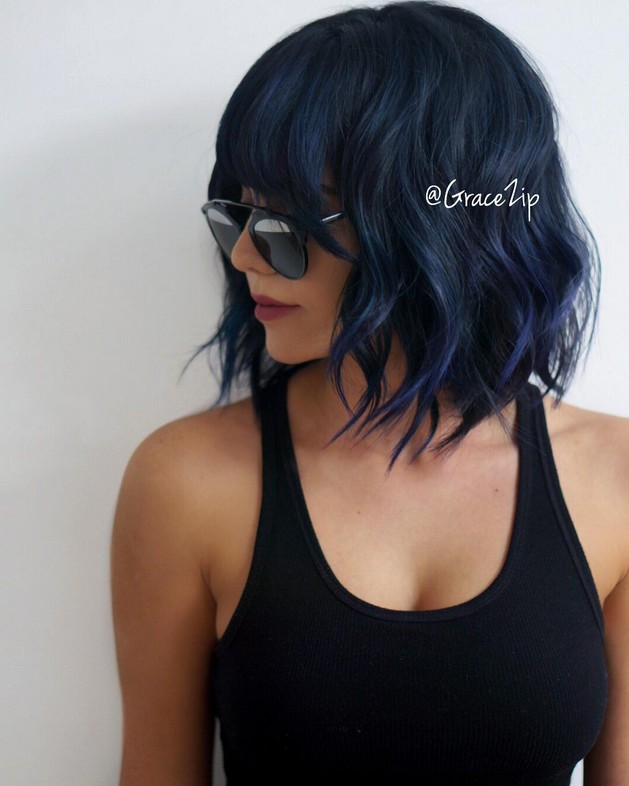 Bob hairstyle for 2018: Gee. Talk about starting off a post with a BANG! Everything about this look is on point from the deep, deep blue color to the wavy texture to the bangs that gently frame her face. You want something that's going to make your man stare at you for hours on end? This wavy bob hairstyle will certainly do it!
Super straight mob with pink ends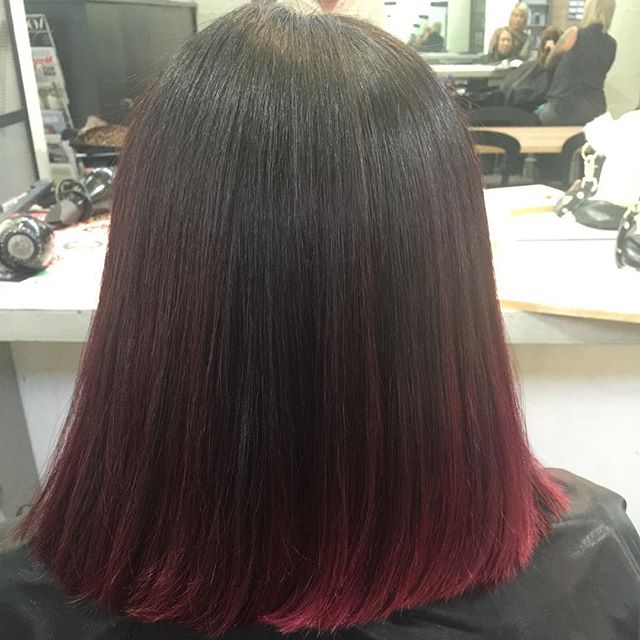 No layers but still plenty of style. That's one of the best ways to describe this mob. Honestly, it would seem a bit "ho hum" if it wasn't for the fact that her stylist did a pretty amazing job with the color. The pink ends are a nice complement to the rest of her dark hair, wouldn't you say?
Wavy mob with blonde highlights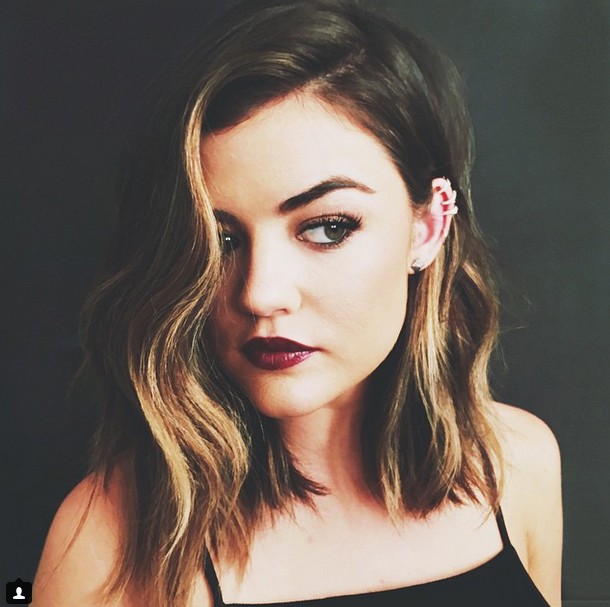 Wavy medium bob hairstyle for thick hair – The great thing about highlights is if you're not sure you're ready to full-on commit to hair color, it's a way to "ease" on into the style. Something else to note about this hairstyle is it looks like the ends were cut with a razor rather than shears.
Bright purple wavy mob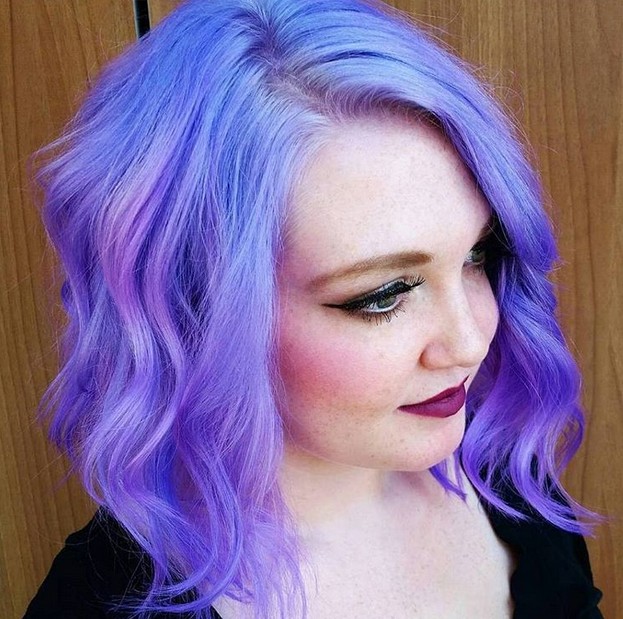 We'll be honest: If you work in an office setting, while you can certainly still make the cut happen, the color would probably have to be modified (at least to do a dark violet). But if you do freelance work or you're a college (or high school) student, who wouldn't envy your boldness for pulling this off?!?
Mob with side part, long layers and green ends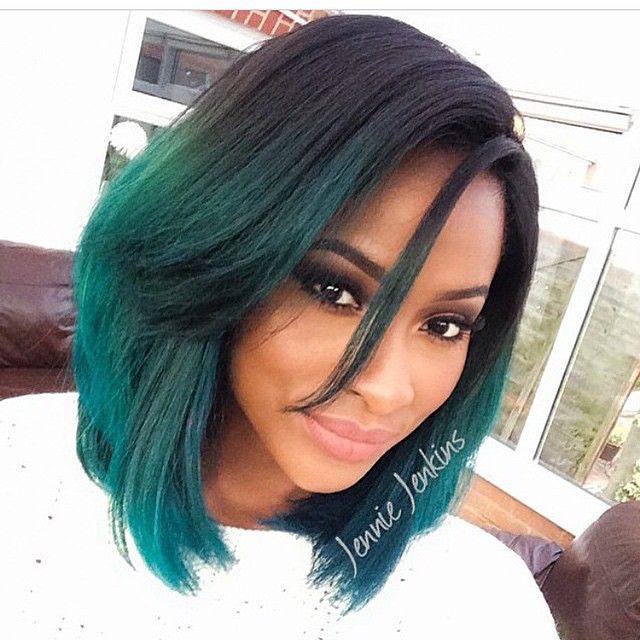 Medium bob hairstyle for African American Women. As you just saw in the picture above this one, gone are the days when hair could only be dyed in a neutral hue. Now, pretty much the sky's the limit–as you can see. Yeah, that dark green is poppin'! And the cut is super gorgeous! Especially the long feathered layers in the front.
Buttery blonde mob with loose waves and middle part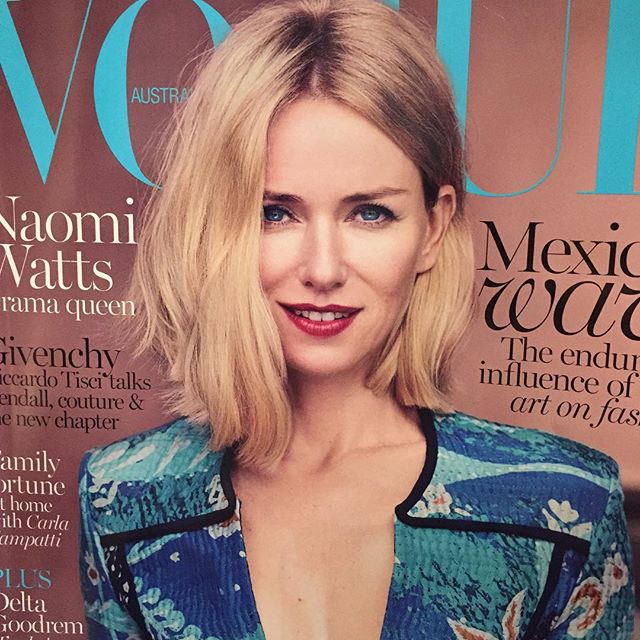 Technically, this qualifies as a "messy mob" due to the choppiness of the hair at the ends. But what we really want to draw your attention to is the on-trend hair color that is featured. Buttery blonde is a big hue right now. It would be a shame if you didn't at least try it!
Messy mob with middle part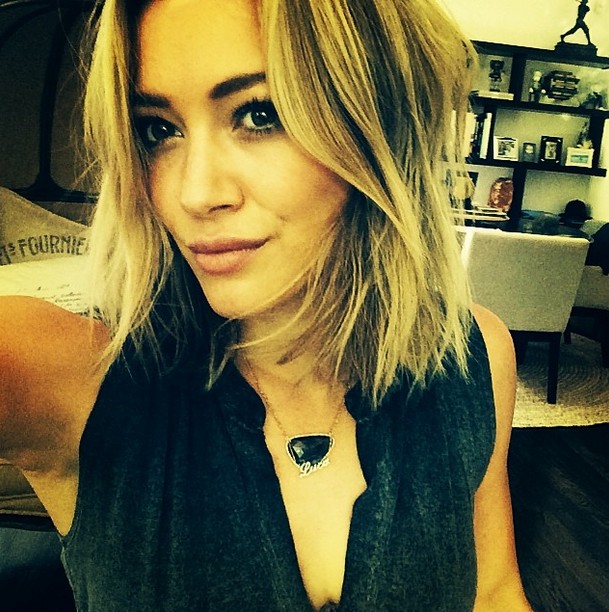 This mob goes along with two trends: messy hair and also air-dried hair. And yet, it still happens to be one of the most sensual looks out of the bunch. Who said that sexy had to take a lot of effort? Even when it comes to your hair!
Three-tone mob with loose waves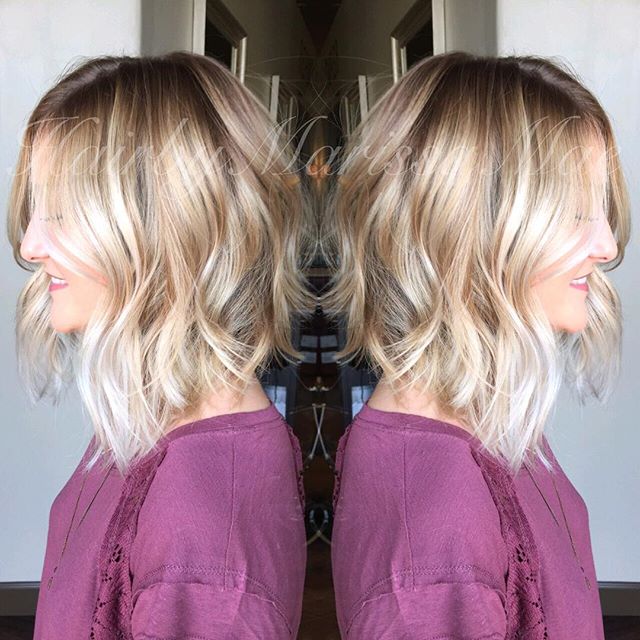 A chic messy inverted bob cut for shoulder length hair – We've shown you a few mobs with wavy textures already. But pay extra special attention to the hair color of this particular style. It's three different colors: brown, blonde and platinum—from roots to tips. Don't try this at home. Make sure to see a stylist in order to pull this off!
Caramel-colored loose waves mob with side part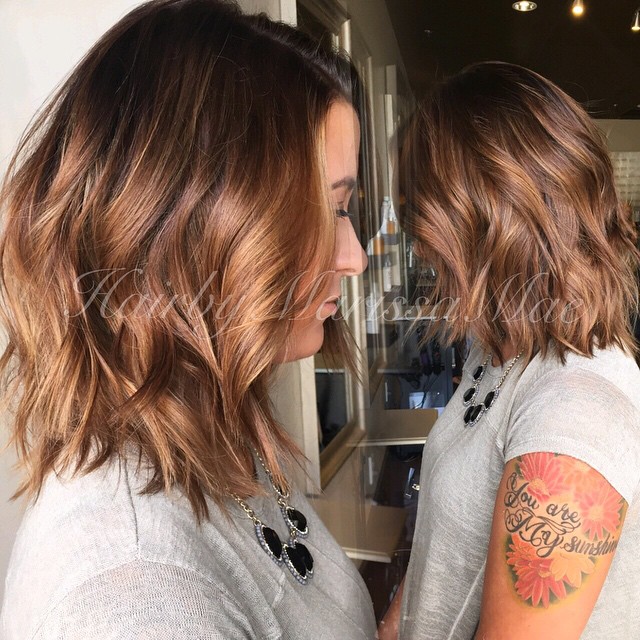 Caramel is such a rich and yet playful kind of color. Perfect for women of all ages and skin tones. This is just one more mob look to think about trying if your hair is naturally wavy.
Longer brunette mob with middle part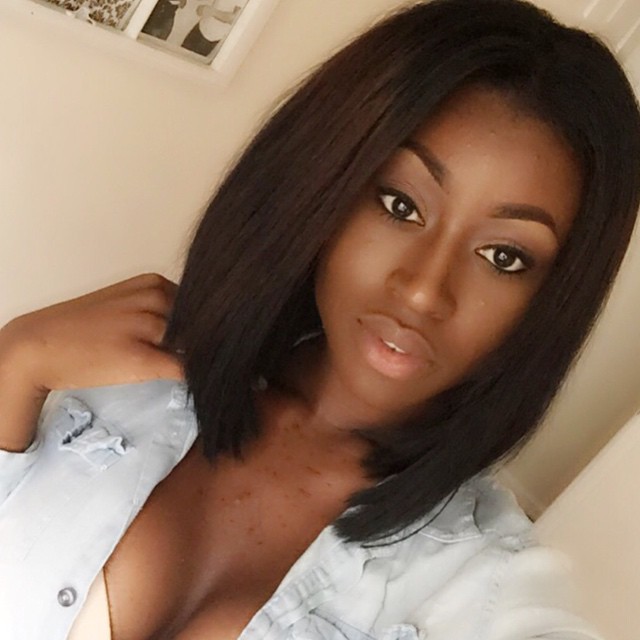 This mob pretty much qualifies for a lob due to the length. But we're showing it to you anyone 1) because the chocolate hair color is to-die-for and 2) if you wanted to tapered the back a bit, it could provide more of a unique look, this bob cut is perfect for black women who love medium straight hair. You can find more blunt bob hairstyles here.
Wavy mob with blonde color and natural roots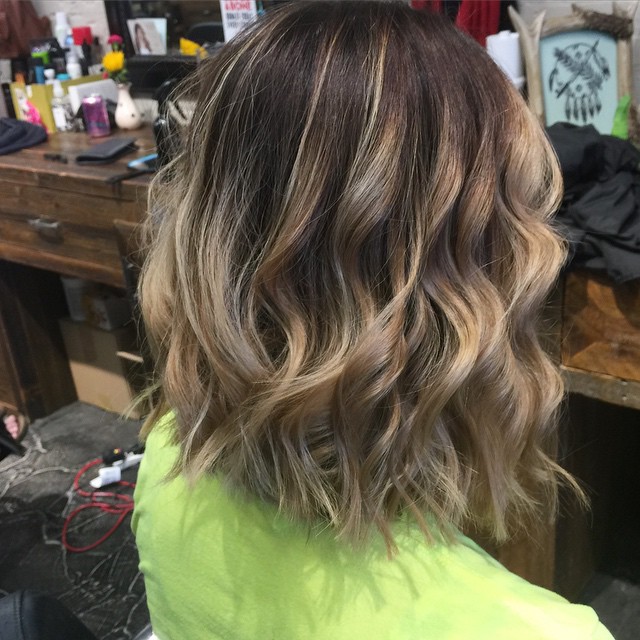 Messy bob hairstyle idea: Natural roots are in. Good thing too because not only is it easier on the hair but it can also put a little more money in your pocket being that you won't have to go to the salon quite as much to get a color touch up. And if your hair is naturally wavy, the waves will make the color contrast look like deep waves. Nice.
Graduated mob with loose waves and middle part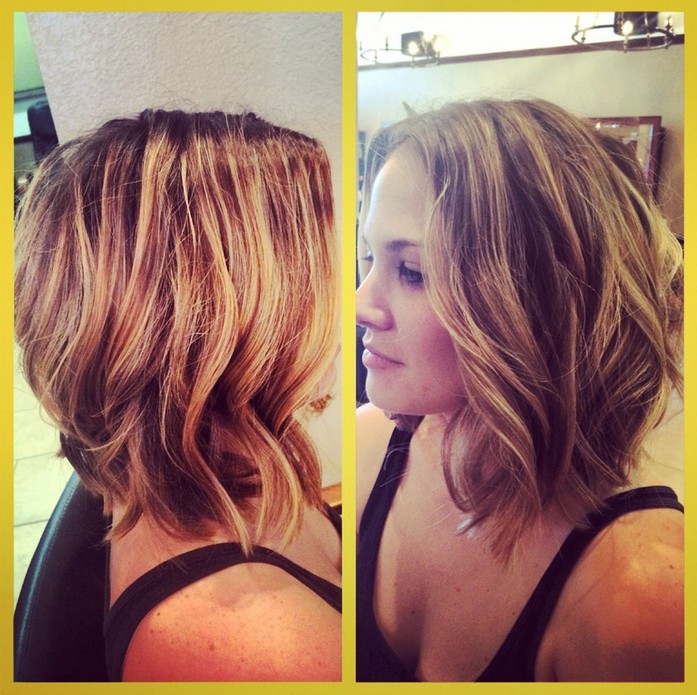 Thanks to the waves, you hardly notice that the length in the back is a few inches shorter than the front.  This is a great mob look for if you want to wear it curly or straight without it looking too dramatically different. And the middle part? That makes it so that you don't have to get any bangs added (if you don't want to, of course!).
Asymmetrical mob for straight hair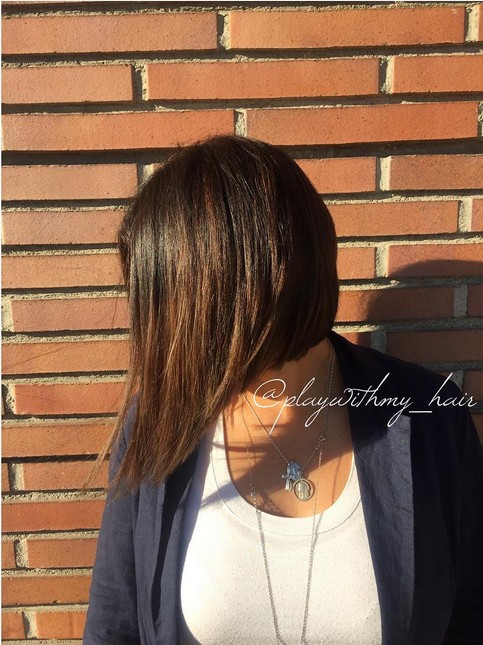 Angled bob hairstyle for thin hair. You might've quietly wished that you had naturally curly (or at least wavy) hair. But after looking at an asymmetrical mob like this one, now do you see why you were lucky to have straight hair? Yeah, we do too! If you don't like the medium bob haircuts, how about the short bob hairstyles?
Do you want to get more latest popular hairstyles? Please subscribe our site stylesweekly.com and get the latest style trends!
Simple easy medium straight bob haircut