One of the prettiest ways for a woman to put up all or even just a part of her hair is with a braid. And although there are a variety of braids to choose from, one of the most aesthetically-appealing by far is the fishtail braid.
If you've never worn one before, what makes it different than say, a cornrow, is you are taking portions of your hair and crossing them inside rather than outside. You can check out a tutorial here.
Once you know how to create a fishtail braid, there are tons of styling options to choose from.
Check out some of our favorites below…
Halfway up fishtail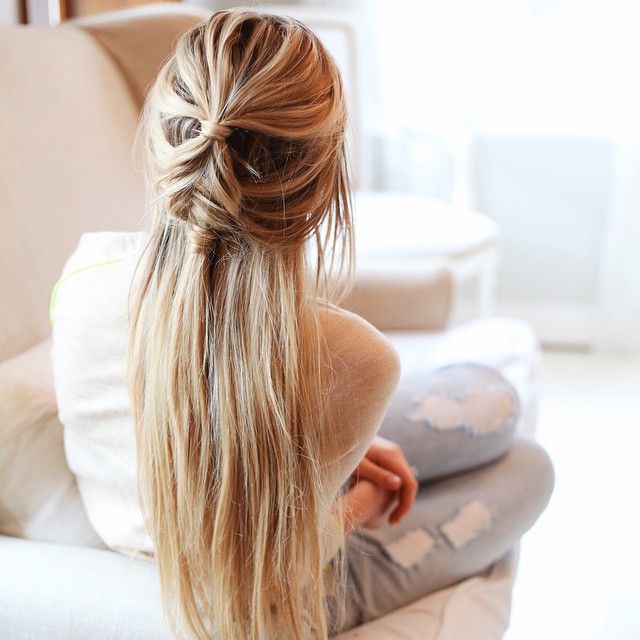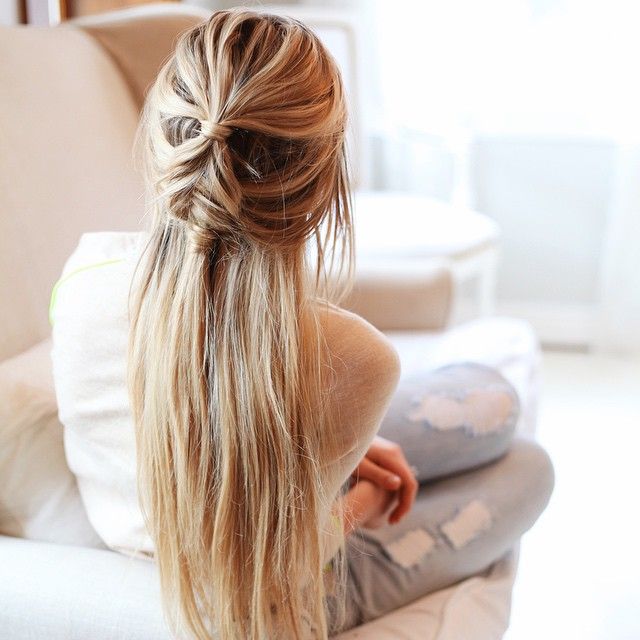 If you're in a rush and you only want to pull back a portion of your hair, rather than reaching for a large barrette or ponytail holder, go with a small fishtail braid like this one. You can secure to top and the bottom with a couple of hair knots and bobby pins.
Side fishtail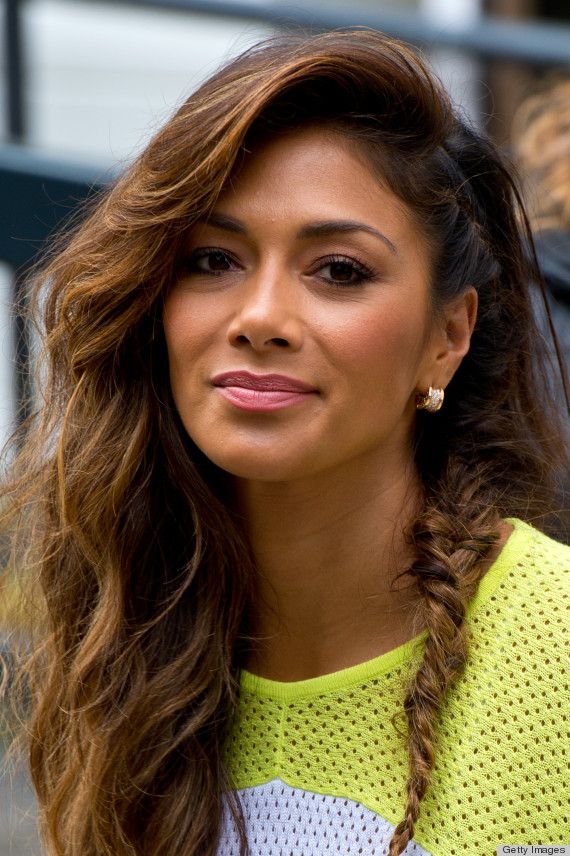 Singer Nicole Scherzinger shows how one side fishtail can make a simple hair day something that's still beautiful to behold.
Lavender fishtails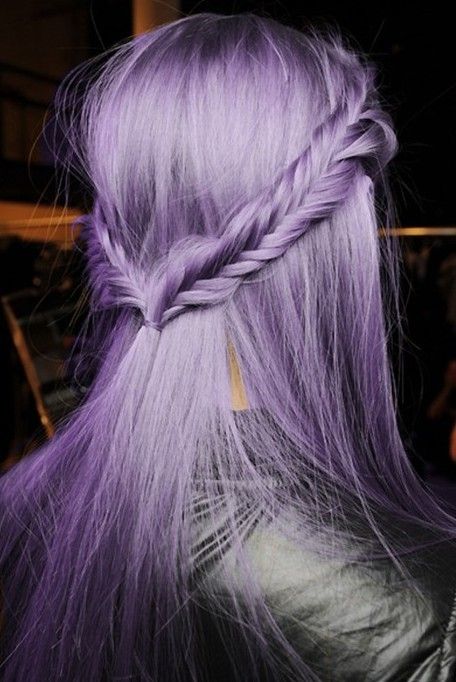 Bold hair colors are still quite popular right now. Is it just us or do these lavender fishtails make this woman look mythical and stunning? Kind of like character out of an animated film.
Fishtail with a bow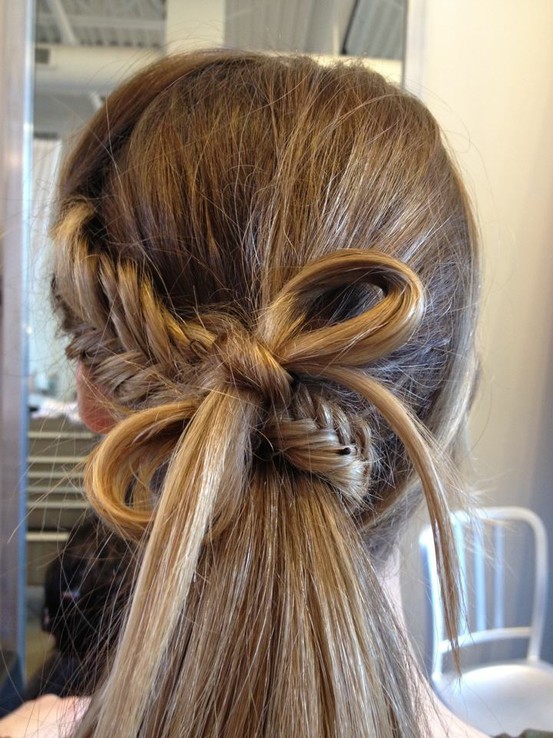 It really is something, all of the ways that hair can be styled. Bobby pins can help to keep a bow made out of your own tresses in place alongside your fishtail.
Ponytail fishtail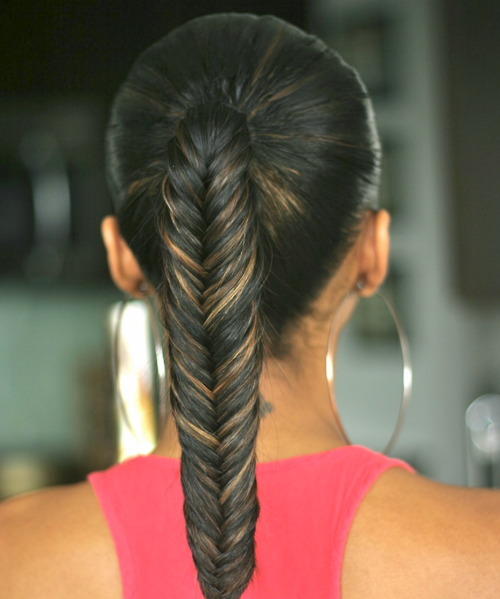 This is probably the most popular and also one of the most beloved ways to wear a fishtail: the old fashioned ponytail.
Fishtail with a touch of teal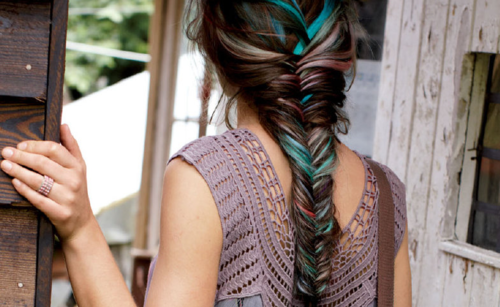 If you don't necessarily want to dye your entire head purple or orange or green, you can also add some highlights or even spray in some temporary color. Once you are done, try a fishtail braid like this one to see how the color blends in with your natural hair.
Fishtail crown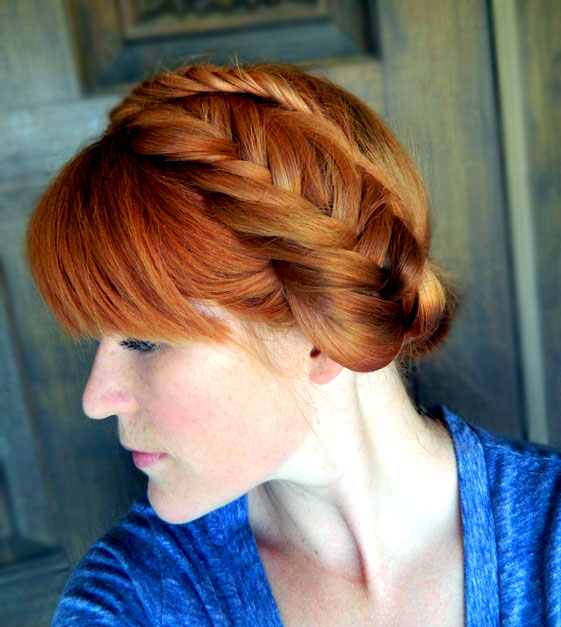 Thanks to the Bohemian trend that is so popular right now, a lot of women are wearing their hair in crown styles like this one. We like how it's made out of a rather large fishtail.
Fishtail for a short bob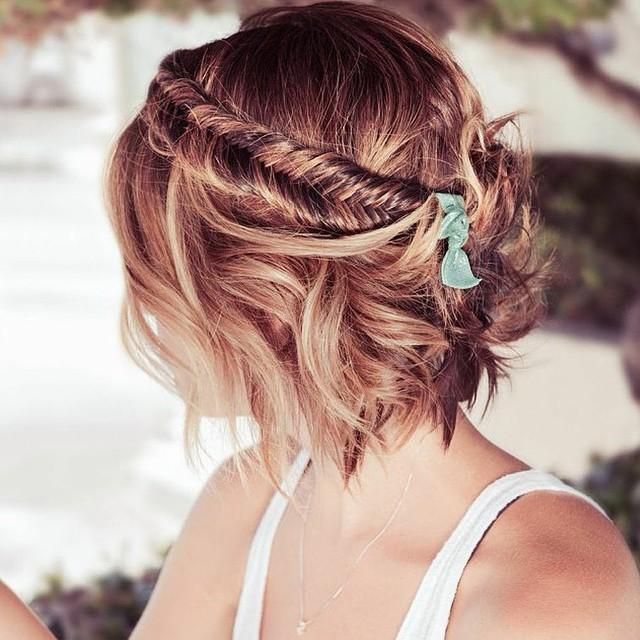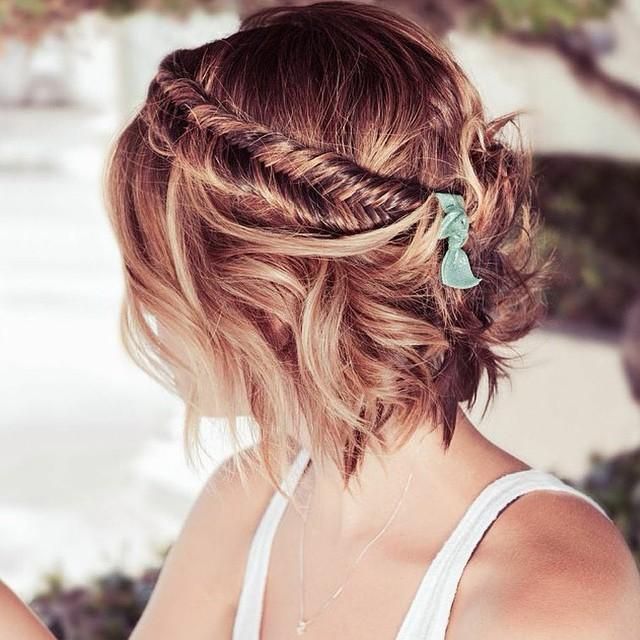 If your hair is on the shorter side, you can still rock a fishtail. They'll just need to be a lot smaller and tighter than the usual ones.
Fishtail bun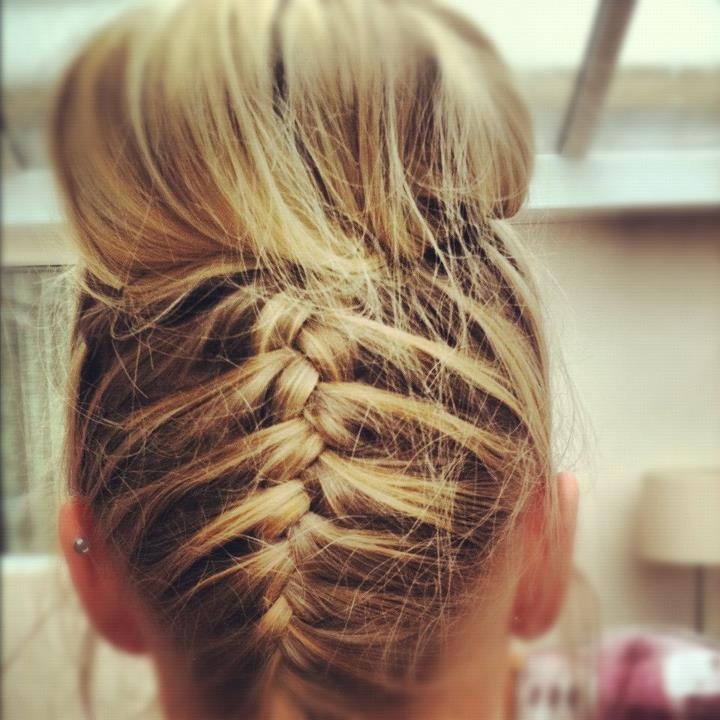 The summer season is the perfect time to pull your hair up into a bun. In order to add a bit more of a visual effect, braid that back of it into a fishtail first.
French fishtail updo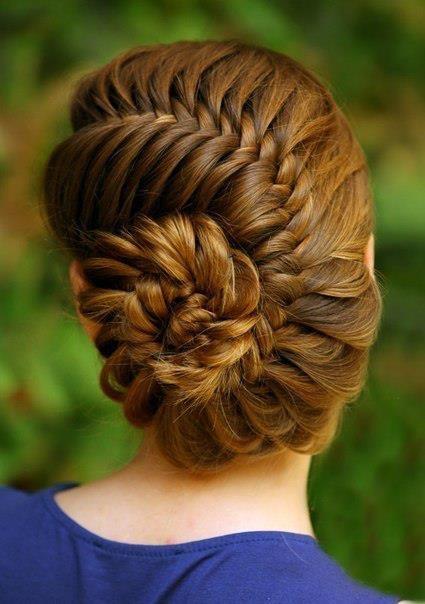 Yeah, initially this may look a bit on the side of complex but actually, it's not. All she did was create a side fishtail and then loop it around. Lovely.
Thin fishtails with a small knot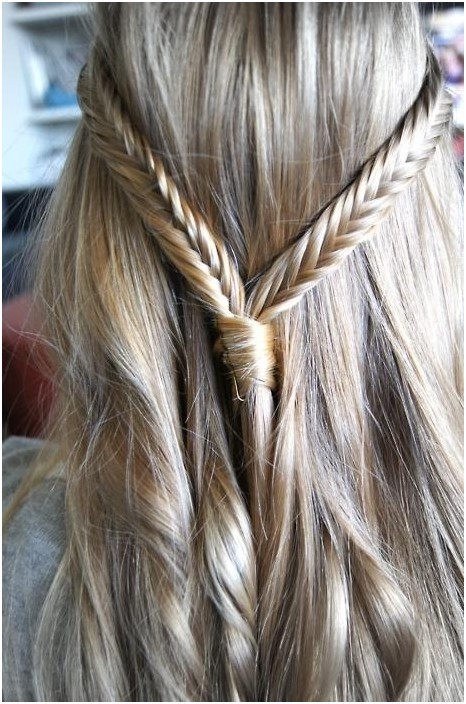 This look is very similar to the lavender one that we already showed you. Only, she opted to secure the two fishtails with a small knot made out of her own hair.
Fishtail and pearls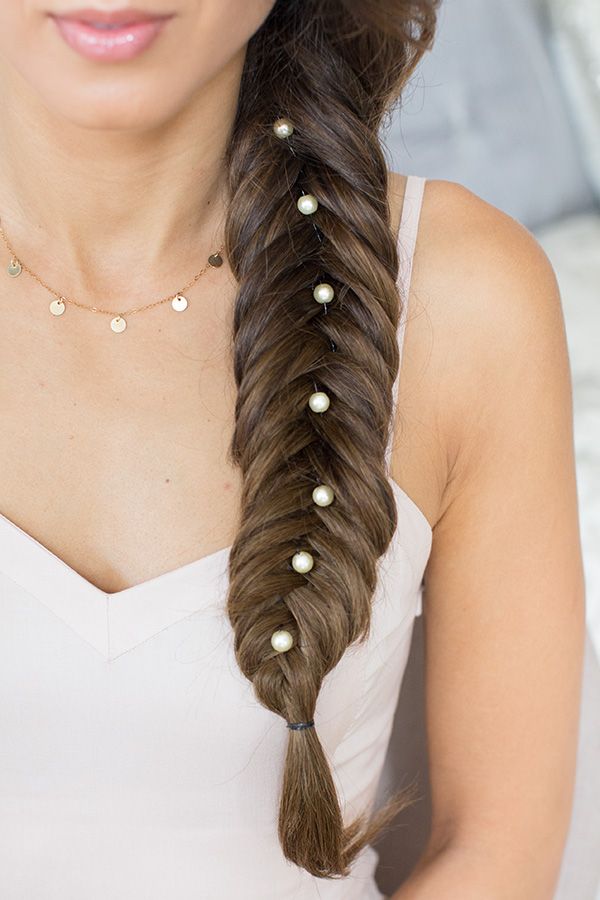 Whether you're a bride, a bridesmaid or simply a guest at the wedding, one way to dress your fishtail up for the occasion is to strategically place some pearls down it.
Big fishtail plaits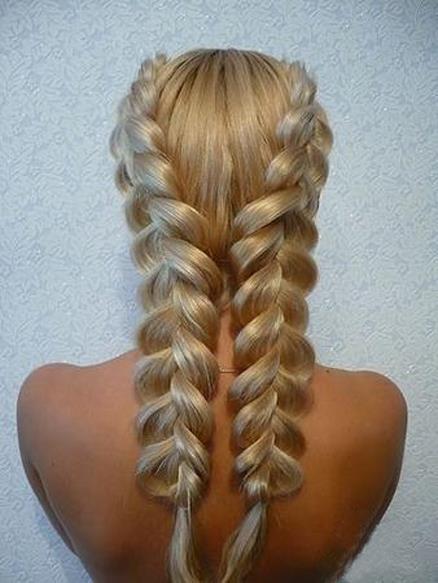 You're going to need some really long hair in order to pull this off. But if you have some, try parting your hair down the middle and then putting in two big fishtail plaits. It's a perfect day at the beach look.
Zigzag fishtail braid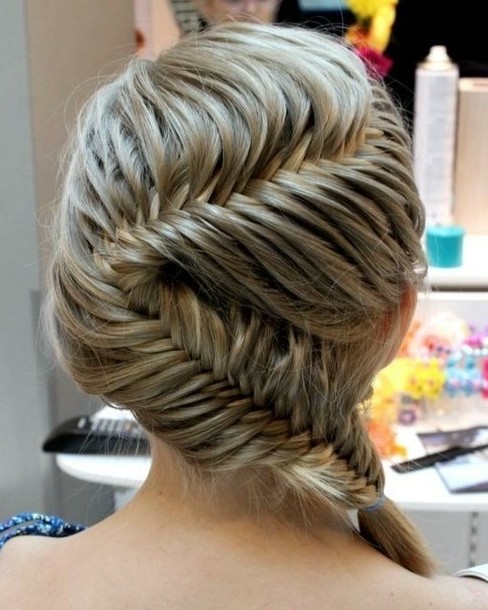 OK, if you can do this one yourself, we'll be super impressed. The key to pulling off this particular fishtail is parting your scalp in a zigzag pattern first.
Triple fishtail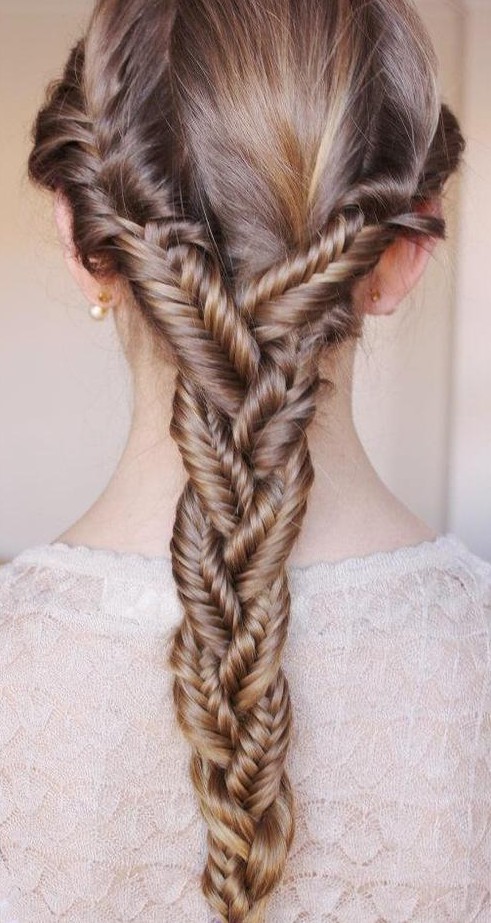 Basically, this is three separate fishtails that are then braided together to make one big fishtail. Pretty cool, huh?
Partial fishtail ponytail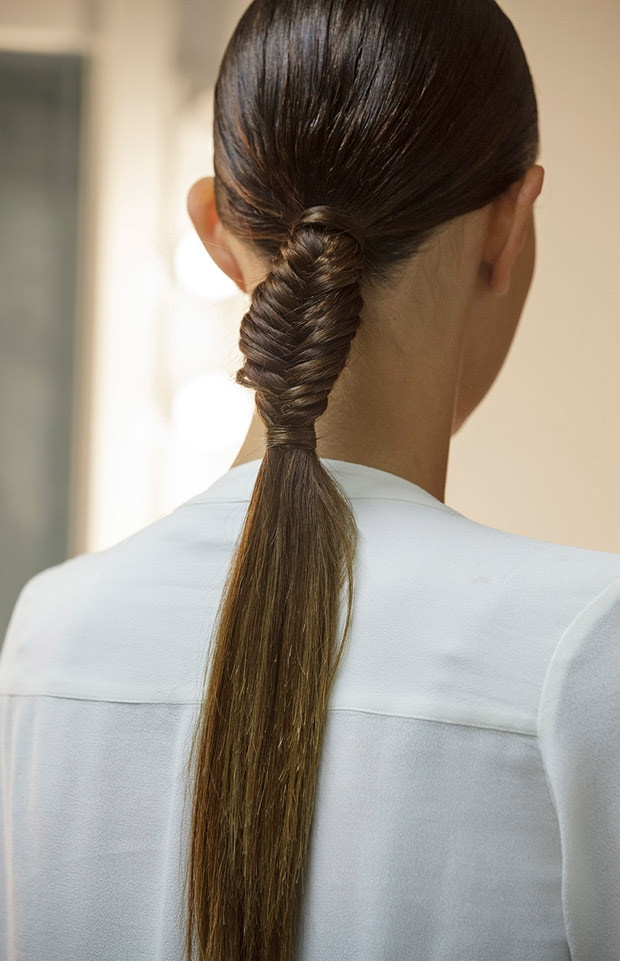 A great look for work? This partial fishtail ponytail. We actually like this look a lot.
'Messy' fishtail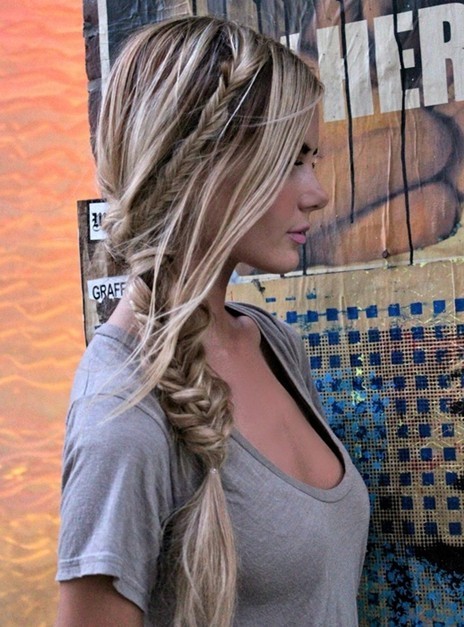 Another Boho-inspired look is messy hair. So, if you don't have a ton on of time in the morning, don't worry about having every single tress in place. A messy fishtail is a sexy fishtail.
Rainbow fishtail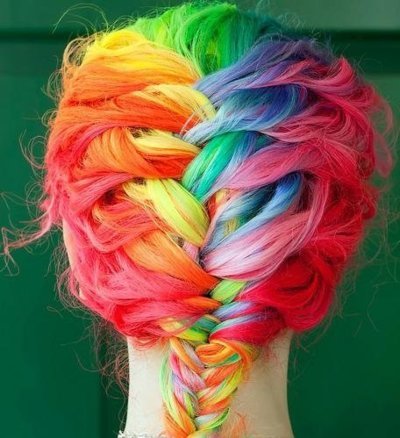 Some styles are just cool to look at or a great idea for a photo shoot. This rainbow-colored fishtail is a great example of that.
Woven fishtail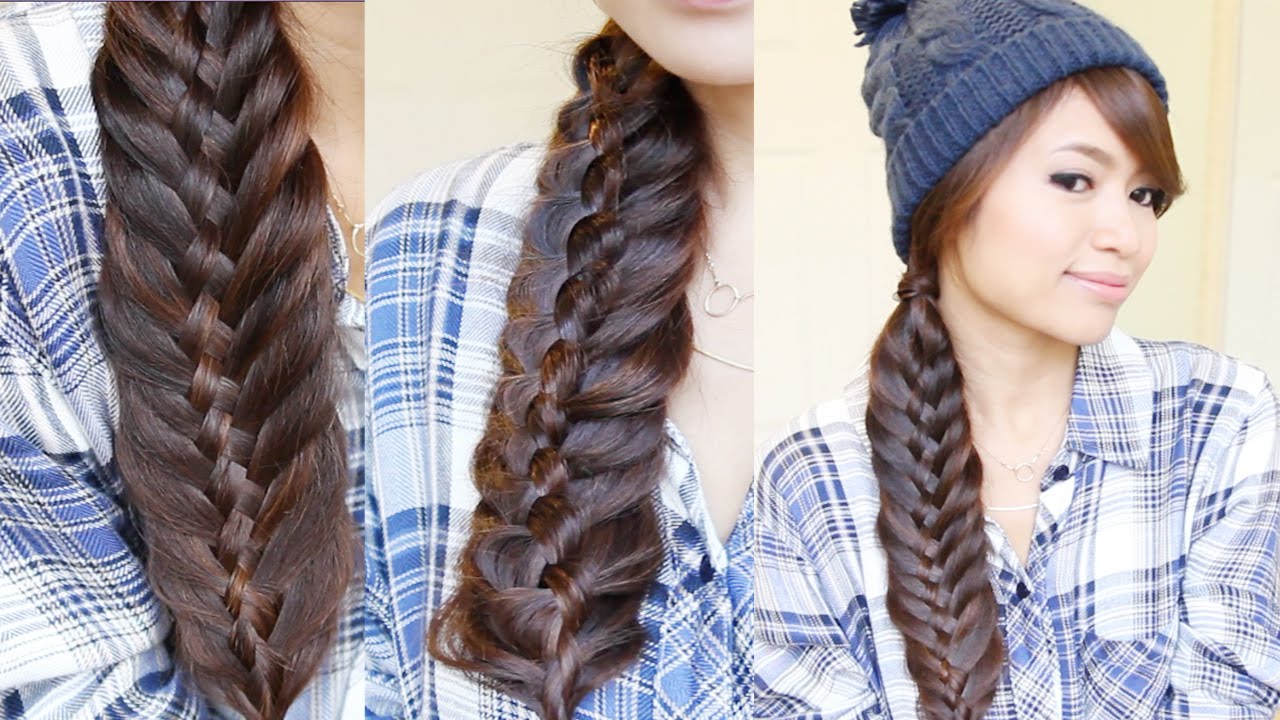 One type of fishtail is a woven fishtail. Honestly, we recommend a stylist show you how to do it so that you can get these kinds of results.
Fishtail pigtails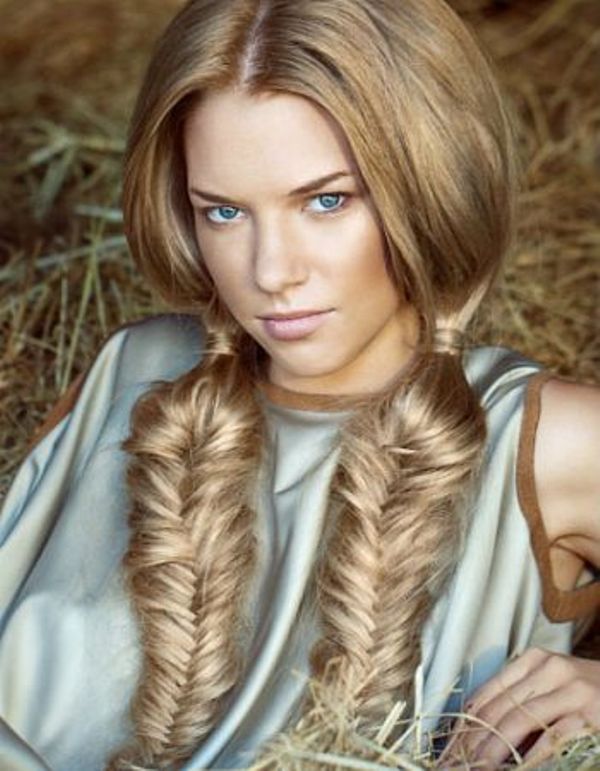 This style is romantic and fun-loving all in one. So, if you have a first date coming up, a pair of fishtail pigtails will probably convey the message that you want to send without saying a single word.
Fishtail and flowers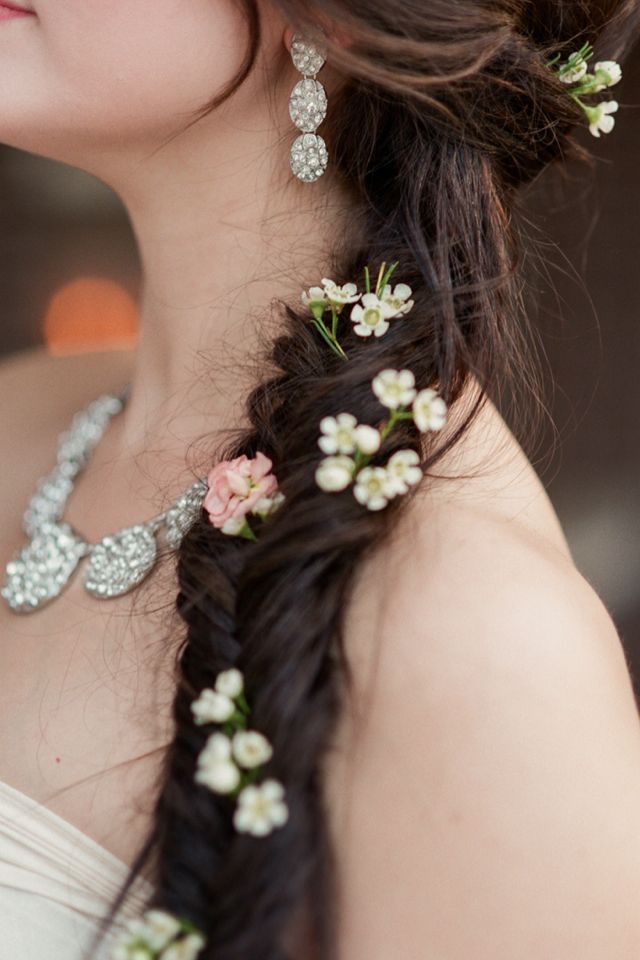 This is another pretty wedding (or formal event) look. Fishtails and flowers. Preferably fresh flowers.