With days getting colder, women are updating their wardrobe with warmer pieces. And we are also here to offer you some helpful advice on how to combine them correctly and fashionably. In the gallery below is a collection of 20 casual outfits for our everyday occasions from shopping to work. They must offer you some stunning ideas when you don't know how to make a faddish combination with any of the clothes you've alreay gotten. Just stay here and check them out!
Fashionable Fringe Skirt Outfit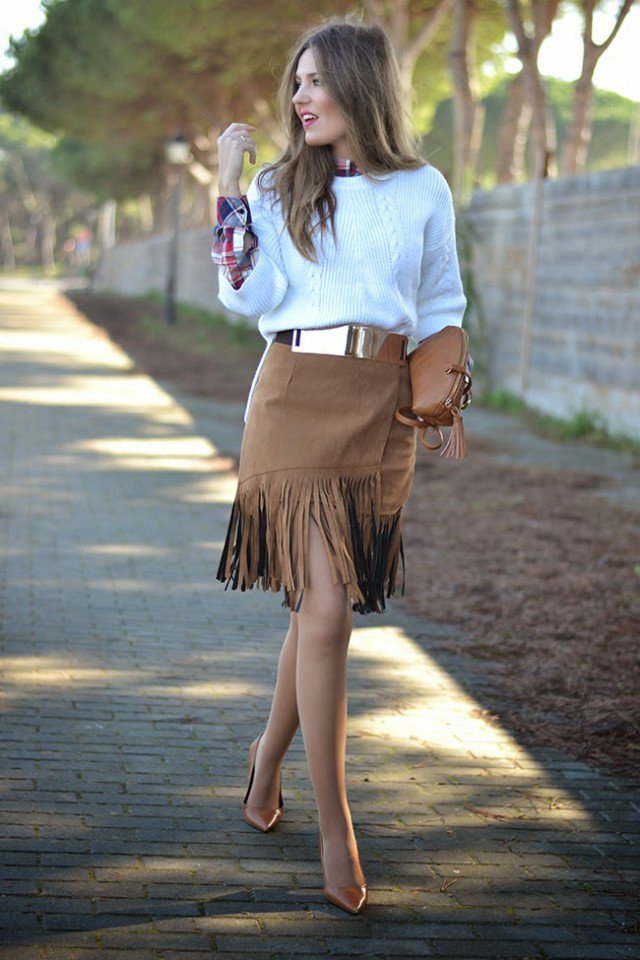 Fringe skirts are quite beautiful and popular! A sweater or a shirt can both be wonderful pieces to make a fabulous fringe dress outfit in fall.
Effortless Sweater with White Skirt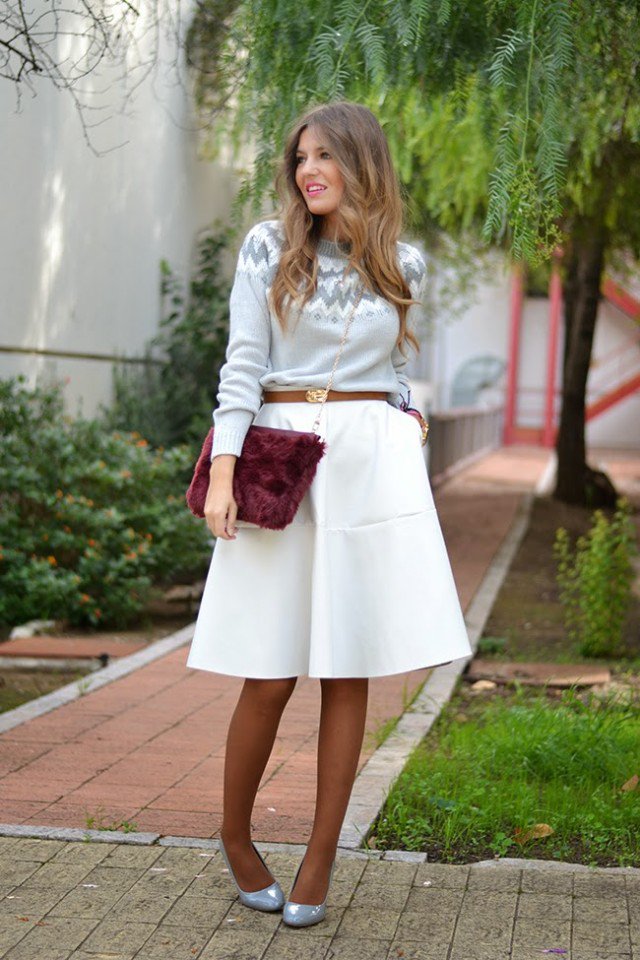 If you want to look more feminie, it's better for you to match your sweater with a nice skirt. That's the most popular outfit in this fall and you'll soon see this trend anywhere you go before long.
Feminine Outfit with Pink Sweater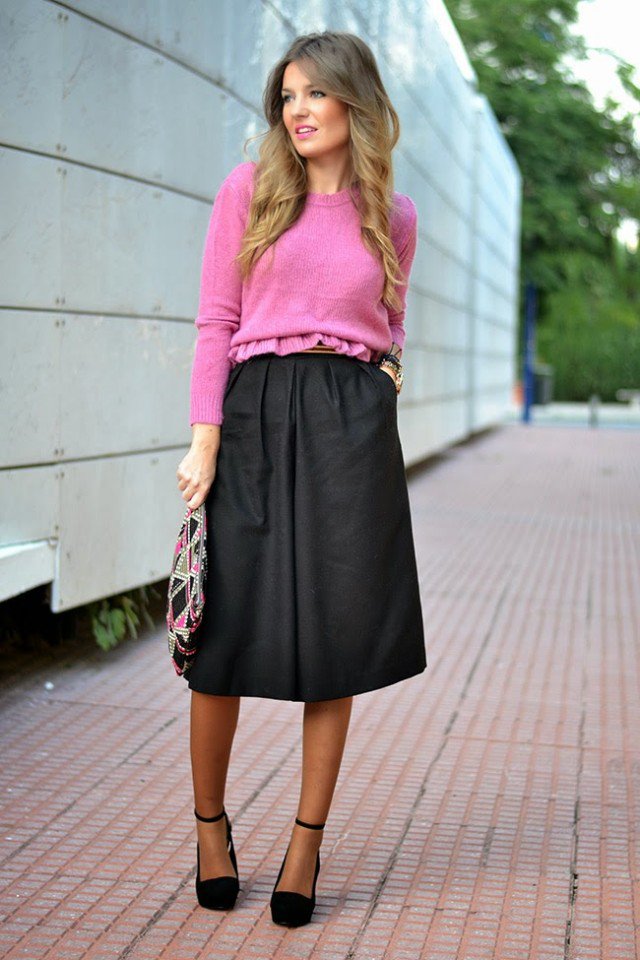 Pink sweater, black mid-length skirt and black shoes! What a lovely lady she is!
Classy Black and White Outfit Idea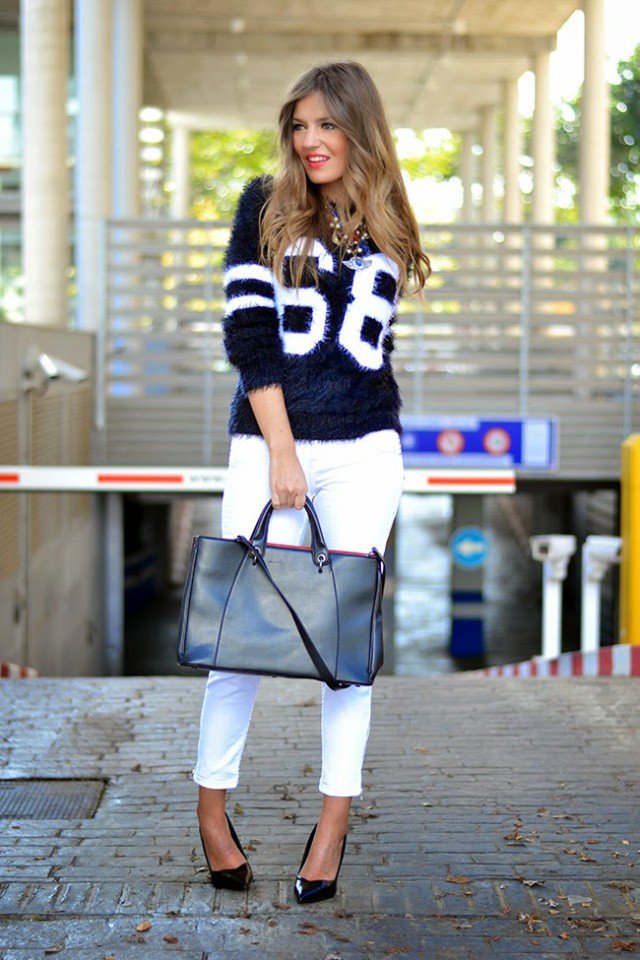 Black and white is a timeless combination. However, if you don't want your outfit look too conservative, just choose those pieces with special details. The fluffy top and cute black pumps play a great role in adding more fashion vibes to the overall look.
Stylish Outfit with Over-Knee Boots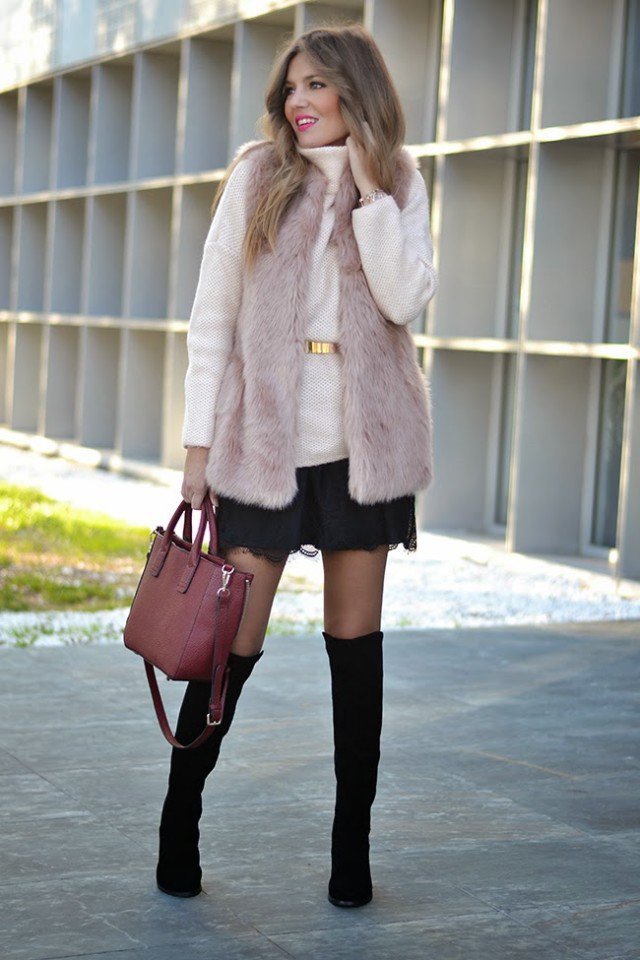 Tall women with slim legs can copy this outfit. Put on your over-knee boots to pair your turtleneck top. If you still feel cold, a fur vest will keep you warm and chic at the same time.
Floral Dress with Over-Knee Boots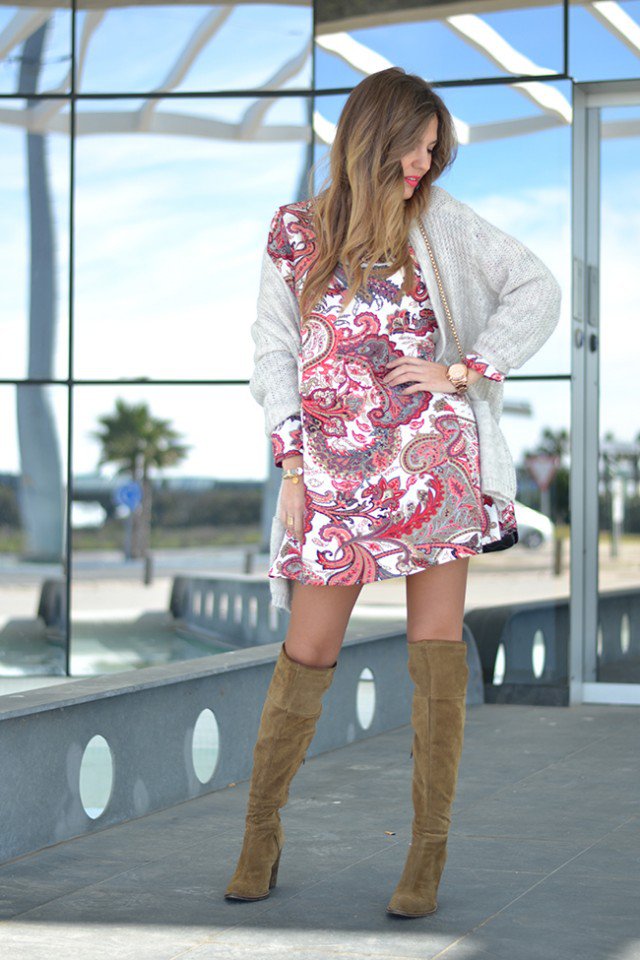 For a time-saving outfit, you just need a floral dress, a bigger overcoat and a pair of over-knee boots!
All Black Outfit with Red Pumps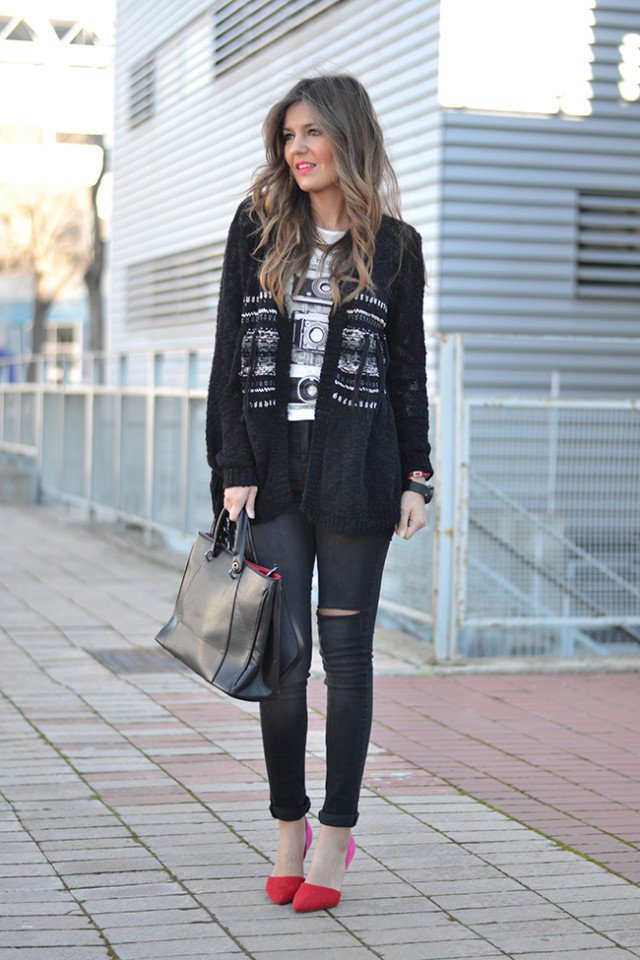 Needless to say, there wiil be tons of going for black outfits in fall. Unless you want to rock others with the solemn all black outfits, you can use some bright colors to upgrade the black outfits. A pair of red pumps or some metallic or stylish accessories are all great to solve this problem.
Pretty Pink Printed Coat with Jeans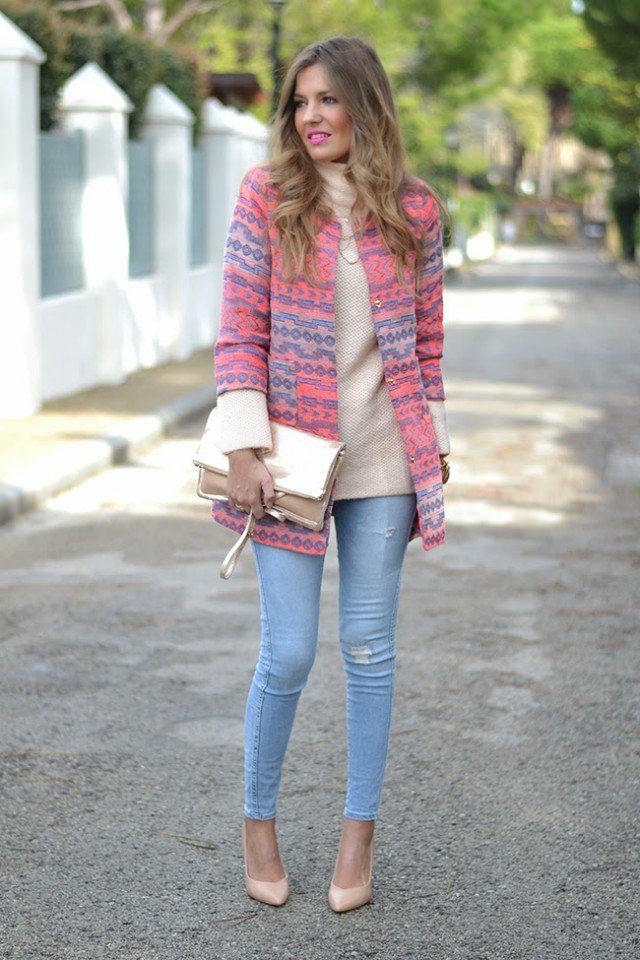 This is a very combination in fall: coat, sweater and jeans. How to make this combo more fashionable? The key point is to get the colors matched in a chic way. For example, most women prefer dark outfits in cold days. So, you can put on a pink coat for a more lovely look. Besides, the light blue jeans look so great with the pink coat.
Grey Faux Fur Coat Outfit Idea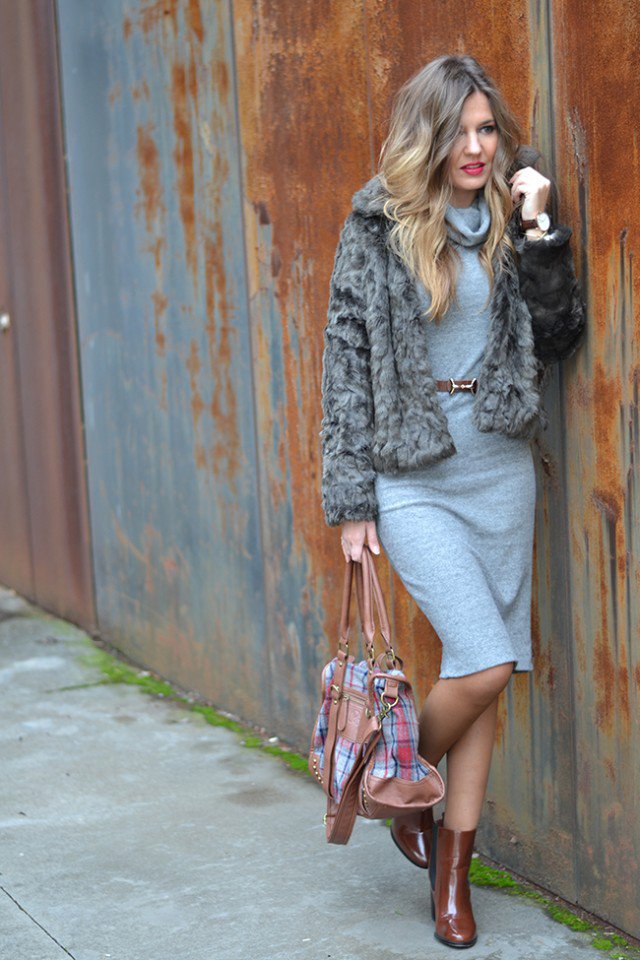 Trust me! A knitted dress and a faux fur coat can make an effortless fashionable outfit for this fall. You can put on your ankle boots and even sneakers to complete the chic outfit.
Striped Coat with Ginger Scarf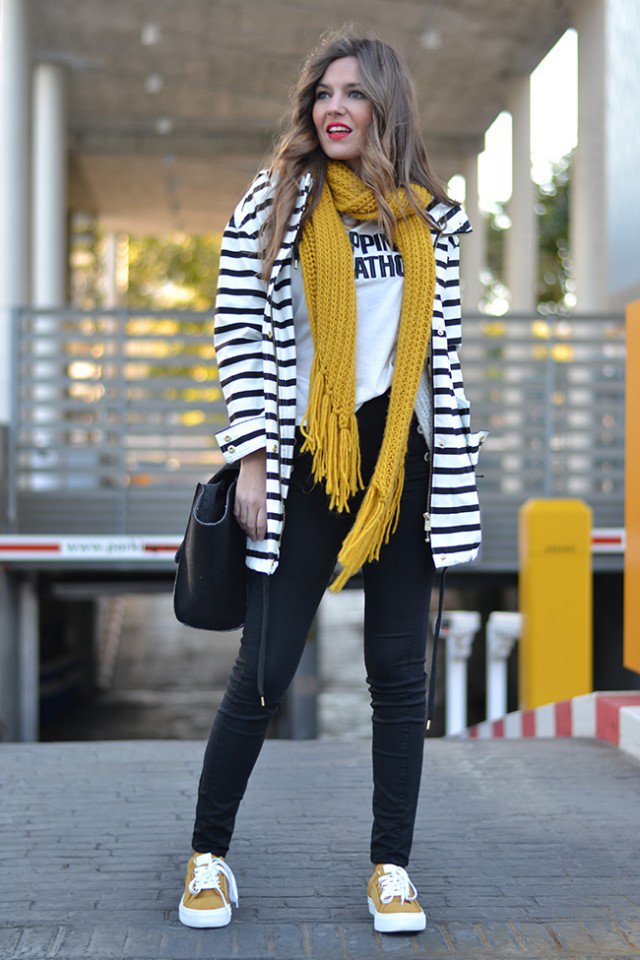 The knitted scarf is a must-have piece during those cold days. Plus, the striped coats have already own a number of fans all over the world. Do you like it?
Fashionable Turtleneck Top with Black Shorts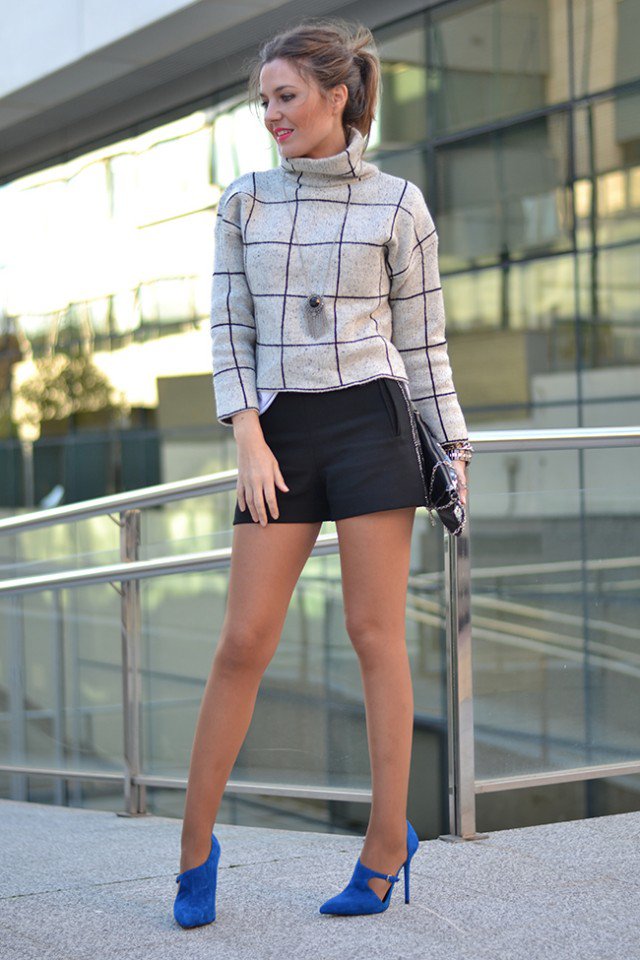 If you don't have a turtleneck, just go to the shops and get one. It's trendy and can keep you warm. To get a more fashionable look, you can pair it with shorts and pumps. It looks so great!
Black Leather Jacket with Blue Skirt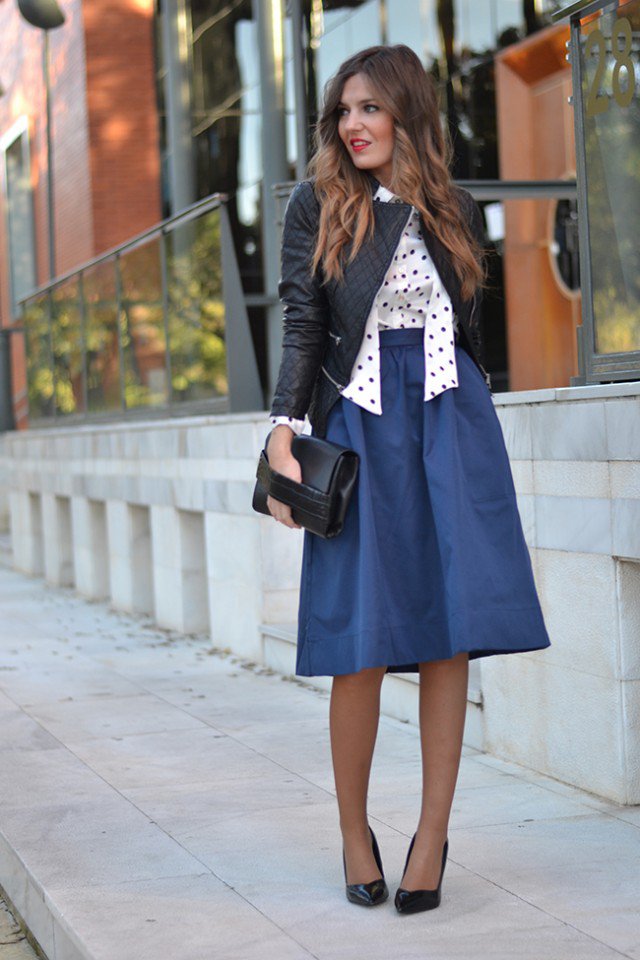 One thing you deserve to own every fall is the black leather jacket. You can wear a mid-length skirt if you would like to get a more feminine look.
Navy Blue Blazer Outfit for Fall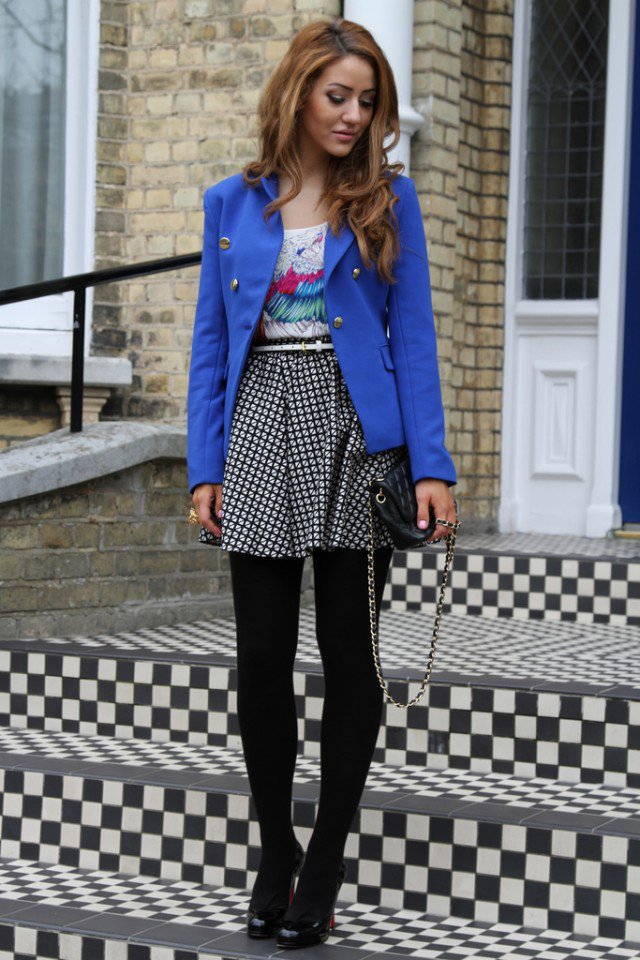 Apart from the leather jackets, blazers are quite popular among office ladies. How to wear them in a fashionable way? Put on your skirt and ankle boots, and you can get the best office attire for this season.
Ripped Jeans with Over-Size Coat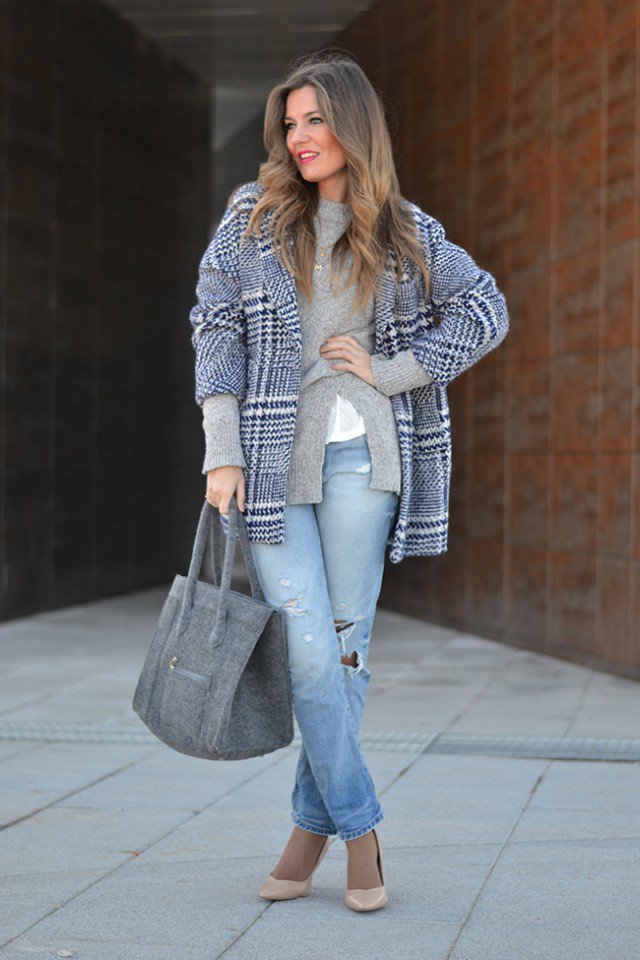 Baggy ripped jeans are more casual-chic and you just need to layer a over-size coat in case you feel chilly in the early morning or  at the late nights.
Pretty Pastel Coat Outfit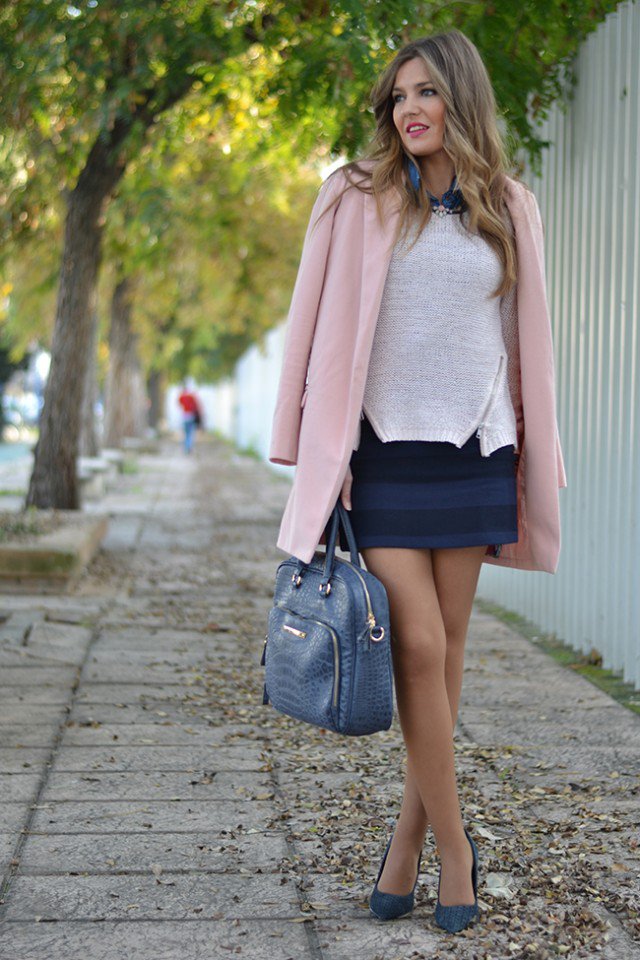 Pastel coats are still eye-catching views in the lifeless fall season. For a chic look, you should just wear a dress inside of the coat! It's better than pants.
Chic Way to Wear A Cardigan Coat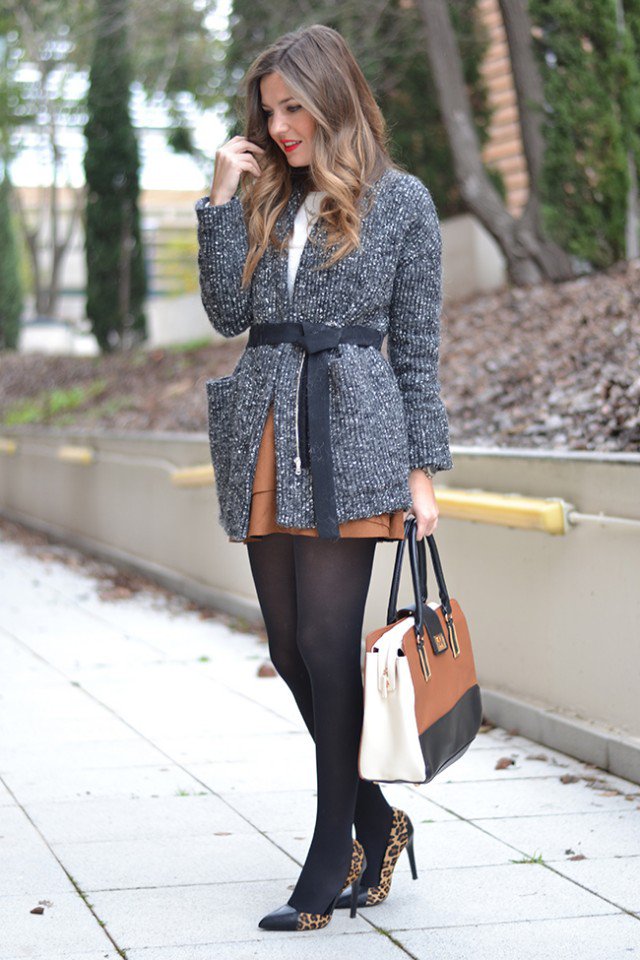 If you like darker outfits, this may suit you. Don't forget to wear a pair of leopard printed pumps to upgrade the overall look.
Printed Skirt Outift for Fall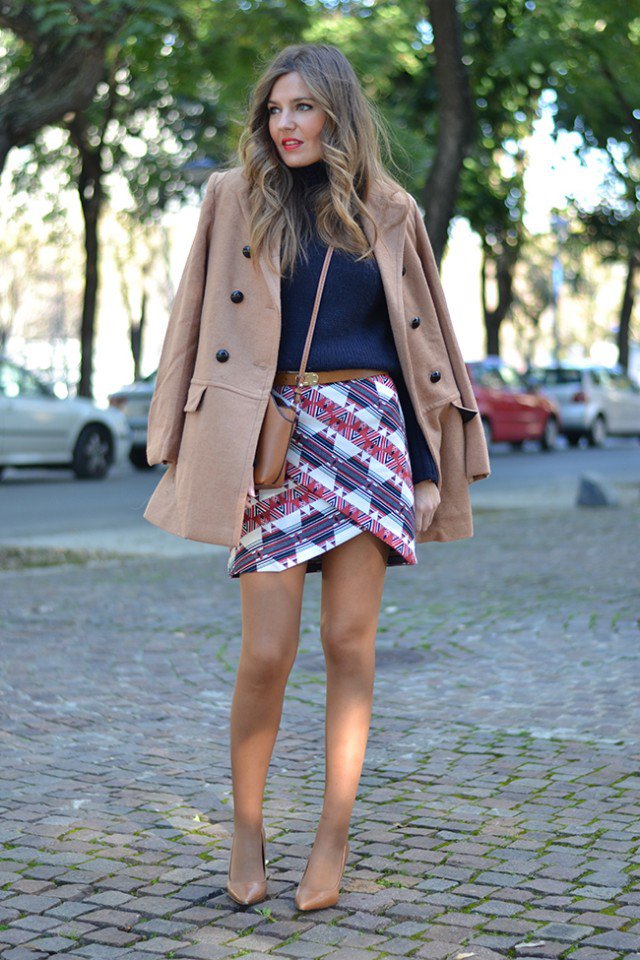 Or you can wear a short skirt to match your sweater! The camel coat nude-colored shoes work well to draw viewers' attention to the sweater and skirt! So great!
Cheerful Fall Outfit Idea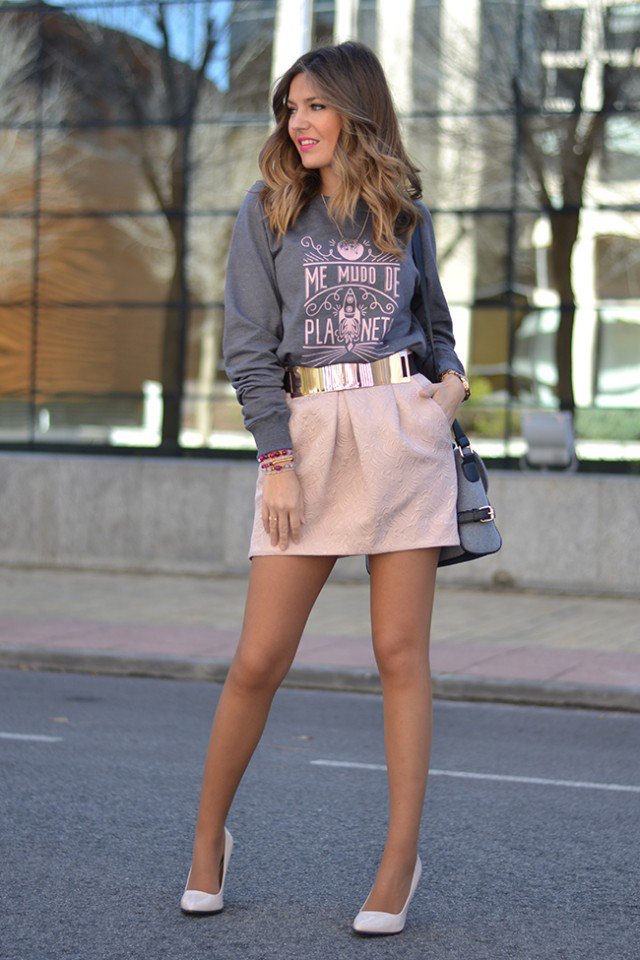 On sunny and warmer days, such a cheerful outfit may bring you a better feeling about the world! You can put on your little pumps or sneakers and hang out with your best friends to enjoy this nice day.
Casual-Chic Ripped Jeans Outfit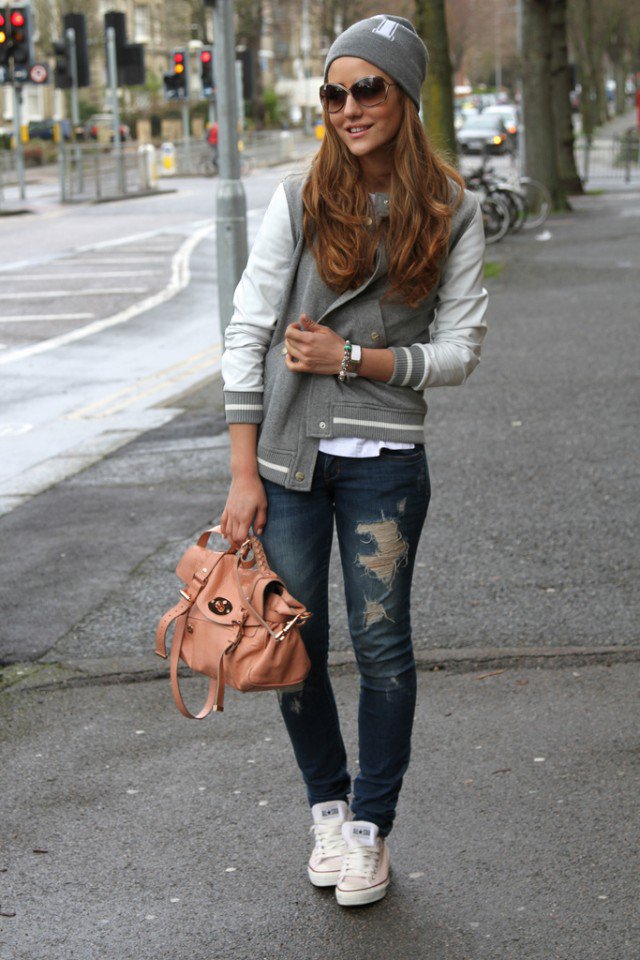 This outfit idea is great to copy when you go shopping with your friends. It's causl and comfortable to wear for the leisure time.
Baby Blue Sweater with Black Shorts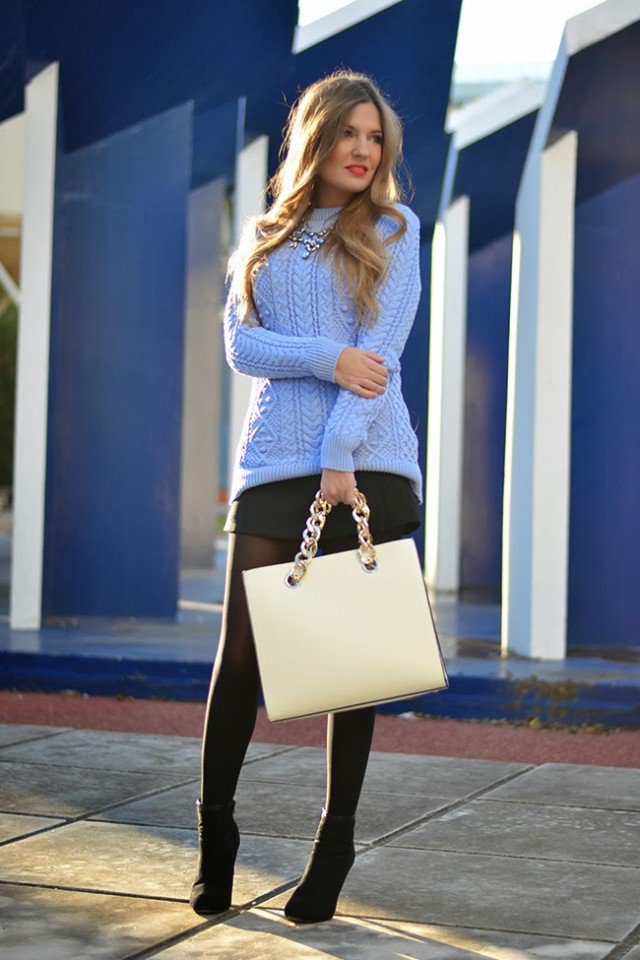 Personally speaking, I don't like this outfit so much! I put it here because I love the baby blue sweater! I decide get some colorful sweater this fall. What about you?