If you're already rocking a bob and you're ready to transition into another kind of look, how about a lob? Yeah, it's pretty much a play on words. A lob means that it's a "long bob" and a great way to keep your original look while maintaining a bit more length to it.
If that's exactly the kind of hairstyle that you're looking for, here are some different ways to make the lob style work for you…
1. Long A-line platinum long bob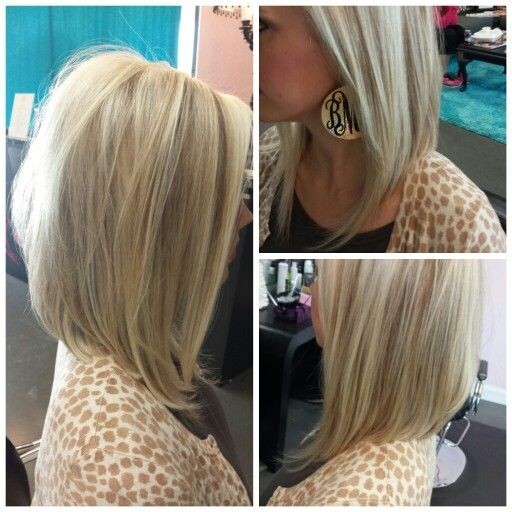 Did you already have an A-line bob but it was one that was closer to your chin before? Here's one way that you can still keep the look without changing the actual angle of the cut. Just allow your A-line to grow out and ask your stylist to continue to trim the ends. If they do, you should end up with a look that's very similar to this one.
2. Wavy caramel and light blonde ombre long bob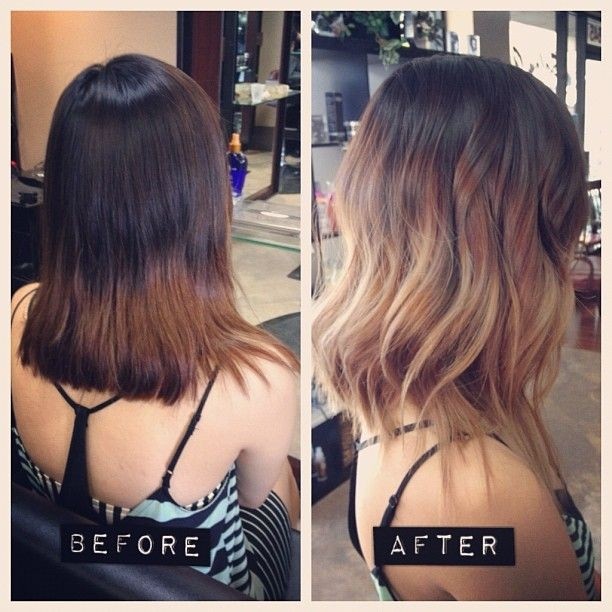 Soft wavy lob hairstyle for women. They really are awesome, right? We're assuming that in the before here, her hair was probably blown straight with a hairdryer. But based on how loose and "fancy free" her waves are in the after shot, it's probably air-dried. As far as the ombre color, the combo that's added to her natural hair is caramel and light blonde. Lovely. And you can find more wavy bob hairstyles here.
3. Light brown and blonde long bob with "messy" part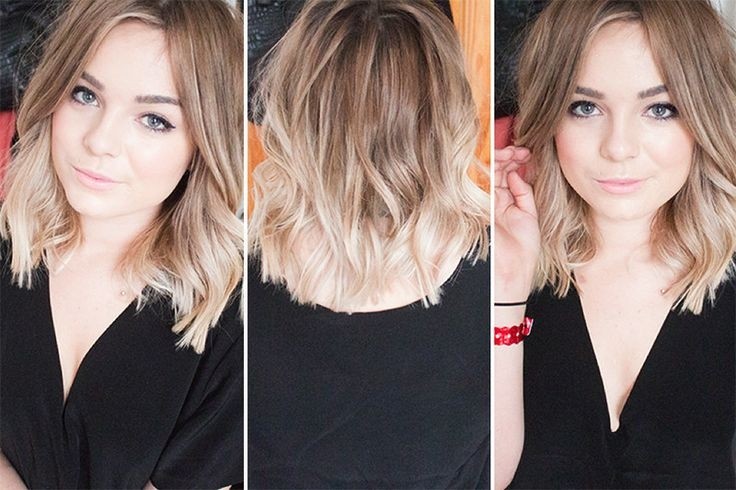 Cute messy bob hairstyle for round faces. This is actually another kind of ombre style. The colors are light brown and blonde. As far as the cut itself, it's pretty choppy with long layers. The messy part that's kind of on the side and sort of in the middle helps to complete the look.
4. Copper-colored long bob (for thick hair)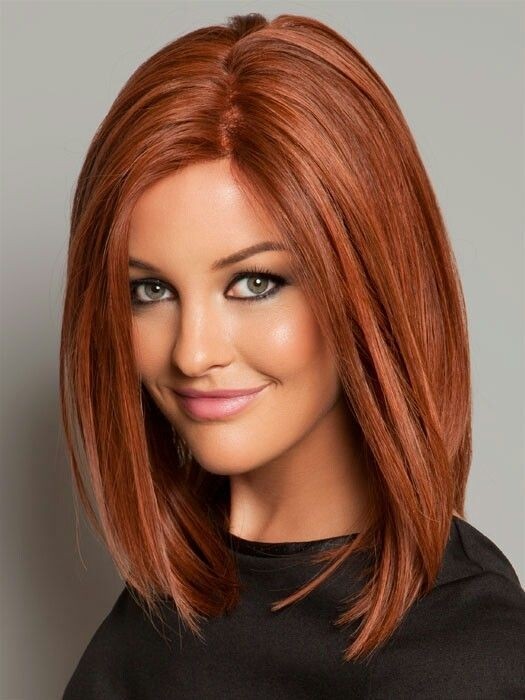 One of the absolute hottest colors going right now is copper. (Especially copper with low lights!) It's another kind of lob that looks like it was once a slightly angled bob with very little layers, though. This would be the kind of lob that works ell with or without bangs.
5. Black and light brown ombre long bob with tons of choppiness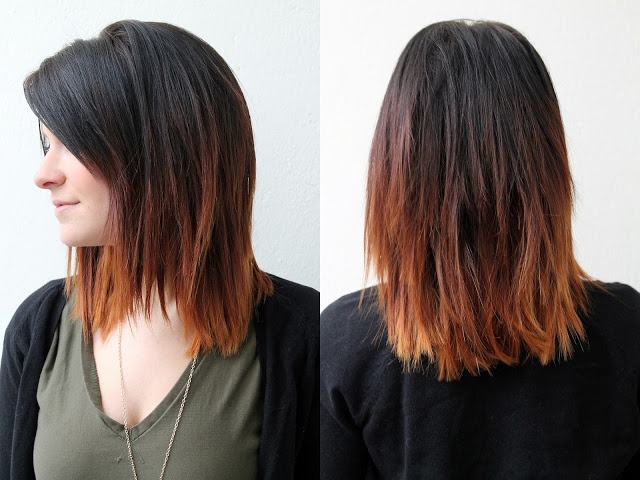 If there happened to be a "bed head" look in the mix, this would probably be it. For one thing, there is tons of choppiness. All over. From the back, it might even look as if there is some breakage but it's actually all by design. And then there's the color. It's just one more kind of ombre type of style.
6. Straight long bob for thin hair with middle part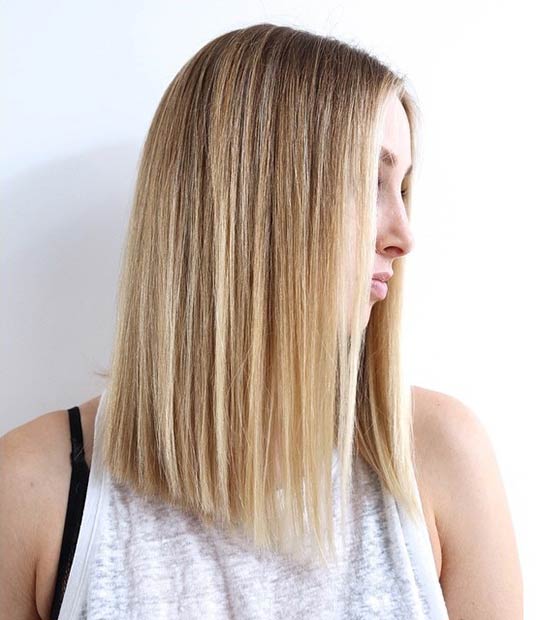 Easy daily straight bob hairstyle for shoulder length hair. If your hair is thin, smile! This particular lob has your name written all over it! This is cut at a ever so slight angle and the middle part adds lots of style, along with a modern approach. It's perfect for bone straight hair too. Check out these fabulous bob hairstyles for thin hair here.
7. Long bob with loose wave and platinum ends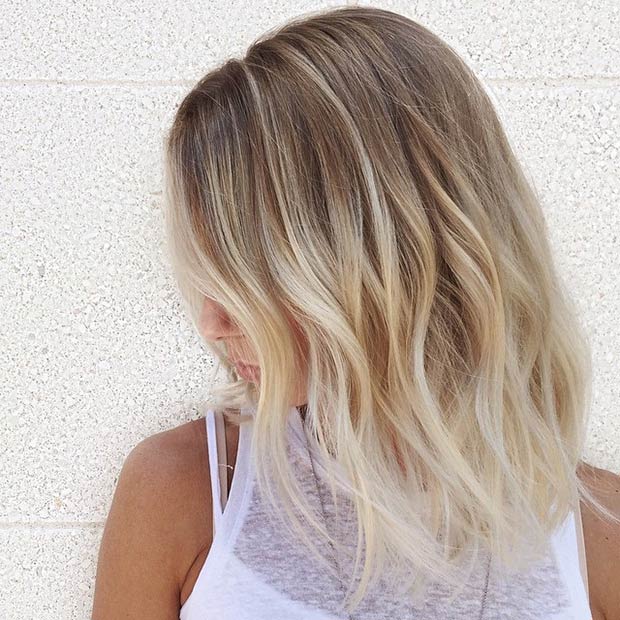 Sexy ombre wavy bob hairstyle for 2016 – And what if your hair has a wave pattern to it? Don't put any heating tools to it. Let the natural air and sun be all of the styling that you need! If you do, we're pretty sure that you'll end up with very similar results as this. One of the best parts about it, to us anyway, are the platinum blonde ends. It looks so natural (the signs of an awesome color stylist).
8. A-line super wavy long bob with loose braid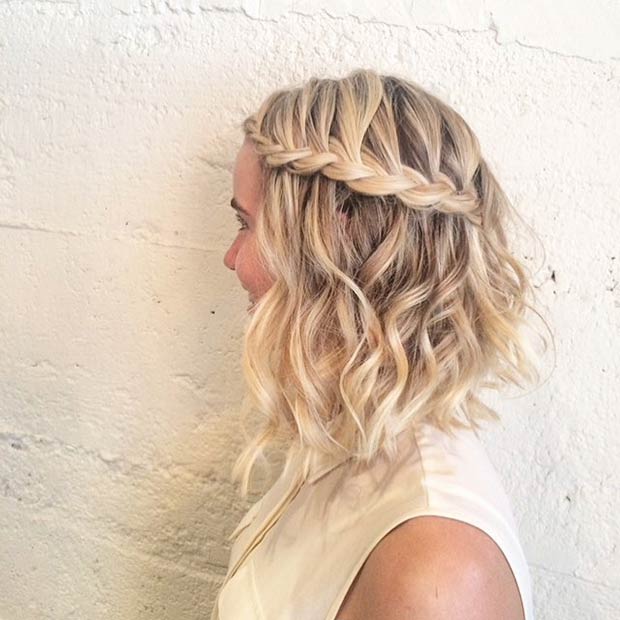 If your hair is wavy to the point of being almost curly, that actually works to your advantage when you want to grow out your bob. That's because it's hard to see where your layers start and stop. Here's what an A-line bob looks like with a really wavy curl pattern. And a braid in the front (if you want to grow out any bangs that you have too). You may love these braided hairstyles for short hair, check it out here.
9. Bone straight blonde ombre long bob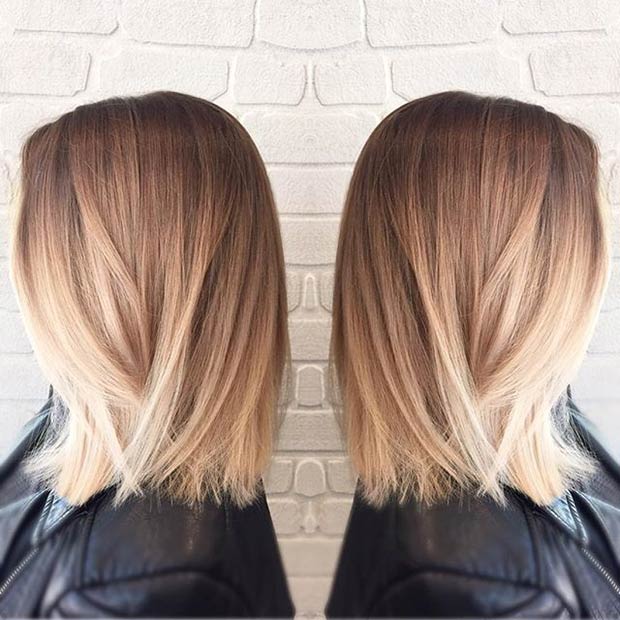 The reason why we're showing you a lot of ombres is because it's such a huge color technique that continues to be a favorite by stylists and clients alike. In this case, it's uber blonde throughout most of it. A color that's really nice with thick hair that's real straight and has very few layers to it.
10. Loose waves long bob with platinum and light brown streaks in front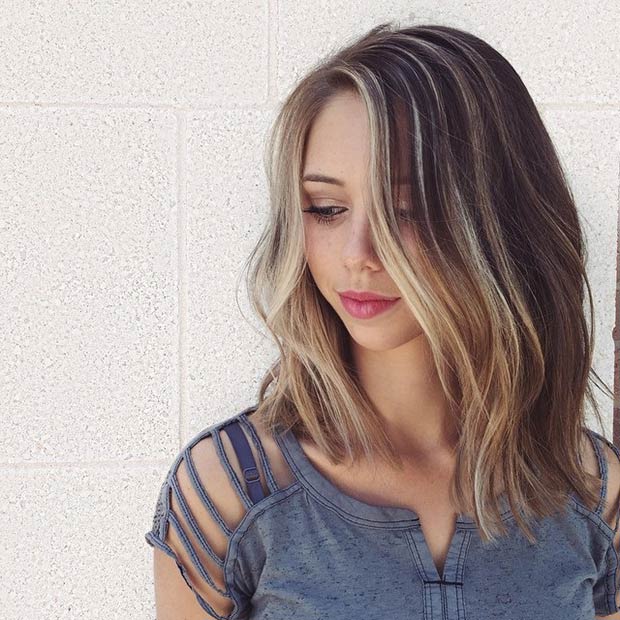 This lob is a very…easy-going hairstyle. No muss, no fuss. But if you look really closely, you'll see that one side of the front of her hair is longer than the other. And what makes it stand out is the platinum and light brown streaks that run all throughout it. Especially in the front.
11. Buttery blonde long bob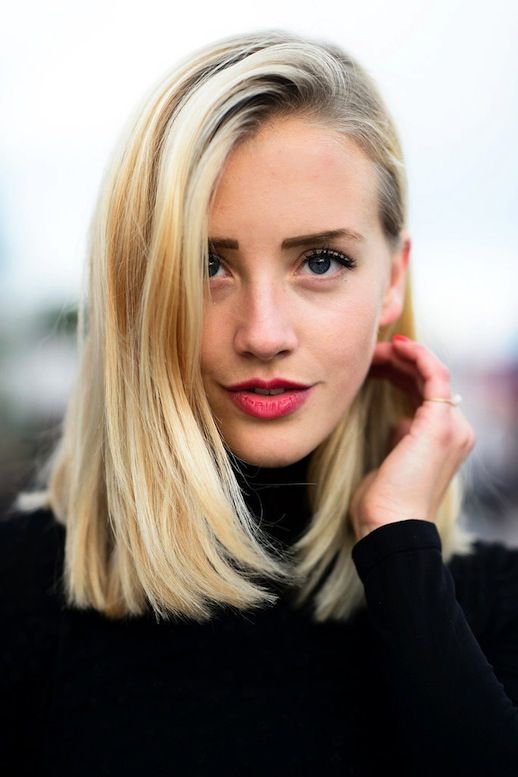 Whew! Something about this particular lob sends chills throughout is. That buttery blonde color (a HUGE color trend right now) is so rich. Plus, her hair looks really healthy too. You can see this as a bob, a lob or even a really long hairdo. And you'll look old-school glam with any of these lengths.
12. "Messy" long bob with a middle part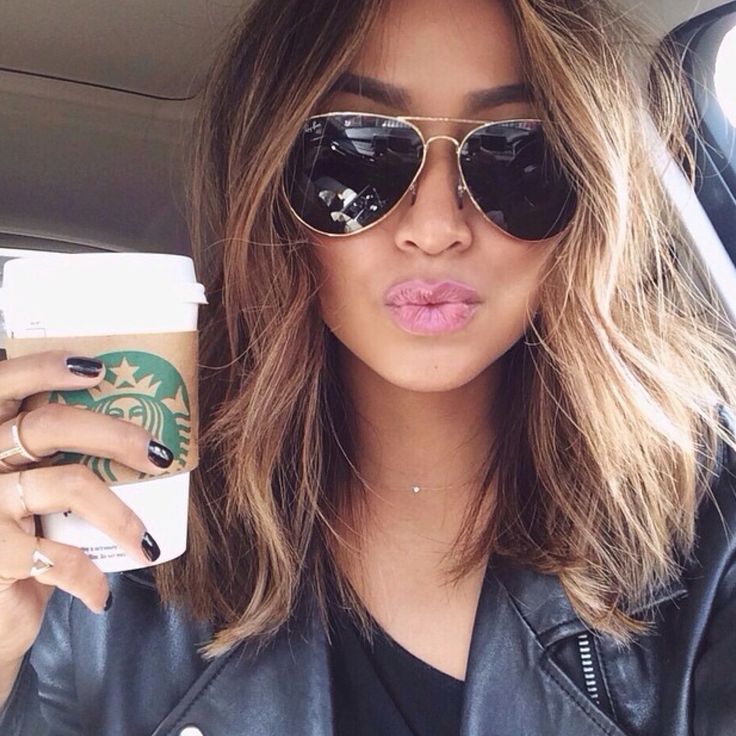 What makes this bob "messy" are a couple of things. One is the fact that there are long razor layers going all throughout it. Secondly, it appears as if she tousled it rather than used a comb or brush. It's living proof that you don't have to spend hours in front of the mirror in the morning. With the right kind of lob, you can almost literally get up and go!
13. Platinum long bob (with natural roots)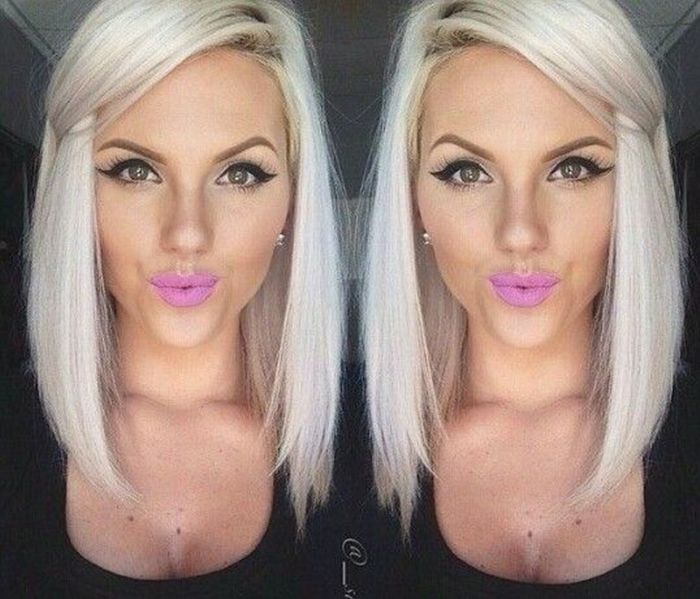 This platinum lob is one of the sexiest looks we've ever seen and we're willing to bet some pretty good money that if Marilyn Monroe were alive (and young) today, she would have something pretty similar to this. A little bit of an A-line gives it movement. The natural roots at the top help it to look less "wig" and more "real".
14. Deep chocolate angled long bob with side part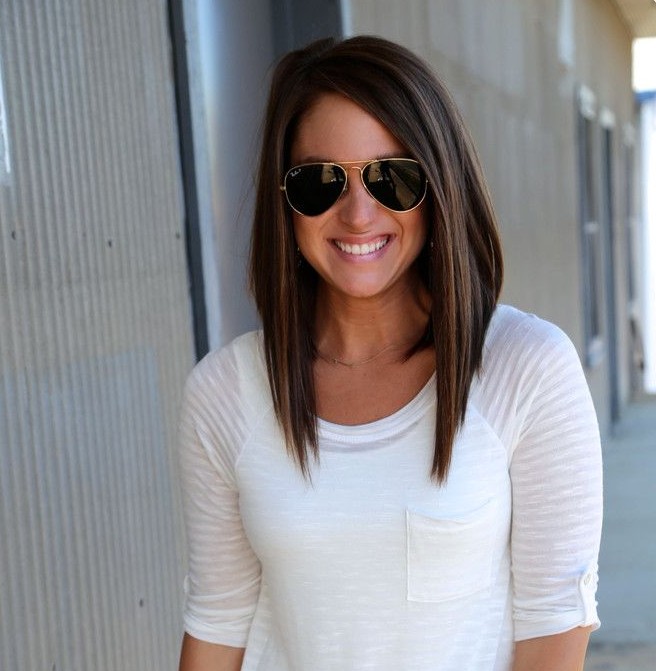 Inverted bob hairstyle for shoulder length hair. If you were to "compare and contrast" the hairstyle before this one, you would probably notice that it's basically the same hairdo. It's just that this one is deep chocolate/brunette rather than platinum blonde. And look there: this model is just as sexy as the other. (Who says blondes have more fun?!?)
15. Long angled bob with layer of darker color in the back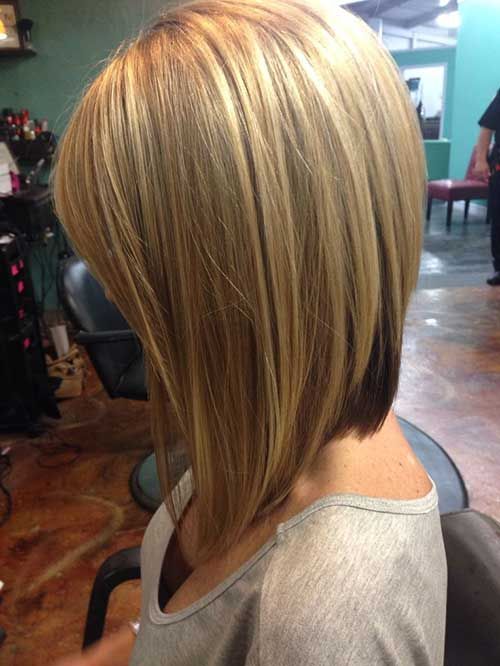 Is your hair really thick? How about a lob like this one? And what if it's a variation of a bob that you had with a darker tapered back? Don't lose the color contrast. Ask your stylist to continue to only color the "top" of your hair and to leave the bottom dark. It's a nice "surprise" when you decide to wear updos or half updos.
16. Platinum long lob with brown streaks, a side part and graduated back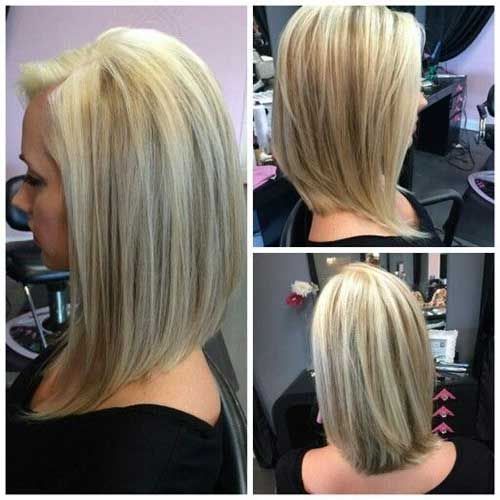 Here's what blonde and brown highlights can do for your lob. The long layers are beautiful and the side part makes it possible to keep your hair out of your face if you'd prefer to not have any bangs.
17. Straight long bob with long layers (for thick hair)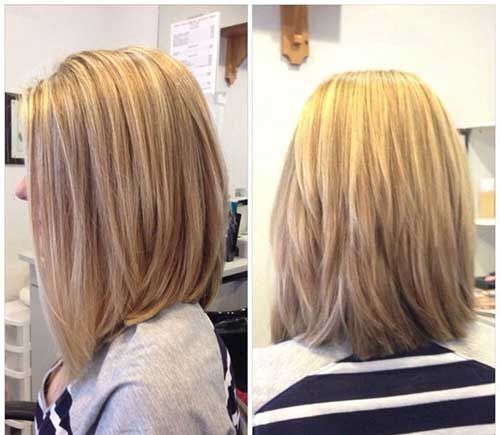 Here's one more lob that's best with thick hair. Lots of layers run throughout it as you can see. And this also has an angle. In fact, if you look at the back, you can clearly see that it was once a drastically short bob that has a few inches of length to it. Just one more example that "hair transitions" doesn't have to be awkward. It can be quite an attractive experience.
Subscribe and get more latest fashion trends on stylesweekly.com