Here at Styles Weekly, we're all about celebrating the latest styles to hit the fashion scene with a bang. Whether that's makeup, nails, beauty or our personal favourite, hair, we like to keep our finger on the fashion pulse. We strive to always bring you the hot trends from the fashion industry – and can safely say this hairstyle is in.  The half up half down bun is something which has grown tenfold in popularity, and we absolutely adore this smart casual hairstyle. Here's 10 ways to style a half up half down bun – or the 'hun' to keep your hair on trend and off your face at the very same time.
Long Hair with Twisted Bun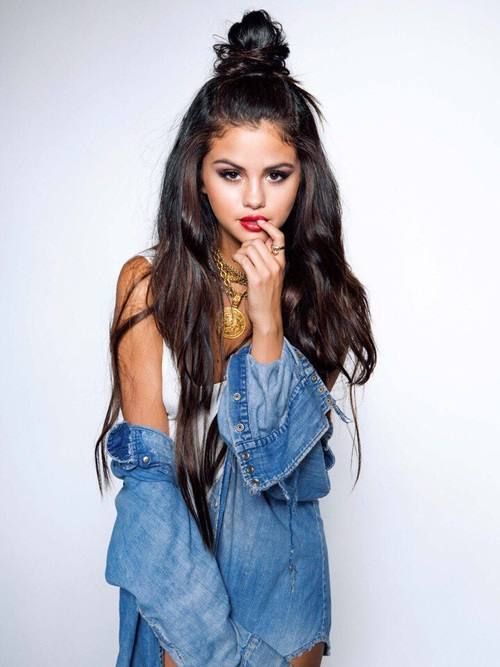 Selena Gomez looks gorgeous here, working her half up half down bun as the perfect contrast to her lovely long locks. To recreate this look with your long hair, add loose curls throughout the length of your hair. Pull the front section of hair back off the face, and loop the hair around to create a super cute twisty bun. Secure in place to finish.
Dainty Half Up Half Down Bun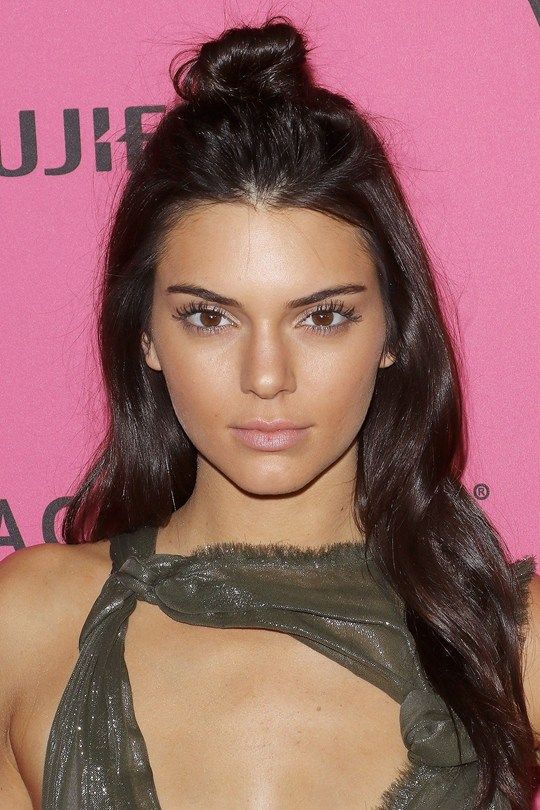 Your bun certainly doesn't need to be big to be beautiful, as the wonderful Kendall Jenner proves above. To steal Kendall's style, work lovely loose waves throughout your hair. Take a thin section from the front and lightly pull backwards from the face. Twist into a tight little bun and secure for a cute look that is red carpet ready too.
Messy Ombre Bun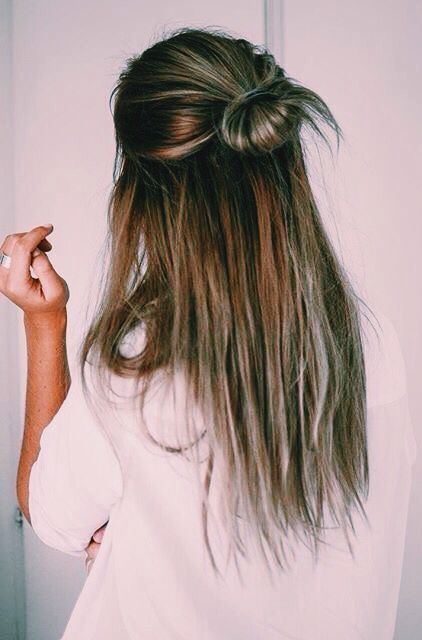 If you've got lovely ombre hair, sometimes the best way to show it off is by working a half up half down bun hairstyle into the mix. Take your hair from a light brown to a beautiful blonde using the ombre transition. Keep your hair straight, but lightly tousle it for effect. Work the top section of hair back into a bun and loosely secure for this casual finish.
Blonde Space Buns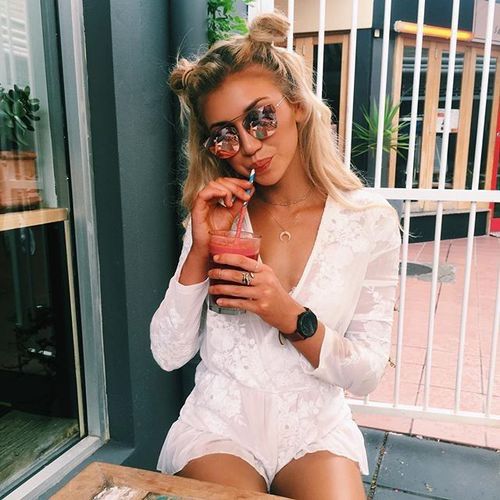 Why have one bun when you can have two? This unique hairstyle is called space buns, and we think the look is just to die for. Loosely curl your hair from top to bottom, and work a centre parting into the style. Separate your hair into two sections at the front. Twist them independently into one bun on either side of the head, like adorable Mickey Mouse ears!
Knotted Bun with Loose Waves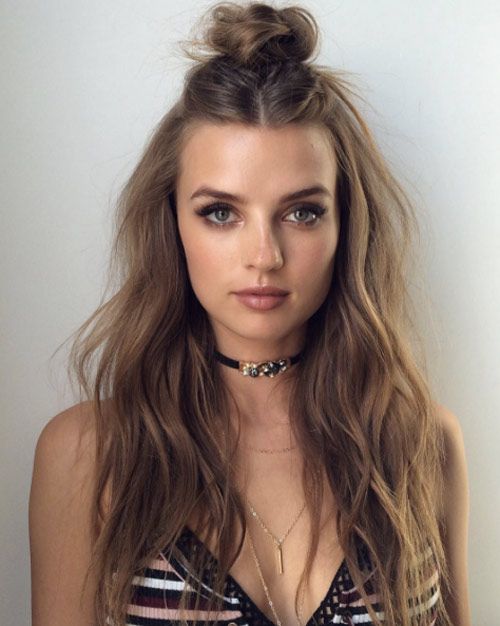 This just might be our favourite half up half down bun look from this collection. If you have long hair, this will be perfect for you! Add lots of lovely loose waves throughout your hair. Use your fingers to tousle for a fantastic finish. Drag the front of the hair backwards to create a section at the top of the head. Twist it to create a knotted effect for the bun.
Brown to Blonde Balayage Bun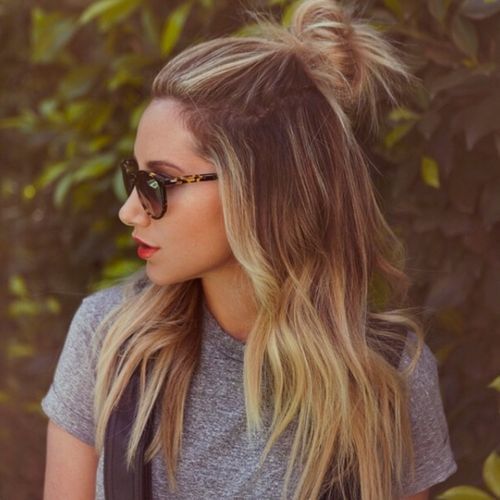 Balayage is a super trendy hair effect for the moment – so why not combine it with a half up half down bun for a double fashion statement? Dye the ends of your lovely brown hair a bright blonde. From half way down the hair, add loose curls throughout the ends. Pull the fringe and top section of hair back and fasten into a messy bun at the back of the head.
White Blonde Bun with Ringlets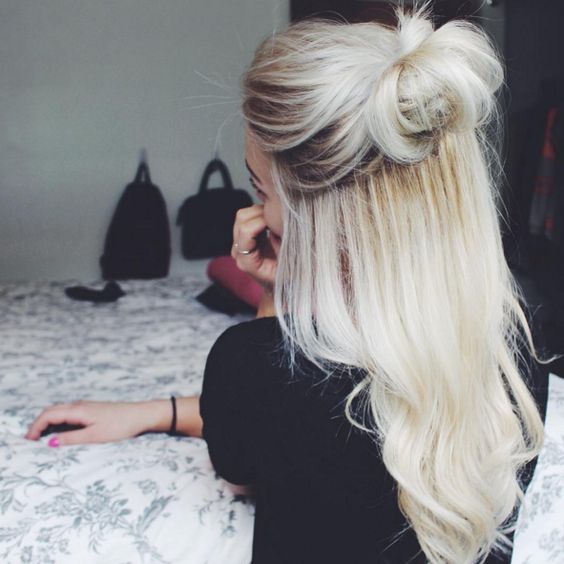 Sometimes the half up half down bun style is best suited to buns which are tight kit and smooth. Sometimes they look better when deliberately scruffy – like this lady proves. Opt for a beautiful white blonde shade all over your locks. Add ringlets to the ends of the hair. Work the entire top section of hair backwards and loosely secure in a messy half bun.
Bob with Half Up Half Down Bun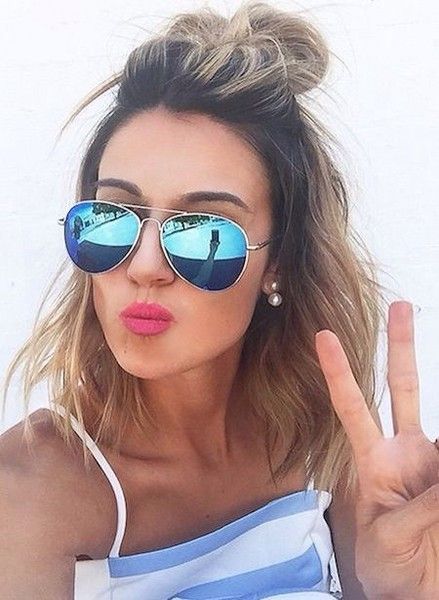 Half up half down buns aren't strictly reserved for long hair. They look equally special when on a bob style haircut too! Make sure you add lots of volume into your bob. Whether that's curling or tousling. Add volume to the fringe section and sweep it backwards. Loop the top section of hair through the hair tie to create this cute half up half down bun look.
Twisted Bright Blonde Bun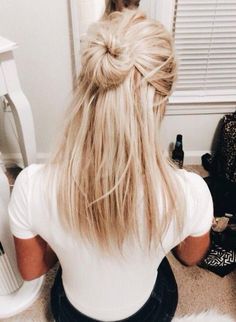 In what might be the most casual hairstyle of the bunch, we just cannot get enough of this gorgeous blonde style. If your hair is a beautiful shade of blonde, then keep your hair straight and sleek. With the top section of hair, section it off and bring it backwards. Twist the section round and round and then fasten so you get this adorable twisted bun look.
Tousled Hair with High Bun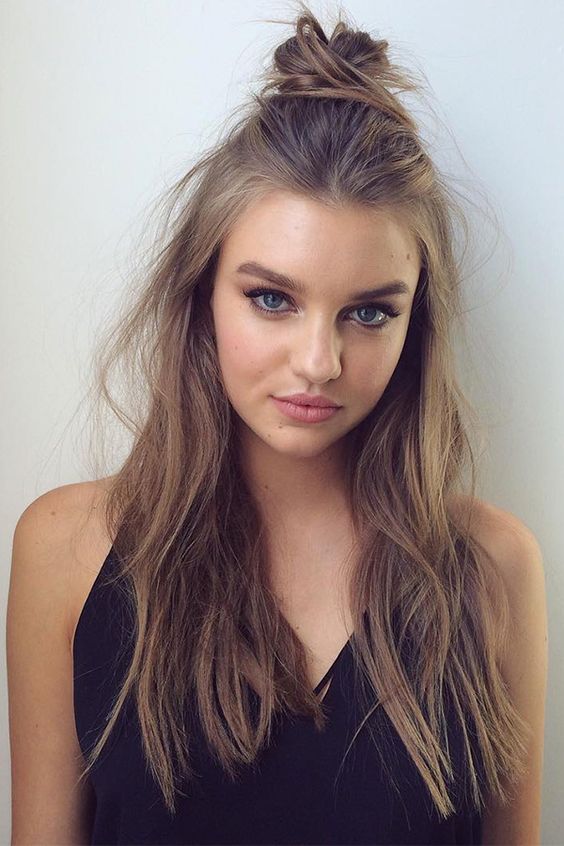 Tousles truly bring a style to life – which is why we just adore this look. Recreate by keeping your long locks tousled from top to bottom. Then, scrape the front section of hair backwards and section the hair off. Twist the hair around so that you have a bun shape and fasten it right on top of the head for the perfect end result.
Half up half down buns are not only super fashionable, but incredibly practical too because they help scoop your hair off your face. Will you be trying this look for yourself?