22 Amazing Bob Hairstyles for Women (Medium & Short Hair)
The saying goes that blondes have more fun – and though we adore all hair colours here at Styles Weekly, we must admit that we are rather partial to a gorgeous shock of blonde hair. This summer it's all about the crop – and we think that blonde girls look particularly great with short hair to really show off that stunning and vibrant colour. If you're thinking about going for a bob design then let this collection of gorgeous blonde bobs inspire you!
Dark to Light Blonde Natural Bob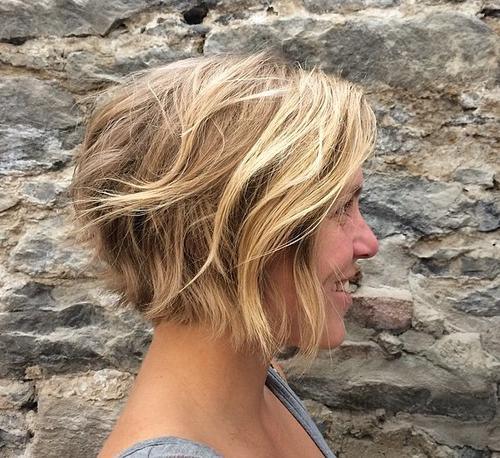 Chic short haircut for summer! This gorgeous natural looking bob is a spectrum of beautiful blonde tones and we absolutely love it! From a darker blonde at the back of the head where the hair is cropped quite close to the head, to a gorgeous light blonde around the fringe where the hair is longer to frame the face. It looks incredibly sun-kissed and is such a unique finish!
Gorgeous Bouncy Bob with Flicked Ends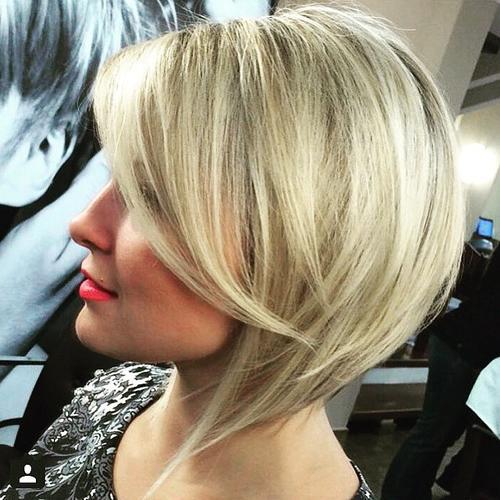 This fantastic bouncy bob with flicked ends is absolutely beautiful and oh so glamorous – it looks absolutely perfect for a wedding or a night out! This bob has lots of body and is finished in a super sleek style, with gorgeous flicked ends to create a sharp edged shape. This bob is a beautiful light blonde colour but we think any colour would suit this look.
Blonde Ombre Waves for Medium Hair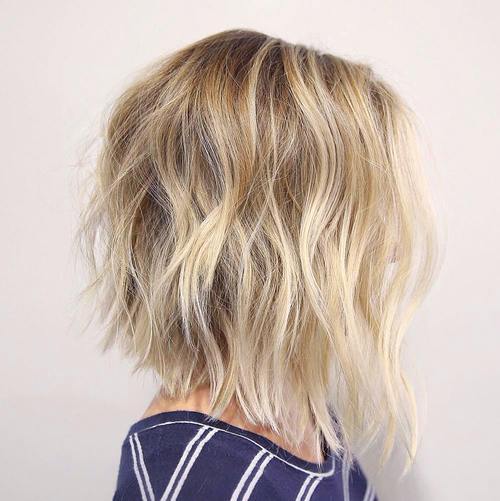 This beautiful blonde ombre bob is incredibly cool and oh so stylish. With a stunning caramel blonde at the root and then an ombre transition to a lovely light blonde at the ends. This lady has very loosely curled her hair to add a fabulous tousled effect throughout the hair. It has asymmetrical ends and goes from short to long around the face.
White Blonde Asymmetrical Bob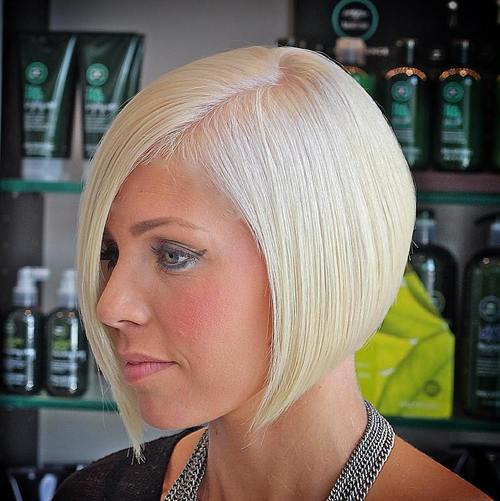 This stunning white blonde asymmetrical bob is designed to attract all of the attention – which is exactly what you want from your new hair do isn't it? This bob has an asymmetrical line which finishes shorter at the back of the head, and this lady has gone for a smooth and sleek look which we just adore. This white blonde look is so striking!
Medium Hairstyles: Auburn and Blonde Barrel Curls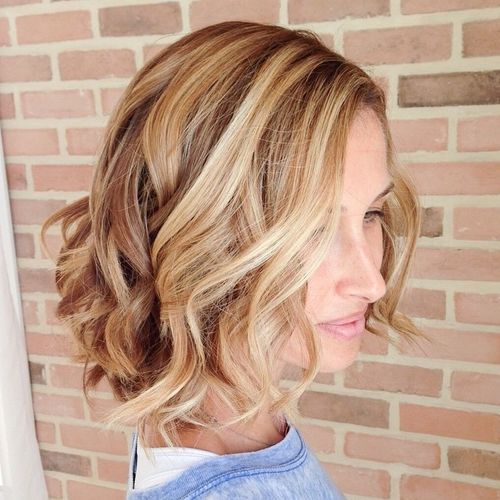 Best Hairstyles for Women over 30: This stunning look combines a gorgeous range of auburn and blonde tones in a fabulous and bouncy cut. Finished with a range of gorgeous blonde tones and gorgeous, big barrel curls, this hair is designed to wow – and we think that it certainly achieves this. This hair looks stunning with these bold curls but we think it would look equally special straight.
Blonde Bob with Red Streaks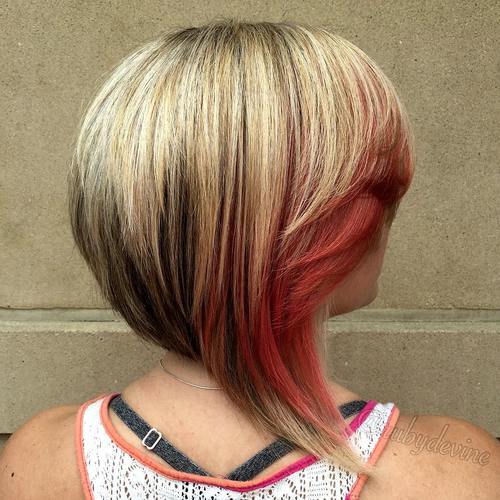 This beautiful blonde bob is finished to perfection with a vibrant pop of red under the fringe, which shows up beautifully thanks to the shorter top layer of this bob. There's a gorgeous fringe which frames the face and the longer strands around the ears create a fabulous and unique shape. This fabulous cut is full of stunning colours, don't you think?
Medium Hairstyle Ideas: Long Blonde Bob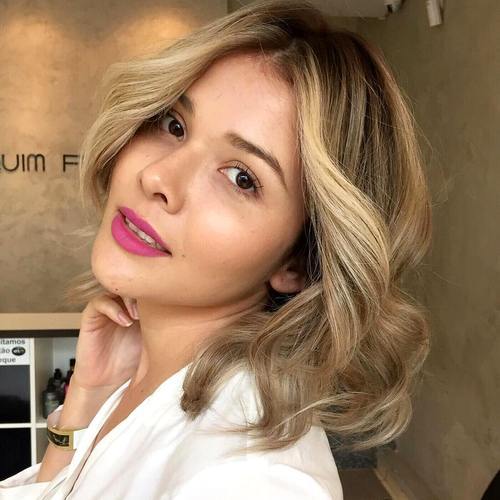 This wonderful long bob is gorgeous and glamorous – don't you agree? With a gorgeous centre parting and a stunning selection of blonde highlights, this wonderful bob is very versatile indeed. Finished with loose curls to add body and shape, this long blonde bob (lob) is truly beautiful; the ideal look for a night out or an event!
Silver Blonde Choppy Bob
This silver blonde choppy bob is so incredibly on trend, it's absolutely beautiful! This gorgeous bob is a striking silver toned blonde colour that is light, bright and fabulous. We love the short and choppy layers which create so much texture, and this wonderful bob is longer towards the front of the head to frame the face to perfection!
Black to Blonde Bob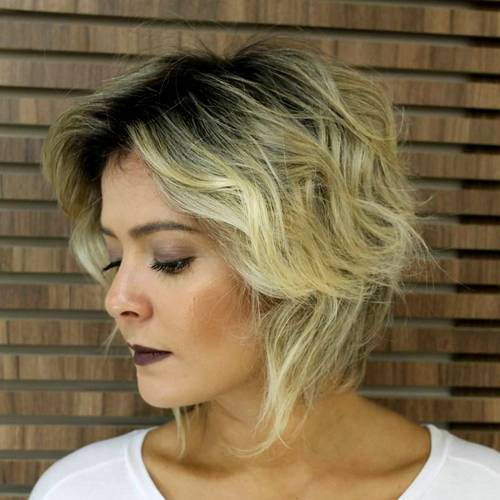 This chic ombre bob hairstyle is a beautiful blonde bob with a difference! From a striking black root with a gorgeous ombre effect to a vibrant bleached blonde finish. This incredibly stylish lady has gone for a loose curl which adds body and texture to the cut, accentuating the stunning short layers cut throughout. We adore this colour combination!
Honey Blonde Bob with Blunt Fringe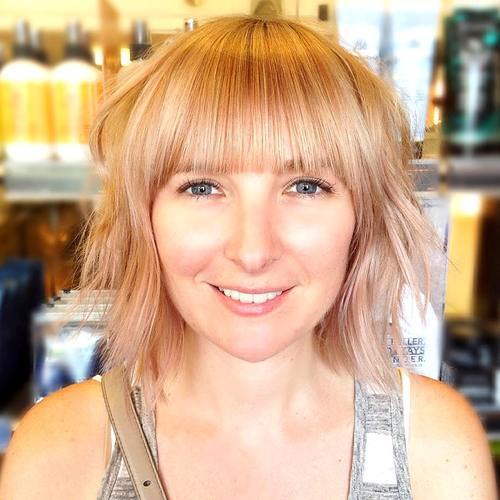 This stunning honey blonde bob is a beautiful warm-toned blonde bob that we think you'll agree looks simply gorgeous. The cut is short and choppy, finished with a straight fringe to highlight this lady's fabulous blue eyes and facial features. She's added a slight loose wave to the cut to bring the layers to life and we just love it!
Blonde Bob with Flicked Ends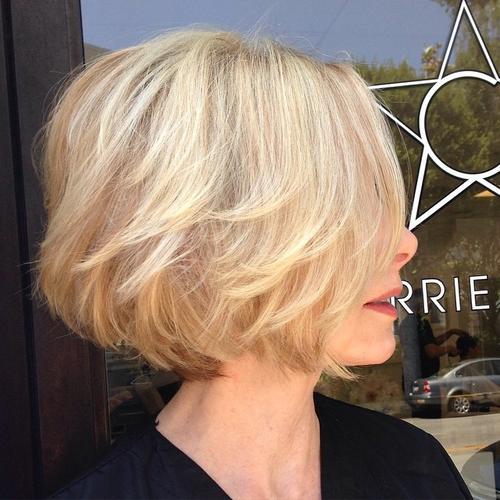 If you've got a shock of gorgeous blonde hair like this lady, then we encourage you to go for the crop – just like she has! This mid-length bob is finished with a gorgeous flicked effect on the ends which highlights this stunning cut, full of beautiful shorter layers throughout. We love the lighter blonde layers on the top!
Silver Blonde Bob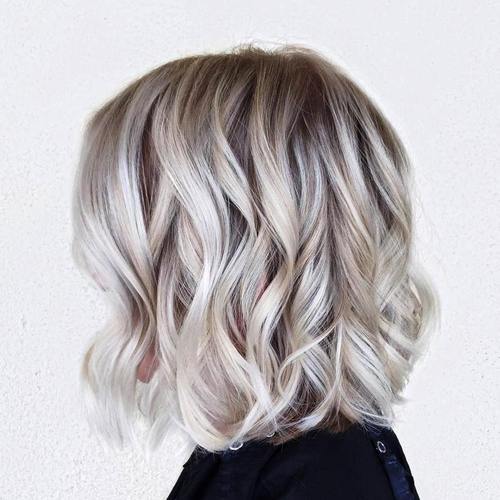 This stunning silver blonde bob is a fantastic combination of two hair trends; ashy and silver blonde tones and of course an effortlessly stylish bob! This fabulous lady has gone for a straight cut bob where all of the ends are the same length, and she's emphasised that beautiful silver-blonde colour with loose curls all around the head.
Centre Parting Blonde Bob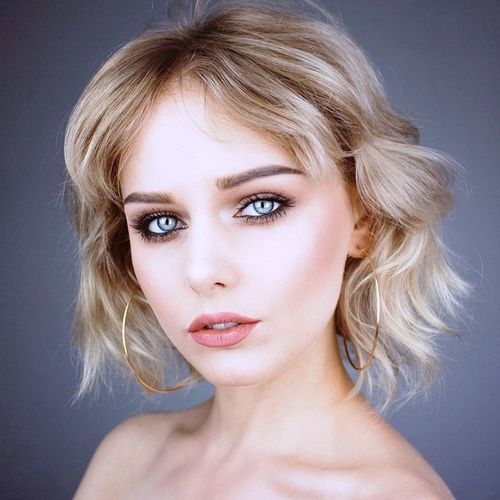 This gorgeous centre parting blonde bob is relaxed and striking at the very same time – which makes it the ideal look for every day. This lady has finished her beautiful look with a short fringe and a loose wave – showing off this stunning cut full of shorter layers. We think this gorgeous look would be equally great straight too!
Cropped, Curly & White Blonde Bob Hairstyle for Fine Hair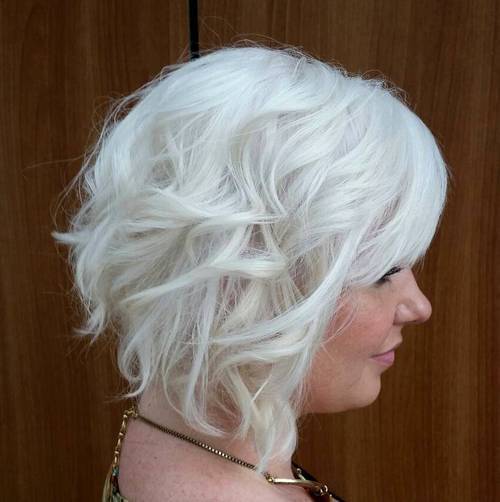 This stunning bob is just perfect for those with blonde hair – we particularly love this white blonde look which is so vibrant and quite striking! This lovely lady has gone for a unique style with longer strands towards the front of the head and with shorter hair at the back of the head. It's finished off with a fringe to frame the face – stunning.
Peach and Blonde Bob
This stunning cut is perfect for those who want to go for a unique and vibrant cut that is guaranteed to attract attention! This phenomenal cut is finished with straight and sleek edges and a blunt fringe that shows off this lady's beautiful facial features. Her blonde hair is highlighted with peach streaks to embrace the pastel trend and we just love it.
Sloped, Sleek Angled Bob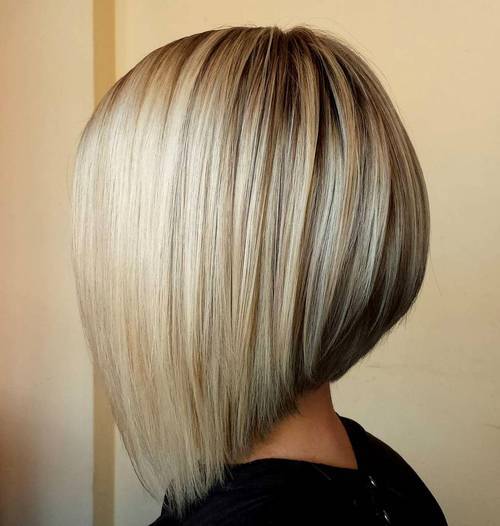 This blonde bob is incredibly sleek and has a truly sophisticated and classy finish. In a beautiful ash blonde finish, this crop has a stunning sloped look which is longer at the front and shorter at the back, offering a gorgeous and striking look. This lady has highlighted her cut with a stunning straight look, but we think some curls would be fabulous too.
Tousled White Blonde Locks – Chin Length Soft Wavy Bob Cut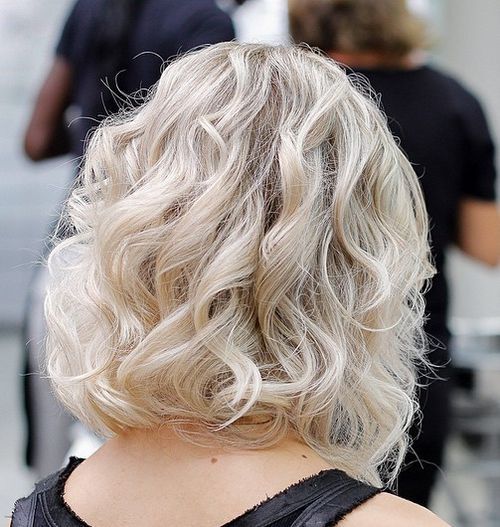 If you're looking for a bob which is perfect for taking you from day to night, then this picture will be the perfect inspiration for you! This beautiful light blonde bob is cropped just above the shoulders and finished in a straight line, with lots of tousled curls throughout to show off this beautiful cut. We adore this white blonde colour, don't you?
Dark Roots, Light Blonde Ends – Trendy Balayage Bob Hairstyle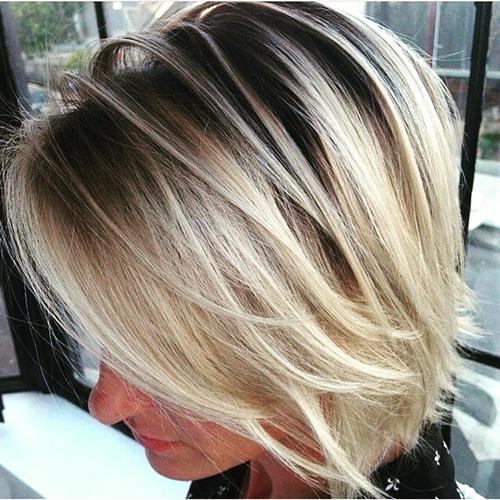 This stunning and sweeping cut comprises of a range of gorgeous hair colours which creates a beautiful finish. With rich and dark brown roots, this lovely straight bob then has an ombre effect into a gorgeous bleached blonde look, finishing with beautiful light ends. This lady  has gone for a relaxed and straight style to show off the stunning colour. You can find more balayage hairstyles for short hair here.
White Blonde Curly Long Bob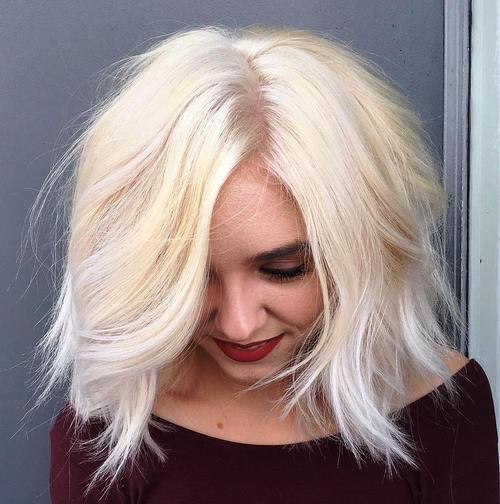 If white blonde is the look you're going for then why not lend some inspiration from this stunning lady and go for a long bob? In a traditional Marilyn Monroe style look, she's teamed her bright blonde locks with a shock of red lipstick and a loose curl – and we think she looks simply incredible. We love this curly style!
Blue and Blonde Straight Bob
This incredibly stylish girl has gone for a cool and sleek straight bob with a simple chop. The ends are all finished the same length to create an effortlessly cool straight look, and she's added an incredibly sharp fringe to frame her face. With a subtle bubblegum blue colour running through the roots and the fringe, this blonde bob is to die for!
Short and Straight Bob with Highlights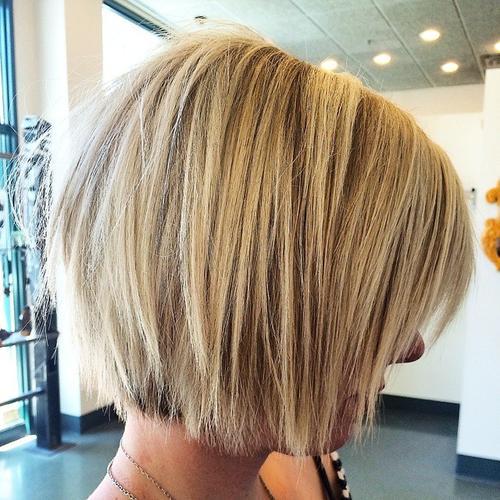 This gorgeous short and straight bob is finished with a stunning collection of highlights – from a lighter bleached blonde to a much warmer, caramel-toned blonde. The collection of colours looks simply gorgeous, especially on this short and choppy bob which is finished with a fringe. Add a few curls to this look for a fabulous night out style!
Asymmetrical Bob with Plenty of Body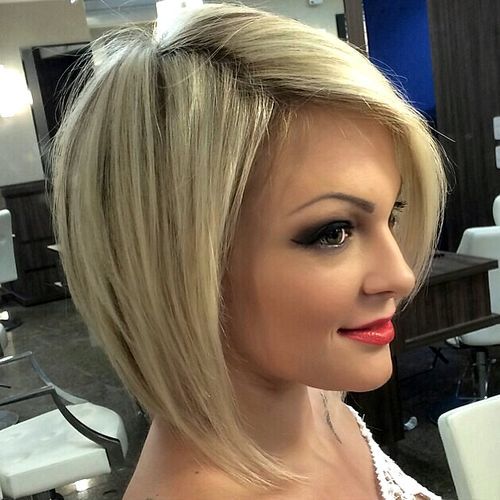 If you're looking for a blonde bob that will take you from desk to dance floor in one easy go then we think you've found it with this one! This stunning lady has chosen an incredible style that is not only classy, but super cool too. Finished with asymmetrical lengths from one side to the next, we just adore this striking finished look.
And there you have it – our collection of the best blonde bobs we could find. If you're looking to go for the crop we hope that this gallery has inspired you to opt for one of these amazing looks. Don't forget to keep checking Styles Weekly for the latest hair inspiration.