30 Hottest Brown Hairstyles to Rock This Summer
Brown is a glorious hair colour with so many different shades and depths, with so many different colours to choose from the same spectrum! If you're blessed with natural brown hair then there are so many ways to work it, or alternatively you can opt for a gorgeous brown dye to enhance your style no end! Here are some of our most favourite brown hairstyles that are just perfect for your new look this summer.
Rich Red Toned Brown Long Hair with Flicked Ends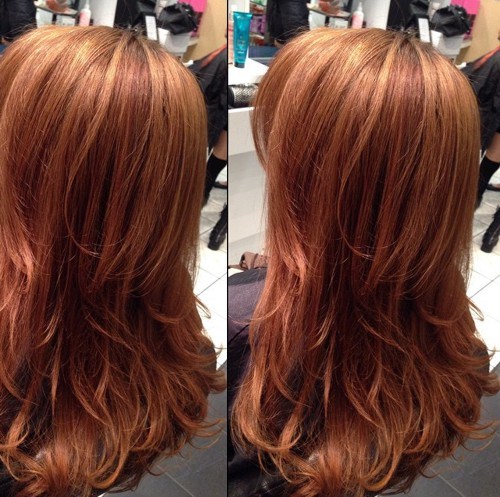 This stunning red-toned brown is fiery and fabulous, creating such a deep and warm colour which is just perfect for the summer months! This lovely long hair is straight and sleek, but finished with a flick at the ends which makes the most incredible finished section. She's cut shorter layers throughout to create a gorgeous shape and finished the look with a fringe. We adore it!
Deep and Dark Brown Balayage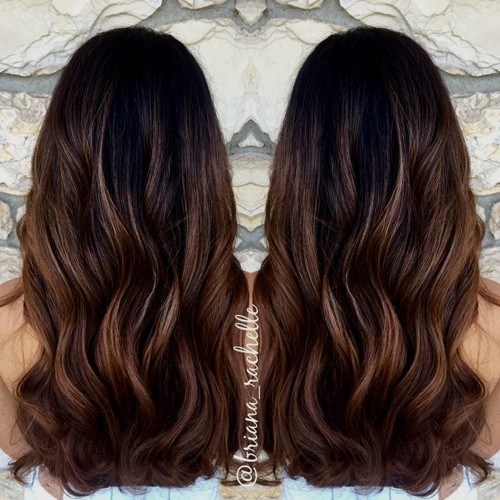 This absolutely glorious deep and dark balayage look is a stunning example of how two shades of the same colour can work seamlessly together for the most amazing look that we ever did see! This stylish lady's hair is long and curled to perfection, working from a deep shade at the root to a gorgeous chocolate tone at the tip, adding a glorious lift to the colour.
Brown to Blonde Balayage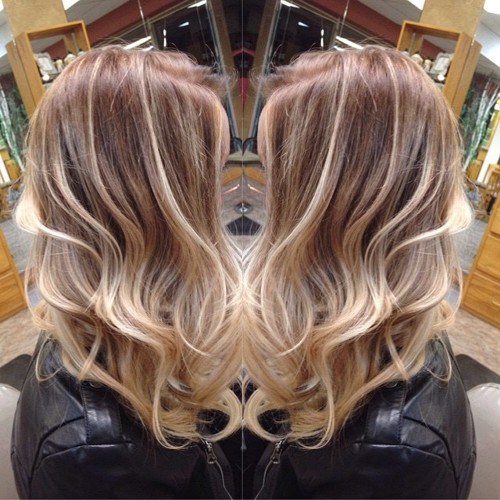 Just because brown hair is the fashion this summer, there's no need to stick with one shade; instead you can opt for a beautiful balayage trend like this incredibly fashionable lady has done, melting her beautiful brown hair into a lovely warming blonde shade at the ends. She's opted for gorgeous loose curls throughout the ends which we absolutely adore.
Glossy Chestnut Brown Ringlets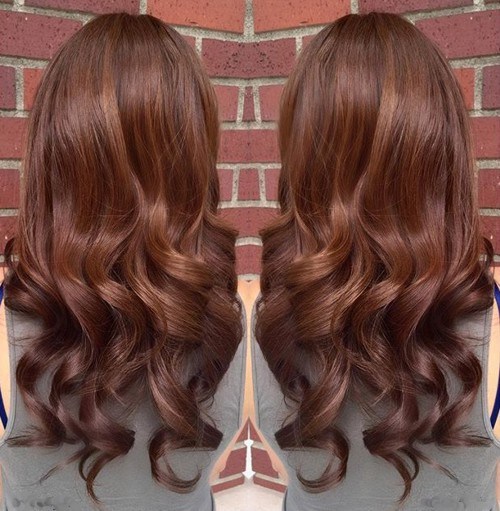 A deep and rich brown tone can be the most beautiful hair colour in the world; especially when it is as gorgeous and glossy as this lady's in the picture! Her remarkable hair starts a little lighter and finishes a little darker, but each shade could be described as chestnut brown and we just love the look. She's finished it with lovely, tight ringlets and we think this looks stunning!
Multi-Toned Brown Locks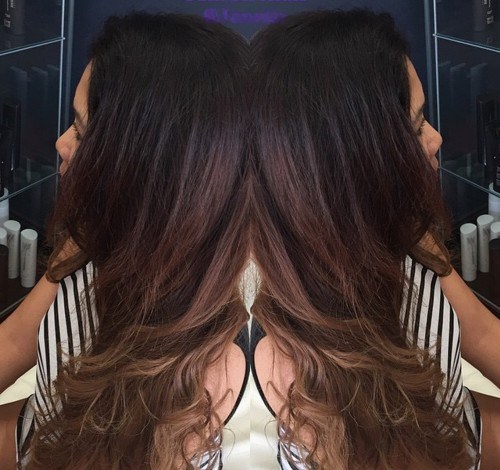 The best part about this stunning hair style is the wealth of gorgeous brown shades which feature in this stunning long hair. The roots are a beautiful and dark brown and the ends are a gorgeous light brown, and the two colours blend seamlessly into each other, touching a few different shades on the way. Finished with loose curls to show off the transition, this style is gorgeous.
Light Brown to Red Toned Brown Curls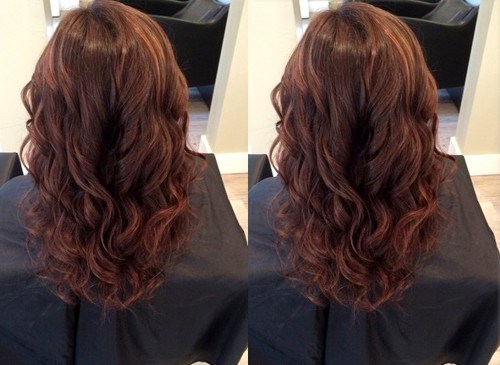 This absolutely stunning curly hair is the most gorgeous rich brown shade that we simply adore! It falls just below the shoulders in lovely ringlets which start from the root and finish at the tip, and it goes from a lovely light brown at the root to a lovely red toned brown at the bottom, creating a beautiful lightening effect towards the tips of the hair!
Glossy Dark Brown Long Bob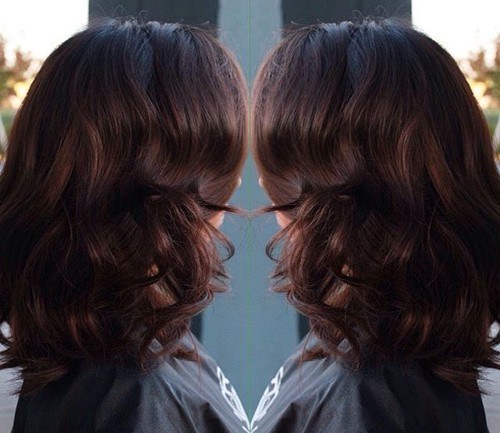 This lady has an utterly breathtaking long bob which bounces beautifully around her shoulders; not least because of the gorgeous curls she's included throughout! The curls start around ear level and fall beautifully towards the end, creating a stunning lift. The colour is a glossy, dark and rich brown tone which helps this lady stand out from the crowd.
Warm Copper-Toned Brown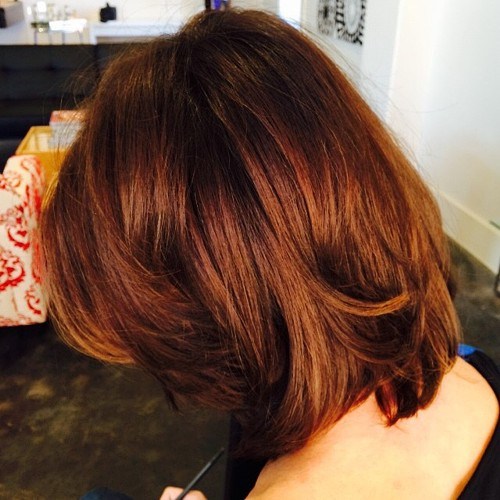 This gorgeous and warming copper-toned brown is such a beautiful and metallic hue that we just can't get enough of! This remarkably glossy shade is just perfect for welcoming the summer, and we absolutely adore it. The gorgeous colour is on a beautiful bob which finishes just below the jaw and is full of lots of lovely layers – what do you think?
Beautiful Brown Graduated Bob
This absolutely stunning and unique bob is cut to perfection – and the beautiful brown shades that work together in a lovely blend are a delightful cherry on top of an incredibly fashionable cake. Cut closely at the back of the head and graduating to a lovely longer section which falls around the jaw and is then finished with a lovely fringe section to frame the face.
Rich Brown Corkscrew Curled Bob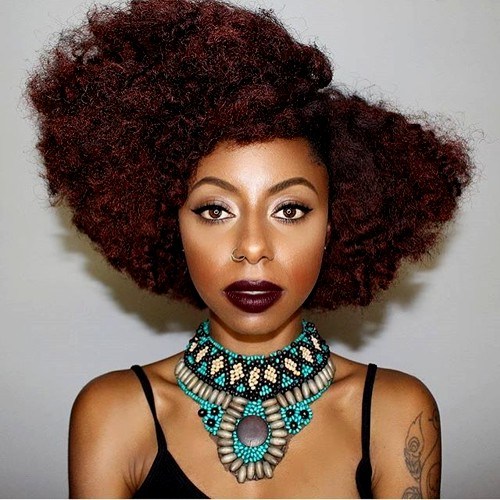 This absolutely gorgeous lady has the most beautiful brown hair that we ever did see; it's giving us so much inspiration for summer! Her remarkable corkscrew curls are cut in an edgy and fashion-forward asymmetrical style and finished a fabulous shade of red brown which is as intense as it is beautiful. Perfect for making a fantastic impression!
Beautifully Curled Light Brown Bob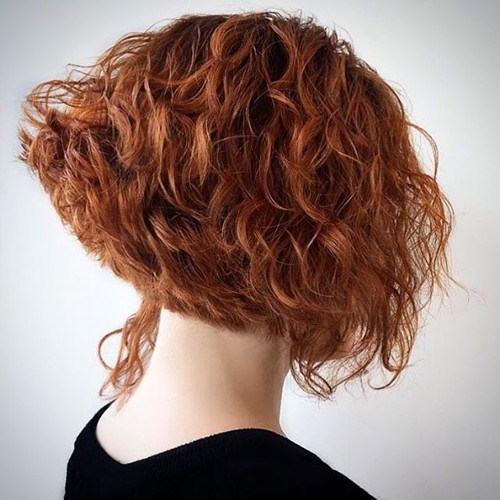 If you have naturally tight curly hair like this lucky lady, then what better way to show it off than with a gorgeous graduated bob style that creates the most fantastic shape and style full of life and volume! It's shorter at the back and longer at the front, framing the face beautifully – especially in such a gorgeous coppery brown shade that we just love.
Asymmetrical Dark Pixie Crop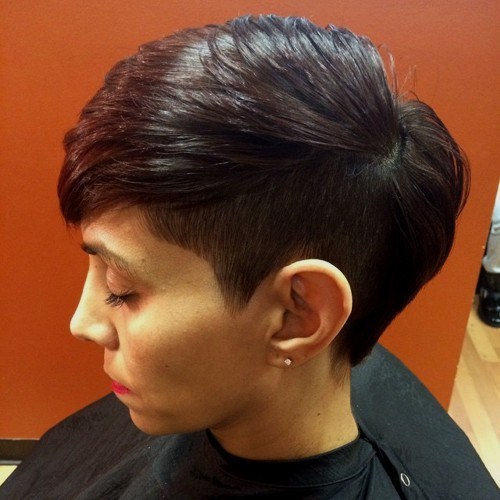 This gorgeous asymmetrical pixie crop is not only incredibly fashionable, but the perfect way for you to show off your beautiful facial features! This lady has gone for the most stylish pixie crop we ever did see, shaved closely on one side and finished with a lovely longer fringe section which sweeps across the head in the most stunning deep brown shade.
Long Brown Curls with Brown Highlights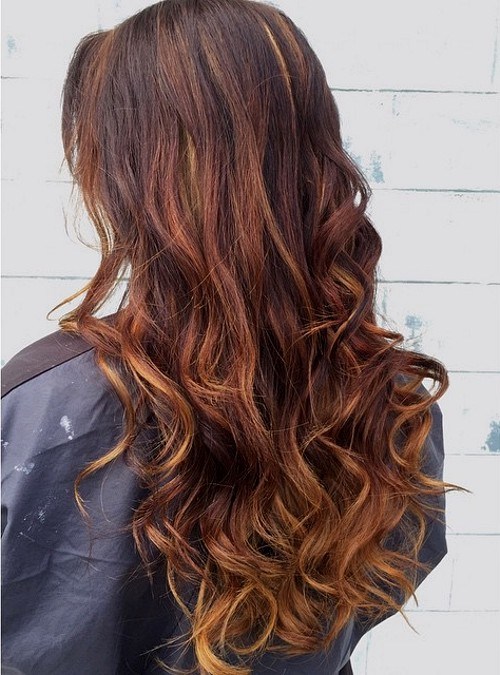 This lovely long hair is so naturally beautiful that the Styles Weekly team have barely stopped swooning! This lady has stunning long hair which falls in glorious ringlets down her back creating a beautiful finish. The roots are a glorious and deep brown which is highlighted with stunning lighter brown highlights throughout which create a perfect finish.
Dark Brown and Toffee Balayage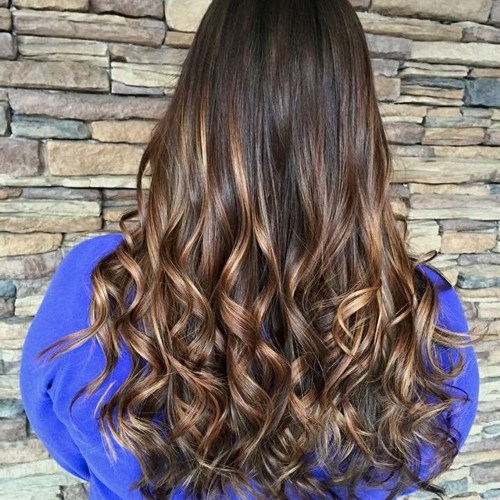 This lady has accentuated her stunning balayage work which goes from a deep, rich brown shade to a beautiful toffee colour towards the end by opting for stunning tight ringlets from the ear length down to the ends of the hair, showing off the colour blends to perfection. This lovely long hair would look equally gorgeous when it's straight too!
Red Toned Brown Shoulder Length Cut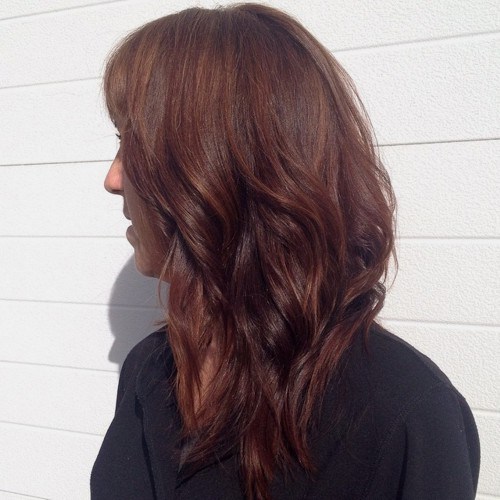 This stunning shoulder length hair is absolutely glorious – especially with such a glossy and shiny finish – don't you agree? It's cut with a gorgeous fringe across the forehead which frames the face perfectly; especially when paired with a red toned brown shade. She's finished this lovely cut off with loose curls to add bounce and volume.
Dark Brown to Copper Toned Brown Balayage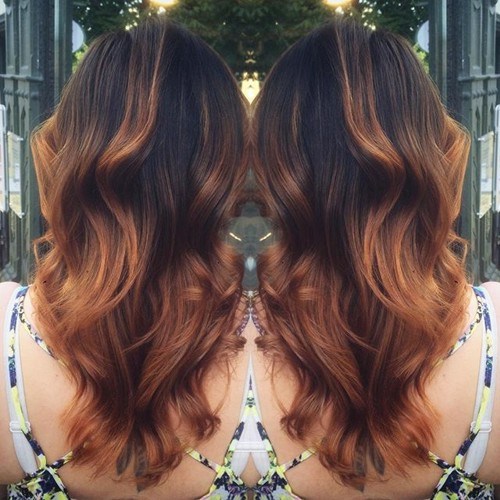 If you're looking to change up your dark brown hair for the summer then be sure to take inspiration from this beautiful lady and opt for a balayage transition from a rich, dark brown to a gorgeous copper toned brown on the ends? This lovely long hair is finished with stunning loose curls throughout which show off the beautiful shades of brown she's working with.
Glossy Brown Shoulder Length Cut with Layers
This incredibly fashionable lady has breathed life into her glossy brown hair by opting for a stunning cut which is full of layers to create the most beautiful finish! The bottom layer is long and falls around her shoulders and the top layer sits around ear-length, which gives a beautiful bounce to the cut; particularly when it's as curly and striking as hers!
Fabulous Brown Hair with Flicked Ends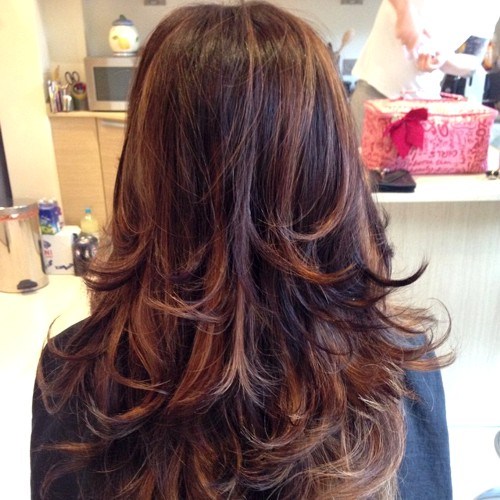 This lady has fabulously feathered layers throughout her entire hair which adds the most gorgeous bounce and lift to her luscious long locks! The bulk of the hair finishes below the shoulders, but the layers are much shorter from around ear-length down. She's accentuated these layers by flicking them out to highlight the stunning brown colours at work here. We adore this look!
Straight and Sleek Chestnut Bob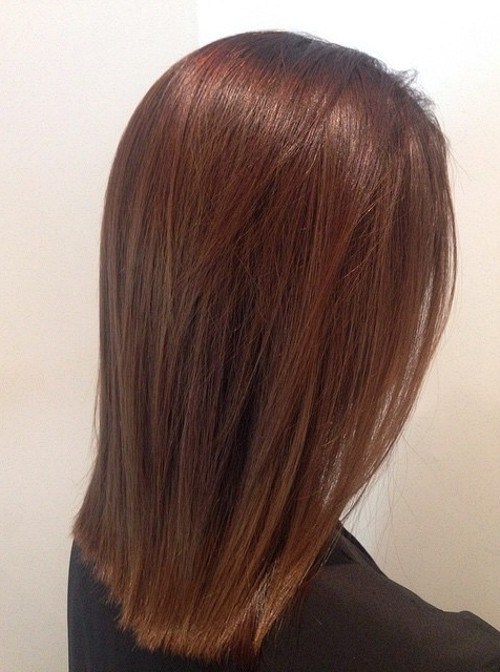 This lovely shoulder length cut is straight, sleek and oh so glossy – creating the most beautiful and shiny finish! It's finished with a blunt, straight line which forms a gorgeous bottom layer, and is all one remarkable shade of chestnut brown. This long bob is oh so striking and incredibly smart, but it would look equally beautiful when curled too.
Lovely Light Brown Balayage
This utterly stunning brown balayage blend is utterly glorious – and might just be one of our favourite brown looks of the bunch! Starting from a rich and dark chocolate brown at the top to a lovely golden-toned brown throughout, this lovely long hair is tousled and curled to create the perfect beach style that we just can't get enough of!
Each of these hairstyles has a beautiful brown tone as part of it, and we think this gallery has showcased the selection of simply stunning brown hues which can transform your look just in time for summer. Which one is your favourite? Styles Weekly love to hear from you!