23 Flirty Floral Looks for Spring
C'mon. Is anyone actually surprised that one of the biggest looks on the fashion scene for this spring is floral print? After all, flowers are everywhere during that time of year, so why not let some of them be on your clothing?
The interesting thing about floral print is that it tends to garner really extreme responses. In other words, either woman really LOVE the print or totally HATE it. And for those who hate it, it's usually because they can't reconcile how to make it work with the natural style that they have.
If you happen to fall into the "hate it" category, hopefully this article will help you to reconsider. Contrary to popular belief, floral print can work for everyone. Take a look and see.
1. Jean vest, floral bustier and Marsala skinny jeans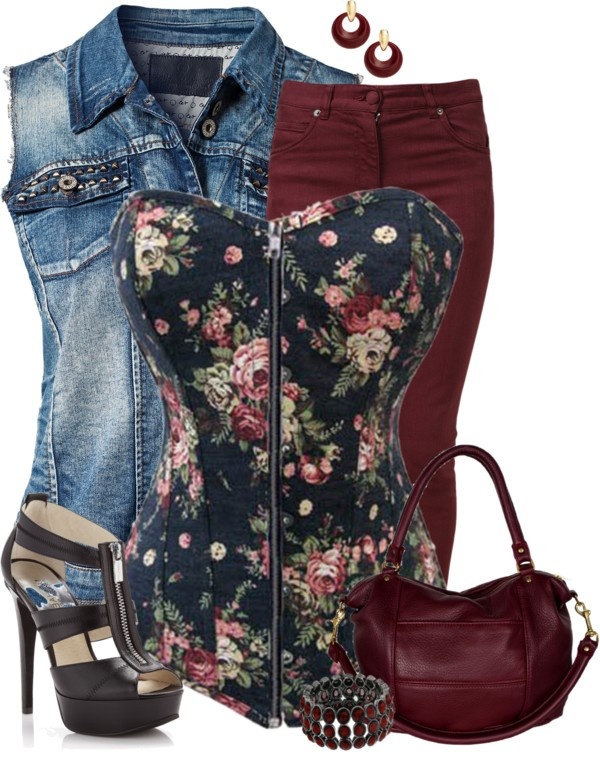 We decided to start this feature off with this outfit because the floral print in the bustier is on the darker side. If you're someone who thinks that flowers are way too "girlie girl" to wear, maybe this will change your mind. Plus, the Marsala-colored skinny jeans and jean vest give the top a bit of a edge, wouldn't you say?
2. Floral blouse, jeans and straw hat and purse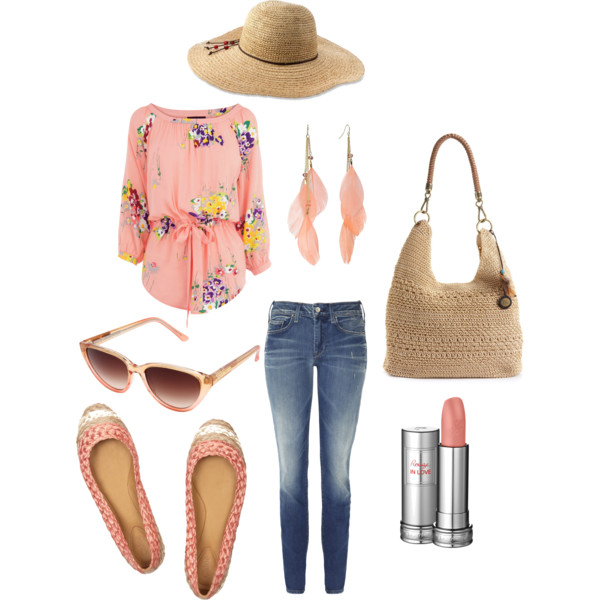 Polyvore outfit ideas for women: No matter what kind of floral blouse you have in your closet, whether you bought it or someone got it for you, it will go perfectly with a pair of fitted jeans. And something that you can add to it that sends the message "Welcome Spring!" like a straw hat and purse.
3. Floral tank, boyfriend's shirt and jeans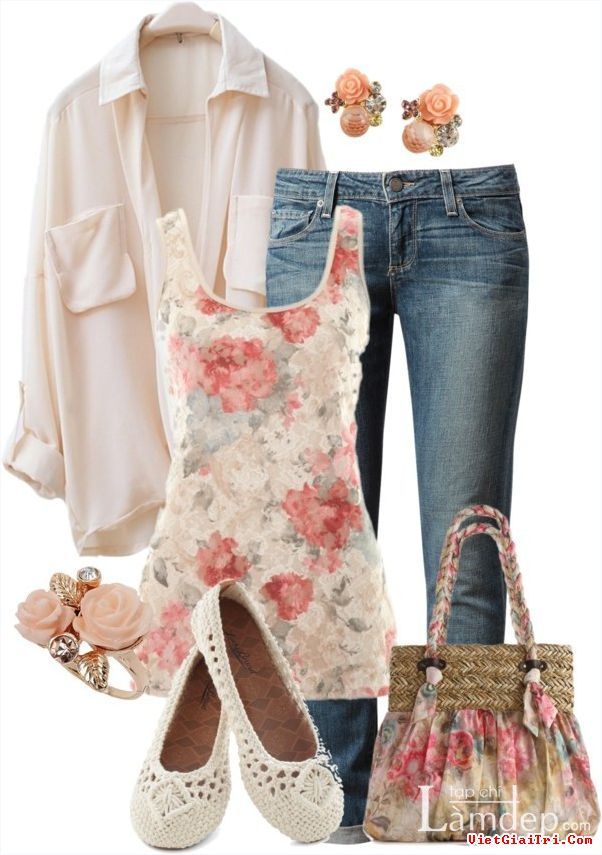 Do you love your boyfriend's shirt? Don't only wear it around the house! Through on a floral tank, put on a pair of jeans and take that shirt to the streets (umm, relatively speaking)! And please take note of those crochet flats. Crochet is also a big fashion trend right now. Don't go into spring (and summer) without it!
4. Floral dress, jean jacket and cowboy boots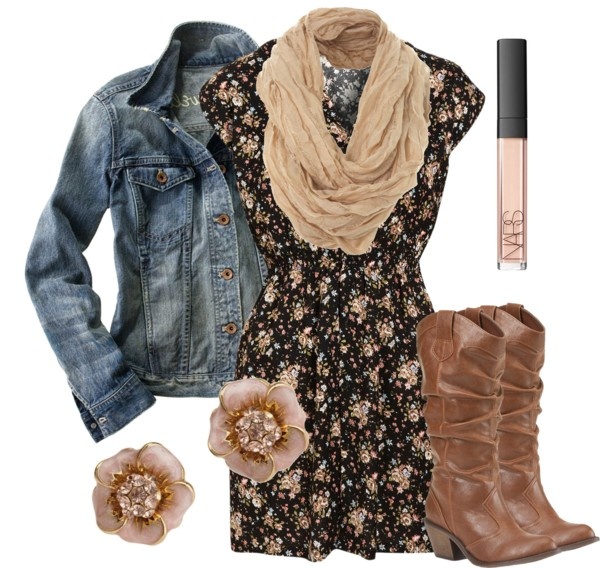 This is another "dark floral" pattern that can look really modern with the help of a denim jacket and some leather cowboy boots. This is a reminder of the fact that something that's fun about dressing up in spring and fall is you can do quite a bit of layering to accommodate the sometimes unpredictable temperature. (Notice the sheer infinity scarf.)
5. Floral halter dress and blazer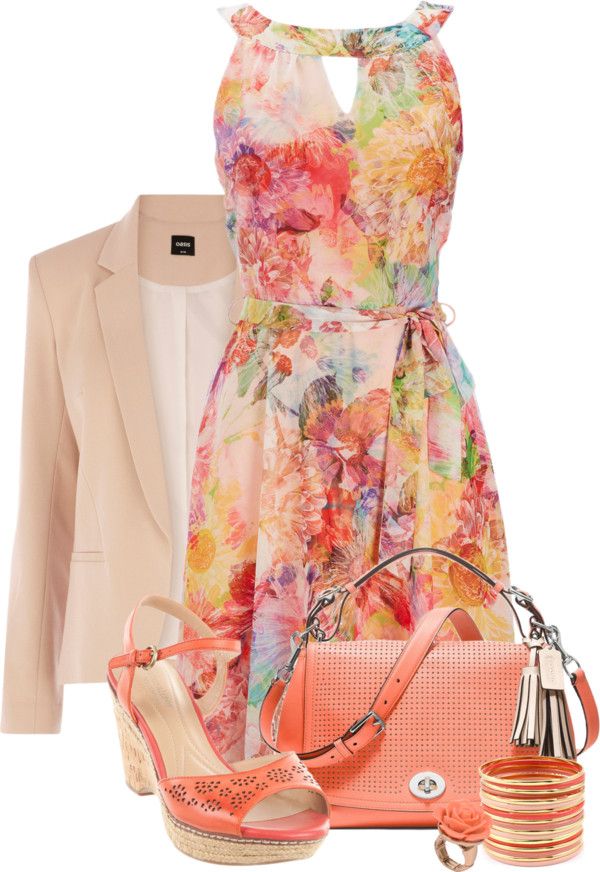 Pink Polyvore outfit ideas for spring: Any occasion where you want to dress up but not "too much", this will meet your needs. A floral dress is pretty dressy casual. With a blazer, it's great for work. Without it, it works well for a wedding or a date. Make sure that your shoes are similar to the ones in this picture in the sense that you avoid black or brown and opt for a pastel or neutral instead.
6. Floral dress, jean jacket and wedges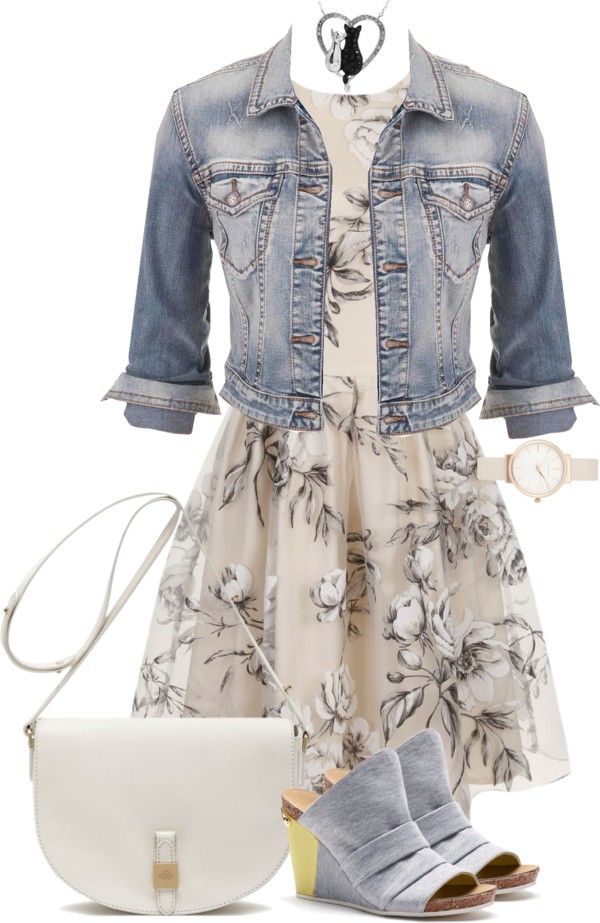 Perfect. Especially if you're a high school or college student who wants to dress up a bit for class. This is also a "super springy" kind of style, especially with the quarter-sleeve worn denim jacket. And don't even get us started on those shoes! Wedges are comfortable. Peep toes are perfect for spring. And if they're made out of cotton? How could you not cop at least two pair? (In different colors, of course!)
7. Floral modern print dress and strap heels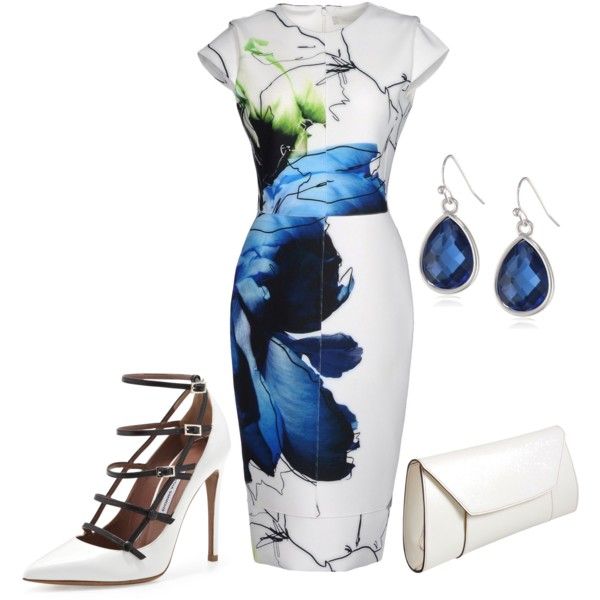 This dress kind of makes us think of the Asian-inspired prints that a lot of women wear. And if none of the other floral prints have inspired you yet, we're pretty confident that this one will. It's so delicate and still quite modern. A very sophisticated way to pull floral off.
8. T-shirt and floral skinny jeans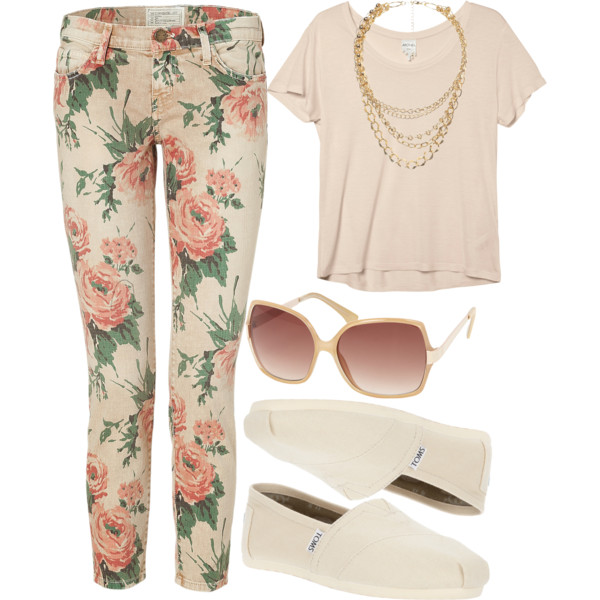 Do you basically want to lounge around and not do much of anything all day long? You can still look cute if you put on some floral skinny jeans with one of you solid (or graphic T-shirts). Also put on your TOMS if you plan on going out at some point.
9. Graphic midi tank, sheer floral blouse and distressed jeans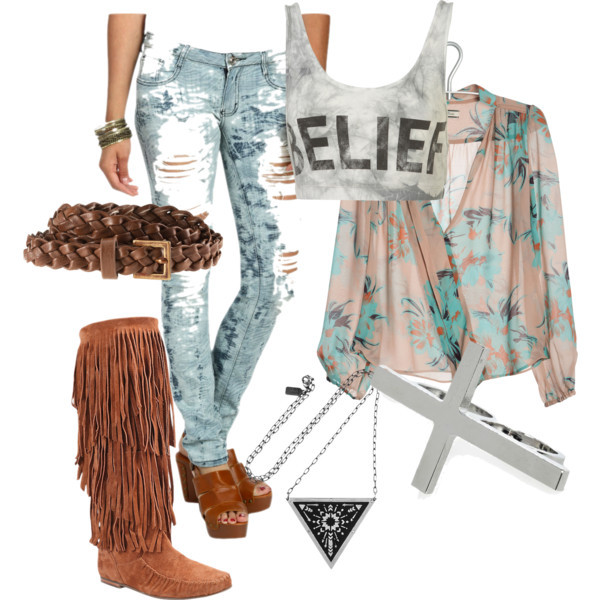 "Super funky style". That's all that can really be said about this look from head-to-toe. Mostly because the different patterns help to make it an outfit that is full of surprises from the graphic midi tank to the stonewashed distressed jeans to the fringe boots. And then top it off with a sheer floral blouse? Now really, we ever saw that coming?
10. Cardigan, jeans and floral flowing tank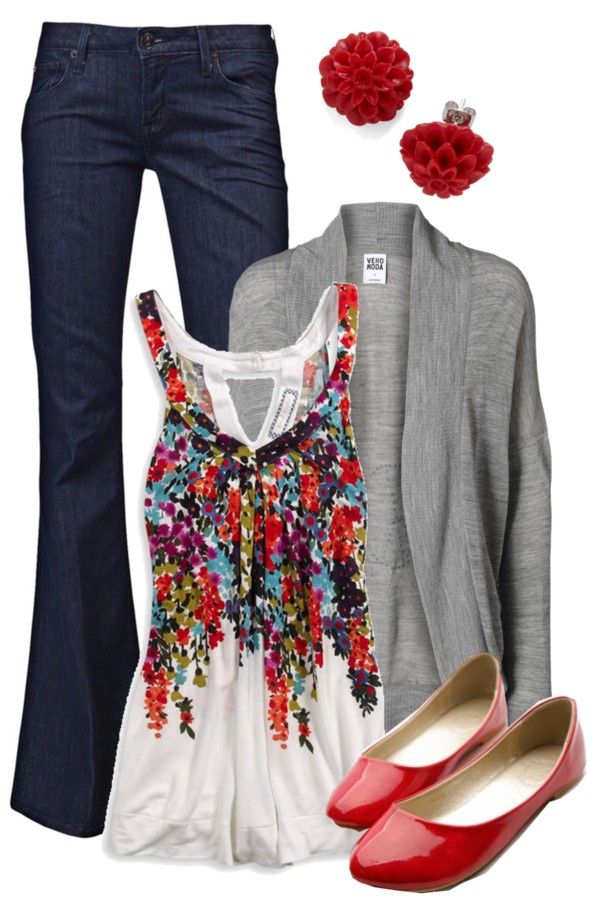 Polyvore outfits: The floral print in this particular tank almost appears…abstract. And there's something about the fact that the cardigan is a heather grey that makes this outfit almost…soothing is the word that comes to mind. And you can never go wrong with having a pair of patent leather pumps or flats in your closet.
11. Studded halter top and floral mini skirt
Here's an on-point fashion example of how to combine prints and patterns. The halter top/bustier appears to be either polka dots or studs while the flared mini skirt is a dark floral color. This is something that frankly would work for all seasons (just add a jean jacket during the cooler months). We also like how the purse doesn't exactly "match" anything else. Fashion is about pushing limits. That's for sure.
12. Floral print T-shirt and solid flare skirt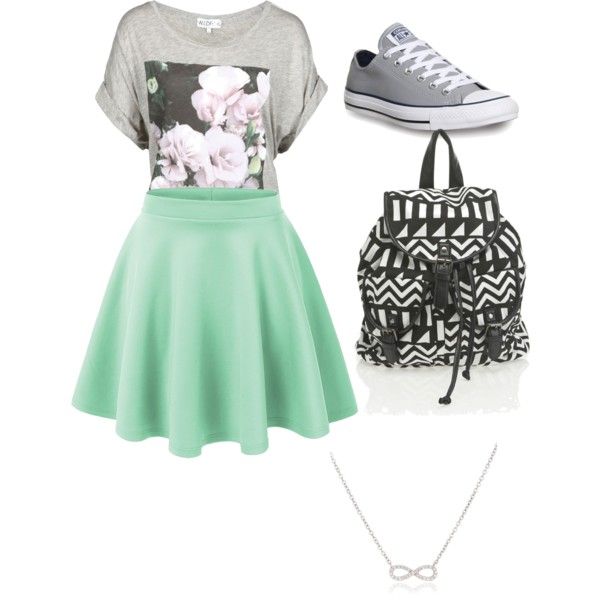 How awesome is this look? Two points to really focus on with it: One, the flare skirt (and we really do adore a flare skirt!) is in one of fashion's biggest colors right now: limpet shell. And two, do you notice that the floral print is a picture on a T-shirt? Just one more way to try floral…if you'd prefer to ease on into it.
13. Floral blouse and blue jean skirt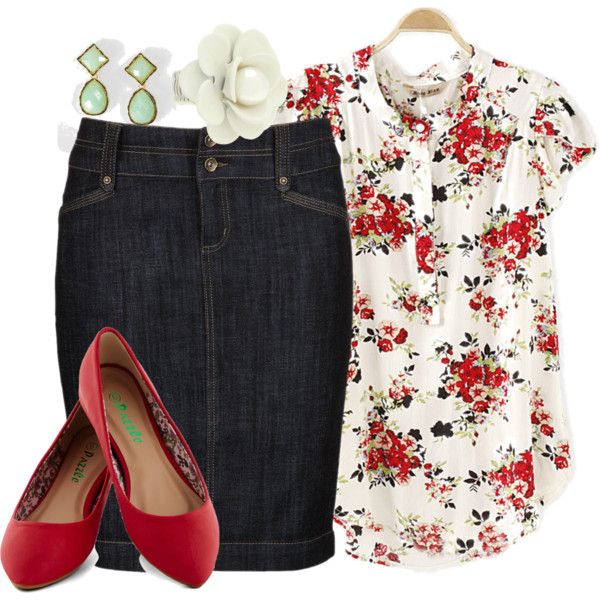 This is a great casual work outfit that you don't have to do a lot of planning ahead of time to wear. If the floral blouse is made out of a wrinkle-free fabric and your dark denim jean skirt is already laid out, all you need are your favorite flats. That's it.
14. Blazer, razor back floral tank and jeans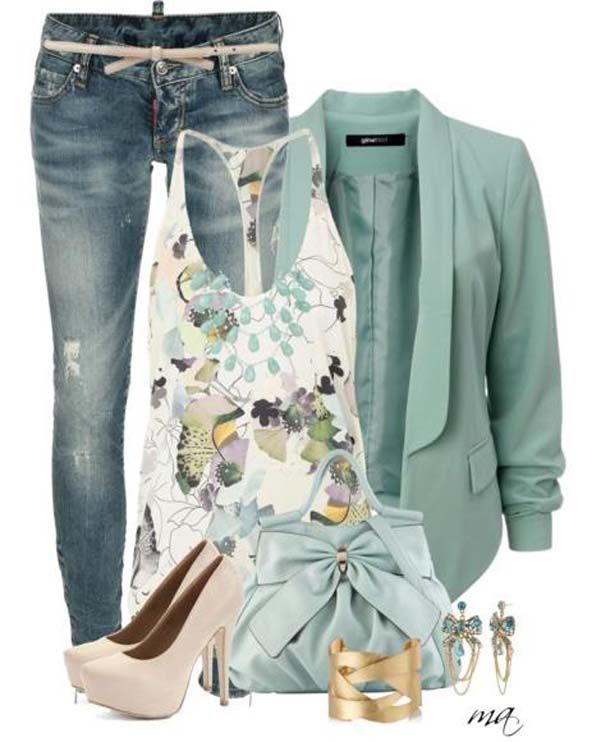 If there's Casual Fridays at work, you're allowed to wear jeans and what you really want to put on are your favorite pair of distressed jeans, you just might be able to get away with it if you distract your boss with the help of a floral tank and silk blazer—oh, and heels. Just make sure that if your tank has a razor back that you keep your blazer on at all times. At least until you leave work.
15. Solid T-shirt and floral maxi skirt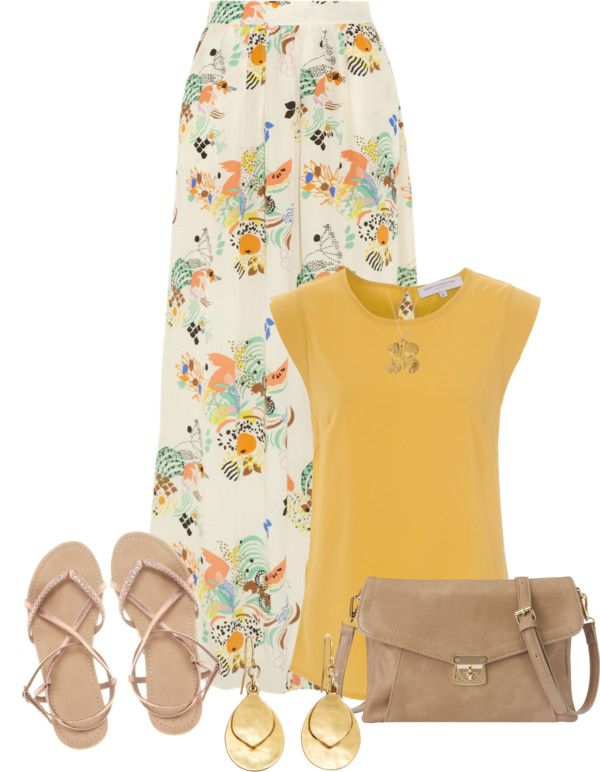 Sometimes simple is all you need. Case in point, look at this floral maxi skirt and silk solid-colored T-shirt. This is something that you can easily slip into or slip out of without a ton of effort. And if the skirt is made out of something like cotton or polyester, probably without a lot of ironing too.
16. Tank top, floral ruffled mini skirt and cover up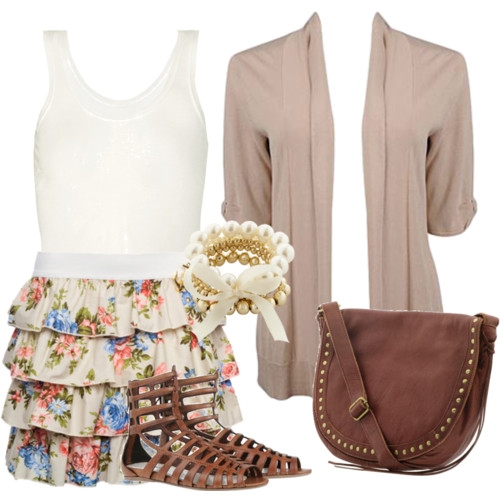 Mini skirts are cool. Ruffled ones are in, though. So, if your legs are one of your best features and it's time to invest in a new short skirt, look for one that has a few ruffles and perhaps even a few flowers on it. People will think you are too lovely in it if you have on a tank top and cover-up. And yes, this look can help you to get some additional wear out of your gladiator sandals.
17. Blue jean shirt, shorts and floral infinity scarf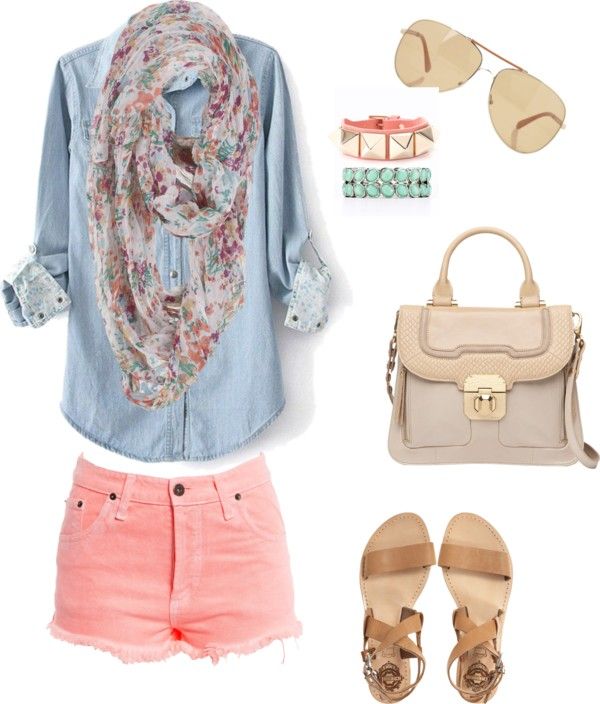 One thing about spring is sometimes it's super warm outside and sometimes it's rather chilly. If there are some days when you're honestly not sure what to expect because there may be rain or wind in the forecast, you can still wear your shorts. Just put on a long sleeve blue jean shirt. As you can see, here's another way to bring floral in the picture: with the help of a floral infinity scarf.
18. Cable knit cardigan and floral spaghetti strap dress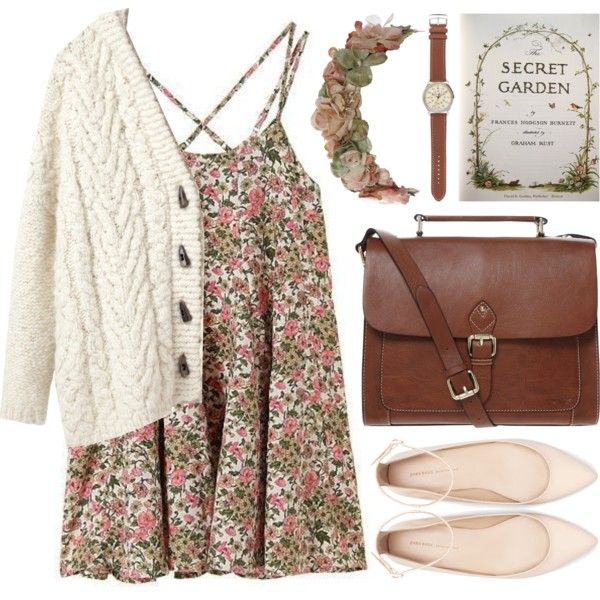 Here's the kind of floral dress that is honestly probably more suitable for summer, simply because the fabric appears to be on the thinner side. But if you have a dress like this in your closet and you've been waiting all winter to wear it, a cabin knit cardigan can make it work. Pretty well. We think.
19. Floral pants and solid midi top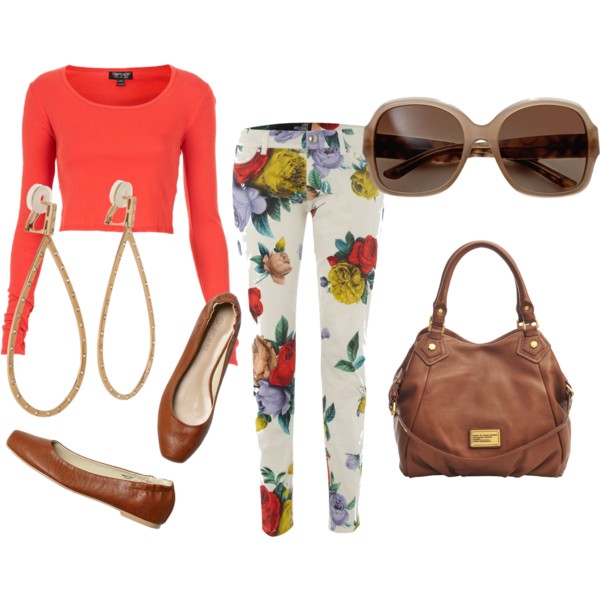 If you've worked hard to get your tummy in shape (and you've reached your goal), you don't have to wait until summer to show it off! Look for a long sleeve midi top that you can wear either alone or accompanied by a jean jacket or vest. And what will really look hot with it are a pair of floral pants. Preferably skinny jeans.
20. Floral long sleeve blouse, jeans and Stiletto ankle boots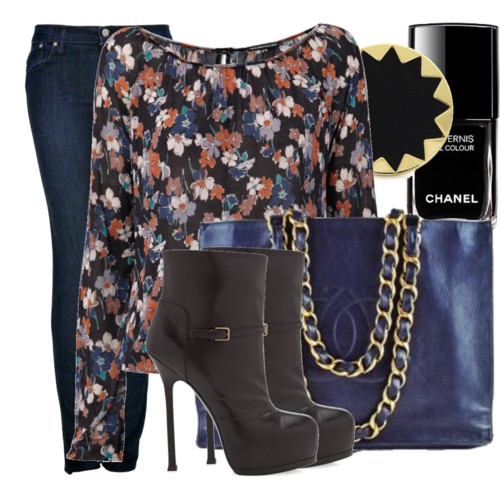 This look is one that can be worn in spring and fall. That's why we've added it into the mix. It's a reminder that certain outfits (based on the material) are workable in a variety of seasons. And yes, the flora print is doable when flowers are in bloom (spring) or preparing to hibernate for winter (fall).
21. Cover up, tank and floral pencil skirt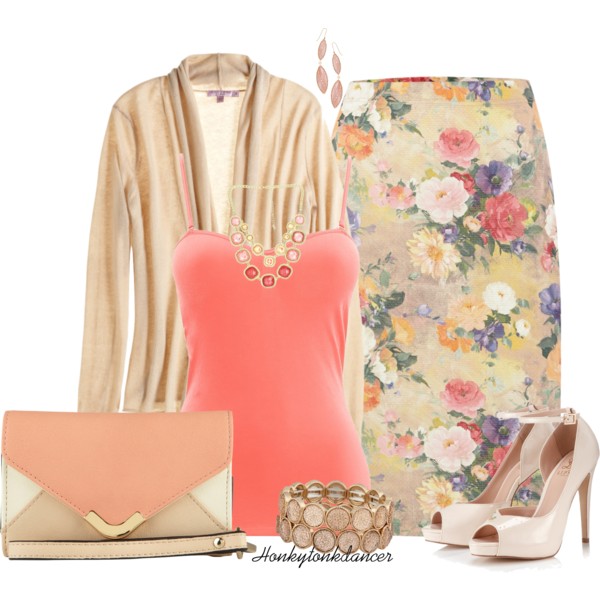 Something about the floral print in that pencil skirt looks a bit like an art painting. And if there's one thing that a woman should be in her clothing is "poetry in motion". Added to a solid tank and a different color solid cardigan, you'll be such a welcome touch of spring while at work.
22. Floral bustier, short sleeve cardigan and distressed jeans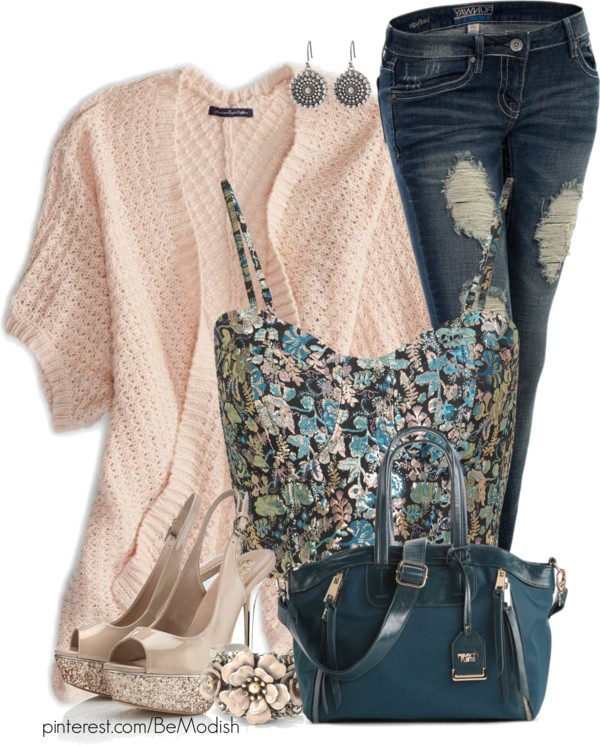 When we look at the short sleeve cardigan in this particular outfit, what comes to mind is cotton candy. And for this reason, we could just eat it up! Or at the very least, pay a few extra dollars in order to own one. Because look at how good it looks next to that floral print bustier. This is a perfect date outfit. Hands down.
23. Floral ruffled blouse, button down tank and khaki stretch jeans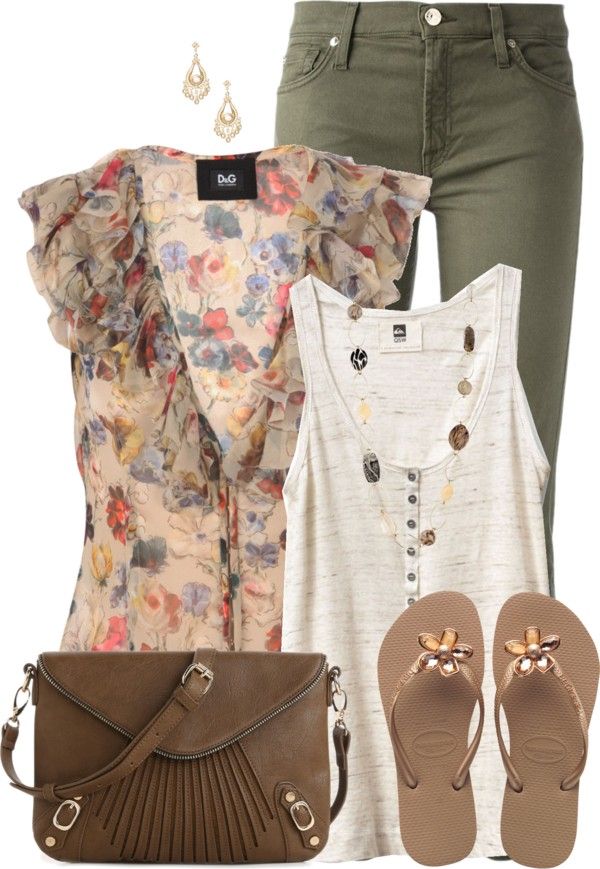 With all of the ruffles that have been making an appearance on the runways lately, how could we not show you a way to make it work in a floral blouse? The fact that the tank is not exactly a solid but has a fine print pattern to it helps to keep this outfit fresh and all-age-appropriate.