21 Lazy Manicure Ideas for Women
Hey, those lazy girls who like stylish manicure but dislike to take trouble, look here! We have rounded up 21 super chic nail designs, all of which are quite simple to make. You will get a lot of inspiration from these easy tutorials. Next time you want to have a manicure, just pick out your favorite design and follow the tutorial. Now, stay here and check them out! Enjoy.
Stylish Pinstripe Nails Tutorial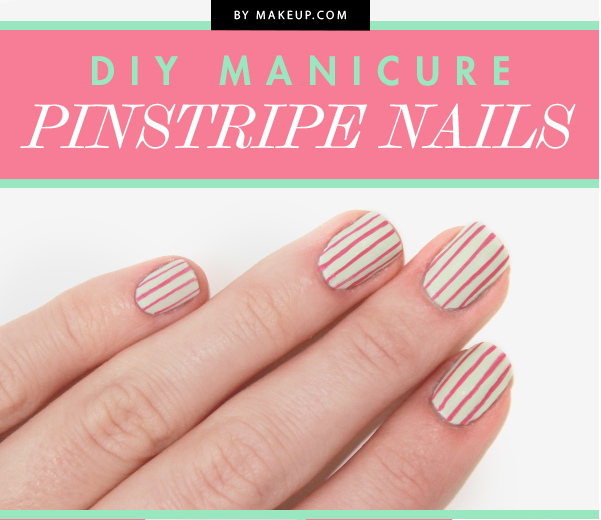 The pinstripe nails are pretty and trendy. Actually, you needn't get all the pinstripes so straight in order to create an effortless look.
The Undone Manicure Tutorial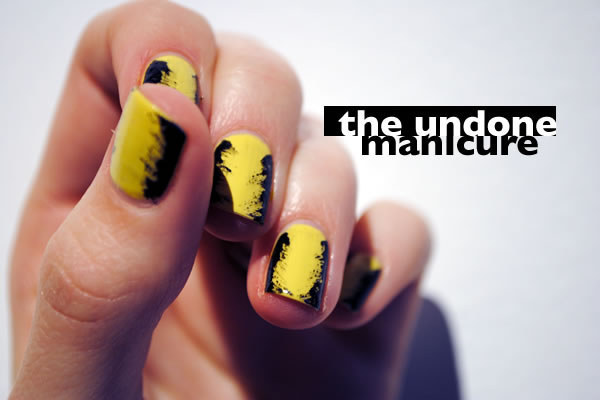 The abstract nails are great for fashionistas. See the directions here.
Starry Sky Nail Design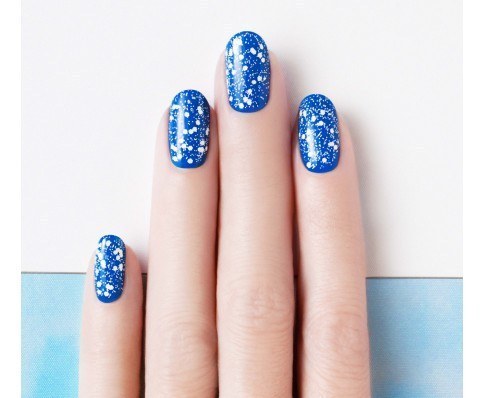 The starry sky manicure is indeed gorgeous. Is it difficult to get one? Don't worry. You will find it quite easy as you follow the tutorial.
DIY Dotted Nails Tutorial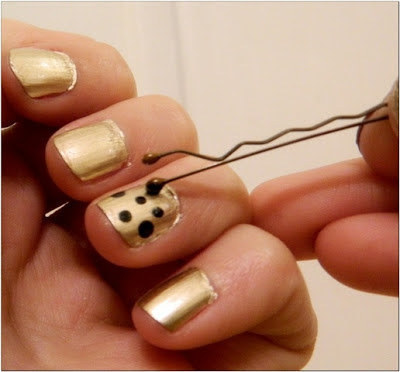 Here is a quick way to get dotted nails. Your bobby pins are the best tools.
Lazy Nail Design Tutorial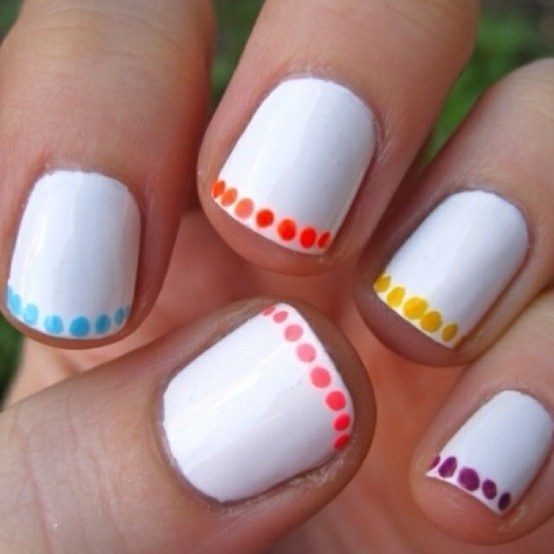 There are many ways to arrange the dots. For example, you can make a line of dots around the edge of your nails.
Lovely Pink Nails Tutorial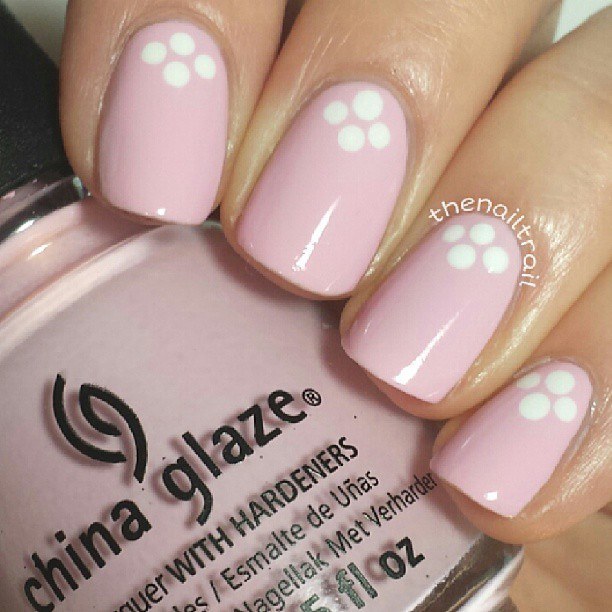 Here is another way to arrange the dots. Quite pretty. Do you agree?
Lazy Nails with One Dot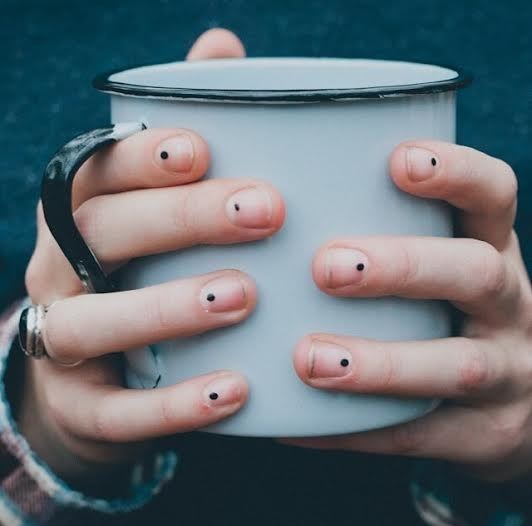 Yes, believe what you see and you are not wrong. Each nail is decorated with one dot. Can it be simpler?
Zipzag Pattern Nail Design Tutorial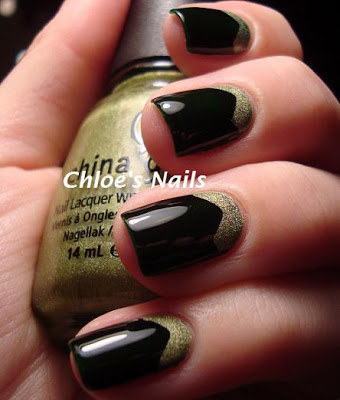 This zigzag nail design is rather stylish. To make this pattern, you just need a pinking shear and some tape.
Gorgeous Graffiti Nail Tutoarial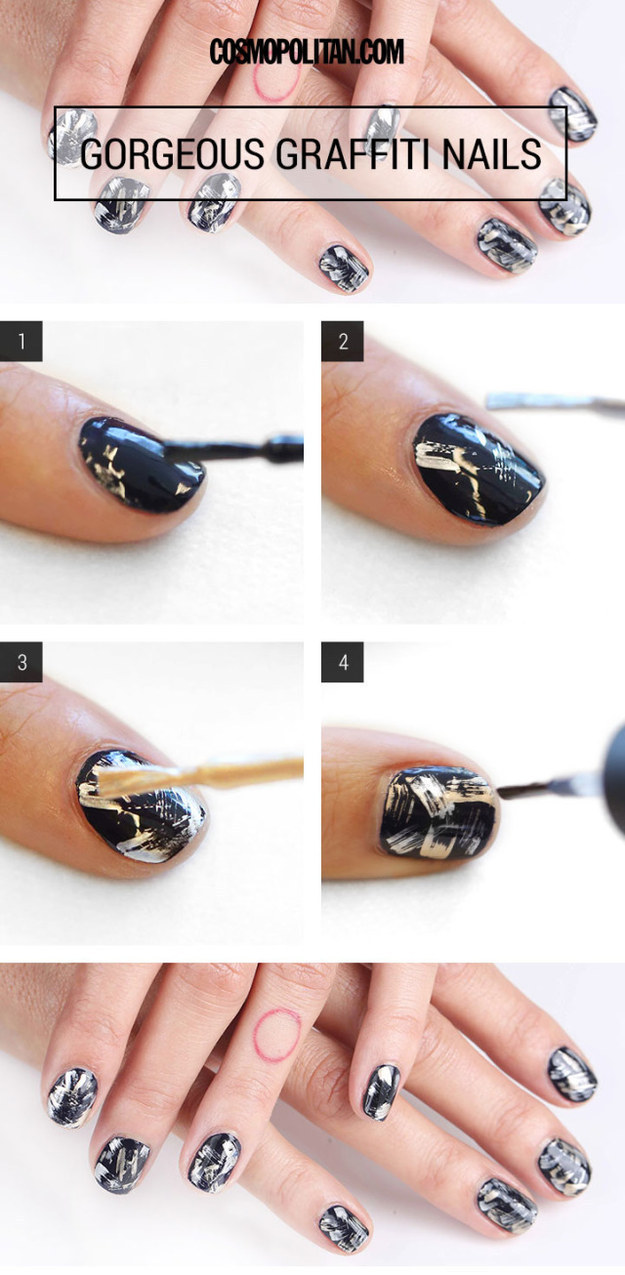 This graffiti nail design is carelessly fashionable. No one can have the same manicure as you  if you do this one.
Splash Nail Design Tutorial

Splash nails are so cool and personalized. Follow the tutorial and make your own splash manicure.
Turquoise and Gold Stone Nail Tutorial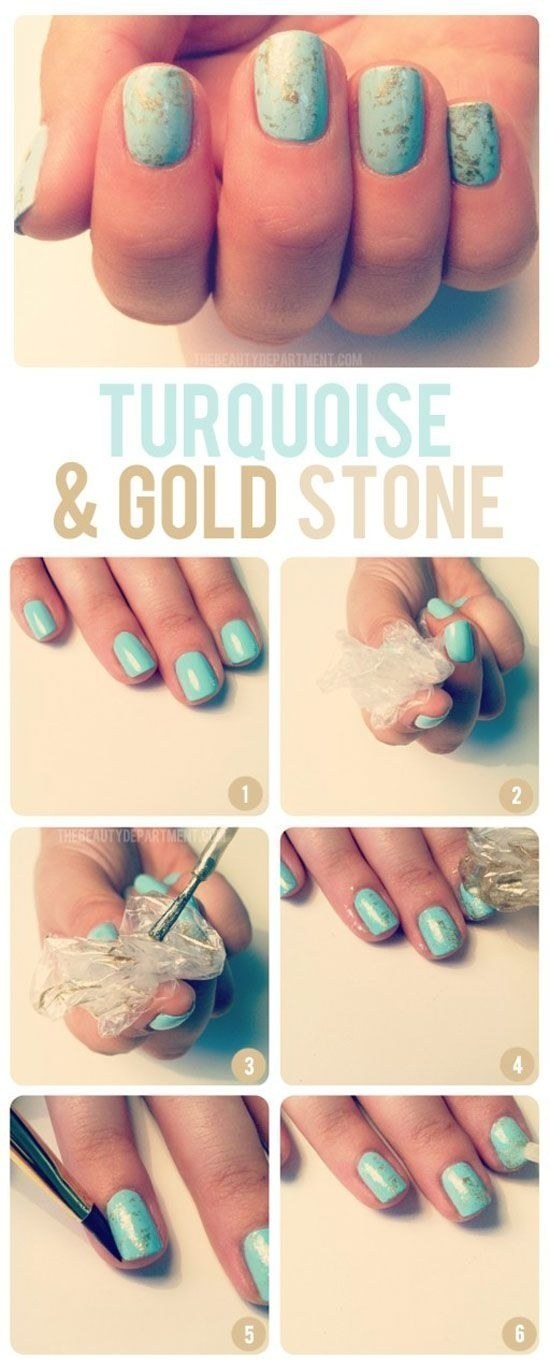 You can't guess that this chic nail design is just made by some crinkled plastic.
DIY Two-Tone Nail Design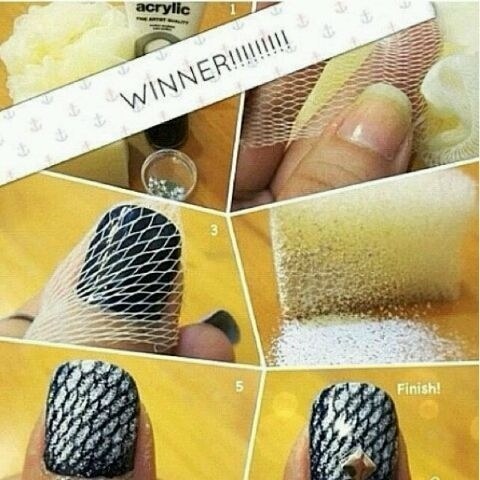 Put the loofah on your nail and paint over it, then you can get this stylish two-tone mainicure.
Chic Half-Moon Manicure Tutorial
Black and gold are super cool. Just do as the tutorial said and get thic chic manicure.
DIY Gradient Nails
Apply some glitters onto the tips of the nails and you can get this extremely fashionable gradient nail design.
Bright Triangle Nails Tutorial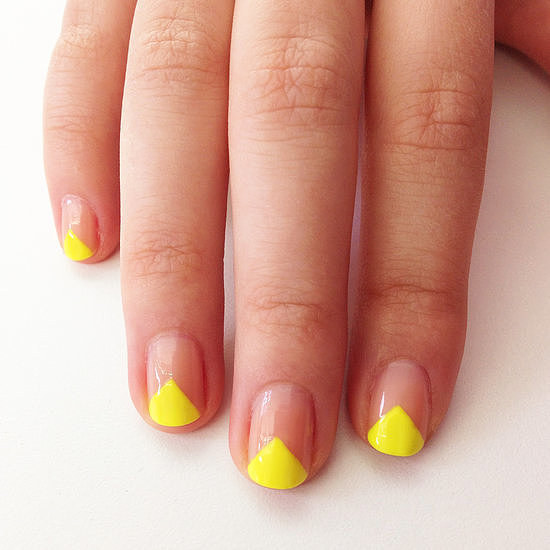 This triangle nail design is cute and easy. Younger women can paint stylish triangles with their favorite colors.
Simple Black and White Nail Design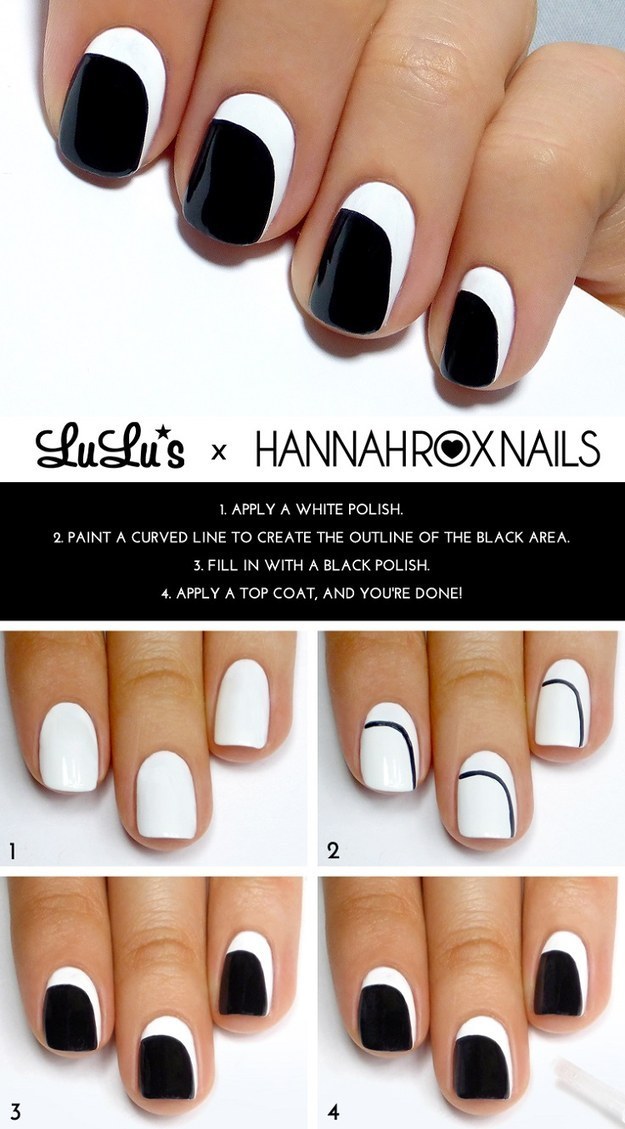 Black and white are two timeless colors and they still look fashionable on nails.
Effortless Nail Design Tutorial
The white  thick stripe looks more remarkable against the dark ground. Of course you can replace these two colors with any other shades.
DIY Matte Nail Polish Tutorial
Your eye shadow could be helpful if you want to make a matte nail polish. Follow the tutorial and see how to make it.
Easy Nail Design Tutorial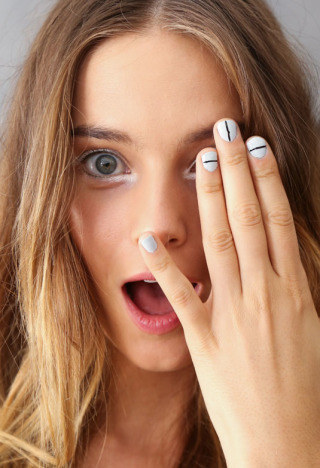 It is just the three black lines that make this manicure stand out!
Great Nail Designs with A Gold Sharpie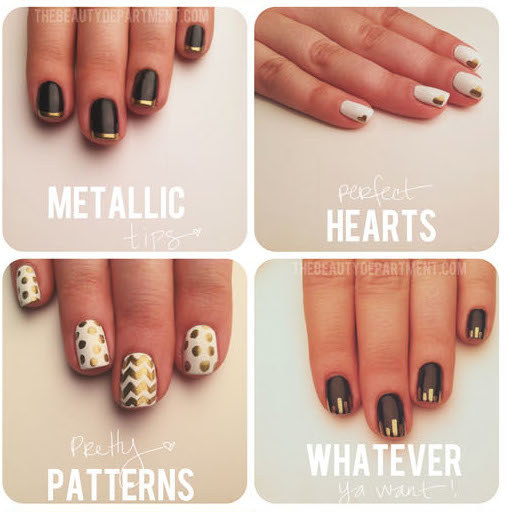 Gold sharpie can be a wonderful tool to make simple yet stylish nail designs. See more here.
Cute Nail Design with A Sharpie Marker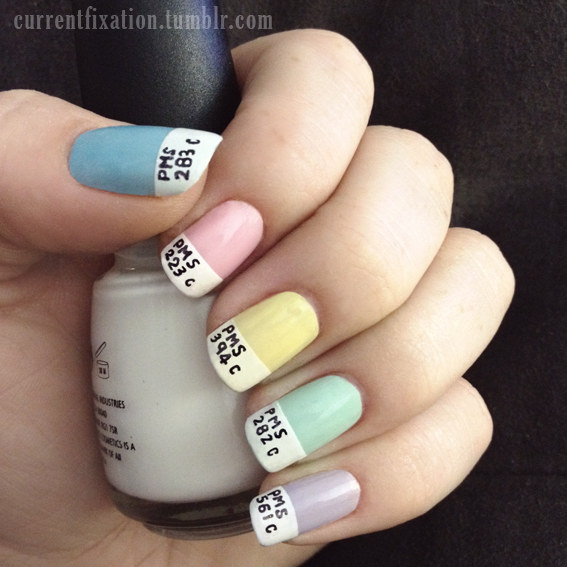 If you like pastel nails, this will be your best choice. The codes on the tip make this nail design much more fashionable than the average ones.
Have you found your favorite ones? I hope you find this post helpful. Have a good day!