20 Elegant Vintage Wedge Hair Looks You May Want to Try
A vintage wedge hairstyle is a gorgeous cropped hairstyle that creates the most gorgeous finished look, showing off your wonderful facial features in a low-maintenance but high impact style. We think a vintage wedge style brings a stunning edge to your cropped cut, creating a unique look that we cannot get enough of. We've gathered some stunning vintage wedge looks into one handy gallery for you to browse for inspiration, so be sure to let us know what you think!
Copper Wedged Crop with Sweeping Fringe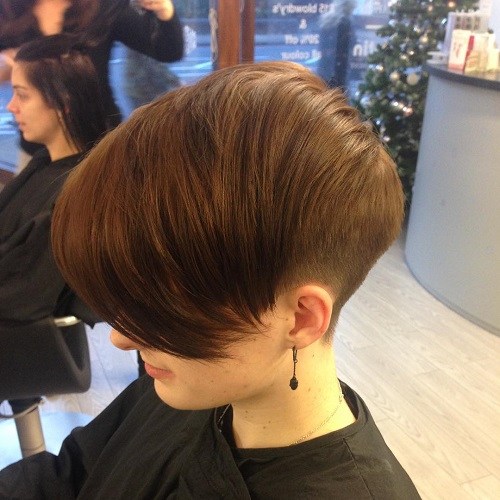 This absolutely stunning copper wedge has stolen the hearts of the Styles Weekly office! With a stunning short layer that is cut close to the head at the back and wedged gradually to lovely longer layers on top, the curved silhouette of this cut is absolutely gorgeous. Especially with the sweeping fringe that frames the face to perfection. We love this look!
Swept Back Red Vintage Wedge
This lady has added a stunning dark red shade to her pixie crop to create a gorgeous look that we absolutely cannot get enough of! With shorter layers at the back of the front, working towards lovely longer layers towards the front of the head, this lady has worked the wedge look to her advantage by sweeping the front layers back for a cool, slicked back look.
Brown Pixie Crop with Fringe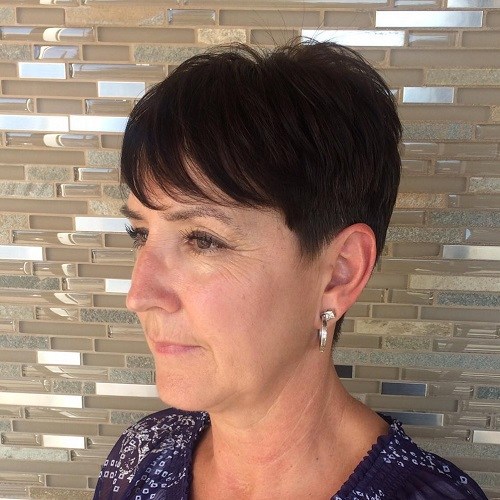 This beautiful woman has opted for a cropped pixie cut to give her a stunning and sophisticated look, and we think it is utterly gorgeous! With shorter layers throughout the back and sides of this incredible short style, and finished with a wedge of longer layers at the top, this lady has worked her bob to a sweeping side fringe that frames the face perfectly.
Grey Sweeping Side Bob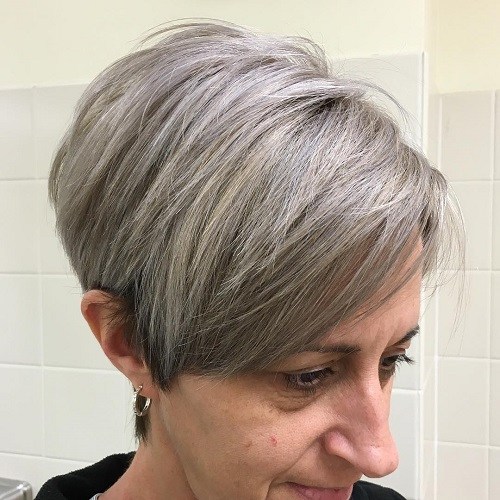 This lady is oh so fashionable – she knows that grey hair is totally on trend! Her vintage wedged bob has a selection of lovely shorter layers at the back of the head, and longer sweeping layers on the top and working their way towards the fringe section. The stunning silver hair looks wonderful against her complexion, and we adore this finished style!
Black and Red Ombre Wedged Bob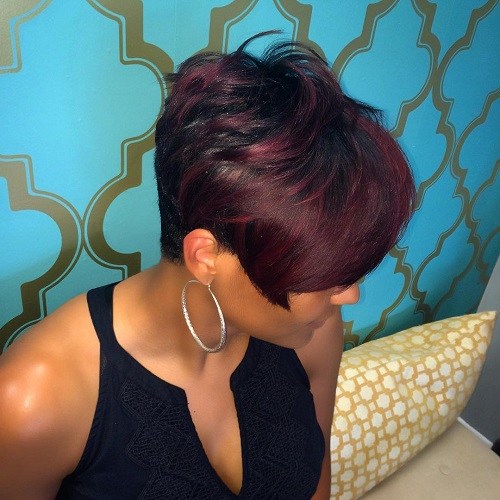 This utterly gorgeous short bob is a striking combination of glossy black and a deep red, creating a look that is dark, dangerous and oh so dashing all at the same time! With a vintage wedge style of layers at the back of the head, the choppy shorter layers form a stunning curved shape, which perfectly compliments the amazing sweeping fringe at the front.
Blonde Curved Bob
This lady has opted for a simply gorgeous curved bob that we adore – flicking the ends of the layers in to create this wonderful finish that works wonders for her face shape! She's kept the bob short, sitting around the ear length, with graduating wedged layers from bottom to top to create this fantastic curved shape. The colour is light and bright and we just love it.
Glossy Brown Flicked Bob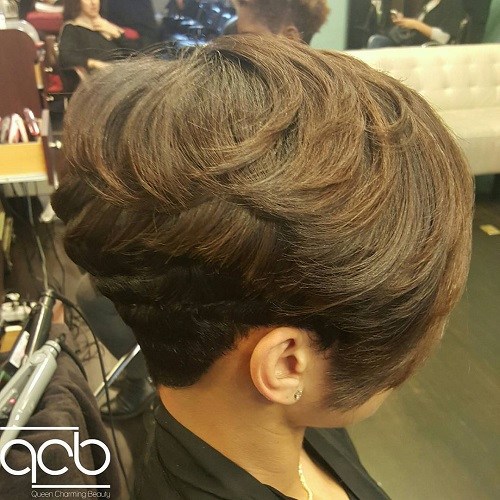 Though this cut looks relatively simple at first, a closer look will see the wonderful work which has gone into the finished styling, creating this utterly ravishing flicked bob that is perfectly styled for an evening out our smart occasion! This lady's gorgeous wedged bob has been cut with choppy layers throughout, which are flicked out to different directions to create this fabulous textured finish.
Brown to Caramel Ombre Bob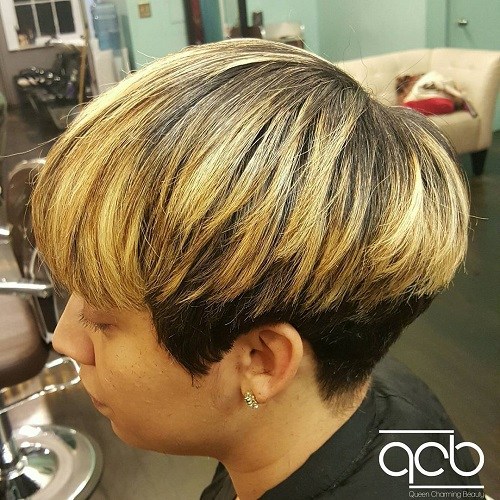 This lady's gorgeous bob is striking, stylish and oh so simple to recreate – so why not try it for yourself! Starting with a darker brown layer at the bottom and at the root, she's blended a stunning caramel shade through a balayage transition, finishing the longer top layer off in a wonderful light and bright style. We love the wedged effect at the back of the head!
Copper Swept Bob with Highlights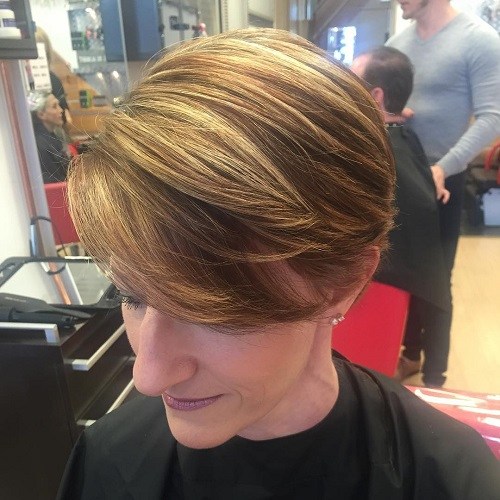 This lady has opted for a classic bob cut, with shorter sections of hair to the back and sides of the head, getting gradually longer on top and forming this wonderful vintage wedge style that we cannot get enough of. With a deep side parting, the longer layer sweeps across the head and forms a lovely fringe, accentuating the rich copper shade of hair which has gorgeous blonde highlights running through it.
Bouncy Blonde Wedged Bob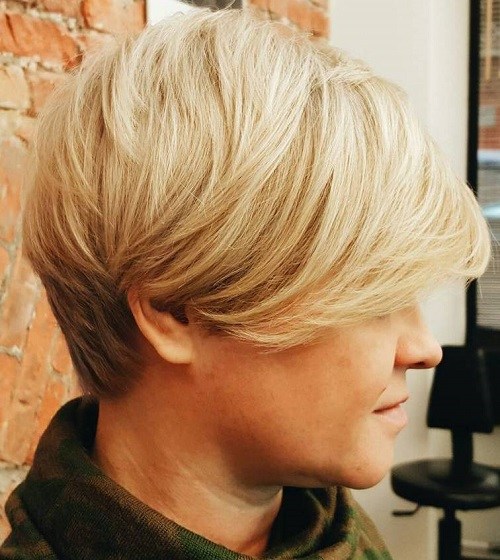 Bright, bouncy and beautiful – these are certainly the first three words the Styles Weekly team thought of when setting eyes on this gorgeous wedged bob! With graduating layers from the top of the head to the short, cropped back and sides, this style has a wonderful silhouette that is perfectly finished with a sweeping side fringe to frame the face.
Loosely Tousled Wedged Bob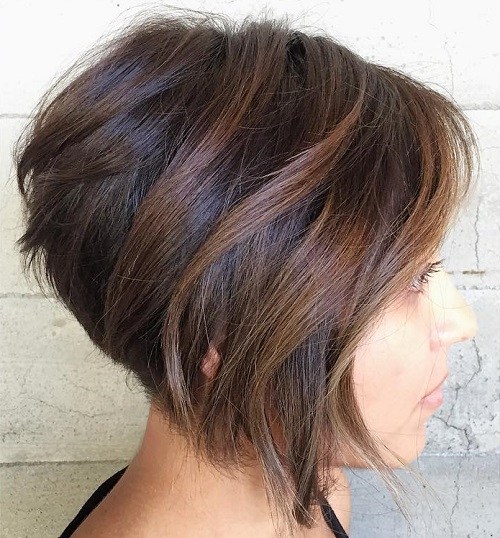 This gorgeous look might just be one of our favourite looks of the bunch! This stunning wedged bob has a gorgeous amalgamation of choppy layers at the back of the head, creating a wonderful wedged finish, and the top layers get longer and longer until they fall loosely around the jaw at the front of the face. She's tousled the hair lightly for this incredible waved finish.
Voluminous White Blonde Wedged Bob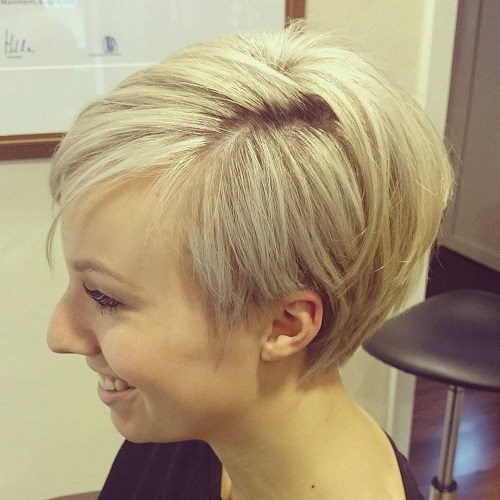 The reason we love a vintage wedged hairstyle so much is the endless amounts of volume it brings to a cut – take this lady's striking white blonde bob as the perfect example. This lady's hair has shorted layers throughout the bottom of the cut, with longer layers falling on top to create this amazing curved shape. We adore this white blonde colour too!
Brown and Grey Wedged Bob
This fabulous and fashionable female has worked so many trends into one style that we don't know where to start! Starting with a vintage wedge bob shape, she has dark brown hair at the back of the head which is cropped close with graduating layers. The top and the front of the hair have been kept long, and dyed a gorgeous grey for this fabulous finished effect.
Dark and Light Blonde Balayage Bob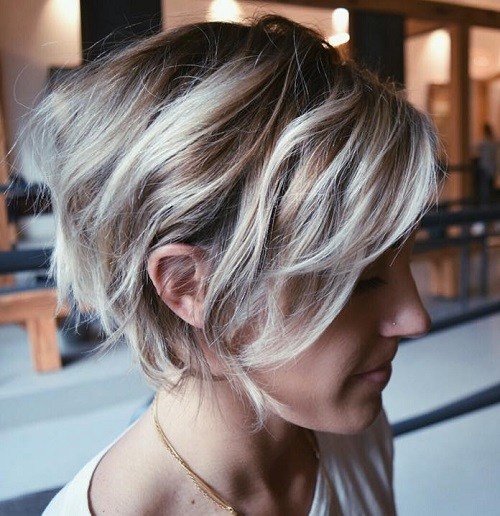 This wonderful and loosely tousled bob gives this stunning lady the perfect look for a smart-casual event with a truly beautiful finish. Her hair, which is a gorgeous caramel blonde shade, has been highlighted with white blonde streaks throughout, adding light and lift to this amazing wedged bob which is shorter at the back and slightly longer at the front.
Brown to Auburn Messy Wedged Bob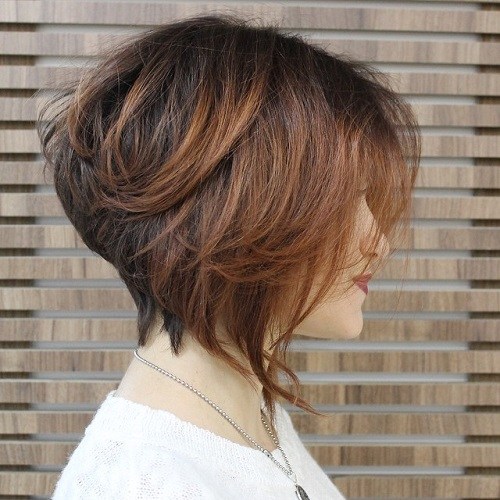 Another style which totally steals the show from this incredible collection – this gorgeous and messy bob has a stunning ombre transition from dark brown to copper from the back of the head, which is short and voluminous, to the front of the head which is longer and tousled, framing the face in loose flicks. This look is oh so stylish, don't you agree?
Voluminous Blonde Wedged Bob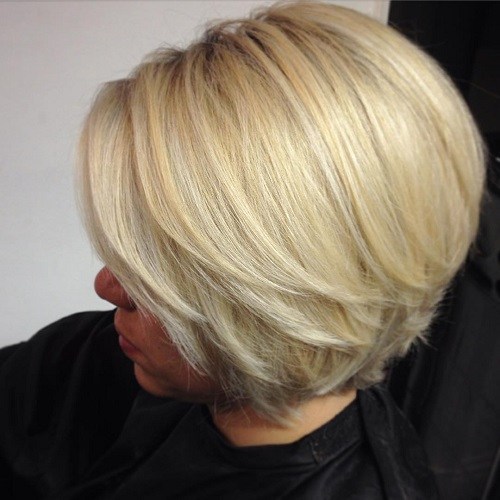 This lady's stunning style is all about the volume, and we simply cannot get enough of it! She's worked her luscious blonde locks which contain several blonde hues throughout into a wedged bob which lines up perfectly with the jaw line. With graduated layers throughout the bulk of the cut creating this wonderful curve, she's left the hair straight and sleek to show off that style and we couldn't approve any more than we do.
Red Vintage Wedge with Flicked Ends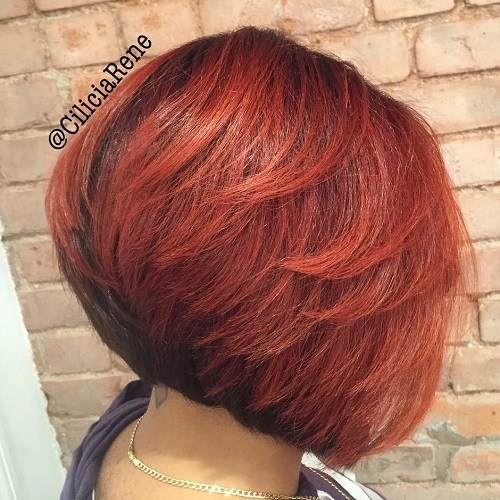 This incredible vintage wedge is finished with the most fiery red shade we ever did see – ideal for making a statement and truly showing off that incredible bob style. With short and choppy layers at the back to create bounce and volume, working their way to longer layers at the front for a cool, graduated style, this lady has flicked the ends out to add the ultimate finishing touch to her look.
Brown Wedge with Pin Curls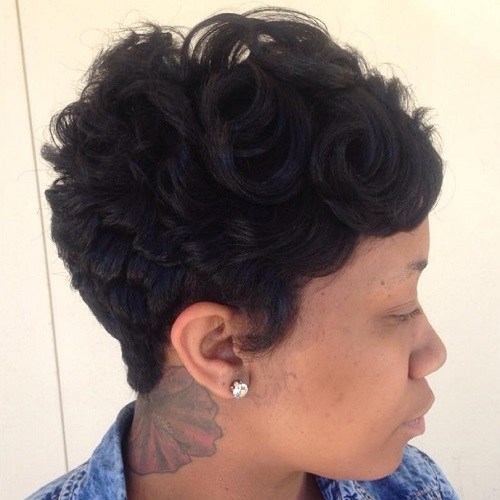 This stunning lady is perfectly preened for a special event or occasion; with gorgeous and glamorous hair that is designed to attract attention! Her glossy brown locks have been cut in a classic wedge style – shorter on the back and longer on the top. She's worked the hair into tight curls from the back upwards, finishing the fringe section in gorgeous pin curls that look beautiful.
Bouncy Chestnut Bob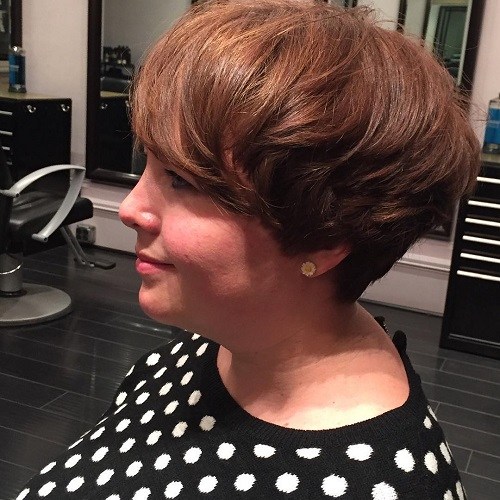 This utterly striking chestnut bob has been styled to perfection, offering the most gorgeous finished look as all the layers are swept forward and to the side, creating this lovely bounced style that we see pictured. Her hair has been cut into a vintage wedge, with graduated layers at the back of the head contrasting the longer fringe section and looking wonderful.
Sleek and Glossy Blunt Wedge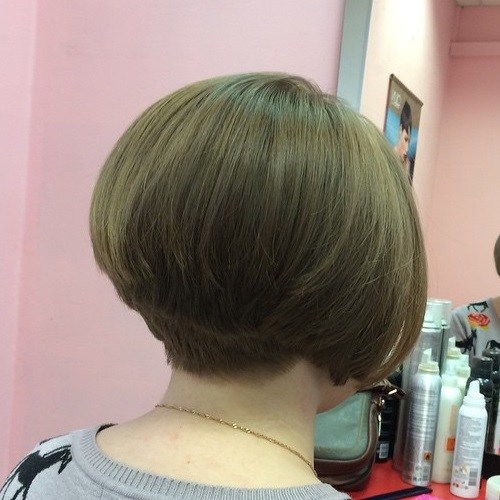 A wedged bob can have two styles; either graduated and smooth from the shorter layers to the longer layers, or something a little more blunt like this lady has gone for. Either style is gorgeous – but we are certainly partial to this sweeping brown bob! With a blunt transition from the longer top layer to the shorter underneath layer, the finished look is very special indeed.
A vintage wedge style is the easiest way to inject some volume into your hair – ensuring the contrasting layers add bounce and body to your hairstyle without you even having to touch it! The opportunities of jazzing up your look with a vintage wedge are endless, as we proved in this fabulous blog post full to the brim with inspiration.