10 Best Mascaras and Eyeliners for an Effortless Eye Makeup
People always say the eyes are the windows to the soul. Perhaps that's why so many women spend a lot of time doing a perfect eye makeup. Whether your eyes are big or small, you can make them more charming by drawing eye liners and applying mascaras.
The long and curly lashes can make your eyes talk and the eyeliners can imporve the shape of your eyes. Thus, you will appear much more gorgeous every day.
In the gallery, we have picked out 10 of the best mascaras and eyeliners for you to achieve a stunning eye makeup. Stay here and check out what these amazing products are.
10. Tattoo Effect Liquid Gel Eyeliner Pen


Tattoo Effect Liquid Gel Eyeliner Pen is cruelty free and it is suitable for sensitive eyes and people with contact lens. It has a precise tip and easy glide. You can use it to draw a perfect cat eye liners. Once you use the Tattoo Effect Liquid Gel Eyeliner Pen, you won't feel like using the eyeliner pencil any more.
It doesn't need a sharpener and it will keep its look the whole day. Rain and sweat can't make it disappear. It is easy to use and the high precision tip can achieve any eyeliner looks you want.
9.
Maybelline New York Eye Studio Lasting Drama Gel Eyeliner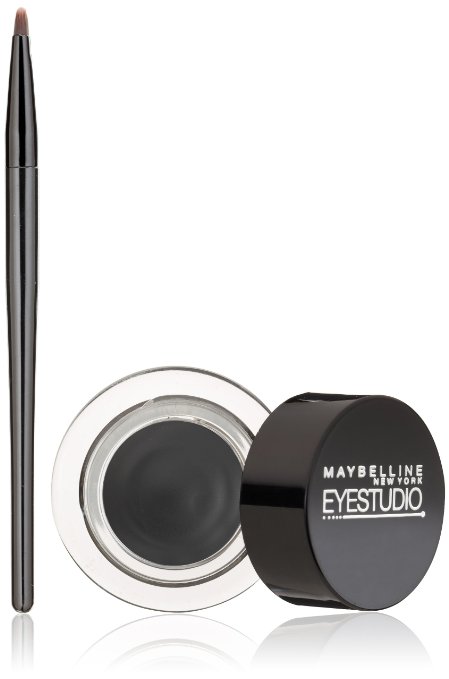 Maybelline New York Eye Studio Lasting Drama Gel Eyeliner can last 24 hours once you put it on. The water and smudge proof eyeliner can take you through the whole day no matter what will happen. The color is quite intense because it comes from highly concentrated pigments. You can use it to create a stylish eyeliner look and it will make you look more fashionable.

8. Maybelline New York Eye Studio Master Precise Liquid Eyeliner



Maybelline New York Eye Studio Master Precise Liquid Eyeliner uses the ink technology. So, the pigments can be saturated totally. There is a spring cap and this will make sure that the formula is always fresh.It won't dry or skip.
The brush of Maybelline New York liquid eyeliner is Ultra-thin 0.4mm. It can create precious eyeliner shapes and the intense color can last for a whole day. Whether you are experienced or a beginner, this liquid eyeliner can bring you a great eyeliner makeup experience.

7.
Younique Lashes New Mascara Mood Struck 3D Fiber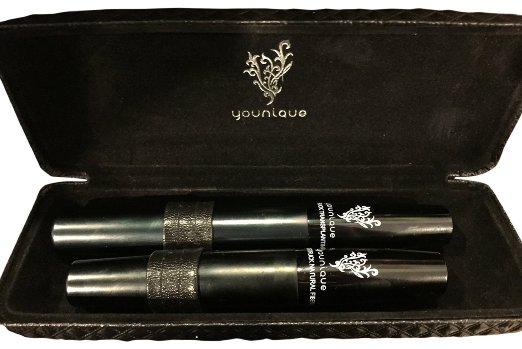 If you want to increase your lash volume, Younique mood struck 3D fiber lashes must be a great choice. Your lash volume can be increased by 400 percent. It has been tested by ophthalmologist. Short lashes will be elongated with the uplift eye serum which can also make your lashes much healthier.
It is water proof but it can be removed easily by the eye makeup remover. Your lashes will become longer and thicker with the help of the rayon fibers. Thus, your eyes can appear much larger visually.
6.
L'Oreal Paris Voluminous Original Mascara


L'Oreal Paris Voluminous Original Mascara is infused with a unique maximizing formula that can make your lashes about 5 times thicker than their natural thickness. You will find a dramatic difference on your eyes the moment you apply this mascara onto your lashes.
The volume maximizing brush works fabulously to thicken your lashes without flakes, clumps or smudges. Your lashes can be longer and still soft. It is free of fragrance and easy to wash off. Besides , It has past the ophthalmologist and allergy test, which means this mascara is safe for sensitive eyes and contact lens wearers.
5.
It's So BIG Volumizing Mascara (Black) by Elizabeth Mott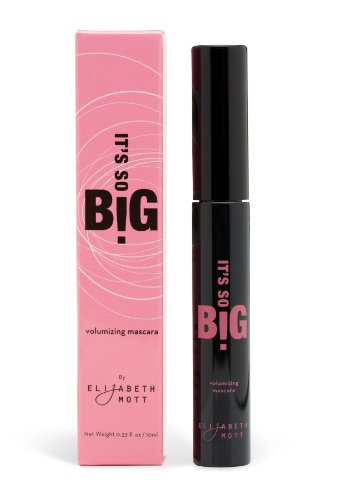 Dream to own long and curly lashes? That will not be just a dream any more. It's So Big Voluming mascara is made with an unique formula that can make your eye lashes longer and curlier. It won't smudge and can be worn the whole day. The hourglass brush can deliver the appropriate amount of mascara with its short and long bristle pattern. The lashes will become thicker instantly as you apply the mascara. It's So Big mascara mascara is cruelty free and can be washed off easily.
4.
3D Fiber Lash Mascara by Mia Adora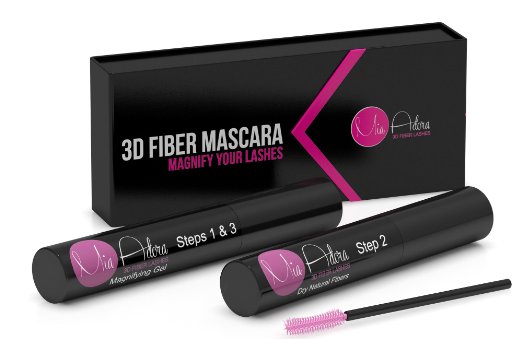 3D Fiber Lash Mascara by Mia Adora can maximize the length and volume of your lashes. It is a great choice for thin lashes. It has a waterproof and smudge free formula, so you can wear the thick mascara the whole day without worrying about getting raccoon eyes.
Its ingredients are all natural and it can make your lashes much stronger and nourish them. Just in three steps, you can have this charming long and curly lashes as long as you own this 3D fiber lash mascara.
3.
Wunderbrow Eyebrow Make Up, Brunette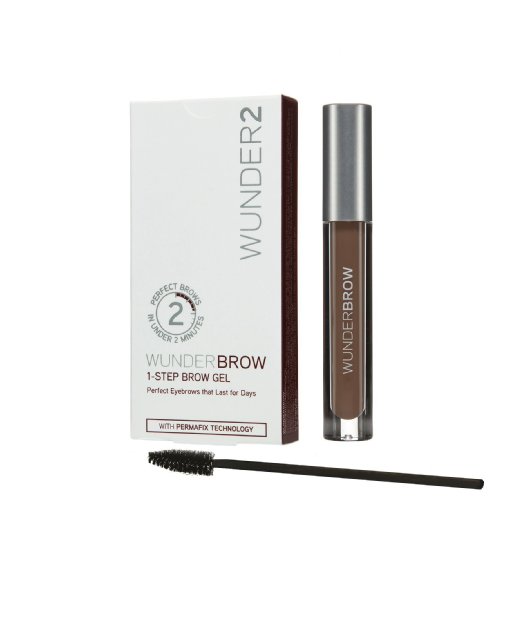 While you've got beautiful eyelashes, you should not ignore the appearance of your eye brows. A pair of nice brows will make you look more stylish and sophisticated. Wunderbrow Eyebrow makeup can do this work for you. Wunderbrow Eyebrow makeup is blended with hair-like fibers, which can give your lashes a more natural look.It can last as long as you wish. It won't transfer onto your clothes. If you rub it by accident, it won't smudge, either. Besides, it is waterproof and you don't have to worry about your brows disappearing while you are having fun in the swimming pool.
2.
Biotin Infused Eyelash & Eyebrow Serum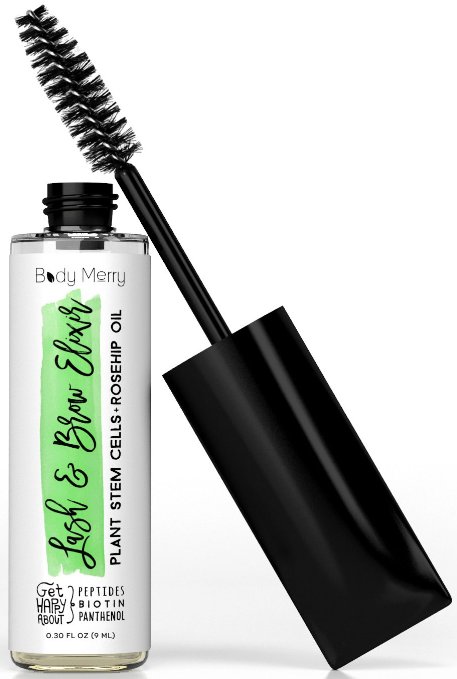 Made with essential B vitamin, biotin and peptides, Body Merry Serum does a fabulous work in stimulating the growth of your lashes and eyebrows. All of the ingredients have been proven effective.
Thanks to those customized ingredients, such as plant stem cells, aloe, Japanese green tea leaf extract and organic rosehip seed oil, Body Merry serum can take better care of your lashes and brows and make them much healthier and thicker. The serum is in a big size bottle, which allows you to use it for a period to witness the effect.
1.
Grandelash GrandeLASH-MD (3 month supply) 2 Milliliter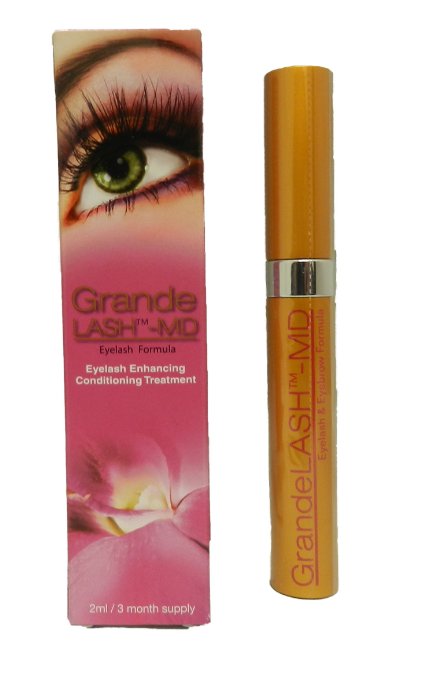 Not satisfied with your lashes because they are too thin or too short? Now, you won't feel upset because there is an effective product can solve this problem. There are vitamins, peptides and amino acids in Grandelash Grande Lash-MD.
All of these beneficial ingredients can condition your lashes and make them grow faster. The result can be seen in 30-40 days. About 89% of the customers have seen the definitive improvement. Have a try with this magical lash enhancer and see the result by yourself.
All women should have at least one good mascara and eyebrow makeup, even though you don't like doing makeups. They will enhance your look and make your eyes more attractive without any effort.