We all want flawless skin, but the fact is that we always come across all kinds of skin problems, such as fine lines, pinples, blackheads and skin allergies. It is quite necessary for women to find some products which can protect their skin.
In this post, we have selected ten natural facial treatment products. They are quite helpful to improve your complexion and solve the skin problems. Just scroll down and check them out.

10. Thayers Alcohol-free Rose Petal Witch Hazel with Aloe Vera Formula Toner

The Thayers Rose Petal Alcohol-Free Witch Hazel with Aloe Vera Formula Toner is famous for its natural and alcohol-free ingredients. Even the rose fragrance comes from natural roses. Therefore, it's quite suitable for women with skin allergies.
Besides, the sooting toner contains organic Witch Hazel exact, Aloe Vera, Grapefruit Seed fruit Extract and Vitamin E. All these ingredients will help to keep your skin soothing and blooming. Another ingredient is call Butylene Glycol. It works well to attract moisture. So this is also a great toner to moisturize your face.
9. ArtNaturals Enhanced Vitamin C Serum with Hyaluronic Acid

Want to remove the signs of aging from your face? The ArtNaturals Enhanced Vitamin C Serum will do this job perfectly. The art natural serum works well to reduce wrinkles and fine lines and it is also effective to eliminate sun spots and discoloration. All its ingredients are 100% natural and organic.
This serum is also packed with antioxidant rich vitamins which function quite well to keep free radicals from forming. The less free radicals are in the body, the younger you will appear. According to your skin needs, you can apply this vitamin C serum onto your face and decollete once or twice a day.  Your skin will become plumper, more hydrated and more youthful.
8.
Cellulite Cream & Muscle Relaxation Cream
As people grow older, fat on the belly and legs are growing more and more. Besides, it seems that the muscles are more likely to feel painful after some work. Luckily, these problems can be solved by this cellulite and muscle relaxation cream.
It is useful to reduce the cellulite because of the natural ingredients Juniper and Sweet Basil. The blood circulation can be improved greatly so the fatty deposits are easier to be burned. Besides, it can work as a top massage cream to make your muscles feel much better. This cream will provide necessary natural ingredients to make your skin tight and your muscles more relaxed.
7.
Aztec Secret Indian Healing Clay Deep Pore Cleansing
Since about 1800 years ago, the clay has been used for facial treatment, and it's even a part of Cleopatra's beauty ritual. This Aztec Secret Indian Healing Clay is said to be world's most powerful facial treatment product.
It is made of 100% natural calcium bentonite clay which comes from Death Valley, California. There, the clay is dried in the sun for more than six months. And the temperature is as high as 134 degrees. As it doesn't contain additives and fragrances, all people can use this product safely. It is quite effective for deep pore cleaning and can be used to solve any skin problems, such as acne and insect bites. Besides, it can be used for clay baths and foot soaks.
6.
THE BEST Dead Sea Mud Mask
The Dead Sea Mud Mask is a strong guard to protect your skin from blackheads,pimples and breakouts. All the toxins and can be pulled out as you apply this mask. The Dead Sea Mask contains important minerals which can make your skin more elastic and make your pores more invisible.
In addition, the fine lines and wrinkles on your face can be diminished as it is packed with some nourishing oils, such as Sunflower oil and Jojoba oil. There are more natural ingredients like Dead Sea Mask, Aloe Vera Juice and Shea Butter. All of these make sure this is an incredible choice for all skin types.
5.
InstaNatural Vitamin C Serum


Packed with natural ingredients like Tea Tree Oil, Vitamin C and B3, this alcohol-free Vitamin C serum is suitable for all skin types. Beneficial ingredients like Retinol, Salicylic Acid and Niacianamide are also contained in this skin clearing serum. So, it can remove all the signs of aging from your face and bring back the flawless skin to you.
It's already been proven quite effective by its fans and it has even been recommended by Prevention Magazine. The price of this serum is quite fair and the serum will give you a luxurious spa experience.
4.
Grapefruit Scrub for Face and Body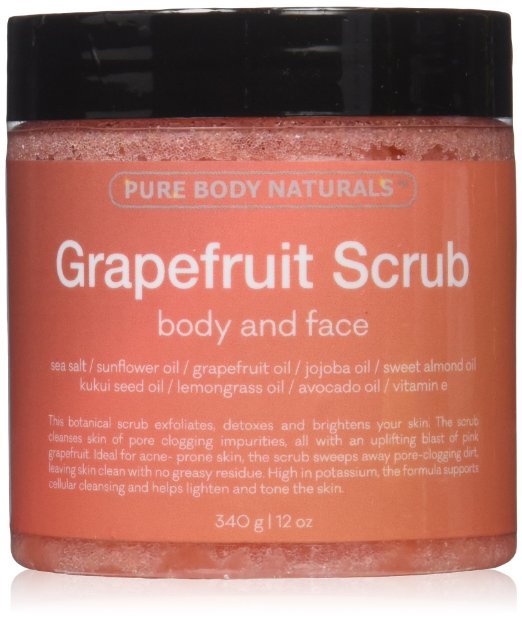 Skin is the biggest organ in our body and it is very easy to be damaged by free radicals, toxins and the sun. You need this Pink Grapefruit Scrub by Pure Body Naturals to protect and maintain your skin. It is made of a natural formula which contains Lemongrass, Avocade and Sunflower Oil, which make it possible to achieve a firmer and younger complexion. Because these ingredients work well to fight against the sun damage and to strengthen all the skin cells.
There is no need to worry about the safety of this product since it is made with natural ingredients. It's an ideal scrub for all skin types to exfoliate and protect the skin.
3.
O'Keeffe's for Healthy Feet, Foot Cream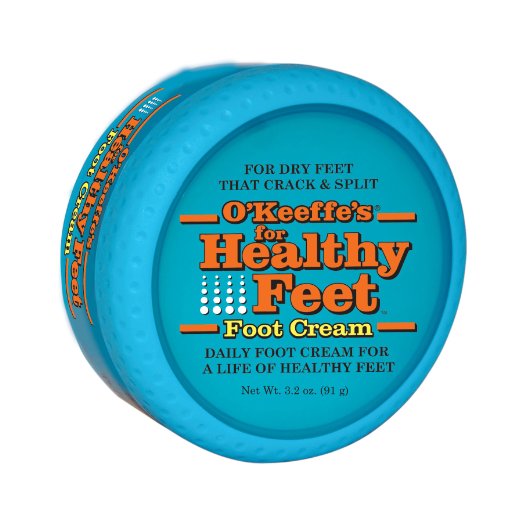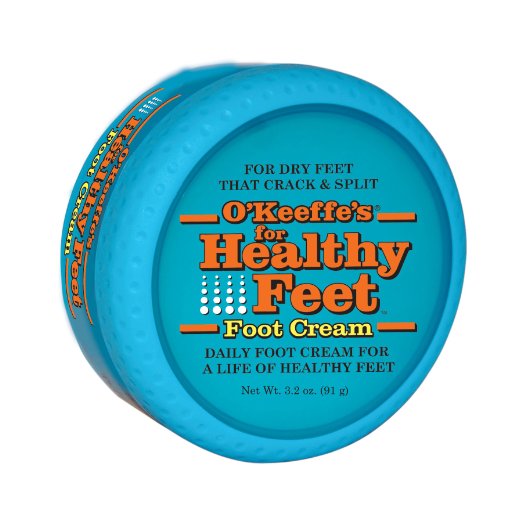 O'Keeffe's for Healthy Feet Foot Cream is made with non-greasy formula and it's a concentrated foot cream, which makes this product a wonderful option in every season. The concentrated cream works amazingly in relieving the awfully dry feet. Besides, it can take better care of the feet and moisturize them day by day so that they won't crack any more.
What's better is that O'Keeffe's for Healthy Feet Foot Cream is safe for people with diabetes. It need to be applied twice a day. The effect has been proven by plenty for buyer.
2.
PURA D'OR Moroccan Argan Oil


Made of 100% pure Organic Argan Oil which is known as Liquid Gold, this product has a lot of benefits. It can be used to diminish all the facial blemishes, such as dark circles under eyes, fine lines and wrinkles. The elasticity can be restored. As for muscle pain and scars, this Organ Oil is also very helpful. Moreover, it's quite effective to moisturize the face and the skin.
Since there is no harmful chemicals added, the Pura d'or Argan Oil is safe for all skin types. It's quite gentle yet very effective. That's not all! The Pura d'or Argan Oil can be used to treat brittle, dry and damaged hair, too.
1.
100% Natural Arabica Coffee Scrub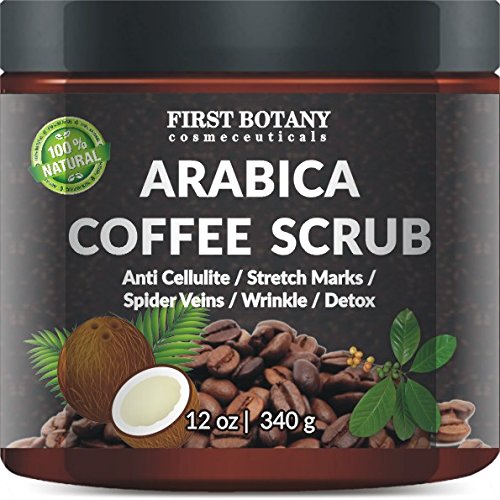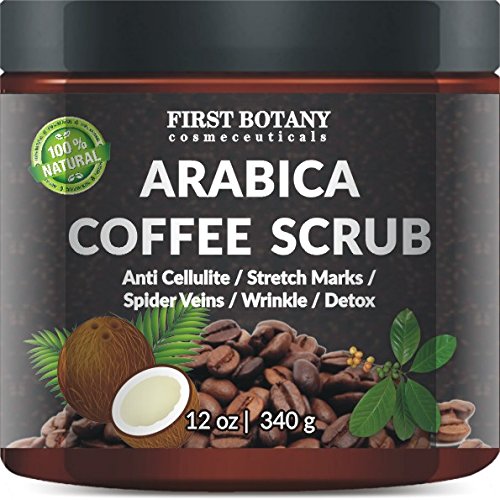 Body scrub is now a necessary skin product for women. Different form other body scrubs which are made with harsh chemicals, this Natural Arabica Coffee Scrub is made with dead sea salt, antioxidants organic coconut oil, such as Coconut Oil, Olive oil, Shea Butter, Sweet Almond Oil, and Grape Seed Oi. All these natural ingredients make sure the coffee scrub is safe and soft to exfoliate your skin and your face.
The high caffeine formula in the coffee scrub works well to shrink blood vessels so that the veracose veins can be improved. It has the same effect to reduce stretch marks and reduce inflammation. Moreover, all the organic oil will together with the antidioxidants help to improve circulations and restore elasticy. All the signs of aging and skin damages can be reduced and repaired.

The best product doesn't mean the most expensive one. Instead, it is the one that suits you most. As long as you find good products for yourself and take good care of your skin, it is no longer just a dream to get the hand of time back and to take back the flawless skin.