Silver and white are hair colours that are so incredibly on trend and fashionable that it's no surprise that they're becoming increasingly popular! Indeed, opting for a silver or white colour tone, or even both to highlight your hair with, will finish your style with the most gorgeous light tone, and keep you impeccably on trend too. Here is the Styles Weekly collection of the best silver and highlighted hair looks to inspire you to be bold with your next hair appointment.
Silver to Blonde Swept Back Bob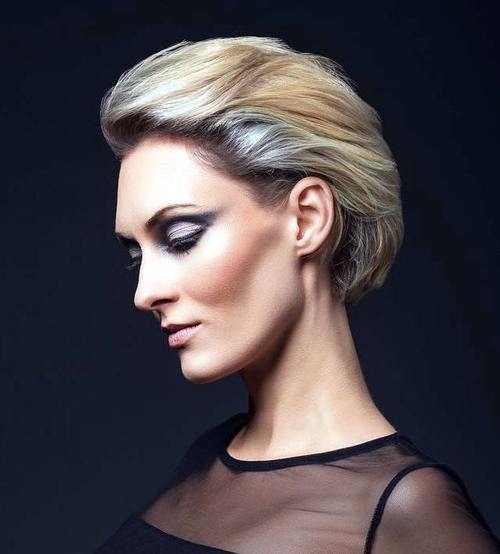 We're not sure what is more stunning about this lady – her incredibly chiselled cheek bones or her gorgeous hair! Her hair is naturally a dark brown colour, which she's coloured a striking silver shade which blends into a beautiful and vibrant blonde throughout the ends of her stunning bob. She's swept her hair back for a fabulous finish to show off the colour transition!
White Blonde Asymmetrical Bob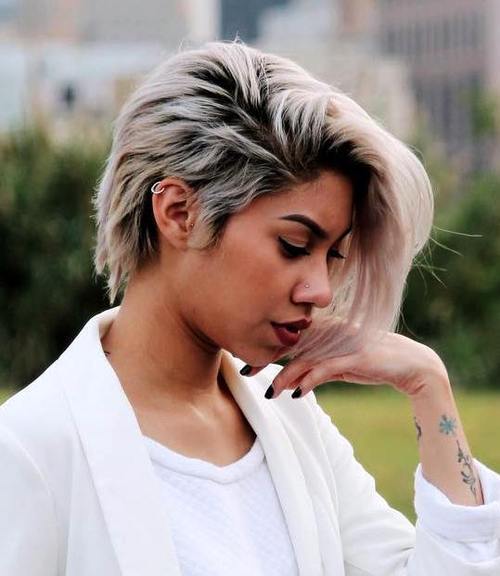 Not only is this lady incredibly fashionable, but she's beautiful too! Her gorgeous hair is cut into a super cool asymmetrical bob that we simply cannot get enough of, shorter on one side and falling into a lovely, longer section on the other side. Her hair is naturally a dark brown shade which she's worked into a white blonde shade that we adore.
Brown to Silver Bob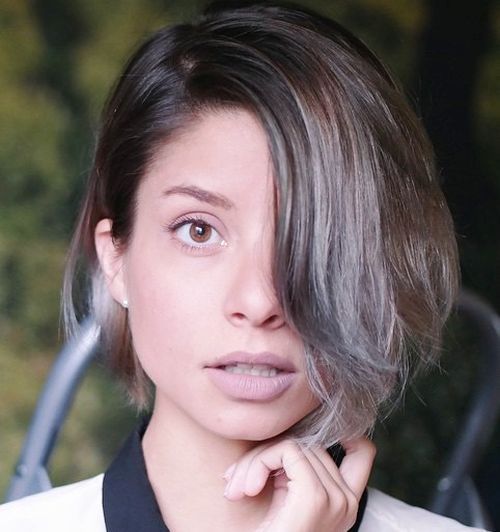 This lady's beautiful bob falls around jaw level and is finished with a lovely and natural flick that creates a stunning bouncy style! She's worked a stunning silver section into the front of the hair, which creates the most gorgeous light and fashionable finish around the front of the face. We love the colour combination of grey and brown, don't you?
Blonde, Brown and Silver Waves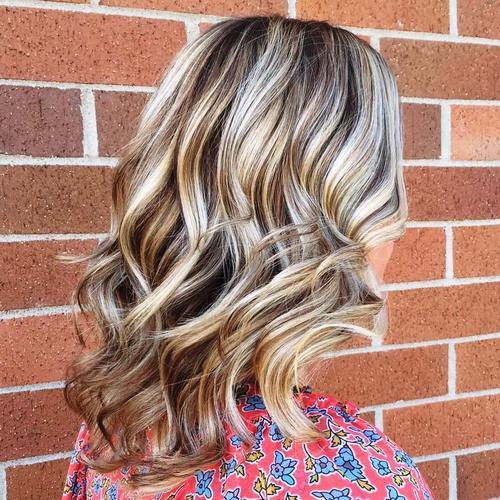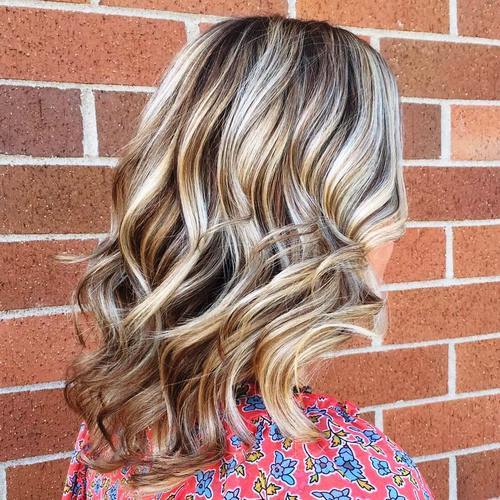 This hairstyle is absolutely gorgeous and simply full of a stunning collection of colours! Her hair falls in gorgeous waves around her shoulders, and is a stunning colour combination of blondes, browns and most importantly of all; silver. This lady has worked a gorgeous silver shade subtly around the front of the face to add light to the style.
Dark Blonde to Silver Ombre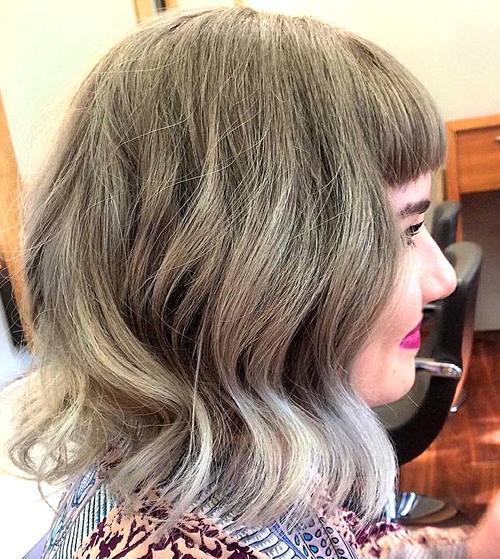 This lady's remarkable bob has the most adorable finish that we ever did see! Falling just above the shoulders and finished with a fringe that frames the face, she's loosely curled her hair for the most stunning and bouncy finish. Her hair is a gorgeous dark blonde shade which has an ombre transition to a silver shade at the tips that we cannot get enough of.
Long Silver Locks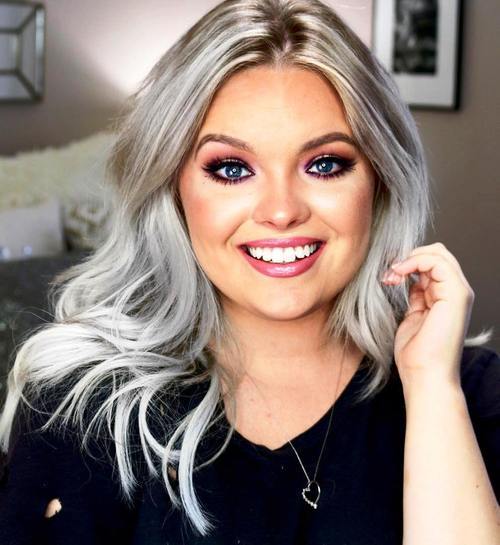 As opposed to subtly implementing a silver shade into her incredible locks, this lady has gone all out and we think it looks utterly incredible! A gorgeous and shimmery shade of silver starts from root to tip, and she's parted her luscious locks in the centre and worked very loose curls throughout to create a stunning finish that we just adore.
Silver and White Curly Hair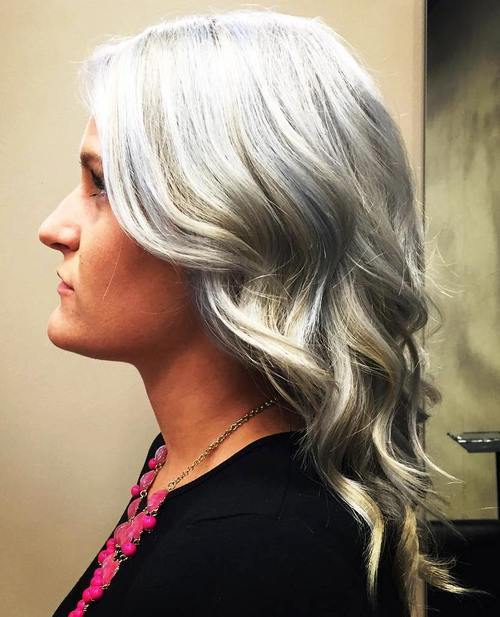 Two stunning metallic shades run through these incredible curly locks, and they work together to create an absolutely gorgeous finished style. A shiny silver and a golden white blonde fall in streaks throughout her hair, which is loosely curled from around the ear length downwards. We think the colour combination at work here is utterly striking.
Red to Silver Ombre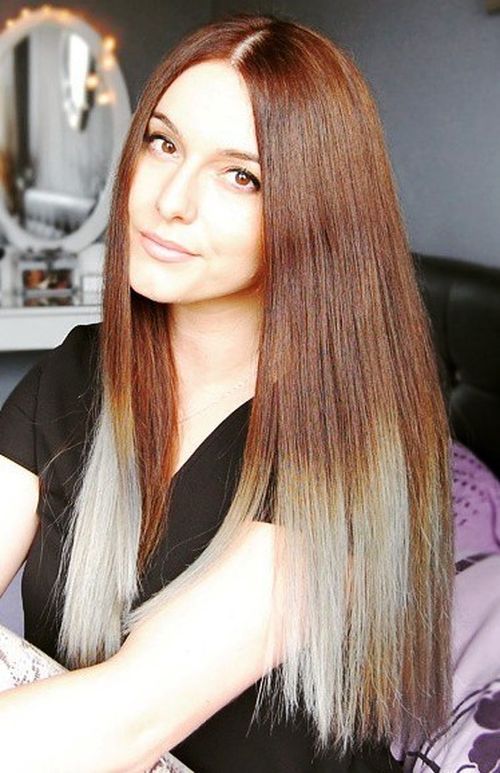 This stunning lady has the most beautiful and straight locks that we ever did see, parted in the centre to create a symmetrical style that we absolutely adore! Her natural hair is the most striking red shade which is glossy and warm, and it's melted into a gorgeous grey shade which graces the ends of the hair. These colours work together just perfectly.
Silver and Blonde Highlighted Bob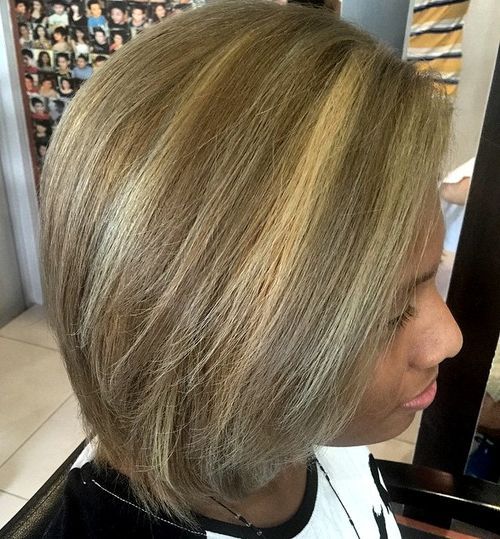 This beautiful and straight bob falls in a lovely sweeping style across one side of the head, falling just shy of shoulder length to create a lovely cropped finish. Her naturally blonde hair has been highlighted with beautiful shades of blonde and a white silver hue that adds the most beautiful and metallic finish, creating a lovely and soft style that is simply perfect.
Brown to Grey Balayage Blend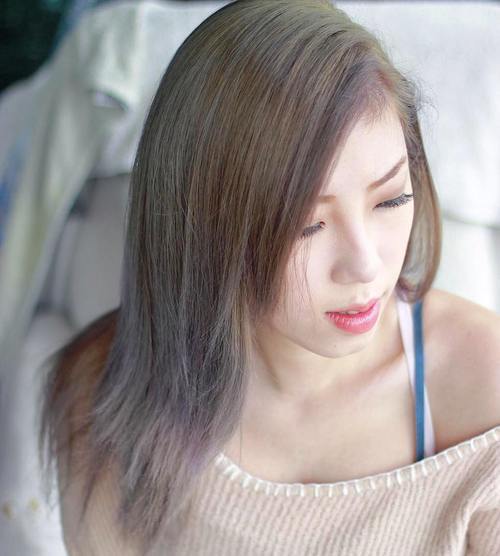 This stunning lady knows that grey is a gorgeous and incredibly fashionable colour, and so she's implemented it in to her hairstyle with ease to create the most beautiful finish! Her lovely and straight hair is a gorgeous brown shade which works with a balayage blend into a striking grey tone. Her hair is loosely flicked at the ends for the perfect finishing touch.
Blonde and Silver Sleek Look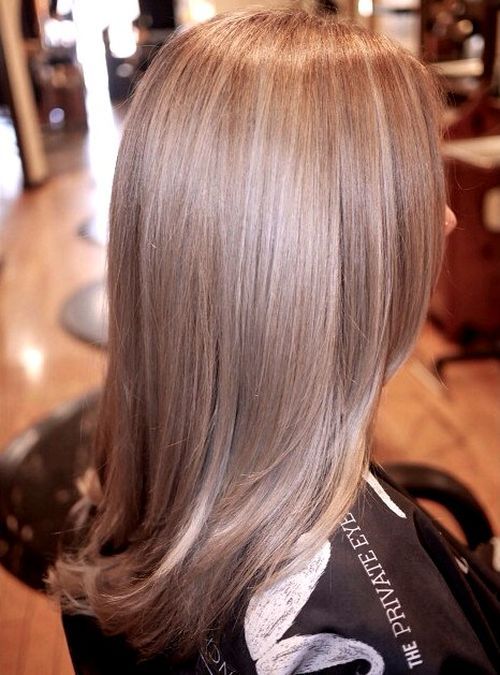 This lady's stunning hair is sleek, stylish and most importantly of all; silver! Her luscious silver hair is streaked with a gorgeous and soft blonde shade, the two colours working together perfectly. Her hair is straight and sleek, with ever so slightly flicked ends to create a look that is so fashionable it could be straight off the catwalk!
Silver, Blonde and Brown Bob with Fringe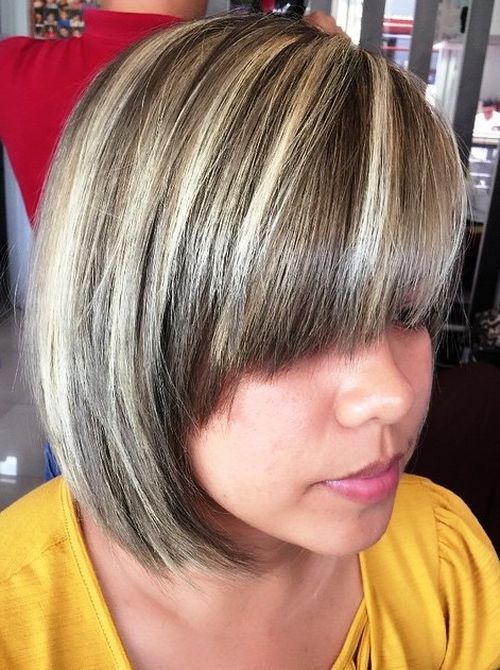 This gorgeous bob falls just below the jaw line in an incredible curved finish that frames the face, and has a wonderful side fringe that is oh so stylish too. As well as a wonderful cut, her hair has been highlighted with chunky brown and silver blonde highlights which create an incredible style and finish that is totally unique and totally gorgeous too!
Subtle Silver Highlights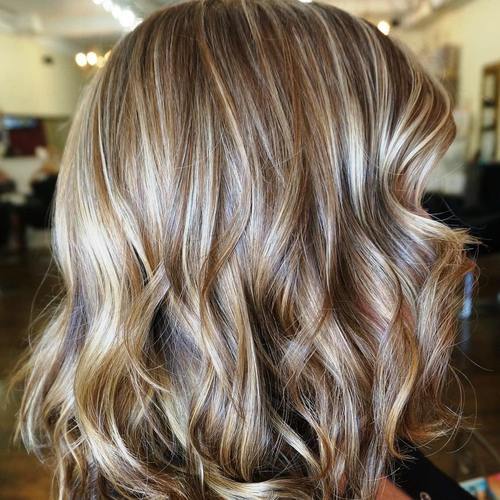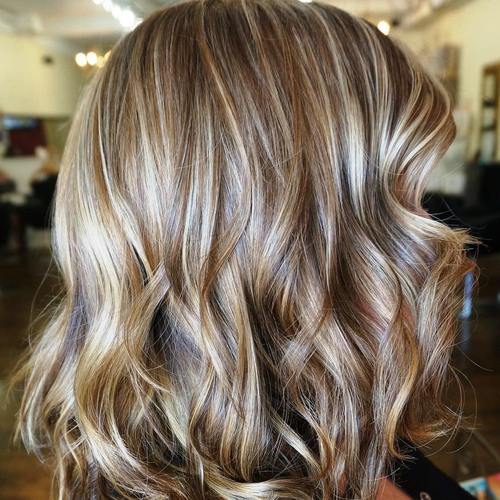 This beautiful long bob falls in lovely loose curls above the shoulder, making an utterly beautiful and bouncy style that is just perfect for an evening out or a special occasion. Her hair is a unique combination of colours woven through in striking, thin streaks, from a rich chocolate brown, to blonde, to a subtle silver sheen to add a shimmer finish.
Brown to Silver Balayage Curls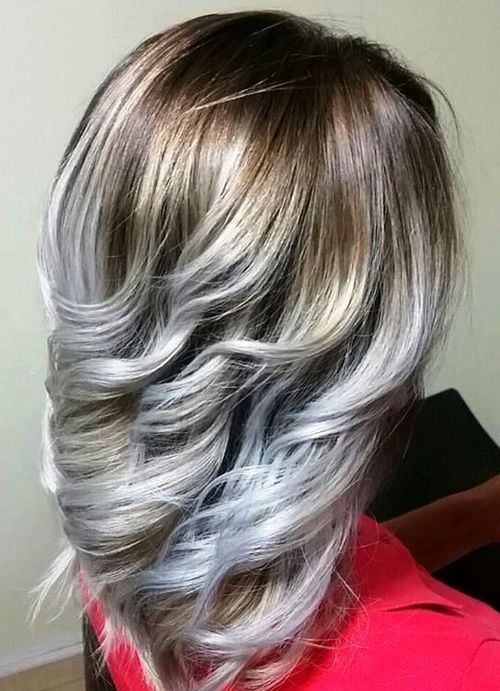 This utterly glorious hairstyle might just be our favourite from this stunning silver collection, and when you see the beautiful balayage blend at work with this incredible style! She's melted her brown hair into a striking shade of silver that work utterly perfect together; especially when finished with ringlets throughout for the most wonderful finish.
Gorgeous Brown and Grey Blend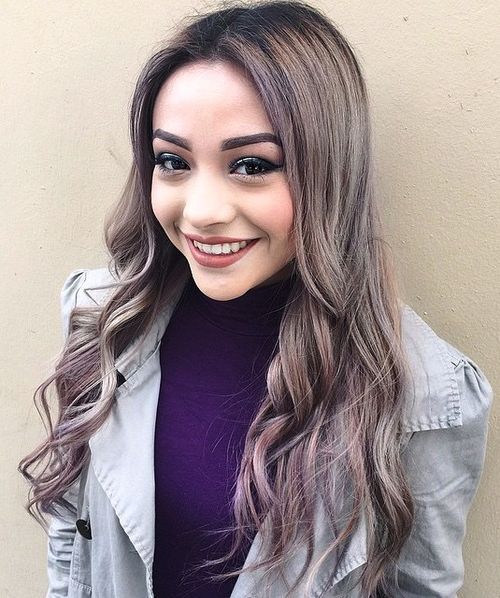 This gorgeous girl has equally gorgeous hair, which is so on trend for the current season she could be straight from the pages of a magazine! Her lovely long locks are a lovely brown shade which is blended with a subtle shade of grey to create a wonderful finished look. She's added tight curls throughout the ends to highlight the amazing colour transition.
Copper to Silver Curls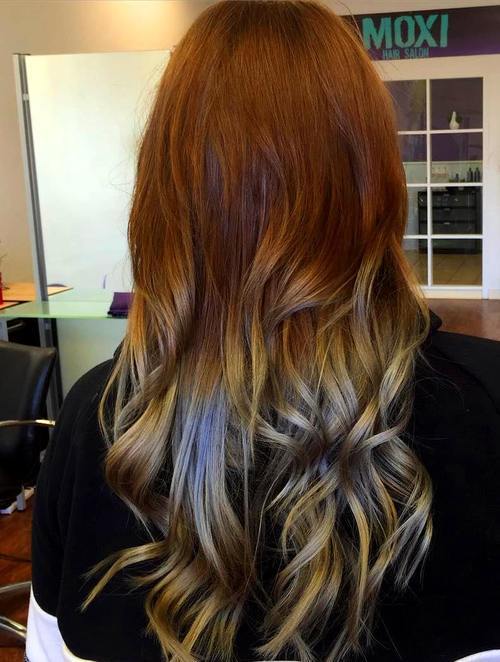 This luscious long hair is so beautiful that we can't stop staring at it! This impeccably stylish lady has proved that silver and white shades work with almost any colour; especially a deep fiery red! Here we can see a balayage blend a copper shade into a silver one with ease. This lady has worked lovely curls throughout the ends of the hair to show off this transition.
White Blonde and Brown Streaks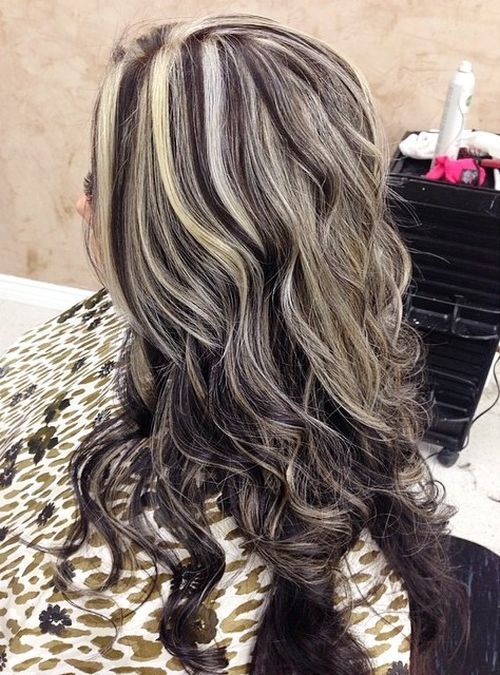 If your hair is as wonderful, long and thick as this lady's, then the perfect way to show it off is by opting for a bold colour scheme that makes you stand out from the crowd. That's exactly what this clever lady has done, working a deep and dark brown with a white blonde in contrasting stripes from the root to create a striking finish, perfectly complimented by the gorgeous ringlets she's worked throughout.
Brown to Silver Blonde Corkscrew Curls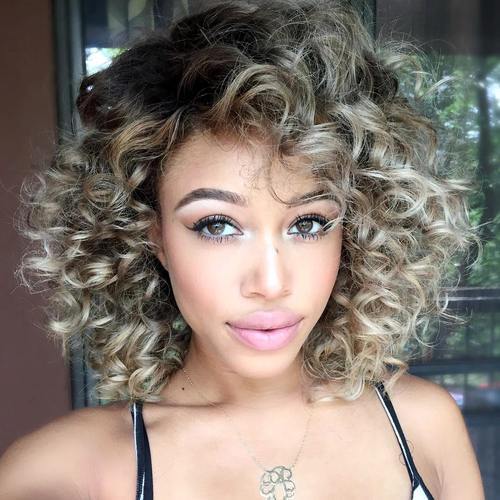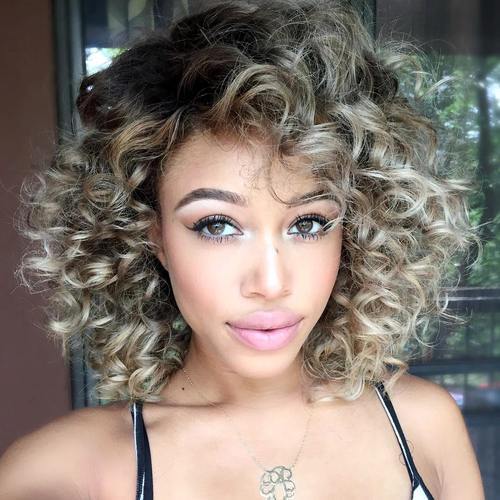 This absolutely stunning lady is blessed with both a beautiful face and the most beautiful hair! She's opted for a colour blend of chocolate brown to a stunning silver blonde shade, which is utterly breathtaking, and shows off her phenomenal corkscrew curls! These tight ringlets bring her short hair to life with bounce and volume that we can't get enough of.
Silver Sweeping Bob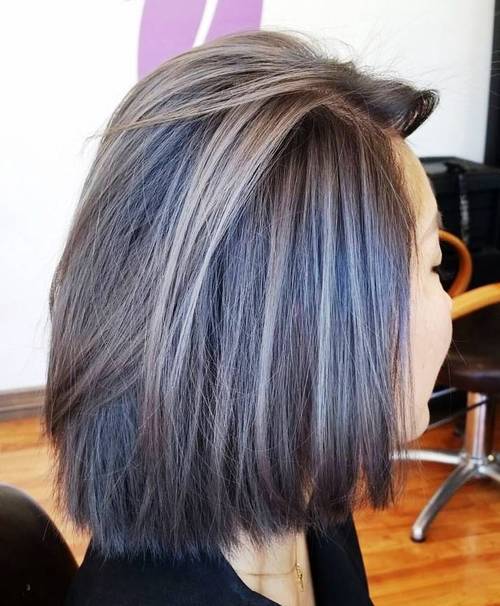 This incredibly fashionable female has the most gorgeous hair that we ever did see, with a wonderful bob which is cut in a smooth line around the jaw. She's straightened it with a sleek and glossy finish, opting for a lovely sweeping style with the top layer. The colour is a unique shade of silver with a subtle brown tint that offers a warming finished look.
Silver Blonde Curls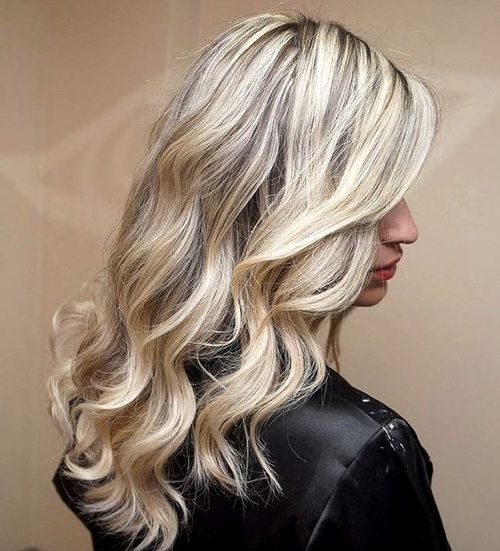 This hair is just perfect for the new season – light, bright and oh so stylish! Her lovely long hair falls below the shoulders, and is full of lovely curls from root to tip to create a glamorous and chic finish. The colour is a stunning silver toned blonde that is glossy and shiny, working perfectly with her darker blonde natural hair, which is showcased along the parting.
Silver and white highlights are easy to implement, regardless of the colour of your natural hair, as Styles Weekly hope they've proved with this gallery of hairstyles. We predict that the silver and white highlights trend is here to stay, so make sure you be brave to stay ahead in the fashion game.