Take outfit inspiration from Styles Weekly, and see the amazing styles from coast to coast! No matter the time of year, outfit inspiration is always necessary, and we have collected the latest outfit trends for winter, spring, summer and fall! Enjoy.
Leather Trousers and Blanket Scarf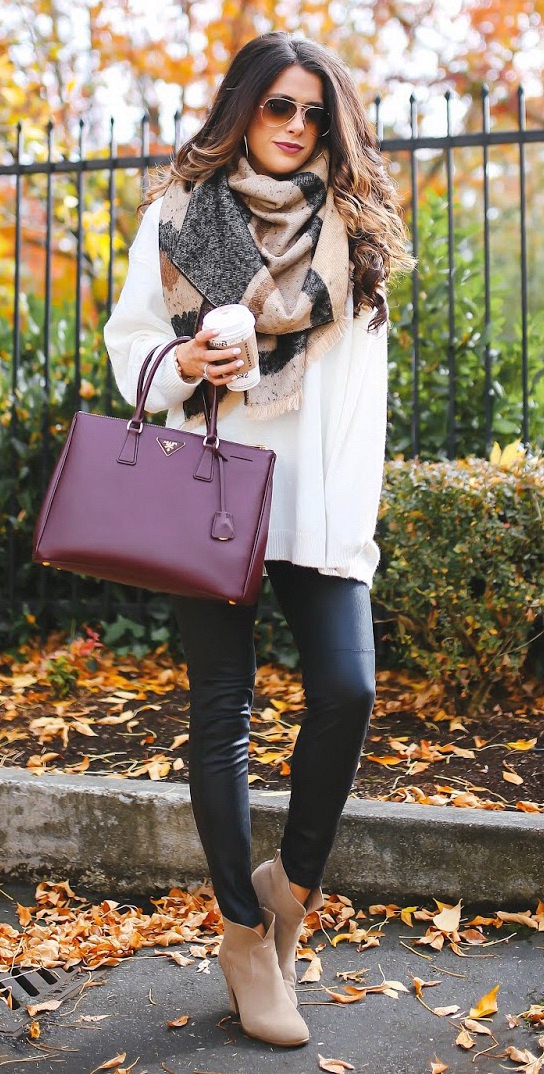 We're in the Winter season now, which means cold weather and a change in fashion. Wrapping up warm is essential – that means layers, boots and lots of chic outerwear. Remaining stylish when you have to be warm can be quite difficult, which is exactly why we've compiled this blog post of incredible outfit ideas for you to try right now and spruce up your seasonal wardrobe.
This gorgeous and festive look is warm without compromising an inch of style. Wearing leather trousers tucked into pale brown suede ankle boots with a heel, this stunning lady has accessorised with a baggy white jumper and a huge blanket scarf in a range of neutral tones. Finishing her look with sunglasses and a burgundy handbag, this lady has her style nailed.
Outfit Ideas for Fall – Bardot Neck Jumper and Jeans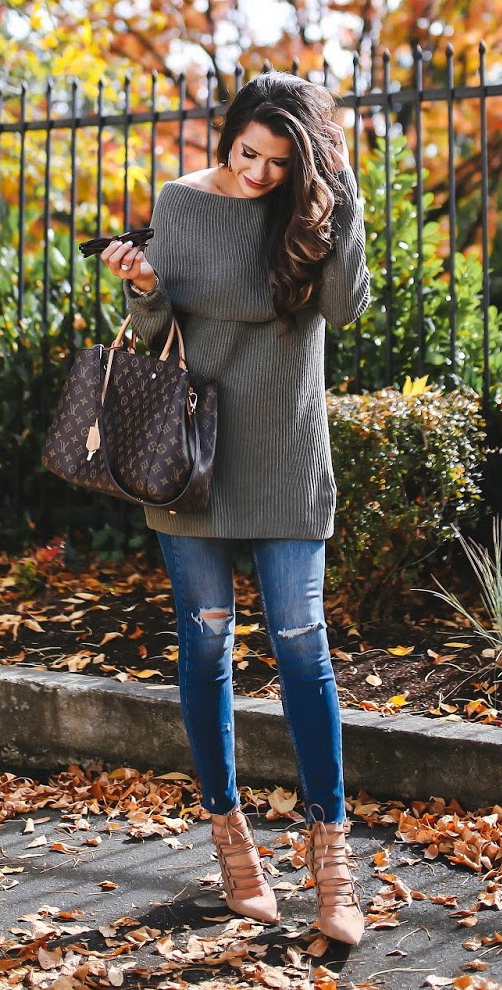 Bardot neck or off the shoulder has without a doubt been one of the biggest fashion trends of the season, which is why we absolutely adore this incredible look pictured above! Working a grey knitted off the shoulder sweater and some ripped jeans, this lady has finished her look with nude lace up high heels and a Louis Vuitton handbag.
Sheer Blouse and Wide Leg Trousers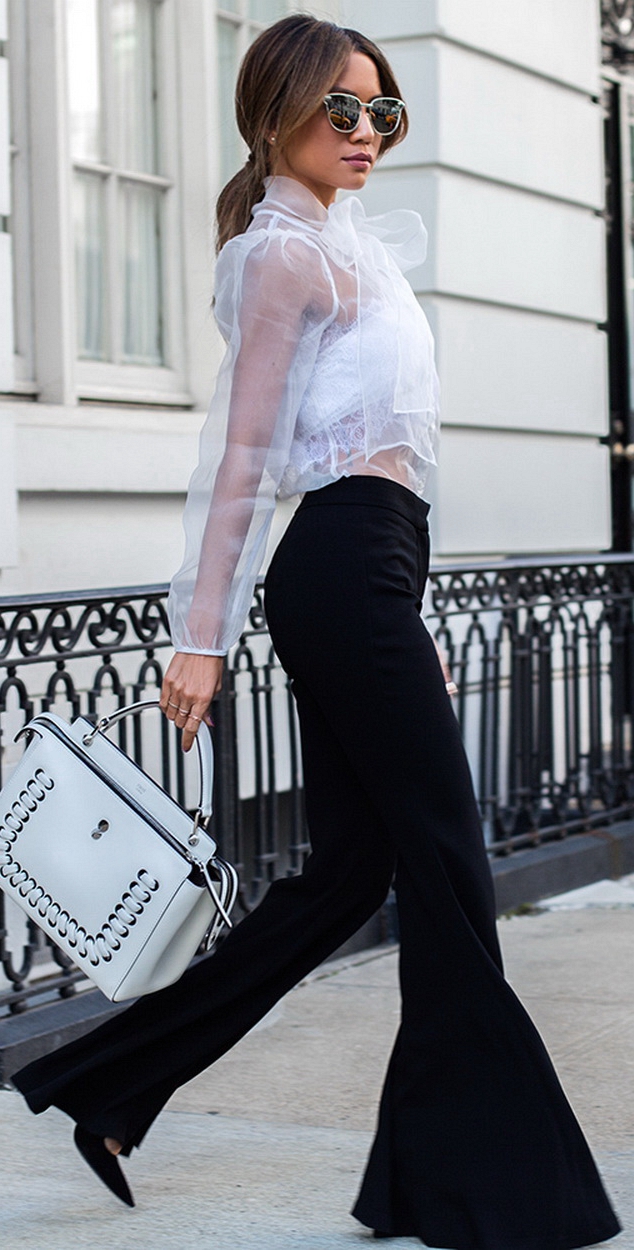 Wide legged trousers or flared trousers have been storming the fashion scene lately, and that certainly doesn't seem to be slowing down any time soon! This lovely lady has paired a chic black pair of wide leg trousers with a gorgeous white, sheer blouse. Finishing the look with black heels, this outfit takes style to the next level!
Outfit Ideas for Summer – Black Bodycon Dress with Cut Out Skirt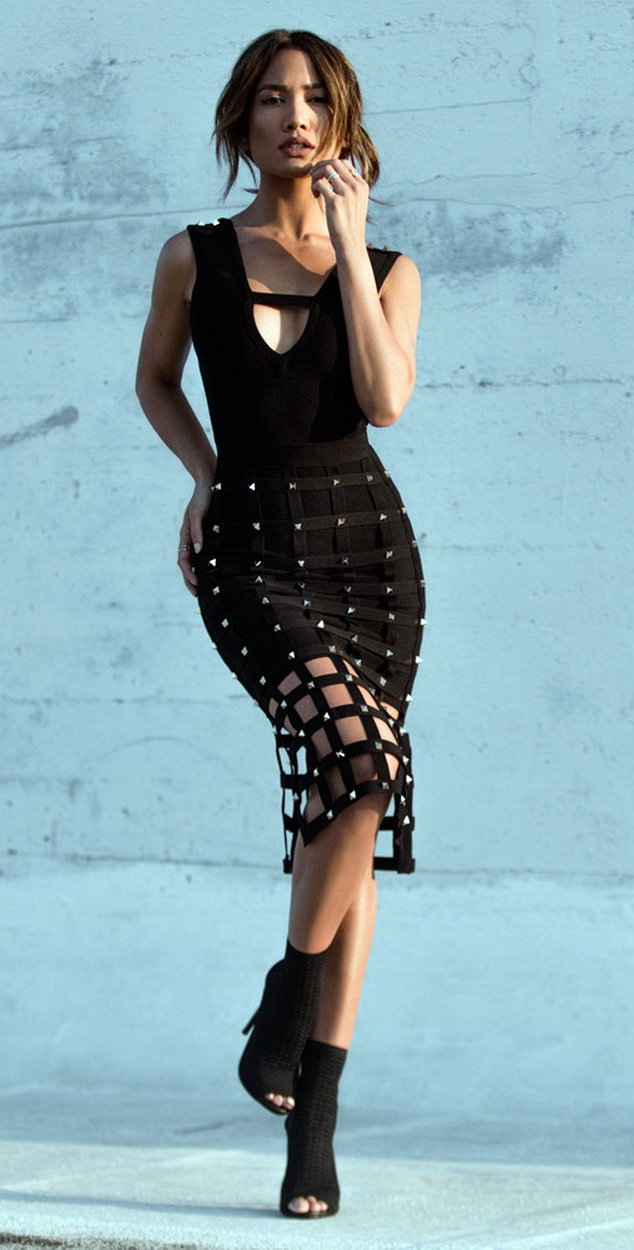 You can't go wrong with a little black dress can you – but no one said that look had to be boring or simple! This lady opts for a twist on the LBD with this incredible black bodycon dress with cut out skirt, finished with stud details for a gorgeous and glamorous look. Peep toe heels are the perfect compliment to this dress, as you can see above!
Outfit Ideas for Work – Black Polo Neck with Suede Camel Skirt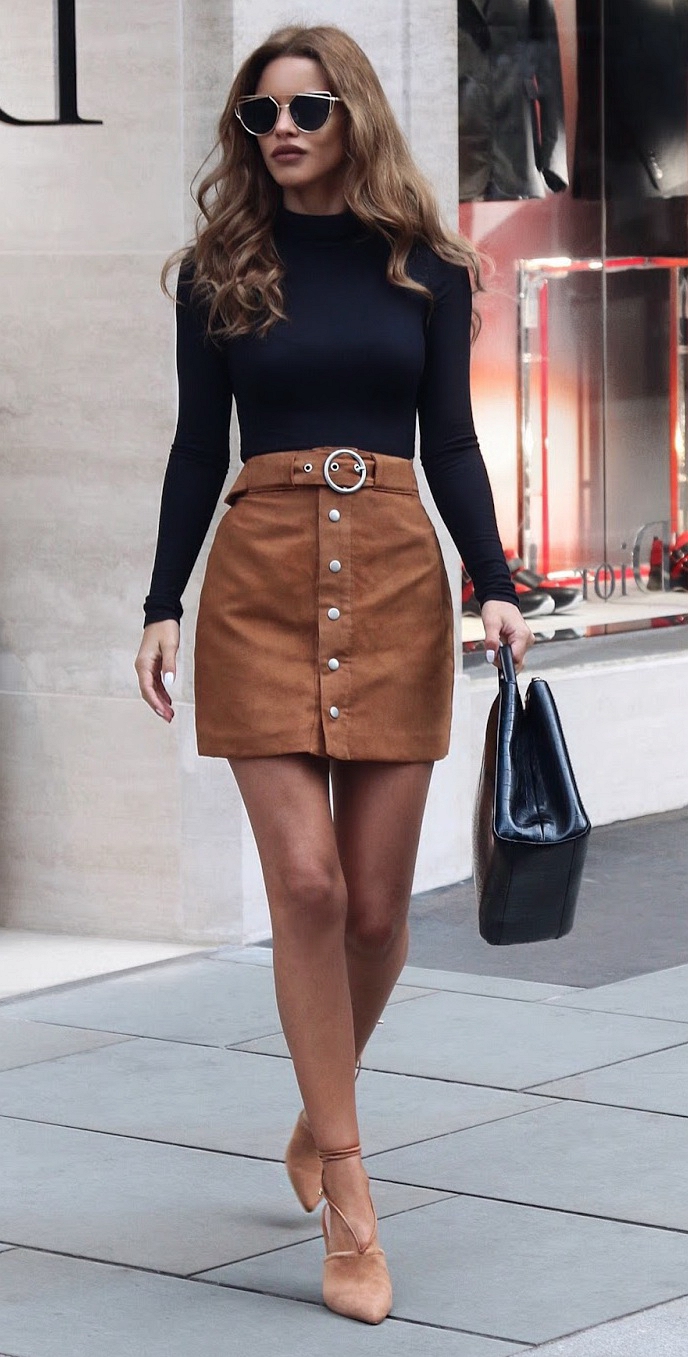 This beautiful look is the very definition of chic, and we absolutely adore the outfit this lovely lady has chosen. Taking a classic black polo neck top with long sleeves and a tight fit, this fashionable female has tucked it in to an a-line suede shirt in a neutral camel shade. Finishing the look with lace up nude heels, we think we're on to a winner here.
Smart-Casual Day Time Look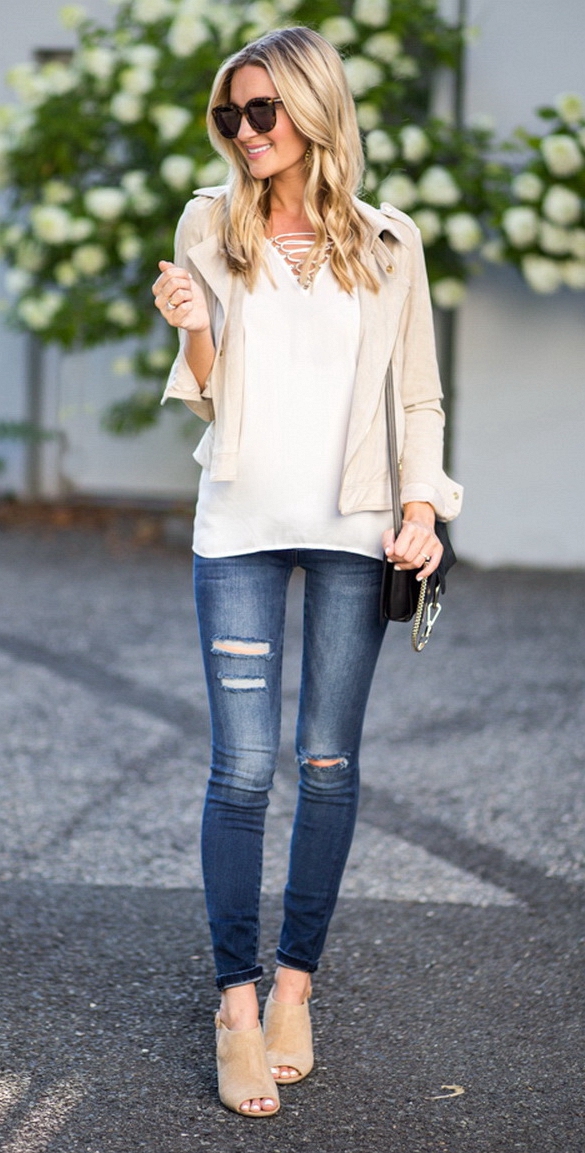 Smart-casual is the perfect fashion look, enabling you to go from day to night easily without changing your outfit. This lovely lady has nailed the look, opting for navy ripped jeans and a pretty white top, finished with a nude blazer and nude peep-toe boots. Add some sunglasses for an extra dose of style!
Navy Sweater with Denim Shorts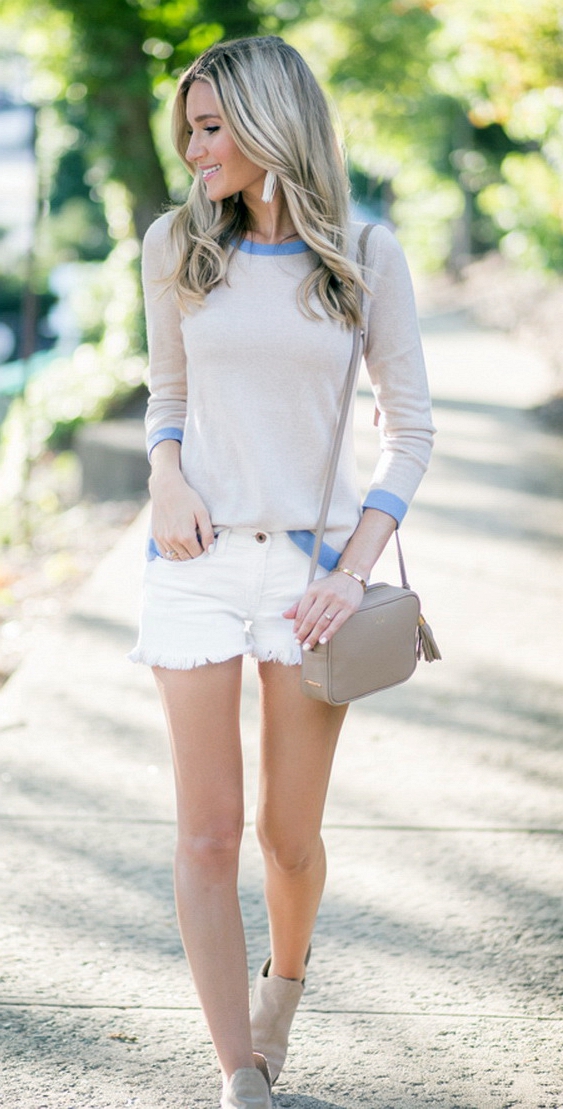 A look which is perhaps best kept for the warmer days of the winter season, this lady has worked together some fashionable white denim shorts with a blue-trimmed camel sweater which is finished with a fashionable round neck. A little leather bag and some comfortable nude trainers create the perfect finishing touch for your look.
Outfit Ideas for Spring – Pink Blazer and White Jeans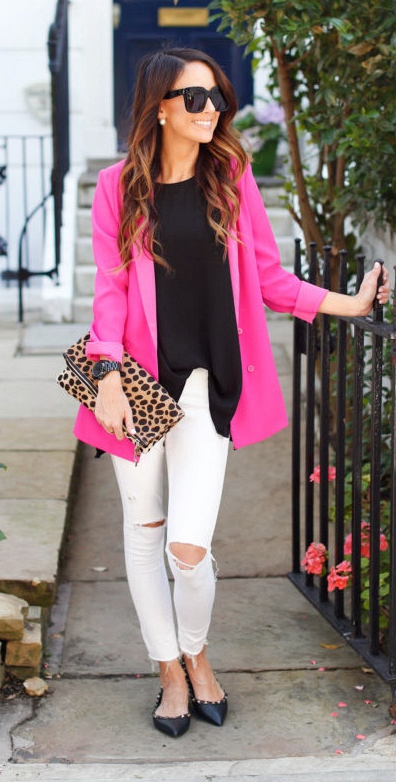 Blazers are the ultimate smart-casual fashion accessory, taking a simple outfit into a true fashion statement. This stunning lady has taken her black and white outfit of black pumps, white jeans and a black t-shirt to the next level with a bright pink blazer. Finishing with sunglasses and a leopard print clutch, the style is undeniable.
Ripped Sweater Dress and Thigh High Boots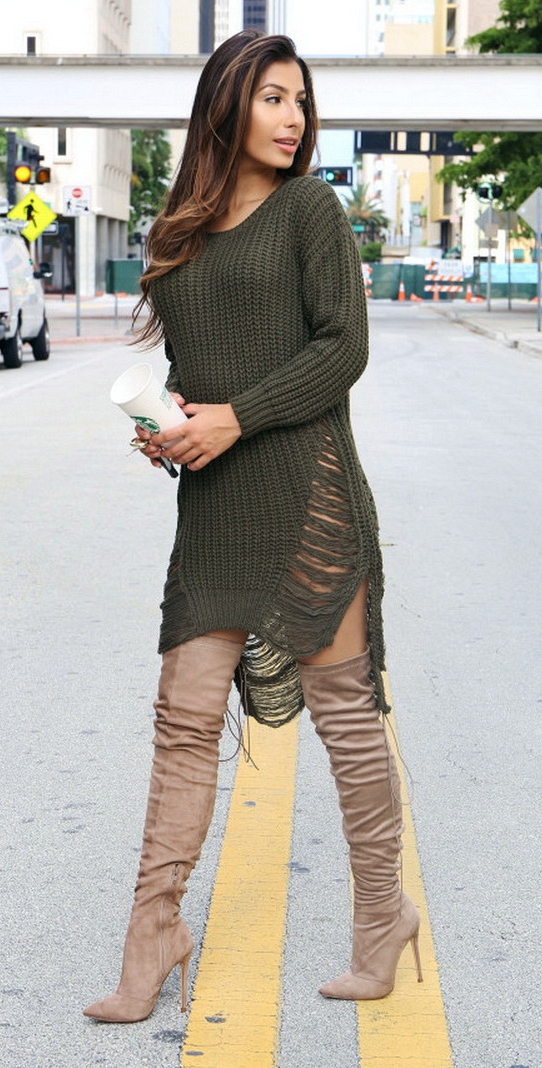 Combining smart and casual to perfection, this amazing outfit is perfect for a day to night look. Starting with a stunning khaki sweater dress with unique and on trend fraying details, this outfit is finished with thigh high nude boots with a big heel. This look is absolutely flawless.
Denim Shorts and Boots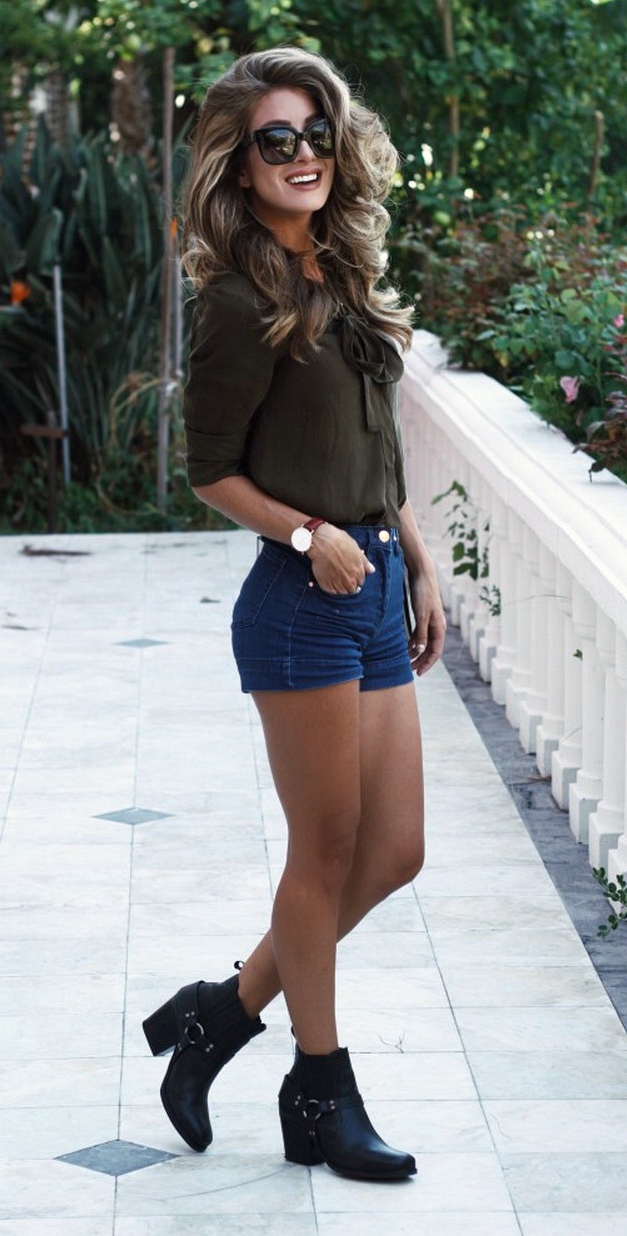 We're not sure what we love more about this picture – the lady's absolutely beautiful hair or the impeccable outfit at work. Working with black leather boots with a heel, figure hugging denim shorts and a gorgeous khaki shirt, the ensemble is perfect and oh so fashionable too. Finish with sunglasses for a gorgeous day time style.
White Military Coat and High Heels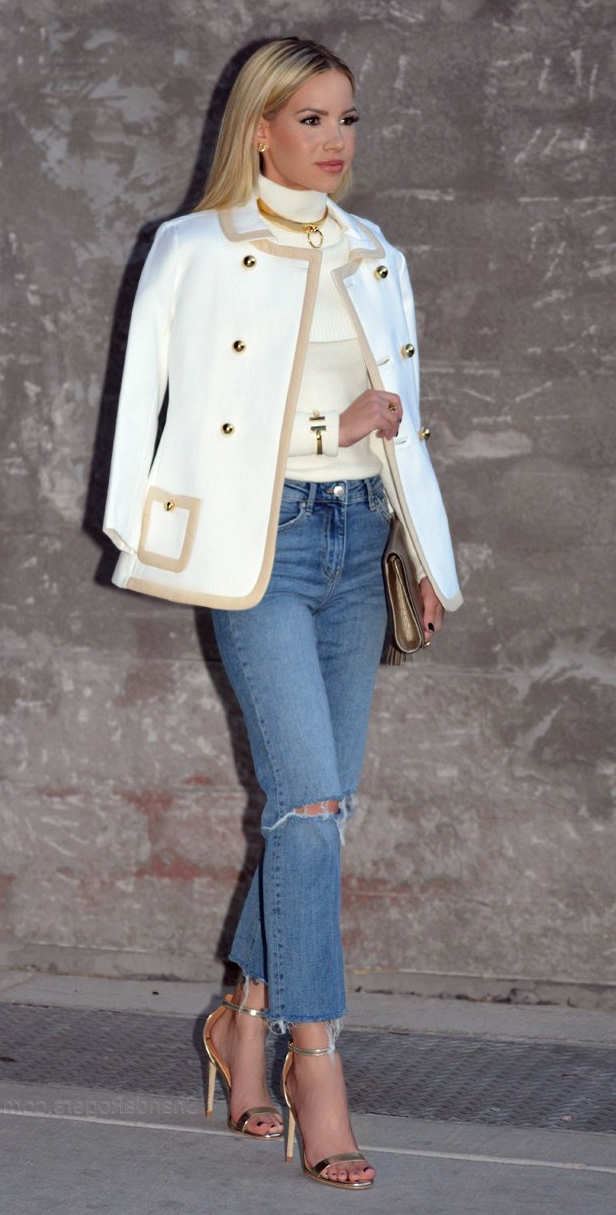 Presenting the perfect outfit for a special occasion – whether that's dinner with the girls or an important meeting. Starting with the stunning metallic heels, this lovely lady has paired them with ripped jeans, a peach sweater and a stunning white military style jacket with gold hardware. We adore the end result!
Which of these outfit ideas is your favourite? Can you recreate some of these stunning looks from your own wardrobe? Let the Styles Weekly team know what you think!
Outfit Ideas for Fall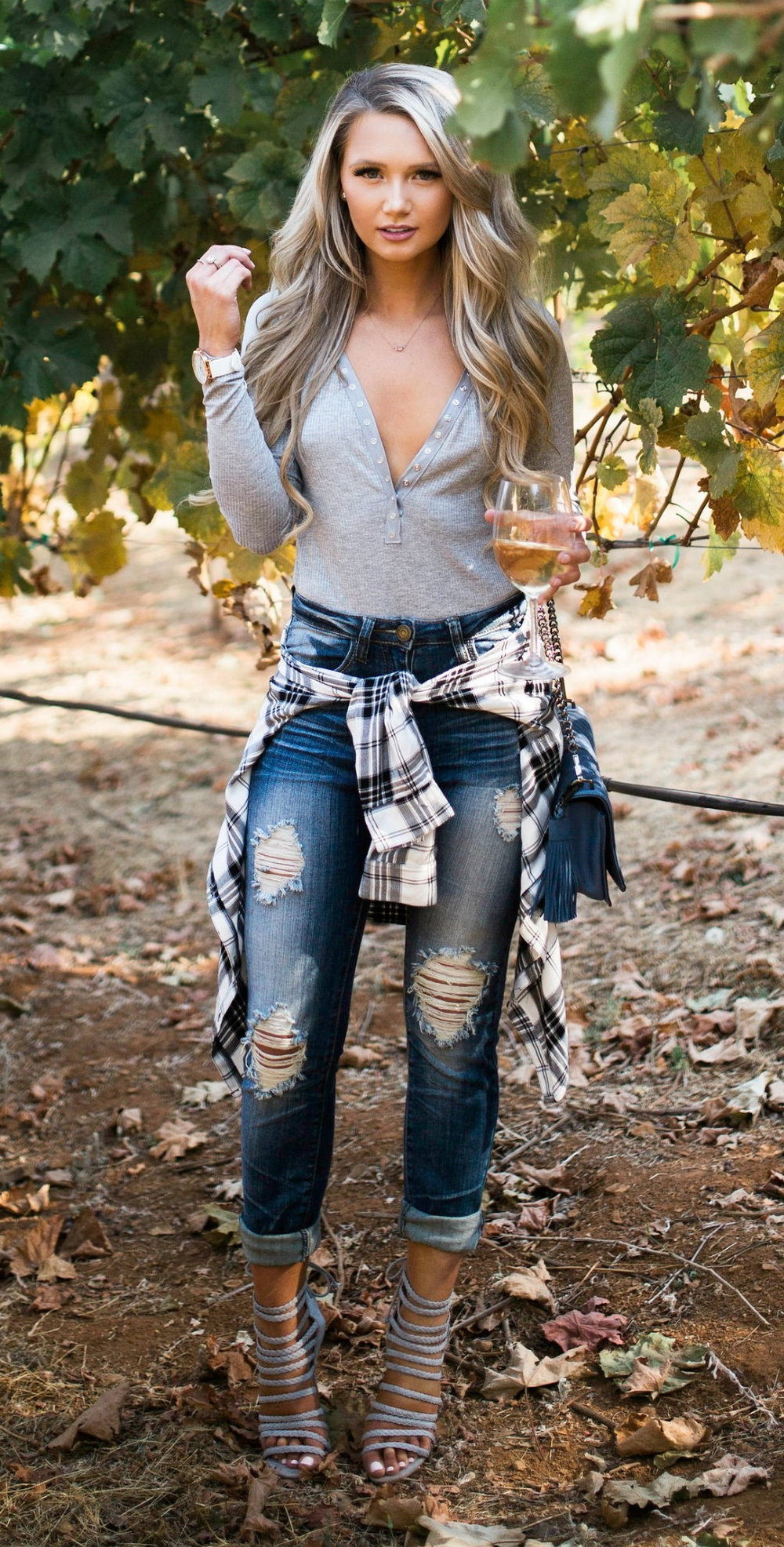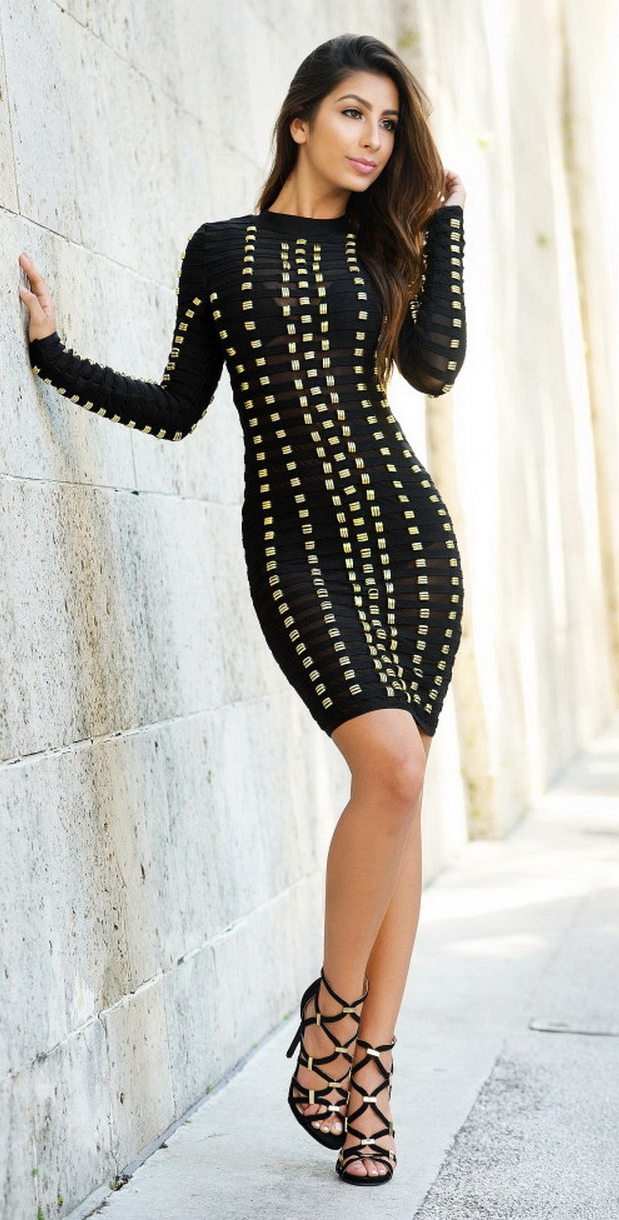 Trendy Outfit Ideas for Summer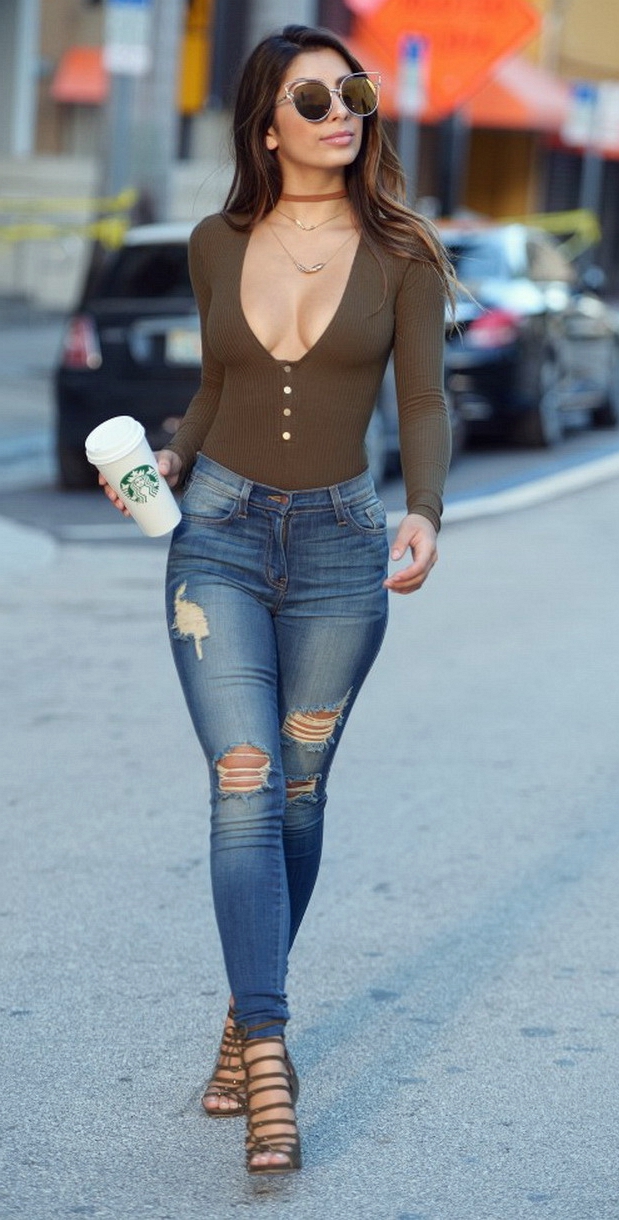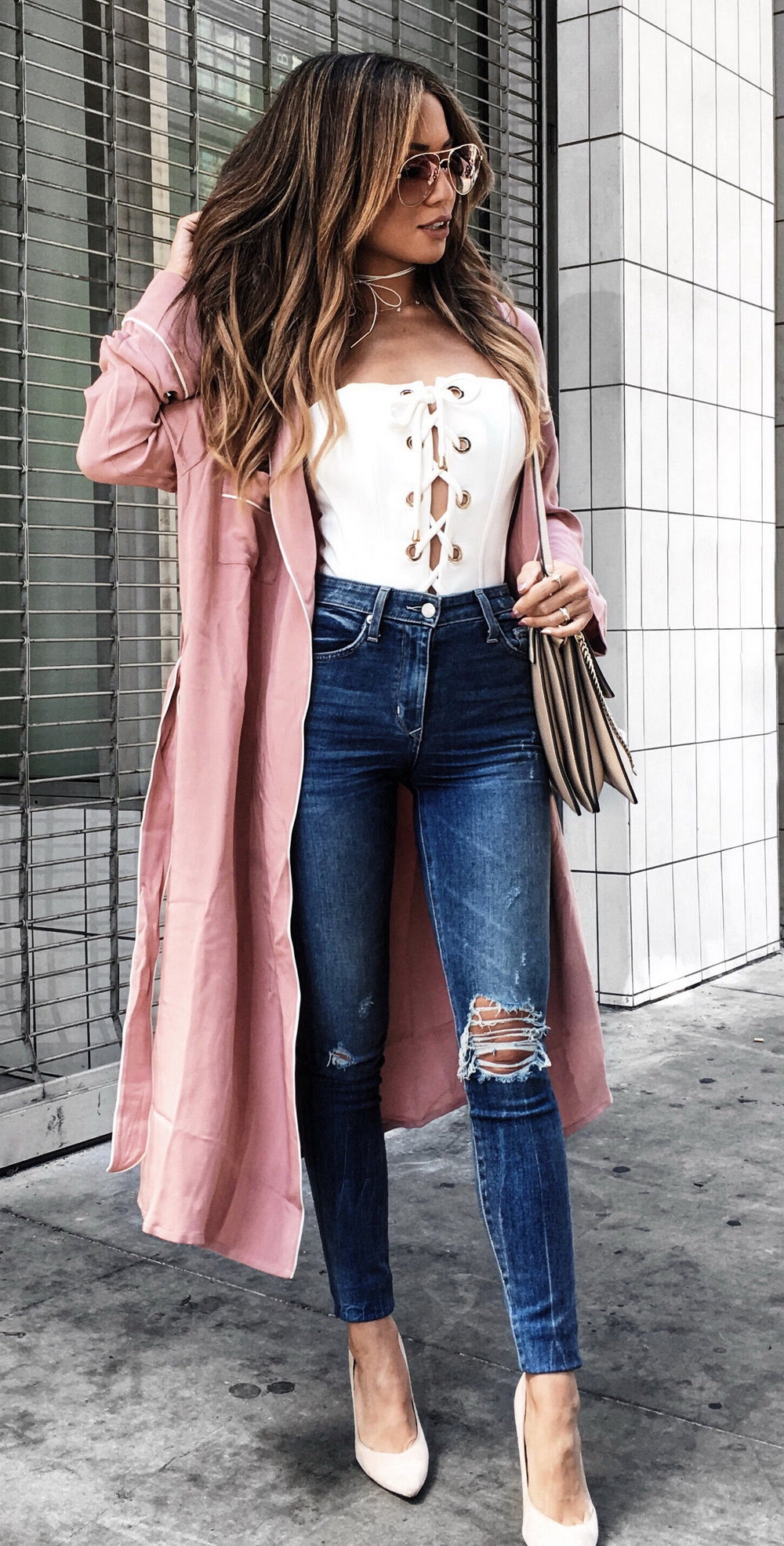 Warm Outfit Ideas for Winter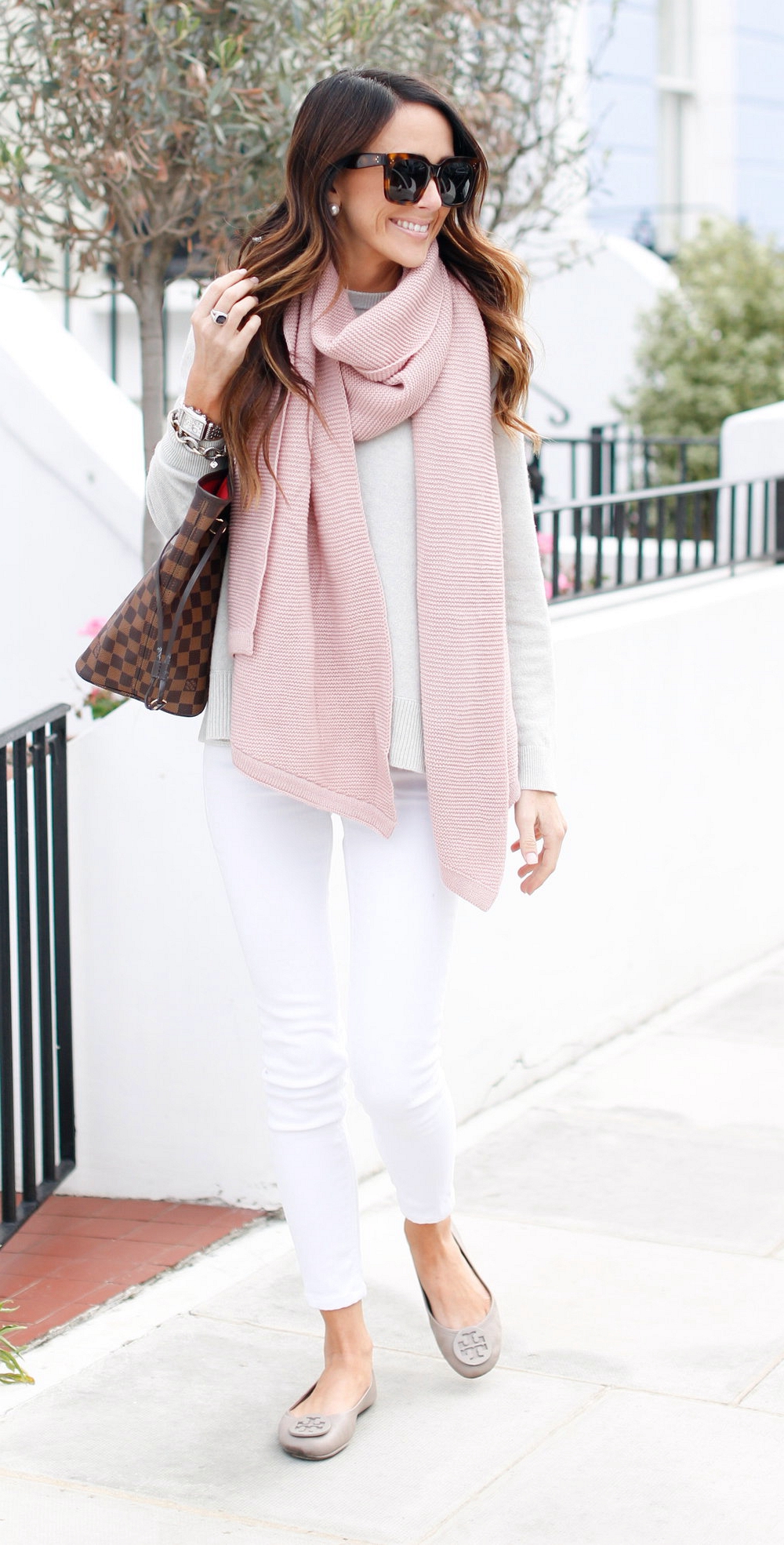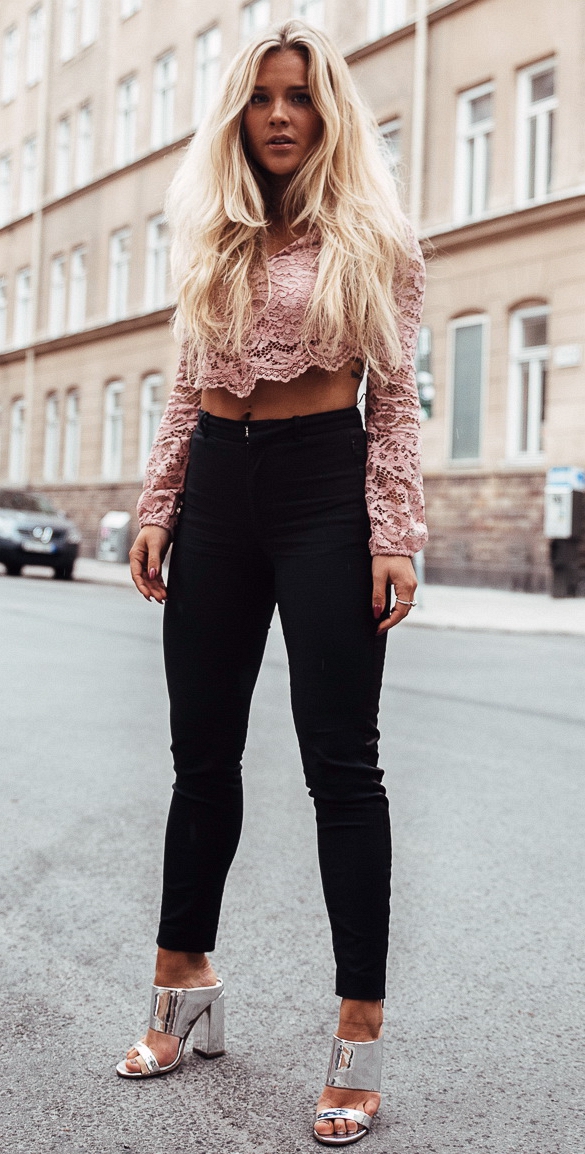 Outfit Ideas for Winter