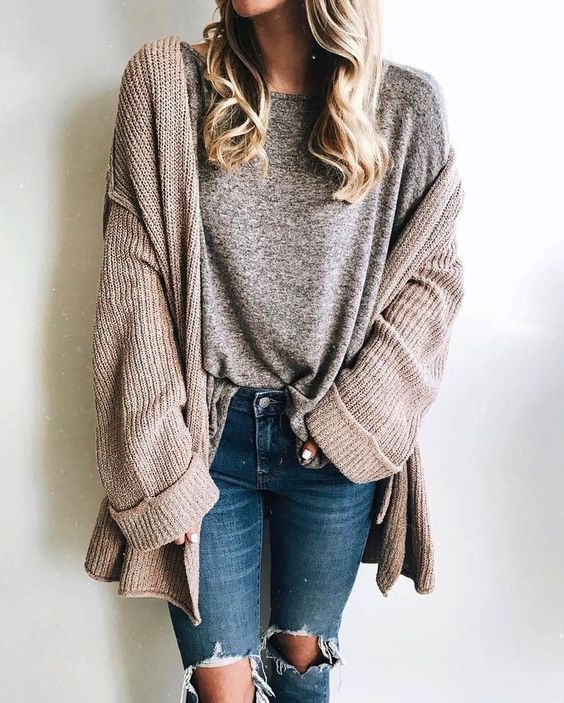 Loose, slouchy cardigans are arguably one of the most comfortable and convenient pieces of clothing that has ever been invented. They keep you warm in cold weather, they're easy to throw on quickly as you rush out the door, and you can incorporate them seamlessly into almost any outfit without looking out of place.
Fortunately for all the women out there who prioritize comfort and convenience over everything else when it comes to fashion, slouchy cardigans are both comfortable and stylish. It seems that celebrities and style icons from Miley Cyrus to Kendall Jenner to runway models from various fashion weeks around the world recognize the magic of loose-fitting cardigans. These stars along with many others have helped slouchy cardigans rise to the top of the trend charts just by wearing their own favorite styles out in public. Rejoice in the days of stylish comfort that await you. Before you start wearing the same cardigan and leggings combo every single day, try taking advantage of the versatility of slouchy cardigans by learning how to create a wide variety of trendy looks just by styling your cardigans in different ways.
1. Wear Mom Jeans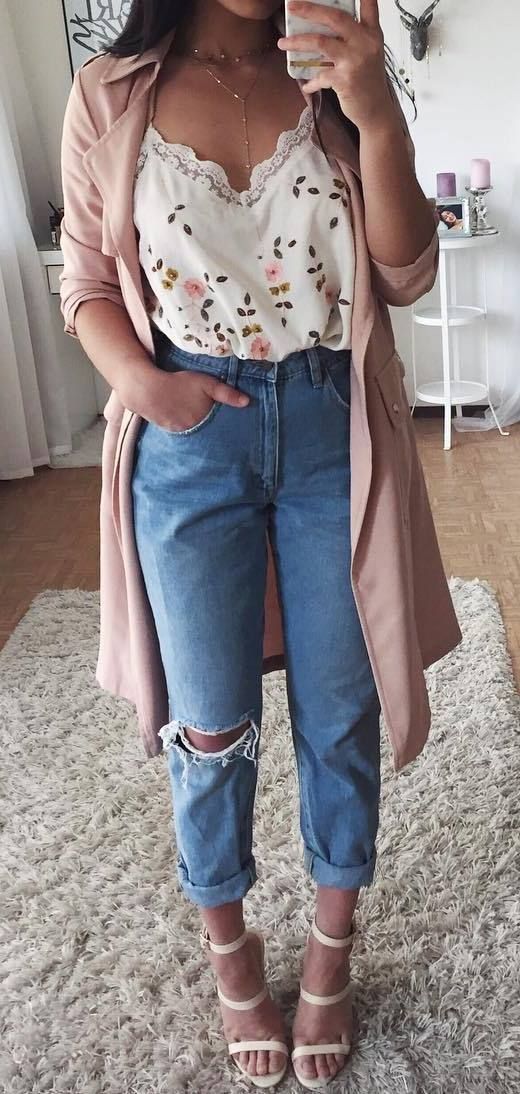 Mom jeans and slouchy cardigans are both rare pieces that strike the magnificent balance of being comfortable and stylish at the same time. Wear them together and you get a casual, carefree look that defies seasonal boundaries and leaves you feeling comfy and chic all day long.
Pair distressed mom jeans with a cropped loose knit cardigan to enhance the carefree vibe of your look. Wear a form-fitting camisole or a loose tee tucked into the waistband of your jeans to avoid looking shapeless. Add more balance to this look with accessories. If your jeans are high-waisted, wear a wide belt to emphasize your figure. Wear booties to create a more streamlined finish for your outfit; if your jeans aren't cropped already, cuff them.
2. Get Colorful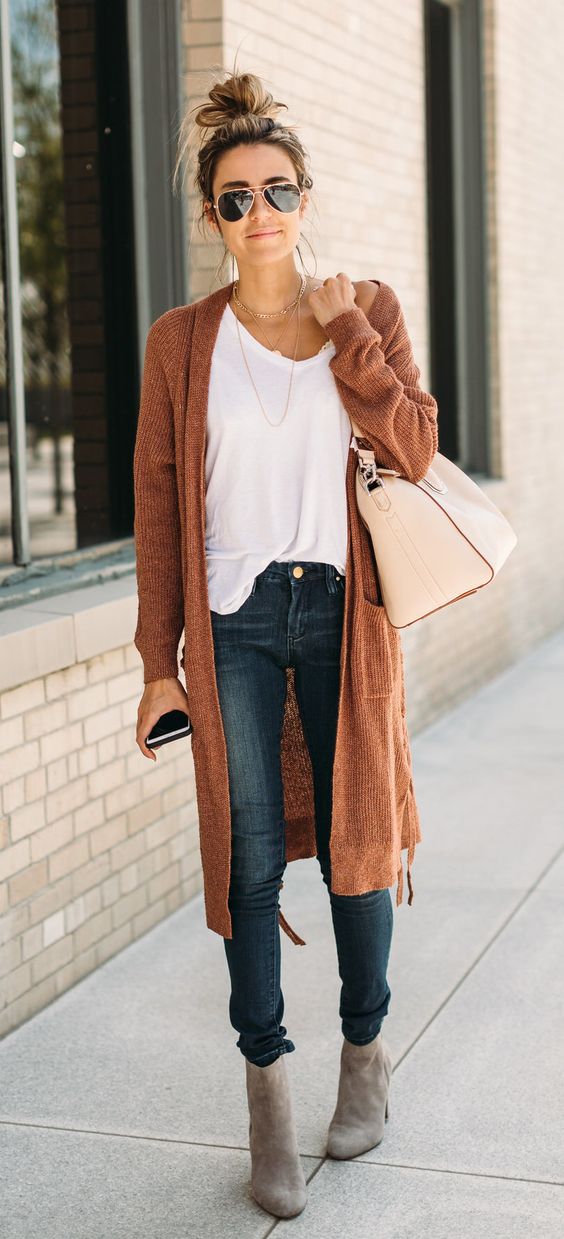 Many women buy their slouchy cardigans in neutral colors like black, gray, white, or nude and use them to make their outfits warmer or more modest without expecting them to add any real interest or style to your look.
While there's nothing wrong with a neutral cardigan, sometimes it's more fun to use your cardigan as a splash of color in your outfit instead. Choose a cardigan in a bright color like yellow or emerald green and wear with any neutral outfit to make your look eye-catching and cheerful. If you're worried about a brightly colored cardigan's lack of versatility, go with a more subtle jewel-toned color like navy or maroon that will match a wider range of outfits.
3. Mix Patterns and Solids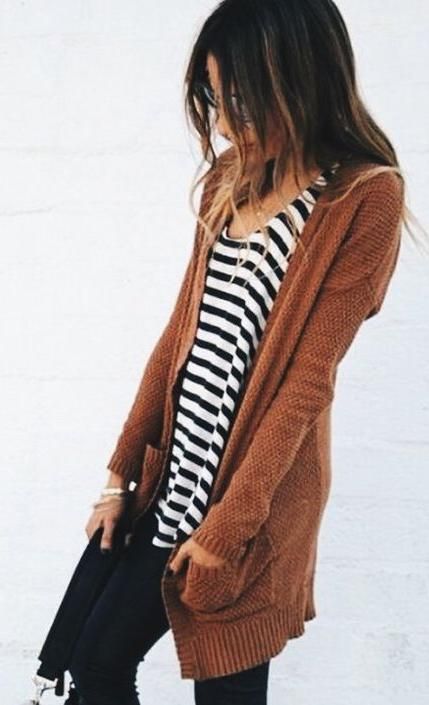 Wearing too many busy patterns in one look tends to end up looking crowded and overwhelming instead of eye-catching. Mixing the right patterns and solids together, however, creates a balanced and interesting look that draws attention in all the right ways.
Try wearing a slouchy cardigan in a bright color with a patterned top that features neutral colors, like black and white stripes. Keep your bottoms neutral by wearing plain jeans or leggings. The bright color of your cardigan combined with the subtle pattern of your top will create a balanced look that is intriguing without appearing too busy.
4. Dress Down Your Dress

Almost every woman has that one flattering dress that they absolutely love but that is just too over-the-top to be appropriate for everyday wear. Whether it's a sexy bodycon dress you bought to wear when you go clubbing three times per year or a silky bridesmaid dress you bought for your best friend's wedding and have never worn again, it's frustrating to see a dress thats fits and flatters your figure stay hidden in the back of your closet. Your trusty slouchy cardigan might just be the answer to your problem.
You can use a loose-fitting cardigan to make dresses that are too fancy or formal for most of your events more casual and appropriate for a wider range of activities. If your dress is loose, pair it with a thick knit cropped button-down cardigan to maintain balance in your outfit. If the dress is tight or fitted, add a longer cardigan made from fabric material to add a streamlined finish to your look. Add flat booties or sandals to keep your look casual and carefree.
5. Add a Flannel Layer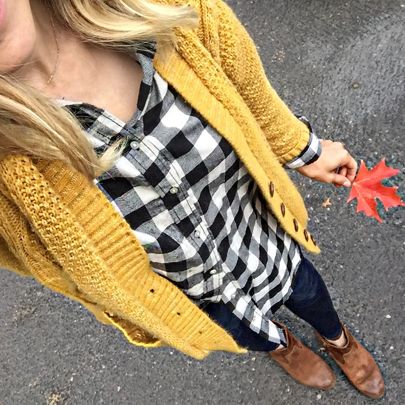 Slouchy cardigans are a cold-weather favorite. However, sometimes even the thick knit of your favorite cardigan isn't enough to keep you warm in extremely frigid weather. Unfortunately, wearing multiple thick layers on top of one another often ends up looking bulky.
For extra cold days, wear a flannel underneath your slouchy cardigan. This layered pairing provides you with extra warmth without too much added bulkiness; plus, it adds instant interest and style to your look. If you're wearing a neutral slouchy cardigan, choose a flannel with some color to brighten up your outfit. If your cardigan is a non-neutral color, try to find a flannel that prominently features a matching shade.
6. Transform With Shoes

It's a common misconception that the only kind of shoes you can wear with a slouchy cardigan are boots. In reality, different shoe styles complement cardigans depending on the rest of your look.
If you're going for a classic winter look, wear mid-calf or knee boots and dark jeans. For a sleek and streamlined finish, pair fitted thigh-high lace-up boots with leggings and a loose tee. Flat or block-heeled booties and cuffed or cropped jeans complement a cardigan and camisole to create a look with a carefree vibe. Unless you're wearing your cardigan with a shorter skirt or dress, avoid wearing sandals and a slouchy cardigan in one outfit. This pairing usually ends up looking unbalanced and sloppy.
7. Winterize Summer Clothes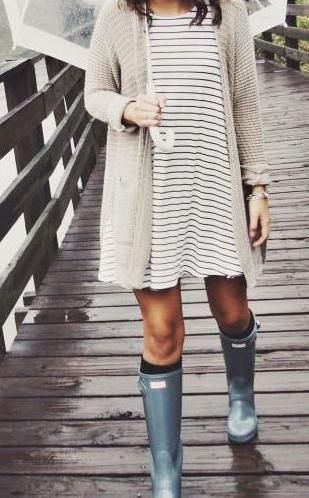 Slouchy cardigans can be very useful pieces to have when you want to wear your favorite summer clothes during the colder months of the year.
You can layer your cardigan over a denim shorts and tee combo, a short skirt, or a summer sundress. If you're wearing a skirt or dress, add leggings and boots underneath to balance out your cardigan. Wear tights under denim shorts with booties or combat boots.
You'll never again think of a loose cardigan as an integral part of your grandmother's winter wear collection or something you throw over your shoulders as comfy loungewear on a day at home. Instead, take advantage of your slouchy cardigans for the effortless style and comfort they add to your wardrobe.